Esoteric and alternative medical practices are becoming more and more popular.
To help you tap into this boom, today I've decided to curate a list for you of the best massage therapy & reflexology affiliate programs so you can create long-lasting commissions.
If that is what you're looking for, you're in the right place. Here are…
The 10 Best Reflexology & Massage Affiliate Programs (Reviewed Below)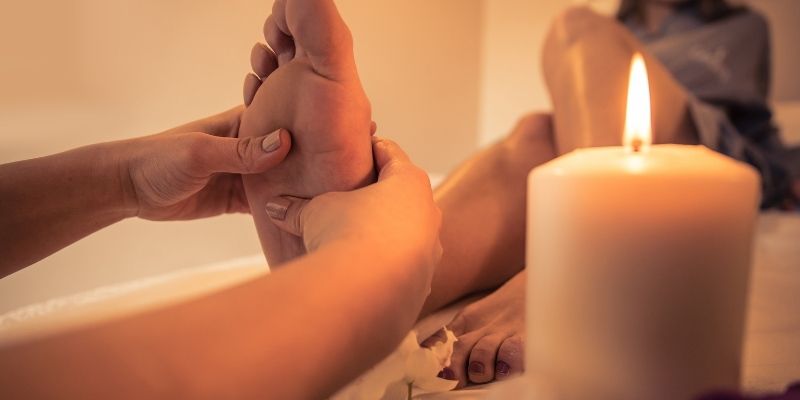 ---
---
Massage Naturals
Massage Naturals partnered with ShareASale to provide affiliates with real-time tracking of sales, commissions and high conversion rates. Affiliates enjoy fast shipping, usually taking a day to dispatch and arrive.
Massage naturals specialize in spa equipment such as massage tables for reflexology, essential oils for aromatherapy, and linens and towels. Their products are ethically sourced and are eco-friendly.
Affiliates also get a regularly updated newsletter containing details on new product releases, deals, and offers. The average order value stands at $2.50 to several thousand, providing an opportunity for affiliates to significant sales.
Customer service is available through email or their customer care hotline.
Commission rate: 10%
Affiliate cookie: 60 days.
Soothing Touch
Soothing Touch affiliate program specializes in spa and massage equipment such as essential oils, creams, lotions, and bath salts. They have been around for over 40 years, and their products are cruelty-free paraben and phthalate-free.
Registration is relatively easy and straightforward; you only need to fill in your details and wait for your confirmation email. Customer support is available through email or their company hotline.
You can also write to them; you are guaranteed help whichever way you choose to contact them. Soothing Partners is excited to partner with massage therapy and wellness blogs and sites.
Aside from sales, affiliates can also earn commissions when they refer other members to the program.
Commission rate: 15%
Affiliate cookie: 45 days.
SpaFinder
Spafinder allows you to gift your loved ones with spa and massage gift cards that they can redeem for treatments. Services include shiatsu, reflexology, and Swedish massage.
Commission Junction hosts the affiliate program and streamlines services such as commission payments and also provides real-time tracking so that affiliates can monitor their sales and commissions.
Members are given marketing tools such as text links and banners to use on their sites once accepted into the program. An experienced affiliate management team is available to address any difficulties.
Other features of the program include seasonal promotions and special offers.
Commission rate: 6%
Affiliate cookie: 40 days.
Spa Week Media
Spa Week Media affiliate program is an excellent revenue source for your website, blog, and social media pages.
Registration is free and takes a few minutes to sign up. The program promotes gift cards that clients can redeem for spa and massage treatments such as reflexology.
Perks include tracking and reporting tools, weekly newsletters and announcements, and year-round and seasonal offers.
Affiliates also get access to various promotional materials to choose from and a dedicated affiliate team to help optimize yields.
Commission rate: 9%
Affiliate cookie: 30 days.
Aesthetic Video Source
Aesthetic Video Source is a salon and spa educator using DVDs to teach massage and spa treatments. They have won several awards for their comprehensive and easy-to-understand instructional videos.
Pepperjam hosts the affiliate program and gives members resources such as text links, custom ads, and suggested keywords. Affiliates also gain access to a comprehensive and regularly updated data feed containing all products available.
Their videos are available on DVD or pay-per-view and cover topics such as reflexology, skincare, and facial therapy.
Commission rate: 12%
Affiliate cookie: 45 days.
Cloud 9
Cloud 9 offers its clients unique experiences through their gift cards. The company specializes in gifts and offers experiences such as golf lessons, spa packages such as massages and reflexology treatments, and guided tours.
The program allows for easy returns and exchanges and no expiration dates, meaning clients can cash in their gift cards anytime. Their products even come with price guarantees.
Members can use the company's hotline or email address to seek help whenever issues arise. Commission Junction manages the affiliate program and provides a variety of creative tools.
Commission junction: 5%
Affiliate cookie: 45 days.
Gilt City
Gilt City is a lifestyle site that curates offers on services such as spa treatments, restaurants, and concerts. Its headquarters are in New York City, and the company has been active since September 2010.
Gilt City has partnered with Pepperjam to provide affiliates with tools such as real-time reporting where they can track sales, commissions and banners and text links to use on their websites.
The program is a perfect fit for wellness and beauty blogs and sites. Affiliates also get access to their product data feed, which contains over 575 items.
Commission rate: 1%
Affiliate cookie: 1 day.
Fresh Start Health Retreat Center
Fresh Start Health Retreat Center affiliate program features a simple commission structure where affiliates can track their sales and payments, both online and direct, through an effective system.
Members also get access to marketing tools such as pre-written emails, detailed banners, and social media posts. Printed material is also available at request, along with partner codes.
Registration is easy, and you can begin earning commissions once approved. Commissions are paid in Canadian Dollars through PayPal, wire transfers, or direct deposits.
Commission rate: 18%
Affiliate cookie: 18 days.
Temple Spa
Temple Spa is a British lifestyle brand that creates customized treatments for the body, skin, and even soul. Their product catalog includes spa treatments such as reflexology, cleansers, and moisturizers.
Its affiliate program's features include a comprehensive selection of creative banner ads and text links, a 30-day return policy, and free shipping on orders over $60.
However, it does not extend to Alaska, Hawaii, or Canada. Orders take four to five business days to arrive. Registration is easy, and affiliates receive a confirmation email after. Payments are made through Authorize.net to combat fraud and safeguard customer privacy.
Commission rate: 6%
Affiliate cookie: 30 days.
Spa Noir Cocktail
Spa Noir Cocktails affiliate program is easy to join and the best fit for beauty and wellness bloggers and content creators. Their product catalog includes essential oils, massage oils, and facial products.
Refersion hosts the affiliate program and helps affiliates track referrals and commissions. Commission payments are automated and are issued in US dollars on the 15th of every month through Quickbook and Square.
Registration is fast and reasonably easy, taking less than 5 minutes. Other features of the affiliate program include free everyday shipping for orders over $39.
Commission rate: 20%
Affiliate cookie: lifetime.
---
How To Get Started With Reflexology Affiliate Marketing
If you're brand new to affiliate marketing, one of the first things you can do now that you know what possibilities are out there is to create your own affiliate website.
You can do this right (and many ways you can do it wrong), but what I've found best I've documented here.
If you're looking for a fluff-free, no-BS guide on making money with affiliate marketing, the linked guide is for you.