Skiing, just like any other outdoor sport has seen a rise in popularity since the pandemic took hold.
Also, as those who are into skiing can tell you, skiing equipment is not cheap, but that doesn't stop people from spending big bucks on their favorite hobby.
Today, we're taking a look at some of the best skiing affiliate programs allowing you to capitalize on this boom and high-ticket prices, so with that said, here are…
The 10 Best Skiing Affiliate Programs (Reviewed Below)
---
---
Mountain Gear Affiliate Program
Mountain Gear was formed over 35 years ago when Paul Fish designed a better backpack. Later on, he made it by hand, and that is how Mountain Gear came to be. They select the most excellent top of the line products to ensure their customers get the best experience.
Mountain Gear stocks skiing equipment such as snowboards as well as skiing, hiking, and camping gear.
Mountain Gear also runs an affiliate program managed by AvantLink. Through the program, affiliates earn a commission every time a purchase is made through their link.
Commission rate: 5%
Affiliate cookie: 14 days
Mountain Hardwear Affiliate Program
Mountain Hardwear was founded in 1993, with their main focus being providing superior quality gear. They wanted to maintain the integrity and composition of outdoor gear and equipment.
Their number one goal was and continues to be staying true to the needs of outdoor athletes who engage in skiing and snowboarding.
They pride themselves as game changers in an industry that was not producing quality as it had before. Mountain Hardwear has an affiliate program that is managed by CJ affiliates.
Members enjoy free ground shipping on all orders, members-only promotions, and exclusive offers, as well as a complete product data feed.
Commission rate: up to 10%
Affiliate cookie: 21 days.
Mountain Steals Affiliate Program
Mountain Steals was born out of the desire for more at a lesser price.
It enables customers to find the best outdoor equipment from top brands for less money. The company comprises outdoor enthusiasts who want gear, jackets, clothing, and footwear for sports such as snowboarding and skiing for less. AvantLink runs Mountain Steal's affiliate program.
They provide free shipping for products worth over $99. Affiliates enjoy frequent newsletters with program updates and promotions.
They also get dedicated affiliate managers who are available for any queries or concerns.
Commission rate: 5%
Affiliate Cookie: 30 days.
Evo Affiliate Program
Evo is a skiing and outdoor sporting goods shop. Aside from dealing with outdoor equipment, they also specialize in travel.
It began out of a pro-Skier Bryce Phillips dorm room and quickly gained a following by offering amazing deals and equally excellent customer service.
Their catalog includes the highest quality brands that the outdoor industry has to offer.
Evo has been selling sports action equipment, apparel, and accessories since 2001. AvantLink manages Evo's affiliate program. Affiliates are provided with dedicated program managers available to answer questions and help make the partnership a success.
Commission rate: up to 12% for each sale
Affiliate cookie: 120 days
Berg's Ski Shop Affiliate Program
Berg's Ski Shop is a family-owned and operated business that was established in 1955. The staff is made up of ski fans and snowboard addicts passionate about helping customers find just the right gear.
They exclusively specialize in skiing and snowboarding equipment along with apparel and all related accessories. The Berg family remains committed to hard work and excellent customer service, true to their strong Norwegian hospitality and work ethic.
Berg's affiliate program is managed by AvantLink and allows affiliates to earn commissions off of purchases made through their links.
Berg's and AvantLink have partnered to offer affiliate tools free of charge and the business's best support. Registration is free, fast, and comfortable.
Commission rate: 10%
Affiliate cookie: 120 days
Skis.com Affiliate Program
Skiis.com was founded and launched by Steve Kopitz, an avid and passionate skier, in 1997. With over 20 years in the industry, their expertise in providing skis and equipment and education remains unchallenged.
They are always one step ahead, providing the best and most accurate information and content to get everyone out on the ski slopes and have a great time while doing so.
Skis.com team works tirelessly every year to ensure their customers get top of the line gear and high-quality products. AvantLink and CJ Affiliate manage Skis.com affiliate program.
Here affiliates enjoy high commissions and access to regularly updated text links, banners ads, and exclusive affiliate offers.
Commission rate: up to 8%
Affiliate cookie: 30 days.
REI Affiliate Program
REI, which stands for Recreational Equipment, Inc, is a U.S based retail and outdoor recreation services company. They sell camping gear and outdoor equipment for sports such as skiing, snowboarding.
It is one of the largest outdoor retail companies and has stores spread
nationwide.
AvantLink manages REI's affiliate program. One is required to have sites with the authority to be eligible for application. AvantLink uses Tipalti as their preferred method of payment.
Registration is easy, free, and simple, and clients enjoy free shipping on orders above $50.
Commission rate: 5%
Affiliate cookie: 30 days.
The Peak Ski and Sports Affiliate Program
The Peak Ski and Sports was formed by three friends focused on winter sports such as skiing and snowboarding at first. They decided to expand their enterprise seven years later to include action sports from all seasons throughout the year.
Their catalog now boasts skiing alongside wakeboarding, water-skiing, and kayaking. The Peak Ski and Sports deal in sports gear, equipment, and accessories from well-known brands.
They have an affiliate program under the management of AvantLink. Affiliates are given outstanding customer service, a 100% satisfaction guarantee, and a price match policy.
Accepted methods of payment include MasterCard, Visa, and PayPal.
Commission rate: 7%
Affiliate cookie: 120 days.
Backcountry Affiliate Program
Backcountry began in 1996 with two gentlemen in a garage in Park City, Utah. They have grown since then to provide the best outdoor gear. Backcountry was born from the love of equipment
and a passion for exploring mountains. They provide the highest performing outdoor gear for sports such as skiing, camping, and mountain biking.
The backcountry affiliate program provides members with access to official banners, text links, and product data feed. Members can join through AvantLink or Impact Radius.
They also offer customer support through their dedicated program management team, available to answer questions and address any concerns.
Commission rate: 4-12% commission rate depending on volume.
Affiliate cookie: 30 days.
Ski World Affiliate Program
Ski World is the United Kingdom's largest independent skiing specialist. They have experience taking customers to snow-sure resorts in Europe and the USA.
With over 36 years in the industry, they efficiently provide affordable accommodation in over 200 locations across Europe and the USA.
Their affiliate program runs through a platform called PaidOnResults and does not charge any joining fees.
Affiliates can monitor their earnings in real-time and access the opportunity to earn higher commissions through increased exposure.
Commission rate: 3%
Affiliate cookie: 60 days.
---
How To Get Started With Skiing Affiliate Marketing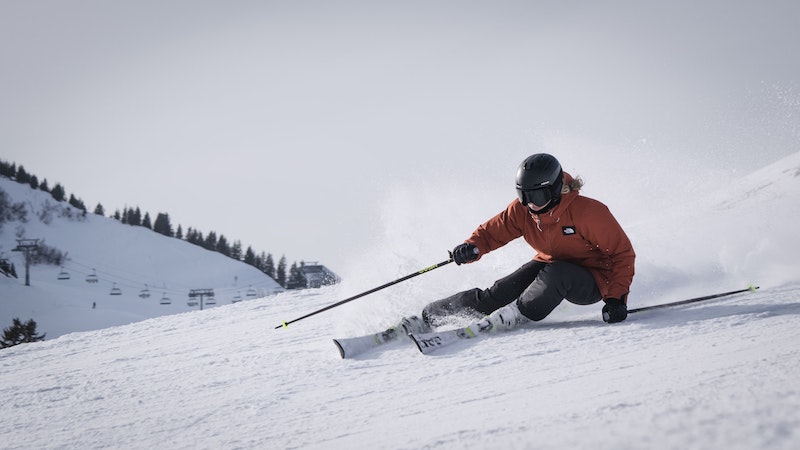 Want to start your own (skiing) affiliate website?
Great idea! While there are many ways you can do affiliate marketing, it all starts with building out a content website (a blog) that gets people and then converts them to customers using the above-mentioned affiliate programs.
There are many ways one can do affiliate marketing, but the method I've outlined here is the method I use and have had consistent results with.
If you're brand new to affiliate marketing, you may want to check it out.