Football, or as our friends across the pond would call it "soccer", is hands-down the biggest sports in the world.
It attracts the biggest audiences, and thus it attracts the most advertising money as well.
Today, we're taking a look at how you too can benefit from this massive fan base by providing you with a list of affiliate programs you may want to promote if you have a sports blog or any other soccer-fan audience.
Without further introductions, here are…
10 Roaring Soccer Affiliate Programs To Promote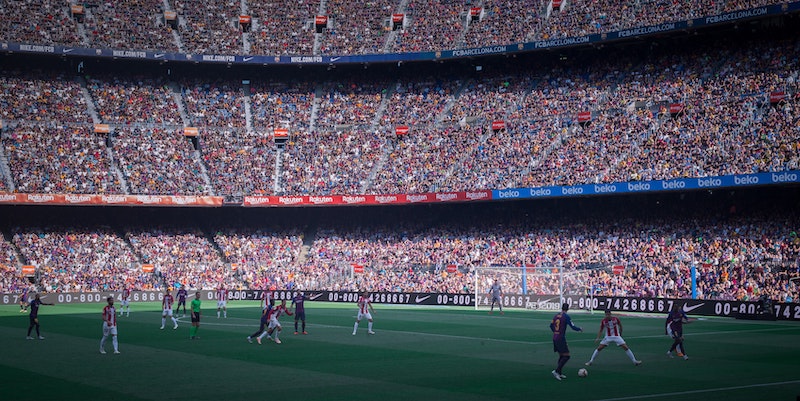 ---
---
Soccerloco
To start us off is Soccerloco, a top soccer affiliate program that welcomes soccer fans to sell sports gear through their network. If you own a soccer website or blog, then you should explore Soccerloco to earn incredible commissions by being their online reseller.
The site doesn't charge a penny to join; all you need is to fill the signup form and follow the instructions given to begin earning.
Soccerloco rewards you through a commission structure that rewards the level of effort. For example, if you sell gears worth $6000, you earn 8% in commission. And if your sales exceed $12,000, you get paid 10%.
They do not limit the number of referrals you introduce to the program; the only thing to note is that one needs to click on the referral link within 30 days.
Commission: 10% for every $12,000 sold, 8% for every $6,000 sold
Cookies: 30 days
Professional Soccer Coaching
Another soccer affiliate program is Professional Soccer Coaching (PSC), which pays a 25% commission on its subscriptions.
Getting started with PSC is so easy. You need to create an account and request a referral link that you will then market. The effortless way to promote your affiliate link is via social media or through your website traffic.
PSC also provides text links and banner ads to make it easy for you to market your affiliate links. They have integrated PayPal into their payment system to make it easy for affiliates to receive their commissions. And the other fun part is that they don't have payout limits, so you can proceed to request the available balance whenever you need to cash out.
Fanatics
Fanatics offers you an exclusive opportunity to sell for MLS, International, and National teams. The site is most preferred by social media marketers, bloggers, and fundraising groups because of the abundant opportunities to rack up commissions. To be considered, you need to make an application then wait for the outcome of their review before you begin selling.
The program uses an advanced tracking system that manages the affiliate dashboards. Besides, they provide text links and banners for easy promotion of the more than 500,000 products on sale through the partners' network. There is no maximum commission to accumulate, but you earn 10% for every transaction.
Commission: 10%
Cookies: 7 days
Soccer Garage
Next, we take a look at Soccer Garage, a leading soccer affiliate program that doesn't charge ground fees for any shipment worth more than $100. Joining is free, and you earn a commission up to 10% of the value of a sale. Signing up is structured; you make an application and wait for feedback within five days.
Soccer Garage supports affiliates by providing banners and text links they can use on their websites, blogs, and social media for marketing. Referral links provided by the program will last 60 days because that is the duration when cookies expire. They have a customer-centric team, ready to help in any situation.
Commission: 10%
Cookies: 60 days
Train Effective
Then we have Train Effective, a program that empowers footballers to become the best version of themselves. Through its affiliate, you earn a 30% commission for any purchase done using a provided coupon code. There are plenty of digital assets to promote its partner organizations as you make passive income.
The organization works with Premier League and FA clubs, motivating players to be better at their profession. Please take advantage of this program and start building passive income by sharing their affiliate links on your social media platforms and network.
Soccer.com
At soccer.com, you have a chance to sell soccer-related gears and equipment that qualify you for fantastic commissions. Lots of coupons are also on offer, assuring sellers of unlimited opportunities to rack up extra bucks. They pay 7.5 % for selling footwear, apparel, and equipment.
To make affiliate selling enjoyable, they have loaded the website with detailed information. On the site, you get buying guides, new arrivals, and product reviews. So, as an affiliate, you can make faster decisions on the items to sell for a commission.
Commission: 7.5%
Cookies: 7 days
Reebok
To manage click-through sales, Reebok Affiliate Program won't disappoint. The program pays 7% for the closure of each transaction. And they run a referral program that pays $5 for every friend you introduce to the affiliate program.
Reebok keeps tracking cookies for 30 days to ensure you earn the most from an affiliate link. Other things that they do to support your selling include contests, promotions, and sales opportunities. A product data feed link is accessible for affiliates and allows them to paste the info directly on affiliate websites, encouraging better visibility.
Commission: 7%
Cookies: 30 days
Puma
Puma runs one of the most progressive affiliate programs as a world-leading brand in footwear, apparel, and accessories.
If you run a blog or website, you need to take advantage of the site to earn up to 8% in commission. Unlike other affiliates, Puma provides multiple ways to earn from the program, including exclusive deals, promotions, and special sales.
When you sign up, they grant you access to a clean-cut dashboard that makes it easy to manage affiliate relationships. Through the panel, you can track click-throughs and sales reports with ease. The site allows you to track cookies for 14 days, ensuring you reap the maximum benefit from affiliate links.
Commission: 6-8%
Cookies: 14 days
Concave
Concave is another soccer affiliate program you need to try out. You have an exceptional opportunity to earn 10% selling the world's top cleats. The fun thing about Concave is that they always have new and innovative products.
The site is prominent for high conversions as compared to peer affiliate programs. And selling is seamless with the tools and resources available on site. You only need to pick the text links and banners and load them on your website or social media channels, and you are good to go.
Commission: 10%
Cookies: 90 days
RevUp Sports
Do you have a passion for selling sports gear and accessories? If so, then you need to consider joining RevUp sports today. As a renowned retailer for sports products, they are willing to give away 10% of any sale you close through their affiliate program.
They run an active data feed that updates all available products to promote a trustworthy and timely shipping culture. Additionally, they provide affiliate tools that support selling through third party websites and blogs. All the efforts, including a 90-day cookie duration period, aim to ensure high conversions from affiliate link sharing.
Commission: 10%
Cookies: 90 days
---
---
Related Questions:
Can You Make Money With (Sports) Affiliate Marketing?
Affiliate marketing can make money in any niche (as long as you know what you're doing, and you do it right).
When it comes to the soccer niche, again – YES, I do believe you have a great chance at making money. As we said earlier, soccer is BIG business, and it's only getting bigger.
If you can find the right audience for it and you partner up with any of the above-mentioned affiliate programs, then I'm sure you'll be able to make this work.
How To Get Started With Affiliate Marketing (As A Beginner)
If you're brand new to affiliate marketing, I suggest you take a look at my getting-started guide here. It shows you how I created my affiliate marketing business building simple websites (in obsucre niches) that go on to make money for years.