Welcome to my Testing Time review.
In this post, I will be going through all you need to know about the company TestingTime.com, including:
How to get started with TestingTime
What "work" you will be doing
How much money you will be able to earn
A few pros & cons of testing time which I think you should know about &
I'll also give you a few better ways to make money online (if that's what you're here for).
If you've been considering joining Testing Time as a tester, I highly suggest you read this review carefully as there are some things you should need to know about.
Let's get started…
✋ Want To Make REAL Money Online?
While TestingTime does provide you with an opportunity to make money online, you are still trading your time for money.
I make a full-time income with websites that make money using affiliate marketing.
If you'd like to see how I do it, I have a free 10-day getting started course here. (no credit card required).
TestingTime Review Summary:
Easy to Use

Jobs Available

Training Provided

Worth Your Time?
Summary
Get paid via PayPal ✅
Worth the time ✅
Not a steady source of income ❌
You have to be comfortable on camera ?
What is Testing Time?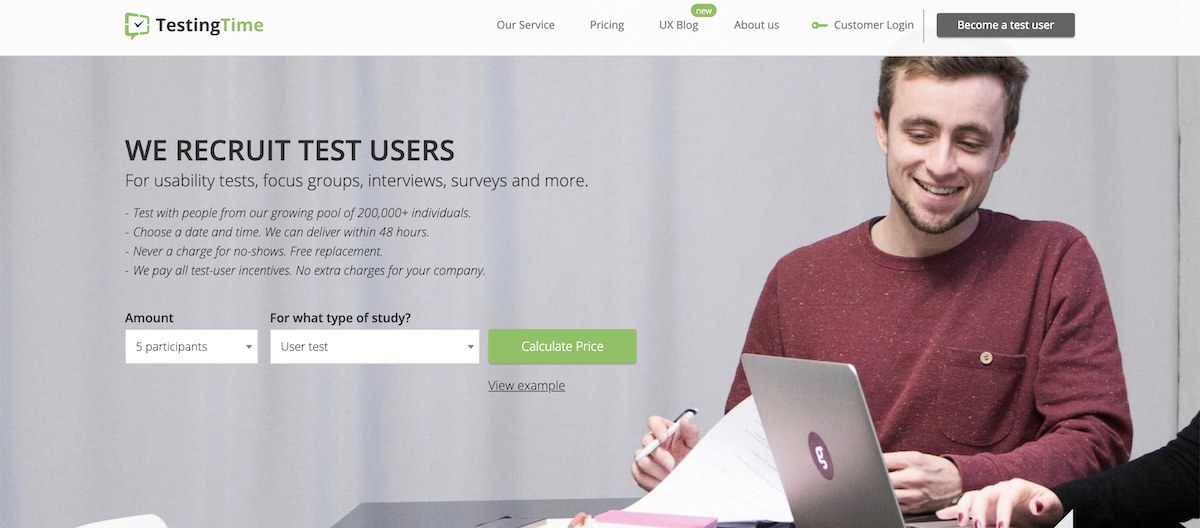 It's Testing Time!
Well, that is the motto they use at the company I will be reviewing.
Testing Time is a usability testing site that pays users to test out new products, complete studies/surveys, diary studies and more.
This company Testing Time is originally Swiss-based but now is located in London, UK.
They started up with the idea like most research gathering sites to help market research companies find out what users have to say about their products and like the usability of them.
How Do You Get Started With Testing Time?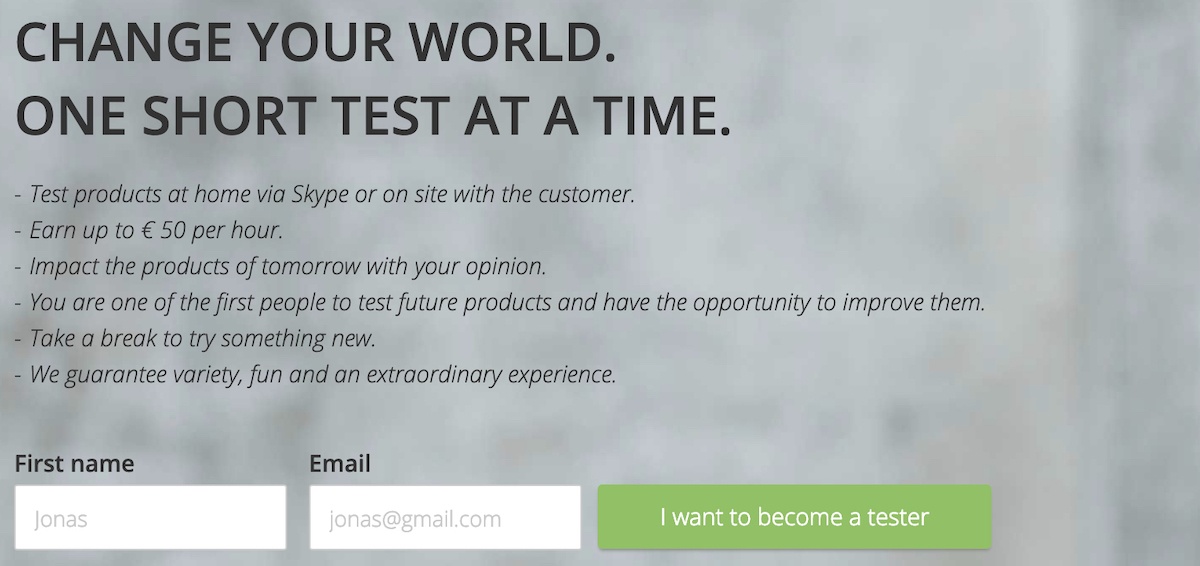 To get started, you're (obviously) going to need to create a TestingTime account.
Starting an account and how long it took me was just over 5 minutes, it's not as easy as just putting in your email address but requires more details.
As you get into the registration you will be asked questions such as your age, name, location, education, job, etc all within the first few pages – it is very easy to complete.
Now you're probably wondering who is even eligible for this and from scrolling down on the list of countries it seems like they cover them all and anyone can sign up.
Since they are a Swiss-based company, the ones that are going to benefit the most are people living in eastern European countries as most of the market research companies they work with are from these countries (mostly Germany, Austria, and Switzerland).
One last thing is you will need your phone present when signing up. On the final step, they ask for your phone number so that you can verify it with a 6 digit code.
So How Does Testing Time Work?

Now onto the testing apart and for each time a test comes up that fits your demographic, you will be matched and an invite will be sent via your email inbox.
What's good about these invites is they tell you all the details that you need to know about the study before you accept it, such as the payout rate.
So you can decide there and then whether or not you would like to complete the study, do be aware though that most of them tend to fill up quickly so to ensure your participation you will need to be quick to accept them.
Most tests payout between $25 and $60 and last between 30 and 90 min.
As these studies are face to face you will need both a Skype account and a webcam set up.
Once you have completed a study you will then be sent payment within the next 7 days of completion through either PayPal or Bank Transfer.
Pros And Cons Of The Testing Time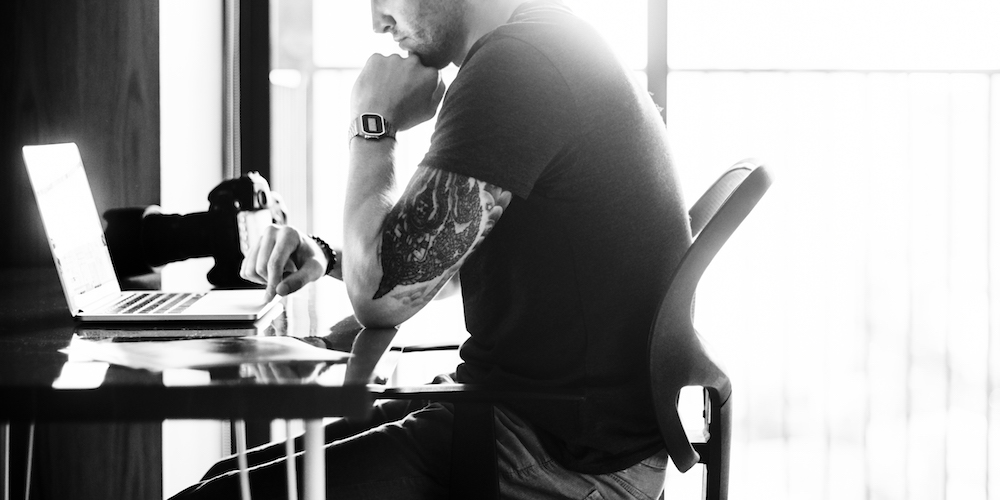 Pro: Get Paid Via PayPal
One of my preferred ways to get paid for my doing things like surveys and testing is PayPal as its safe and payments are generally get to you quicker compared to other means and in some cases can be paid instantly, you will have to wait up to 7 days in this case though.
Pro: Pay Out Well For Your Time
Now I am not sure how accurate and consistent this is but Testing Time claim to pay out up to £60 a survey, not only that but most studies they also claim to take 30 to 90 minutes. This technically means you could make £60/hour.
I don't normally like to look at online opportunities like this one from that view but the pay does seem very good.
The reason why I don't is that you can't get up and work 9 hours and have £540 a day that would be cool though, however, it isn't possible to do with this kind of opportunity.
Pro: You Get To Help The Development Of Products
One of the reasons why people like to take part in market research is not only to get paid but to actually help improve research and companies products.
Let's say you complete a survey on your favorite can of soda however there is something that you think would improve it.
When you think about it is quite cool as not only are you getting paid for your time but your opinions might actually be helpful.
Con: Not A Long Term Source Of Income
As I briefly touched upon under two-second pro, opportunities such as Testing Times are more one-off payments as opposed to a long term income.
That is because the number of opportunities offered to you isn't that many, so if you are looking to make either a part-time or full-time income online through testing you will need to look elsewhere.
On the other hand though if you have some spare time and can do a few of these testing interviews per month then it could be a good way for you to earn some extra cash on the side.
Con: Have To Be Comfortable Talking Face To Face
This is something that I thought would be appropriate under the negatives as I know not everyone will be comfortable talking to what is effectively strangers on the internet face to face.
Most of the studies will require you to do this so if you would rather voice your opinions face to face then it may be a better idea to check out other user-testing opportunities that don't require skype/webcam.
Can You Make Money With Testing Time?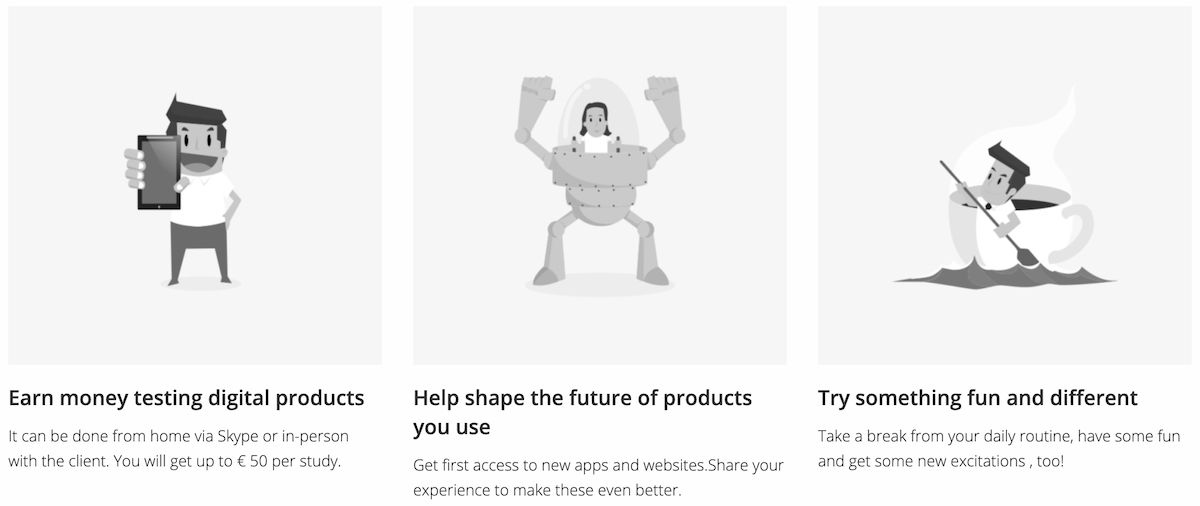 I have heard lots of positive feedback about Testing Time and having had a chance to check them out for myself I can see why people rate them.
Not only do they offer a genuine way for you to make money online but they also pay you well for your time which isn't something that is common with other market research opportunities online.
Summing the review up Testing Time is legit and a great way for you to make an extra income online. So feel free to check them out.
You probably read in parts of this review how the income is somewhat limited especially if you don't live in locations where the majority of these studies are available to.
So if you are here looking for an alternative to the 9 to 5 grind this is not for you;
I do however have something for those looking for an excellent opportunity to make consistent paychecks every month without fail so keep reading until the end to find out what this consists off.
How To Really Make Money Online
The way I make my money online – and have been doing so for the past 6 years now – is by using starting up websites that make me money through the affiliate marketing business model.
Affiliate marketing allows you – and anyone else anywhere in the world – to be able to make a passive income online simply by recommending products to people and earning a commission off that.
I won't go through this here, but you can see my "getting started with affiliate marketing" guide here and;
I also have a free 10-day training course which you can jump into immediately and start learning.
Testing Time Review: Final Words
Thank you for reading my review.
I hope this post has answered all (or at least most) of the questions you had about TestingTime.com.
If I missed something, feel free to drop me a question down below.
I'd love to help you get started making money online.