Do you know what time it is?
It's time for yet another affiliate program round-up post and today, I am sharing with you my 10 favorite watch affiliate programs you can join right now to start promoting (luxury) watches to your online audience with some great commissions.
There's a lot to be said about promoting watches online. It's an enormous industry with many options and sub-niches and, plenty of high-ticket items as well.
Without wasting any more time on introductions, here are…
The 10 Best Watch Affiliate Programs (Reviewed Below)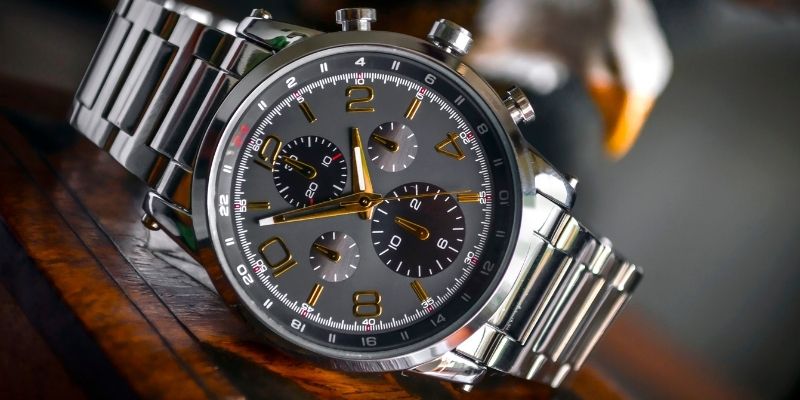 ---
---
Bob's Watches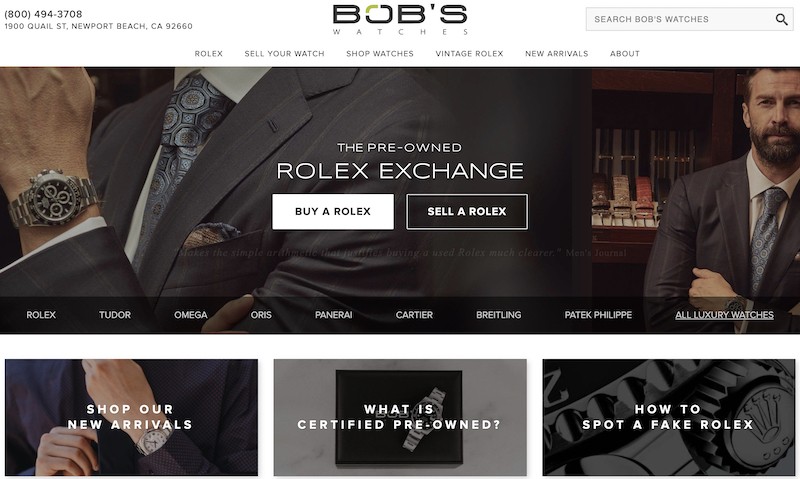 Bob'sWatches is the world's first and only pre-owned Rolex exchange where customers can buy, sell, and even trade vintage and used Rolex watches at fair market value.
They openly publish the current buy and sell values for each Rolex model, which allows them to serve as an online marketplace for buyers and sellers looking to get the best deal on this timeless brand.
They specialize in used Rolex watches, including pre-owned, vintage, and antique timepieces, and pride themselves in obtaining the very best results for their customers.
Bob'sWatches has an affiliate program managed by Pepperjam where they are inviting affiliate marketers with a significant online following to earn commissions by promoting and selling their products.
Their affiliates can earn up to 10% commission with payouts capped at $1,000 per transaction and they are given a 14-day cookie.
Additionally, affiliates are given access to their own affiliate dashboard where they can monitor clicks, impressions, sales, and commissions attributed to their performance.
As an affiliate, you will also be provided with nicely designed banner ads as well as text links and product catalogs and you can utilize these promotional materials to drive awareness for their brand.
Commission: up to 10%
Cookie: 14 days
Invicta Watches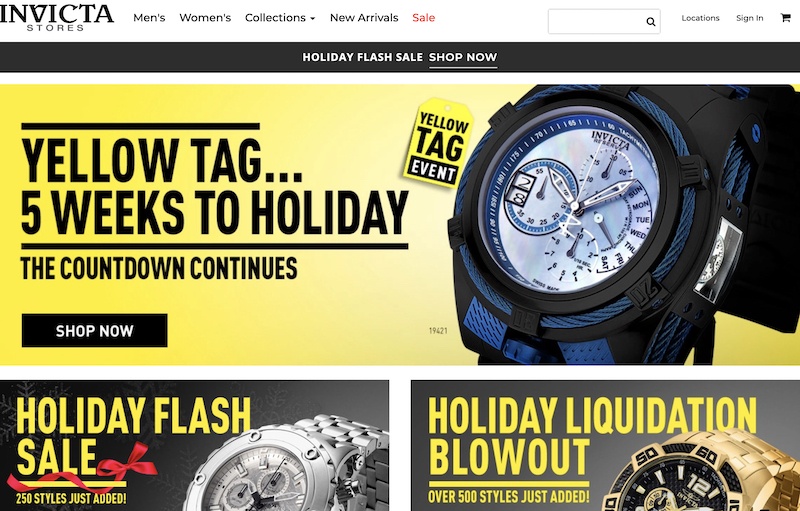 InvictaStores is the official retail store of the Invicta Watch brand. It is one of the most recognized brands in the industry and they specialize in hard to find men's watches such as Pro Diver, Bolt, Venom, Subaqua, and other rare products.
Additionally, they offer expertly crafted Invicta timepieces, Italian-made eyewear, and exclusive accessories for men and women.
InvictaWatches has an affiliate program managed by ShareASale where affiliates are provided with a selection of promotional material including interesting banner ads, text links, coupons, and a product data feed that can be used to drive more traffic on their website and earn commissions.
Affiliates are given 5% commission per sale with a cookie window of 30 days as well as access to their affiliate dashboard where they can monitor clicks, performance, sales, and commissions earner.
Commission: 5%
Cookie: 30 days
Grayton Automatic Watches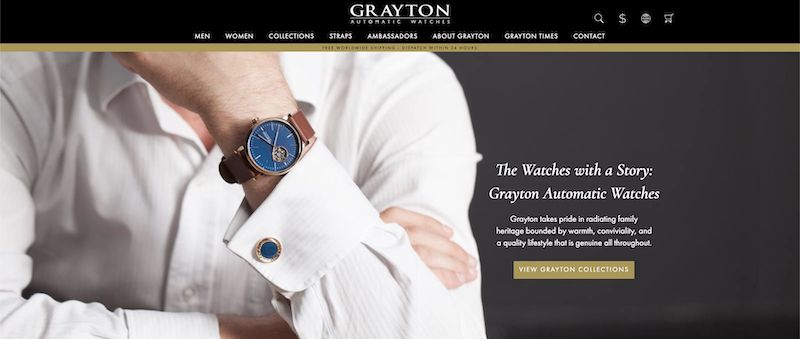 GraytonWatches is a company founded by Remi Chabrat, an expert with over 25 years in the watch industry.
Remi is no newcomer to the business of making and marketing watches and before finding GreytonWatches he was part of the Montrichard Group, who create watches for many big-name brands around the world.
Today, GreytonWatches is dedicated to creating affordable luxury and enduring style with automatic watches for men and women. GraytonWatches is an online-only brand, sold exclusively on their website and their price ranges from $250 – $700.
Automatic watches represent the pinnacle of craftsmanship, therefore in a truly traditional fashion, Grayton watches are handcrafted one by one, and their watchmakers are as much as artists as they are technicians.
GreytonWatches has an affiliate program managed by Refersion and they offer their affiliate highly competitive commissions of 20% on each sale they drive to their website.
Affiliates can also choose between getting paid monthly, weekly, or daily through direct deposit into their PayPal accounts or any bank accounts they choose.
Additionally, affiliates are provided with creative tools including promo codes, web banners, online tracking links, and product catalogs to help them drive awareness to their brand and earn higher commissions.
Commission: 20%
Cookie: 15 days
eWatches

eWatches is a company that has been around since 1998 and they pride themselves on providing quality men's and women's watches at fairly great pricing.
They buy and sell only new or pre-owned and genuine products at substantial discounts to the manufacturer's suggested retail price.
Their items are authentic and they carry the most sought after selection of watches including chronograph, Invicta, Swiss watches, and many others.
Additionally, they have a no-hassle 30-day return policy and this provides the necessary comfort of placing your online order.
eWatches has an affiliate program hosted by Linkshare where affiliates can earn up to 10% commission on their net product sales.
Additionally, they provide their affiliates with relevant marketing materials including links and banners that can be added to their websites and promoted in order to increase sales.
Moreover, as an affiliate, you will be provided with access to online reporting through their reporting dashboard and you will have your reports available at any time.
Ashford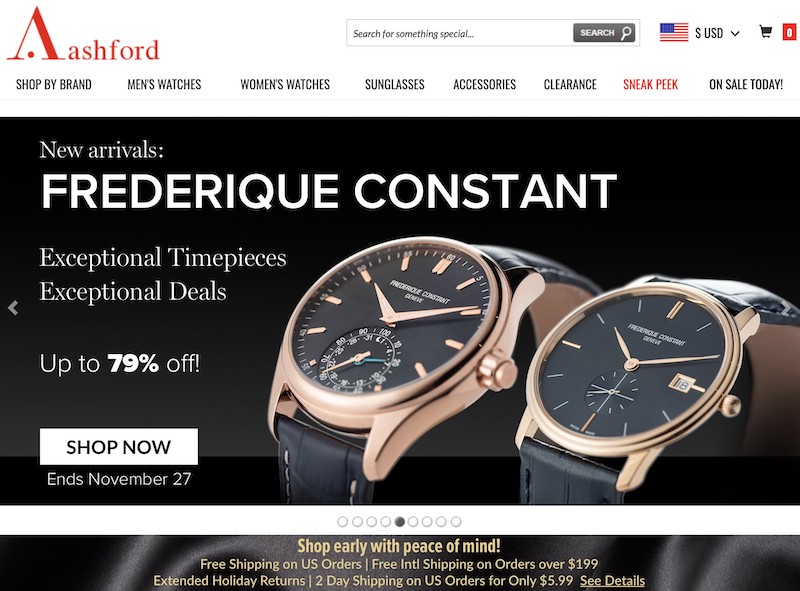 Ashford is an online retailer of luxury watches and other luxury goods. The company is among the oldest online retailers with an initial launch back in 1997. At one point they were the largest luxury retailer online.
They pride themselves in having provided a platform where customers can enjoy a pleasant and safe shopping experience of their large selection of luxury items available at incredible discount prices.
Besides high-quality luxury watches from famous brands, here you can find a large selection of luxury jewelry, sunglasses, luxury accessories, and so much more. Their items are shipped in their original boxes and come protected by their two-year warranty.
Additionally, they offer a 30-day money-back guarantee.
Ashford has an affiliate program managed by Commission Junction through which they offer 6% commissions on each sale their affiliates refer to their website.
They have a high average order value of $700+ and there are watches here that cost thousands of dollars.
Affiliates are provided with customized banner ads in different sizes that can be placed on their websites or blogs, as well as access to their own affiliate dashboard where they can monitor their performance, sales, and commissions.
Commission: 6%
Cookie: 45 days
Joma Shop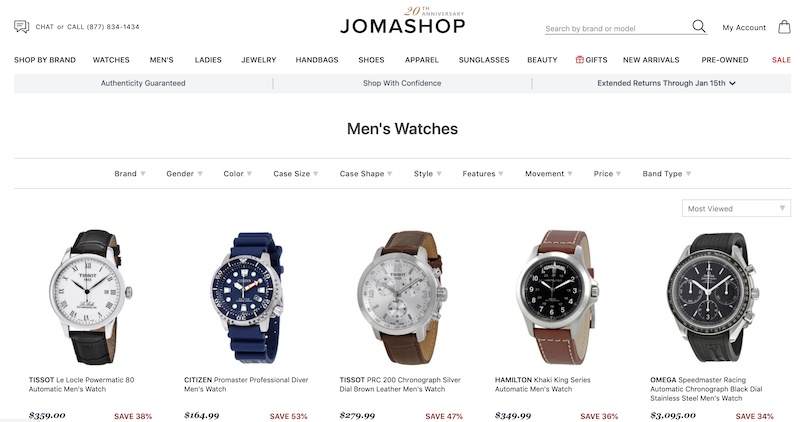 JomaShop is an online retail store that sells new and pre-owned luxury items including watches by famous brands, jewelry, handbags, sunglasses, and accessories such as fine writing instruments, crystal, and gift items.
The company was founded by Marvin Sternberg and has been around since 1987 with headquarters in New Jersey.
Items at JomaShop are priced differently and most of them involving designer luxury goods are quite pricey. Women's accessories including handbags, scarves, hats, and sunglasses average at $500 apiece, however, the designer items go for as much as $2,000.
Men's watches which are the crown jewel of the website average at $200 apiece, although you can find some for as low as $40 and others well into the $1,000 mark.
JomaShop has an affiliate program managed by Commission Junction where they offer affiliates a nice commission of 3-5% on each sale they drive to their website.
Affiliates are also provided with promotional material including banner ads in different sizes and text links that can be posted on their online platforms and shared with their followers in order to increase number of sales and earn higher commissions.
Commission: 3-5%
Cookie: 7 days
Ambassador Watches

AmbassadorWatches exceed the standard of quality and luxury and are a testament to exceptionally skilled craftsmanship. Their watches are the ideal choice for luxury, opulence, fashion, or casual wear.
They believe in traditional watchmaking and build durable watches that last for decades.
They have high conversion rates meaning your efforts of promoting their website will bring you great profit. AmbassadorWatches use an in-house managed affiliate program to track your performance, sales, commissions, and issue weekly payout.
Affiliates can get their tracking link and download promotional material from the wide selection of banners, photos, and videos from their own affiliate dashboard.
As an affiliate, you will also be able to track your sales in real-time with the Ambassador's highly accurate tracking software.
Commission: 8%
Cookie: 60 days
Filippo Loretti

FilippoLoretti is a premium watch brand that offers iconic, limited-edition designs inspired by Italy's timeless culture.
The company has set out to change how their customers think about watch creation and the online shopping experience. They are a direct-to-consumer watch brand that sells directly to the consumer and allows them to shop for luxury products ar a fair and honest price.
Besides watches, FilippoLoretti also offers different categories of accessories including men's and women's jewelry, straps and bracelets, as well as other gifts.
Their average order value is not lower than $250 and they have an affiliate program hosted by ShareASale.
FilippoLoretti provides their affiliates with all the marketing and creative tools they need to start earning money by promoting their products including newsletters with updates on promotions, launches, and sales opportunities.
Additionally, affiliates are given access to a fully automated data feed with their best feeds as well as weekly affiliate banners and assets around their capsule collections and product launches.
Commission: 12%
Cookie: 30 days
LuxChoice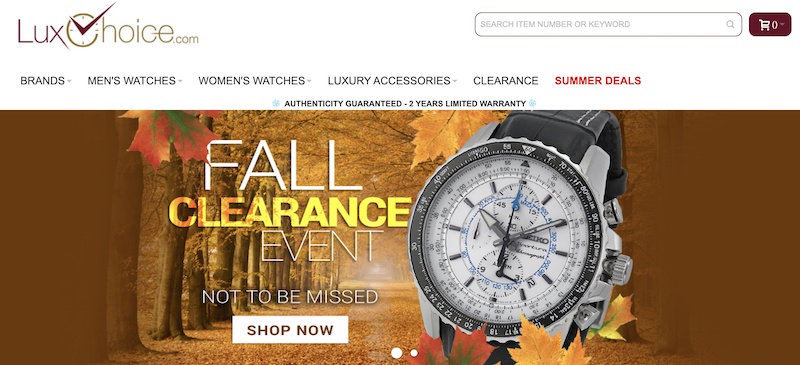 LuxChoice is a well-known distributor of luxury goods with over ten years of experience. They offer a wide selection of over 2,000 luxury watches, accessories, jewelry, and gifts at greatly discounted prices.
Their watches are authentic and shipped in their original packaging complete with paperwork and covered by their own one year warranty.
Additionally, LuxChoice is known for their notable service and devotion to their customer's satisfaction and as a result, customers receive free shipping and a 30-day money-back guarantee on their purchased items.
They have an average order value of over $300 and offer an affiliate program managed by Commission Junction.
Affiliates are provided with a great selection of marketing materials including banner ads, text links, promotional coupon codes, product data feed, and even customized banners.
Commission: 6%
Cookie: 45 days
Daniel Wellington

A simple, clean wristwatch can speak volumes about its wearer, and those who wear DanielWellington watches can definitely say plenty about the brand.
DanielWellington is a Swedish brand founded in 2011 by Filip Tysander and they design watches suitable for a younger generation of consumers.
Since starting, they have sold over 6 million watches and have gained this success through its digital strategy in social networks like Instagram.
Their watches are designed with an entry-level quartz movement made by a Japanese company with the leather styles using low-grade leather.
Additionally, their watches are famous for their remarkably thin silver, yellow, and rose gold bodies, offering comfort and style on the wrists of stylish men and women everywhere.
DanielWellington has an affiliate program where they offer their affiliates up to 6% commission on each sale they drive to their website. Additionally, affiliates are provided with effective creatives that will help them promote their exquisite watches and drive more sales.
---
How To Get Started (& Make Money) As A Watch Affiliate
Ready to get started as a watch affiliate?
If you already have a website (with traffic), then you know what you need to do next. Simply pick one (or all) from the watch affiliate programs mentioned above and go and get started.
If, on the other hand, you are brand new to affiliate marketing, then I suggest you check out my guide explaining how I make money by building simple affiliate websites that make money.
It's a free guide (no sign-up required) and you will learn the exact same method I've been using successfully for the past 5+ years.