The more I research affiliate programs, the more I realize what a tremendous opportunity there is in selling items that are not so popular, but solve a specific issue for a specific customer.
Today, we're looking at some affiliate programs in the water-filtration niche and if you're in the RV/prepper/home blogging niche, you're going to want to see this as there are some super-high-ticket commissions for the taking.
If you're looking to boost your affiliate income by adding a few new affiliate programs, this post should give you an idea of where you can make the most of your traffic.
With that said, here are…
10 Water Filtration Affiliate Programs (w/Commissions)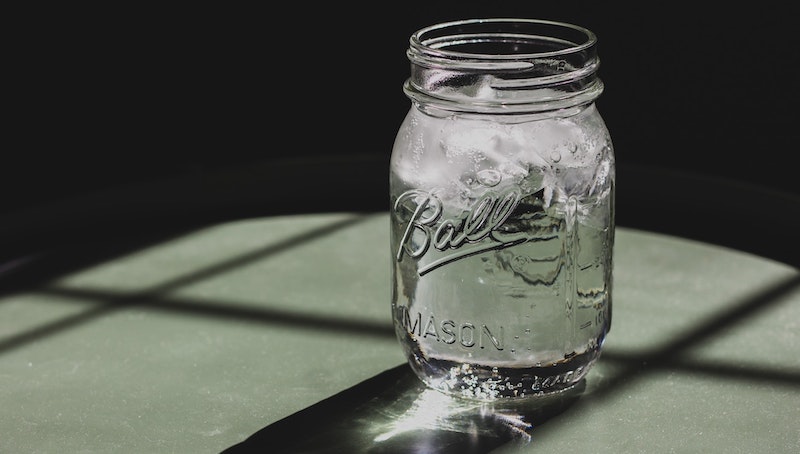 ---
---
Epic Water Filters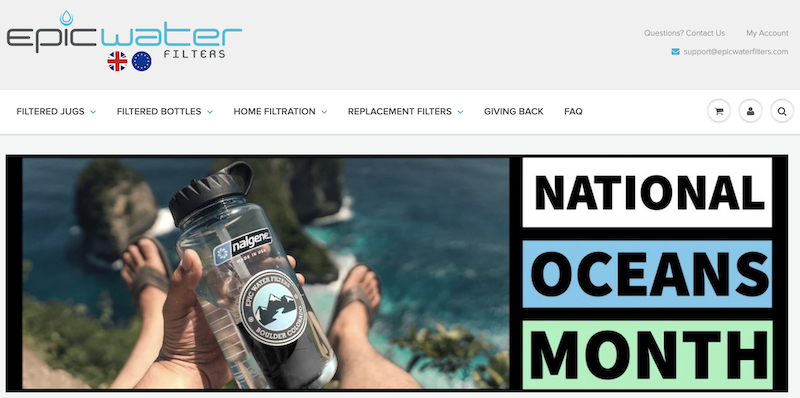 Epic Water Filters focuses on creating long term water purifying solutions to reduce single-use plastic bottles in areas lacking clean drinking water.
They have a variety of products ranging from bottles, pitchers, replacement filters, and home filtration services.
It was created by Ash Heather in 2015 to reduce water bottle pollution after witnessing the damage they had caused along beach shores and river banks in Asia.
Epic Water Filters has an affiliate program that offers affiliates a chance to join their team and earn a 15% commission on every sale. It is available either through Share-A-Sale, Kickbooster, or the company itself.
FilterWater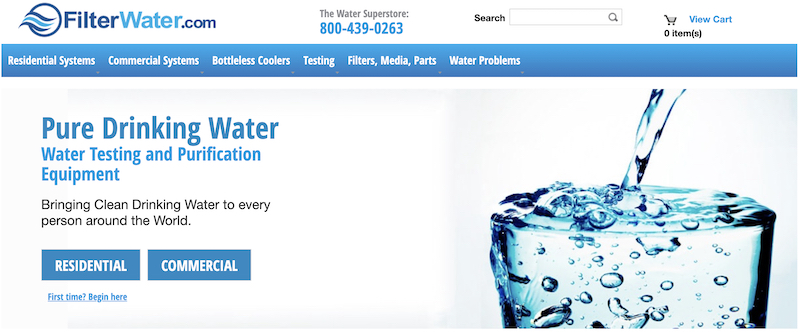 FilterWater helps to provide clean drinking water that promotes a healthy lifestyle. They have a variety of filtration products, i.e., shower filters, filtration house units, commercial systems, etc.
FilterWater operates as online retailers selling their products on different platforms, including Amazon.
It has an affiliate program that offers affiliates up to 12% commission per sale, access to all their products, high conversion rates, and excellent earning for average sales of over $130.
Affiliates can sign up through Share-A-Sale. However, the terms may be slightly different on the network because of various set commission calculation regulations.
Pentair Pelican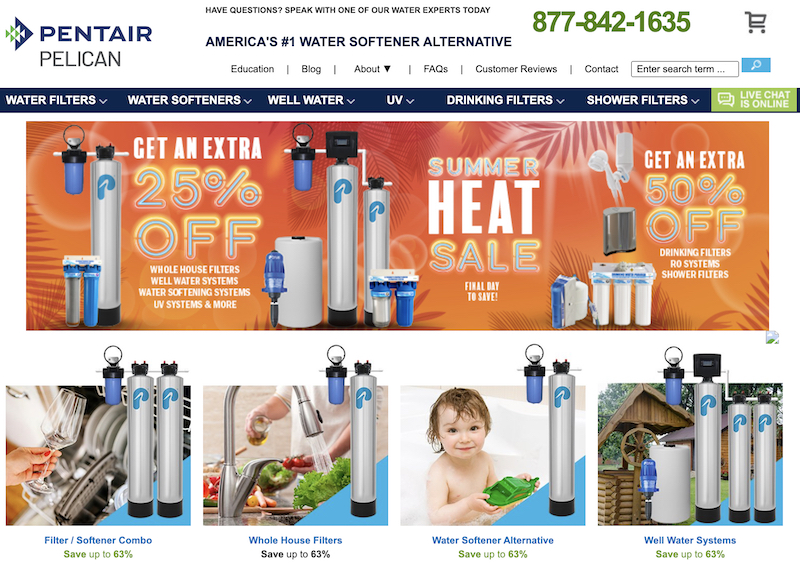 Pentair Pelican creates safe water for human consumption at home, in businesses and industries through filtration and water softening systems.
They specialize in regular water filters, softeners, well water, UV bacteria disinfection systems, drinking and showering filters. They also run a blog with a variety of articles educating people on water-related issues.
Pentair Pelican has an affiliate program that provides affiliates a chance to earn a 10%-12% commission in sales depending on the amount made per sale.
Affiliates have access to banners, text links, and data feeds that help to increase website conversions. They also get additional online reporting tools used to track earnings.
Commission: 10%- 12%
Cookie: 30 Days.
AquaSana

AquaSana has award-winning water filtration designs aimed at reducing contamination. It offers non-chemical, eco-friendly filtration solutions certified to reduce maximum contamination in water.
The company has a variety of whole house filters, water bottles, shower filters, under the sink, and countertops filters.
The company has an affiliate program running through Rakuten Marketing that allows affiliates to earn a clean 10% commission per sale. Also, affiliates have a chance to earn a double commission on selected products.
All affiliates have access to AquaSana products, text links, support team, and company images.
LifeStraw

LifeStraw specializes in manufacturing water purification filtration products that make contaminated water safe for drinking. The products are created and designed by Vestergaard Frandsen, a Swiss-Based company.
LifeStraw products have increased in popularity, especially among people backpacking and traveling to different places in the world.
They have a variety of products such as collapsible bottles, and other numerous bottle designs suitable for both occasional or daily use.
Signing up to the LifeStraw affiliate program earns you a 5% order sale amount. Affiliates are paid through advertising performance campaigns on websites, blogs, landing pages, or newsletters.
The best part is the company provides new affiliates with tutorials and educational materials teaching the basics of advertising.
Berkey Water Filters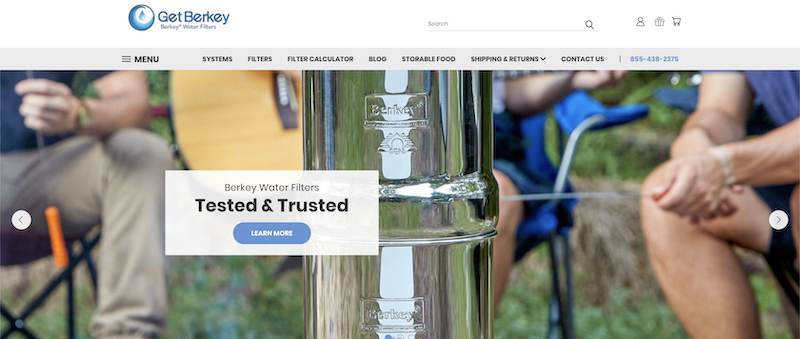 Berkey Water Filters systems specialize in removing bacteria and viruses, something their products stand out in the market. It helps in maintaining a healthy lifestyle while drinking clean water.
Like other filtration companies, it has numerous products in various sizes and designs to cater to different people.
Berkey Water Filters offers an affiliate program that earns you a 15% commission per sale. However, the commission percentage may vary in some campaigns.
Additionally, affiliates are provided with banners and links needed to promote the products successfully.
Crystal Quest Water Filters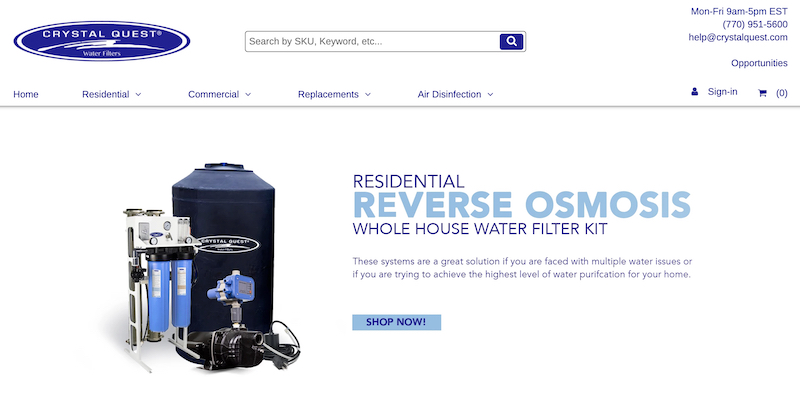 Crystal Quest has been in the water filtration industry for over 30 years. The company manufactures water filtration and softeners products to a worldwide market for residential, industrial, or commercial use.
The company makes reverse osmosis solutions, water conditioning, water treatment, industrial water filters that can be used in beauty salons, apartments, clubs, government complexes, etc.
Crystal Quest offers two types of affiliate programs, digital and field. In both programs, the company offers you a 12% commission on supplement sales and an extra 5% on sales made by affiliates who became affiliates via your site. Crystal also pays you for repeat orders.
AquaNui Pure Water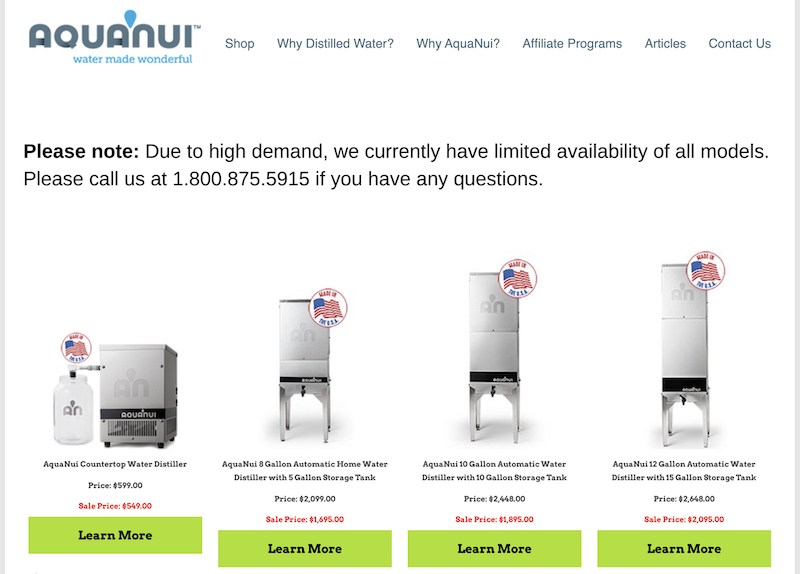 AquaNui specializes in home distillers that get rid of any water pollutants. It is made for anyone who wants to drink pure water free from unseen hazards.
AquaNui offers a 3 tier affiliate program. This means that you can refer people to become affiliates and earn 5% of their sales. Affiliates make a whopping 20% commission per sale.
Sign up is free if you have a website. If you don't have a site, AquaNui can build you a page on their website for $299.00.
Affiliates are supplied with all tools necessary to handle fulfillment details, i.e., billing, support, shipment, and processing.
Wellness Water Filter

Wellness is a volcanic mineral filtration system to eliminate pollutants in water, thus promoting better health to users.
Unlike other water filters in the market, Wellness uses new technology that combines scientific created volcanic mineral cartridges, a replica of nature's spring water production process.
Wellness products are suitable for home, offices, business, or commercial areas.
The company affiliates earn a 5% commission per sale. You also get personalized discount codes that grant your customers a $25 discount from a purchase.
RV Water Filter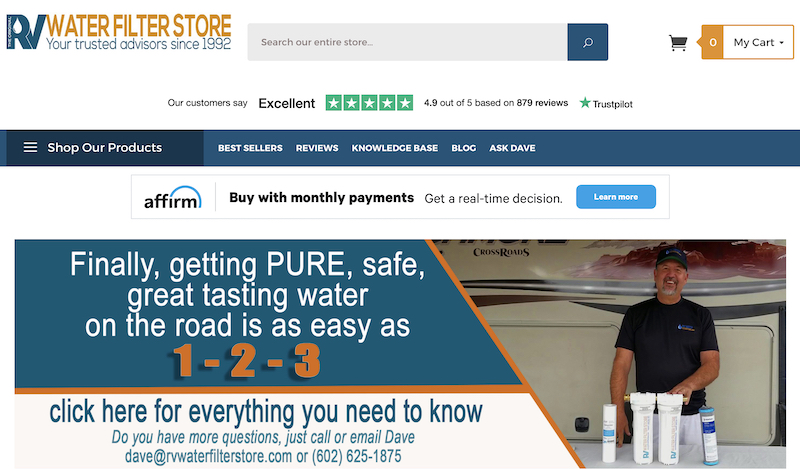 RV Water Filter Store was founded in 1992. For over 25 years, they have dealt with manufacturing and retailing of water filtration products and softeners.
They sell a variety of products suitable for residential, commercial, and business use. The company also has a well-equipped blog equipped with all the necessary information on water filtration systems.
RV affiliate program starting commission is at 15% of the order exclusive of taxes and shipping fees. A top producer pockets 25% commission after generating $2,000 in referral sales.
Affiliates enjoy insider benefits such as partaking in creating holiday promotion ideas designed to suit affiliate its exclusive coupons tailored for them and so much more.
---
Related Questions:
What's The Best Way To Promote These Affiliate Programs?
If you're already in some vertical of the home/prepper/camping niche, then that would be the best way to go about it.
If, on the other hand, you're brand new to affiliate marketing and you'd like to learn how to get started, I have a free guide for you right here.
Can You Really Make Money With Affiliate Marketing?
YES – but it's not as easy as many make it out to be.
Whether you want to promote the affiliate programs mentioned above or anything else, just make sure you know what you are doing.
You do not want to find yourself 6 months down the line realizing you've been doing it all wrong.
If you want to see how I make money with affiliate marketing, check the linked guide in my previous answer.