As someone with a family wine shop business and an interest in drinking wine, I can tell you wine is one of the most stable businesses there is.
Whether there's an economic boom, a recession, a pandemic, or whatever other crisis you can imagine, wine drinkers – such as myself – still want to sit back and enjoy a glass of Malbec.
The good news is, there are many affiliate programs out there for all you wine bloggers, but which ones are the best?
In this post, we'll take a look at some of the top wine affiliate programs and what they have to offer.
By the end, you should have a better idea of which program is right for you.
The 10 Wine Affiliate Programs (Reviewed Below)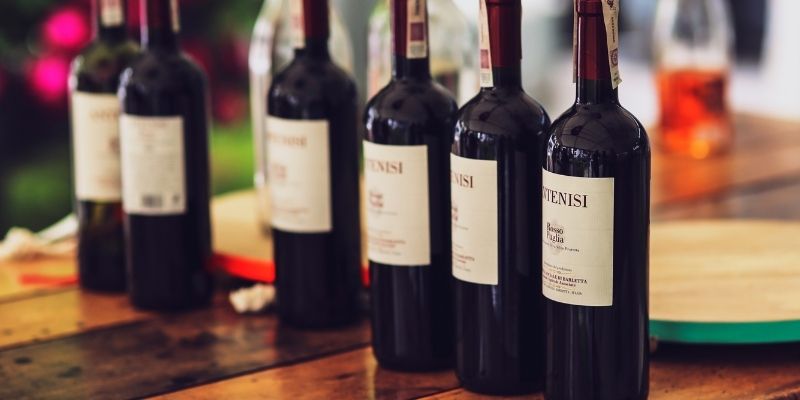 ---
---
Cellars Wine Club
First on our review is the Cellars Wine Club, which offers the most amazing rewards that double those offered by industry players. The site is well-designed to make the work of affiliates easy. You will also love the earnings from special commissions and incentives that help you rack up additional income.
Another unique thing they offer is the individualized campaign strategies. They have a dedicated team that helps in managing the campaigns through standby support to their users. Unlike other sites that pay commissions on a monthly or quarterly basis, this program pays commissions daily.
The site will track cookies for 120 days to ensure that you get the best experience. All you need to do to get started is to join one of the many clubs, enjoy the wine experience while enjoying the commissions. Also, with the program, you are assured of 100% no bad bottle guarantee.
Commission: Average of $26.55 per sale or 15%
Cookies: 120 days
Corkcicle
Next, we take a look at the Corkcicle affiliate program. The site offers top-notch wine products and was recently recognized as the best new company of the year. They sell wine accessories that let you keep wines at the best temperatures.
They focus on social media marketing, link baiting, and do lots of blogs and forums. For every sale made through their program, an affiliate will earn a commission of 15%. The company keeps on improving its portfolio of products to ensure that you get a steady flow of income.
Commission: 15%
Cookies: 60 days
Vinebox
Here is another affiliate program worth paying attention to for their work.
It is a subscription wine club that lets you sign up for their wines, which contain a pair of wine bottles. Vinebox offers handpicked and the most exclusive varieties of wines from the best places on earth.
They do not use commissions to calculate earnings but instead have a flat fee. You are guaranteed a $15 reward for every sale you finalize through its affiliate network. You also earn credits for tasting wines provided by Vinebox.
Another thing to keep in mind is that they do not auto-approve affiliates, so be ready to follow their comprehensive vetting process to become their affiliate.
Commission: $15 per sale
Cookies: 30 days
California Wine Club
For the last 30 years, the California Wine Club has offered the most lucrative wine affiliate program in the US.
Even before the internet boom began, the club was in existence, offering commissions for sales completed through their platform. Currently, they pay 15% for any sale you make through the affiliate links running on ShareASale.
To suit your preferences, they offer 5 different wine clubs to pick from as an affiliate. Their site is very informative, allowing you to have extensive promotional material to push sales. Their delivery is on point; they won't waste time before shipping their orders hence assuring you of better customer satisfaction.
Commission: 15% or an average of $36
Cookies: 90 days
Wine.com
We have Wine.com, the largest wine seller on the planet. They offer a great diversity of wines to meet your tastes and preferences. The extensive portfolio of wine clubs makes it a favorite site to make sales to an already happy client base.
Registration is hassle-free, you only need a few minutes to register then be on your way to earning. They even support you in your affiliate mission by offering tools like text links, banners, and logos to make your marketing much easier.
They won't charge you a cent for joining their affiliate network. And you get a dashboard that helps you to track all reports and commissions from sales. They guarantee a 5% commission for every sale, so the more you close sales, the better the earning.
Commission: 5%
Cookies: 15 days
MajesticWine.Com
Majestic Wine is another exciting opportunity to sell brilliant wines. They have an organized website that lets you pick banners and text links to help you in marketing their wines. Their earnings aren't so attractive as compared to other affiliates.
They will pay a 4% commission to recruit a new customer and 1% for subsequent customers. The good thing is that they highlight the best-seller updates to make your marketing easier. You get promotions and news updates to stay updated on what is happening.
Commission: 4%
Cookies: 30 days
Organic Wine Company
OWC offers only organic brands of wines free of chemicals. They select top grape wine made from grapes that only use organic manure. That means by using Organic Wine Company, you are selling for a good cause on health.
They have a unique structure of awarding commissions. For every sale, they automatically pay 5% upon closing then they pay a further 10% upon completing a subsequent sale. The fun part is that they don't use third parties in managing their affiliate network, so you can rest assured you are getting the proceeds directly from the parent company.
Commission: 15%
Cookies: 30 days
Plonk Wine Club
Another amazing club is the Plonk Wine Club. They have a savory variety of wines ranging from white, red, and mixed brands. They also sell more than 12 international exotic brands for a touch of class. If you run a wine blog, then Plonk Wine Club is something you may want to consider to make some extra bucks.
The affiliate program runs on monthly subscriptions that let you decide on which brands to push for every month. They have attractive commissions to reward you for the marketing effort. Besides, they will track cookies to ensure you have a happy experience on the site.
Commission: 7%
Cookies: 30 days
Wine Enthusiast
Here is another accessory seller that doesn't sell wine in its niche but deals with storage and other cool wine accessories.
Wine Enthusiast sells consoles, furniture, wine coolers, and other special gifts. For selling any of their products, you earn a 3% commission.
All you need to do is run a campaign on your website to push the products on offer and with affiliate links you can earn lots of commissions when people buy through a link provided for affiliates.
One thing to note is that you need to be pre-qualified to begin to join as an affiliate. They analyze applications coming through their Commission Junction to ensure that their affiliates meet all the set requirements. If you qualify, you will have an opportunity to use their banners and text links to promote the organization.
Commission: 3%
Cookies: 30 days
Splash Wines
Splash Wines offers assorted brands of wine classified according to cases. These cases feature combinations of red and white wines, or it could just be a stand-alone case of red or white. They haven't set commissions for their affiliate sales but for sure they give lots of merchandise.
If you are lucky, you get gifts like coasters, t-shirts, bottle thermometers, and so forth. They work with CJ Affiliates and will track cookies for a month. You get creatives, text links, and tutorials that help you in your marketing endeavor.
Commission: 10%
Cookies: 30 days
---
---
Can You Make Money Selling Wine as an Affiliate?
As you may have noticed, commission rates on selling wine as an affiliate are not always great. For most of the affiliate programs mentioned above, it's a single-digit commission.
However, one thing you should know is that the average wine drinker spends ~$65 per wine order.
If you have a few of these a day (+ repeat customers) you can definitely earn a sizable income promoting wine online.
Is affiliate marketing a good way to make money online?
When done right, affiliate marketing can make money with any niche whatsoever. The trick is in the "doing it right". I have seen many fail with guaranteed money-makers and seen others make millions selling the dumbest of things.
If you want to make money with affiliate marketing (selling wine or whatever else) make sure you understand what it takes to make an affiliate marketing business a success.