10

min read
I happen to believe that affiliate marketing may just well be one of the best ways to start earning for anybody looking to make some extra money online.
Unfortunately, due to many people realising this and aspiring to make a life-changing income online, a lot of affiliate marketing scams have come to light shining a rather unsavoury light on the whole industry.
Whenever I tell people I make money using affiliate marketing; I usually get either of these four reactions:
People think I'm a scammer,
People think I am getting scammed,
People do not know what that is or
People are interested, but are afraid of being scammed.
Which is understandable, nobody likes to be scammed, and although most of the scam products and courses I review on my site are not that expensive, you will find "training programs" that go for $1000s of dollars hyping up a dream for the gullible to eat up and fall prey to.
In fact, one of the main reasons I started this website, was to help people avoid scams online. I too have been scammed many times until I finally realised that not all that glitters is gold and yes; people do tend to lie online to sell you something (go figure).
Today, I want to show you some affiliate marketing scam examples so you know what to look out for in case you are looking to get started as an affiliate marketer. I think after having done multiple reviews of such products and having myself been scammed a few times; I am quite confident in saying that nowadays I can smell a scam a mile away.
But not all hope should be lost either; there are many, many legit ways that you can learn how to do affiliate marketing but you just need to know what to avoid – as not to get scammed.
I hope this quick article will give you the answers you need to help you save some money down the line and of course; I will also be giving you some legit affiliate marketing options which I have used myself and that I can guarantee are scam-free (because they are free to join).
So if you're interested in learning about affiliate marketing without being scammed out of your hard-earned money, be sure to continue reading as I plan on exposing this whole "fake industry" and hopefully in the meantime make you believe that affiliate marketing is not a scam and that yes; money can be made with it.
6 Affiliate Marketing Scam Examples To Run Away From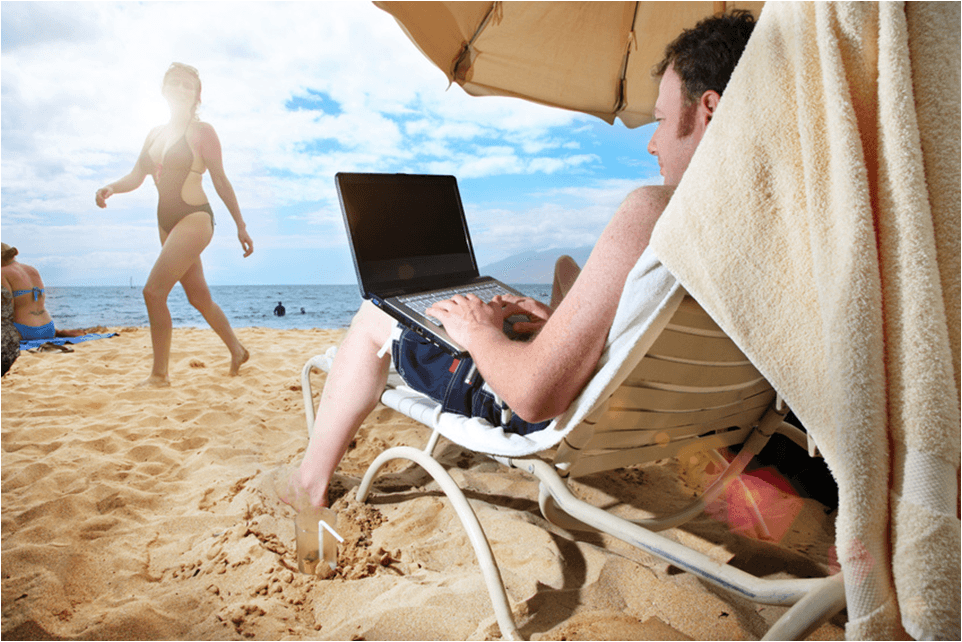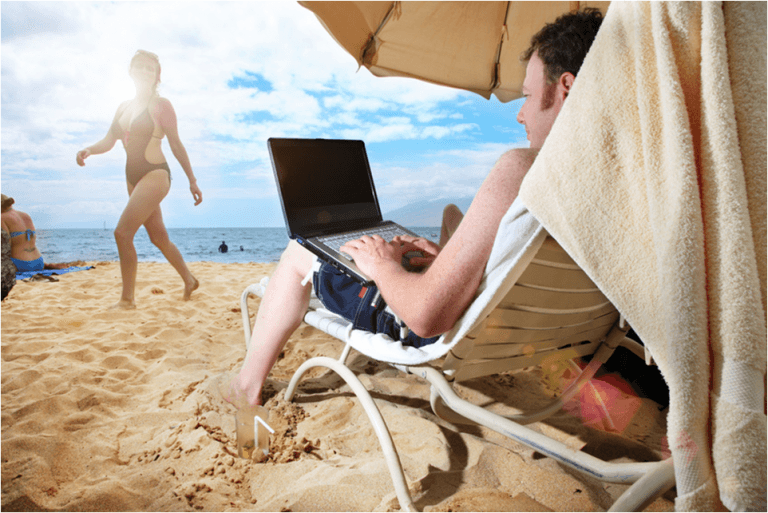 What we'll be going through here is how to spot a scam. There are clear, significant pointers that will immediately reveal themselves to you that will signify you are looking at a (potential) scam.
You might even have seen some of these already, or worse; have been duped by one, but worry not as now you are going to be given these few affiliate marketing scam examples, and you will never have to worry about getting scammed ever again.
Here goes:
"You Can Work On The Beach"
Nobody can work on the beach… if the sales page of the product you are looking at is claiming that "this formula" will allow you to "work on the beach", they are trying to scam you.
I live on an island in the Mediterranean with the beach being some 20 meters away from my front doorstep; once I even tried working on my roof to catch a suntan while working – the result; impossible.
The sun glare makes it a nightmare to work, and if you are going "on the beach", apart from the unrelenting sun, you have to remember that sand gets everywhere too.
I don't know about you, but I do not want to work on the beach getting sand in my expensive laptops and devices – this is a mythical legend that marketers always try to sell and it is just a lie.
Whenever I see that I can work from the beach, I immediately see a marketer that has no idea of what he is talking about or a complete, flat out affiliate marketing scam in action. Either way; no thank you. I'd rather work in my home office on my comfy chair with a cup of tea.
"For Only $5…"
This is a two part point so bare with me for a second here:
$5 is not going to make you rich.
Doesn't somebody telling you he or she can make you rich for a few dollars make it sound suspicious to you? Do you think anybody who has ever cracked the code of passive income and wealth is just so kind that they are willing to give it away for practically nothing?
I don't know about you, but this sounds incredibly fishy to me. And if it's already suspicious and inconsistent in the sales page, I hate to see what the product is like. Chances are a complete and a perfect example of an affiliate marketing scam example in action. No thanks.
The product does not cost $5.
Also, the product may be advertised for $5, but it does not cost just $5.
The trick here is to entice you in with a low entry price. Nobody "desperate" to make it online is going to refuse such a deal but once you buy into the product; expect a slew of upsells hitting you immediately.
I once purchased a product to review and it came with a staggering 19 upsells that came after the initial purchase. I do not know exactly, but to add all those up, the $5 price would've probably cost me closer to $5,000 – no exaggeration here.
This is how the affiliate marketing industry got a bad name; way too many people have been scammed with these dirty tactics that now it has ruined it for everybody. Keep the faith, though; I will be telling you where to get started properly soon.
"Start Making Commissions Today"
Nobody has ever made a commission on day one. Please get this out of your head. I can't tell for sure, but my guess would be that there hasn't been a single newbie who started with a "system" and after a few hours made his or her first sale.
It's just so ridiculous that it sometimes makes me wonder why people fall for these kind of scams. I sometimes even feel sorry wasting away the $5 knowing damn well that it is going to these awful affiliate marketing scams.
Having said that, I do enjoy doing reviews to hopefully save you guys some money. For more on that, see my post on why I do not mind getting scammed online.
"Look At My Amazing Life"
Not this is a tricky one because yes; affiliate marketing can give you a pretty great life you know how to do it well.
Also, there are fake gurus who flaunt their fake lifestyles and there are real ones that flaunt it as well (check out Tai Lopez). So how can this be an affiliate marketing scam example to look out for?
Look at the person saying it; most often, the cheaper (scammy) products hire actors and props to give the illusion of a luxury lifestyle earned from affiliate marketers – you'd be surprised to know how professionally some are made; all for selling a fake system.
On the other hand, if you follow somebody like Tai Lopez on Twitter, Snapchat or Instagram, you will see that they really do have the lifestyle they talk about, but they do not use it as "the main selling point".
I know this point is a bit blurry and may take some time understanding, but yes; a cheap $5 product that says they can give you a millionaire lifestyle tends to always be your typical run-of-the-mill affiliate marketing scam.
If you are dubious about a product you are wanting to purchase, leave me a comment down below or send me an email so I can review it for you.
"A Done For You System"
Ehhhh.. this is not quite right and frankly; for somebody who has built an affiliate marketing business; it doesn't make much sense.
What does it mean to have a done for you system?
Often times they won't even explain what this main "selling point" is and it can start raising some alarm bells in my head when a product page is using these types of buzzwords.
A done for you system I can tell you does not exist, but I can imagine an "ok system" being packaged this way. Alas, if there was such a system; it would possibly cost thousands upon thousands to get. I have been doing this for a while now, and even I can not say I have the full "complete" system.
"Fire Your Boss"
This is not a usual occurrence and thank goodness for that – what kind of sales marketing technique is it to tell somebody to quit their job and "fire their boss"?
I used to like the idea of this "catch phrase" before, but once I started getting into these products (and getting scammed myself), I thank my lucky stars I never took this advice to heart.
Affiliate marketing, although it being an excellent way to monetize is not guaranteed income and yes; it can take months and even years to make a full-time income (although this guy started banking $10K a month rather quickly).
Firing your boss; especially when you are a newbie at this is a suicide mission that is not likely to end well.
I am all for people taking back control of their lives and living a boss-free lifestyle, but for a product to make it a selling point and promoting it this way sure seems like dodgy marketing tactics to me.
What Is The Easiest Way To Learn Affiliate Marketing?
Ok, so now that we've looked at some perfect affiliate marketing scam examples, I am sure you get the idea of what you need to avoid… right?
Now, you can continue on your merry way looking fo scam free products to learn affiliate marketing from, or you stick around for just a few more minutes and I give you my best, scam-free training programs you can try and use to build your business.
I have reviewed many products on this website, but the two best ones that I have found so far are:
I have personally built my business with Wealthy Affiliate; It is where I have learned all that I need to know to make a significant income online and also; what I would pick out of the two if you need a clear choice.
Fizzle, on the other hand, I tried and completely loved. It's cheaper than Wealthy Affiliate, but it doesn't even come close to the tools and resources you get at WA.
Now, am I saying this just to sell you another scam affiliate marketing product? No.
Both these programs are free to try; no credit card even required so if I were you; I would try both and see which one you like best. You have nothing to lose and everything to gain here so I really would recommend you spend the next few hours looking into these two great platforms.
In Closing
Thank you very much for reading my post. I hope this has opened up your eyes to the good and the bad of the affiliate marketing industry.
If you have any Qs about what we've talked about, affiliate marketing or online business in general; be sure to email me, leave a comment down below and read some more tips on my Advice blog.
I hope you have a great day and I look forward to seeing you succeed.
-K