Affiliate marketing is still one of the best ways for anyone to start making money online, but as I'm sure you've realised by now, there are plenty of affiliate marketing scams you need to watch out for.
Unfortunately, there are many "gooroos" who prey on the beginners who think making money with affiliate marketing is a fast way to easy riches, but let me be the one to tell you;
There's no such thing as quick-money with affiliate marketing (or any other online business for that matter).
Today, I want to share with you a few examples of affiliate marketing scams and "hype tactics" that should trigger warning alarms for you, if you come across them.
I've been on the victim-end of these scammers and it's not a fun experience. I've wasted years and thousands of my money buying up systems and one-click software when I was starting out with affiliate marketing, and all I ever got was disappointment.
Hopefully; this quick guide will save many from going through the same thing.
(Down below I will also share with you some scam-free courses which you may want to check out)
Let's get started…
5 Affiliate Marketing Scams & "Hype Tactics" To Stay Away From!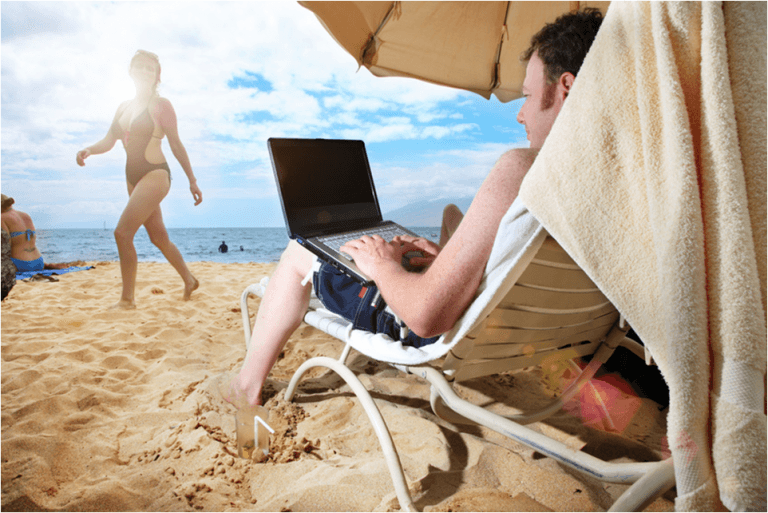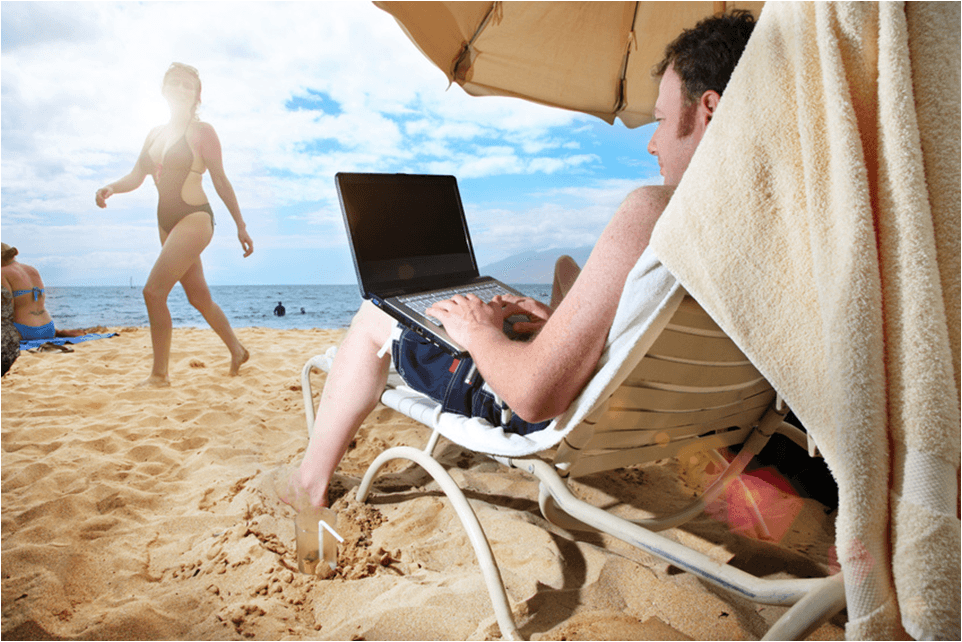 The following are a few affiliate marketing scam examples and key lines that should immediately make you walk run away.
If you come across any course, product or system that uses any of the following, it'd be your own fault if you get scammed yet again.
You might have seen some of these (or worse; you might have been duped by one already) but worry not as after reading this;
You will never fall for another affiliate marketing scam.
Let's start with my favourite one…
"You Can Work On The Beach"
No – you can not work on the beach.
I live in the Mediterranean with the beach being some 20 meters away from my doorstep.
Just to live up to my "Dot Com lifestyle" hopes and dreams, I did one time try to "work from the beach". It was a horrible experience.
The sun glare makes it impossible to work and the sand gets everywhere.
This is "work from the beach" myth is BUSTED and proven to be just another "sounds good but doesn't work" affiliate marketing scam and anywho who tries to sell you on it is either lying, or they are trying to scam you.
It's Much Better To Work From Home
Personally I like to work from home. The "beach" is impossible and coffee shops are too noisy for me. If you'd like to start a home-based business with affiliate marketing,
you can see this (scam-free) course here
.
"For Only $5…"
This is a two-part example so bear with me for a second here:
$5 is not going to make you rich.
Doesn't someone telling you he can make you rich for just a few dollars sound suspicious to you?
Do you think anybody who has ever honestly cracked the code of passive income and digital wealth is just so kind that they are willing to give it away for practically nothing?
I don't know about you, but this sounds incredibly fishy to me. Chances are that a product that sells for $5, it probably not going to get you far, so no thanks.
One other thing…
The product does not cost $5.
Also, the product may be advertised for $5, but it does not cost just $5. The trick here is to entice you in with a low entry price.
Nobody "desperate" to make it online is going to refuse such a deal but once you buy into the product; expect a line of upsells to hit you immediately.
I once purchased a product to review it for this website and it has a staggering 19 upsells come after the initial purchase. After adding all those upsells, the $5 price would've probably cost me closer to $5,000 – no exaggeration here.
This is how the affiliate marketing industry got a bad name; way too many people have been scammed with these dirty tactics that now it has ruined it for everybody.
Keep the faith, though; I will be telling you where to get started properly soon.
"Start Making Commissions TODAY"
Please get this out of your head. Nobody has ever made a commission on day one – ever!
I can't tell for sure, but my guess would be that there hasn't been a single newbie who started with a "system" and a few hours later made his or her first sale.
It's just so ridiculous that I sometimes wonder why people fall for these kinds of scams, but then I remember I too used to fall for such BS.
You can not start making money from day one, but I do promise you that you can make money and it won't take as long as you think – if you follow the right training.
"Look At My Amazing Life"
Not this is a tricky one because yes; affiliate marketing can give you a pretty awesome life you know how to do it well.
However, there is no shortage of "fake gurus" flaunting a fake lifestyle.
So how can this be an affiliate marketing scam example to look out for?
Look at the person saying it; most often, the cheaper (scammy) products hire actors and props to give the illusion of a luxury lifestyle earned from affiliate marketing commissions – you'd be surprised to know how professionally some are made; all for selling a fake system.
I know this point is a bit blurry and may take some time understanding, but yes; a cheap $5 product that says they can give you a millionaire lifestyle tends to always be your typical run-of-the-mill affiliate marketing scam.
If you are dubious about a product you are wanting to purchase, leave me a comment down below or send me an email so I can review it for you.
"Fire Your Boss"
This is not a usual occurrence and thank goodness for that – what kind of sales marketing technique is it to tell somebody to quit their job and "fire their boss"?
I used to like the idea of this "catchphrase" before, but once I started getting into these products (and getting scammed myself), I thank my lucky stars I never took this advice to heart.
Affiliate marketing, (although it is an excellent way to make money) can take months and even years to start producing a full-time income.
Firing your boss; especially when you are a just getting started is a suicide mission that will not end well.
I am all for people taking back control of their lives and living a boss-free lifestyle, but for a product to make it a selling point and promoting it this way sure seems like a dodgy tactic to me.
When Should You Quit Your Job?
You should only start thinking about quitting your job when you've produced the same level of income your job provides from 6 months straight. Even then, you should see what your lifestyle allows and ideally having some savings saved up.
Is Affiliate Marketing Just One Big Scam?
Although it may seem like it at times, affiliate marketing is not just a get-rich-quick type of scam, and I'm proof of that.
As I said, I have been scammed many times in the past but I've also made it through all that confusion and today I run a portfolio of affiliate marketing websites that make enough money to fund my life without having to go to a 9-5.
If you want to get into affiliate marketing, do it – but be careful of the types of affiliate marketing scams mentioned above and don't be so gullible.
Just remember affiliate marketing is not free (it's a business that does require some form of investment) and again; it's not a get rich quick thing. 
What Is A Scam-Free Way To Learning Affiliate Marketing?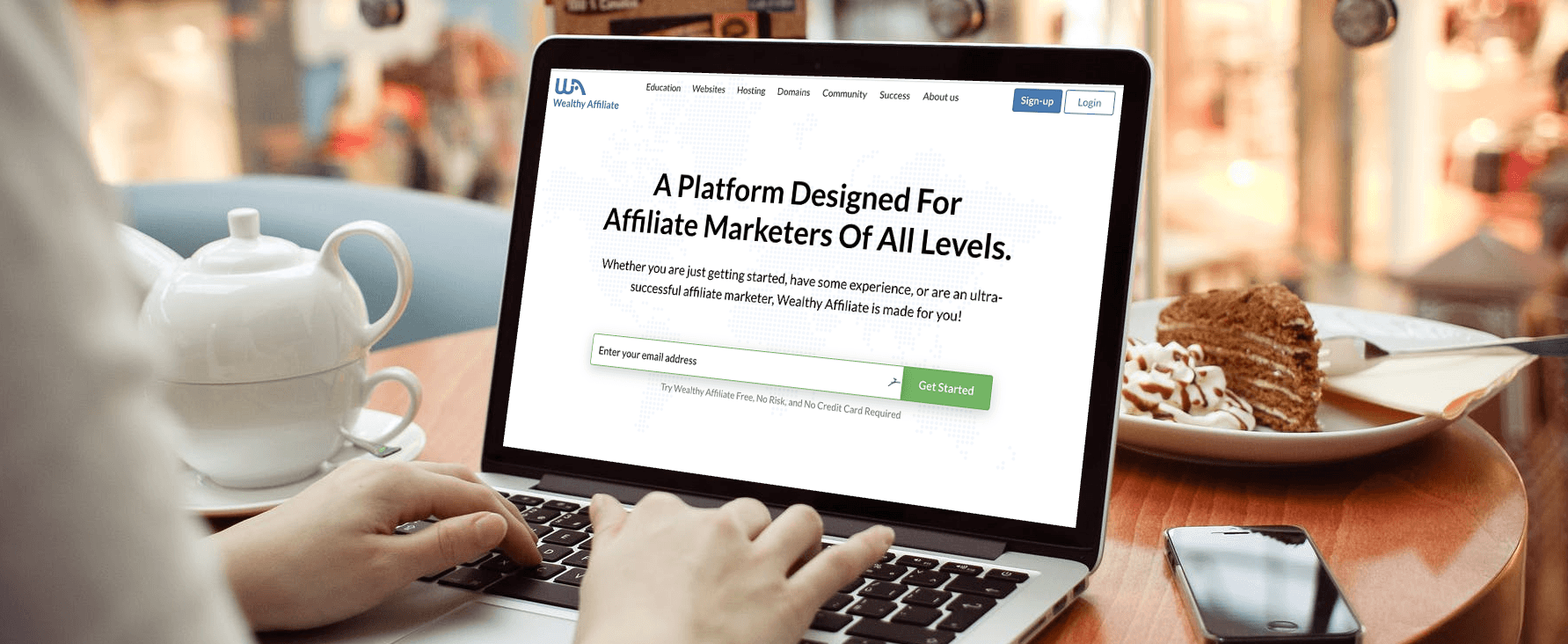 The best way to learn affiliate marketing in a scam-free environment is to find a proven, well-structured course that will help you get started without ever needing to reach for your credit card.
This is why for the past 6 years I have been promoting Wealthy Affiliate to all my students and readers.
As you can see from my official Wealthy Affiliate it's the reason I now make money online (through affiliate marketing). If you are interested in checking it out, keep reading…
✔️ Introducing… Wealthy Affiliate.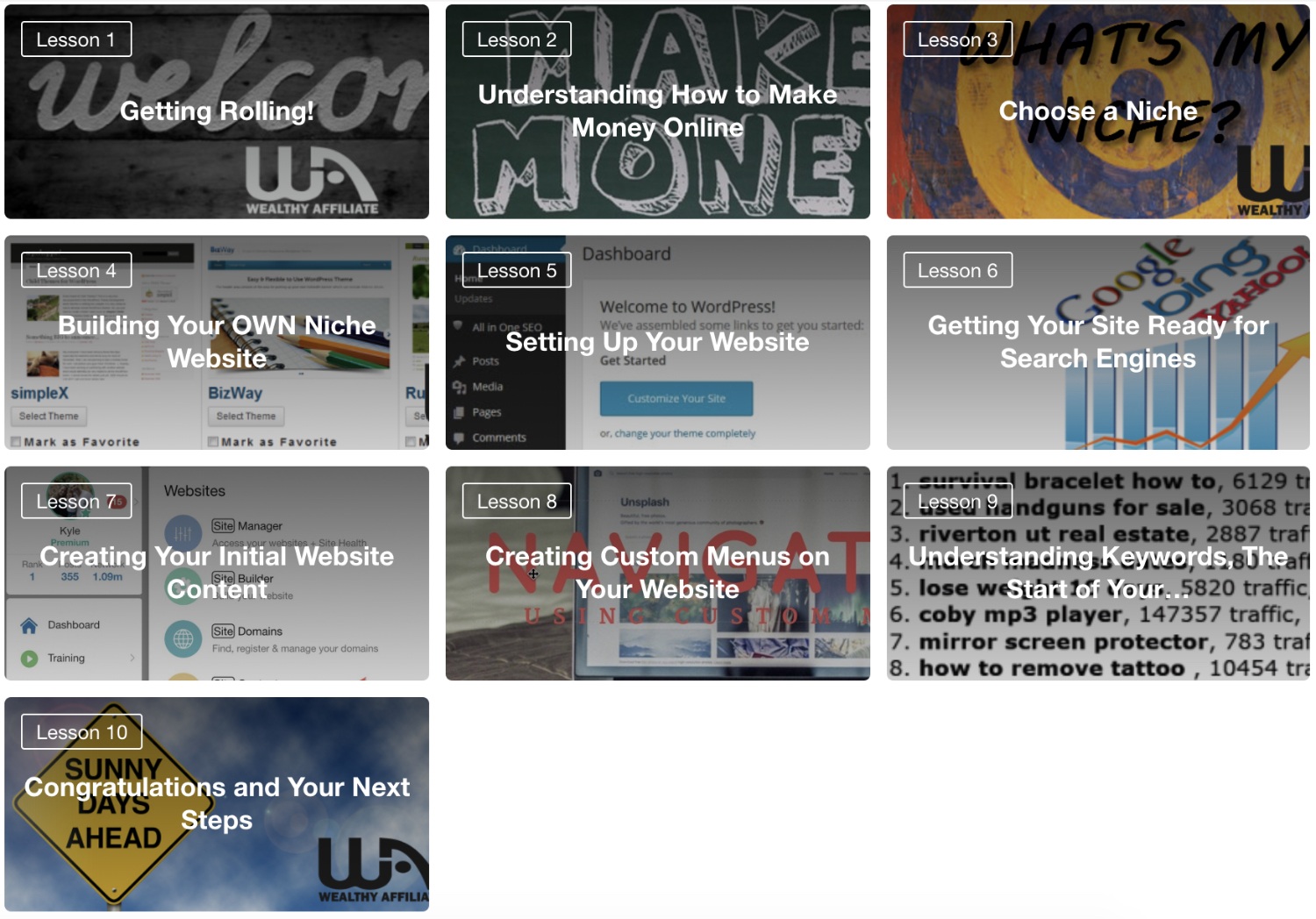 Wealthy Affiliate offers you a free 10-day getting started video-course which you can take for free.
With this course you will learn all you need to know about:
How to make money online.
What you need to know to make money online.
How to build an online business with affiliate marketing.
How to create a money-making website.
and a whole lot more.
Once that is done, you then have the option to go through the higher levels of training, which comes at a cost, however;
For a limited time only, I am offering a $97 bonus to all those who join Wealthy Affiliate on a premium membership. If you'd like to know more about that, you can read about it on the Affiliate Starter Pack bundle.
In Closing
So there you have it.
5 perfect examples of affiliate marketing scams to stay away from and also a proven and free course that you can join which will guarantee you will never be scammed again.
The choice is yours now. You can either keep getting scammed, or you can make the right choice.
Thank you for reading.
If you'd like to know more, check out some of my most popular guides on the "Get Started with Affiliate Marketing" page.
I'll leave you to it.
WANT TO KNOW HOW I MAKE MONEY WITH
AFFILIATE MARKETING?
(YOU ALSO GET A 10-DAY COURSE FOR FREE WHEN YOU SIGN UP)
After signing up, you will be redirected to the course page where you need to sign up again - no credit card required, just an email will do.