If you've ever hoped of one day being able to make money online, you need to know that there's one fundamental rule that you need to abide by, and that is:
Having your own website.
Today, I am doing my SiteRubix review – a site-builder tool that will allow you to build a free WordPress website – with absolutely no limitations – in just 70 seconds.
Do you want to start a website for your business?
Do you want to try your hand at WordPress?
Do you want to start an online business?
Whatever the use for it may be, I am sure you are going to love SiteRubix and in this review, you're going to see WHY I am such a fan of this platform.
Ready to get started?
Let's see what SiteRubix is all about…
What You Need To Know About SiteRubix
$0 (Yours For Free)
Price

Features

Training

Value For Money
Siterubix Review Summary: The Best Site Builder?
Free Fully-Functional Wordpress Website
No Hidden Costs
No Hosting Fees
Your Site Is Yours "Forever"
Free Training On How To Build Your Website (Included)
What Is SiteRubix?
SiteRubix is a free WordPress site builder that is powered by the good folks at Wealthy Affiliate.
In case you do not know what Wealthy Affiliate is, I highly suggest you take a look at my thorough review here.
SiteRubix is:
A fully functional WordPress website (with no limitations)
It's 100% free (although it does come with .siterubix extension) and
It comes with free training on how to build out your new WordPress website.
Now I know what you may be thinking;
"Why not just start a WordPress website from the get-go – WordPress is also free?"
Before I tell you why I think you should opt for SiteRubix over WordPress, let me first tell you (& show you) how easy it is to actually start building with SiteRubix:
How To Start A Free WordPress Website (With SiteRubix)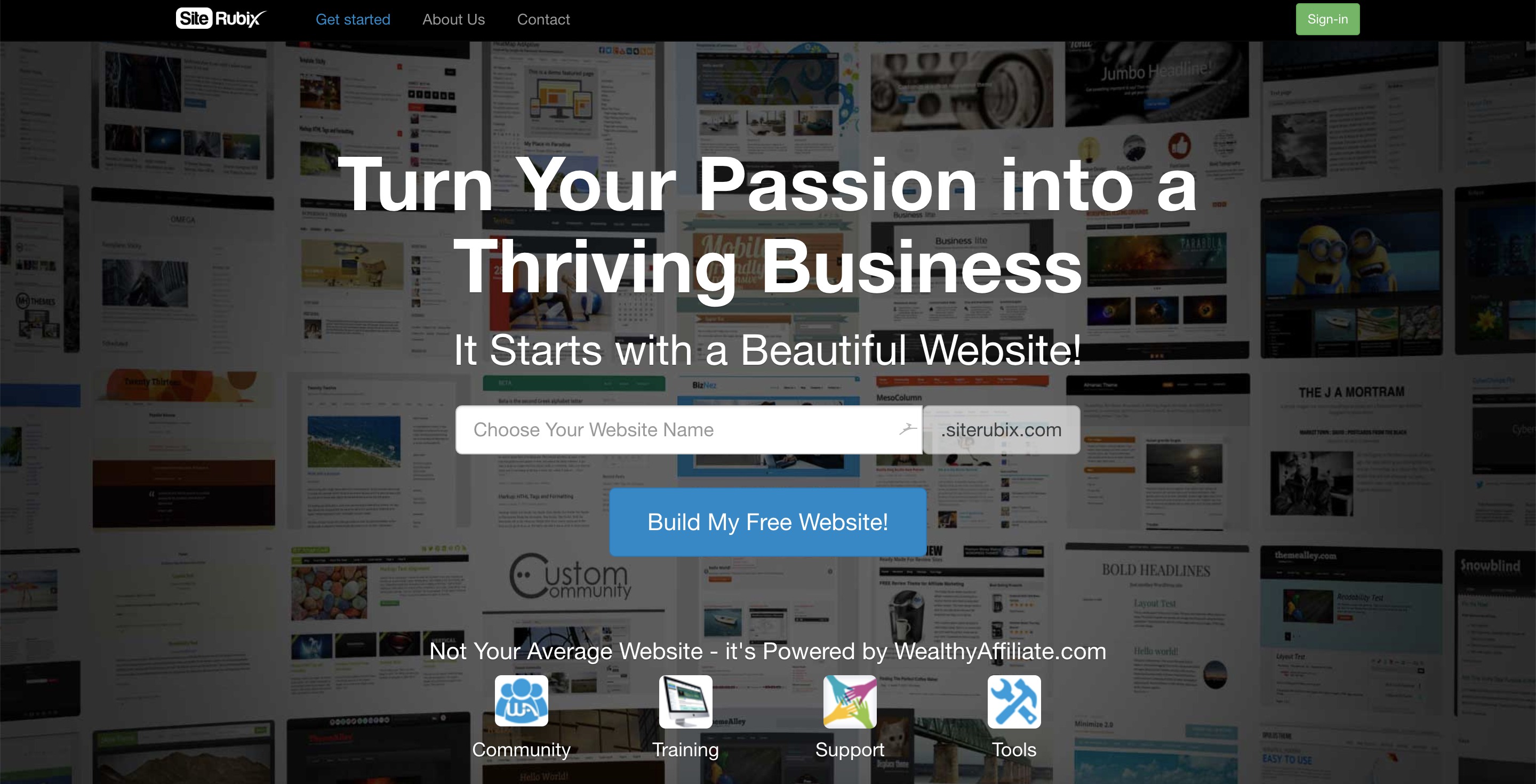 Visit The SiteRubix Website
The first step is to either visit the SiteRubix website here, or you can also use this handy widget I have for you here:
Pick A Name For Your New Website
One thing you are going to need to do yourself though is to pick a name for your website.
Now, remember – once you pick a domain, you can not change it later.
If this was a domain that you will be buying, you are going to need to pay around $15 (and also $100 a year per hosting). With SiteRubix, you get all of this for free.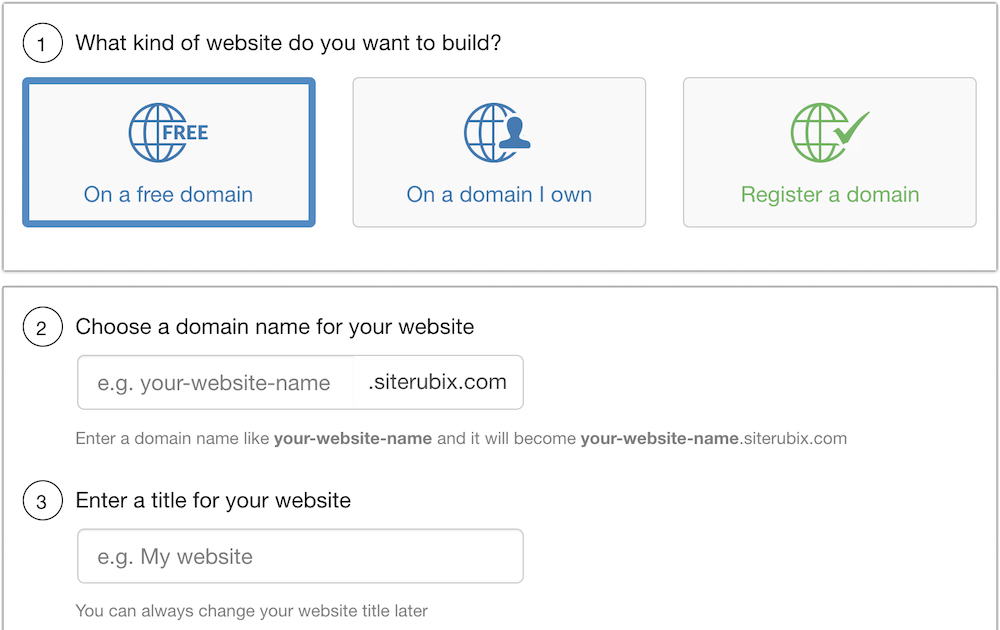 How Do You Pick A Name For Your Website?
Sadly, picking a great domain is getting harder and harder these days as domains are being bought up and registered at a record pace.
If you find that your desired domain is taken, you just need to get creative.
Just take a look at my domain (3HUNDRD.com) – it makes no sense and it's misspelled, that's just how it is.
Now what's good about SiteRubix is that you also get the .siterubix extension with your domain so when you take that into consideration, you might actually find the domain you want that has not yet been registered with Siterubix.
But what if you don't want the .siterubix extension?
That can be easily solved, and I will tell you what you need to do down below.
For now, just pick a name, plug it into the widget above (or on the SiteRubix website) and move on to the next step, which is…
Pick A WordPress Theme (Over 4,000 Built-in Themes Available)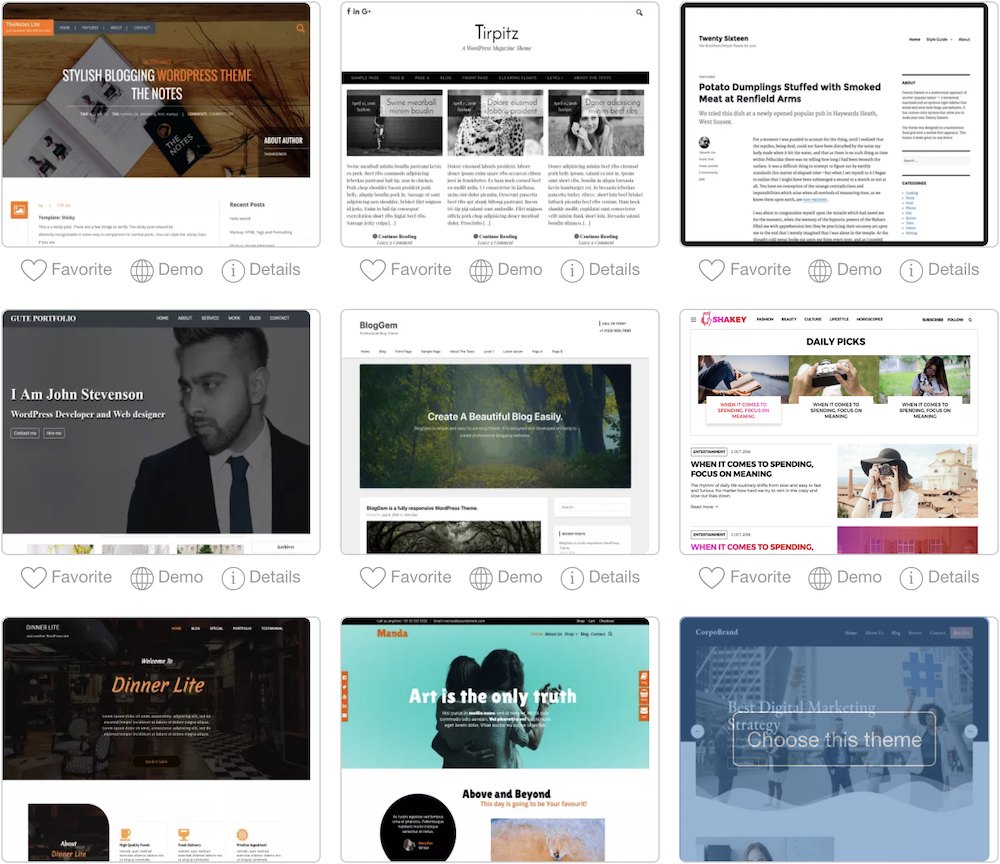 "Themes" allow you to customize your website to your liking and there are thousands of different themes which you can use.
I'm not sure of the exact number of free themes that are available (I'm assuming it's well over 100,000), with SiteRubix, you get 4000+ themes which are already built-in.
Just in case you do not find a theme you like (which is quite hard to believe out of 4,000 themes), don't worry; you can always upload a new theme at any time you like because unlike others;
SiteRubix gives you full control and full capability on your WordPress website.
Build Your Free Website
& that's it.
You now have a WordPress website. That's all it takes.
If you think that's still a bit complicated, you can see this video down below where I show you how to create a fully-functional WordPress website with SiteRubix in just 70 seconds.
Building A WordPress Website With SiteRubix in 70 Seconds (VIDEO Guide)
Why Should You Choose SiteRubix Over Others?
Now that you've seen for yourself how easy it is to get a free WordPress website up and running, let me now tell you a few reasons while SiteRubix should be the best place to start with (and why you should choose it over other free site builders).
It Runs On WordPress
As I've illustrated already in this review, SiteRubix runs on WordPress, which I believe is the best CMS (content management system) out there.
Everyone uses WordPress and that's because it has earned its rightful place as the "standard" in building websites.
Back in the day, it used to cost you $5,000 minimum to start a website, thanks to WordPress (and SiteRubix) – it's now free.
You can see more reasons why WordPress is the best option for you here.
It's Powered By Wealthy Affiliate
Another major benefit of SiteRubix (and also why I am such a fan of this platform) is because it is powered by Wealthy Affiliate.
Wealthy Affiliate is an online university showing you how to create websites that you can use to make money.
It has been in this business for nearly 15 years now and so far – each and every year – they have continued expanding their services and the quality of their services.
What I am trying to say here, is that I trust Wealthy Affiliate and that's only because they have earned my trust over-time.
Knowing SiteRubix is backed up by such a company gives me the confidence to keep using SiteRubix as my go-to source to build a free website.
Want to claim my $97 bonus be joining Wealthy Affiliate? See the details of that offer here.
You Have Full Control Over Your Website
Unlike other site-builders, SiteRubix gives you full control over your website.
Other (Wix) also give you a free website, but they keep full control over it and over your content.
Not to bash on Wix too much here, but they even add banner ads to your website when you use their service – this not only makes for ugly user experience, but they are essentially profiting off your content.
With SiteRubix, you do not have this problem.
There will be no mention that this is a "free website" and there's definitely no banner ads involved and yes; you 100% own your content "outright".
Your Site Is Yours "Forever"
Since it's free (you do not even need to have a credit card on file to have your SiteRubix website) you get to keep your website forever.
There's no limit to how long your site remains free.
if you want to get rid of your website, you can either delete it, sell it or simply never log into it again.
As long as you decide to keep it "online", it will remain there forever (or until the internet dies away).
NO Hidden Costs
One other thing you need to know is that there are no hidden costs with SiteRubix.
When I say "get a free WordPress website" – I do mean 100% FREE.
No monthly subscription.
No hidden fees.
No "high prices" for the second year.
Absolutely zilch – no payment, ever.
NO Hosting Fees
Also, with SiteRubix, you also get free hosting.
Now hosting is the "most expensive cost" of running a website (and when I say "expensive" I mean $100 a year).
Since you are using the SiteRubix servers, you never have to pay for hosting.
As I said in the point above, Siterubix is 100% free.
SiteRubix Website Can Get Ranked In Search Engines
Your "average" site builders have one fundamental problem and that is; free websites do not rank in Google.
On the contrary, SiteRiubix websites not only can rank in Google, but they do.
They most definitely do.
There's a fantastic story inside Wealthy Affiliate from a user who created a free website with SiteRubix and just a few months later was getting 4,200 a month from Google.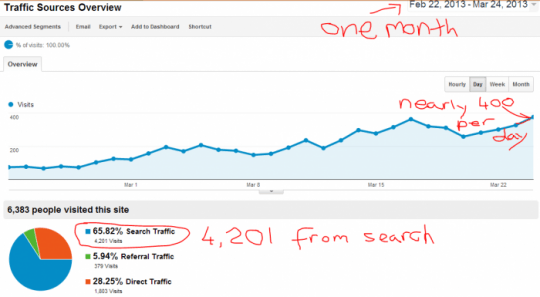 How crazy is that?
So yes – SiteRubix websites do rank in Google and they do get traffic. If not, why on earth would you want to build a website anyway?
You Get 24/7 Support With Your Website
Problems?
Issues with a plugin?
Something is misfiring?
Fret not – SiteRubix has a dedicated support team behind it that will help you out with any issue you may be having.
As a SiteRubix site owner, you also get a Wealthy Affiliate account which is where you would need to access the Support System.
I'm sure many reading this will not believe this, but the average response time for a Support Ticket is 3 minutes.
It's hard to believe I know, but it's true.
You Get Free Tools To Build Out Your Website
How would you like a free keyword research tool to help you see what keywords to target?
How about a SiteContent tool to help you build out your website with great content?
How does free training on how to make your website a success sound (more on this later)?
With SiteRubix, you get all the above and more.
Sidenote: I know this is sounding like it's some too-good-to-be-true pitch from me, but believe me; it's not.
You can give it a try here if you don't believe me (it's not going to cost you a cent):
You Get To Learn How To Make Money With Your Website
Since with every SiteRubic website, you also get a free Wealthy Affiliate starter account, you get access to not one, but two free training courses that will show you:
How to build your free WordPress website
How to add pages
How to add posts
How to "index" your website with Google (for more traffic)
How to connect your site with tools such as Google Analytics and also;
How to make money with your website.
Of course, you do not have to go through all this bonus content, but if you'd like to see how you can make your free site a business success, you're more than welcome to.
Remember; all of this is free (and you don't even need to have a credit card on file)
What If You Don't Want The .siterubix Extension?
Now – there's one thing that needs to be said here:
If you want to build out your website to become a great business, you eventually need to get your own website (not a free one).
As I'll explain further down below, a SiteRubix website is "for beginners" to "test things out".
But, eventually, I would highly advise you to get your own domain and also your own hosting.
if you decide to get your own domain (thus dropping the .siterubix extension) you need to purchase one – they typically cost around $15.
You'd also want to get hosting, which as I said will cost you around $100 a year.
NB: With a Wealthy Affiliate premium membership, you can get free premium hosting as well.
How To Transfer A SiteRubix Domain To Your Own Domain?
Let's say you own the howtostopsmoking.siterubiux.com domain and you want to transfer everything you've built to howtostopsmoking.com.
This can be done in 5 minutes tops!
Kyle, one of the founders of Wealthy Affiliate and SiteRubix has a video-guide showing you how that is done here.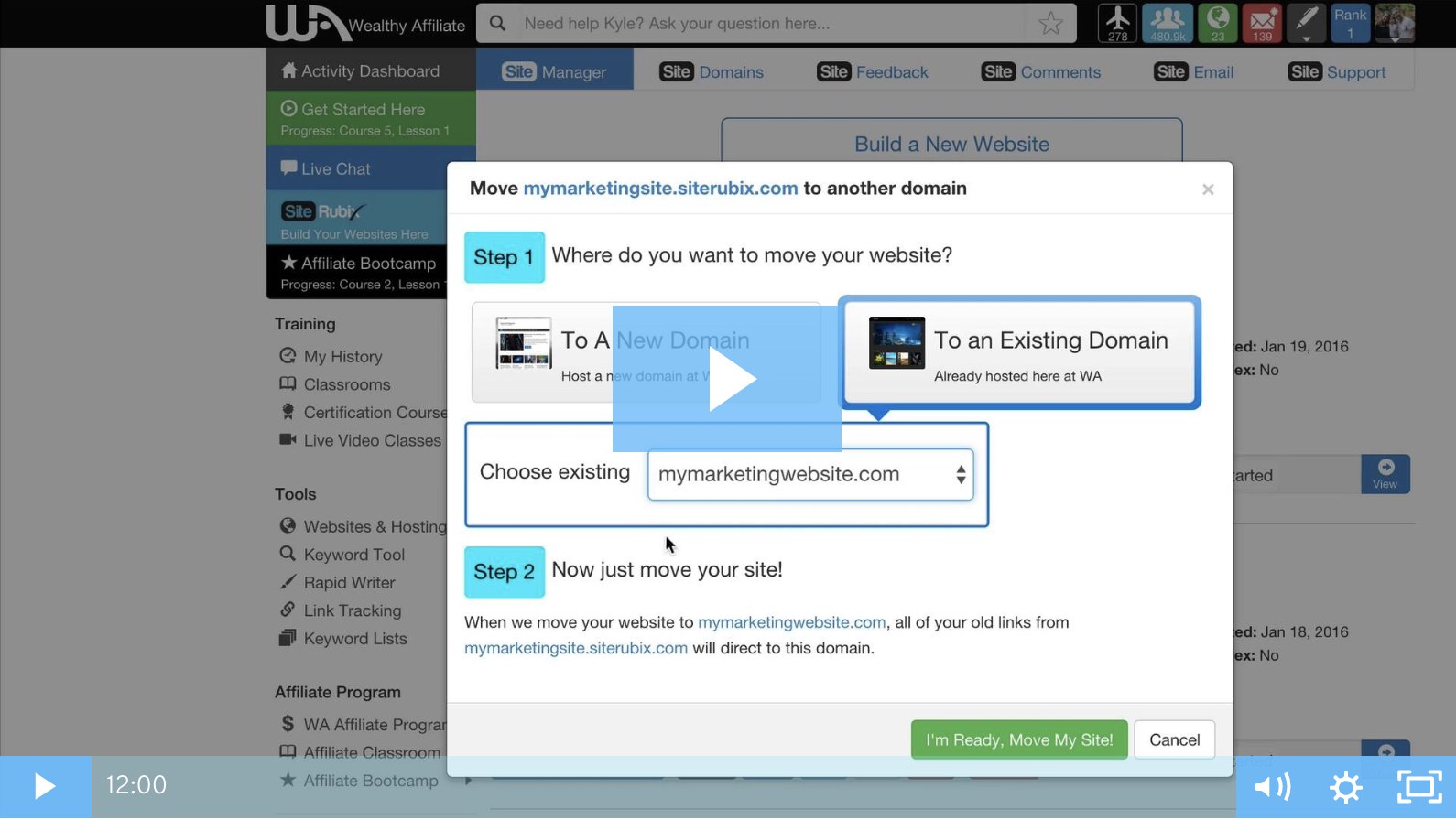 If you were worried about this, you may want to give it a guide before you actually get yourself a .siterubix domain.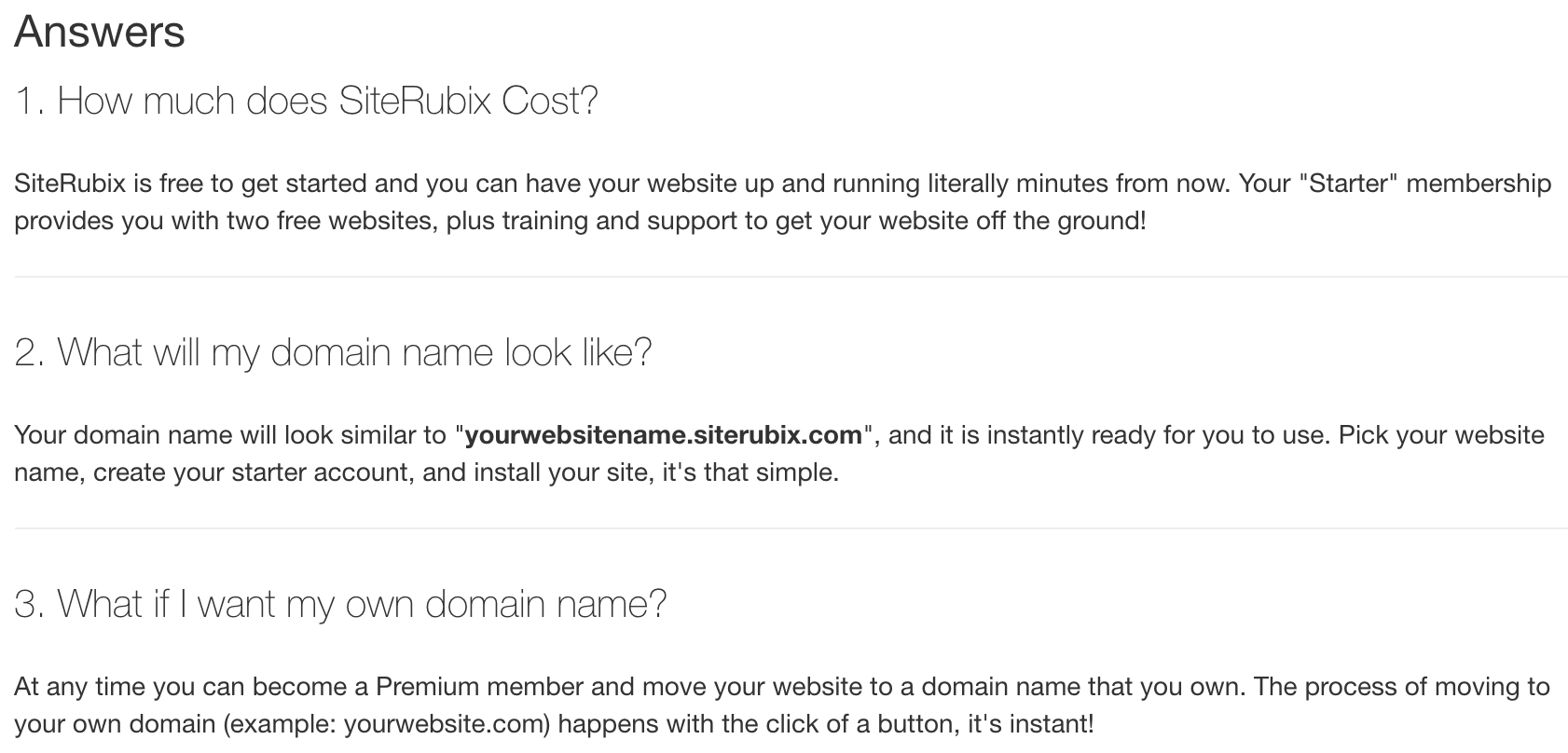 Who Is SiteRubix For?
Last but not least, I want to give you a few quick ideas on what SiteRubix websites can be used for and who can use them.
Beginner Site Builders:
As many readers have pointed out in previous blog posts, "starting a website" sounds like a task that's a bit too advanced for them.
SiteRubix offers you the perfect opportunity to get proficient at building out Websites and especially WordPress website.
There's literally no risk to this.
Beginner Affiliate Marketers:
Some newbies to affiliate marketing may also want to get a free SiteRubix website to test out the waters and see what this business is all about.
Since SiteRubicx websites can rank (and they can rank well) it's a good idea for any beginner to first test things out with a free website, and if they like it; they move on to their own domain.
(As shown above, it's a very simple process to transfer)
Local Businesses:
Any local business who just wants to have a website can also take advantage of SiteRubix.
One thing that's great for local businesses is that SiteRubix sites also come with free training on how to promote your website with local SEO.
Anyone Who Needs A Website:
Last but not least…
Anyone who needs a quick website can use the SiteRubix platform to create one (in just over 70 seconds).
As I've hopefully shown you in this review, SiteRubix websites are;
Free forever
Quick to set up
Easy to run and
Can get traffic.
If that's what you are after, SiteRubix is the platform for you.
SiteRubix Review: Final Words
Thank you for stopping by and reading my SiteRubix review.
I hope this guide has helped you understand all you needed to know about how to start a free website and I wish you all the best in your new venture.
Want to get started right now?