Welcome to my brand new – official – SiteRubix review.
For those looking to create a WordPress website for free, I believe SiteRubix is the perfect place to do so since:
It's a fully-functional WordPress website.
It's free (although you are going to have a .siterubix domain).
Comes with training on how to set up your website.
One click migration to your own domain when you're ready.
Ready to start your brand new WordPress website – for free?
Here's what you need to know about the SiteRubix website-builder.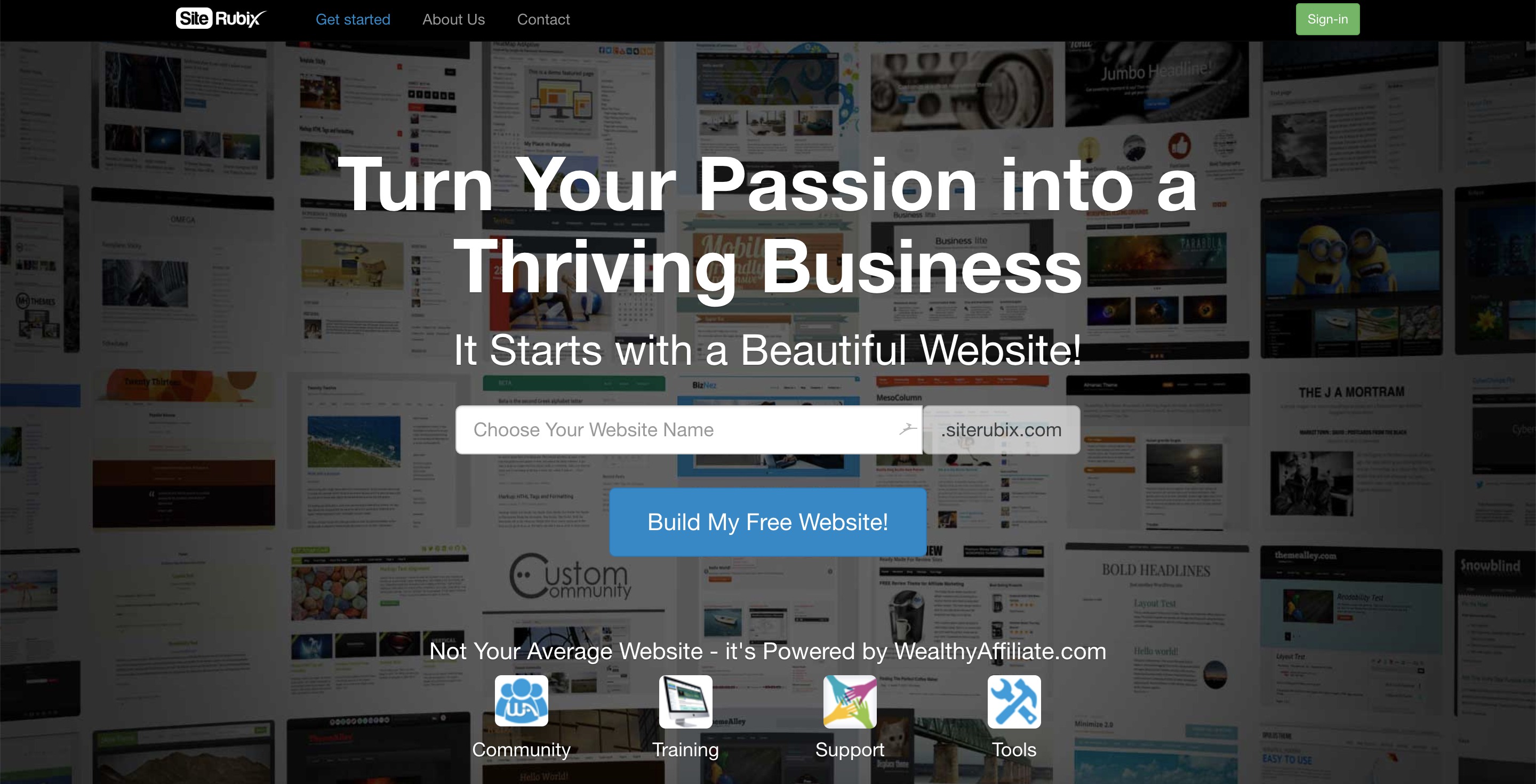 Introducing SiteRubix
SiteRubix is a free site builder that runs on WordPress. It's quick, easy and powered by Wealthy Affiliate (more on this later).
To show you how quickly you can build a WordPress website with SiteRubix, I've recorded a short video showing you how to set one up.
I went from having no website to having a fully-functional, ready-to-rank-and-earn website in just under 70 seconds!
Yes; 70 seconds – that's all you need to start a WordPress website with SiteRubix.
Why SiteRubix?
But why should you create with SiteRubix when you could create it directly with WordPress!?
Great question…
Because SiteRubix is powered by Wealthy Affiliate.
If you don't know what Wealthy Affiliate is, it's basically an online business university where you can get access to a community of online marketers, web tutorials, website tools, live training, etc…
I'm not going to go into much detail about WA here as I have an in-depth Wealthy Affiliate review for you to check out.
For those who are interested, I also have a great BONUS currently running for those who decide to join Wealthy Affiliate on a premium membership.
Wealthy Affiliate and its powers aside,
Here are 3 additional things you won't be getting from WordPress: 
A live 24/7 support system
 Training on how to make money with your SiteRubix website.
A variety of tools to help build your website (free hosting, free keyword research tool, article builder, etc..)
Is SiteRubix Free?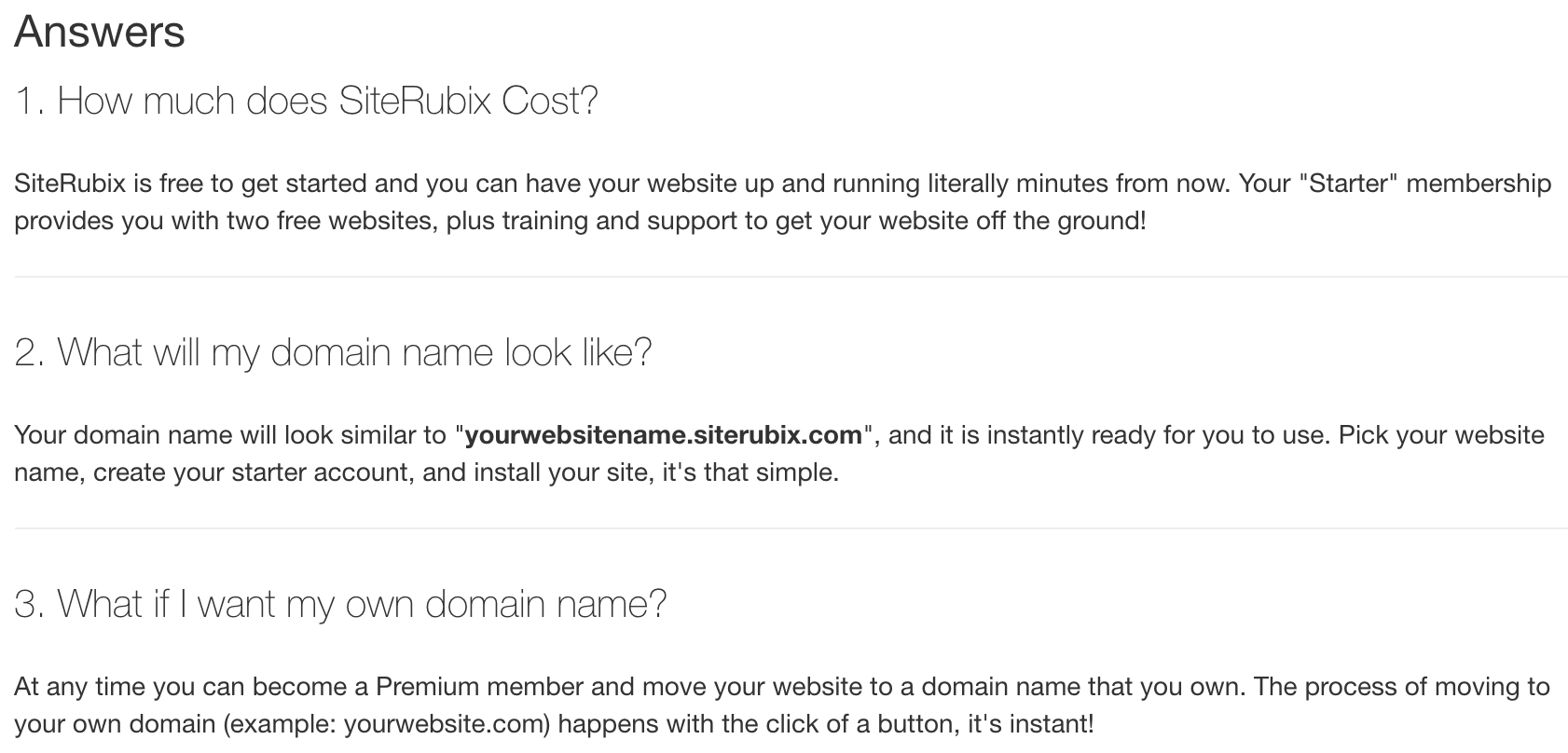 Yes, SiteRubix is 100% free and you get 100% access to all the free themes, plugins and the same benefits as a WordPress blog.
Importantly; you'll forever own your SiteRubix website (or until you decide to delete it).
Also, unlike other free website builders *Wix* SiteRubix does not place any third party ads on your content.
Best Use For A SiteRubix Website
Basically anyone who wants a quick WordPress installation without all the headaches can benefit from using Siterubix.
Maybe you'd like a website online where you can;
Whatever you wish to do, SiteRubix gives you that and more and since there are no limits or restrictions on what you can do with SR, you're free to do with it as you please.
How To Start A SiteRubix Website
Right below you'll find a widget where you can enter the name of your new website.
Once you've picked a name, just hit the 'Build It Now" button and in about 70s, just as I showed you in my video above, you will have a fully functional WordPress website.
Once you've set it up, I also advise you to take advantage of the free training you get inside Wealthy Affiliate.
This training will show you how to take your site to the next level by teaching you:
How to build the blog's foundation.
How to install plugins
How to pick a WordPress theme
How to create your pages
How to create content that will rank in Google and yes;
How to make money!
If you're wanting to start your own website – then I am assuming you want people to visit it and the training provided with SiteRubix will show you how to do just that.
The Only Issue With SiteRubix
The only issue with it is that you will have a .siterubix extension on your domain which is not the best way to go about things if you want your site to be taken seriously.
Domain sare cheap and even a basic hosting plan is cheap-enough so to get a domain, you can either go to BlueHost and get yourself a domain + hosting package or as I said, you can also join Wealthy Affiliate and get free premium hosting for your website.
*You'd still need to buy up your own domain though.
If you are just getting started with WordPress and just want to "test things out", then do not fret; you can use the SiteRubix platform for now.
Once you have confirmed that you want to keep it; you can then migrate your SiteRubix website to your own domain without losing any of the work or content.
This is a process that literally is just one click!
Closing Thoughts
Thanks for stopping by and reading my SiteRubix review post.
I really hope I answered any questions you may have had about this and I hope I've shown you just how effortless starting a website really is.
Many beginners get overwhelmed with such a task but in reality; it's as simple as it can be!
If you'd like to learn more about SiteRubix you can also find visit the official website for more information.
If you have any questions about SiteRubix be sure to leave me a comment down below.
If you're new to all this "online stuff", then I highly recommend you jump on my email newsletter which also provides you with training and a *special* free ebook I've written for people such as yourself.
I'll leave you to it.
Keep learning and keep earning!
Christian Lee.