One of the best affiliate marketing tips I can give you is to promote for affiliate programs that offer a recurring commission structure.
This means that you make a sale once, and then continue earning monthly (and sometimes yearly) commissions for as long as your customer stays a customer.
One such program that offers an opportunity like this is the Aweber Affiliate program and today, I will be doing a review covering:
What you need to know about the Aweber affiliate program

How to get started as an Aweber affiliate

How much money can you earn with Aweber

How to successfully promote Aweber and also

How to learn affiliate marketing (for best results).
So, let's get into this review and see what needs to be down to start earning some fantastic recurring commissions month-on-month.
✋ DYK You Can Make More Money If You Know What You're Doing?
One reason 96% of affiliate marketers fail is that they do not know what they are doing.
"The reason why you can't make money online is because of what you know and what you don't know".
My free 10-day affiliate marketing course shows you how to create an affiliate marketing business – from scratch.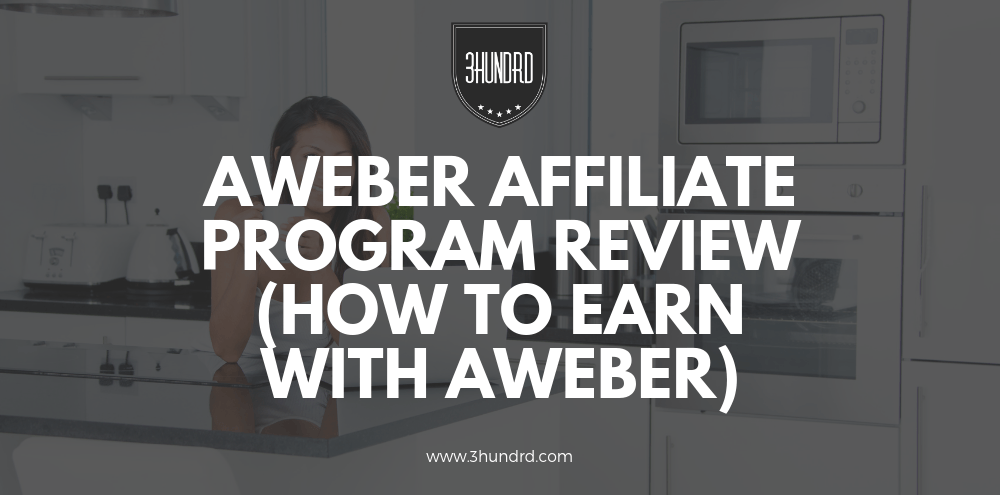 What Is Aweber?
Aweber is an email automation tool that allows customers to collect email addresses and send out automated emails, broadcast emails and even now create entire email campaigns.
Not only am I an affiliate for Aweber, but I am also a customer and has been for the past 4 to 5 years.
If you've been researching email marketing, or have been in the business for quite a while, I am sure Aweber needs no introduction to you.
They have been around for many years (since 1998), and I'm pretty sure they are one of the most used and recognized tools out there when it comes to email marketing.
Aweber's Commission Rates
With regards to the affiliate program, they offer quite an attractive cut from each sale you refer, and that is 30% of every sale you send them.
The customer can join for free at first (an easy sell if you are an affiliate), and once the one month trial is up, the starter fee is $19.
This means that once you refer a customer, and he stays on for more than one month, you will start earning 30% on the customer for as long as the customer stays with Aweber.
Now the beauty of recurring commission affiliate programs is that people tend to stay a long time with them.
As I said, I myself have been with Aweber for years and have no plans of leaving because it is just too valuable for my business.
This means that the person who referred me to Aweber so many years ago is still getting their 30% commissions off my fee, and I am way beyond the $19 entry price too, which brings me to my next point…
As you add more and more subscribers to Aweber, the cost starts rising as well.
Here's a screenshot of the Aweber pricing structure. I myself am on the $49 per month one because I have over 4,000 subscribers on my list.


This means that the affiliate who referred me is now making close to $15 per sale every month.
Even if I had to go to the higher tiers, $149 per month, then the affiliate would still be earning a 30% commission on that month-on-month.
I'll stop giving examples right here as I am sure you understand how great a recurring commission structure like this is for an affiliate.
Apart from being a customer myself, this is also one of the reasons why I decided to become an Aweber affiliate.
They offer a 365-day cookie too, which means that you can send a customer to Aweber today and they have one whole year to make the purchase – and you'd still get credit for it.
If this customer makes the purchase this year (without clearing his browser cookies) then you are still entitled to that commission.
Not too many affiliate programs offer such a long cookie window, just to give you a comparison, the Amazon Associates cookie is only valid for 24 hours.
A Look Inside The Aweber Affiliate Program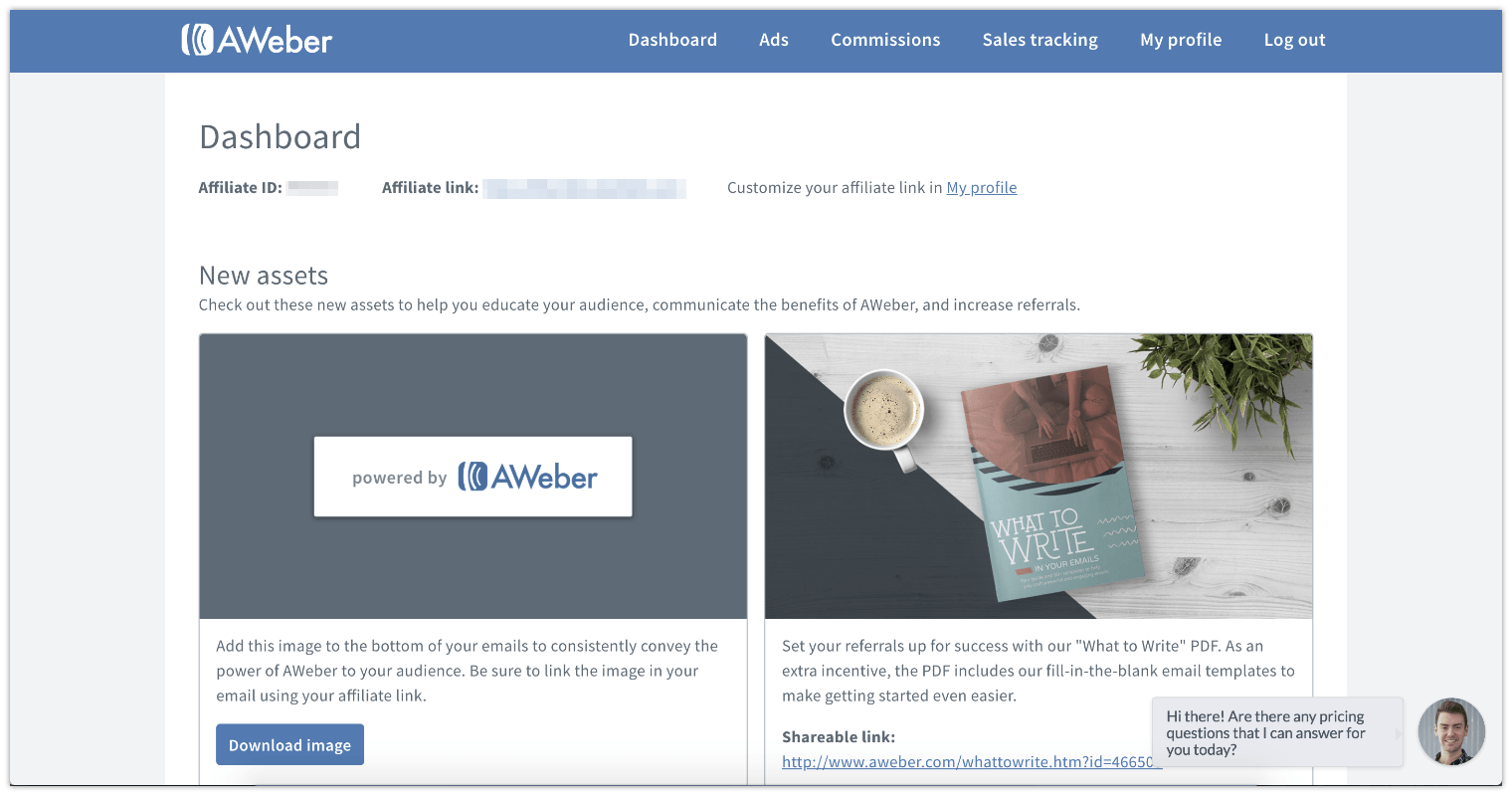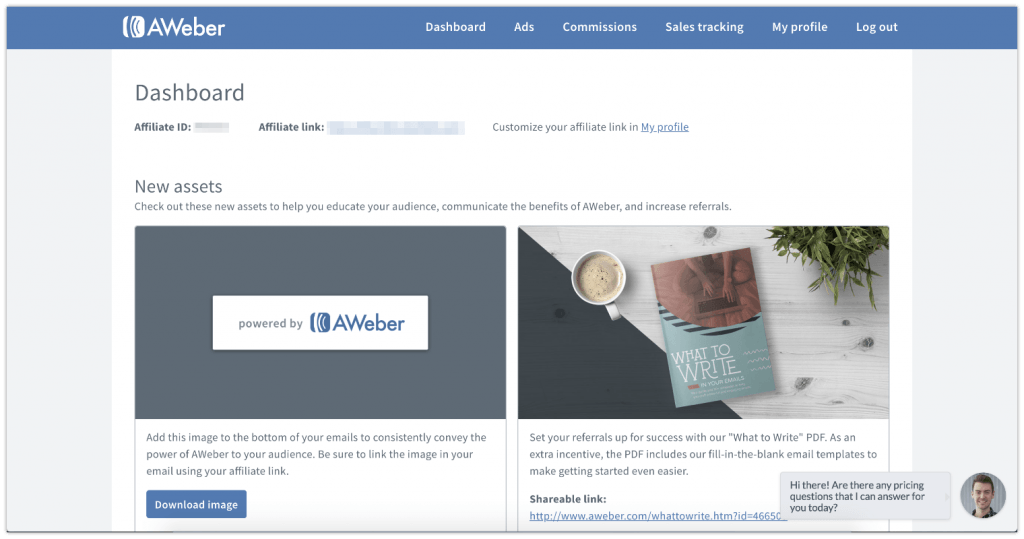 The program itself is fantastic, and all you would need to promote Aweber successful is there for the taking with excellent reporting as well.
I can honestly say it's one of my favorite affiliate program interfaces that I use.
As an affiliate, you get access to:
Email swipes (if you need them)

Custom links

Banners that you can use to promote Aweber

Video Ads

A Free ebook you can use to send to your customer

and much more.
All around, I give the Aweber affiliate program a big thumbs up as it is set up in a professional manner that is designed to help you sell.
(You'd be surprised to know that there's a lot of affiliate programs out there that are lacking in this department).
How To Get Started As An Aweber Affiliate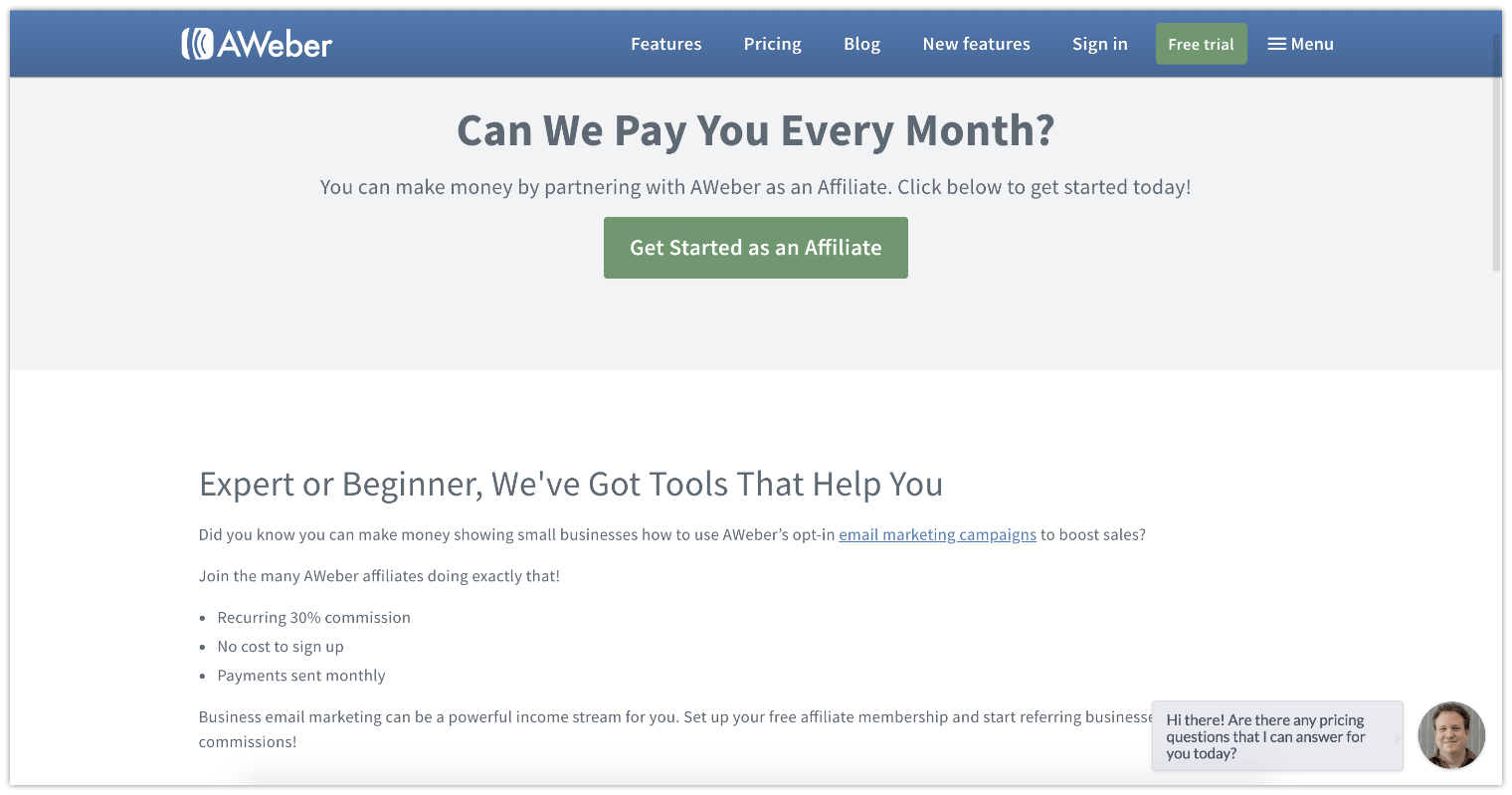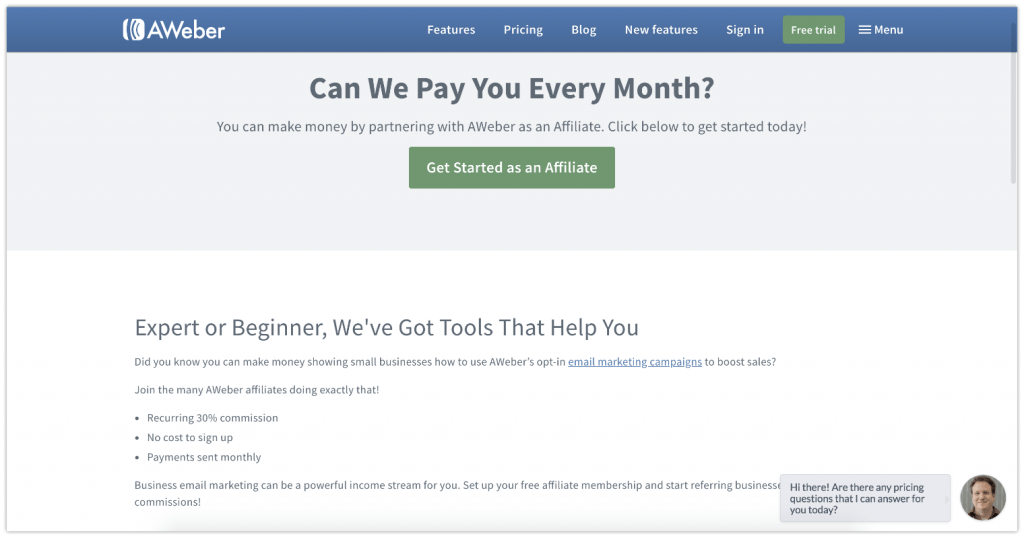 Ok, so you're reading this review, and now you want to know how to become an Aweber affiliate.
All you would need to get started is to go to their affiliate sign up page and register.
You can visit the signup page here.
It will ask for some basic information (standard stuff), and you are good to go.
Once approved, you will be given full access to the affiliate program + all the benefits I mentioned above.
Time to make some money…
How Much Money Can You Make as an Aweber Affiliate
Whenever I am doing a review like this, I always use these following metrics to get a clear understanding of how much can be made with an affiliate program.
Let's say you have 1000 people coming a month to your Aweber promotion posts and you convert a very modest 1% of that traffic.
This gets you ten new signups per month, which means $57 per year.
Doesn't sound like much, but remember these are recurring commissions so the next month, given you still get 1000 visitors and you again convert at 1%, your income would be $114, $171 on your third month and so forth.
Overall, I think this is an excellent opportunity for you, and the example given above is a very modest, conservative figure.
If you get that in a day, or maybe even in a week, you will quickly be making over $1,000 a month in no time with Aweber.
How To Promote Aweber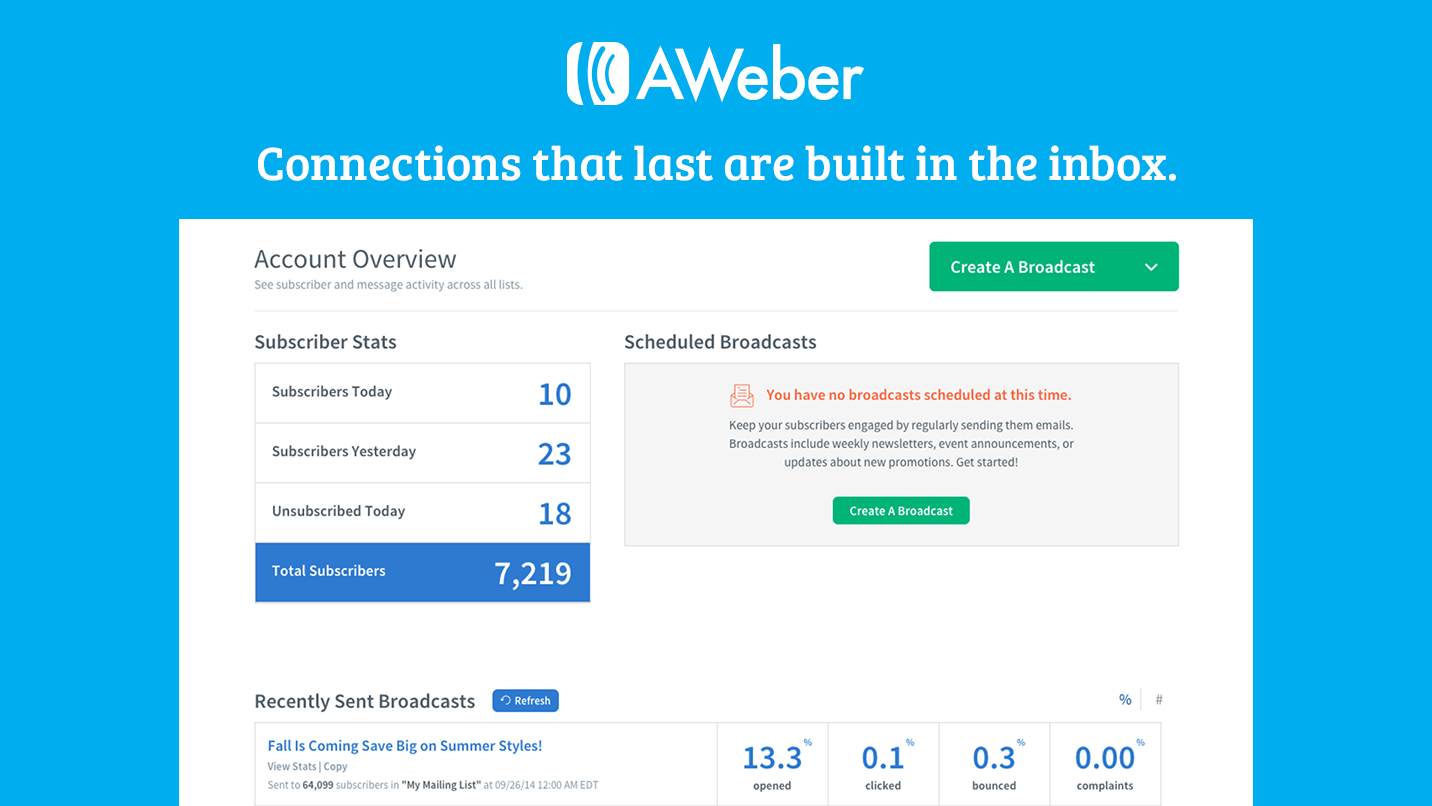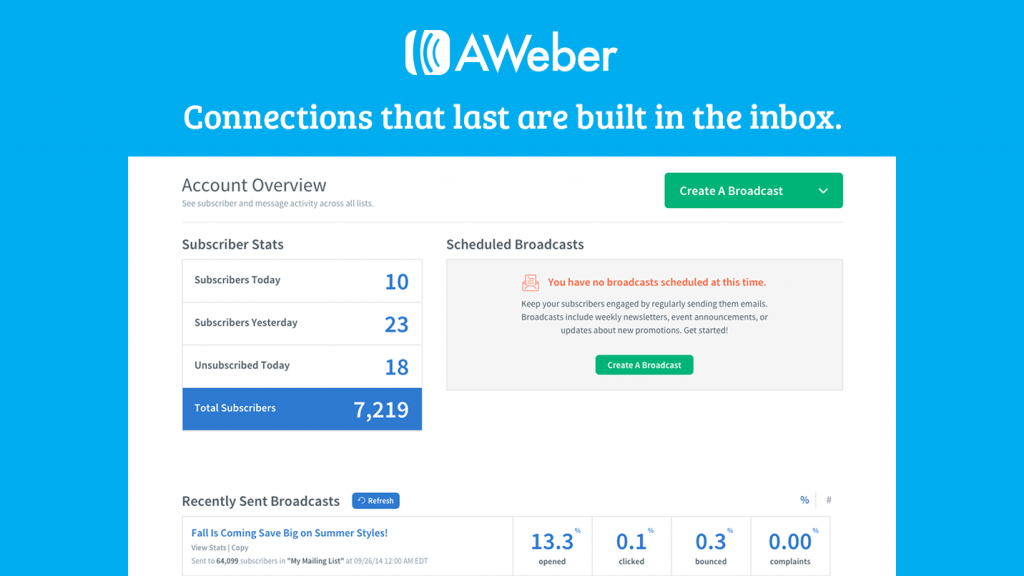 Now, let's get back to business and find out how you can best promote Aweber to be able to make the high commissions.
Email Marketing
Email marketing is always a big seller for affiliates, hence why you will often hear "the money is in the list."
If you have an audience that you think can benefit from Aweber and its services, an email sent with an affiliate link can quickly get you up and running earning commissions in no time.
Review Style Posts
My favorite method of making money with such products is first to do a solid, in-depth review of the program.
I also have my Aweber review which gets some traffic to it each month, and that post is where I get most of my traffic and sales to Aweber.
Information Posts
I also have a lot of information style posts on my website that talks about tools, email marketing tips, etc…
This is a perfect opportunity to mention Aweber and this too can help boost either your traffic to your review page mentioned above or else directly to the Aweber website (with your affiliate link).
I generally like to drive people to my review first, this does add an extra step, but it also gives the reader all they need to know and what to expect from Aweber as a customer.
Get More Out Of Your Affiliate Marketing
WANT TO KNOW HOW I MAKE MONEY WITH
AFFILIATE MARKETING?
(YOU ALSO GET A 10-DAY COURSE FOR FREE WHEN YOU SIGN UP)
After signing up, you will be redirected to the course page where you need to sign up again - no credit card required, just an email will do.
So that concludes my Aweber affiliate program review.
I hope this has answered any questions you may have had and I also wish you the utmost luck in promoting Aweber.
I do believe it's an excellent opportunity to make some extra money for yourself, and I myself will be putting more effort into promoting Aweber as I do see the potential, especially when you have a sizeable audience interested in the subject.
One thing I would leave you with though is a piece of advice and a free affiliate marketing training course that I think you should check out.
If you want a fighting chance at making money with Aweber, or any other affiliate program for that matter, you are going to need to know how to do it.
The Wealthy Affiliate 10-step video course is designed to do just that, and it will give you all the things you need (including free websites) to get you up and running with your affiliate business.
Talk soon.