9

min read
If you've been studying online business for a while, I am sure you've been told by now how important it is to start building your email list as soon as you can.
Email is (quite surprisingly) still a valuable tool when it comes to marketing online.
I say "surprisingly" because I didn't think it would last this long before. But now that I have my own email list that fuels my multiple online business, I can not only say that email is here to stay, but it will surely be here for the next 6-15 years.
In short; email marketing is the shiznet!
Now, one of the major companies that made email marketing possible, and have constantly pushed the limits to constantly improve their services, is a company called Aweber (maybe you've heard of it?).
I myself have been using Aweber for some 2 and half years now so if you're looking to find out from this review, whether I like it or not let me save you some time; go for it!
Aweber is a great tool to have in your arsenal when building / running your online business.
But what makes Aweber so great and why do so many digital entrepreneurs use it when it comes to email marketing?
Let's find out in this Aweber review I have for you today.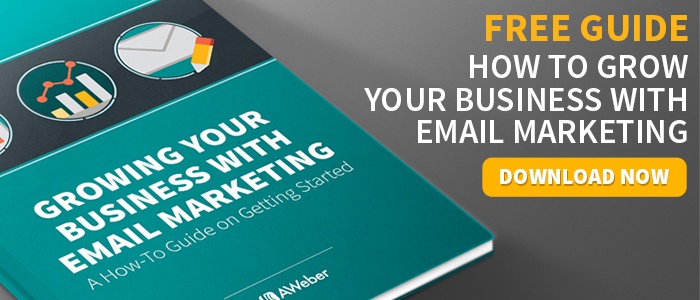 Product Name: Aweber
Product Website: www.Aweber.com
Product Price: $0 for the first 30 days, $19 p/ month after those 30 days are up
Product Creators: n/a
My Rating: 08/10
What Is Aweber?
Aweber is a software-based entirely online that is used as an "email autoresponder" and the main functions of it (although A3ebr has much more to offer) are these:
You can use it to gather email addresses from your readers / customers
It allows you to set up a follow-up sequence (which is a string of emails that go out to every new subscriber) and
It also gives you the opportunity to email all of your list (or segments of it) whenever you wish.
A tool such as Aweber (and others like it) is used by email marketers, online bloggers, online/offline business, affiliate marketers, public figures and basically anybody that wants to get a message out to a lot of people online via email.
If you fit anywhere in this description, you will benefit greatly from such a service.
What Is Aweber Used For?
Like I said, it's used to connect people with a mass following that they gather from different sources. But what can you really use Aweber for?
I use Aweber frequently so I will be telling you how I use it myself, although I am sure many others use it in many other ways too.
I use Aweber to:
Collect emails from readers on this blog and my other one too (aBlogOnBlogging.com)
Send out a follow up sequence that allows me to connect with my new readers through a series of automated messages that I have set up myself prior to ever having a subscriber.
Send out updates and new blog posts or sometimes even just to share resources that I think my audience would like and also;
Make money by strategically peppering some affiliate links in the emails I send out.
This is my whole process with Aweber and for that I love it. It works amazing well. I am sure that if you put your thinking cap on, you will also find some ways you can use an autoresponder (such as Aweber) to your benefit.
What Are Some Features That Makes Aweber Great?
Following are some of the features available in Aweber that make it a great tool to use and that will also make your life much easier.
Easy To Setup Sign Up Forms:
To capture an email address from a reader, you generally would need an email form (you can see a perfect example of this to your right in the sidebar or down below if you're on mobile).
With ease, I can log into my Aweber account, fire up the many "form templates" (or design one of my own) and in seconds, I can have it up on my page collecting subscribers.
List Segmenting:
Sometimes you may not want to send out an email to everybody, and Aweber allows you to do this with ease with the use of "segmenting".
Here's an example of what I mean:
Let's say I want to send out my new free ebook and I only want to send it to the subscribers that have been opening up my emails frequently and not all of them.
I can do that, and with a lot of other data metrics as well.
Another great example would be this:
If I send out an email with a promotional offer, I can also see who opened up the initial message and be able to segment those people into a list on their own so I know who are the usual ones that open up "promotional material".
These are extremely powerful ways to dissect your list and to also keep it growing and make money from it.
Having this power is a huge bonus so use it with responsibility. Please, do not spam the heck out of your readers as they will easily hit that "Unsubscribe" button which goes with every email Aweber (and other legit autoresponders) send out through their servers.
Are There Any Upsells Involved With Aweber?
No, there are no upsells involved with Aweber. It's just your monthly membership that you're on and you get all that we've talked about above and more.
However, prices do change according to how many subscribers you have. I'll go into this in my next section:
How Much Does Aweber Cost?
If you want Aweber, then it does come at a cost but as you will see from the information below and the price chart attached straight from the Aweber pricing page, it's very much worth every penny (at least it is for me).
0-500 subscribers = $19 per/month
501 – 2,500 subscribers = $29 per/month
2501 – 5000 subscriber = $49 per/month
5001 – 10,000 subscribers = $69 per/month
10,001 – 25,000 subscriber = $149 per/month
25,001+ subscribers = You'll need to get a quote from them.
But what do you get from an Aweber membership?
All of this: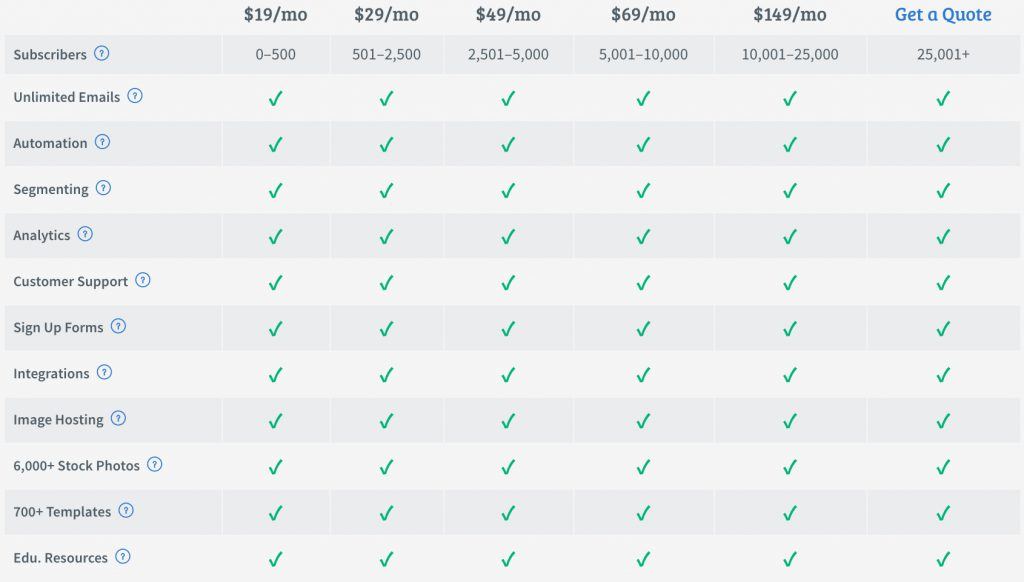 See the chart in much more detail here.
How Can Your Business Benefit From Aweber?
Whether you are a newbie online entrepreneur or a seasoned pro, you definitely need a service like Aweber that will allow you to take your business to the other level with simple to implement tools such as the many offered by Aweber.
While I do advise anybody to take advantage of the free 30 day offered by Aweber, before you do that; let me give you some quick, easy to use tips to help you get started with Aweber and email marketing in general.
5 Quick Tips On How To Use Aweber Effectively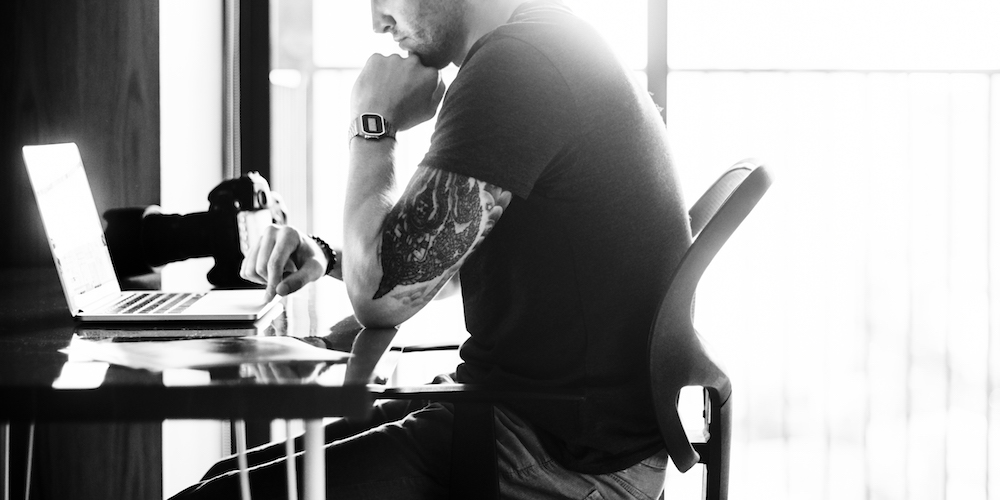 1: Start Early
The earlier you start collecting emails, the faster you will be able to build your list and reap the benefits of having a sizeable audience eagerly waiting for to hear from you.
Even if you've just started out a new website or blog, seriously consider adding a signup form so that you will be collecting from day one and not miss out on any subscribers.
2: Offer A Signup Incentive
I know this is a bit cheesy, but the best way to start collecting emails is to offer an incentive like a free ebook or an exclusive "for subscribers only" incentive.
While this blog you're reading right now does not have a free ebook to give away, I am working on one as we speak and it's the reason why the subscribers of this blog don't come as near to the subscribers I have on my other blog (where I offer a free downloaded ebook)
3: Set Up Your Follow Up Series
Adding a follow up sequence, which is easily done through Aweber, will allow you to start building a healthy relationship with your reader before you start sending them updates and promotional content.
People do not like to sign up for stuff, unless of course there is a free incentive so be sure not to scare them off by constantly promoting from the get go.
Again; please do not spam. Spam is what is slowly killing email marketing!
4: Use (My) Golden Ratio
While we're on the topic of spam and "sending too much emails", try to use this formula that I have been using and have had great results so far.
Only send out a maximum of 2 emails a week and only include an offer every other 5 emails. (i.e send 5 non promotional emails, then make the 6th one an offer if you must).
5: Treat Your Subscribers Right And You're In The Money
As long as you treat your subscribers with respect and not taking up their whole inbox every morning, it's quite common to have a subscriber on your list for years and he / she buying multiple products from you throughout those years.
Just take it easy, email marketing is not a get rich quick thing. Be happy just interacting with your subscribers while in the meantime building it up.
Ok, back to my Aweber review….
Do I Recommend Aweber?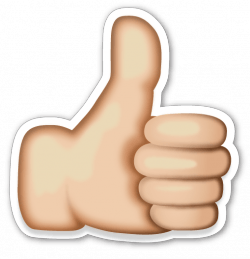 Yes, yes and yes. If you've been wanting to start an email marketing campaign then now is the time to do it.
Go ahead and get your first 30 days free and start exploring the many hidden wonders inside Aweber. they also offer free courses and training with video on how to setup your email marketing campaign with ease.
Are There Any Other Alternatives To Aweber?
Yes there are and the main 2 ones I always hear about are Mailchimp and GetResponse.
While I have not used these myself, I do know that they are good, but not quite as good as Aweber.
Aweber has been constantly building out their company and re-shaping the way email marketing has been done from 1998 so that is why, in my eyes, Aweber will always be the best out there when it comes to autoresponders.
My Final Thoughts
Thank you for reading this Aweber review. I hope you found it useful and I hope you decide to start taking some action today.
Online marketing is not an easy job to do but it sure is made much more simpler and fun with tools such as Aweber.
I am a proud subscriber of Aweber and I will continue to be one for as long as I have my online businesses up and running making me money.
I also look forward for what next revolutionary product or tool Aweber introduces next (and I know there are many coming).
Till next time. Feel free to drop me a comment below if you have any question about Aweber or any other aspect of online marketing.
Mr 3HUNDRD