If you're looking for camera-related affiliate programs, with the hopes of creating a camera affiliate blog, I'm assuming you know a lot about cameras.
Which means, you also know cameras (and camera accessories) are not cheap so I don't need to tell you how profitable photography affiliate marketing can be.
My job is to bring you a few affiliate programs which will pay you great commissions on great products you can promote to your audience so with that said, here are…
11 Camera Accessories Affiliate Programs (w/Commissions)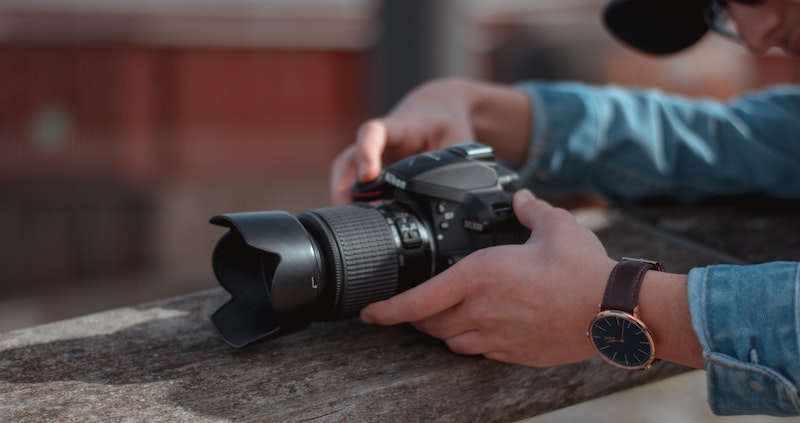 ---
---
Focus Camera
Focus Camera has been in operation since 1966 in New York. It sells camcorders, digital cameras, lenses among other accessories. They have an affiliate program where you sign up and earn a commission for helping them sell their products.
Payout schedule: Approved and paid once transactions are locked. Usually locked 1 month and 15 days from the end of the month they are tracked.
Commission rate: 3% per sale.
Cookie duration: three days.
Canon
Canon has been there since 1934. Their products have gone through changes and improved to become the best in the photography field market. The brand has a high conversion rate which makes it easy for you to promote it and its products.
They have an affiliate marketing program with an average commission, but they have an excellent EPC. You also get a management team that helps you make the best offer. They have a longer cookie duration compared to other sites that help you to earn more.
Canon offers special commissions too on certain categories. Ensure you are on the lookout to get the commission.
Commission: 2.5% per sale
An EPC: $44.80
Cookie duration: 30days
KEH Camera
KEH Camera makes sure no one is locked out of exploring their talent in photography for lack of a quality camera or camera accessories. For that reason, they sell used cameras at a lower rate. This method has helped over 1.5 million people and has helped them save up to 40% of the retail price.
KEH Camera is the largest online shop of this kind in the world. This feature makes it easier for market affiliates as they don't need a lot of marketing. They also offer a better commission compared to other affiliate programs.
Commission: 4% per sale
An EPC: $30.00
Cookie duration: up to 15days.
BorrowLenses
Are you looking for cameras to rent for an occasion? Borrowlense is the way. Additionally, you earn a commission on every referral you make on your website and social media. The best part is they have a variety of budgets to accommodate all customers.
On their affiliate marketing program they offer a high commission compared to other sites, and also their cookie duration is long. This means you can earn a good amount of money from referring people.
Commission: 5% per referral
Cookie duration: 30days.
Samy's Camera
Samy's camera started its operation in 1976, intending to be the best in sales of photography products for both start-up photographers and experts. They offer a wide range of services from selling the cameras their accessories and also servicing Cameras.
Also, they offer photography courses; a concept other sites have not started. This makes it unique as they sell cameras to amateurs and train them to become the best.
Their Affiliate marketing program is good for an extra income. The commission is high compared to other sites, and you have a wide range of things to sell. They also have a strong EPC and a good cookie duration.
Commission: 4% in every sale
An EPC: $45.59
Cookie duration: 30days
Lenscaption
Are you looking to accessorize your camera? Is there a certain decoration you have in mind? Lenscaption is the way to go. They can make any imagination come to reality.
They decorate lens cups to anything that you can imagine leaving it to look beautiful and unique.
It's the leading lens cup decorators, and they give the best results.
Additionally, they offer a good commission to their affiliate marketers. It is among the best commissions. They also have a long cookie duration that gives you enough time to earn the referral.
Commission: 20% per referral
Cookie duration: 90 days.
Incase
Incase started their operation in 1997, and they started by producing protective gear for the cameras and other photography pieces of equipment. They offer the best look depending on the person's preference, high-quality protective gear, and easy of use.
Their products include bags, cases, accessories for cameras, drones, laptops, and smartphones. They offer their customers a 1-year warranty, free shipping, and one can return the product if they are not pleased with what they get.
Incase affiliate marketing programs work with Pepperjam in marketing their products, reporting on the progress, tracking, and payment methods. They offer a relatively high commission to their affiliate marketers and long cookie duration.
Commission: 12% per sale
Cookie duration: 30days
Peak Design
Peak Design is a company that has specialized in producing high-quality camera accessories for all levels of photography. They have a good commission of 10% per sale and a cookie duration of 30days, giving you a longer period to earn with the commission.
Commission: 10% per sales
Cookie duration: 30days
Manfrotto
Manfrotto manufactures lighting and camera stands and other accessories used in professional photography and videography. Manfrotto also has a good form of passive income using their affiliate program.
A commission: 6%
Cookie duration: 30days.
Olympus
Olympus is known for the production of digital cameras, audio records, and lenses. They provide their customers with ratings and reviews on the product page to ensure customers are satisfied with what they are buying.
Olympus has specialized in producing high-quality products and all-weather equipment that can be used by outdoor photographers and travelers.
They offer an affiliate program through Commission Junction. Those in the affiliate program use links, banners, tracking features, and product info feed to earn commission on their website and social media.
Commission rate: 3%
Cookie duration: 15days.
K&F Concept
K&F Concept has an affiliate program that will help you earn a passive income. The company offers different photography and camera accessories designs that will help you achieve perfect images and videos.
They offer quality and modern products that make their customers keep coming back for more. Their products vary from lens adapter, lens filter, tripod, flash, and microphones. They have an affiliate program that will help you pocket a passive income.
Commission: 15% on every purchase
Cookie duration: 30days
---
How To Start A Camera Accessories Affiliate Website
If you're a camera expert but an affiliate marketing noob, fret not as I have the perfect starter guide for you.
I've recently published a guide explaining the entire process I use to create simple and profitable affiliate websites.
If you'd like some help getting started, I suggest you check it out. It's free and there's no sign up required.