The CBD industry is booming, and the opportunity for (beginner) affiliates to leverage the sudden increase in interest in CBD products is definitely there.
In this article, I will be sharing a list of some of the CBD affiliate programs you can promote, with a wide variety of different CBD offers (as well as superb commissions on each sale).
If you have a CBD-themed blog (or you're thinking of starting one soon) and you want a great affiliate program you can promote, check out the following…
The Best CBD Affiliate Programs (Explained & Reviewed Below)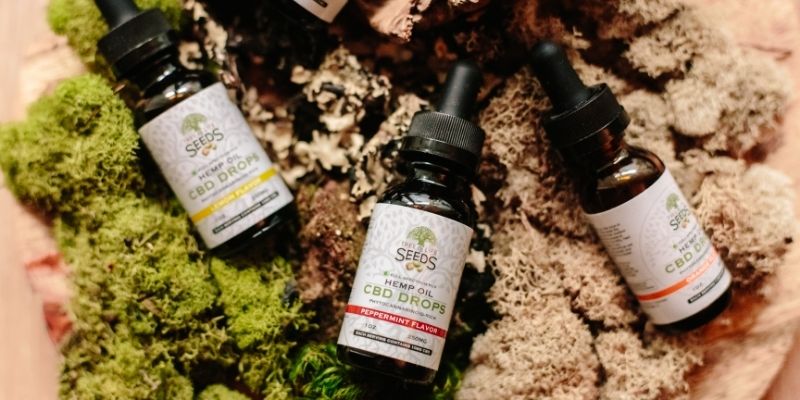 ---
---
RevOffers CBD Affiliate Program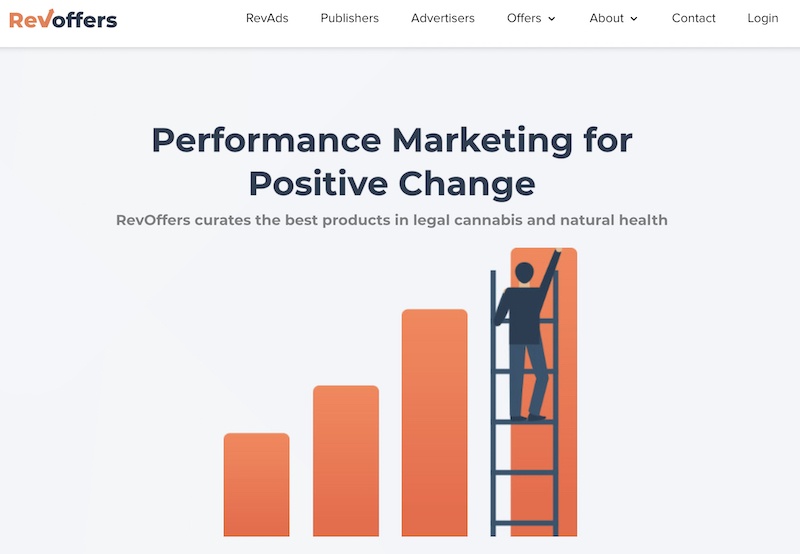 RevOffers is the industry's leading affiliate network for CBD and natural health product offers.
RevOffers has the highest payouts and top converting offers, all while curating the best quality, 3rd party lab-tested products.
With over 20 CBD offers on their network, affiliates are sure to generate commissions they can rely on for consistent revenue every month.
You can join the RevOffers network by clicking here:
Program Highlights:
90 Day cookies
High CPA (Over $60) and RevShare (25+%) Payouts
Recurring commissions on some of their offers
Highest Quality CBD Products
Great Affiliate Management Team
Absolute Nature CBD Affiliate Program

You won't find another CBD affiliate program throughout the list that also offers a drop shipping service (you can see how to start drop-shipping here).
Yes, this affiliate program has it all; great commissions, a 60-day cookie, and a way to dropship CBD products to your customers.
If that wasn't enough, you also get a $20 bonus just for signing up with the Absolute Nature CBD referral program!
Program Highlights:
Affiliate Commissions: Solid 20% commission rate
Affiliate Signup Link:  Register Here
Website: AbsoulteNatureCBD.com
WillowCBD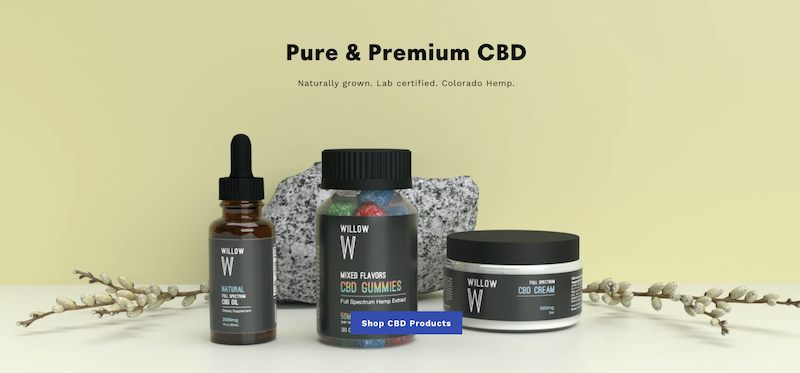 WillowCBD is a premium CBD brand that offers high-quality, Colorado-grown hemp-derived tinctures, topicals, and gummies.
All of WillowCBD's products are developed using an organic sub-zero extraction method to produce unparalleled full spectrum CBD that is potent, clean and effective.
Introduce your users to a unique product offering via a polished website developed and optimized for conversions.
Join WillowCBD's affiliate program by clicking here.
They'll review your application within 24 hours and once approved you'll be connected with an affiliate manager to discuss strategies and next steps so that you earn the most money possible.
Program Highlights:
25% base commission for all sales
30-day cookie
24-hour application review
SwissCannaLife

SwissCannaLife's passion is to improve people's lives by providing sound and effective alternatives for better health and they pride themselves on being product innovators.
As an affiliate, you'll be a true partner to some of the most efficacious CBD products, with access to one of the highest yielding revenue-sharing packages in the entire marketplace.
Their program earns you a high commission (40-50%) on all individual sales (and reorders) created through you're your unique link.
As soon as your application is approved and onboarded, you can instantly begin speaking to customers and building a book of business. You can join here.
Program Highlights:
40% Commission on all sales & reorders
Life-time residual commission
10% Commission for sub-affiliates (and same as above)
365-day Cookie Duration
Electronic Deposits
High-volume Affiliates inquire at support@swisscannalife.com.
CBD Partners Online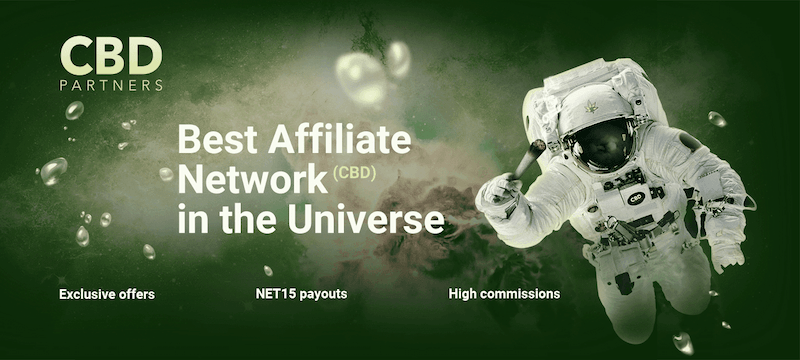 CBDpartners.online has a wide selection of direct CBD offers to promote.
Unlike most existing CBD affiliate programs, CBDpartners are not linked to a certain seller. Instead, the network aggregates offers from different advertisers giving the affiliates the possibility to choose out of great variety.
They're also handy tools (the best thing is Smartlink TDS that basically will choose the best possible offer there is for a certain traffic source), fast payouts and 24/7 affiliate support.
Program Highlights:
Exclusive direct offers, worldwide geos
CPA (fixed payout) & CPS (revenue share) offers available for promotion.
Smartlink TDS: A sophisticated system that will rotate campaigns and redirect the user to the most relevant landing page (depending on the user's location and keyword). This allows the affiliate to achieve the highest possible conversion.
Lifetime upsells from the customer.
Net15 payouts (special payment terms are possible for the partners with high revenue).
Affiliate sign-up link: Register Here
Rheo CBD Affiliate Program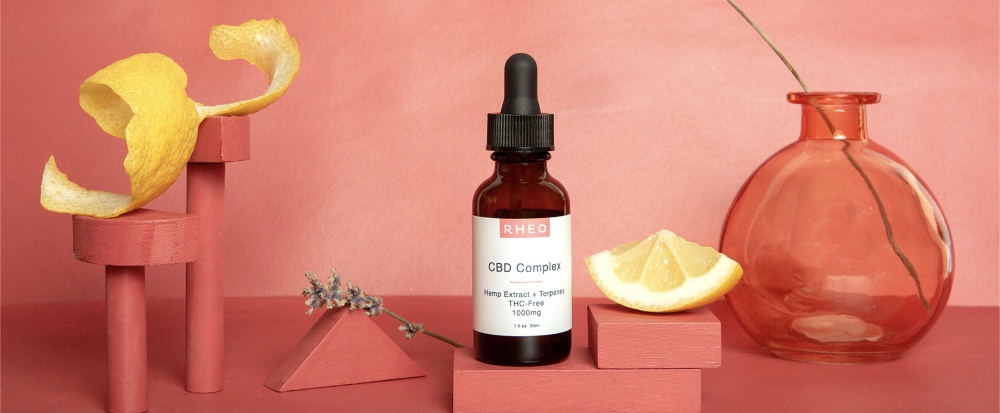 Rheo is a boutique CBD brand that focuses on crafting tinctures with specific terpene profiles to help enhance CBD's effect in an intentional and consistent way.
You'll be bringing value to your users by introducing them to a site offering unique products and a polished user experience optimized for conversion.
Their CBD affiliate program is run through ShareASale and you can join it by clicking here.
They'll review your application within 24 hours and once approved, you'll be connected with our affiliate manager to custom tailor your commission and bonus structure so that you earn the most money possible.
Program Highlights:
25% base commission for all sales
Personalized bonus structure
60-day cookie
24-hour application review
Website: Rheo.net
Tessera Naturals

Tessera Naturals only extracts their CBD from organically grown hemp.
Hemp is a very hardy plant and is grown outdoors in Southern Colorado using fully organic, sustainable farming practices without any pesticides or chemicals. They use a proprietary strain of high CBD hemp far superior to the standard industrial hemp used by many CBD producers.
When choosing your CBD products and partners, be aware that not all CBD is created equal. Tessera Naturals has chosen their partners very carefully and continues to control the process by verifying and testing every step from farm to bottle.
Avoid promoting cheap, low-quality, questionable CBD products! Tessera Naturals is fully transparent with every product Certificate of Analysis available on the website.
Products include Daily Wellness Softgels, CBD Sleep + Melatonin, Pain Cream and Salve, CBD Tincture, and, yes, CBD Dog Chews!
You can join Tessera Naturals on Share A Sale here.
Program Highlights:
Competitive, Generous Commission Rates:
Coupon/Loyalty/Cashback: 20%
Base Rate: 40%
Premium, High Volume Affiliates: Please inquire: tessera@stage39media.com
Deals and Holiday Specials
Auto Deposit
Data Feed Updated
High-quality, premium banners are available.
R+R Medicinals

R+R Medicinals is the fastest-growing USDA organic CBD brand out of Colorado. They have a simple philosophy of producing responsibly priced, organic CBD products with no sacrifice to quality and safety, all while treating their customers like their own mothers.
As a veteran-owned business, their ethos is built on integrity, service, and affordability. They can serve a wider range of customers and offer high-quality, organic hemp extract products to everyone!
Their affiliate platform is the well-regarded Impact Radius. R+R Medicinals is driven to build personal relationships with their affiliates to help them succeed and ensure positive collaboration. They provide full access to all their resources, including imagery, coupons, written content, and more!
Their unique approach to challenging the overpriced market with responsible pricing and no sacrifice to quality or safety successfully drives their brand beyond the competition. Their uniquely low price point drives high volumes of traffic.
Program Highlights:
Commission: 25%
Cookie: 30 days
CBD Choice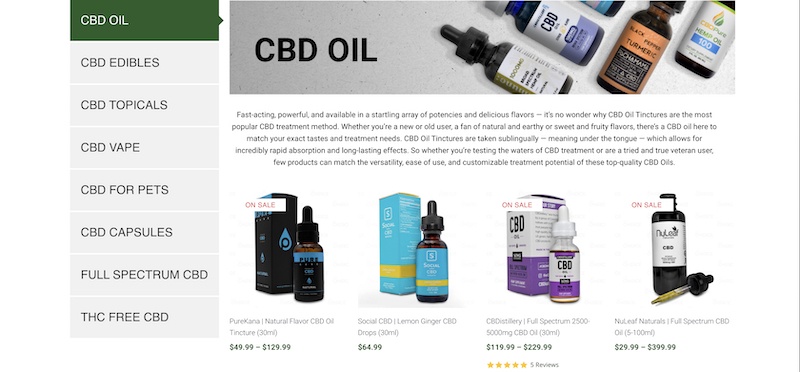 CBD Choice is America's Best Choice for CBD Online. CBD Choice hosts an extremely diverse collection of the industry's best-selling and most respected brands unlike most CBD affiliate programs.
That makes an affiliate relationship with CBD Choice a uniquely attractive choice: through this single partnership, you get the chance to profit from already-established brands and manufacturers.
The result? Baked-in customer interest that lets you focus on making bank rather than building trust.
The affiliate terms you'll find from CBD Choice are some of the most generous in the industry. With a competitive 25% affiliate commission, a 60-day cookie, bi-weekly payouts, and engaged support staff, this is a company that knows how to treat its partners.
CBD Choice's entire inventory is also hand-picked based on a strict set of selection criteria. Every product on their site is independently laboratory tested for safety, purity, and accuracy of labeling.
They take the guesswork out of buying CBD online, so you can be sure that your referred customers will be satisfied with each purchase. Satisfied customers mean more repeat business for them — and more affiliate commissions for you!
Program Highlights:
25% commission rate
60-day cookie
The world's best CBD brands, all in one place
Pre-made banners and marketing materials
Responsive support
Payouts every-other Friday
Wikala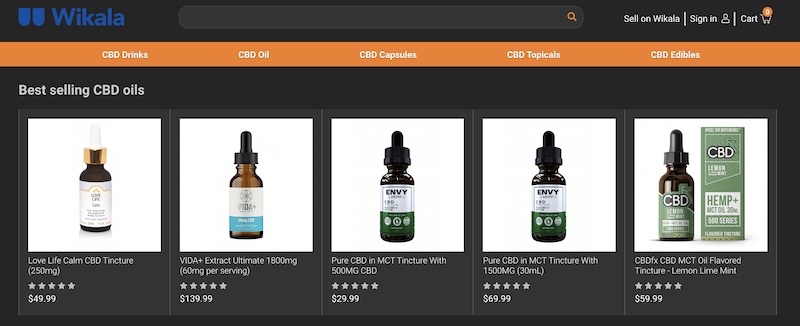 Wikala brings together the finest CBD brands from around the globe.
Every CBD product listed on Wikala has been hand-selected by their team and bears the Wikala Guarantee. That means third-party labs have independently tested each product before it hits the site so that you can be sure of its quality, purity, and potency.
Join the affiliate program on Share A Sale here.
Program Highlights:
20% on each sale
90-day cookie
FeelOki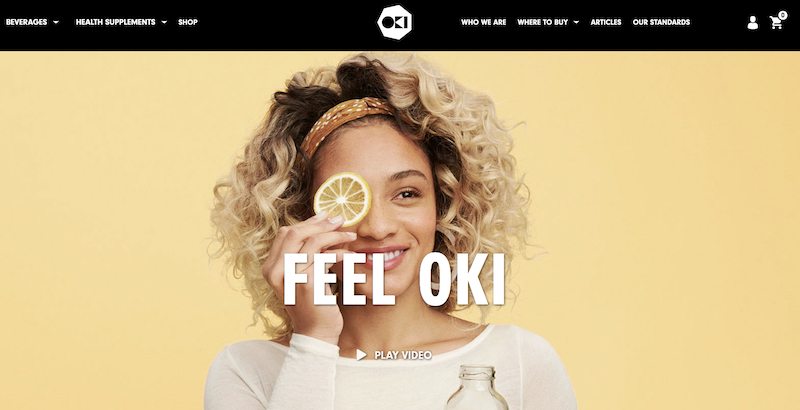 Oki's products contain broad-spectrum hemp extract with CBD. Its range of high-quality CBD products includes oils, capsules, water, and iced tea. Oki flavored and enhanced waters are designed to refresh, revive and renew – particularly good after strenuous activity or workout.
They come in three natural flavored waters; Mint Refresh, Watermelon Renew, and Cranberry Revive and one Enhanced Plain Water, each infused with 20mg of CBD per bottle.
Join the affiliate program on Share A Sale here.
Program Highlights:
20% on each sale.
60-day cookie.
Vida+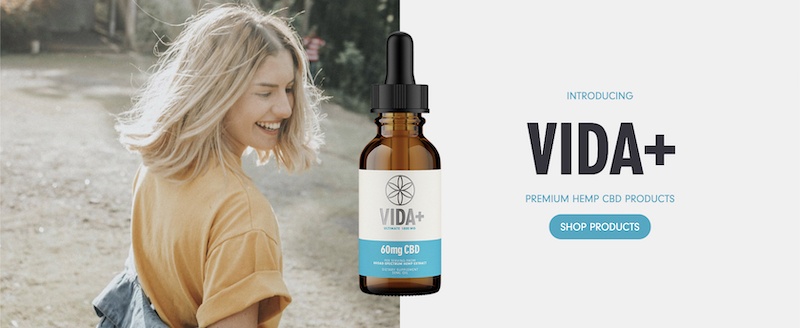 Vida+ is a CBD brand specializing in capsules and tinctures.
They currently offer 2 products: Vida+ capsules, and Vida+ tinctures which both come in 3 different sizes. Our line of premium, broad-spectrum hemp extracts and capsules are designed to help users feel their best.
The products are all sourced from the best organic hemp and natural ingredients on the market and are third-party lab tested for quality, purity, and potency at world-class facilities so you can trust you're getting the best.
You can join the affiliate program here.
Program Highlights:
20% on each sale.
60-day cookie.
HoneyStem Affiliate Program

Honey Stem is one of the fastest-growing craft CBD hemp flower companies on the market. They are quickly gaining national recognition for their top-shelf, organically grown smokeable hemp flower and grassroots approach to educating consumers about CBD & all things hemp through their social media.
They post on an almost daily schedule, teaching people about hemp production, interpreting lab tests, and the list goes on.
They seem to want to educate as much as they want to provide a quality product to their consumers. With an excellent product, aesthetically pleasing website, and booming social media presence, you should have no problem getting paid well with their very rewarding commission structure.
Program Highlights:
50% commission rate
30-day cookie
Responsive support
Affiliate Signup: Register Here
CANNAFFI Affiliate Program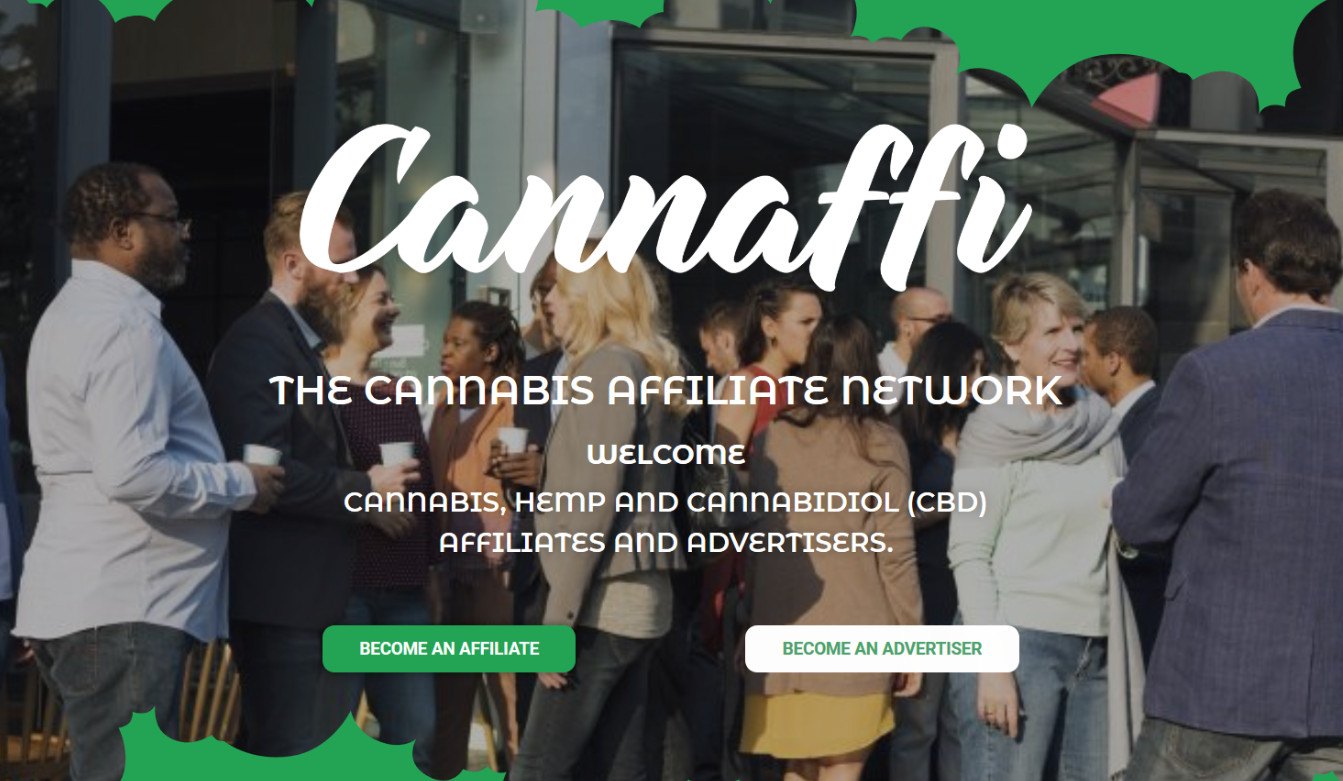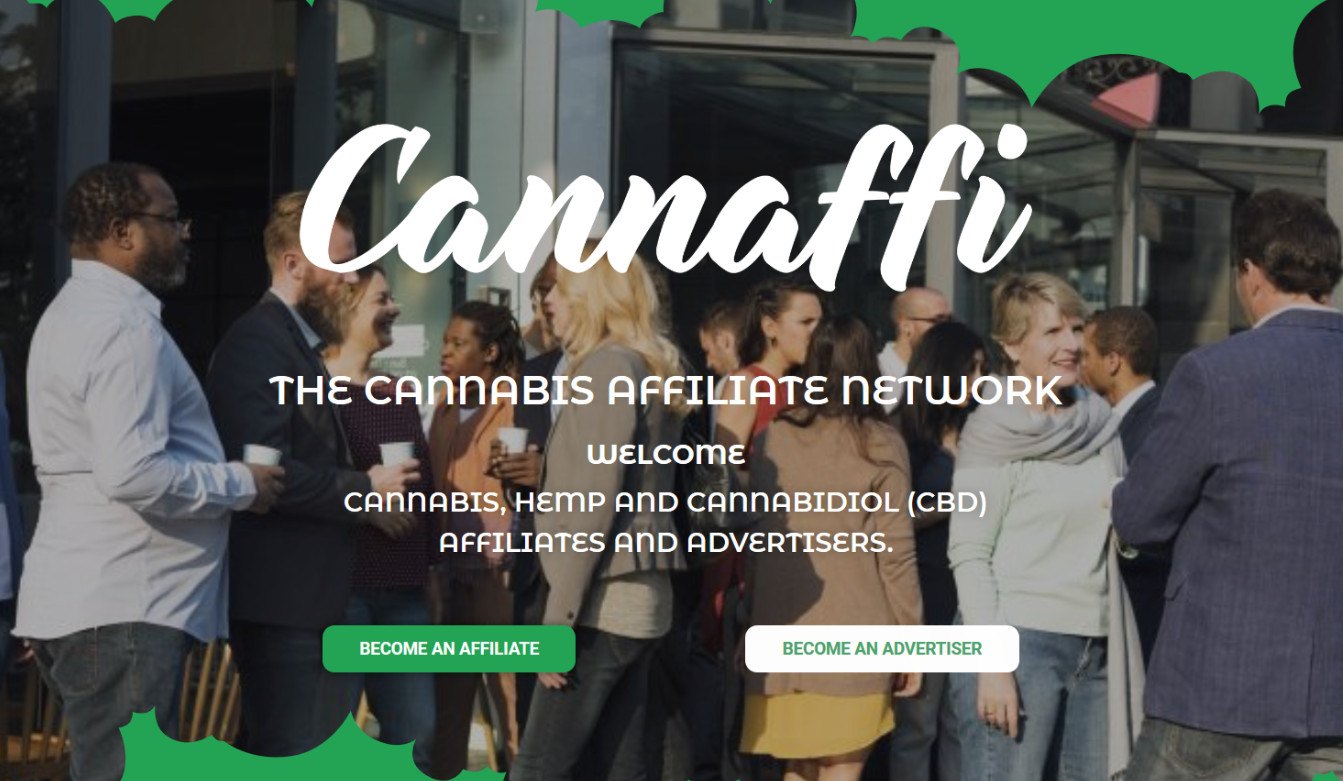 The CANNAFFI affiliate network is a cause-oriented performance ad network that expects to help build a market for cannabis and hemp and CBD products.
Its mission is "…to facilitate the awareness and education of consumers about the benefits of cannabis, hemp, and Cannabidiol" through its network of affiliates.
Cannaffi is now accepting registrations for both affiliates and merchants in advance of its launch in late 2019.
They will be offering primarily e-commerce merchant affiliate programs for hemp and CBD products.
Program Highlights:
Cause-oriented affiliate network
Will offer only cannabis and hemp affiliate programs
Affiliate Sign Up Link: Pre-Register Here
Website: CANNAFFI.com
The CannAffiliate
Network

(Multiple CBD & Cannabis Brands)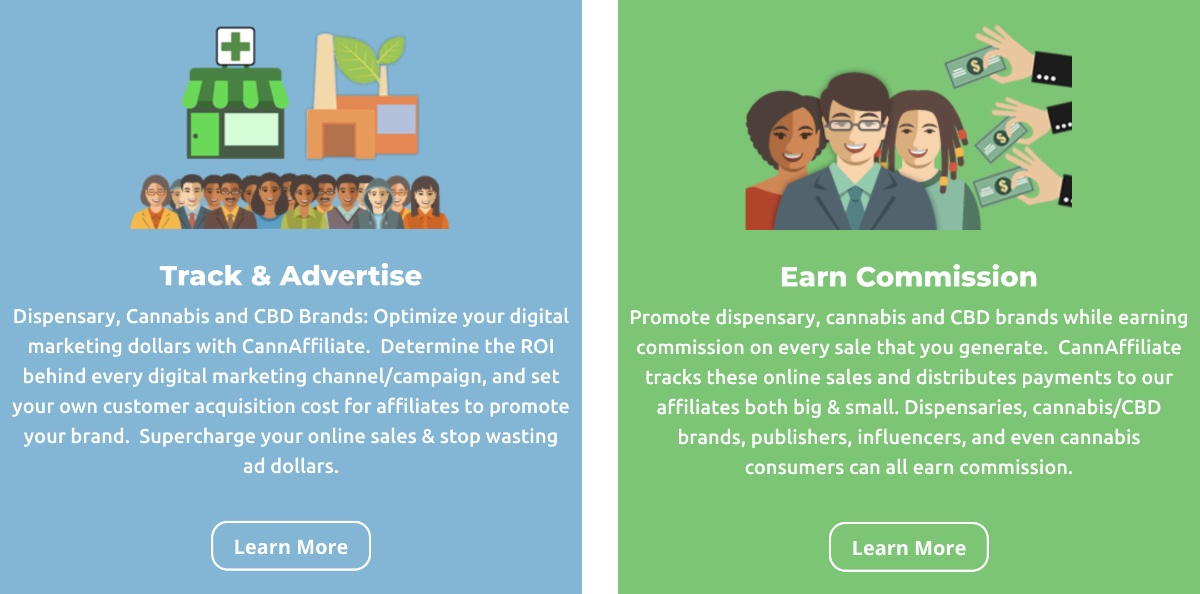 The CannAffiliate Network is a one-stop shop where you can browse multiple brands/products and quickly monetize your website, content, or social media following.
They form partnerships with CBD Brands, Dispensaries, and Cannabis Brands – then host all of the affiliate commission offers under 1 roof, making it easy to find interesting brands & products to promote.
High payouts are available (upwards of 30%) and all affiliate accounts are 100% free.
Program Highlights:
Affiliate Commissions: High affiliate commission ranging from 15-30%
Affiliate Signup Link:  Register Here
Website: CannAffiliate.com
CannaTrading Affiliate Program

Canna Trading Co. offers CBD oil products in capsules and also specially formulated tinctures.
Specially bred industrial hemp plants undergo a careful extraction process and as a result, ensures that only the purest CBD is extracted. Our hemp oil is not isolated or synthetic.
You will reap all the benefits of synergistic cannabinoids, terpenoids, essential oils, and also the additional natural compounds of the industrial hemp plant with each dose.
We don't use unnecessary additives or fillers in any of our CBD products. Our full-spectrum CBD products are shipped anywhere in the domestic lower 48 states and contain <.3% THC.
Program Highlights:
Affiliate Commissions: Earn 25% of new customer sales.
Affiliate Signup Link:  Click Here
Website: Here
LEEF CBD Affiliate Program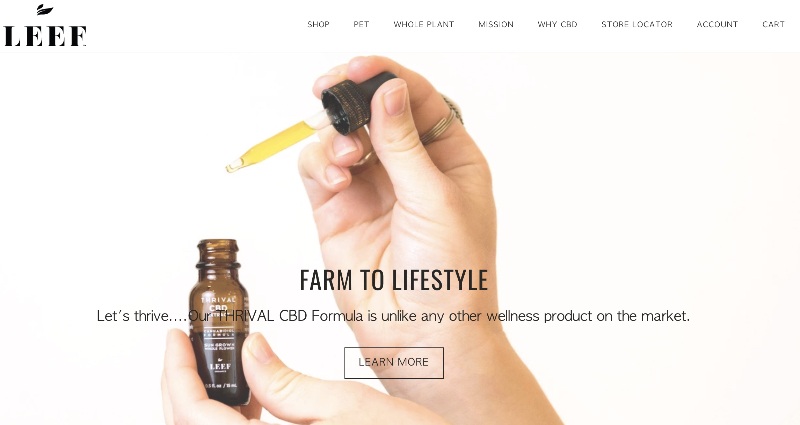 LEEF products are some of the purest and cleanest on the market. Sun-grown and rooted in California, they believe premium products come from the soil up.  At LEEF, they use a whole plant cold-pressed fermentation process, which yields the cleanest form of CBD extract possible.
This means that LEEF CBD retains all of its nutrients and active compounds (remember that heat destroys nutrients!).
LEEF Organics currently produces the following products; CBD Skin Oil, Thrival Oil Tinctures, Balms, Soap, Topical Roll-On, CBD for Pets, etc…
The LEEF Affiliate Program has one of the highest commission rates in the vertical paying 20% on all sales, no matter if it is a new or returning customer! With an AOV of $80, this means you'll earn $16 on average from just one order.
Program Highlights:
Commission Tiers: 20% Base and 25% Premium Commission!
Generous 60 Day Cookie
Ongoing deals, specials and seasonal bundles are available!
Beautiful, professional product imagery available for your site(s)
The affiliate program is meticulously and professionally managed.
CBDParadise Affiliate Program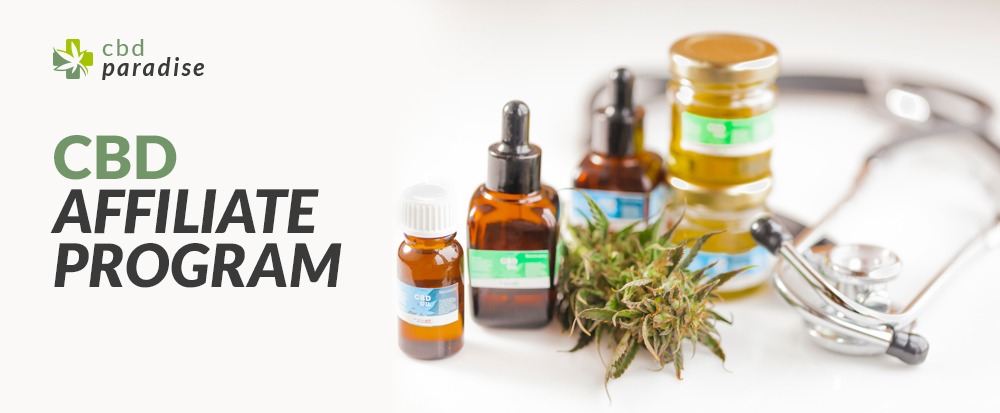 CBDParadise is a top CBD Affiliate Program that is incredibly popular because of the best
conditions and opportunities to earn.
They own the largest multi-branding store with 100% organic CBD & Kratom products from reliable suppliers. Products are available in various forms (oils, capsules, vapes, edibles, etc.) at the most affordable prices.
All the items are natural and can be used not only by people but also by pets, making this selection the widest on the market.
Top commission rates vary from 20% to 30% with one of the best cookie duration: 365 days.
Program Highlights:
Up to 30% commission rates.
Creative highly-converting marketing materials.
Regular payments every week.
Affiliate Signup Link: Register Here.
Website: CBDParadise.com.
CBD Pure Affiliate Program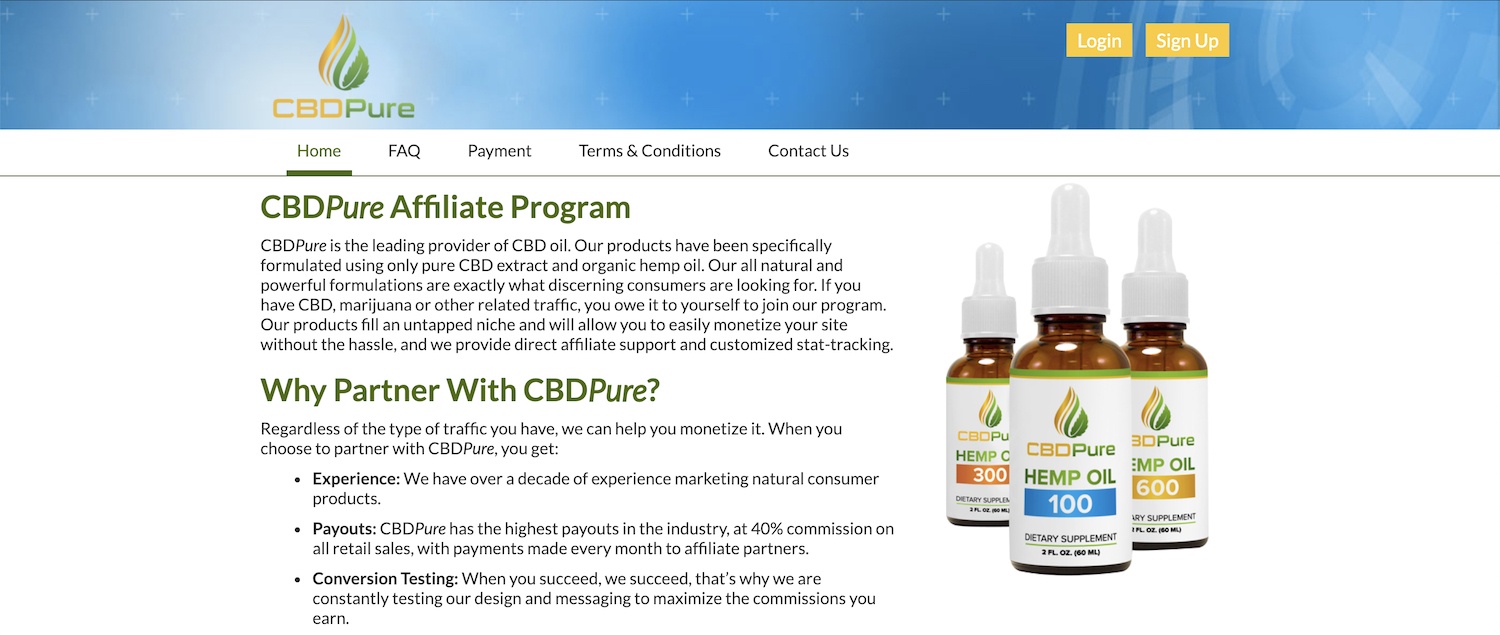 Looking for an honest, transparent vendor in the CBD Oil industry?
Check the CBD Pure Affiliate Program. It aids people worldwide who are wishing to boost their daily health regimen.
This company has a dedicated team of marketers and researchers who make sure the sales of their products are thriving. They test the new design, templates, messaging angles, and many other tools to turn readers into buyers.
It has everything for its affiliate members, on the whole.
The main thing which attracts buyers is their actual product. Their hemp oil is made with non-GMO organic standards. Besides, it is quality tested by the third-party lab. It is easy for you to influence the customers and assure them that it safely promotes natural relief and good health.
Customers also have the option to opt for discreet shipping. They can keep their purchases utterly private in case they don't want to reveal their health issues.
Program Highlights:
It gives a 40% commission on all retail sales.
Payments made every month to affiliate members.
It has superior customers service for both customers and publishers.
This company gives a 90-day money-back guarantee on all its products.
Its products analysis is available for review upon request.
Specktra CBD Affiliate Program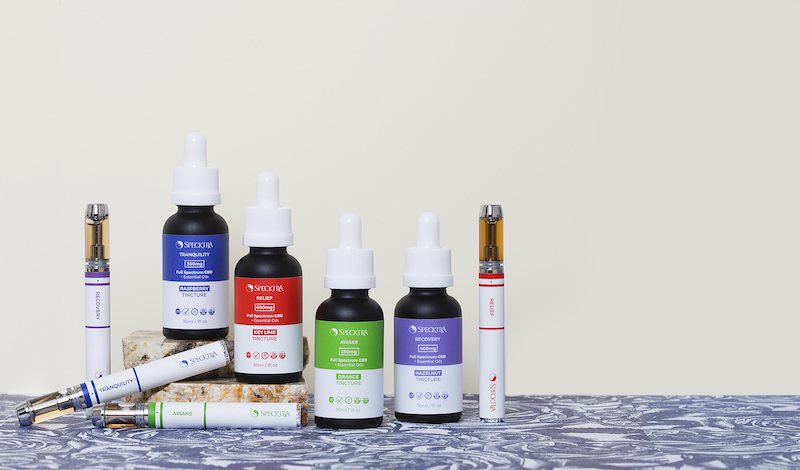 Specktra is an innovative CBD Brand that combines specific terpenes profiles, organic essential oils blends, and full-spectrum CBD for maximum therapeutic relief.
Their products are third-party lab tested with reports available and products available in tincture, vapes, and transdermal patches.
Their transdermal patch contains 60mg of CBD, is waterproof, and lasts for up to 96 hours. It's one of the most affordable transdermal CBD patches on the market right now.
Program Highlights:
30% commission rates with monthly payments to affiliate members
30-day cookie duration
Regular payments every week
Option to use a referral link or coupon code (with an audience discount)
Ongoing support for marketing material
Affiliate Signup Link: Register Here
Vape Bright Affiliate Program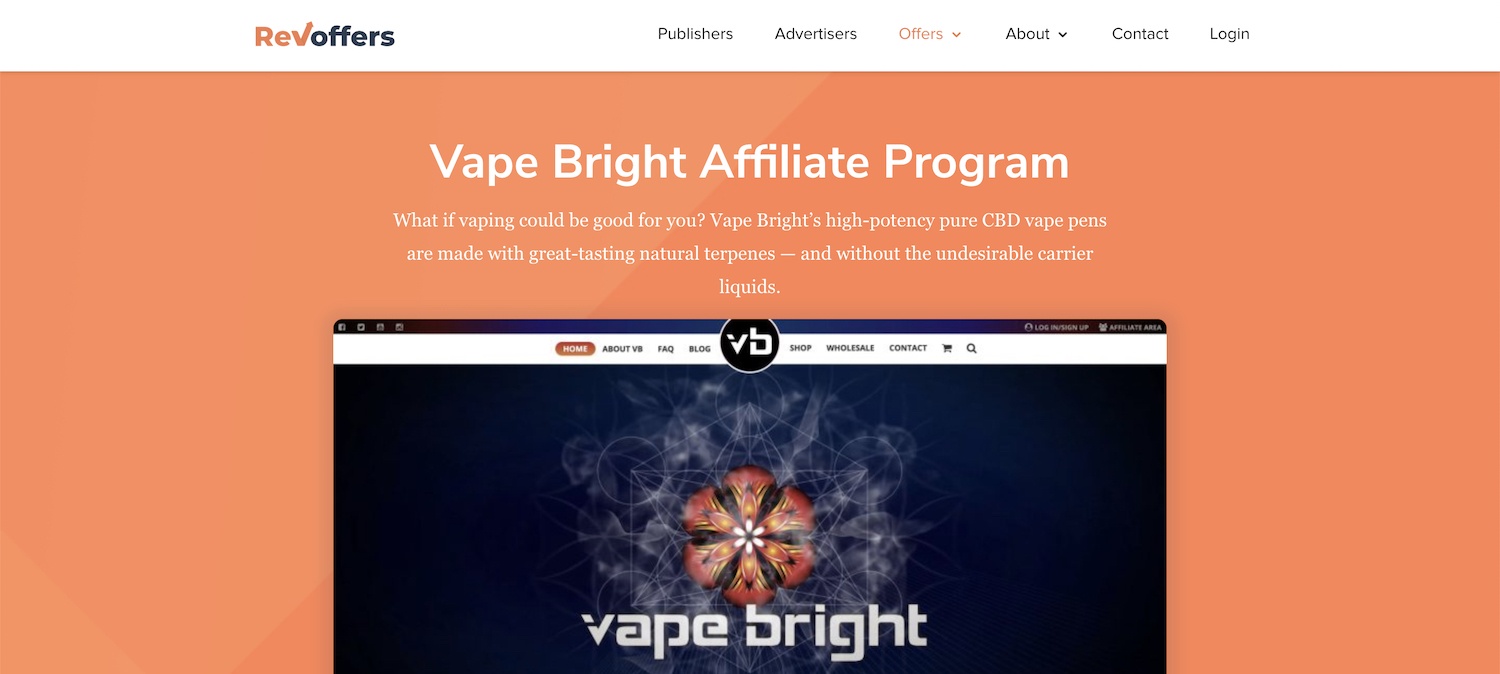 Vape Bright products have become a raging success among customers.
It sells high-potency pure CBD vape pens. Unlike many other vape products in the market, this vape pen is without the undesirable carrier liquids. According to its manufacturers, it doesn't contain Propylene Glycol (PG) or Vegetable Glycerin (VG) either.
In a way, it is safe and brightens your world, every day.
As a marketer, if you'd assess its affiliate programs, you will find many benefits as a partner. For example, it presents one of the finest organic hemp oils in the market. Next, for a customer, it is immensely straightforward to order it online. The customer service and shipping support of this company are up to the market.
The commission rate is a tad low though, compared to other CBD Oil affiliate programs, it is 25% only. But the good conversion ratio shouldn't stop you from promoting this product.
Program Highlights:
The commission rate is a bit lower – 25%.
It gives direct website and coupon tracking options.
The customers you refer will remain your customers.
You receive the lifetime commissions on the customers you refer.
It is the highest-industry quality product with certified lab results.
Joy Organics Affiliate Program

There are a million reasons to partner with Joy Organics.
First, it has an organic line of premium, pharmaceutical-grade CBD products with zero THC and are made in the USA only.
In its line, it has soft gels with melatonin for sleep, soft gels with curcumin, oil tinctures, vape pen plus cartridge, energy drink mix, day cream, face mask, etc. You have an amazing opportunity to promote all these products over and over again to the customers.
To become its partner, you have to open an account with 'Post Affiliate Pro'.  It is quite straightforward and you can find more information about it in the FAQ section.
On every product purchased, as an affiliate marketer, you will earn a 25% commission. All you need is to send customers to their website. They have a professional team that constantly split test web pages to improve conversion.
It is their goal to influence every customer you send and make them buy their products.
Program Highlights:
Earnings are 25% on each sale.
You can also create a special discount code for your readers.
The developers of Joy Organics give you high-converting banners for marketing.
They pay their commissions twice a month.
They don't accept PPC affiliates.
CBD Sky Affiliate Program

CBD Sky is a rather new company in the industry.
Despite being such a young company, it has earned a lot of praise from the professionals. They believe CBD Sky is revolutionizing modern medicine through its oil drops, oral spray, and 100% all-natural bio-organic capsules.
Apart from this, almost all of them are 3rd party lab-tested w/COA and 100% legal. They facilitate in fighting multiple health issues and provide maximum health relief.
The best thing is, the products are rated by real people. For that reason, you can trust the reviews and choose them for relishing direct health rewards.
As a partner, you can earn a lot of money. In fact, many social media influencers and online advertisers are preferring CBD Sky these days due to their 30% commission and bi-weekly instant digital verified payout. Furthermore, there is the all-in-one affiliate dashboard too that presents complete analytics regarding your performance.
Program Highlights:
The commission rate starts at 30%.
Lifetime compensation as long as your customers buy from CBD Sky.
You can receive direct digital payouts in cash.
The cookie duration is 30-days.
They offer support through their Facebook group page.
Hemp Bombs Affiliate Program

Hemp Bomb's affiliate commission rates start at 20% only.
The interesting thing is it has a tiered payment system. If you are good at building a network of affiliates, you can generate a lot of wealth in no time. This platform will keep on giving you a 5% commission rate through sales from your referred affiliates.
Before choosing this affiliate network, please remember that the sign-up process is a bit different. The 20% commission rate can be changed.
First, they review your application and canvass all the aspects of your website. If the traffic quality is good and you have authority on the subject, they will increase your commission rate to 20%.
However, in case it is a new, niche website, you won't be able to earn more than 10%. In other words, they are the ones who decide their rates. The main aim behind this is to dominate the industry and put its products on reputable and authoritative websites only.
Program Highlights:
The commission rate is 20%, but it can also be changed.
You receive 5% on affiliate referrals.
They pay their affiliate every week.
The cookie duration is 30-days.
They prefer authority websites and active audiences.
The Buy CBD Cigarettes Affiliate Program

CBD Cigarettes make their own Hemp Cigarettes from organic high-quality hemp and they are the only CBD Cigarette company with an affiliate program offering attractive affiliate commissions.
Their CBD products carry no unnecessary additives or fillers and they are able to ship products anywhere in the domestic lower 48 states and contain <.3% THC.
Program Highlights:
Affiliate Commissions: Earn 20% of new customer sales.
Earn 10% on recurring orders from referrals
Earn 5% on subscription orders
Affiliate Signup Link:  Click Here
Website: Here
GoGreen Hemp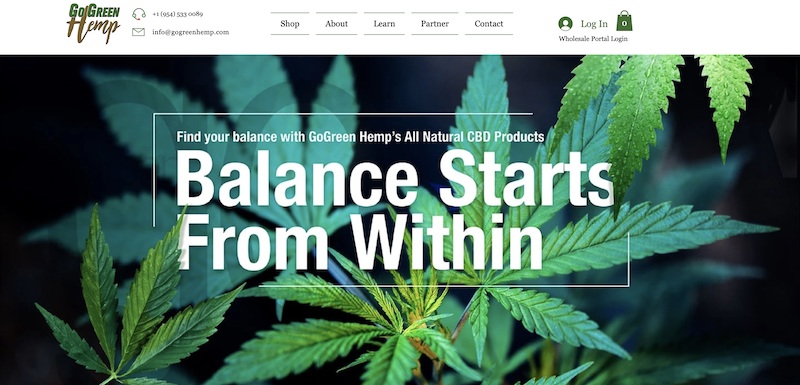 Joining GoGreen Hemp's affiliate program is a must.
GoGreen Hemp is one of the oldest CBD-only companies in the industry, and they say with age comes wisdom. The THC-Free CBD product line has various products that touch numerous demographics from pet owners to the beauty industry and everything in between.
They have quickly become one of the most trustiest CBD sources in the industry, emphasizing their GoGreen Hemp Gold standard which entails their commitment to quality, consumer education, transparency, and economical pricing.
Compared to the industry, GoGreen Hemp products are fair price, which can help lead to more sales for price sensitive customers.
To become a partner, you must submit a request on their affiliate page. It is rather straightforward and they have a FAQ question that should answer most of your questions.
On every product purchased, as an affiliate marketer, you will earn a 15% commission. All you need is to send customers to their website. They have a professional team that constantly split test web pages to improve conversion. They also provide creatives on the various sales they run throughout the year.
It is their goal to influence every customer you send and make them buy their products.
Program Highlights:
Earnings are 15% on each sale.
You can also create a special discount code for your readers.
The Marketing team at GoGreen Hemp gives you high converting banners for marketing.
They pay their commissions when you reach 100$ in commissions.
60 Day cookie period
---
---
Is the CBD Oil Industry Profitable To Affiliate Marketers?
Is CBD oil a good product to become an affiliate for? Most definitely!
Check out the Google Trends graph showing the explosion of interest in CBD oils here: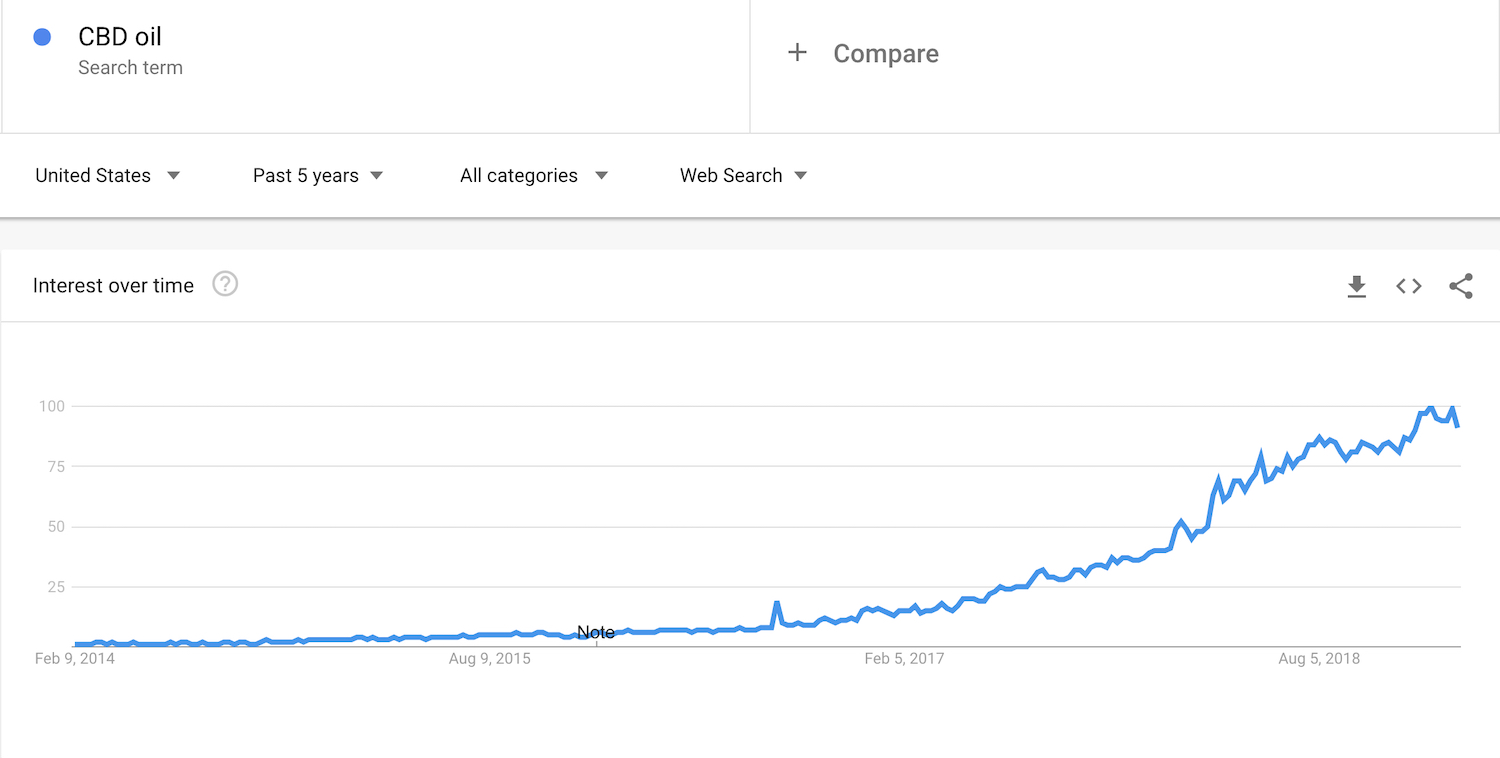 If you want to get started with "CBD affiliate marketing", there's no better time than today!
How To Start Promoting CBD Oil As An Affiliate?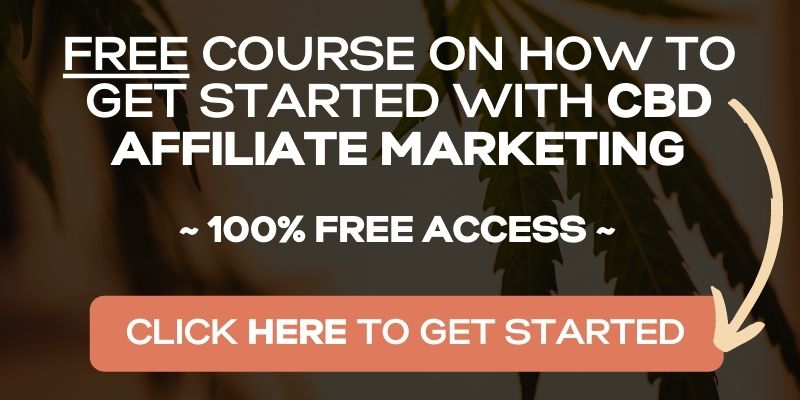 Your first step should be to start your website (you can get a free domain with hosting from BlueHost).
Next, you need to learn how affiliate marketing works and also learn a few ways you can drive traffic to your website and earn affiliate commissions.
The third and final step is to make money – which if step one and step two are set up right – would be the easiest step to do!
If you're interested, I also have a free training where I share everything I know about building simple yet profitable affiliate websites.