I've always liked the idea of subscription boxes.
They're simple, people love them and for the creator, they can earning you recurring revenue from a sale you only do once.
Unfortunately, I've yet to work in the subscription box niche myself, but I've been doing some research about it from an affiliate's point of view and I'm glad to say; there are some fantastic opportunities out there.
One opportunity which I will be telling you about is the CrateJoy affiliate program.
In a nutshell; CrateJoy is a website where people can list their subscription boxes and thus; they have subscription boxes in every niche, which makes it one great program for you to join and promote.
Down below I'll share with you all you need to know about this affiliate program, but first;
Let's take a look at the TLDR version of this review:
Can You Make Money With The Crate Joy Affiliate Program?
💲💲
Products Available

Commission Rates

Payout Methods

Affiliate Program Features
CrateJoy Affiliate Program TLDR Summary
100s of boxes in various niches ✔️
Decent commission rates ✔️
Highly in-demand products ✔️
30-day cookie length ✔️
Limited payment methods ✖️
What Is CrateJoy?
CrateJoy is the self-proclaimed "the best monthly subscription box for all passions" and they live up that that claim.
They offer subscription boxes in just about every niche online and they keep adding on new ones each week (you can even add yours if you're offering one).
The site is beautiful, the boxes are reasonably priced and I am sure this is a successful business that you can partner up with to help them spread the word (and make some money along with them).
If you haven't visited on CrateJoy yet, you can visit their website and see their subscription box offerings here.
Next up, we're going to talk about the CrateJoy affiliate program, and what you can expect from it.
What You Need To Know About The CrateJoy Affiliate Program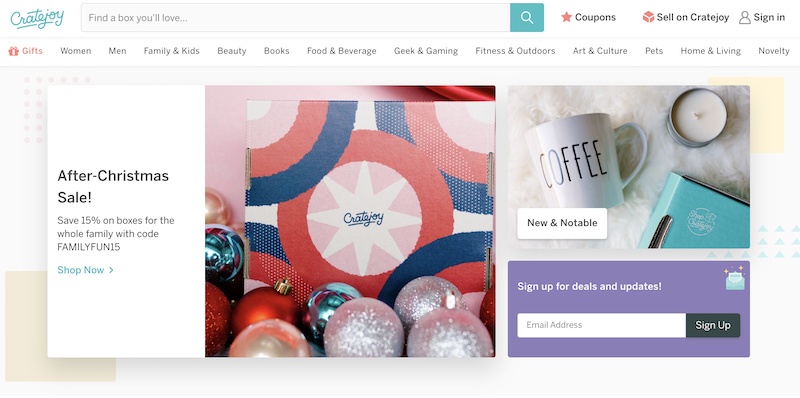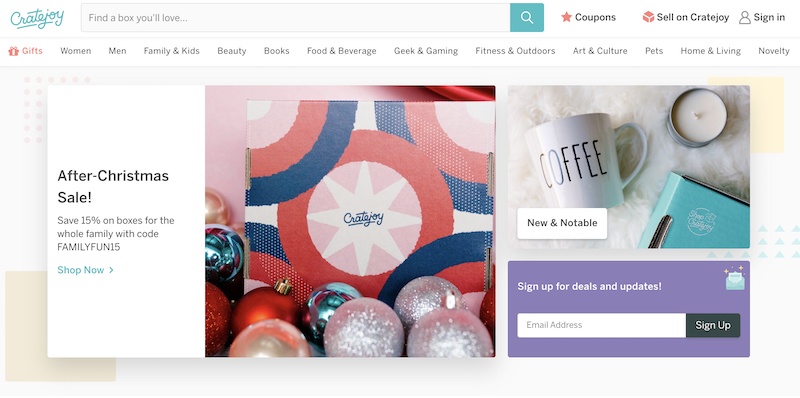 What Can You Sell
As I previously stated, there are subscription boxes in just about every niche imaginable. All you have to do is search for your niche, and watch them pop up.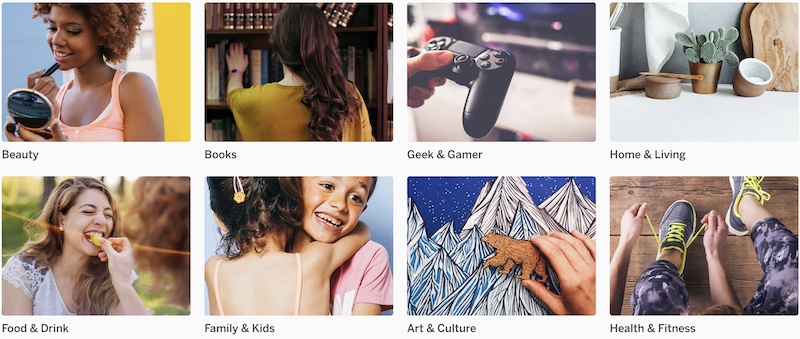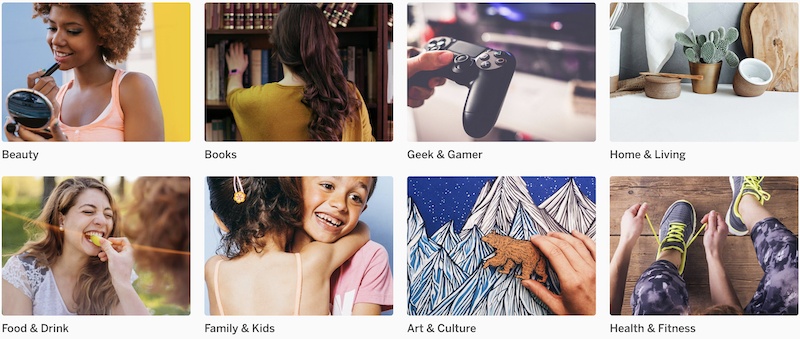 Some of their most popular boxes can be found in these following categories:
Family & Kids
Books
Gaming
Fitness & Outdoors
Home & Living
etc…
How Much Can You Earn (Affiliate Commission Rate)?
As an affiliate, you earn a 10% commission rate on every box you sell.
The average order value on CrateJoy is reported to be around $47, this means you will be making about $4.70 for every sale you send to them.
Not huge commissions, but as you can see from these following calculations found on their website, these could quickly add up to something significant:


How Will You Get Paid?
The CrateJoy affiliate program runs on the Impact Network (we'll talk more about this below) so they payout will be issued through Impact and not CrateJoy.
At the time of writing this, they payout every 15th of the month and you will be paid via a direct bank deposit.
Sadly, they do not currently offer PayPal payouts which is a bit of a downer for me, but it may not be for you (especially if you already have an Impact account set up).
What's The Affiliate Cookie Length
30 days, which is the industry standard and more than enough for a consumer to purchase a subscription box (if they are really interested in one).
You Can Use Your Own Affiliate ID


One (unique) thing I'd like to mention is CrateJoy allows you to use your affiliate link to buy products from their website.
Many affiliate programs are against us using our own affiliate links to purchase from them, but CrateJoy encourages affiliates to use it when they want to either buy a box for personal pleasure or, to be able to write reviews about it.
One thing they also offer all affiliates is the freedom to use images from their website (as long as you have been approved to their affiliate program).
How To Join The CrateJoy Affiliate Program (Through Impact)


So, do you like the sound of this?
Want to know how to become an affiliate for CrateJoy?
Follow these instructions and you'll be up and running in no time.
Step 01: Visit Their Affiliate Page
You can use this link. They provide a lot of information and FAQs on the page so be sure to read all about how their affiliate program works.
Step 02: Join The Impact Affiliate Network
Once on the official page, you will see a yellow "Apply To Join" (pictured above) button at the top of this post.
After you click this, you will be taken to the Impact Radius sign up page where you can either log in to your existing account or create a brand new account.
Step 03: Await Approval
Once you've applied, you will need to await approval from CrateJoy's end to be able to promote it.
One thing you are going to need before you apply is your own website. It will speed up your approval time and it will also help you promote CrateJoy products.
If you don't have a blog/website yet, down below I will show you how to start one for as little as $3.95!
Step 04: Start Promoting
Once all has been approved, you're all set.
Congratulations. You can now start promoting CrateJoy subscription boxes to your readers and earn good money doing it.
But how??
How To Make Money From Subscription Boxes (As An Affiliate)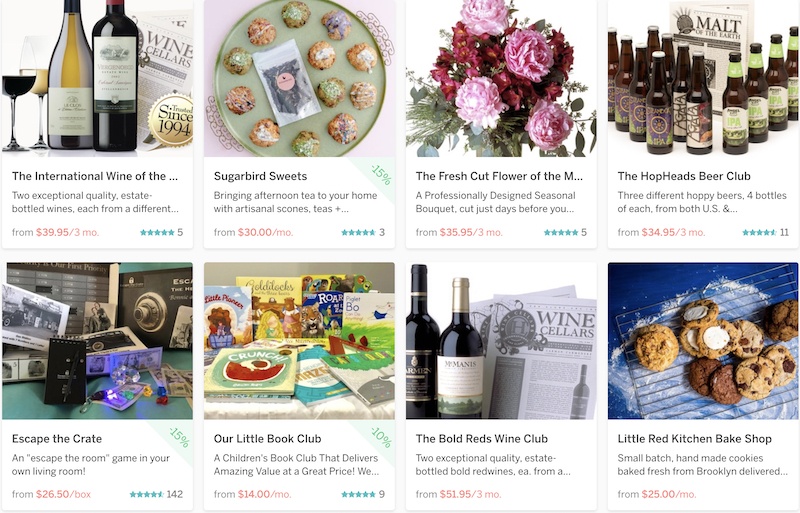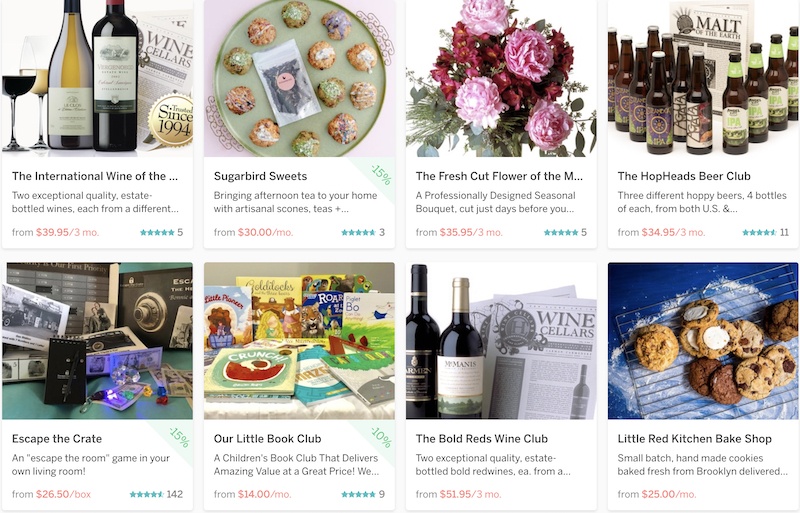 During my research for this post, I came across this thread on Reddit that talks about how to best go about promoting this niche.
You may want to check that out, however; I also want to share with you how I would go about promoting CrateJoy as an affiliate myself;
Using my trusted Ahrefs keyword tool, I can see there is a lot of potential if you target a specific subscription box niche with a few reviews: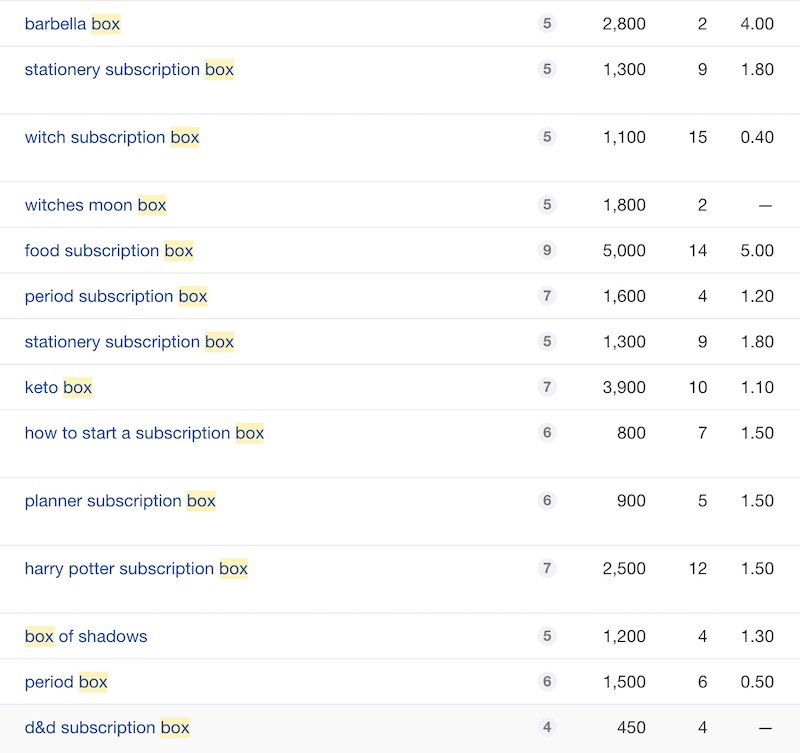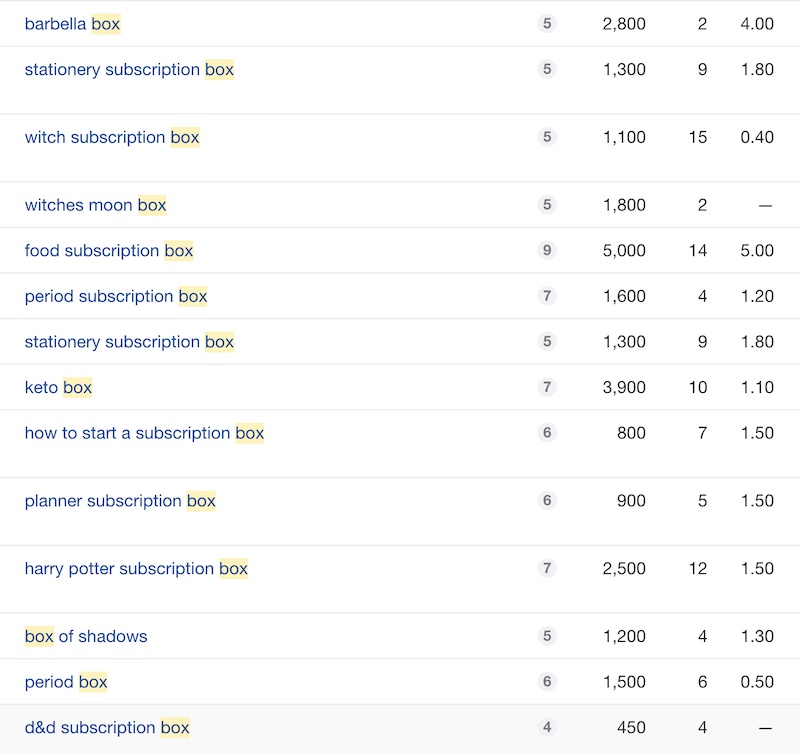 For example, you can create a website where you can publish "skincare subscription box reviews" and from the review, you can then link to CrateJoy using your affiliate link for that same box.
Of course, you don't have to publish just reviews, you can also compliment your reviews with other forms of "how-to" style posts and then linking to your reviews.
One other way to do it (if you have an established website already) is by placing a few banners inside related blog posts you have and seeing how they convert (CreateJoy can also provide you with promotional banners).
There are a lot of ways you can make money in this niche if you get a bit creative (& you're ready to do some work).
For more about this, you can check out my guide on how to make money with a review website here.
NB:
I'm currently running a "profitable niche site" case study where you can see me building out brand new websites from scratch. If you'd like to see how I'm currently making money with these websites, you can
see my latest update here
.
Any CrateJoy Alternatives?
While there are many other subscription boxes that do have a stand-alone affiliate program, the CrateJoy affiliate program is the only one I have found that offers subscription boxes in a variety of different niches all under one roof.
If you want to get into this space as an affiliate, I highly recommend you start with this one first and then explore the others once you've got the hang of it.
As I covered in this review already, you'll be spoilt for choice as a CrateJoy affiliate so there's no need to look for something else just yet.
Brand New To Affiliate Marketing? Here's What You Need To Get Started…
WANT TO KNOW HOW I MAKE MONEY WITH
AFFILIATE MARKETING?
(YOU ALSO GET A 10-DAY COURSE FOR FREE WHEN YOU SIGN UP)
After signing up, you will be redirected to the course page where you need to sign up again - no credit card required, just an email will do.
Right, so you want to get started promoting subscription boxes but you have no website yet and no idea how to get started.
The first step should be to get yourself a domain name and a simple WordPress website set up.
BlueHost gives you a free WordPress website and a free domain, all you have to do is buy the hosting (which is what keeps your website accessible on the internet).
This costs just $3.95 per month, and you can get your free domain from Bluehost here.
Next, you should also sign up for this free 10-day affiliate marketing training course which will give you the basics you need to start making money with your website (as an affiliate).
By the end of the 10 days, you will have:
Your own website up and running
You'll know how to publish content that ranks in Google
How to find "keywords" to target with your content – and;
How to get traffic to your website.
Those are the basics, but with that, you'll be well on your way to starting making money in no time.
You can read more about this free training course here >>
I'll be in there to welcome you in and show you the ropes. You can expect a quick message from me once you've joined.
In Closing
That's all for today.
I hope you enjoyed my CrateJoy affiliate program review and I hope this post was enough to help you take the first step and get started making money as an affiliate marketer.
If you have any questions, be sure to let me know down below.
Talk soon!
NB:
Want to see how I make money online?
Here's my latest guide
showing you everything I do to earn money with simple, easy-to-build websites.