For both beginners and expert affiliate marketers, product reviews have always been a fast and powerful money-maker.
While some might say product review websites don't work as well as they once did, it's still a great way to get started as an affiliate looking to earn your first affiliate commission.
In this article, I will be showing you exactly how to build product review websites that rank well, and that convert. This is the method I've been using for many years now and so far, I'm still in business.
Here's everything I will be covering below:
What Is A Product Review Website?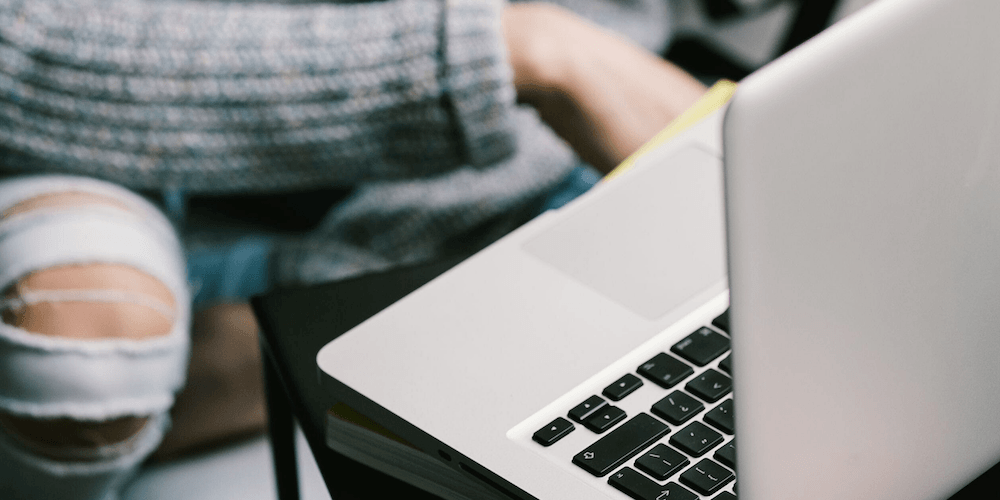 ---
---
It's exactly how it sounds – a website that publishes reviews (amongst other more-helpful content) about specific products in a specific industry, for a specific audience.
I talk more about this trifecta in my guide where I reveal how I make money with simple, easy-to-build websites.
NB: I will be sharing with you some great/successful examples of product review websites down below + a few ideas on what you should make your website about.
Why Do Review Websites Make Money?
The idea of a review website plays on a critical part of human psychology in that we want to validate our purchase by first seeing what others are saying about a product – before we buy it.
According to data from Inc.com, 84% of people trust online reviews as much as friends.
Now I have to admit, I have stopped reading/trusting random reviews on the internet. If I see a product I like/want, I either buy it and make up my own mind or I take a look at what people are saying on social media. However;
People still look for reviews online, especially for products which are somewhat expensive ($100+).
To give you an example of a review site I once owned (and have now sold) that made me a decent income per month using the product reviews method is my own experimental product-review site, SmartAirConditionerLab.com.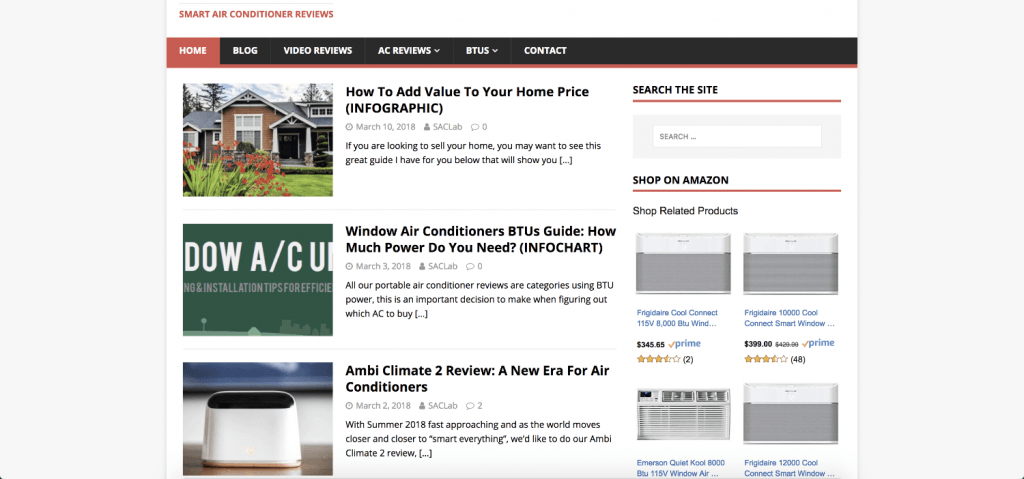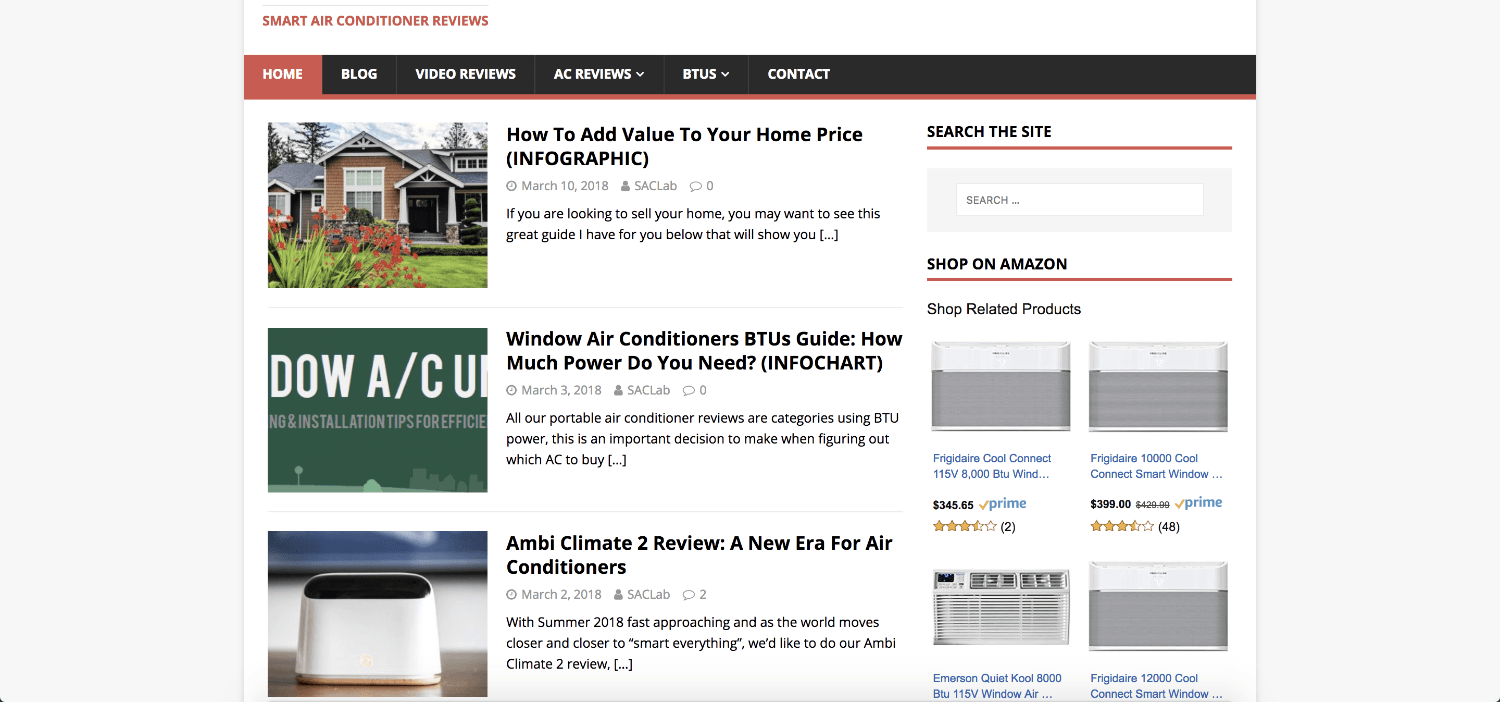 This website worked because it hit the 3 very important metrics that go into a successful product review website:
!High Buyer Intent: Nobody is going to waste their time learning about something as boring as a portable air conditioner (unless they are ready to buy one today or soon).
!High Ticket Items: The average price for an AC is ~$300. This means my affiliate commission can be quite high and I don't need a lot of sales to make a lot of money. It also means people need to research it because an AC is not typically an impulse purchase.
!People Need To Research It (Before Buying): Pople who are looking to buy an AC can't just buy the first one they see, they need to do their research to find which one fits their needs.
That is WHY product review websites can still make money, next we'll talk about the HOW.
How Do Product-Review Websites Make Money

As with any other sort of website, a product review website can only be successful (i.e make money) if it has readers (traffic) coming in to learn more about the topic.
This means that before you figure out how to make money, you also need to figure out how to get people (the same people you want to sell to) to your website.
For product review websites, the best source of traffic for you will be SEO (search engine optimization) but we'll talk more about how to do that later. For now, I just want to show you HOW you will be making money with a product review website.
This is done with affiliate marketing, a business model that pays you a commission for every purchase your website makes.
When a visitor lands on your page, find what they are looking for and are ready to buy, you will have your affiliate links at the ready. Once a reader makes a purchase, you will get credited a % of the sale price.
This is HOW review websites make money. Once you have the traffic coming in, and your website is set up to make money (with carefully placed affiliate links) your site is officially a money maker and yes, you will be making money.
If you're new to affiliate marketing, you may want to check out these two guides:
How To Start A (Successful) Product Review Website
To get started with affiliate marketing (and product reviews), you are going to need a few things first. These are:
An idea (topic/niche)
A website (this is obvious)
A list of products – and
A lot of patience.
Let's get started on each point.
An Idea (What Is Your Website Going To Review?)
What is your website going to be about?
What sort of reviews will you be publishing and for what products?
Who is the ideal customer you need to get for this website to work (make money)?
These are the questions you need to ask yourself before you ever start building your website.
Ideally, you'd want it to be on a topic (commonly referred to as a niche) that you're already familiar with. It can also be a niche that you're not familiar with, but you're actively learning about it.
As I always say, when it comes to picking a niche, make sure you enjoy the topic your website is going to be about. Make YOU the target customer.
This is especially true if you're a complete beginner reading this.
Once you understand how all this works, and you can then hire people to write the content/reviews for you. This will allow you to start review websites in topics you don't know much about, but that's a topic for another time.
If you're stuck for ideas, you can get some inspiration by browsing Amazon's vast product category.  For the sake of this guide, I went through Amazon and found some niches which I would seriously consider if I were looking to start a new website for myself:
Wine coolers
Above-the-ground pools
Inflatable kayaks
Vacuum robots
Sound-proofing
Home gyms
Smart home furniture
Cigar humidors
Tiny homes
Juicing machines
NB: For best results when picking a niche, keep in mind that your niche needs to have the 3-key elements I've mentioned about:
High buyer intent ✔️
High ticket items ✔️
Items that needs to be researched first ✔️
A WordPress Website
Once you've got your niche/topic picked, it's time you start building your website.
You are going to need a domain and you are going to need hosting.
The best place to get both is BlueHost as it's by far the quickest, easiest and cheapest option, but you can also use Wealthy Affiliate's SiteBuilder as it also comes with plenty of tutorials on how to make your product review website a success.
Just make sure you use WordPress, it's the best platform to use when building these types of websites (both of the services mentioned above provide free, one-click WordPress installations).
A List of Products To Review
Once your website has been created, it's time to start planning your product reviews.
Make a list of the products you will be reviewing and find a product review template that you'd like to work with (I have an Amazon product review template here if you're interested).
Apart from straight-forward product reviews, you can also create product round-up lists such as "10 Best Cigar Humidors For Small Spaces" and also product comparison reviews such as "Cigar Humidor X vs Cigar Humidor Y".
This will give you a versatile range of content and it gives the readers more information that can help them make a decision.
You also want to sprinkle in a bit of helpful content as well in the mix, such as…
How To Clean a Cigar Humidor
Where to Place a Cigar Humidor in an Office
How Long Do Cigar Humidors Last
NB:
If creating content seems daunting, don't worry – it's easier than you think (especially when you pick a topic you like/know about). If you'd like some help with this, you may want to check out
Income School's Project 24 course
.
Patience (& Time)
One more thing you're going to need to have is some patience (and perseverance).
Please do not think product review websites are a way to make some quick money because they're not. It takes a lot of time and dedication to write all the content and reviews for your website and it takes time for people to find your website.
On average, I would say it will take you about 6-12 months till you start seeing some income worth bragging about.
Don't quit in your first few weeks. If you have to quit, at least make sure you get 30-50 posts/reviews up first and then let the website sit there without working on it and just wait for results.
Eventually, your reviews will get picked up by Google, your traffic will get readers and your reviews will convert into money.
Once that happens, you will have seen the full-circle and that alone should be enough to inspire you to go for another round of 30 to 50 and keep growing your website bit by bit.
Please don't quit too early. If you follow the advice I laid out for you here, you will make money. Even if you don't, you can always sell your website to someone else and that too will be enough for you to make a decent ROI on the time you spend building it.
Building Money-Making Review Website: FAQs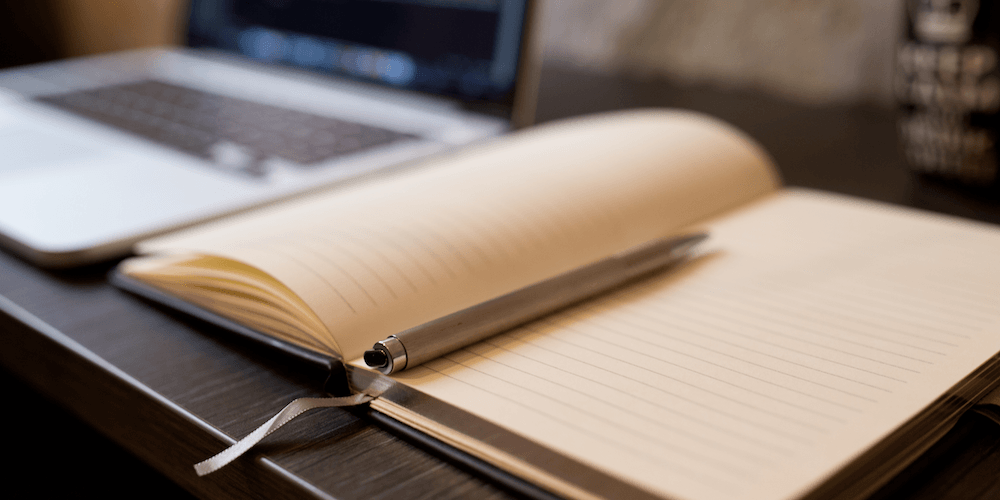 Last but not least, I also want to address some questions you may have about running, managing, and growing a review website.
I will keep updating this as more questions come in so if you have any questions, be sure to let me know.
Q: How Often Do You Need To Write Reviews?
There's no set limit to how much (or how often) you should write reviews. You can even publish one review about one specific product you want to promote and then have the rest of your content designed to answer questions about that specific product.
Of course, the more reviews/products you have on your website, the more traffic you can get, and the more ways you have to make money.
This is very niche-dependent so you need to figure what the best way forward is yourself based on your chosen products/niche.
Q: Do You Need To Buy/Try Every Product You Review?
No, you don't. If you are an expert on digital cameras, you do not need to buy and review every single camera.
You just need to do the research and curate it all in one information-packed review that will give the reader everything they need to know (without having to do all the research him/herself).
Q: Can You Review Digital Products Instead?
All we've talked about here is about physical products, but the exact same strategy can be used if you want to review digital products such as courses, ebooks, software, and other forms of digital material. You are not limited to physical products.
Final Words + Free Course To Help You Get Started
So there you have it, a tell-all guide on how to build (and make money) with a product review website that uses affiliate marketing as the primary business model.
If you'd like to learn more about how to make money with websites, you can check out one of the following courses:
Wealthy Affiliate
teaches you how to start a successful affiliate marketing business while
Income School
teaches you all the ways you can make money with a blog/website.
Both of these courses have helped me in my quest to make money online and I wouldn't be here today if it wasn't for what I learned in these courses. I'm sure they will do the same for you.