Lately, I have been publishing more and more guides, how-tos and reviews that revolve around the cryptocurrency markets.
I am doing this because I honestly think the market is going to start reversing soon and what has probably been the longest bear market in crypto-history, might now turn full-on charging-bull.
With that said, I also have to add that I am no expert and no financial advisor.
For all I know, it can all go to zero tomorrow – but I don't think so, and that is why today I want to publish this "crypto for affiliates" guide showing you how to make money promoting cryptocurrency-related products and services for a commission.
So, if you are an affiliate marketer, or maybe you are looking for ways you can make money from cryptocurrencies without actually buying up coins and waiting for their value to increase, here's an extensive list of things you can promote.
*if you are a complete beginner, towards the end of this post, I will also show you how to get started with affiliate marketing, including a link to a 10-day free "getting started" course + where and how to start your new crypto-themed affiliate website.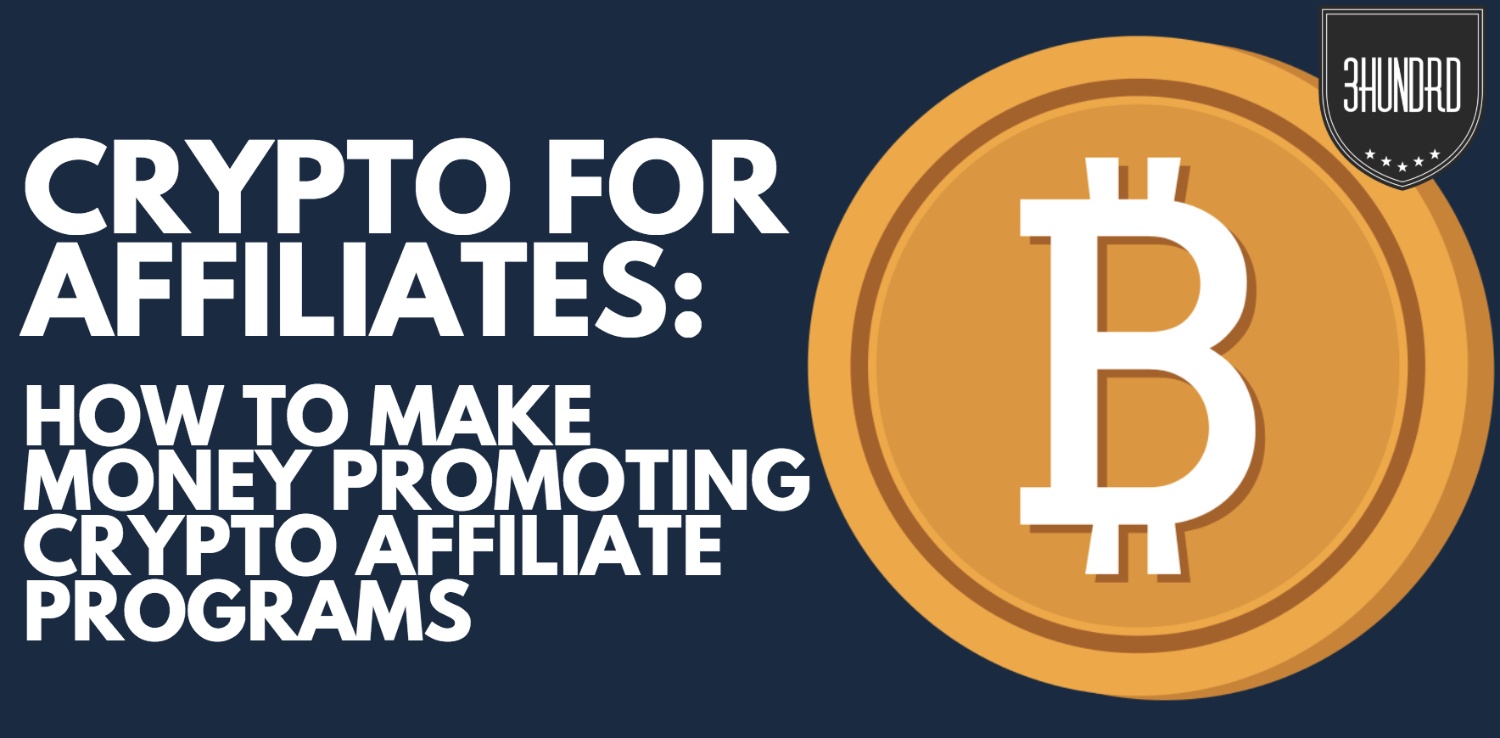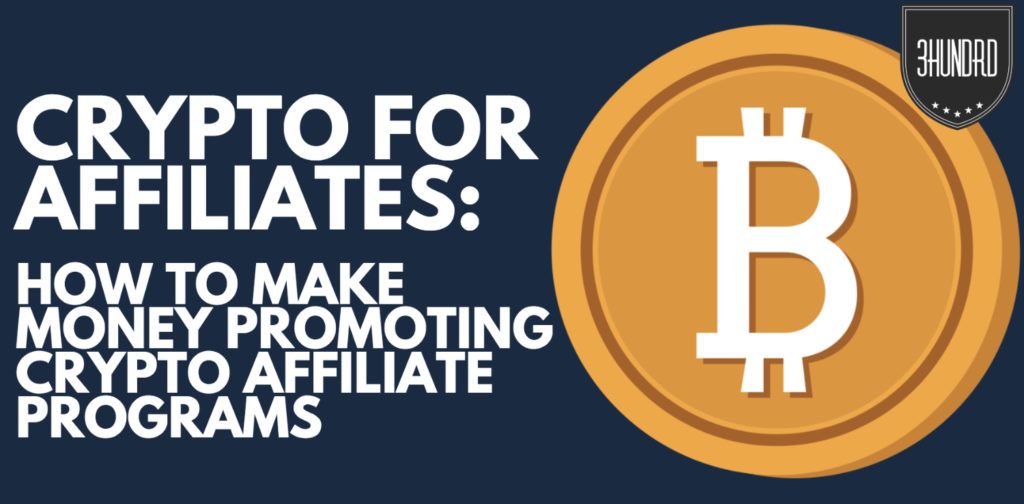 How Do Affiliate Cryptocurrency Affiliate Programs Work?
As with any other affiliate program, with the below-listed cryptocurrency affiliate programs, you are getting a small percentage of the profits you send to that company.
Please note that for cryptocurrency exchanges, you will only make a commission off the 1-3% charges that the exchange keeps and not for the entire deposit.
All you need to do to start earning with these programs is to drive targeted traffic to them.
If you're a beginner in affiliate marketing, then I suggest this free course to get you started.
Do You Get Paid In Bitcoin or FIAT?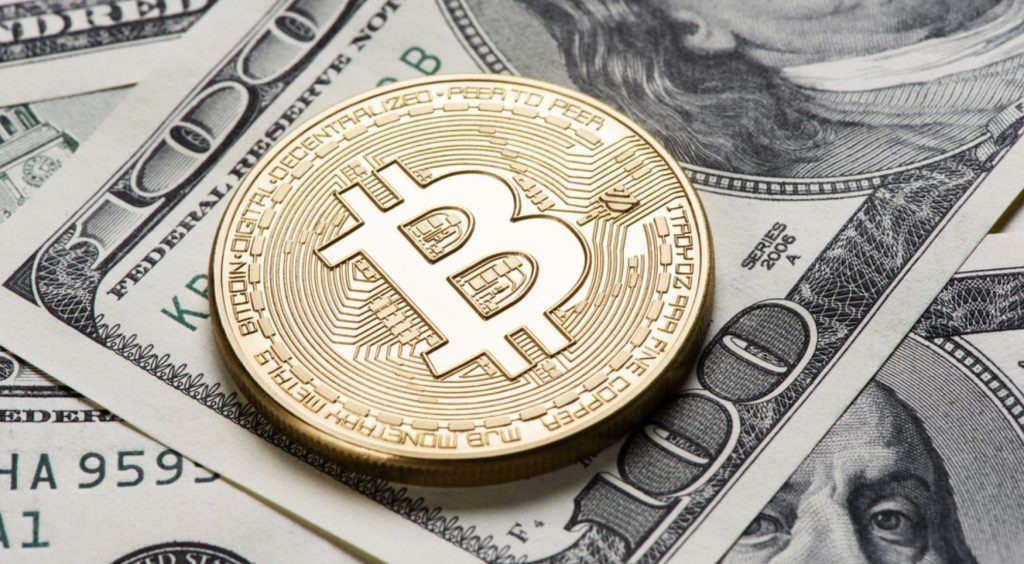 While most will pay you commissions in crypto, you may also find ones that pay you in FIAT currencies usually by cheque or via PayPal.
Personally, I always prefer getting paid through PayPal if getting crypto-commissions is not available – it's just much quicker than a cheque or even a bank transfer for that matter.
Ready to start promoting cryptocurrencies to the world?
Here are some of the best cryptocurrency exchange affiliate programs.
Financial Partners Marketing – 50% Gross Revenue to Financial Partners Marketing (Up to 50% Lifetime Revenue Share)

Financial Partners Marketing is a world-leading affiliate network that specializes in exclusive financial offers. Our commitment to detail and attention to building partnerships always make our affiliates earn more.
Our specialized team made up of passionate marketers ensure that every element from banners, to conversion, are perfectly optimized and deliver optimal results for our partners.
The three commission structures:
CPA By Country: Affiliates will receive a fixed commission for each qualified trader (up to 1200 USD)
Hybrid Strategy: Combination of 2 types of all available commission, CPA + revenue share
Revenue Share: Receive up to 50% of Gross Revenue (spread)
Affiliate Signup Link: Click Here
Affiliate Website: Here
Local Bitcoins – 20% Commissions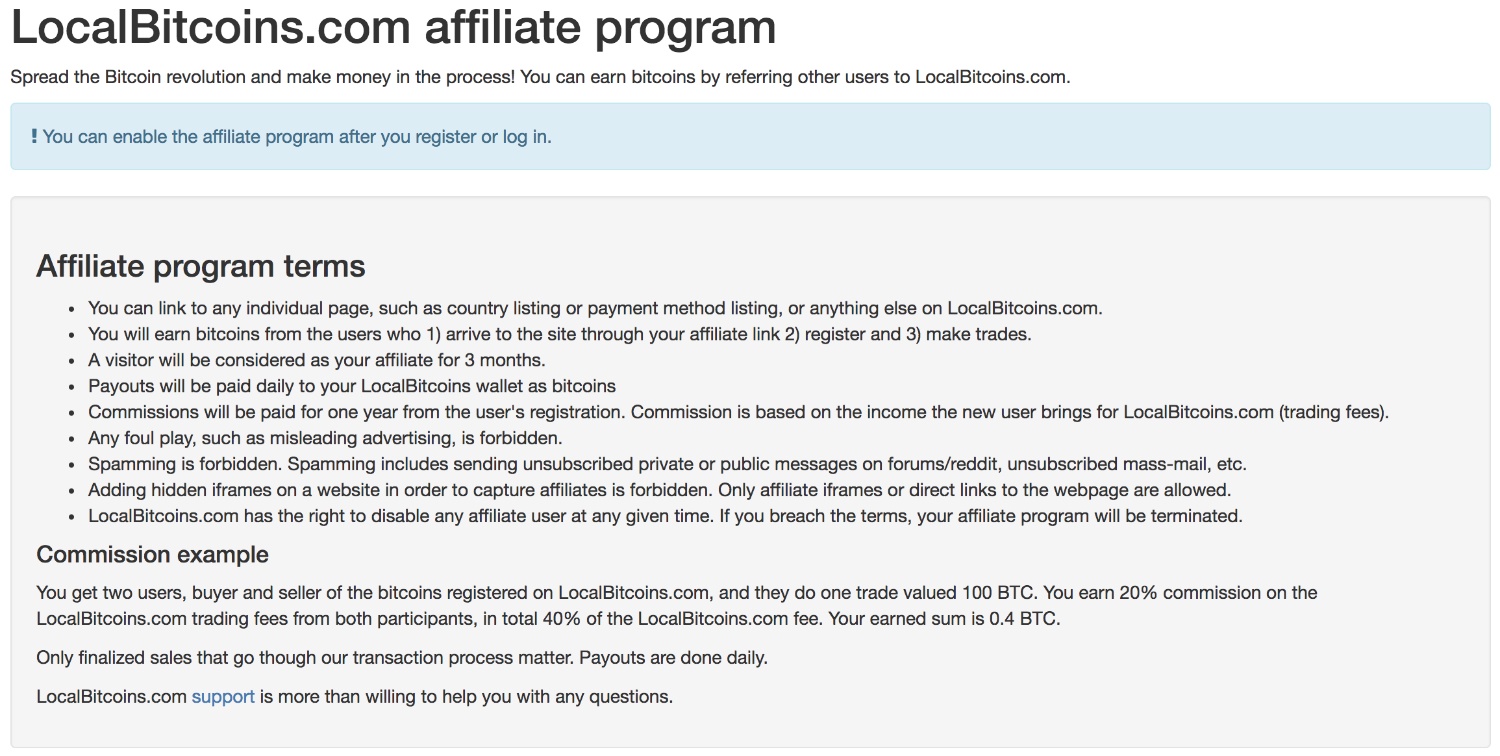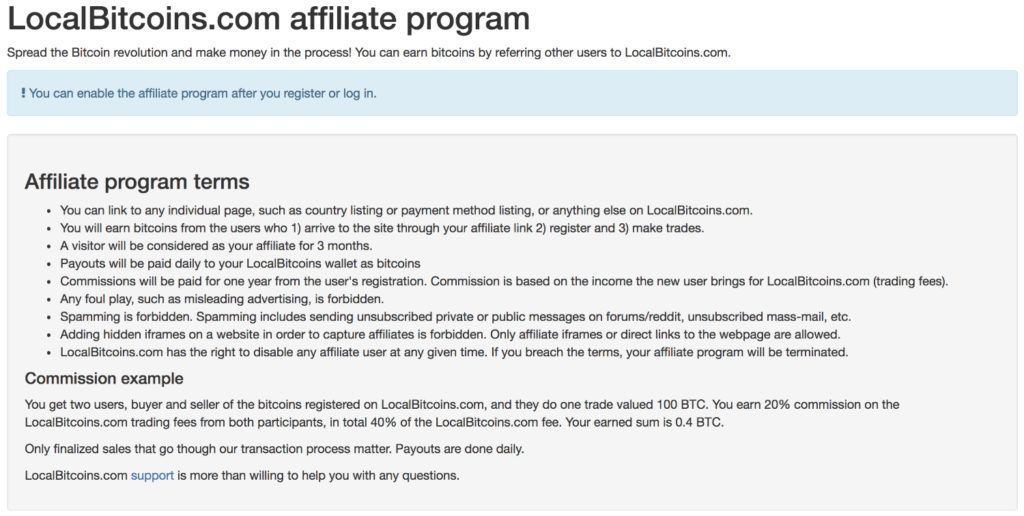 Local Bitcoins is sort of like the craigslist for cryptocurrency allowing users to trade with each other without the need of an exchange.
It even allows you to purchase Bitcoin with PayPal if you'd like and that's very rare – no other exchange accepts PayPal.
Might be your "angle" promoting it.
Start promoting Local Bitcoins here >>
Coinbase – $10 for every referral that buys $100 worth of crypto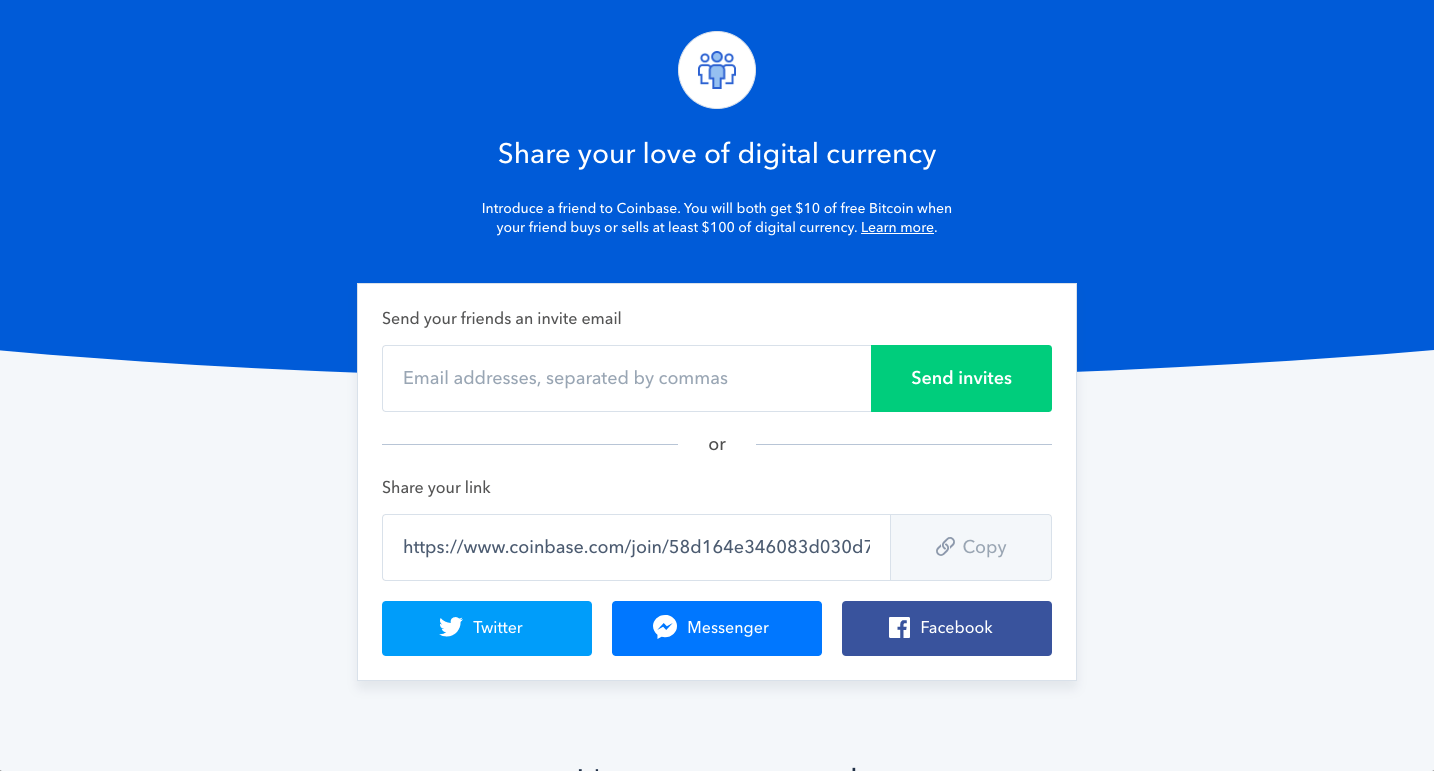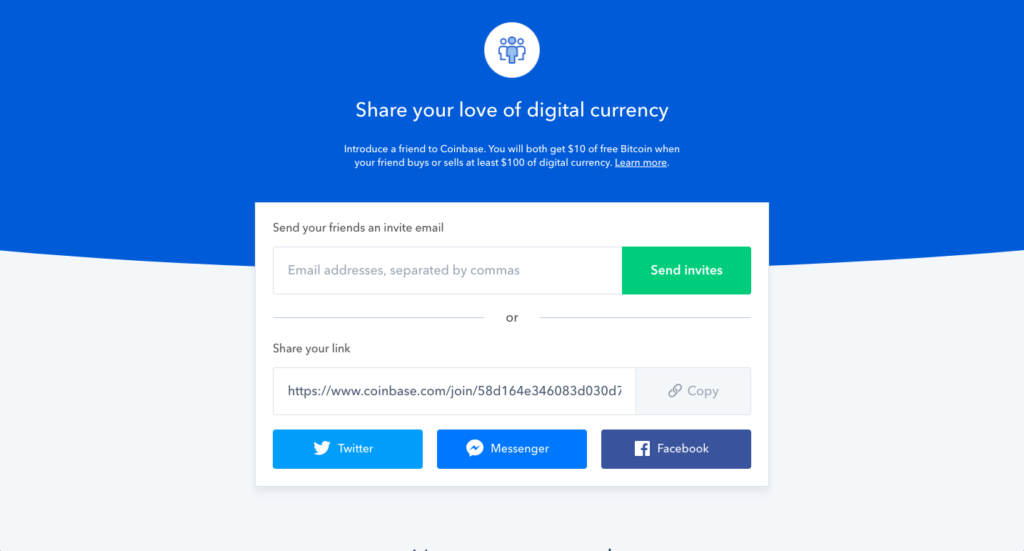 Coinbase needs no introduction, especially in the United States.
It's one of the largest in the world and many trusts Coinbase as their go-to source where they can buy more crypto.
That + the addition of the ERC20 tokens they will be adding + the other features they have incoming in 2018 and beyond makes this a good crypto exchange to promote as an affiliate.
Cex.IO – 30% Lifetime Revenue Share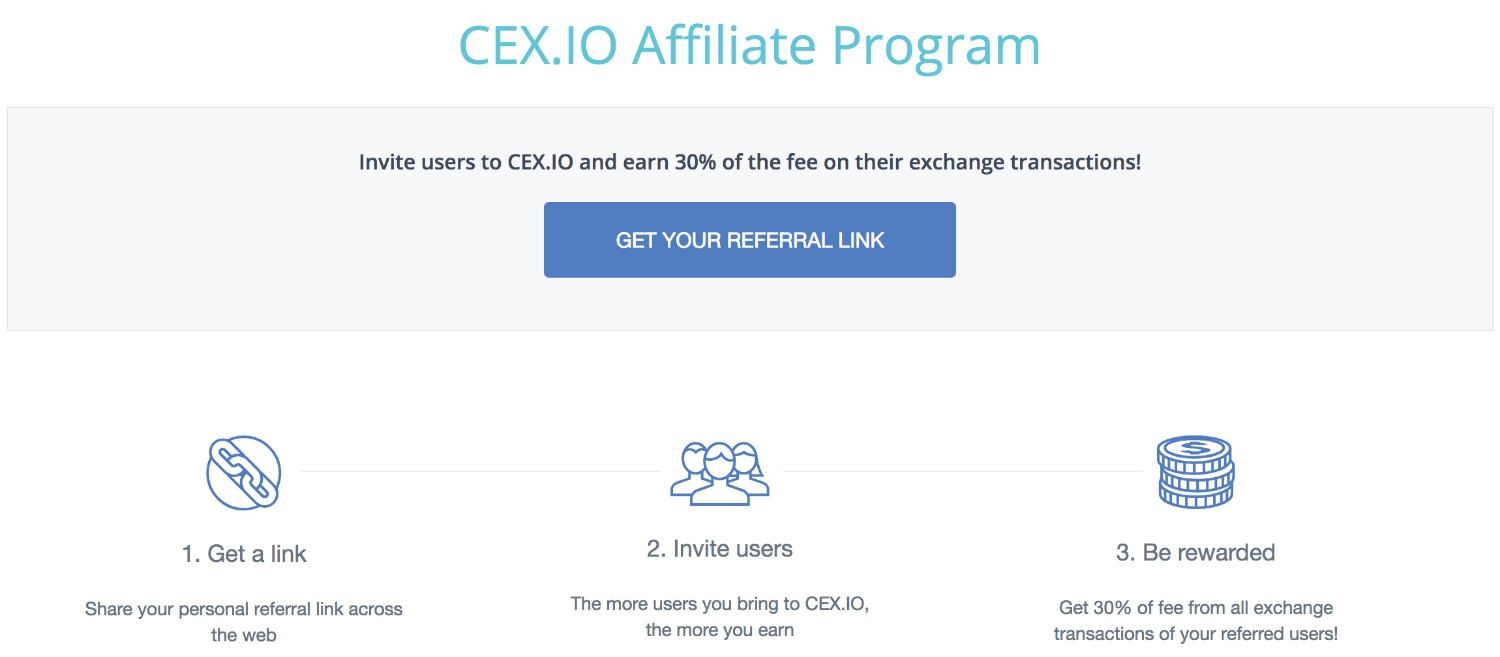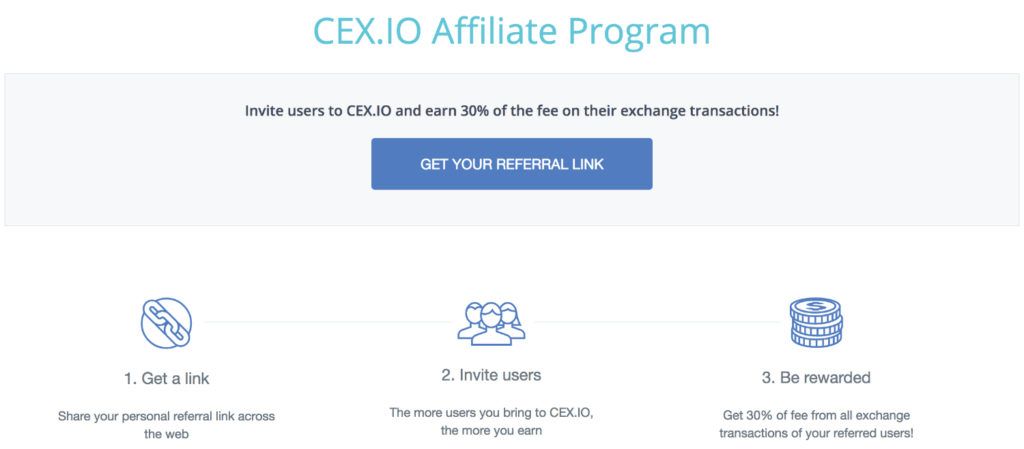 CEX offers cross-platform crypto-trading and instant purchases of BTC.
You will also get 30% share along the way – pretty good deal IMO.
Bitpanda – Up to 20% commissions


Bitpanda is where I personally buy from since I am in Europe and it caters mostly to EU citizens.
If you have (or plan on having) a European audience, you may want to consider promoting the Bitpanda affiliate program amongst others.
Binance – 40% Commissions


Don't quote me on this, but I believe Binance is the largest cryptocurrency exchange by volume.
Not only that, but they also offer 40% commission rates which are pretty damn good – best on this list.
You can find out more about the Binance Affiliate program here >>
There are plenty of cryptocurrency exchange affiliate programs out there, damn near every exchange has one, so I won't go through them all, however; you can find a list of them all in on this page right here >>
Cryptocurrency Hard Wallets Affiliate Programs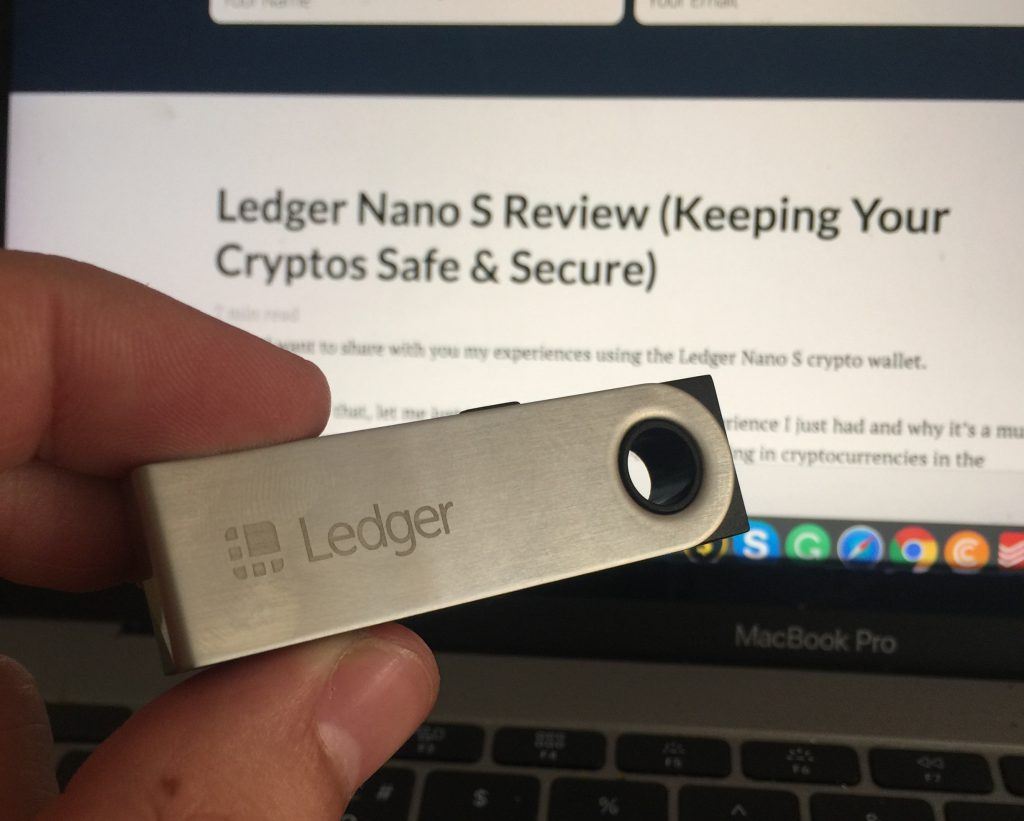 There are *three major hard wallets out there, for those that do not know what a hard wallet is, I refer you to a review I published just last week.
As expected, all of them offer great affiliate programs + great commissions.
*While there are obviously more than three hardware wallets, these 3 would be the best to promote since they already have a brand name established.
Ledger Nano – $10 per sale


Considered one of the safest and most popular hardware wallets, the Ledger Nano offers crypto affiliates 10% commission on each sale, which considering their biggest selling products goes for $99 – the Ledger Nano S – you are looking at approx ~$10 per sale.
Trezor – 10% Commissions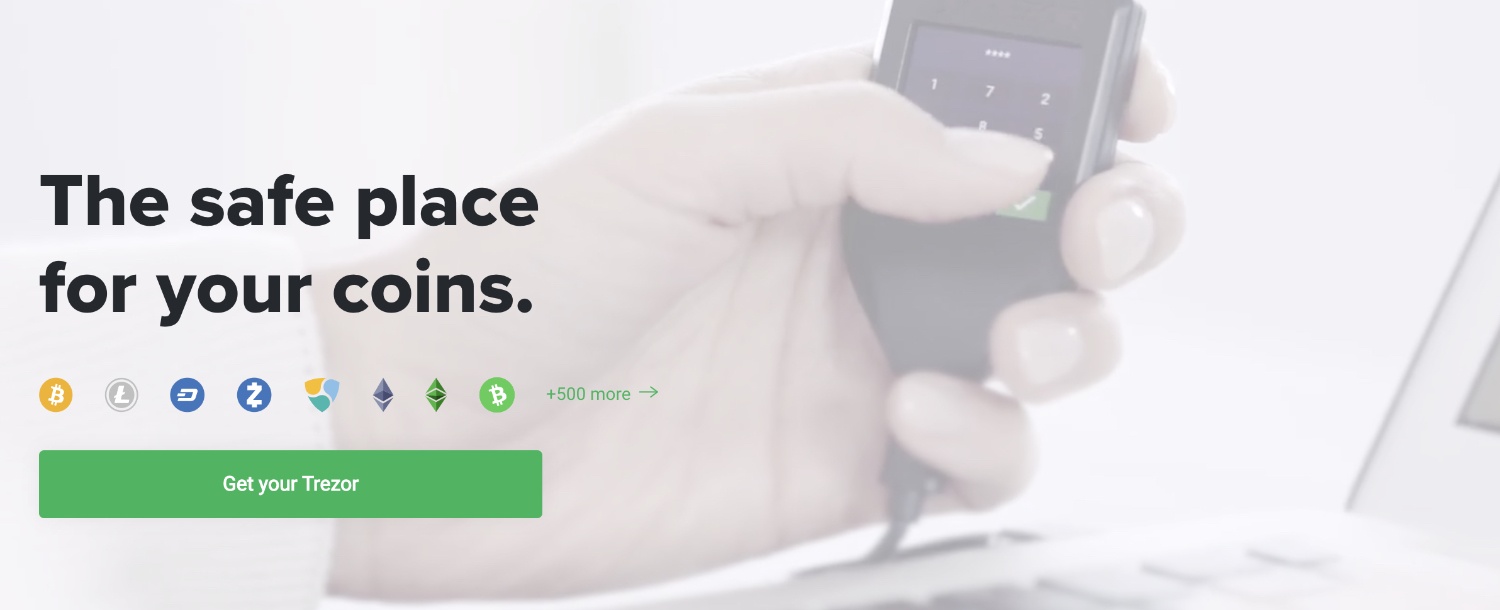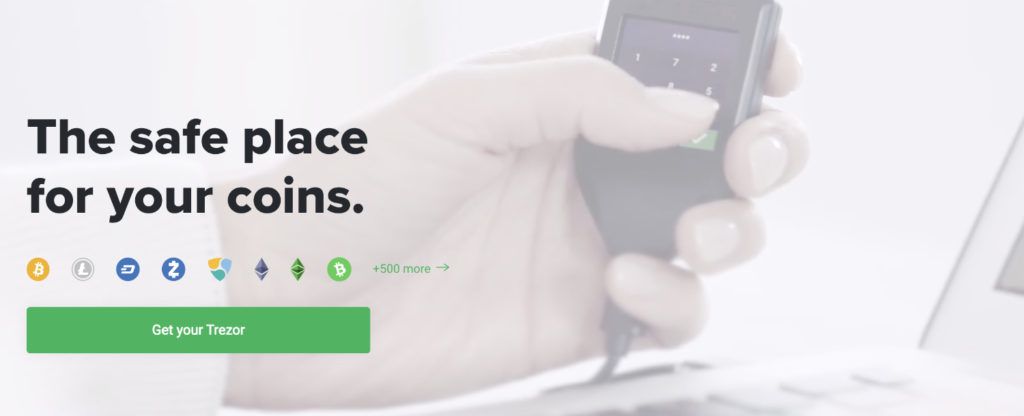 The only real competition Ledger has is the Trezor wallet.
For affiliates, you are more than free to promote both (maybe a hardware wallet review site could be your niche?).
Just like Ledger, Trezor offers 10% commissions on every order done through their site.
You can find out more details about that here >>
KeepKey – $20 per sale


Not only do you get $20 per Keepkey wallet sold, but you also generate 5% extra for every affiliate-buddy you refer.
If you're looking for a great deal, KeepKey has a win-win-win affiliate program here >>
~ Other Affiliate Programs Worth Mentioning ~
There are plenty of cryptocurrency affiliate programs out there, with more new coming every day.
While exploring the above-listed ones would be a great way to start, let me just give you a bit of an insight as to how else you can leverage the powers of the crypto market to make commissions as an affiliate marketer.
Crypto Gambling


The online gambling industry is one of the first industries online to adopt cryptocurrencies – most affiliates offer fantastic commissions and most all pay out in Bitcoin (or other cryptos).
Crypto-Charting Software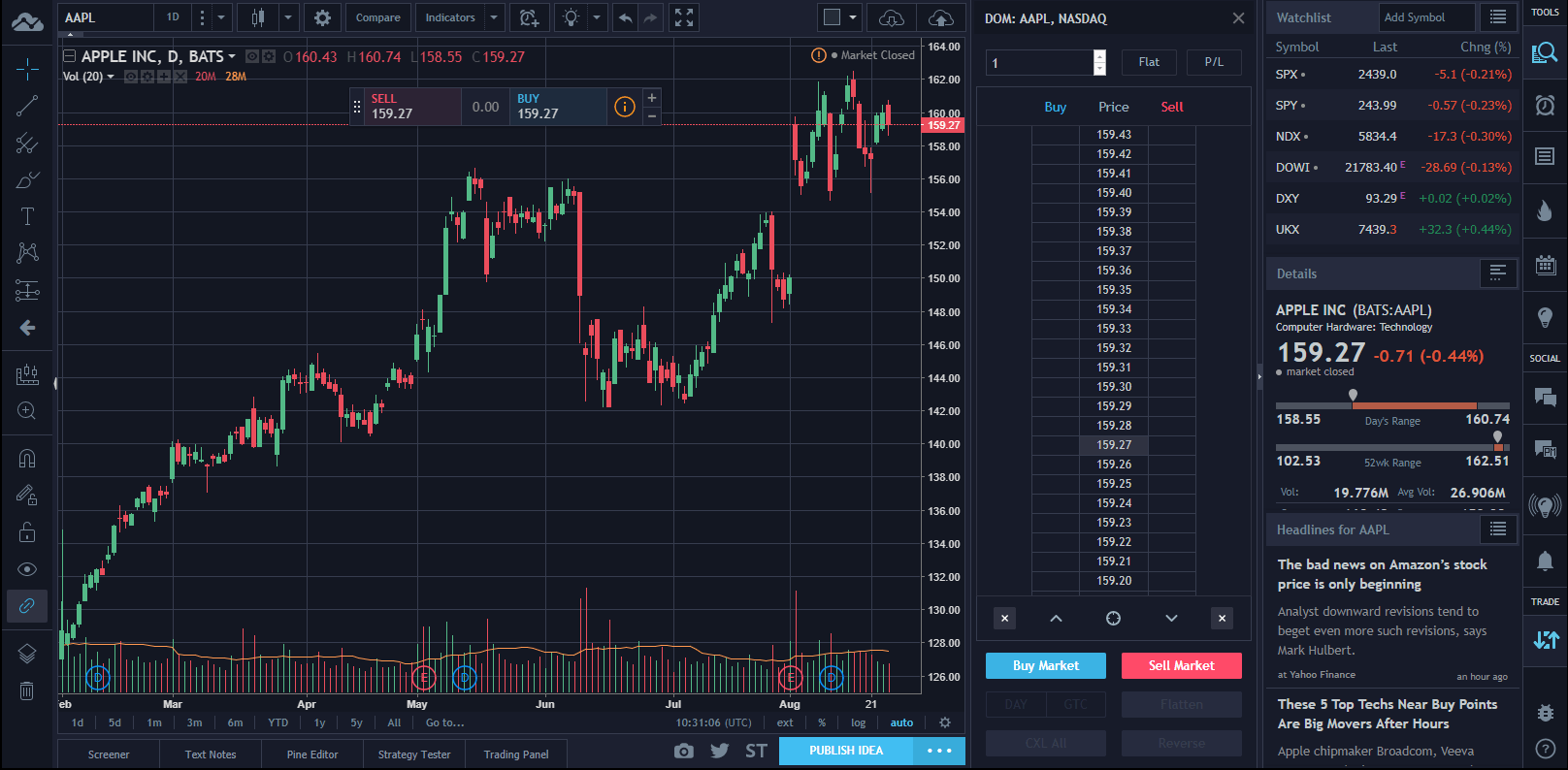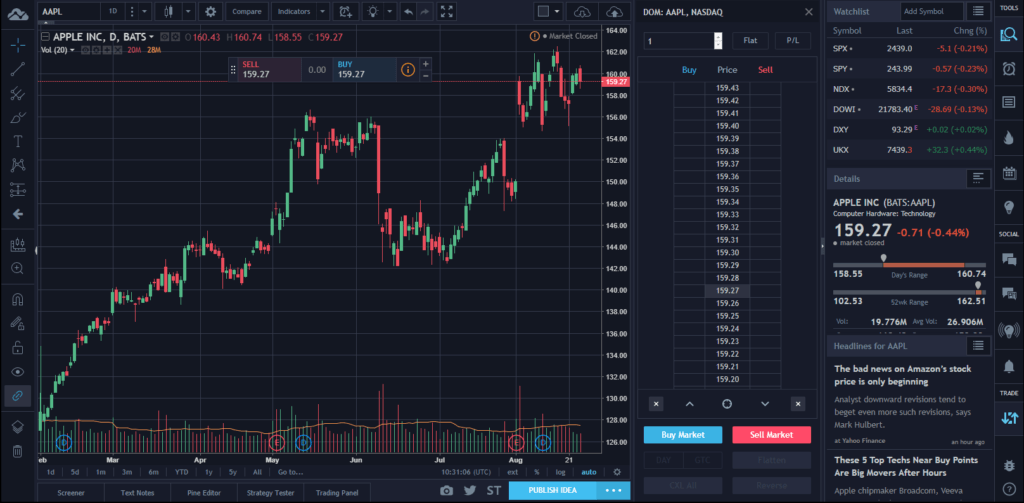 Every pro and noob trader loves frotting over charts seeing how their coins and portfolio is performing and for you the affiliate, there's a great opportunity here.
TradingView, the standard in charting software offers a 30% commission rate, and that is on a monthly basis (monthly recurring commissions rock).
Coinigy also offers $15 commissions per registered user and CoinTracking offers 20% commissions.
Mobile Banking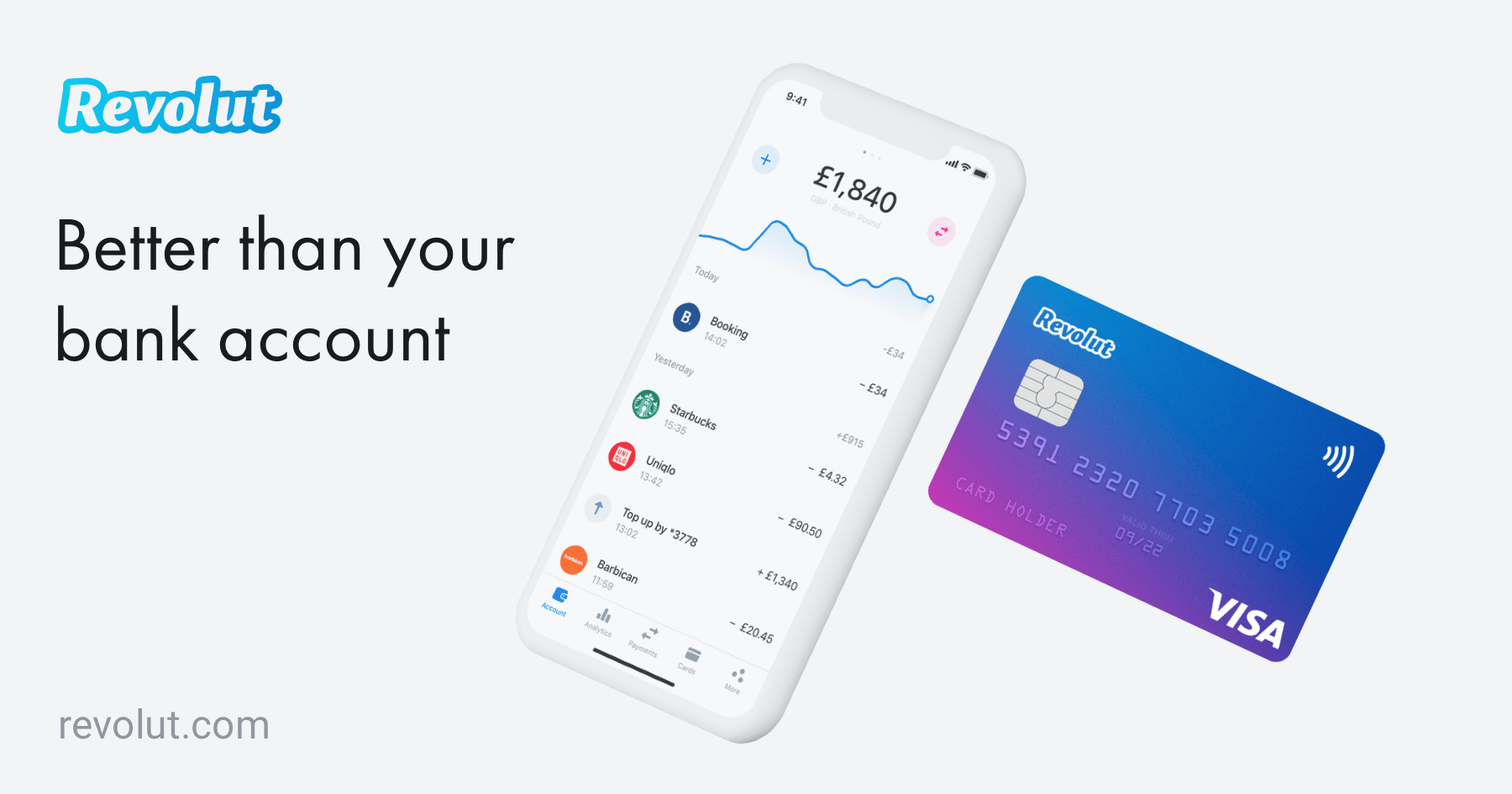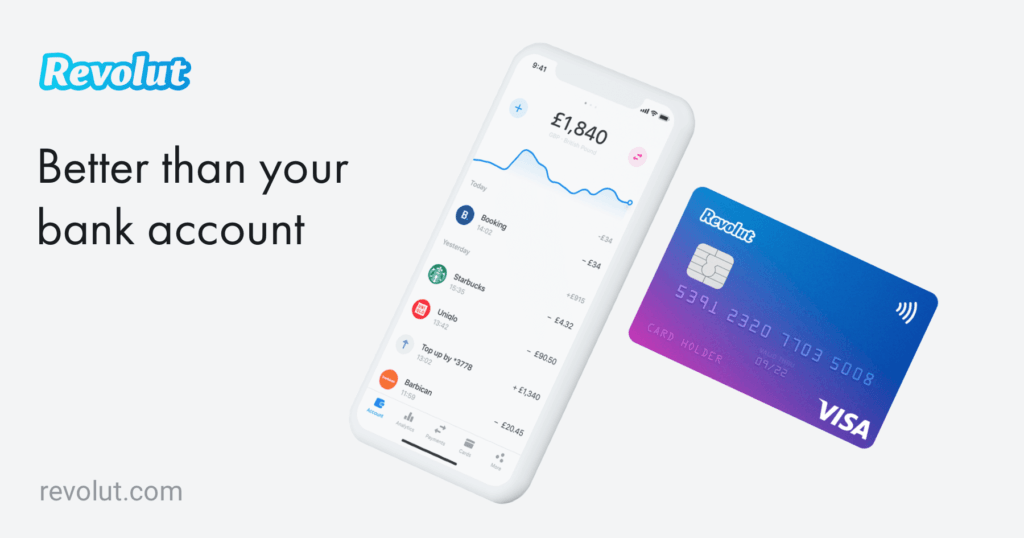 Services such as Revolut and Wirex are blowing up and are taking on the markets head-on in preparation of what is to come in 2019 and beyond.
You can ride the wave all the way to the moon with them as both offers very attractive affiliate programs.
I'll leave you with that for now.
As you can see, there are pretty of offers on the table, and you're spoilt for choice trying to find a crypto affiliate program to promote.
Now that we know what's out there and what to expect, let's take a look at how you can start in this exciting journey forward.
How To Start Your Very Own Crypto Affiliate Website
The first step with every new affiliate marketing hopeful is your own website.
If you do not have one, get one. They are cheap and easy to get.
You can get a domain here for ~$15 and using this service; you can get free hosting as part of the premium package (which also includes training how to get your site up and running).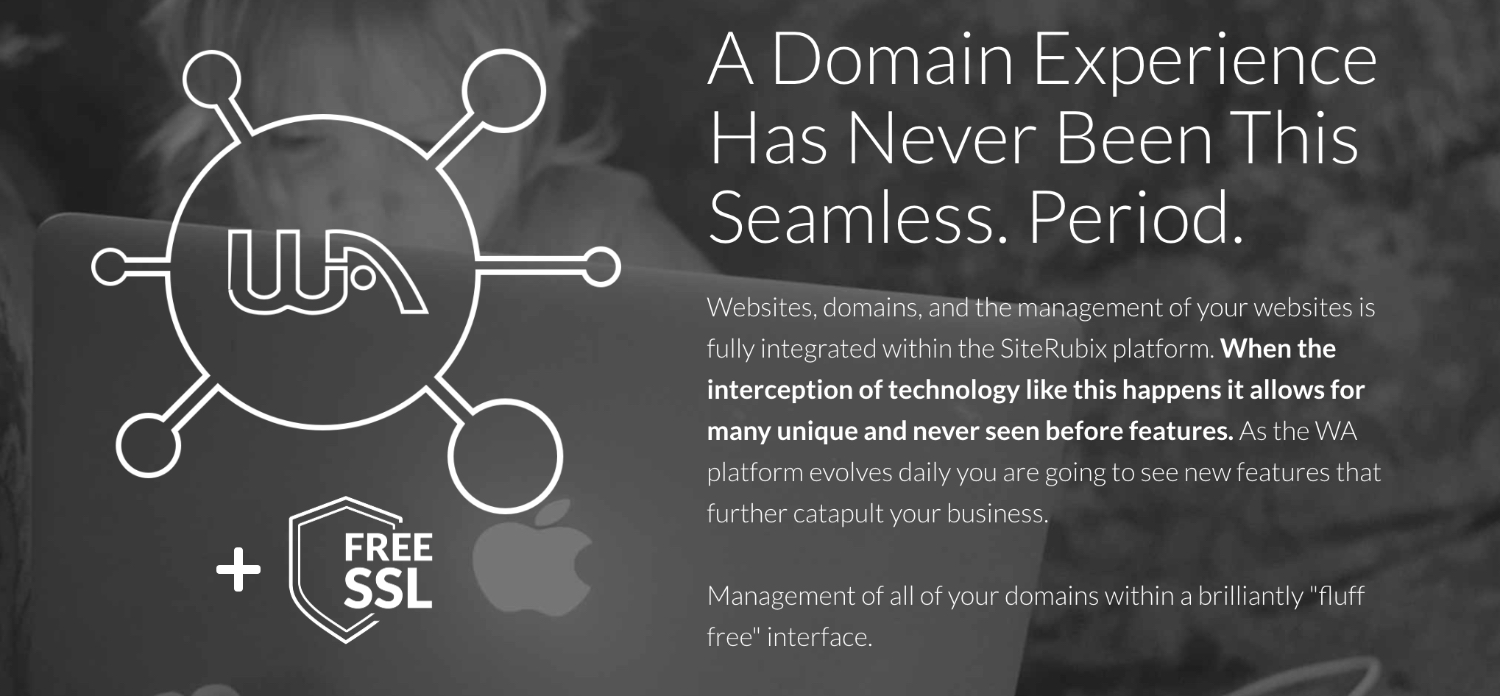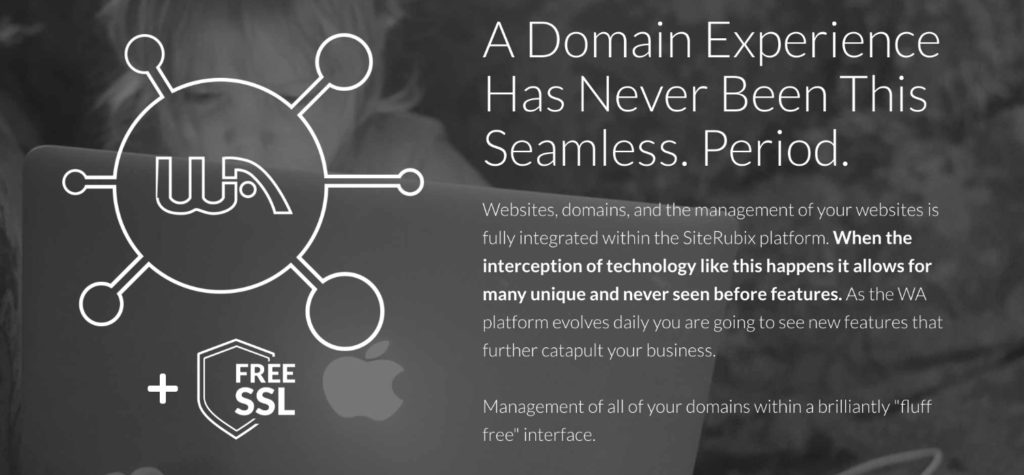 The first thing you need to do is to decide on a domain name.
Now I won't suggest any names right now as more than probably by the time you are reading this they will be all gone, but you can use this site to find free available domains that you may like for yourself.
PRO TIP: A tip I will leave you with is to make it brandable.
Don't go for long, overly complicated domain names. Keep it 2-3 words max and make it brandable.
cryptogenius.com is a brand name.
thisismyhardwarewalletreviewsite.com is a shit domain.
You get the point. Go find one.
Learn How To Promote Affiliate Offers (With Success)
Once you have your site set up and ready to go, it's time to get to work.
There are plenty of ways you can drive users to your site; some do Twitter, some do IG (and become influencers on those platforms).
My personal favourite is using SEO – I have my own SEO training course here which covers more advanced techniques, but you can get started with this free training to cover the basics and start learning the ropes.
Now I know this post is for cryptocurrency affiliate marketers, but there's one other option you can do that will allow you to sell products and make money off, and that is; starting your own e-commerce store.
Bonus: CryptoCurrency Themed Dropshipping/e-Com Store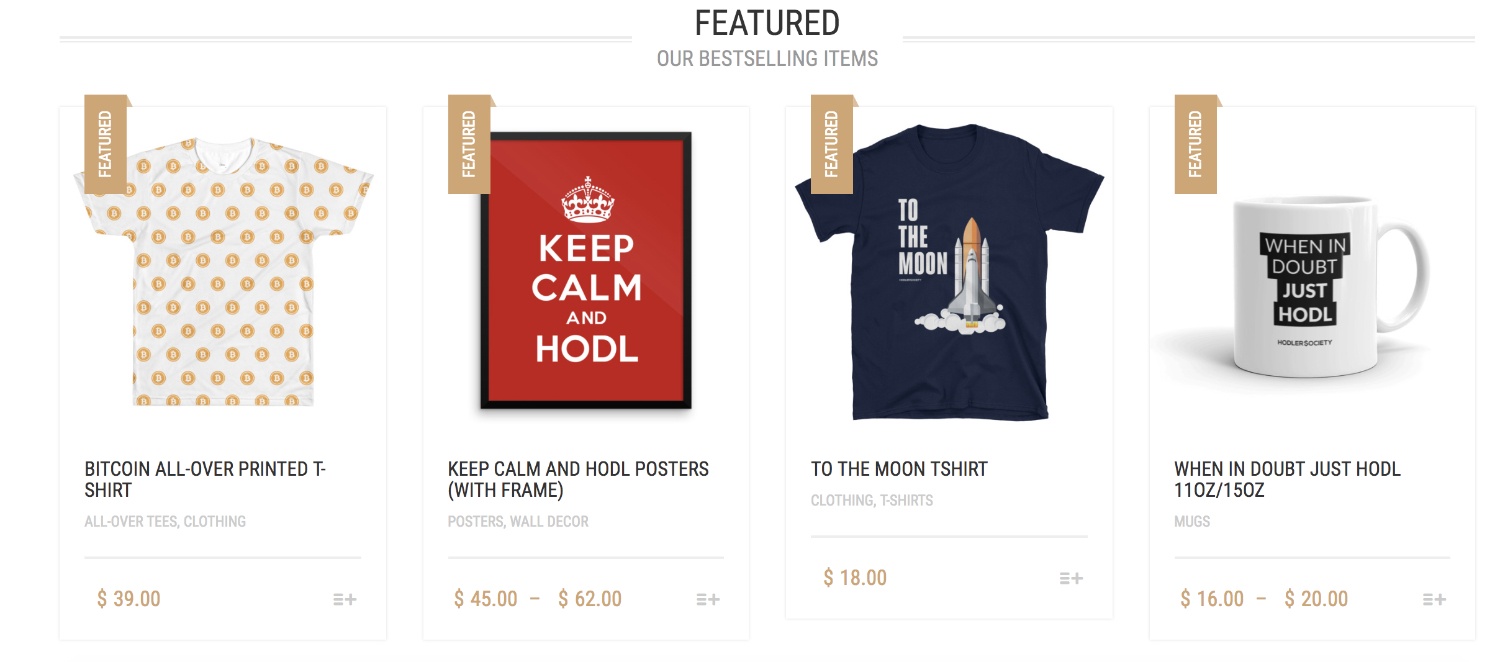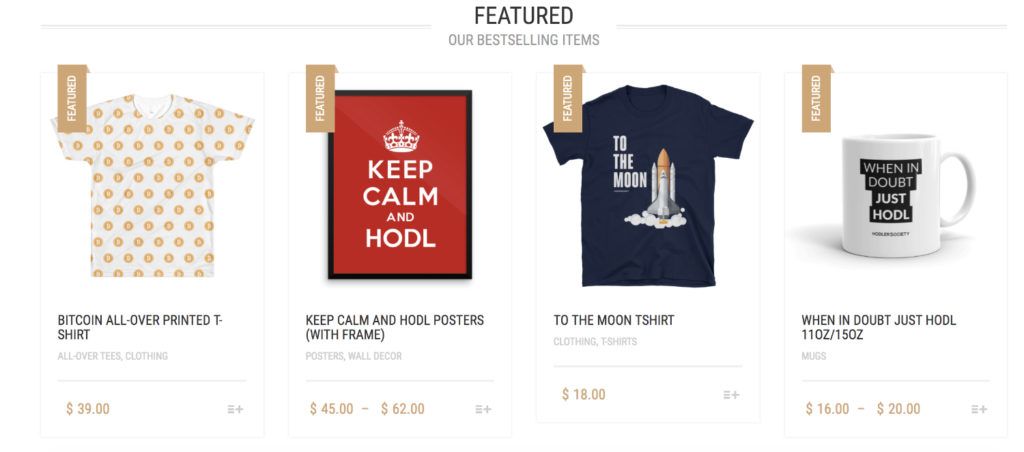 Another way you can profit from the impending cryptocurrency trend is by starting your very own e-commerce store with the dropshipping business model.
Dropshipping simply means buying products from China and having your connection in China sending products to your customers directly.
It sounds more complicated than it really is and you can use the Oberlo plugin to simplify it even more.
You can also check out these guides I have about dropshipping and how to get started with it:
Print-on-Demand Cryptocurrencies
I come across a lot of stores such as the ones here:
These are created with the print-on-demand business model, which can be set up and run through Shopify.
You can find out more about that in this guide here >>
I think it's a great way of making money promoting cryptocurrency products that don't involve you yourself buying up crypto.
If you can build a community, and my tip would be to focus on specific coins and token like the ones shown above, I am sure you will do great with it.
You can see this e-commerce curse here for more information.
In Closing
Thank you very much for reading, and I hope this post has given you some ideas of how crypto for affiliates can work.
There are plenty of cryptocurrency affiliate programs out there, and the list will just continue to get bigger as the industry opens up and grows and matures into what we all think it can be.
It's going to be an exciting few years for crypto and cryptocurrency enthusiasts – let's make sure we ride the wave for maximum profits.
Talk soon.
Christian Lee