Did you see the Bitcoin price this morning? Bitcoin and the majority of the cryptocurrencies are on a tear lately.
It's safe to say, the cryptocurrency bull market is BACK!
A few weeks ago, I published another post giving you 15 of the best cryptocurrency affiliate programs that you can promote in the next bull run, but today;
I want to take a closer look at one of the biggest, if not the biggest crypto affiliate program, Coinbase.com.
Yes, Coinbase does have an affiliate program and today, I want to share with you a few things you need to know and how to get started with it.
But first, here is my Coinbase affiliate program TLDR review summary:
Coinbase Affiliate Program: Is It Legit?
50% Affiliate Commissions
Affiliate Commissions

Earning Potential

Cookie Length

Brand Power
Coinbase Affiliate Program Review Summary:
Generous affiliate commissions ✔️
3-month affiliate-cookie ✔️
Huge customer base in the US & EU ✔️
Brand loyalty  ✔️
Get paid via PayPal or bank transfer ✔️
Open to everyone ✔️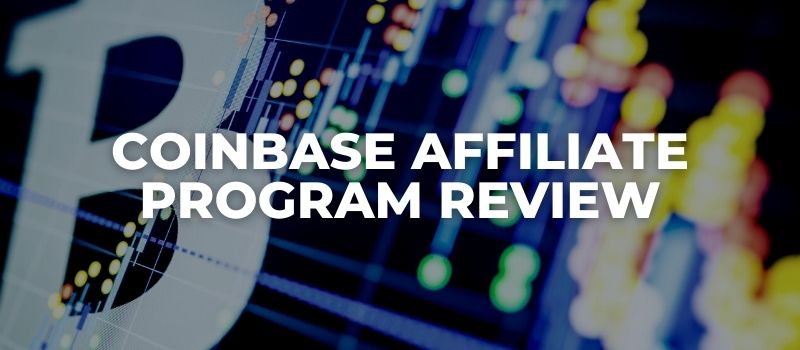 ---
---
What Is The CoinBase Affiliate Program?

Coinbase is one of the leading "onramps" for cryptocurrency enthusiasts to invest in their favorite cryptocurrency. One of its strongest benefits is that it's suited towards the US / European investors thus; it opens you up to (undoubtedly) one of the biggest crypto markets.
The Coinbase affiliate program is their official affiliate program and you can join Coinbase (as an affiliate) and earn an affiliate commission by sending customers who will then purchase cryptocurrency off the exchange.
What Are The Commission Rates Offered By Coinbase?
At the time of writing, the Coinbase affiliate program currently offers a 50% commission on all fees the user has in the first 3 months of joining Coinbase.
In other words, Coinbase makes (most of) their money from the fees on each exchange that happens on the marketplace and as an affiliate, you will get half of what Coinbase earns with each new customer (for a period of 90 days).
What are the Coinbase fees?
Up to $200, Coinbase charges a flat fee based on the amount invested by the user.
You can see a whole breakdown of the fees here: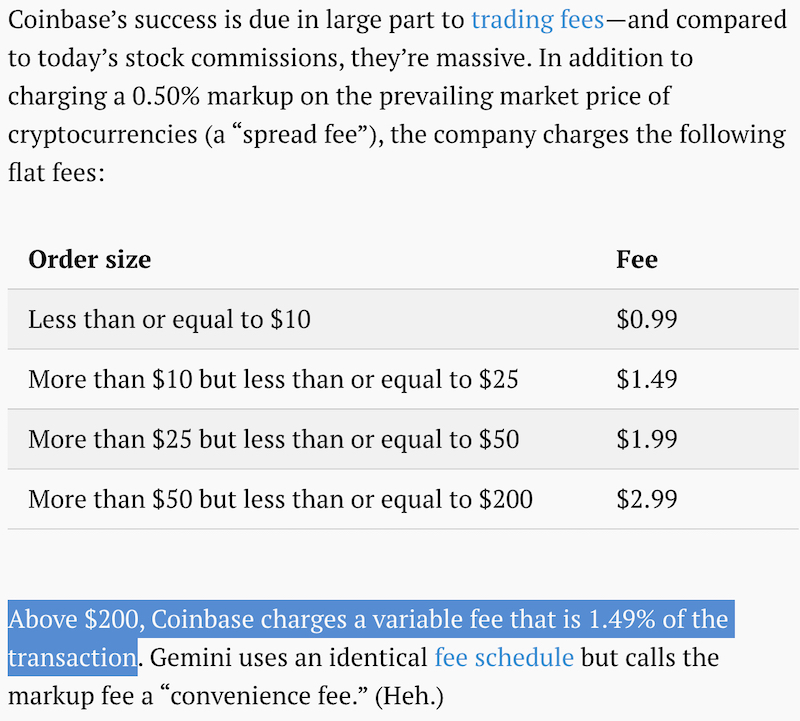 However, let's say a customer you refer will purchase $1000 worth of cryptocurrencies.
This means the fee is set at 1.49%, thus Coinbase earns $14.90 from the fees, which makes your affiliate commission a respectable $7.45
Now that may not sound like much, but keep in mind that when a crypto bull market happens, there's a LOT of money flowing within these exchanges and you get paid for every transaction (for the first 30 days).
Let's say you refer a whale customer who trades $100,000 in those first 90 days; this would earn you $745!
But let's say you get an even bigger whale to join Coinbase, which trades $10,000 a day for the next 90 days.
That's $900,000 in investments, $13,410 in fees, and $6,705 in affiliate commissions for you.
As you can see, even though it may not seem like much, this can quickly balloon up to some decent earnings per sale you send to Coinbase.
How Much Money Can You Make As A Coinbase Affiliate?
How much you can earn is capped by two things:
How many customers can you refer to Coinbase and
What "quality" of customers are you referring?
Are you referring 1 person a month, or are you referring 100 people a day?
Also, are you referring small-time everyday buyers, or are you referring investors with deep-ish pockets looking to buy up as many digital assets as they can?
Both these things will determine how much you make, but don't worry; down below I have a free training course for you that will show you how to find and target high-quality investors.
How Will You Get Paid (Payment Methods)?
The current payment methods can be found on the sign-up page but the two main ways you will be getting paid is either via;
I love getting paid via PayPal for my affiliate earnings so this is good news for me.
If you'd like to be paid via a bank transfer, you would need to set up your banking details on the Coinbase affiliate dashboard, and you will be getting paid once a month.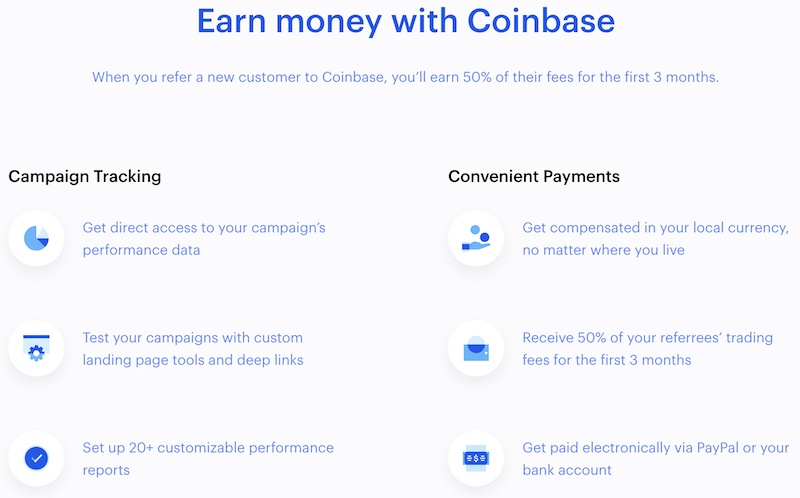 Who Can Join Coinbase (As An Affiliate)?
At the time of writing, there seem to be no limitations as to who can join and promote the Coinbase affiliate program.
Feel free to take a look at the official sign-up page to sign if this offer is open for you.
How To Sign Up As A Coinbase Affiliate

If you'd like to get started as a Coinbase affiliate, here's what you need to do next:
Step 01: Visit The Coinbase Affiliate Page
You can visit the sign-up page with this link here.
Step 02: Click on "Become An Affiliate"
Once you are on the homepage, I suggest you do some more research and see what exactly the Coinbase affiliate program is all about.
Once you're happy, click any of the presents "Become an affiliate" buttons and move on to step #3.
Step 03: Fill Out Your Details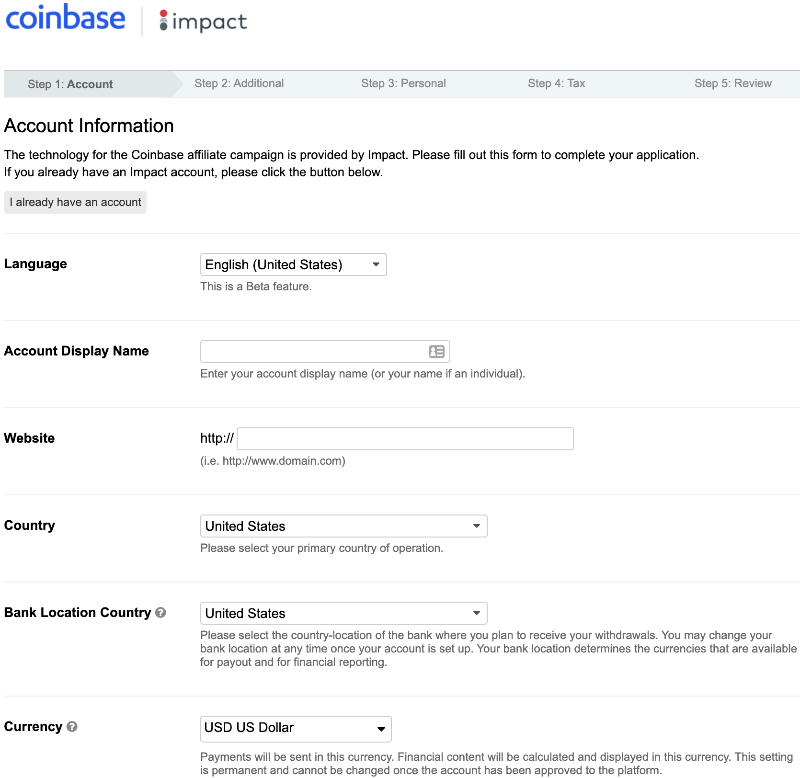 This is where you need to fill out some details about yourself and how you plan on promoting Coinbase.
Here are just *some* of the things you need to provide to be able to join:
Your emails
Your username
Your address
Your bank-details
Your website's URL
Step 04: Start Promoting Coinbase
The last step is where the fun begins. You can now start promoting Coinbase via your Coinbase affiliate link and driving traffic to the platform.
Not quite sure how?
Don't worry, down below I'm going to send you an invite to a free training course but here are just a few ideas that you can think about:
On Social Media:
I'm not typically a fan of using affiliate links directly on social media but when it comes to crypto exchanges, everyone seems to be plastering their link all over the place (especially Twitter).
If you have an audience on social media, you may try this strategy out, but I highly recommend you don't rely entirely on social media. Instead, what you should do is…
Build Your Own Crypto-Website:
No – you can not do affiliate marketing without a website.
If you want to have longevity with affiliate marketing (and you're not looking for some get rich quick thing), the best way to guarantee long-term success is to build your own website.
You can do so via BlueHost as it'll only cost you only $2,95 per day and you can get started today.
Once you have your website, you will then publish content with the hopes of ranking in Google and bringing in traffic that way.
Sure it's easier said than done, but it's not as difficult as you think if you know a few SEO basics.
Again – I have a free video course down below explaining everything in a lot more detail, so stay tuned for that.
Use Email Marketing:
This may not be for the "beginners" reading this, but if you have an email list that you've been growing, then sending your Coinbase affiliate out to your readers will be one of the best ways to get new customers onto the Coinbase platform.
Of course, you should never spam your email list, but if you have one, you can rest assured that they will be more than willing to at least open your emails and see what you have to say about Coinbase.
Are There Any Coinbase Alternatives To Promote?
Yes, most cryptocurrency exchanges do have an affiliate program that works just about the same as Coinbase.
Some of the most popular ones out there are:
I have a complete list of cryptocurrency affiliate programs here if you're interested and I also have a guide on how to make money with crypto affiliate marketing here.
---
Learn How To Make Money As A Cryptocurrency Affiliate (Free Course)
Do you like the idea of becoming a crypto affiliate for Coinbase?
One thing you should know before you get started is that 96% of all affiliates never make their first $1.
This is a shocking statistic considering how easy it is to make money and how many opportunities are there to make a full-time income with this.
If you're new to affiliate marketing and would like to get into affiliate marketing, here's my guide explaining exactly how I build my own affiliate websites.