I'm not one for pets, I've never had a dog in my life, but I would love to someday in the near future.
However, what I do know is that dog owners spend big money on their four-legged best friends so I know for a fact the "pet niche" can be a tremendously profitable niche for affiliate marketers.
If you have a pet-themed niche (if you don't I'll show you how to start one below), this post is for you. Here are…
10 Great Dog Products Affiliate Programs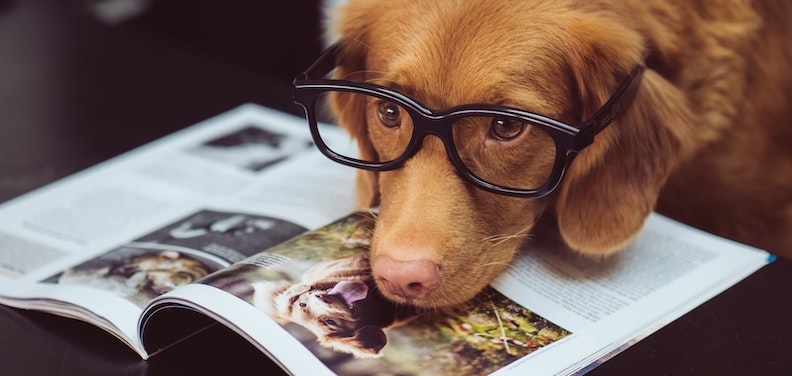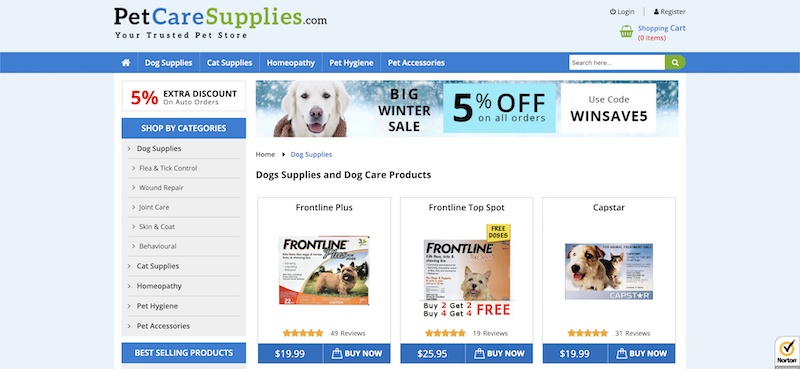 One of the top brands when it comes to pet health care products is Pet Care supplies. This firm is not only experts in dog's products but also other animals, including cats, and they have specialized in nutritional supplements, tick and flea treatment, eyes, ears, as well as joint treatment and dewormers.
Some of the popular products sold by this firm include Frontline Plus, Advantage, and Capstar, among others.
Pet Care Supplies understand pets' health better than most firms; their products are not only effective but also pocket-friendly. They offer some crazy discounts to their customers and a 100% money-back guarantee.
When it comes to an affiliate program, an affiliate will receive a commission rate of 10% with a potential of earning up to 13% commission rate for total sales amount that is equal or more than $5,000. Pet Care Supplies cookie life is 60 days and an average order value of $120.

The Pets Warehouse Company started operating in 1974 by breeding birds. They are still operating a storefront in Copiague, New York. Pet Warehouse's success is attributed to its principle of taking care of every customer's needs and making them their number one priority.
Nowadays, they feature over 50,000 products on their eCommerce platform. Their products include dogs, birds, and cats products, among other essentials.
Pet Warehouse is still adding brand new products as well as refining their eCommerce site, making it fast, precise, and accurate at the same time. If you cannot locate what you want, you can contact them via email or call for further assistance.
As an affiliate, you will earn an 8% commission rate on each sale you make, and their cookie life is 30 days. Their affiliate program is managed by ShareASale. If you would like to enroll in this program, it will be best if you visit their website and ensure that your website is pet related.

Dr. Roy Nielson founded Revival Animal in 1989 in his basement as a second business. Since then, the firm has developed to become a company that supplies pet health across the State with over 60 employees as well as two locations, a fantastic warehouse.
Revival Animal has specialized in offering pet care knowledge, quality health products for pets, and excellent customer service.
Revival Animal website features more than 1,500 pet products, and as an affiliate, you be receiving a commission rate of 10% on all the sales you make within their cookie duration of 45 days. With Revival Animal, the high average sale order is $110.
Their affiliate program is managed by Commission Junction and to for you to join this program check for CJ in the advertisement section. Usually, they offer customer promotions, free shipping, and special offers on a regular update.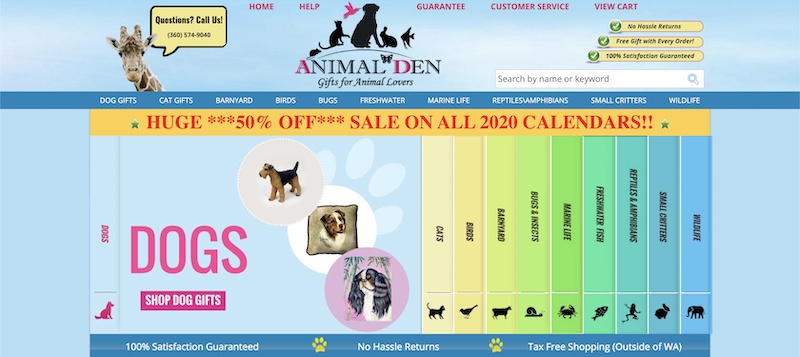 If you are a pet enthusiast, Animal Den will be your number one gift store for your dog or cat. Animal Den offers an array of gifts that are related to pets and animals; furthermore, they are highly committed to providing maximum satisfaction to their customers.
You are guaranteed 100% money back within 60 days, and they provide all types of products from mugs to mousepads, shirts, and jewelry as well.
As an affiliate, you will be earning a commission rate of 12% to 13%. You will receive a 12% commission rate for product sales worth $1000 monthly and a 13% commission rate for product sales worth more than $1000 monthly.
Animal Den features a cookie duration of 45 days, and they use Commission Junction in managing their affiliate program. Furthermore, you will be having access to links, banners, tracking tools as well as support as an affiliate for Animal Den.
TruDog Affiliate Program

Looking for a firm that offers high-quality ingredients for the health of your dog, then look no further as TruDog will be best for you. This firm is owned by a small family, and they have specialized in selling supplements and supplement supplies, foods as well as treats.
They feature freeze-dried meat products that are natural and made in the United States. These products are nutrient-dense.
TruDog aims to formulate pet food, which will be the most nutritionally complete along with pet products that are naturally made in order to help your dog be fit. As an affiliate, you will earn a commission rate of 10% along with some VIP rates.
TruDog cookie life is 90 days, with their average order being $47 and an average commission of $5. Their affiliate program is managed by ShareASale.
Petco Affiliate Program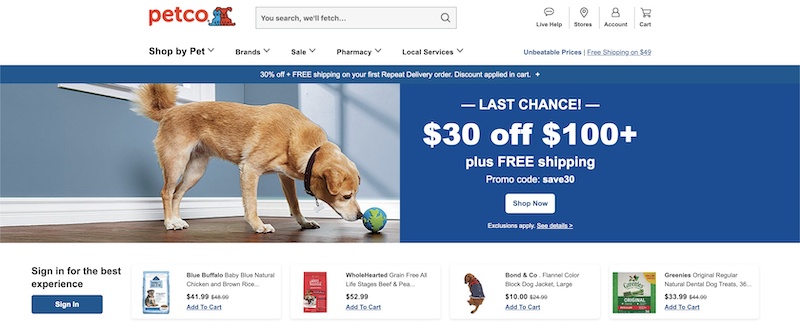 Petco has been in operation for over 50 years. This firm is obsessed with offering their clients with services, products as well as advice that will not only keep your pet happy but also healthy. Petco has more than 25,000 employees in more than 1,500 locations within the United States, Puerto Rico, and Mexico.
This firm features unique pet supplies that are hard to find anywhere else, meaning they have excellent conversion rates, more motivated buyers, and the high commission.
As an affiliate for Petco, you will earn a commission rate of 8% on sales apart from some specific categories such as Litter, Bedding, Flea and Tick, Catnip, and Food. These categories will earn your 5% commission rate. When it comes to managing their affiliate program, Petco uses Commission Junction.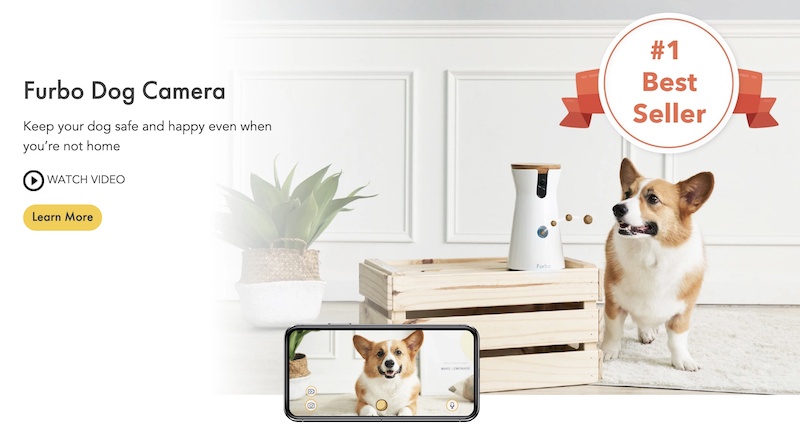 When it comes to interacting with pets, the Furbo Dog Camera is the best. The camera will allow you to check on your dog on your smartphone. When the dog is away with the camera, they are still able to toss their treats, see and talk to other pets without any destruction.
Furthermore, Furbo Dog Camera features Alexa, and a user is able to set treat tossing through voice commands. The camera has been endorsed by various celebrities such as Luke Bryan and Ellen Degeneres.
As an affiliate for this company, you will be able to receive a commission rate of 10% on sales, with the average purchase being $187. The average commission will be approximately $19, and their cookie life is 30 days. Their affiliate program is managed by ShareASale.

King Kanine is a fantastic company that has specialized in designing innovative products not only for your dog but also for horses and cats. Furthermore, their products have revolutionized treatments for pet's ailments.
These products are not only effective but also pocket-friendly. King Kanine's first product, known as KING KOMB, was designed to help in resolving massive shedding, which was a significant problem with owners of Great Dane.
It was then developed to become a self-cleaning multipurpose device and has been sold in more than 26 different countries. Moreover, they expanded their ingredients and included natural and organic products.
As a King Kanine affiliate, you will be receiving a base commission rate of 20%, and their cookie life is 30 days. When it comes to managing their affiliate program, King Kanine uses Refersion.
Their commissions are awarded twice a month; on the 1st and 15th of every month. As an affiliate, you will have the chance to share the links as well as banners to your Instagram account and Facebook page.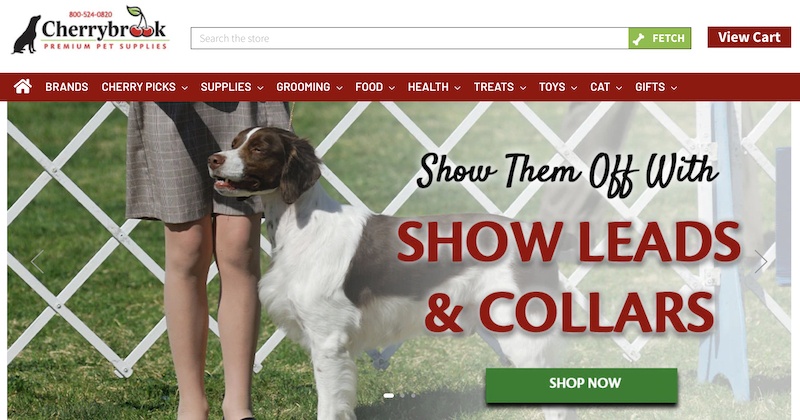 Cherrybrook has been in operation for more than 46 years and has become a global online sale with four retail stores within New Jersey. Cherrybrook began by selling combs and brushes at dog shows.
Nowadays, Cherrybrook has a mobile retail booth, which has grown in popularity in over 200 dos shows yearly. This firm is highly committed to selling high-quality products as well as offering fantastic customer service.
As an affiliate for Cherrybrook, you will be receiving a commission rate of 12%, and their cookie duration is 45 days. Furthermore, you will have access to text links, tracking tools, banners, and sales, among other essentials.
Cherrybrook affiliate program is managed by ShareASale; therefore, if you would like to join their affiliate program, you can either visit ShareASale or AvantLink. It will be best to check for both of these networks in order to see the one that will work for you best.
FitBark Affiliate Program

FitBark aims to have every dog, and its master has a healthy life together. FitBark Dog Activity Monitor is among the most rated health monitors for dogs in today's market. Furthermore, FitBark products are currently being used by dog parents as well as veterinarians in over 100 countries.
FitBark is publishing the first live interactive, public dog health as well as wellness database. It is one of its kind in the world.
As a blogger, dog trainer, dog walker, veterinarian, and dog daycare, among others, Fitbark affiliate program will be best for you. The starting commission rate for the FitBark affiliate program is 12%.
Moreover, there is a high commission rate available for higher volume affiliates. FitBark average sale commission is $12, with an average sale of $100. Their cookie duration is 60 days.
When it comes to managing their affiliate program, FitBark uses ShareASale. However, you should always keep in mind that FitBark does not allow coupon websites as affiliates.
---
FREE

: 10-DAY

AFFILIATE MARKETING COURSE

WHEN YOU SIGN UP BELOW
YOU ALSO GET MY BRAND NEW "AFFILIATE MARKETING 101" EBOOK FOR FREE
You'll be redirected to the course sign up page where you'd need to create an account. No credit card required, just an email will do.
---
How To Start A Dog-Themed Blog (& Make Money As An Affiliate)
I've toyed with the idea of starting a pet-care type of blog in the past as I know it can be a huge money-maker for me. The reason I've never done it is because, as I said earlier, I'm not a pet-type-of-person.
However, from my experiences, I do know that the pet/dog niche is massive online (both when it comes to affiliate websites and even for e-commerce stores) so if you're brand new to this whole "online business" business and you want to make money as a pet-affiliate. Go for it.
One thing I'd suggest you do is to first get some training.
Even though many make it out to be easy, affiliate marketing can get very confusing, very quickly (if you don't know what you're doing).
I also have a free guide here showing you how I make money building simple affiliate websites, you'd do well in checking that out.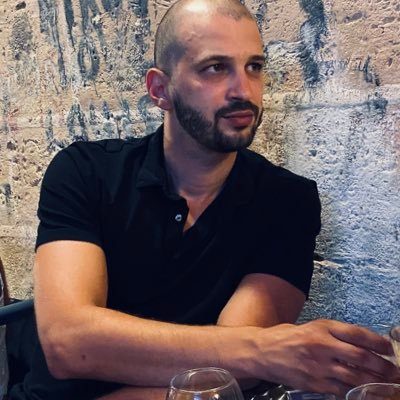 Since 2011, I've been learning how to make money online with affiliate marketing. This website is where I share everything I know and all I will learn along until I reach my next income goal of $30,000 p/month.
wanna learn how to make money with affilate marketing?