Dropshipping has been fantastic to me, and that is why I have been getting more and more into it as time goes by publishing many dropshipping guides on my blog for your learning pleasure.
If you've read any of the dropshipping posts I have available, you may have seen me mention Franklin Hatchett before, who I consider as my "drop shipping" mentor as I have learned most of my lessons from his content.
You can find plenty of dropshipping tutorials from Franklin on YouTube, but today;
I wanted to share with you my own eCom Elites review, which is a dropshipping training course by Franklin that goes in more depth than any of his other YouTube tutorials he produced.
NB: Please note that I earn a small commission if you decide to purchase Ecom Elites. For more information, please visit my Earnings Disclaimer page.
eCom Elites Final Rating
$197 (Down From $497)
Price

Features

Training

Value For Money
Ecom Elites Review: Summary
9 training modules available. ✔️
Practical & beginner-friendly information. ✔️
I made over $4,000 with Ecom Elites (see below) ✔️
So, What is eCom Elites All About?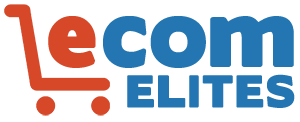 eCom Elites is Franklin Hatchett's own mastermind training program where you will get access to all the "drop shipping" secrets you wish you knew.
It's a massive training program with a lot of different modules (will go in detail about this later), and if you follow instructions, it will allow you to build yourself a successful online drop shipping business.
What Is A Dropshipping Business?
Just in case you've stumbled upon this eCom Elites review by accident and you're just learning about drop shipping, let me just give you a (very brief) introduction to drop shipping.
Drop Shipping is the process of selling products that you never yourself see to customers you get on your Shopify store.
With easy-to-use automation tools, once the order comes in on your store, it will automatically be sent to your supplier in China (typically) and the supplier ships it to your customer.
Your role in all of this?
Get the customers
Collect the profits.
You don't have to worry about storing products or shipping, that's what the supplier is for. Your job is to build a store (around a specific niche/topic) and drive traffic to it.
Sounds simple?
It is, but you still need to learn the basics of drop shipping and get more advanced training as well, which is why I am doing this eCom Elites review.
eCom is all about this method of making money, so if the idea of dropshipping is not for you, then I would suggest you look for something else. Maybe affiliate marketing is more your thing?
If you're going to continue reading this review, I am going to assume you know all about dropshipping. If you're just not quite there yet, take a look at my drop shipping guides.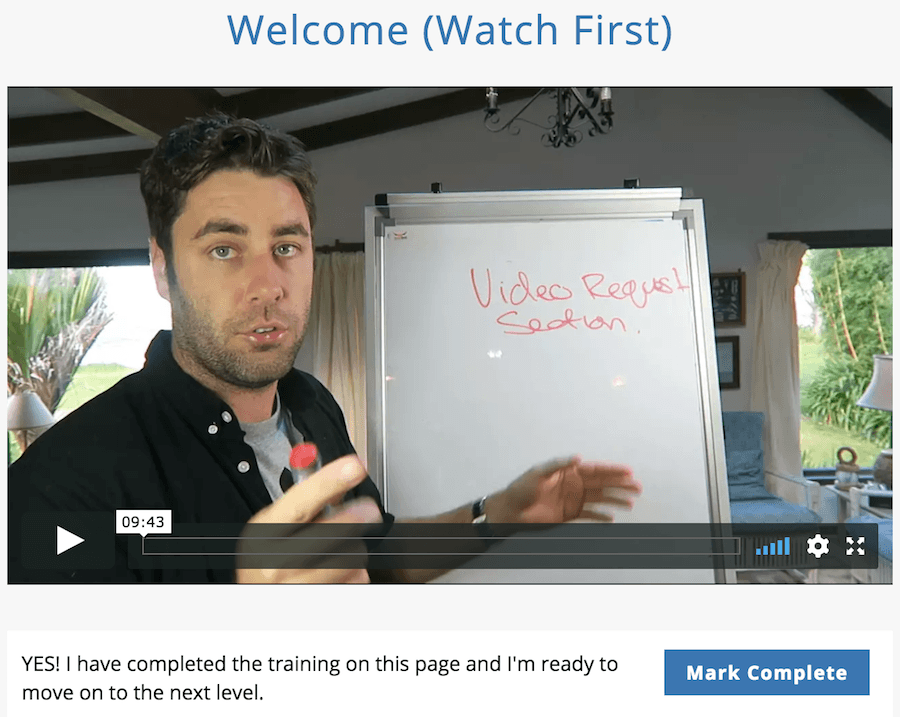 eCom Elites: What Is It All About?
Right, let's get back to this review so you can see if this training is something you want to invest in.
What Will You Learn From eCom Elites?
With this training course, you are going to be learning everything (yes everything) you need to know about drop shipping.
Now, the "beginner stuff" you can find most of it online, but for the more advanced stuff, this is where eCom Elites shine and delivers the most value.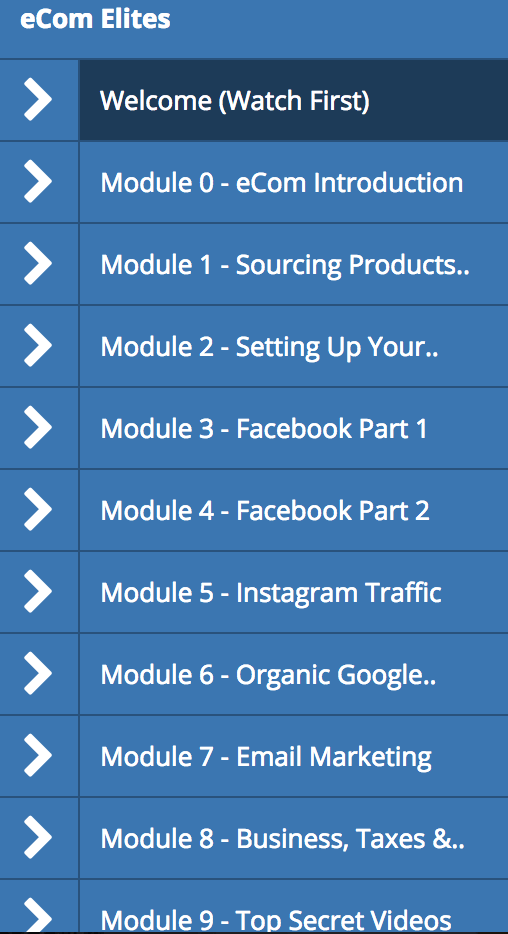 In the training modules, which you will find listed below, you will learn:
How to build your Shopify store
How to choose a winning product
How to promote your offers
How to get traffic to your store
How to scale up your profits and
many more.
All this is explained in 9 full-blown training modules, which are:
Sourcing Products and Research
Setting up your Shopify store
Facebook Advertising Part 1
Facebook Advertising Part 2
Instagram Traffic
Organic SEO Traffic
Email Marketing
Taxes & Business
Top Secret Videos (can't tell you)
3 Things I Liked About Ecom Elites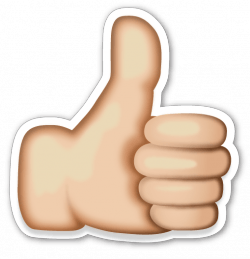 Franklin Hatchett Himself:
I enjoy Franklin's videos, and I find him to be quite a funny and also a brilliant mentor to learn from.
He's a one-of-a-kind instructor that knows his stuff and is always willing to help.
I really enjoyed seeing that he is part of the community as well and no question goes unanswered. It's not common to see the course creator active (on a daily basis) engaging with his students.
The Video Request Feature
Another unique idea in eCom Elites is the fact that you can request a video from Franklin.
If there is something which is not covered, or you run into a specific problem you just can't get around, then you can use this feature to ask Franklin to do a video tutorial for you.
Obviously, this is at no extra cost to you, and you will also be helping other community members with your questions.
Weekly Videos
Every week, Franklin hops on and does a weekly video usually answering some questions or sharing some brand new idea.
The whole drop shipping business changes a lot and what might work today, might not work tomorrow.
The fact that this training course is constantly being updated is great knowing I am getting the best / latest information on how to grow my business.
Things I Did Not Like
There's really nothing I did not like about this training.
As I said, Franklin over-delivers with this product, and I think it's one of the best training on how to start a dropshipping business.
Some (More) Addition Features
Apart from the "Video request" I mentioned earlier, another cool feature in eCom Elites is the community and the secret mastermind Facebook Group.
This group is only open for members of the course, and in there you are free to openly discuss ideas, get feedback, talk to other like-minded individuals and grow from each other's successes and failures.
An active community is always a good sign, and the income proof that gets shared on this group is jaw-dropping.
Speaking of results….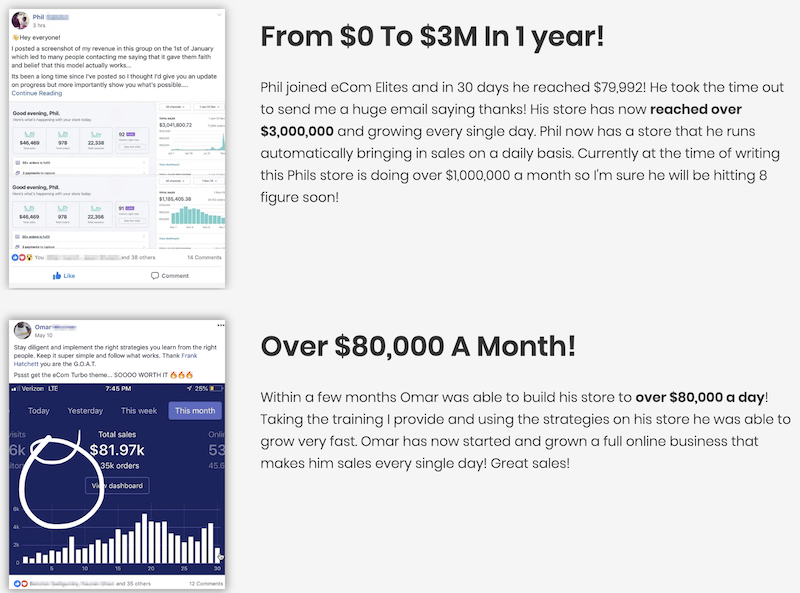 $4,000+ In One Month From What I Learned In Ecom Elites:
As I said t the beginning of this review, I learned to abut drop shipping from Franklin's videos.
I've had the store before I stumbled across eCom Elites, but I wasn't making any money.
That all changed once I started following Franklin's advice, and you can see my results from November 2017 here:

This is a great income to have, and I love the fact that I have added drop shipping as another income source for my online hustle.
(For those that do now know, I am also an affiliate marketer and a crypto-trader).
eCom Elites Pricing: How Much Does It Cost?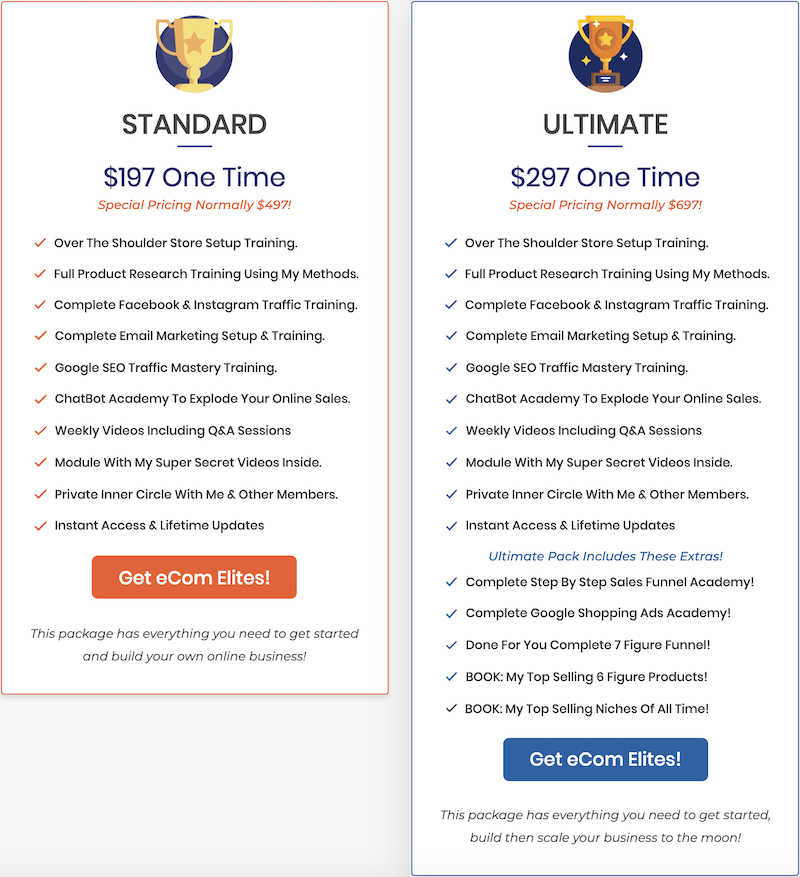 I got the eCom Elites training on a one-time, lifetime access membership plan that costs $197.
The price was scheduled to go up as more and more students join the training, but if you are interested, you can see here if that price is still available.
$197, may seem like a lot, but trust me; it isn't.
You will learn all you need to know about this business and what is unique about dropshipping is that you can start earning more quite quickly if you know what you are doing.
There are other training courses such as this one that is more expensive (five figures price tags), and I can assure you that they have nothing that eCom Elites doesn't offer.
You can sign up to get started here >>
Who Is eCom Elites For?
eCom Elites is for the entrepreneur-at-heart who is looking to start an online business.
There are many ways one can earn money online, but drop shipping is truly unique.
If you want to start an online business, then dropshipping is something I will recommend to you.
Any Other Recommendations?
As for training on dropshipping, no; I do not see any other product that can match the value delivered by eCom Elites.
However, if you want to learn more about affiliate marketing (not drop-shipping), an alternative course you can try is Wealthy Affiliate, which is my #1 rated product overall.
eCom Elites' Final Rating

For the service delivered and for all the amazing benefits I have seen from Franklin's training, I am going to award this training course a 4.5 out of 5-star rating.
The reason it's not a complete 5 star is that that would not leave any area for improvement. However, it just might be worthy of a 5-star rating.
Closing Words
Thank you very much for reading my eCom Elites review.
I hope this post has answered any question you may have and I'd leave you with one of Franklin's best YouTube videos so you can see who you will be dealing once you join eCom Elites yourself.
Talk soon.
PS: If you'd like to see my all-time favorite courses that helped me grow my business, you can see them all ranked here >>