The gaming niche is blowing up faster than you can enter a cheat code. The good news is;
There is plenty of high-paying, high-converting gaming affiliate programs you can start promoting for some cheat-code commissions.
Today, we're exploring the gaming niche and how you can make money as an affiliate promoting various gaming products and services.
All that is discussed down below but before we get to that, here are…
The 5 Best Gaming Affiliate Programs (Reviewed)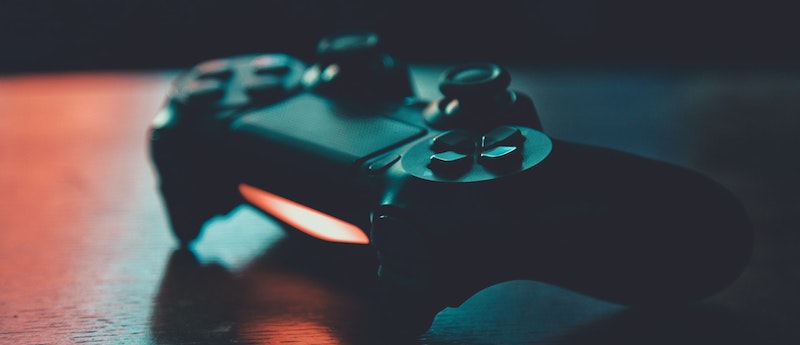 ---
---
Gamefly Affiliate Program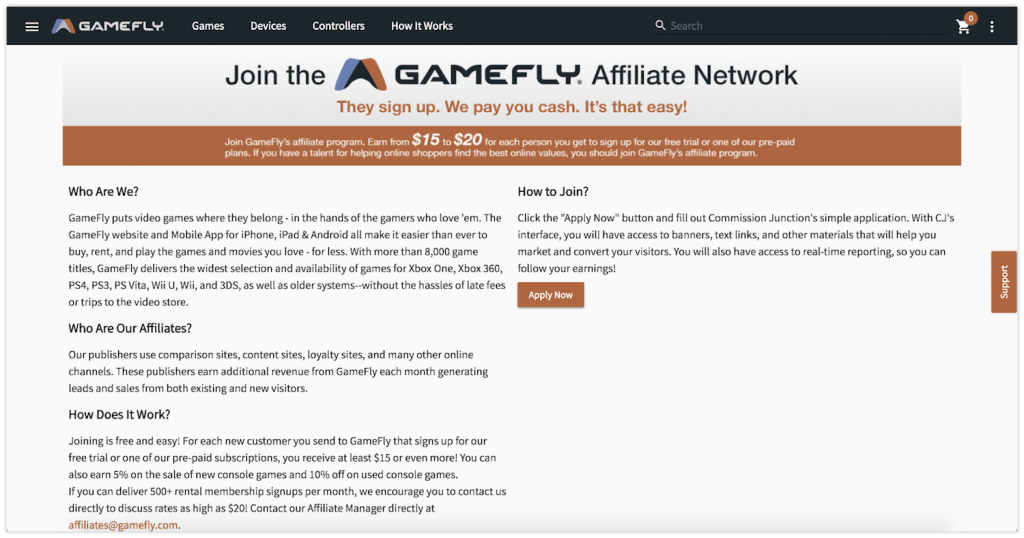 Gamefly Commissions Rates: 5% to 10%
Gamefly Cookie Duration: 30-days
Why GameFly?
GameFly is one of the most lucrative affiliate programs available in the gaming sector today.
They provide a fixed amount of $15 for every new customer sent by you who signs up for their free trial or buys one of their pre-paid subscriptions.
You can also earn a good amount of commissions for each game or gaming console sold.
What Can You Sell?
You can sell GameFly subscriptions, console and computer games and gaming consoles from all manufacturers.
As an affiliate, you stand to earn commissions whenever one of your referral buys any of the above-listed items.
Commission Rate – 5% to 10%
GameFly uses a multi-tiered approach, which gives you a fixed amount for every new sign up who signs up for their pre-paid subscription using your referral link.
You will also get a 5% commission on the sale of new console games and 10% off on used console games.
GameFly Benefits
A guaranteed way to earn money as they pay you even if someone orders just a free trial.
In addition to the normal $15 or $20 per signup you also get commissions on the sale of new and used console games.
Real-time statistics.
Easy to use affiliate program as their affiliate program is available via CJ (Commission Junction).
GameFly Disadvantages
You must have a Commission Junction account to participate.
Who Can Use the GameFly Affiliate Program?
GameFly affiliate program is open to all affiliates.
Gamepal Affiliate Program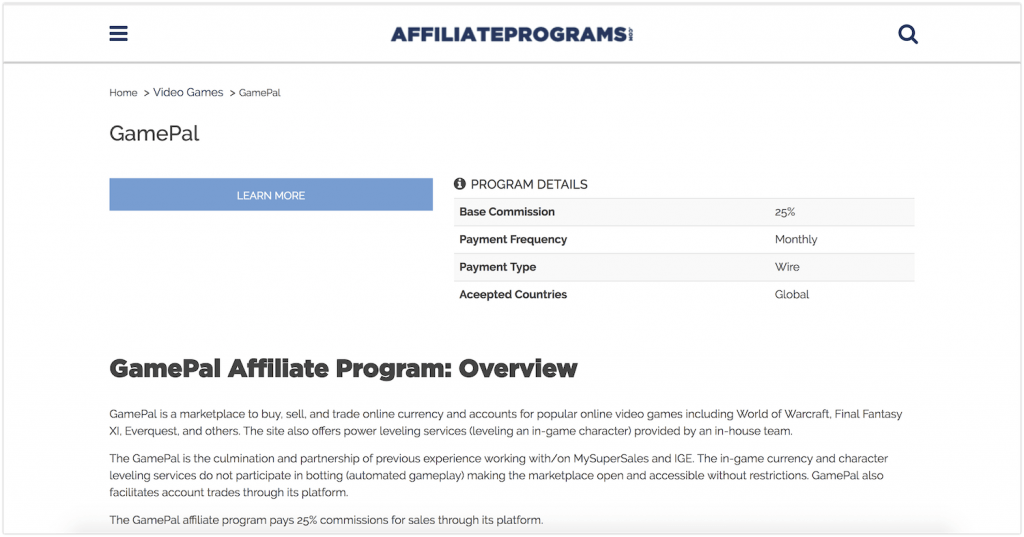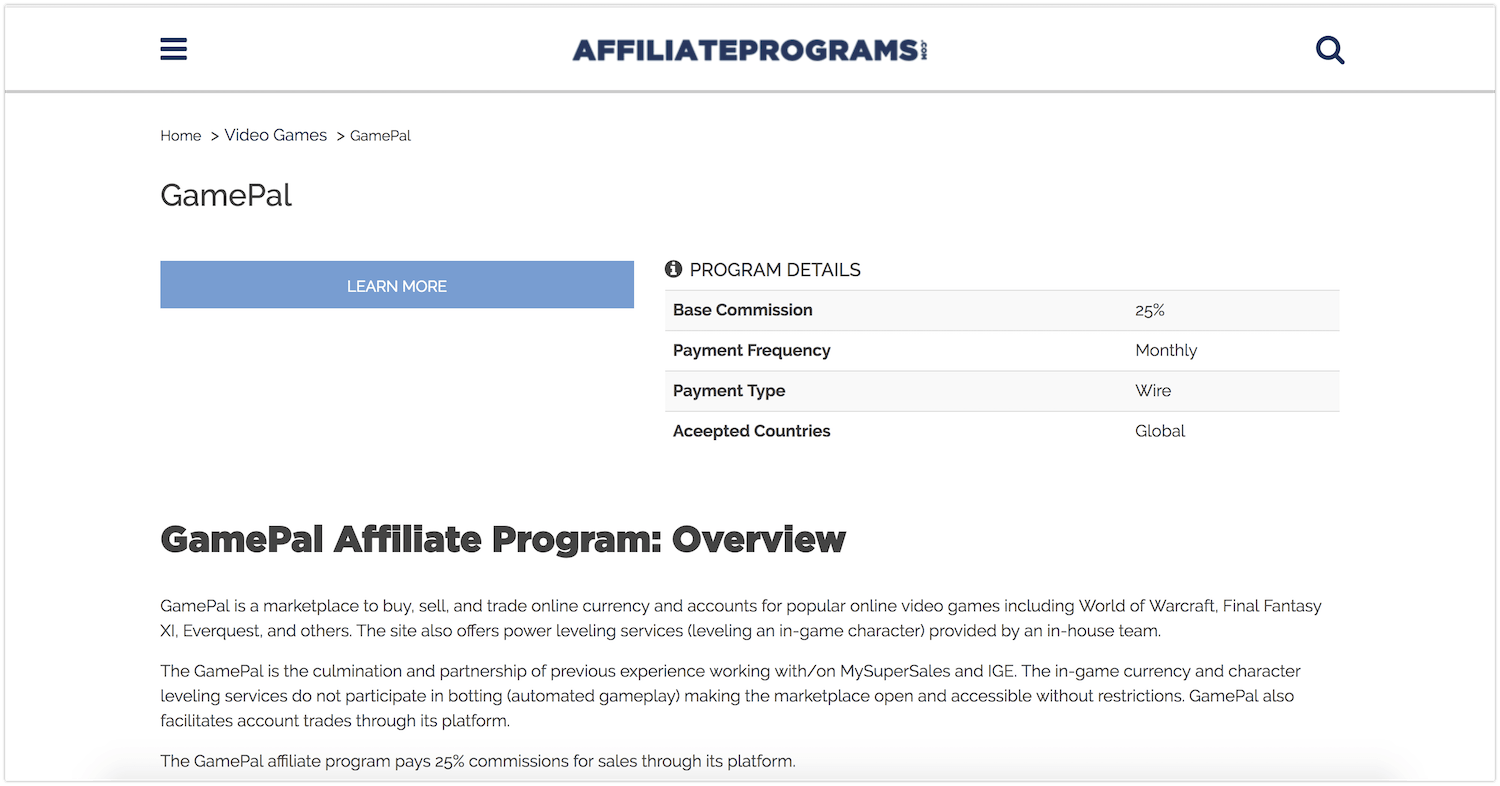 GamePal Commissions Rates: 30%
GamePal Cookie Duration: 180-days
Why GamePal?
GamePal is another leading affiliate program on our list which pays lucrative commissions.
Unlike other affiliate programs on this list, GamePal is a bit different as it's mainly a site for selling gaming accounts on popular online game sites such as World of Warcraft, Final Fantasy XI, EverQuest, and others.
What Can You Sell?
You can sell accounts for popular online video games such as World of Warcraft, Final Fantasy, EverQuest, Anarchy Online, Lineage 2, RuneScape, Star Trek Online, and Lord of The Rings.
Commission Rate – 25%
You can earn 25% commissions for every sale made using your referral link.
GamePal Benefits
A unique and unmatched niche service.
Easily recognizable brand.
High commission rate.
180-day cookie.
GamePal Disadvantages
A clunky user interface & lackluster design.
Who can use the GamePal Affiliate Program?
GamePal affiliate program is open to affiliates from all countries.
GameStop Affiliate Program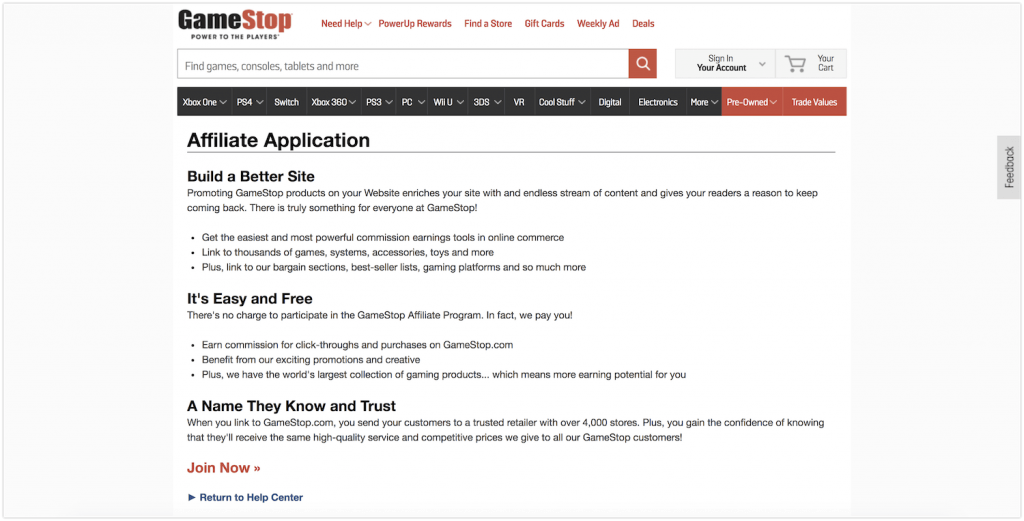 GameStop Commissions Rates: 5%
GameStop Cookie Duration:

unknown
Why GameStop?
GameStop is the largest physical retailer in the gaming space as its revenue recently surpassed the $9 billion mark on the back of strong online and offline sales.
They also run a lucrative affiliate program which allows affiliated to earn money on sales generated by their referrals.
What Can You Sell?
GameStop sells a huge variety of gaming supplies including gaming consoles, computer and console-based games, VR gaming systems, and gaming controllers.
As an affiliate, you can promote all the products listed on their website and earn a good amount of commission.
Commission Rate – 5%
GameStop offers a fixed rate of 5% of the sale value for all the products you sell. The low rate is compensated by the high price of items as gaming consoles are often in the range of $400-$500, whereas VR head-mounted displays can cost up to $800.
GameStop Benefits
A large collection of products as GameStop is considered as a one-stop-shop for gaming.
Recurring Commissions.
Well recognized Brand.
GameStop Disadvantages
A limited collection of marketing materials and commissions are a bit on the lower end.
Who can use the GameStop Affiliate Program?
GameStop affiliate program is available to all affiliates.
Zygor Affiliate Program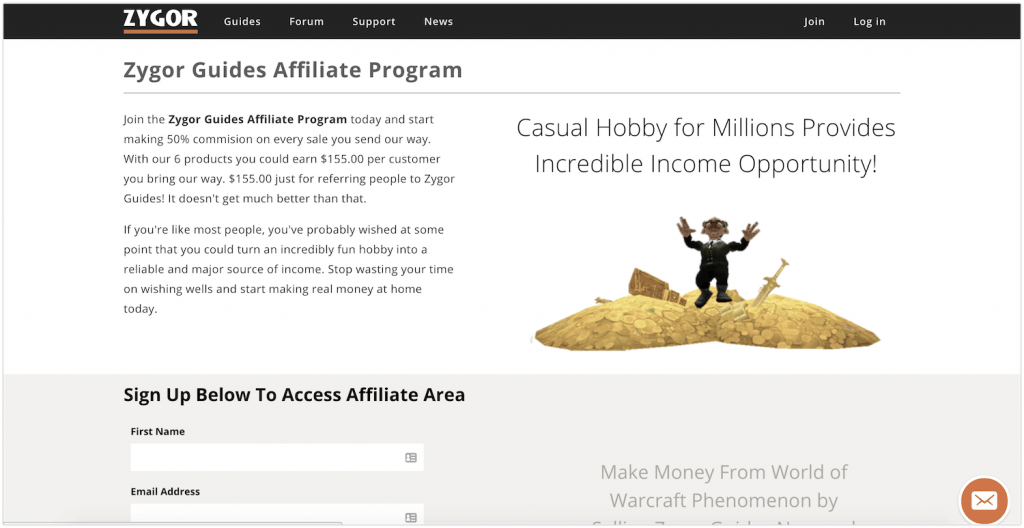 Zygor Commissions Rates: 50%
Zygor Cookie Duration: 30-days
Why Zygor?
Perhaps there is no better provider of gaming guides then Zygor as almost every gaming veteran who has ever played World of Warcraft would attest.
What Can You Sell?
Zygor is quite different from other programs listed on this list as, unlike other companies, they sell guides for World of Warcraft and Elder Scrolls Online.
They have 6 guides available, and you can earn up to $155 per customer sent by you if he buys all 6 guides.
Commission Rate – 50%
You get 50% of every sale made by you using your referral link.
Zygor Benefits
Advanced real-time analytics.
A high commission rate of 50%.
A niche-focused program which results in higher conversions.
A unique program of its type.
Zygor Disadvantages
Zygor's affiliate program is only available via ClickBank.
Who can use the Zygor Affiliate Program?
Zygor affiliate program accepts affiliates from across the world. All you need is a Click Bank account to sell their products.
Hoyle Affiliate Program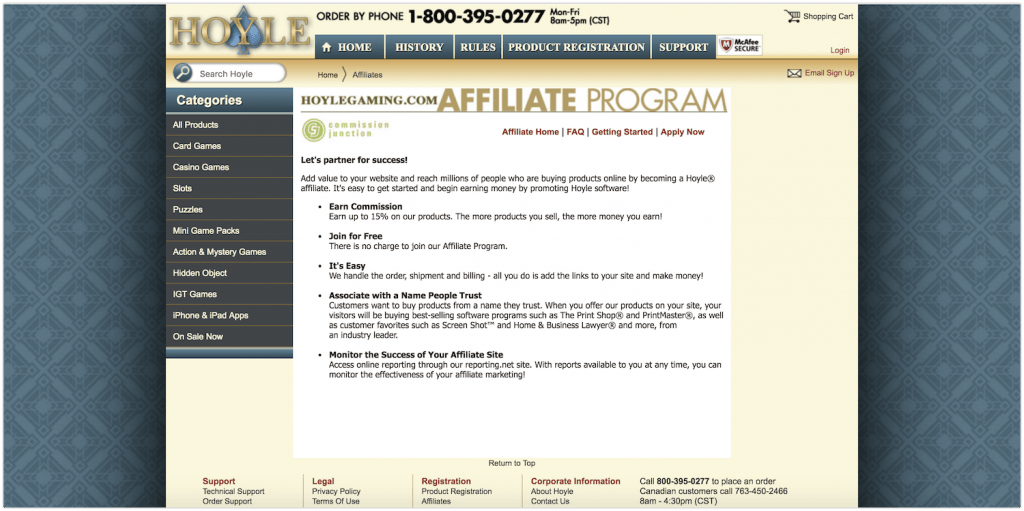 Hoyle Commissions Rates: 15%
Hoyle Cookie Duration: unknown
Hoyle is another popular gaming affiliate program on our list.
It is a different kind of gaming store that offers downloadable games for playing board games, card games, casino games, slots, and other similar products.
What Can You Sell?
They have a pretty good collection of downloadable games including several popular board games, card games, and casino game slots.
Commission Rate – 15%
You can earn up to 15% for each sale made by you using your referral link.
Hoyle Benefits
Well recognized brand with some of the most popular games.
A high commission rate of 15%.
Low payout threshold of $25.
Get paid every 30 days.
Hoyle Disadvantages
Program available only via Commission Junction.
Who can use the Hoyle Affiliate Program?
Hoyle's affiliate program is available to affiliates from all countries.
---
How Big Is The Gaming Industry Online?
Well, since most of the "gaming" is now "online gaming", it's safe to say that the gaming industry lives solely online.
The potential is huge, and many gamers are looking for online resources to help with their queries.
If you can somehow manage to connect these passionate gamers to a great gaming affiliate program, you are in for a profitable journey, my friend.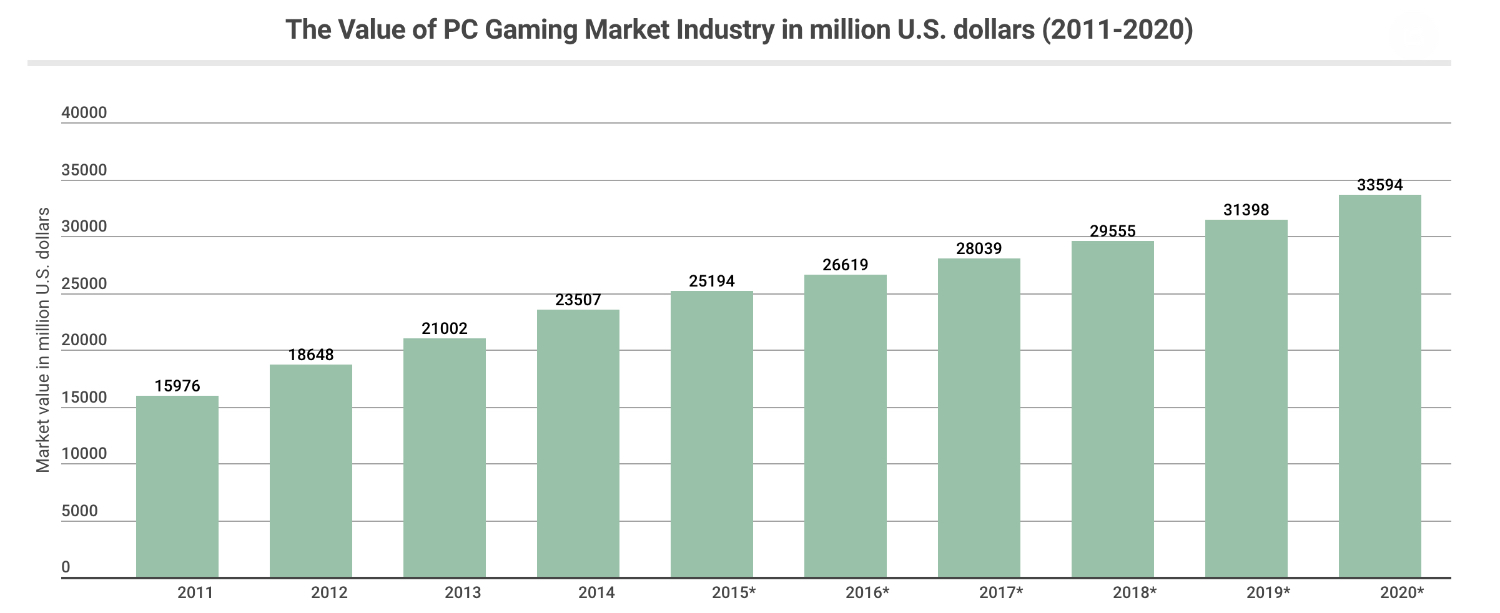 How To Promote The Booming Gaming Niche
With these round-up of affiliate programs I do, I usually provide my best tips for promoting the niche in question.
Most of the time I go for traditional SEO but for the gaming niche, I would suggest you also make it a point to incorporate YouTube and Twitch.
Both these platforms have an incredible audience of gamers, and with some creative thinking and the right angle, I am sure you will be able to stand up far better and far quicker.
That is not to say you should rule out SEO either.
Certain keywords such as "the best gaming chairs of 2018" and other review-type material can do incredibly well as well, and with such posts, you can quickly start making affiliate commissions.
However, this will take a bit longer to define your audience and your brand, so while I still suggest you do some basic SEO and maybe even start a gaming site, focusing on YouTube and, more importantly, Twitch is where the game is.
Here's a great guide on how to build a loyal following on Twitch.
How To Build A Successful Gaming Business
The affiliate marketing method of making money online works – nobody can refute that. If they do, it means that they have tried and failed.
Most people fail at affiliate marketing because they fail to realize that it takes time to understand and develop the skills necessary to become a successful affiliate marketer.
If you're brand new to affiliate marketing and you don't want to fail at it, I recommend you take a look at my tell-all guide revealing how I build my own simple affiliate websites.
I can't guarantee it's the best and fastest way to get started, but I can guarantee it worked (for me) 100% of the time. I highly recommend you check it out.