The gourmet coffee industry is heating up. As one coffee magazine put it, gourmet coffee is the "fine wine" of the coffee world.
Coffee fans across the world are becoming more and more informed about the coffee they drink wanting to know everything about the coffee beans used, where it's from, how it's made, how it's prepared, etc…
The reason I'm telling you this is because today, I am sharing with you 10 gourmet coffee affiliate programs which I think are worth checking out.
As you may have realized already, this niche/industry is definitely on the rise, the products are not cheap and there are plenty of great affiliate programs offering you great commission rates to help them grow their business.
If you have a food/coffee blog or any other "coffee audience" whether that be on Instagram, YouTube, or whatever, you may want to pay close attention to all the affiliate programs below.
Let's get started…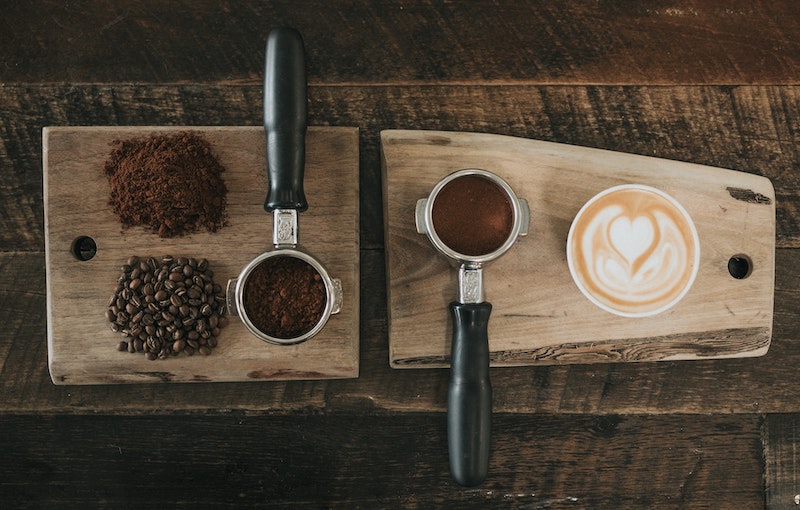 NB:
Want to see how I make money with affiliate marketing? My new book reveals my entire process, including my 4-step approach to building affiliate websites.
CLICK HERE to download my book for free
.
Koa Coffee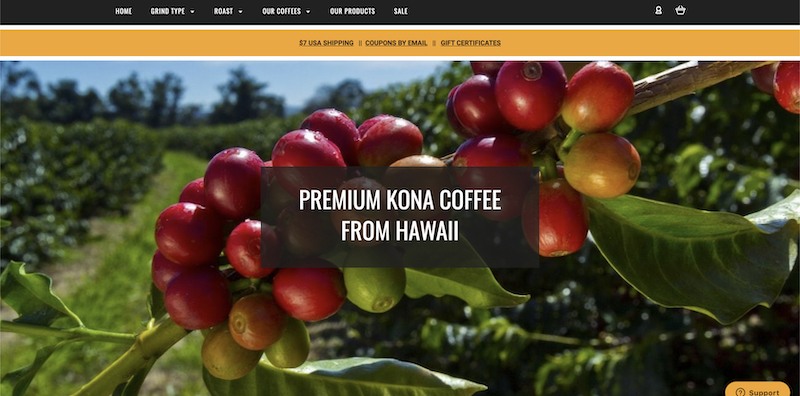 KoaCoffee started as a small family business back in the 90s and they quickly built themselves by producing hand-picked, expertly roasted, and delicious Hawaiian coffee delivered straight to your door.
KoaCoffee has earned several prestigious awards and has been dubbed the best coffee in America. The company has also been featured in Forbes "Top 10 Coffees of the World" and 50 of America's Best.
Affiliates can promote KoaCoffee and earn anywhere from 10%-20% commission on every sale they send their way.
KoaCoffee's affiliate program is managed by ShareASale and they provide their affiliates with useful marketing materials, tracking tools, and on-time payments.
Commission: 10% – 20%
Cookie: 45 days
Out Of The Grey Coffee

Out Of The Grey Coffee is a small-batch organic coffee roaster and tea merchant based in Pennsylvania.
The company slow roasts in small batches by using a classic drum roaster equipped with advanced control systems to ensure consistency.
Therefore, their products retain the fresh, "just roasted" aroma once sent out to their customers and they even arrive still warm.
Out of The Grey Coffee has a wide variety of flavored, single source, and fair trade coffees your audience can choose from and while their selection isn't overwhelming, it is solid enough to earn you a recurring commission as an affiliate.
Their average online sale is $30-$50 and as an affiliate, you will earn a 10% commission for every sale you refer to their website.
Out of The Grey Coffee uses ShareASale to manage their affiliate program and they provide their affiliates with customized creative content such as banners and text links that help generate more sales.
Commission: 10%
Cookie: 30 days
Lifeboost Coffee

Lifeboost Coffee is a premium, healthy coffee brand started by a chiropractor who traveled around the world to look for the healthiest coffee possible.
Lifeboost Premium Coffee comes from beans that have been individually hand-picked as premium beans of the harvest and are then lovingly cultivated by local farmers.
The beans are then carefully selected one at a time to provide the best in Gourmet blends.
Lifeboost sells only USDA Certified Organic, single-origin, non-GMO-grown coffee from Central America and all their blends taste like a dream come true.
Lifeboost has an affiliate program managed by Affiliatly and they offer a whopping $30 commission for each sale you refer to their site.
Hawaii Coffee Company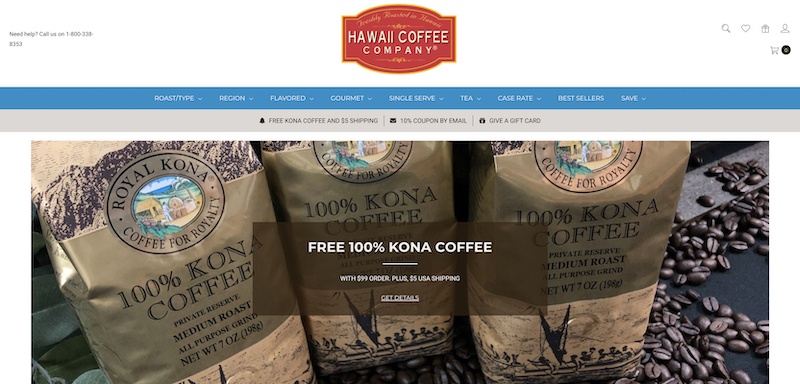 Hawaii Coffee Company offers the same Kona coffee as mentioned above, however, they craft and sell their own special blends.
Hawaii Coffee Company is the parent company of two of America's oldest coffee companies – Lion Coffee and Royal Kona Coffee and they produce a huge variety of different flavors of coffee including coconut, hazelnut, macadamia, and pineapple being some of them.
Besides that, they also carry a wide range of tropical teas that are blended, flavored, and packaged locally in Hawaii.
Hawaii Coffee Company uses ShareASale to manage their affiliate program and they offer 20% commission for each sale their affiliates refer to the website.
Additionally, ShareASale provides affiliates with creative, marketing, and tracking tools.
Commission: 20%
Cookie: 45 days
Kimera Koffee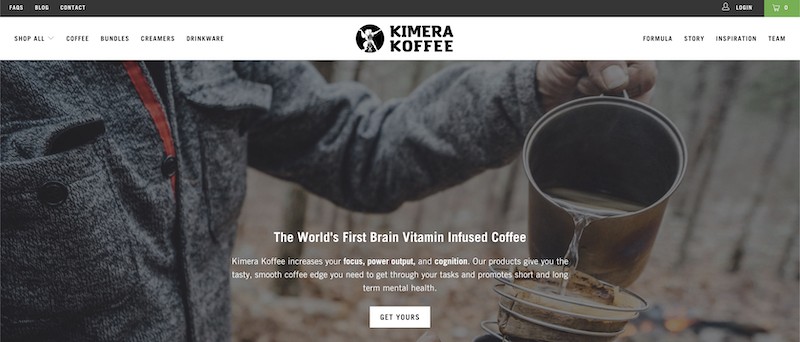 Kimera Koffee is a performance-boosting coffee that combines a premium blend of organic coffee from the Dominican Republic with natural amino acids, nootropics, and vitamins to increase energy and enhance cognitive function.
It has the same amount of caffeine as a normal cup of coffee, however, it has added brain-boosting ingredients to help increase mental and physical performance and also boost dopamine levels in the brain.
Additionally, it has an added Alpha GPC, Taurine, L-Theanine, and DMAE that can improve overall health and well-being.
Kimera Koffee has a very unique, nutty flavor, and the company offers both regular and dark roast versions amongst other products that help improve digestion, speed recovery, and assist with anxiety.
They have an affiliate program managed by ShareASale that offers affiliates a 10% commission for each sale they refer to their website. Their average order is over $50 and they have a 90-day cookie life.
Commission: 10%
Cookie: 90 days
Sudden Coffee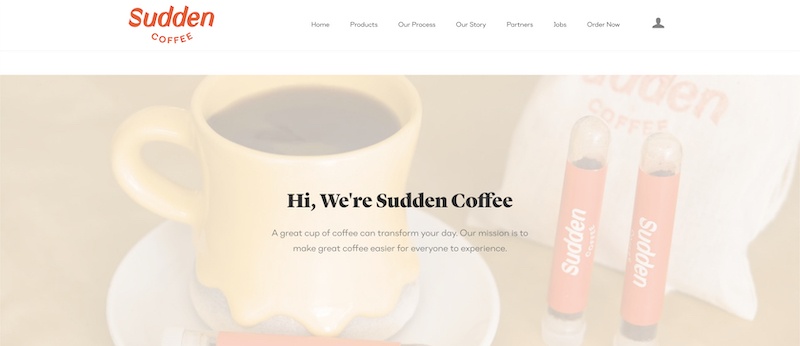 Sudden Coffee is a coffee manufacturer based in San Francisco and the first company to create Specialty Instant Coffee made with specialty-grade, single-origin beans.
They use ShareASale to manage their affiliate program and they offer a sweet 50% commission for each sale referred to their website.
Additionally, they provide their affiliates with various creatives and tools to help increase sales, including banners, text links, and various exclusive offers.
Commission: 50% – 55%
Cookie: 60 days, increased to 120 days upon confirmed link placement
Volcanica Coffee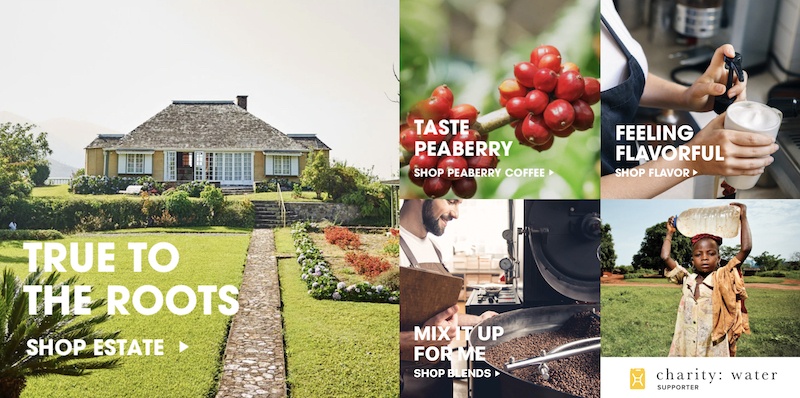 Volcanica Coffee is a company that specializes in estate coffees from specific countries and exotic gourmet coffees in a huge variety of over 120 different products.
They provide the best quality experience by freshly roasting their coffees whenever a customer places their order and this is how they've made a recognizable name for themselves.
Their average order basket is $65 or more and they offer a 10%-15 commission on every sale referred to their websites by their affiliates.
Additionally, they provide their affiliates with a dedicated and experienced team, attractive creative tools, updated product feed, and regular newsletters with offers and updates.
Commission: 10%-15%
Cookie: 30 days
Three Avocados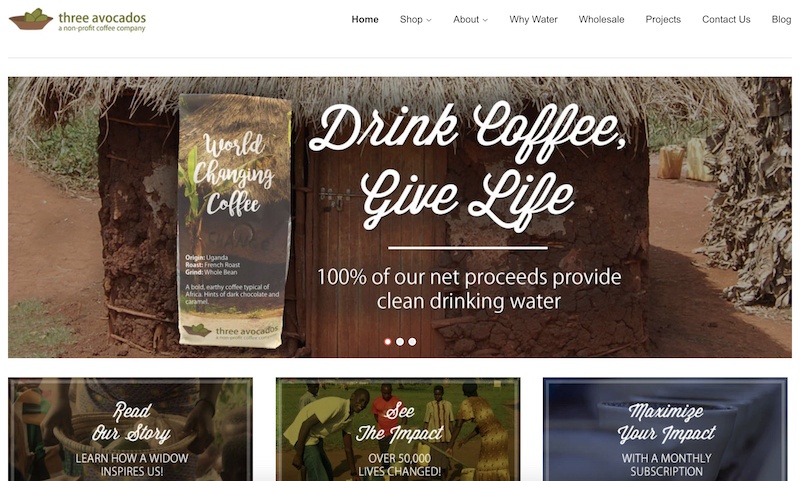 Besides producing great coffee, Three Avocados is a company with a great cause. They are a non-profit coffee company and their net proceeds go to providing clean drinking water in Uganda and Education in Nicaragua.
Their beans are hand-picked when the coffee cherry is at its peak of ripeness and the quality of their coffee has been praised for its smooth, bold taste, with subtle hints of dark chocolate.
So, if you enjoy delicious coffee and want to help make the world a better place while still earning money, you can sign up for their ShareASale affiliate program and earn a 12% commission on each sale you refer to their website.
Commission: 12%
Cookie: 90 days
Gourmesso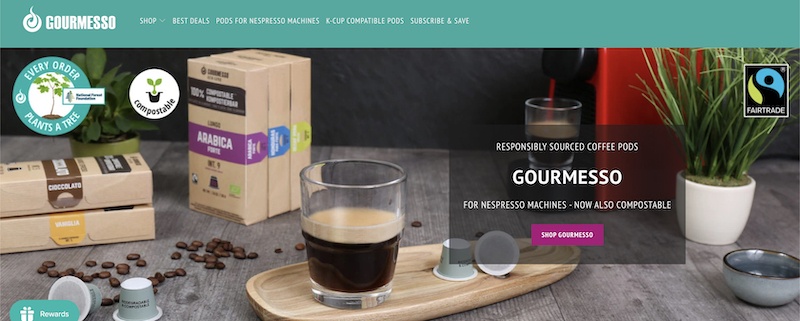 Gourmesso is the leading online shop where you can stock up on coffee capsules for Nespresso machines. The company uses high-quality coffee in a variety of different flavors and intensities.
Additionally, they offer 100% compostable coffee pods for Keurig machines under their Glorybrew brand.
Gourmesso has an affiliate program manages by CommissionJunction and they offer up 20% commission for each sale referred to their website.
Furthermore, they provide their affiliates with special promotions as well as a wide selection of creative tools, banners, and text links to help drive more sales.
Commission: 20%
Cookie: 45 days
Boca Java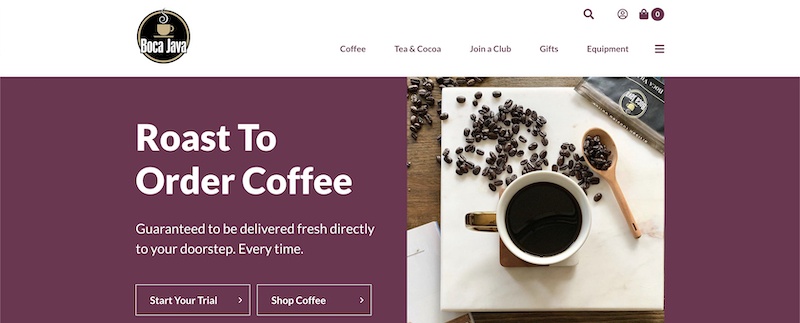 Boca Java is a leading specialty online retailer of fresh-roasted gourmet coffee, tea, chai latte, cocoa, and other customizable gifts.
They offer a great selection of goods from all over the world and they have a single-source premium coffee hailing from Hawaii, Kenya, Peru, and many other regions around the world.
Additionally, besides selling their products to your audience, you can also earn commissions by selling their subscription services.
Commission: 10% – 20% on sales
Commission for subscription services: $10 each for 25 signups; $12 each for 26-50 signups; $14 each for 51-100 signups; $15 each for >100 signups
Related Questions:
Can You Make Money Promoting Coffee Affiliate Programs?
Yes you can as an affiliate in any niche you'd like, but making money with this method does require you to work hard, be patient and do things the right way. If you'd like to see how I make money with my own affiliate websites, you can
click here to learn more about what I do and how I do it
.
How To Start A Coffee Blog?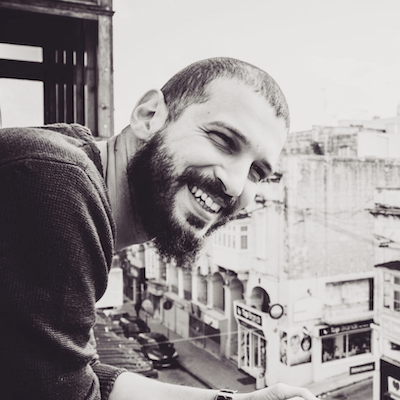 Since 2011, I've been learning how to make money online with affiliate marketing. This website is where I share everything I know and all I will learn along until I reach my next income goal of $30,000 p/month.