Affiliate marketing content can be difficult to write, especially if you're a beginner – but, if you're willing to follow some simple instructions + you can commit to writing every day (practicing), I'm pretty sure you will get better at it was faster than you think.
In this article, I am going to teach you how to write content for affiliate marketing websites by providing you 8 simple tips and techniques to help you write content that brings in commissions all day, every day.
If that's what you're here to learn, here's everything you will be learning about below.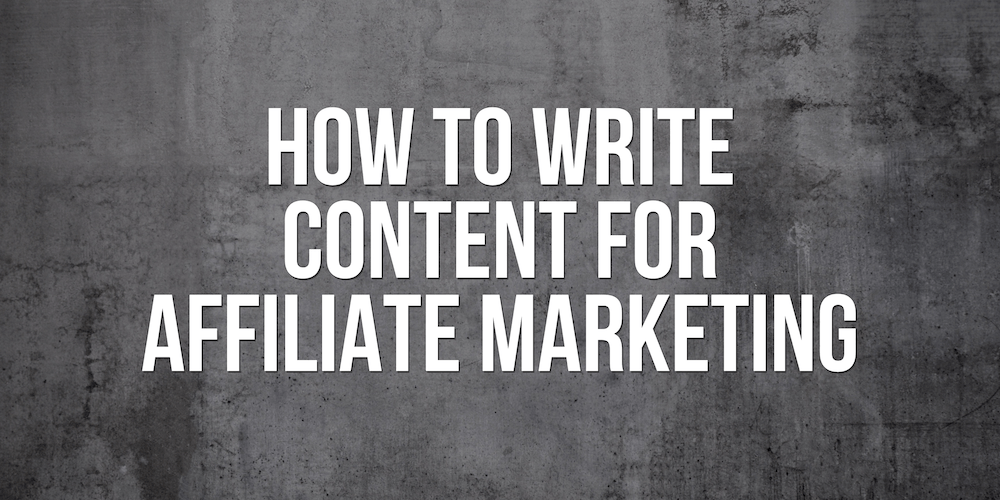 NB:
Want to see how I make money with affiliate marketing? My new book reveals my entire process, including my 4-step approach to building affiliate websites.
CLICK HERE to download my book for free
.
1. Know Your Objective
You must decide before you start writing what you are hoping to achieve.
You must think strategically and be specific. Once you've decided on the topic you want to write about, it may help to turn your keyword phrase into a question.
For example, if your keyword phrase is 'affiliate marketing', you will find writing about it easier by turning it into a question such as "What is affiliate marketing?" or "Why should you get into affiliate marketing?"
Michael Shore of EssayWritingLand, says:
''Don't write your final headline until you have actually written the article but use the question to focus your thinking on what you want to convey in your content.'' He adds, "I have found that content marketing costs less than traditional marketing and generates more leads."
2. Know Your Audience
You need to figure out exactly who you're writing for and keep them in mind at all times.
You must understand the needs and wants of your audience because they come to your content with a specific purpose in mind.
They don't want to waste their time, and therefore they're looking for content that's concise, scannable, well-structured and authentic.
What do you want readers to feel when they read your content?
You don't want them to feel that you are pushing products. People have been bombarded with, and they are tired of the market speak. You need to show them that you care about them and know what it's like to be in their shoes.
If your readers have come to know and trust you, they won't feel as though you're trying to make money off them but that you're recommending certain products because you've tried them yourself and know how much benefit they can receive from them.
3. Tell Your Story
Affiliate marketing should not feel like hard selling.
It should feel more like a recommendation from one friend to another. With this in mind, it's useful to incorporate anecdotes about a service or a product into your content. It will keep your content fresh and build up trust with your readers.
If you tell stories and use testimonials, you will appeal to the reader's emotions and senses.
Instead of just giving all the features of a product, you are communicating the benefits of using a product and what's in it for your audience. One of the best ways to do this is to show how products and services have changed your life for the better.
4. Strive For Content Excellence
As an affiliate marketer, you want to earn from your website, but to do that, you have to go through a process.
You have to attract and build up trust with an audience before they're willing to take advice from you and consider purchasing the services or products you are trying to sell.
The best way to do this is to provide consistent, high-quality content. If you are honest and authentic, people are likely to be drawn to your content.
If you become the go-to site for a specific topic, you will attract a huge audience. Only when you have attracted a large enough audience, can you really begin to monetize successfully.
5. Write Different Types of Content
Interesting and meaningful content attracts eyeballs in a world where people are tired of direct advertising. In most cases, they are so accustomed to it that they become blind to it.
Seasonal and evergreen blog posts, roundup posts and email mini-courses are just some forms of content on websites that are likely to be more successful than direct advertising
'How to …' posts are very popular and can include links to tools and materials used etc.
People are always searching for great reviews that are honest and well balanced. In writing reviews, you need to focus on the pros and cons of the product, so readers have more realistic expectations.
Nearly 90% of consumers report that they trust online reviews as much as personal recommendations.
You should tailor your reviews carefully to your target audience. Comparison reviews, where you measure one item against others are successful if they are well done.
Search engines and people love lists of all descriptions. Lists are also very shareable on social media. Creating a list of experts in your field is one idea.
You could write about top affiliate marketers, for instance, and then notify those who were included in your list. They might share the list with their followers and increase your reach.
As you craft affiliate content for your readers, it's worth thinking about how you can get testimonials from others to support your recommendations.
6. Structure Your Content Carefully
Your introductory paragraph should set readers up for what they will get in the rest of the content. If you write your introduction as a teaser, it will intrigue them enough to continue reading instead of going off to find the next article.
Viewers tend to skim, and they will often scan headlines first. Therefore, you need to think about your headings carefully.
If readers don't think they will find what they're looking for by skimming the headlines, they won't stick around to read the text. Good headlines can hook readers and make them want to know more.
Use hyperlinks, so readers are not bogged down by too much content.
They can simply click the link if they want more information. Links must be set to open in a new tab or window, so readers can easily go back to your website.
Use images that add value to the content and original ones are best. An image can be used in-between content to make it easier to read and more digestible.
Passive sentences tend to bore readers. Make sure you use active voice and avoid long rambling sentences or dense blocks of text. Any flowery language or complex sentences will put readers off.
Don't use jargon, ambiguity, or language that's too technical. Don't write too formally and rather use short words, short sentences, and short paragraphs.
Your closing paragraph is just as crucial as your introduction. It should summarize what ha