If you've been thinking about creating an online course, one of the questions I'm sure you're wondering is
How much does it cost to develop an online course?
In this post, I am going to give you a detailed break down of all expenses required to create and launch an online course (+ some other valuable information I think you should know about), but first, here's a quick TLDR answer:
You can create an online course with $0, but you may want to look into getting a dedicated service to manage and host your online course. Something like Teachable (which we'll talk about below) will run you ~$39 per month. If you want full extras, you're looking at about $100 to create, launch, and sell your online course.
If you'd like to learn more about creating (& selling) an online course, keep reading as I'm about to explain…
What course do you want to develop for your audience?

What's the best way to go about selling an online course?

Which is the best tool for creating online courses and;

How much will it all cost to set up and run (profitably)?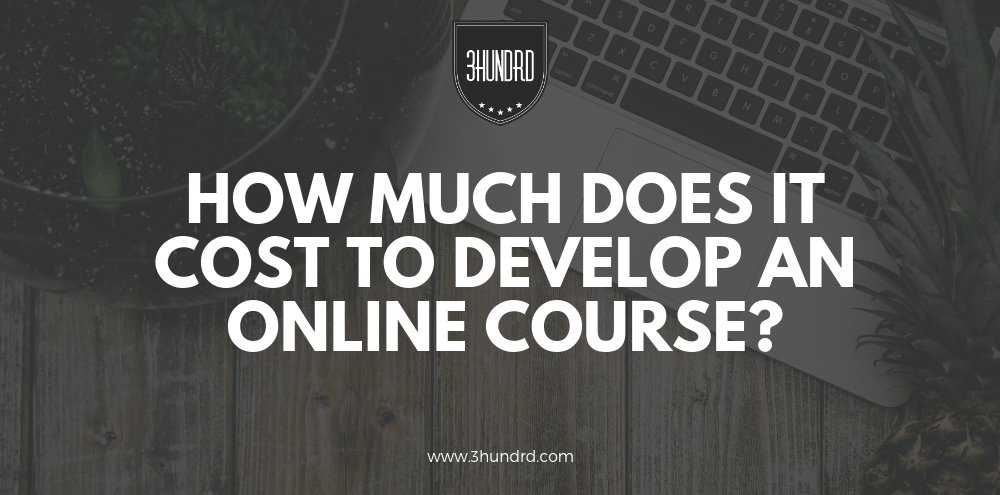 How Much Does It Cost To Create An Online Course?
Let's get straight to the point here,
An online course will cost you $0 to create.
That is if you are keeping the basics of producing the content yourself without any help from outside sources.
The course I created, Affiliate SEO Mastery, was created entirely by me.
All of the course's lessons (43 and growing)

All the courses images

All the courses advertising material (except the sales page).
It also took me around two weeks to complete from start to finish.
The only actual $$ cost I had to pay was for the domain, course hosting fees, and sales percentage.
Let me explain:

Your Course's Domain:
Using Teachable, which I suggest would be the best option for you and for anybody else to create an online course, you would be able to use the "free domain" of your online school, which is provided as part of your membership plan to Teachable.
However, I opted for a custom premium domain, which I bought from Wealthy Affiliate for the total cost of $13.99.
(This is a yearly fee so I can look forward to paying that every September).
Your Hosting Plan Fees:
When I say hosting, I don't mean the traditional web-hosting; I mean the actual membership plan (from Teachable) that would make your course accessible online and ready to be bought and consumed.
(More on Teachable further down below)
That will run you $39 per month for that.
Now, it's good to note that while you are building up your course, you can use the free Teachable plan and take as much time as you need to create it.
It's only once you decided to go live with it (and sell it) that you will need to pay for the Teachable membership fee.
You can create a free Teachable account here >>
Your Percentage Of Sales:
This doesn't really fit into how much it would cost to develop a course since it's not really a development cost, but whatever you plan on pricing your course at, just remember that there are also fees on whatever payments you process through the platform.
The percentage fee for a basic Teachable plan (the $39 per month one) stands at 5% transaction fees.
There are even more "advanced" membership plans that you can use, and you will be paying less if you decided to go for a yearly subscription, but just the above basics are all you need to develop your online course.
Rounding up:
To sum up, the total cost you need to incur to create and sell an online course (in your first month) without obviously outsourcing any of the work will be:
> $39 Teachable fee
> $13.99 Domain
> $52.99 (Total cost to create an online course for the first month)
Also, remember that you have the transaction fees, but that depends on your pricing and also how many courses you manage to sell.
Still stuck on how to promote your online course?
Here's how I'm selling mine:
How To Sell Your Online Course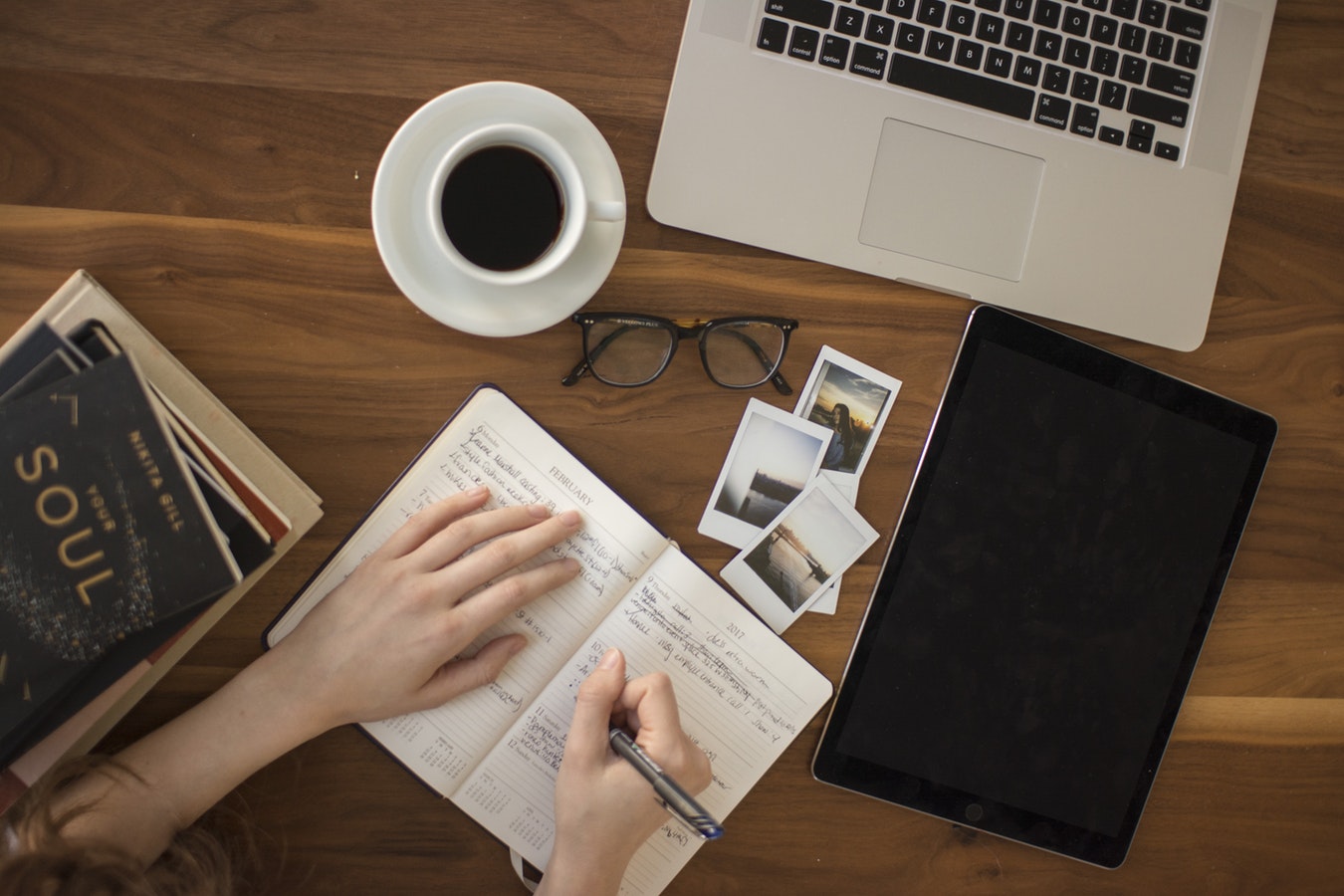 I got into the idea of selling my knowledge of SEO once I saw how successful the "sell online courses" business model was on Twitter.
Yes; there are plenty of Twitter influencers who are making BANK selling courses in every topic imaginable, and I am sure it's also happening on other social networks, which bring me to my first method of advertising:
Social Media = Audience = Course Sales
If you can build a great, loyal and engaging following on social media around a topic you plan on turning into a course, this should probably be one of the best (first) channels you should explore.
Remember; (any) social media platform already has the audience you are looking for. You can either go to them or spend a lot of time and effort trying to get them to you.
Here's a non-fluffy guide on how to create a thriving social following >>
Of course, it's best to do both, and that is why I have expanded my marketing channels far beyond just social media.
My Own Personal Blog
My blog, this one, 3hundrd.com, is the main "hub" of all my operations, and since this blog gets thousands of visitors every month, it only makes sense that I use it also to sell my course – which of course; I did.
The trick here is to get traffic, and for that I use SEO.
I create content that answers various SEO issues, and I then link to my course homepage for anyone interested in buying.
I suggest you check out my Affiliate SEO Mastery course if you want to know how to do this.
(See what I did there?).
If you do not already have a blog, you may want to consider one; in which case I suggest you use the SiteRubix website-builder tool.
Sell Your Course With Email Marketing
Another goldmine for online course sellers is email marketing.
All the above (social media & your blog) would likely be generating a lot of eyeballs which you can then funnel into your email list.
I have an email list of about 4,000 subscribers, and I sold many courses through there.
I don't sell with every email (even though it's advised to do so), but I make sure to send an email out 3-4 times a week.
Do not neglect this and do not be afraid to get a little bit aggressive when selling via your email list.
Remember; these people willing subscribed to hear from you; I don't mean you should spam, but don't be afraid of hard-selling either.
Using To SEO Online Courses
Just as I use SEO to grow the traffic to my blog, I also use SEO to drive traffic to my main course's homepage.
The text on that page is carefully crafted to be picked up by search engines for the main title of the course – (currently sitting on position 2 in Google).
The Teachable account I am on also allows me to create blog posts on the course's main page as well so while I have not started doing this just yet, I do plan on creating a line of SEO blog posts to help expand my SEO reach.
Again, for more on SEO, you know which course I'd recommend you follow.
Getting Affiliates To Promote Your Course
Believe it or not, affiliates drive most of my sales online.
Thanks to the connections I have made throughout the years with other affiliate marketers, it only took me creating a great product and a killer commission to go along with it.
I offer all my affiliates – who must have gone through the course first – 50% of what they sell.
So far, this strategy is working incredibly well, and I also plan on expanding beyond my network of affiliates too.
The best way to find affiliates would be to Google other courses in your topic and see who is doing reviews about them.
Offering them free access + a worthwhile commission is how I plan on getting more affiliates on board.
I have been testing out this email template and so far have gotten mixed results with it:

(Paid Ads) ?
Last but not least, I have to give you another method which I have not yet tried myself; this is using paid ads.
Whether it be Facebook Ads or Google Adwords, you can do both (especially since you can install a tracking pixel on your Teachable course homepage).
Again; I have not tried this yet but I definitely will as I ran the numbers already and since the course is selling for $97 (soon $197), it leaves room for me to splurge a bit on ads.
I'll let you know how that process goes once I do it by updating this blog post.
All this sounds great Chris but;
Can You Make Money Selling Online Courses?
Yes, for sure you can.
To be honest, I was actually surprised as to how well my course have been selling.
*Remember, once you create the course, you now have an asset that keeps producing more and more income every month with little to no effort whatsoever.
There's a lot of money to be made in this space and if you think you have what it takes to create a course that people want, I say drop everything and go create one asap as this could be one of the best business models I have ever seen.
(Even better than affiliate marketing, which coming from me; is a big statement – I love affiliate marketing).
This month on @teachable…

19 people made over $100,000
301 people made over $10,000
1539 people made over $1,000

This whole selling knowledge online thing works y'all

— Ankur Nagpal ?? (@ankurnagpal) September 30, 2018
Should You Create A Course? (What Do You Need)
if you're interested in selling a course, then yes, you should.
I would advise you to make sure you have a course worth selling first, but once you do, I am sure it will be a profitable venture for you.
If you currently do not have an idea of what to create a course about, you can see some of the course ideas listed here.
How Much Should You Sell Your Online Course For?

Only you can answer this question as you should know how much your information is worth.
My SEO knowledge is worth thousands, but I can not charge that much (yet) for my course, so I priced it to $97.
In the future, as I add more and more bonuses, I will continue adding the price with the next step being $197 and hoping to take it all the way to $497 as well.
Again, only you can put a price on your information (of course, the more reasonable it is, the better).
Teachable also has a great tool you can use to estimate the price of your course.
If you're up in the mood to "crunch some numbers", you can take a look at that on this page.
Introducing Teachable: Create & Sell Your Online Courses
So for the majority of this post, I have been hyping up Teachable as the best place to create your online course, and that is because it is.
Teachable is purposely built to create great-looking courses, and there is no other platform out there that can do what it does.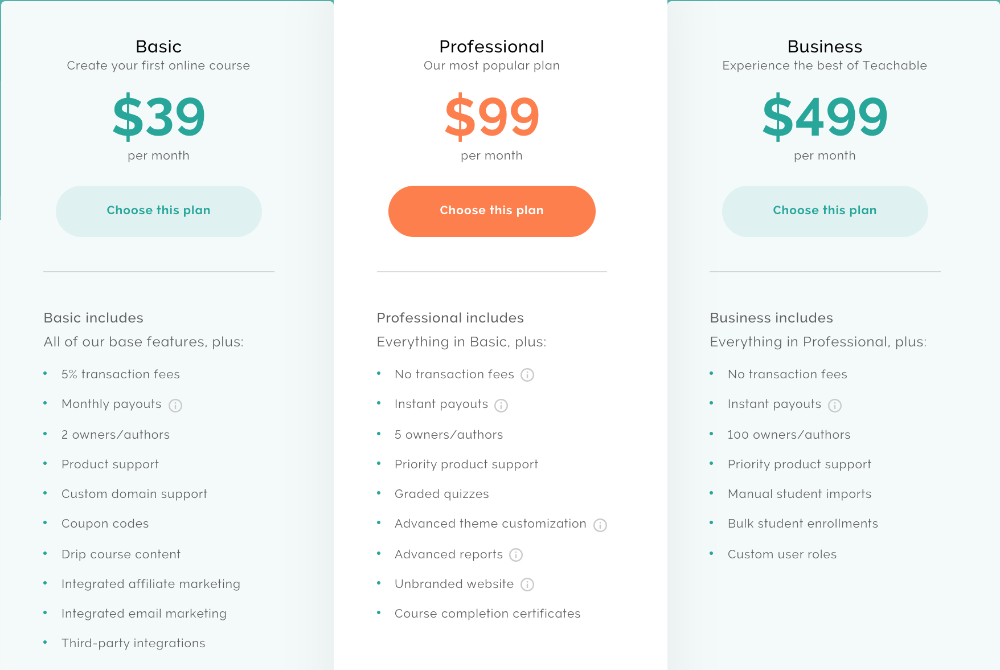 As explained above, here are the pricing structures Teachable is currently offering, and I would suggest you use this as the platform to launch your online course to the world.
It's clean and minimal

It's highly streamlined

It's super customizable

It's well worth the cost

It's the home of online courses entrepreneurs.
Don't take my word for it; try out Teachable for free and see for yourself if I fit your needs; I'm willing to bet it does.
You can also check out their fantastic blog for more information about creating and selling online courses.