Jewellery is not the easiest thing you can sell but it is possible, and if you're really want to learn how to sell jewellery online (as an affiliate marketer), then this post is for you.
I know because I myself sell jewellery on my other blog and, if you take a look on Google, you will find a lot of websites (like Amazon) that sell jewellery quite successfully.
When starting a business, especially in the area of blogging + affiliate marketing, the first thing you need to do is to pick a subject that is interesting and fun for you.
That is probably the best piece of advice anybody can give you: You must really be interested in what you will be promoting, otherwise, you will lose interest.
If you are passionate about jewellery and you want to start there with your business, then that's great.
Hopefully, this post is going to show you how to sell jewellery online, both as an affiliate marketer and I'll also add some guides even if you would like to sell your own jewellery through your very own jewellery store.
We'll touch on that later but basically, what I will be talking about will work for both methods anyway you want to do it.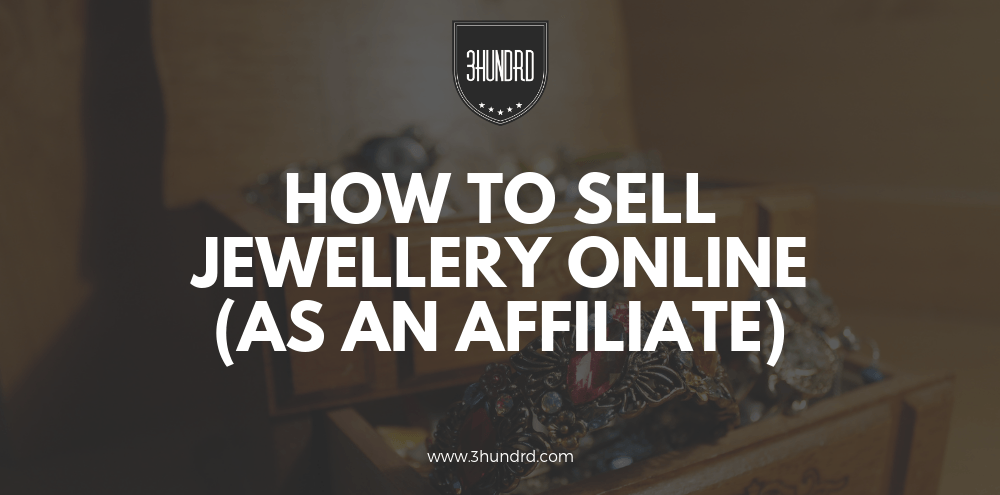 First things first;
Start Your Jewellery Website
This is always the first step when starting your online business. Without it, there is not much you can do.
You absolutely need to have a website where you will write content about the jewellery niche you would like to talk about (I'll explain this is the next point).
I won't go into detail about how to start a website as I've talked about this many times before, however, you can use Wealthy Affiliate's free SiteBuilder to get started
Over there you can create a free website and have it all ready-to-go online in a few minutes, all for free.
(Here are some of the world's finest jewellery websites for some inspiration).
Choosing Your "Jewellery Niche"
If you're passionate about all types of jewellery that is great, but if you want to be successful in building your business, you are going to have to go a bit deeper and focus on just one specific area of jewellery.
Starting your business selling all types of jewellery will put you in competition with a lot of huge companies like Asos, Pandora, Amazon etc..
If you want to avoid having to compete with such companies, it's best to dig a bit deeper into a more specific audience.
For example:
Jewellery For Teens

Jewellery For Men / Women

Diamonds Rings

Military Rings

Astrology rings

Custom Made Jewellery For Women

Jewellery For Pets (surprisingly popular)

How To Make Your Own Jewellery

etc…
You can see more jewellery niche examples here >>
It's all about focusing on one specific market and becoming to the go-to website for information about that particular subject. This doesn't just go for the jewellery niche, but for every niche online.
It's always best if you niche it down. Remember; the riches are in the niches.
You can always expand to more niches later on when you have your authority but as a newbie, it's best to laser focus on one subject.
Once you have your site up and ready and a topic in mind, it is time to start writing your content.
This will be what brings in traffic to your site through various mediums such as search engines and social media.
The Type of Content You Need To Create To Sell Jewellery
If you really are passionate about jewellery and about the sub-topic if you've chosen, then this should be a very simple thing or you.
Taking that "how to make your own jewellery" example, here are some blog post titles that can work if you spend time writing and promoting:
How to make your own necklace at home.

Where can you buy supplies for DIY

jewellery.

How to turn old jewellery into something incredible.

How to polish silver naturally & without chemicals.

How to make money selling your own jewellery online.
These all make for great blog posts that would interest somebody that is looking to learn how to make jewellery at home.
These ideas were just off the top of my head that I've typed out in under a minute, but if you invest just a few hours per week in some keyword research, you will be able to find much more ideas for you to write about.
How To Promote Your Jewellery Blog
There are many, many ways you can promote your blog to bring in readers but I am going to be telling you about the 2 platforms I use to sell from my own niche jewellery website:
Search Engine Rankings
When you create a piece of content like "how to make your own jewellery at home", you are targeting a keyword people look for in search engines.
The example keyword we are using gets 125 searches per month (according to my keyword research tool), which is not a lot but when 6 months down the line you have 50 articles targeting specific keywords, you are looking at some serious traffic.
My niche jewellery site gets about 1500 users directly from search engines and I assure you, it's enough to have a profitable online business selling jewellery.

Social Media
Every type of online business needs a social media presence and since jewellery is very visual, then I suggest you use Facebook, Instagram, and Pinterest (which are perfect) for sharing jewellery products on.
I suggest you create a free Canva.com account and create amazing graphics showing off the jewellery you are selling and watch the traffic start to roll in.
Obviously, it is not as easy as it sounds but if you do it right; social media + some SEO can be more than enough to get you started selling your jewellery (or as an affiliate).
Monetizing Your Online Jewellery Business
One guarantee that I always offer is this: If you have people reading your content, then you are guaranteed to sell something.
So how can you sell jewellery online, without having your own inventory and production?
You can become an affiliate
In short, you sell other jewellery products that others have created and you get a commission.
For the niche jewellery site I mentioned I own, (I'm in the esoteric jewellery niche), I get paid 10% on everything I sell.
Some rings go for $700 which means I make $70 instantly on 1 product without having to create it, design it, ship it, etc..
This is the beauty of affiliate marketing
If you manage to get enough visitors to your site and they buy from you, you are looking at a very profitable business.
Jewellery is an expensive and high demand item online so yes, the competition is hard but also the payout is incredible.
I have to add that I've recently stopped selling through the affiliate programme I was affiliated with and started my own store independently which runs on Amazon.
I use the Amazon Affiliate programme and use an Amazon Affiliate website builder. This makes me 6% instead of 10%, but Amazon being the great company it is with all the benefits of selling it, I find the 4% lost is worth it.
If you are interested in selling jewellery from Amazon on your site as an affiliate, I suggest you check out the AutoZon tool.
UPDATE: Since I've wrote this post, I have since stopped selling as an affiliate and I now drop ship jewellery from China to my customers around the world.
How Much Money Can You Make Selling Jewellery Online?
Honestly, the sky is the limit. There really is no set minimum of how much money you can make. Especially when there is jewellery on Amazon selling for $10,000+.
If you manage to sell just 5 of these per month, that's already $3000 per month.
Your work as an affiliate marketer is to bring in visitors using content like we've mentioned earlier and driving that traffic to the sales page of the said product.
Most jewellery companies that offer these services have a huge sales funnel in place like the immaculate Amazon sales funnel where it is designed to sell and make money.
As an affiliate, you can make use of such funnels and let them "sell" the product for you. Your job is to get them on your site, trust you enough to take your recommendations and send them on their merry way.
Affiliate Programs You Can Use To Sell (As An Affiliate)
Etsy Affiliate Program.
Blue Nile.
Kay Jewellers.
Ice.com.
Gordons Jewellers.
Luxe-Design.
You can find more jewellery affiliate programs here.
IMPORTANT: Never ever pay to become an affiliate, if a site tells you that you have to pay to be their affiliate, walk away.
*If there are other sites out there you know sell jewellery and would like to become an affiliate for them, go over to their home page and look for a link down at the very bottom titled "Affiliates" or something similar.
Before closing, I would like to give you an example of what type of "deal" you will get as an affiliate, take a look at the earning potential for earnings if you join the Luxe Designs affiliate programme.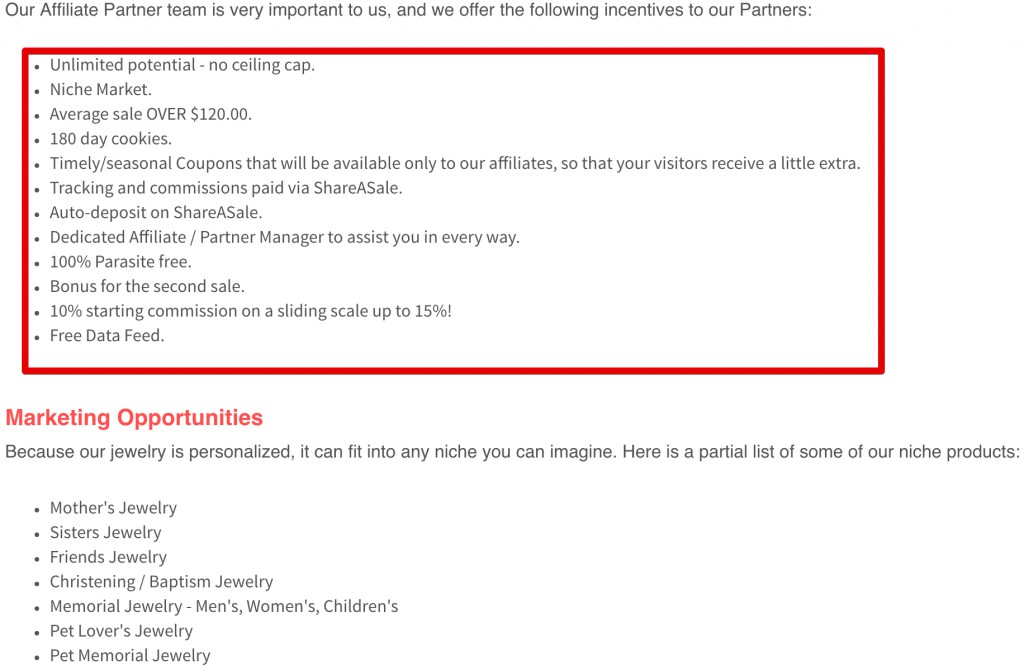 How To Sell Your Own Jewellery Online
I have not yet started selling my own jewellery yet but it is in the plans. I intend to start using Aliexpress.com to import my products and selling them through my website's store.
If you want to go that route, you can also set up shop on Amazon or on Etsy and market the products there but I still would advise you to create your own website and your own social channels.
Here are some guides on how to sell your own jewellery online:
How To Be Successful As An Affiliate Marketer Selling Anything
Affiliate marketing is a delicate art and I've only begun to scratch the surface for you today. I really hope this post has shown you a few ways of how to sell jewellery online, successfully.
If you really want to learn this business to be able to sell jewellery (or anything you wish for that matter), I would like to invite you to check out this free affiliate marketing course that I offer my readers and subscribers.
I would also like to invite you to take the time to join my email newsletter, this was I will be able to send you more online business advice and you get a one-on-one session with me.
Either way, I look forward to seeing you on the inside. I hope this post has brought you value.