One of the best ways I have found to quickly make money through affiliate marketing is by picking "small" and obscure niches that have high-paying affiliate programs.
Today, we're exploring the hunting niche, more specifically; I am going to be sharing with you 15 hunting affiliate programs that anyone in the hunting niche can use to earn a very good income selling products to hungry buyers.
If you are in an affiliate marketer in the hunting niche (whether that be you have your own website or you have an engaged social media following) then this is for you.
Using the below affiliate programs you will quickly see how you can turn your passion business into a full-time business.
Let's get into it…
1.800.Gear Affiliate Program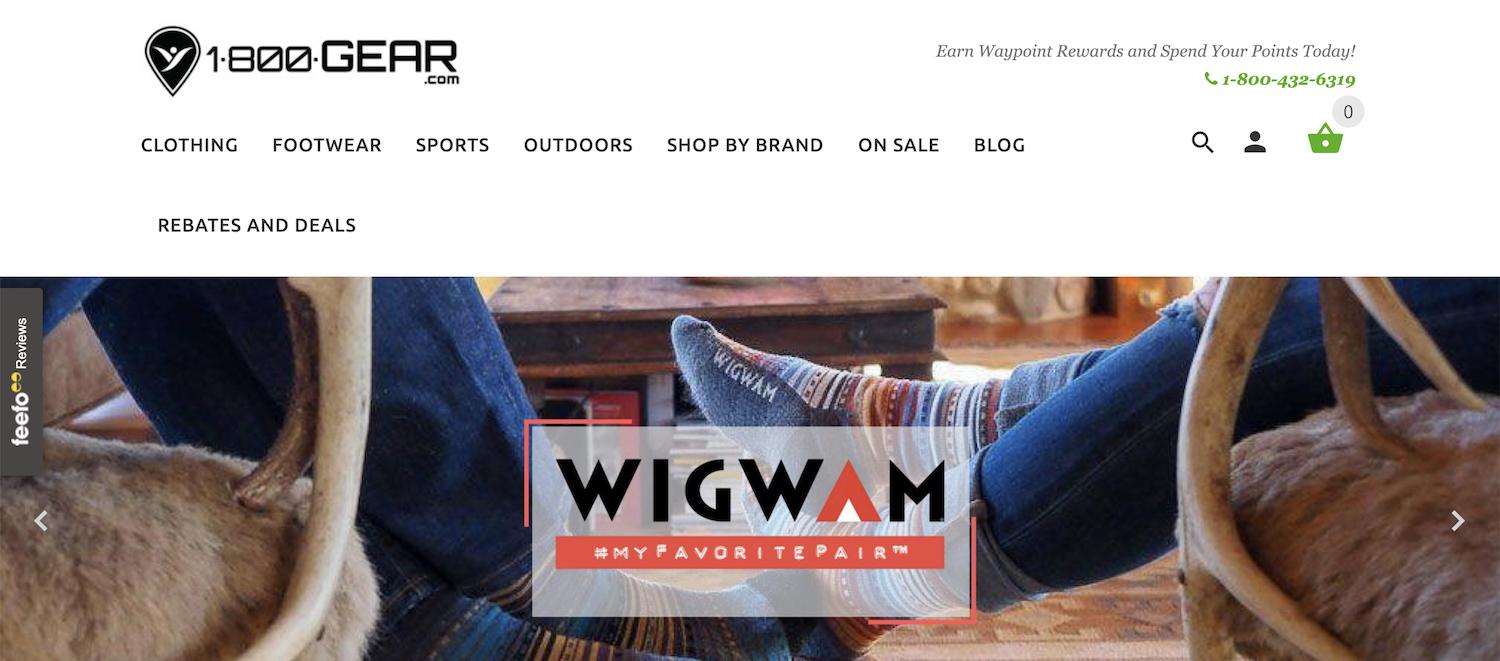 NB:
Want to see how I make money with affiliate marketing? My new book reveals my entire process, including my 4-step approach to building affiliate websites.
CLICK HERE to download my book for free
.
1.800. Gear is a wonderful place for hunters, fishermen, and adventurers. They showcase the best hunting brands in the industry on their website.
Therefore, if you have a website or blog related to hunting, you can sign up for their affiliate program and earn 10% commission on every qualified buyer.
The best thing is this isn't just a place for hunting gear. Your followers can also receive great information, knowledge, and tips about hunting.
This feature not only engages them with the website but also compels them to buy the products, over and over again.
It is a quite active brand name as well.
Unlike others, their editors update their website and product list on a constant basis. New brands and products are added to their list each week.
For that reason, you can do business with them in a long run.
Once you send your followers to their website, they influence them through how-to guides and other resources in order to turn them into buyers.
Program Highlights
It offers 10% commission rate.
60-day cookie expiration.
This website has a great product search engine.
It offers reward programs also to its customers.
It provides a robust set of affiliate tools too.
HuntSmart Affiliate Program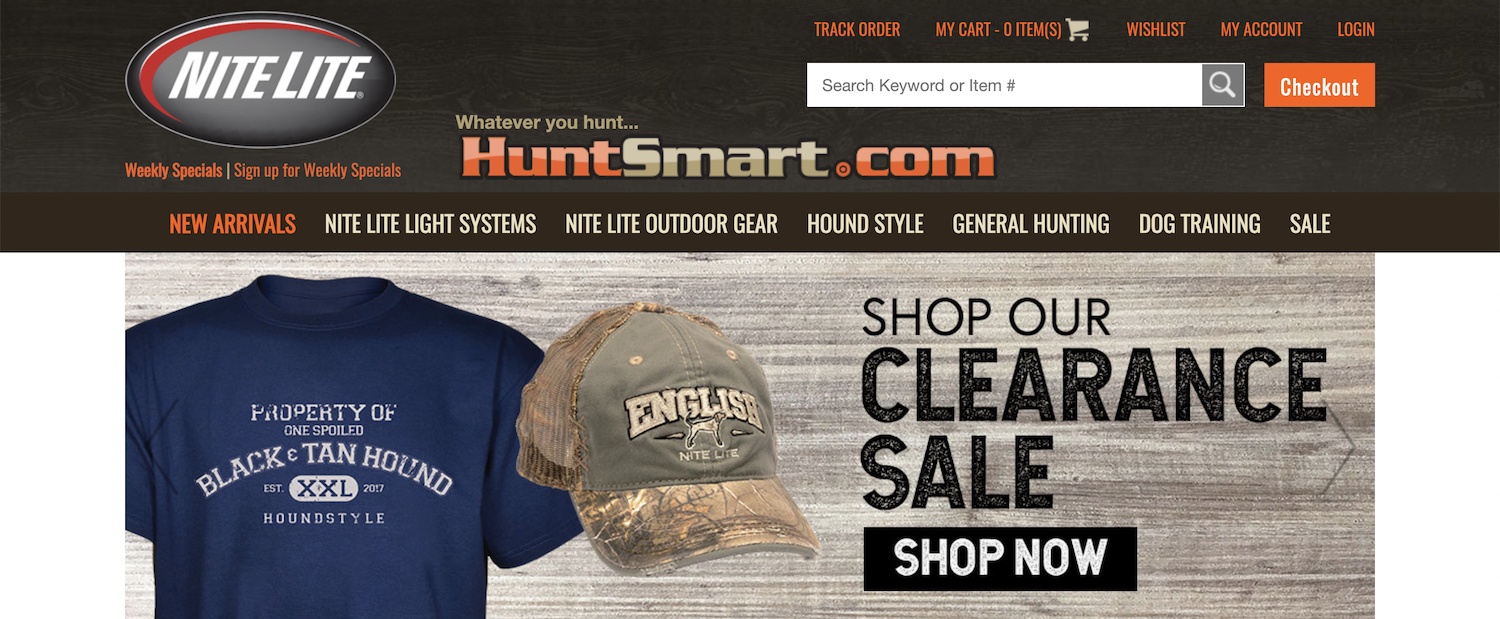 If you are looking for a website with quality hunting gear and durable outdoor appeal, choose HuntSmart.
It has hundreds of products for hunters, such as night light systems, knives, and trapping. You will find several other things in the 'General Hunting Category' too.
It allows hunters to buy special clothing and boots for their adventures and assist them with books and videos too, which are about hunting and dog training.
Before opting for their affiliate program, please bear in mind they have a separate division for their retail store location.
It is better to contact their customer support team and ask them regarding how they treat your customers locally and internationally.
Also, don't forget to ask about their affiliate program.
Unlike before, now it is pertinent to make an account on their website and ask the support team for affiliate membership.
Currently, this website offers 6% commission to its marketers, which is still better due to a wide selection of hunting essentials.
Program Highlights
It is a great store for hard to please hunters.
It offers 6% commission rates to its affiliate marketers.
It is possible to place orders by phone.
It also has a full line of dog training supplies.
You can visit their actual store in Arkansas.
Brownells Affiliate Program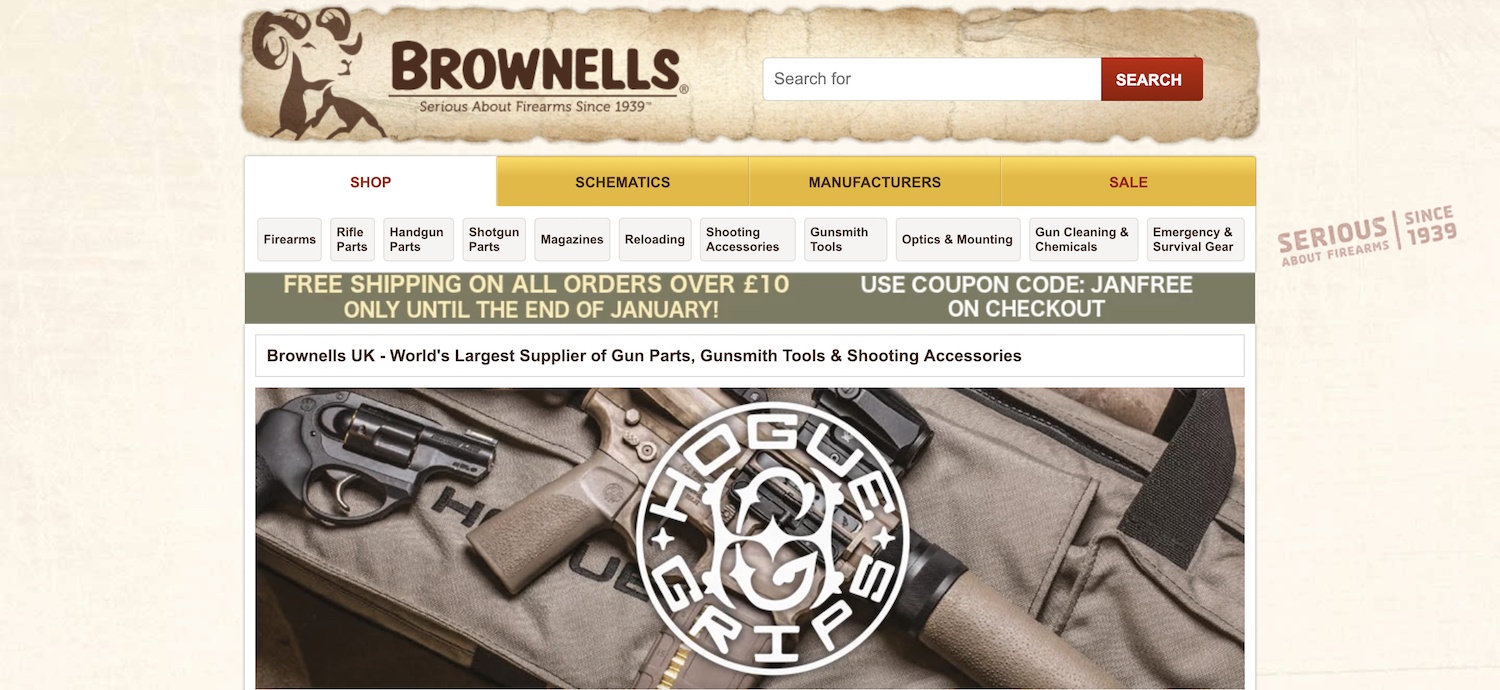 Want to take your affiliate revenues to next level?
Sign up for Brownell's affiliate program. It is one of the top-rated websites in the hunting and survival industry. Especially, in the firearm industry, they have 75 years of experience.
If we say, this website has everything for everyone, it would be 100% correct.
According to recent statistics, they have over 90,000 products from some of the top brands in the industry.
Perhaps, that's why they serve law enforcement and military organizations too. From gun parts to ammunition, survival gear to archery products, you can find everything. As a marketer, you can increase conversion and make more money easily.
In order to become an affiliate member of their program, you need to sign up through AvantLink. It is free and utterly easy too.
Brownells have associated its affiliate program with AvantLink because it offers SEO-friendly data feeds and Video Ad Tool (VAT).
Program Highlights
You receive 5% commission rate on every sale.
3-day cookie for deal sites and 14-day for content sites.
Brownells and AvantLink assist in optimizing your website.
You can monitor your marketing performance and track real-time traffic.
You can earn a paycheck every two weeks.
American Hunting Lease Association Affiliate Program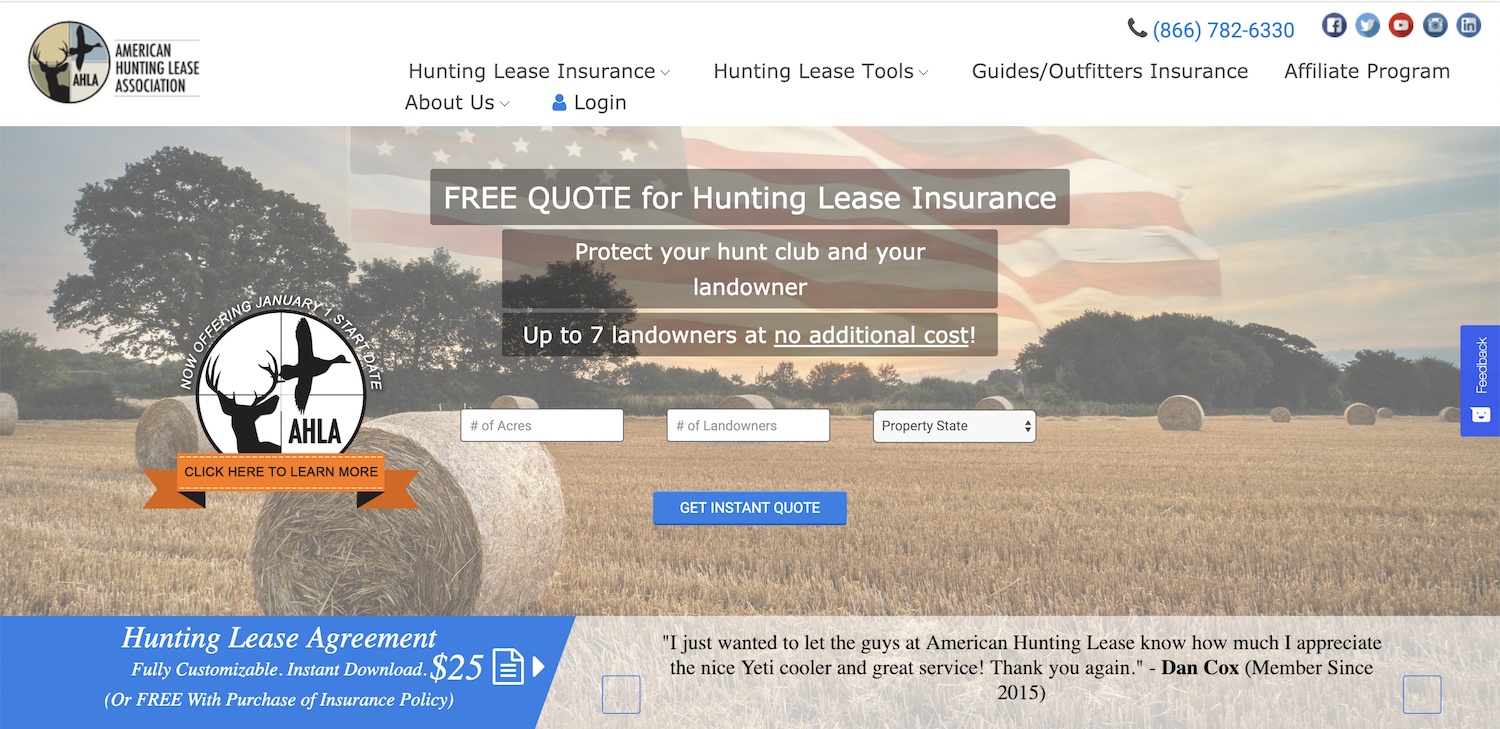 This is a hunting lease industry.
If you are dealing with some lease issue, or if your clients are having an issue with landowners, check American Hunting Lease Association.
When you purchase their hunting lease agreement, you are protected. They defend the rights of the landowners and the hunters professionally.
In other words, the relationship of the hunter or hunt club with the landowner is protected in all possible ways.
Their commission rate is a tad different than other hunting affiliate programs.
Instead of selling the products, you promote their services and earn through a referral fee which is currently $35.
If your followers will continue to sign up for their service, you will keep on earning $35 for every sign up again and again.
So, if you have connections to hunters who require lease insurance, promote this company.
Program Highlights
The commission rate of each sign up is $35.
Payment threshold is $105.
Every year as the policy renews, they pay you $35 again.
You don't have to be an insurance agent to promote this program.
They send weekly newsletters about the happening of the hunting lease industry.
The Crossbow Store Affiliate Program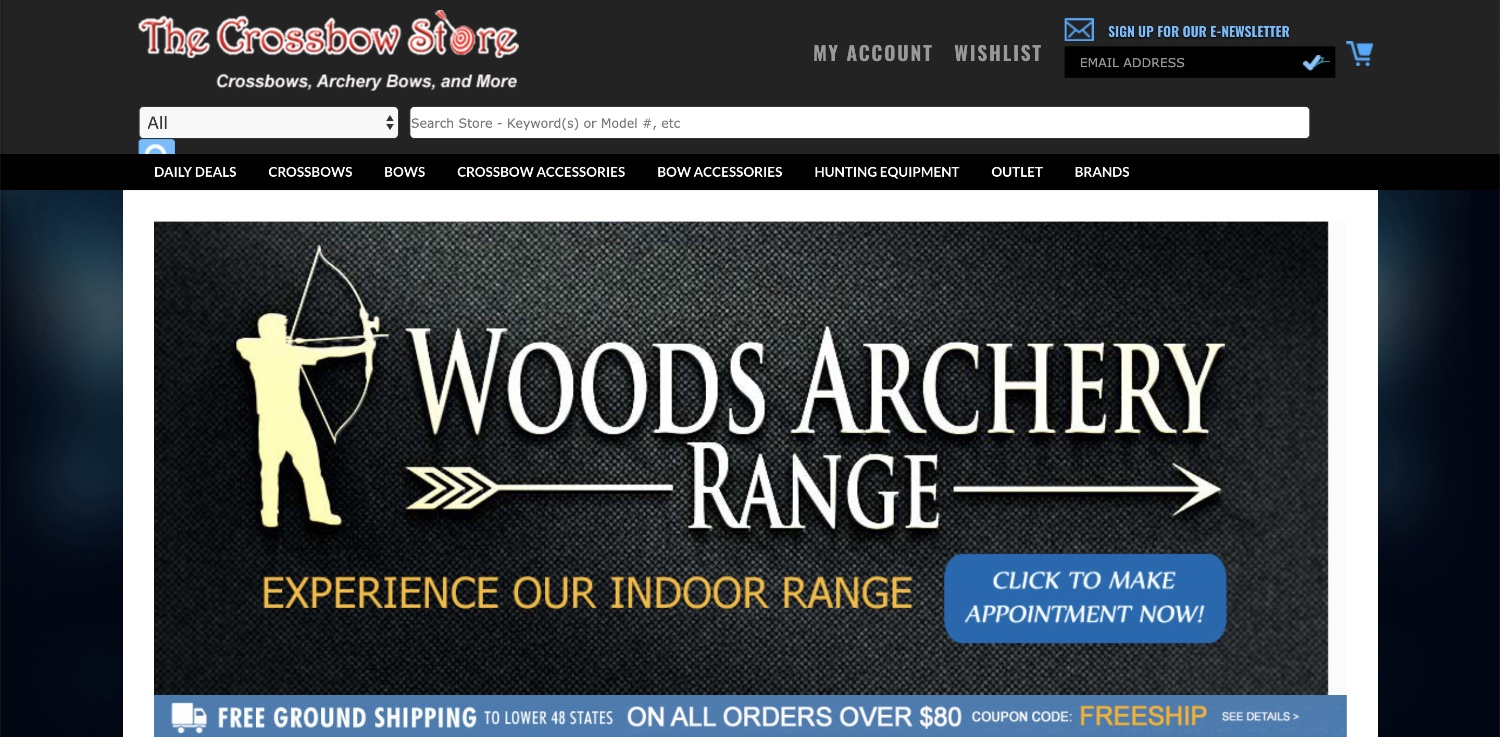 A lot of states are now legalizing crossbow hunting.
It has become a trend. That's why, today, we have a lot of crossbow hunters. If you are specifically in a crossbow niche, this store is a blessing from heaven.
It sells crossbows, crossbow arrows, crossbow accessory kit, crossbow carriers, and etc.
The thing which you would love the most as an affiliate marketer is they offer the most competitive prices in the market.
This is something which all professional marketers require. In addition, they have excellent customers service too. It would be right to say that their customer service is better than all the other hunting websites in our list.
The unique thing about their affiliate program