Welcome to my brand new updated-for-2019 crash course on how to make money as an Amazon Associate.
I am sure that Amazon doesn't need any introductions here but many still have not realized that they can literally "partner up" with the world's biggest e-commerce brand and make great money with it.
There's a lot that I want to cover in this guide – including Amazon's new commission structure – so let's jump right in and get to the good stuff.
Here's what I will be covering:
An introduction to what the Amazon Associates program
What it is and how it all works
How to become an Amazon Associate
The benefits of being an affiliate with Amazon
The best way to promote Amazon products online
How to make money as an Amazon Associate
How much money can you make and also;
I'll address a few common FAQs about it all.
Ready to get started?
LEARN HOW TO MAKE MONEY WITH THE AMAZON ASSOCIATES PROGRAM
FREE "STARTER COURSE" FOR ALL ASPIRING AMAZON ASSOCIATES - NO CREDIT CARD REQUIRED
What Is The Amazon Associates Program? (Review)
The Amazon Associates Program is the official affiliate program of the Amazon.com brand.
It also happens to be one of the most used and talked about affiliate programs out there due to all the benefits that come with partnering up with a well-known brand such as Amazon.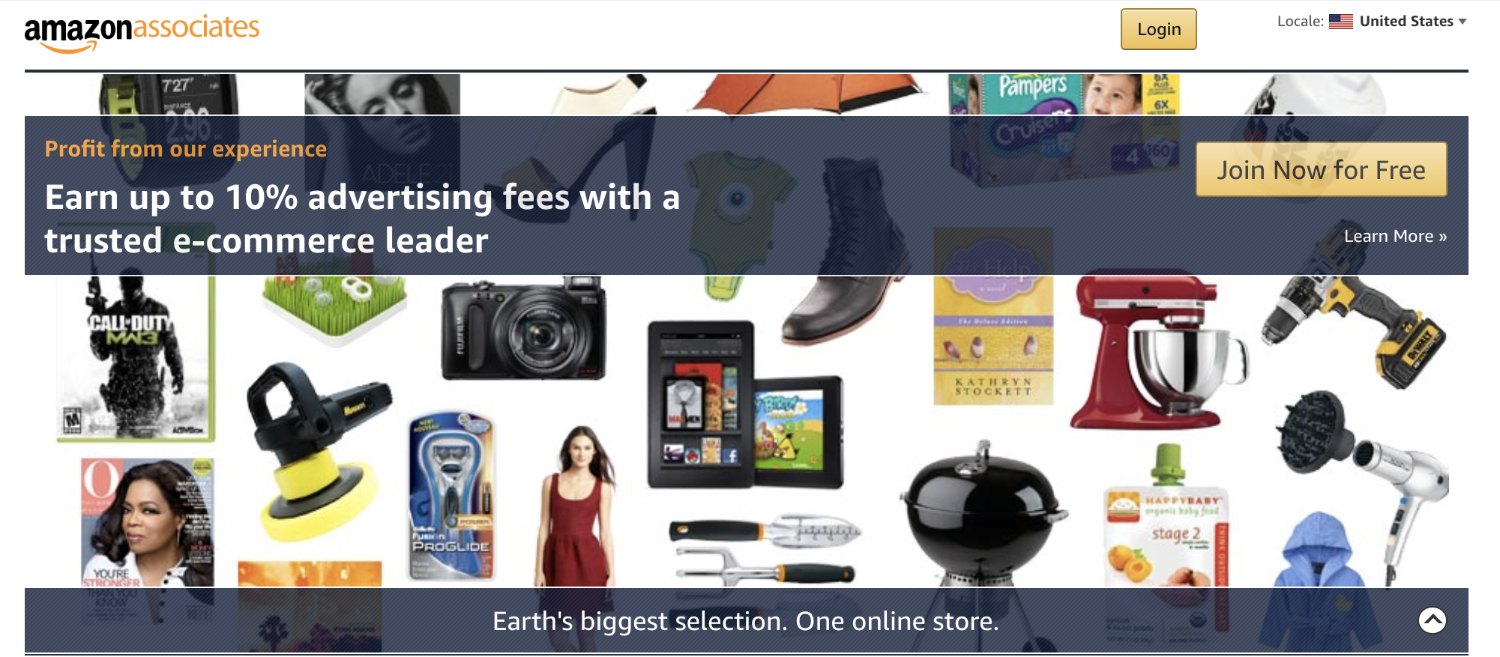 It's also very beginner friendly and many regard it as one of the best affiliate program out there for beginners – and I agree.
It may not pay the highest commissions – but the benefits of becoming an Amazon Associates will make up for that (as you will see in this guide).
How To Join The Amazon Associates Program
Just like any other affiliate program, all you need to do is head on over to the Amazon Associates page and sign up with your email address.
It's 100& free to join and as soon as you're in, you can start promoting and yes; you can even start earning money!
I will explain how that is done soon, but first; let me tell you why the Amazon Associates program is such a big deal and why it's loved by so many affiliates.
The Benefits of The Amazon Associate Program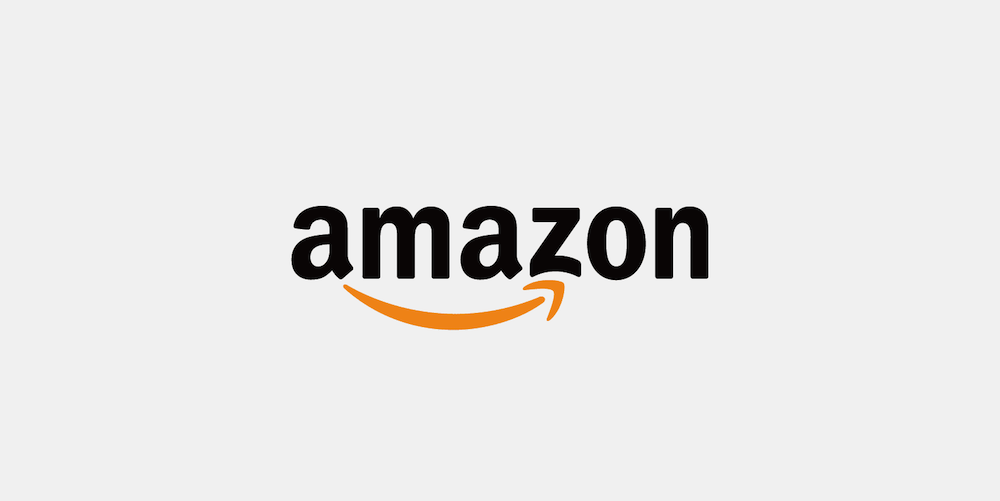 Amazon Is A Well Know (Trusted) Brand
If you've never heard of Amazon.com – I don't know what to tell you.
Everybody knows what Amazon.com is and I'm sure many have bought something from there at some point in time.
It's the most recognizable e-commerce website and it dwarfs even its closest runner-up.
As an affiliate marketer, you can (shamelessly) leverage this magnificent brand power for profit and recommend Amazon products to your readers – most of which probably already have an account currently "logged in" to the platform.
Amazon Sells – Quite Literally – Everything
If the product you want to sell is not on Amazon, then I assure you that product doesn't sell well and you'd do well to pick another product to promote & sell.
Of course, we're talking about the physical products space – when it comes to software or other such online based tools and services; you may need to look for a different affiliate program.
But, whatever physical product you want to sell – whether that be a weekly milk subscription or a $40,000 Hublot watch – you can find it (and sell it) with the Amazon Associates program.
The Amazon Sales Funnel Is The Best There Is
When it comes to marketing (offline and online), you will hear a lot about "marketing funnels" and how crucial they are to your business.
No other online marketing funnel has been perfected more than the Amazon sales funnel, which at this point I can safely assume that it has had over a billion dollars invested in it.
From the time you land on the site and take your first action, the "algorithm" will start learning about who you are and why you are there and it'll start showing you items related to that – it even goes as far as sending you a timely email with all your favourite items.
(I am sure you know what I am talking about here.)
This is the Amazon sales funnel in action and believe me; it's the best one there is.
Of course, as an Amazon Affiliate, you are free to use this incredible funnel as you please as all you have to do is send a customer to Amazon – once there; it's more than likely you the funnel will convert a customer, and you will make money.
Amazon Provides You With Everything You Need To Make Money
As their affiliate, Amazon also provides you with everything you need to successfully promote products from their website.
Once you've been approved and you're in the backend system, you will be given access to hundreds of banner, sliders and widgets you can use on your website to drive traffic and sales.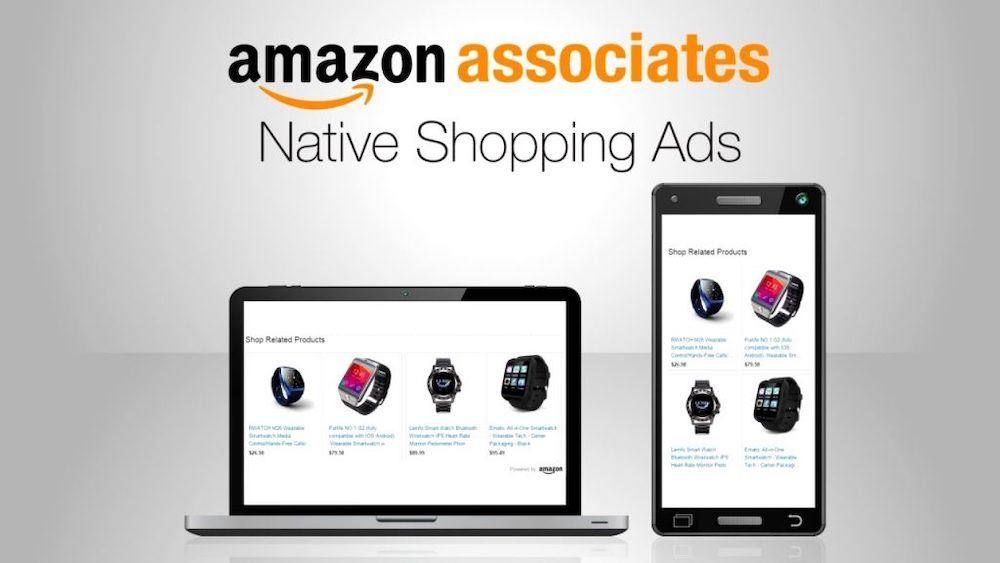 How Does The Amazon Associates Program Work?
Ok, let's start getting into the nitty-gritty stuff here;
How does it all work (& how do you make money with Amazon?)
After you registered and you officially become "an Amazon Associate", you can find products to promote.
As I said; anything on the Amazon.com website is up for grabs so you need to find the product you want to promote and find the appropriate link that goes with it.
For example, I want to promote a certain fishing rod.
Once you become an affiliate; while browsing Amazon you will also see a new "bar" at the very top.
This is called The Amazon Associates SiteStripe and you can use to get the links for the product: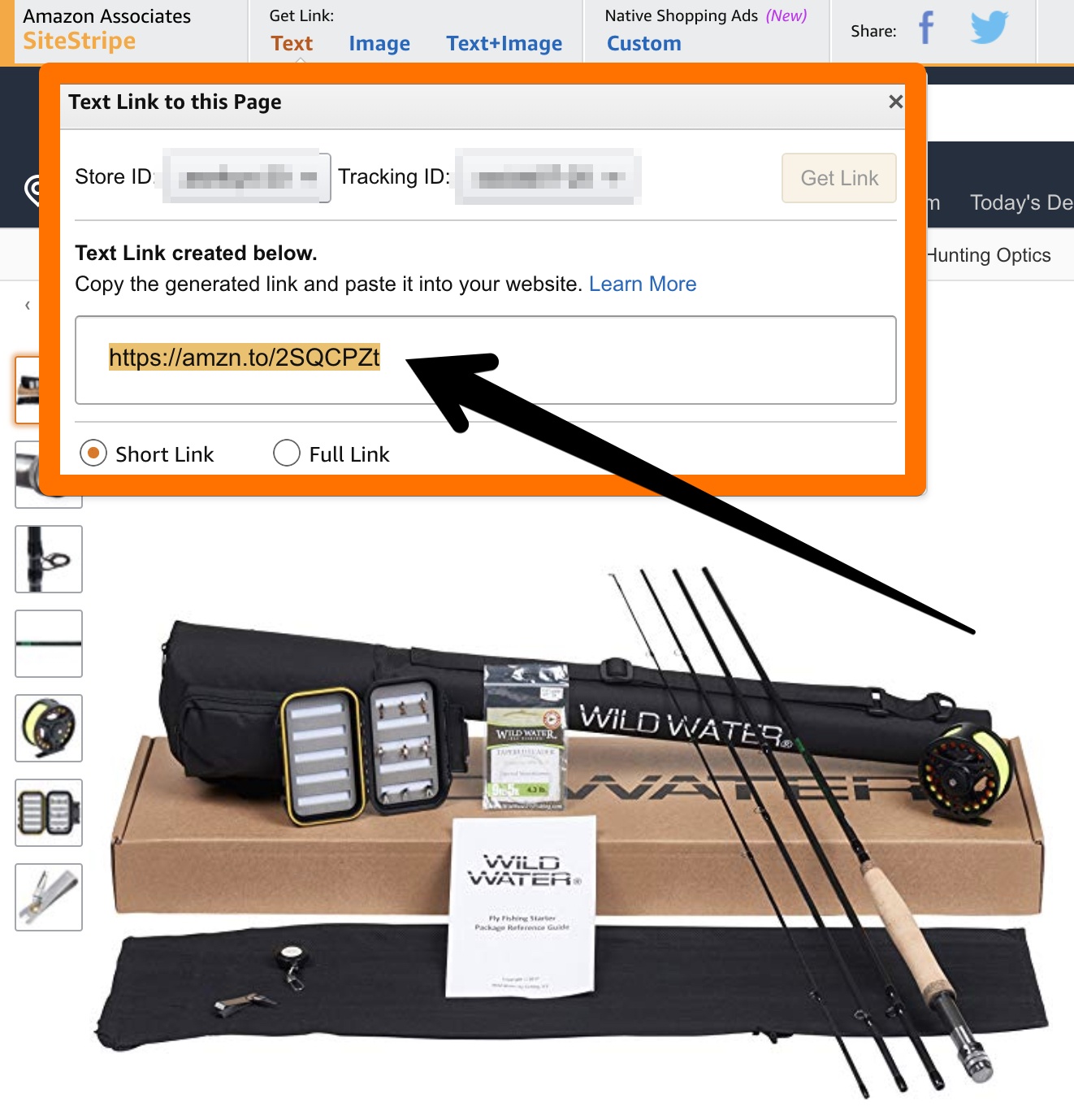 All you need to do is to "Get Link" and then use it as you wish.
There are plenty of ways you can promote Amazon products and I will talk about that next but before I do that; I must stress how important it is to grab your affiliate link.
If you do not use your affiliate link, you will not be credited for the sale!
Do not just copy paste the link from the browser as that does not include your unique affiliate ID which credit you as the affiliate.
Using the bar mentioned above is probably the quickest, safest way you can get your affiliate link but you can also find and search for a product inside the Amazon Associates dashboard.
Whatever approach you take, make sure you get the affiliate link.
If you're confused by all of this, you may want to check out my guide on how to use affiliate links.
The Best Way To Promote Amazon As An Affiliate
Let's talk about what you came here for and that is to learn how to make money as an Amazon Associate.
To be able to make money, you are going to need people clicking on those links.
The best way to do this is to build your own website – don't worry; I know it sounds intimidating but believe me; it isn't.
Nowadays a simple website can be had for free and you can get a free WordPress website (with training on how to set it up) from here if you'd like.
Ideally; you get your own website and not one that is provided for free.
This will cost you around $15 per year in domain fees and about $10 in hosting fees per month.
You absolutely need this as Amazon will ask to see your website before they approve your application to the Amazon Associates program.
Now that you have your website, it's time to start getting people on there.
The best way to do this is through social media and with Google (in other words; SEO).
I would need all day to explain all the ways you can do this but both you and I know we don't have that much time.
Would You Like A Video Guide Instead?
Starting a website and making with Amazon is best explained with a video guide. I have a free 10-day video course prepared for you which you can claim by
inserting your email address on this page
. You can watch it on your own time whenever you want.
Once you have your website set up (again; see the course on how to do that) you need to start adding affiliate links to your content so when a customer visits your site; he/she can click your affiliate link and go on Amazon to complete the purchase.
Next up, I'm going to tell you about…
The Best Way To Make Money With Amazon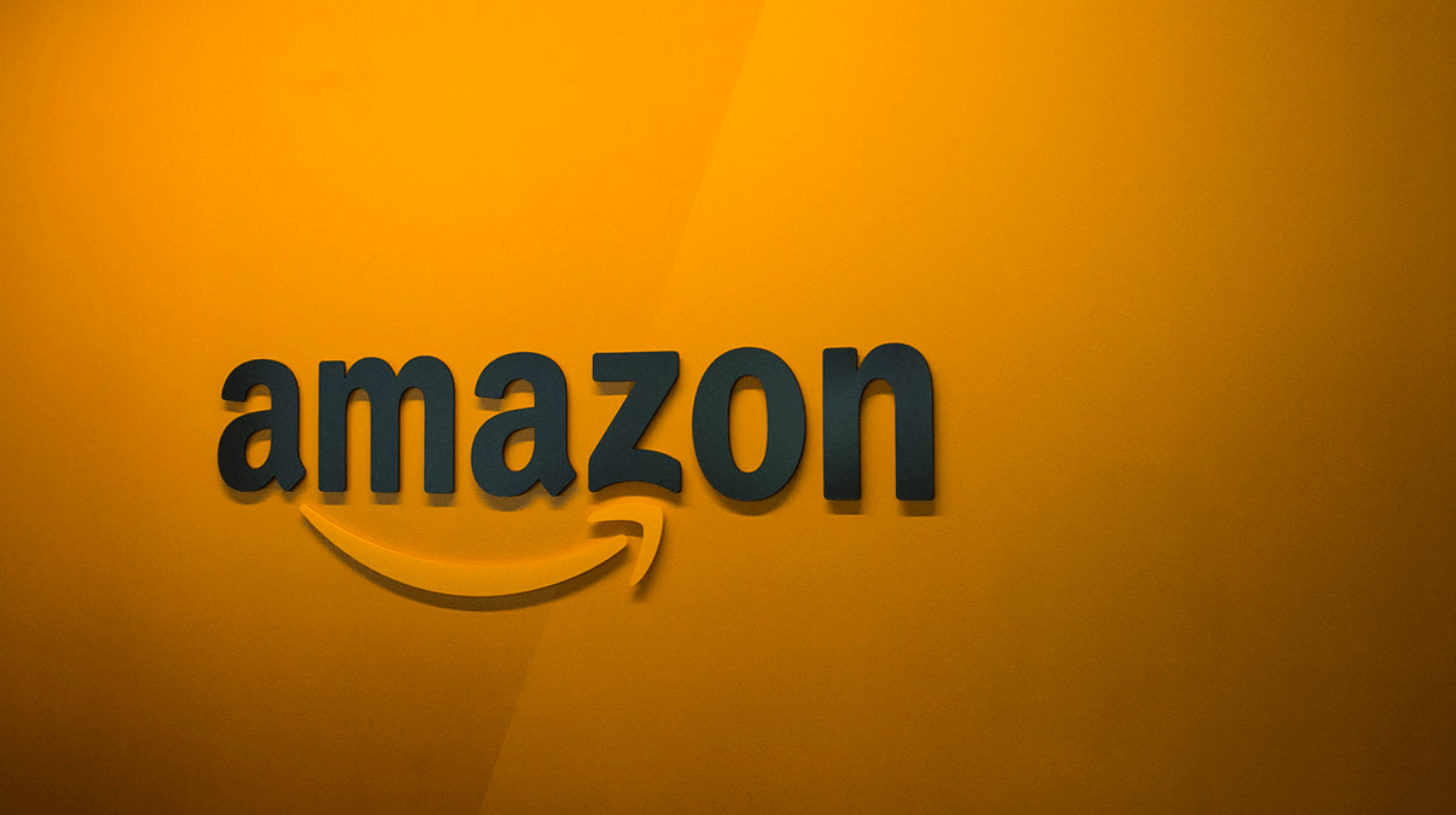 Leveraging Product Reviews
Product reviews are the best way to get traffic and to get sales. Not only do people love reading reviews before buying anything but it helps you to fully drive the point home about why you love/hate a particular product.
Now when it comes to product reviews; there's an elephant-in-the-room question everybody is afraid of;
What if you have not bought/tried the product?
I often get asked this so let me explain this to you;
I have a website that reviews smart portable air conditioners and of course; I did not buy a bunch of ACs so I can review them.
What I did is I researched a heck of a lot of information about portable ACs and I also have one at home so I know a bit about them and how they work.
I specifically mention in my reviews that I did not buy the product and I write the review after doing a tremendous amount of research on it (the customer reviews on Amazon would help here).
I try to anticipate what the person reading my review wants to know and I do all the research and answer all those questions for him/her.
This means that if it took me one hour to research and write that review, I have saved my reader an hour of research – which (almost) everyone appreciates.
Think about this as if you are helping them out – because you are. If you do a good enough job at researching a topic/product you deserve a commission off that sale!
Although writing product reviews would be the best way to go – it's not the only way and you should NOT only do product reviews.
I have a free template which you can use to create high-converting products reviews here if you're interested.
BONUS: Review Round-Up Lists

Another great way of promoting Amazon products is through roundup lists.
For example, if you're in the fishing niche, here are some titles you can use:
10 Best Fishing Rods For Fly Fishing
5 Safe Fishing Rods For Childen
20 Fishing Rods For Beach Fishing
Having a good diverse mix of promotional and informational content is the best way to go about this. I cover how to hit the sweet spot in my free "getting started course".
How Much Money Can You Make With Amazon?
Now, the funs stuff; how much can you really earn per month as an Amazon Associate?
Let's crunch some numbers…
First, we need to see how Amazon's latest commission structure is set up: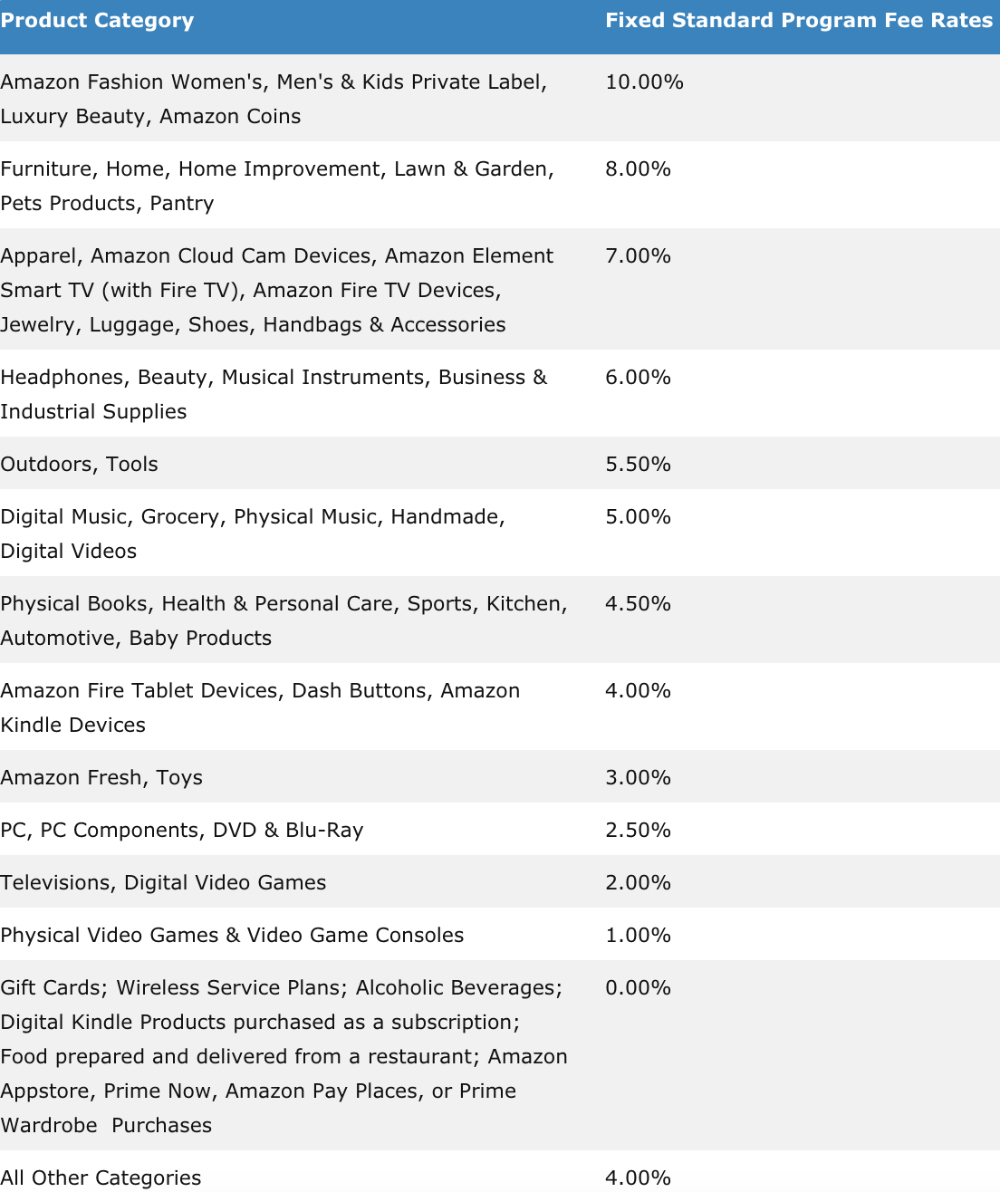 In the past, Amazon paid commissions based on sales volumes but have since changed it to a fixed rate for specific categories – (you can read more about that here).
Now, let's say you are promoting a $100 product from the 'Luxury Beauty" category which pays you 10%.
1 sale of $100 product = $10.
(It's best to sell products which are $100 or over as otherwise, it will be tough to make any significant income with it).
Now let's say your website gets 10,000 visitors a month from traffic sources such as Pinterest and SEO, which you've been slowly building.
From 10,000, you manage to convert a very modest 0.5% (which is a horrific conversion rate but that will do for now).
That will net you 50 sales, which means $500 a month in Amazon affiliate commissions.
Now let's say you get 20,000 visitors a month and you promote a $500 instead of $100?
That's $5,000 in affiliate commissions – per month!
As you can see – even though the commissions are not that great – Amazon can be quite the money maker when setup right.
Now, what if I told you that you do not have to sell the intended product to make commissions?
Let me explain…
Let's say a customer clicks through from your link to see the products you recommend and while there, he/she decides to look at some garden patio furniture.
Well, guess what?
You will earn a commission off the garden patio furniture as well.
This means that even if the customer doesn't buy your product, you can still profit if he buys any other product!
Now we've got some serious numbers!
PRO TIP: Get As Many People To Amazon As Possible
As we said, the Amazon sales funnel converts so well that if you send them people, they will quickly turn that visitor into a sale one way or the other!
This is why your goal should be to send as many people to Amazon as possible!
The more you send them, the more they will buy – even if they do not buy your intended products!
Some Amazon Associates FAQs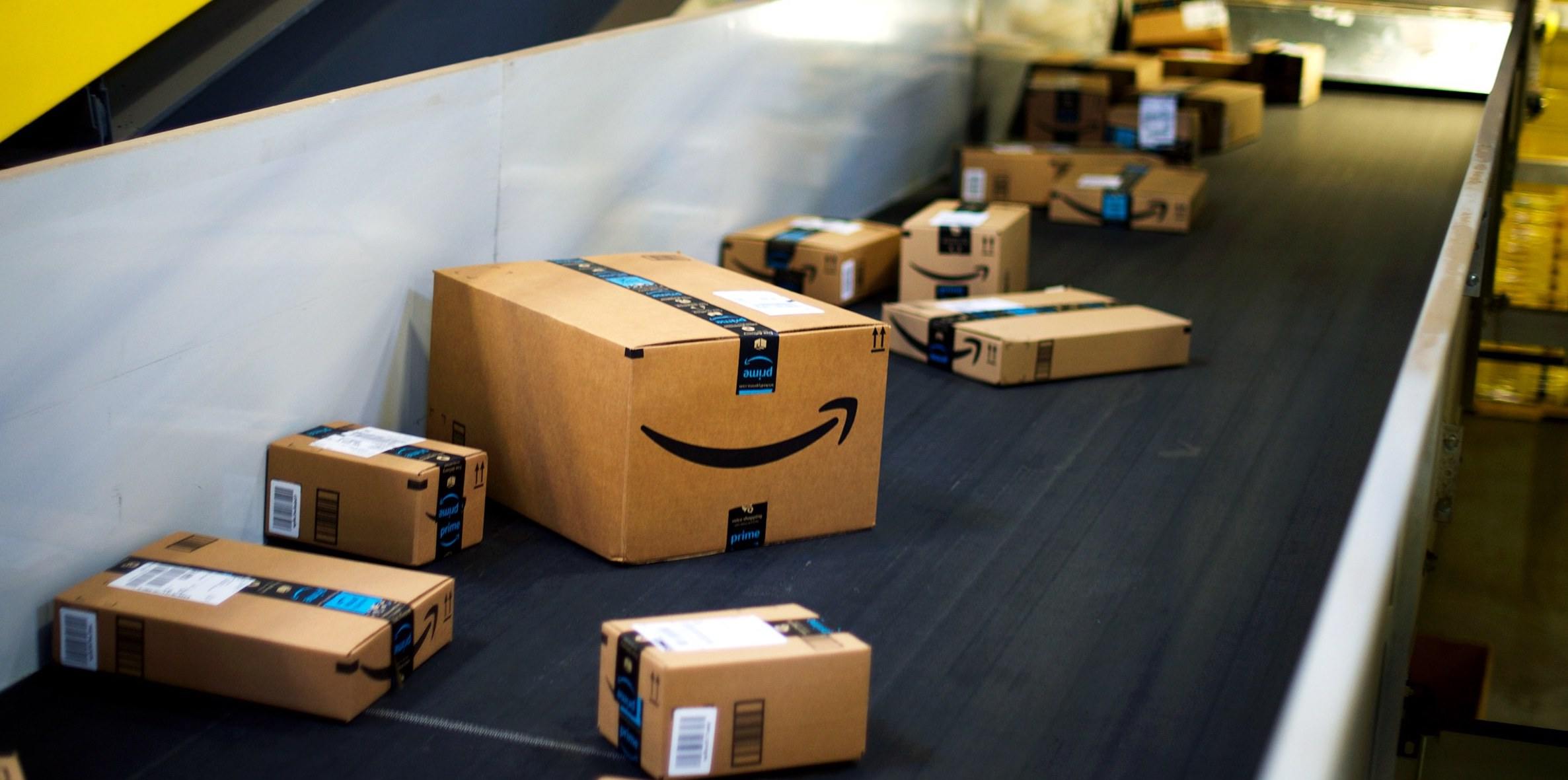 Q: Can You Become An Amazon Affiliate Without A Website?
While you can certainly get away with posting Amazon affiliate links on a few platforms (Pinterest being the safest option), you can not expect this method to last forever and if you want really want to make some serious money with Amazon; having a website is the best way to go.
Also; Amazon will require you to have a website, so yes; you are going to need one.
Q: How Long Does An Amazon Affiliate Link Last?
An Amazon affiliate link is valid for 24 hours after the clicks – which means the traffic you send can purchase within that time-window and you still get credit for it.
If the person adds a product to their Cart, you have 30 days till the link becomes "invalid."
Q: How Do You Get Paid?
Sadly; Amazon does not support PayPal payments. For any other affiliate program, this would be a deal breaker for me.
At the time of writing, you can get paid via cheques, Amazon gift cards or direct bank deposit.
My Amazon Associates Training Guide – Income Results
Before I close this off, I'd like to show you the tremendous earning potential Amazon has for all its affiliates.
When done right, you can quickly turn this into a thriving online business.
Here are some of the results being seen by students of this 10-day getting started course: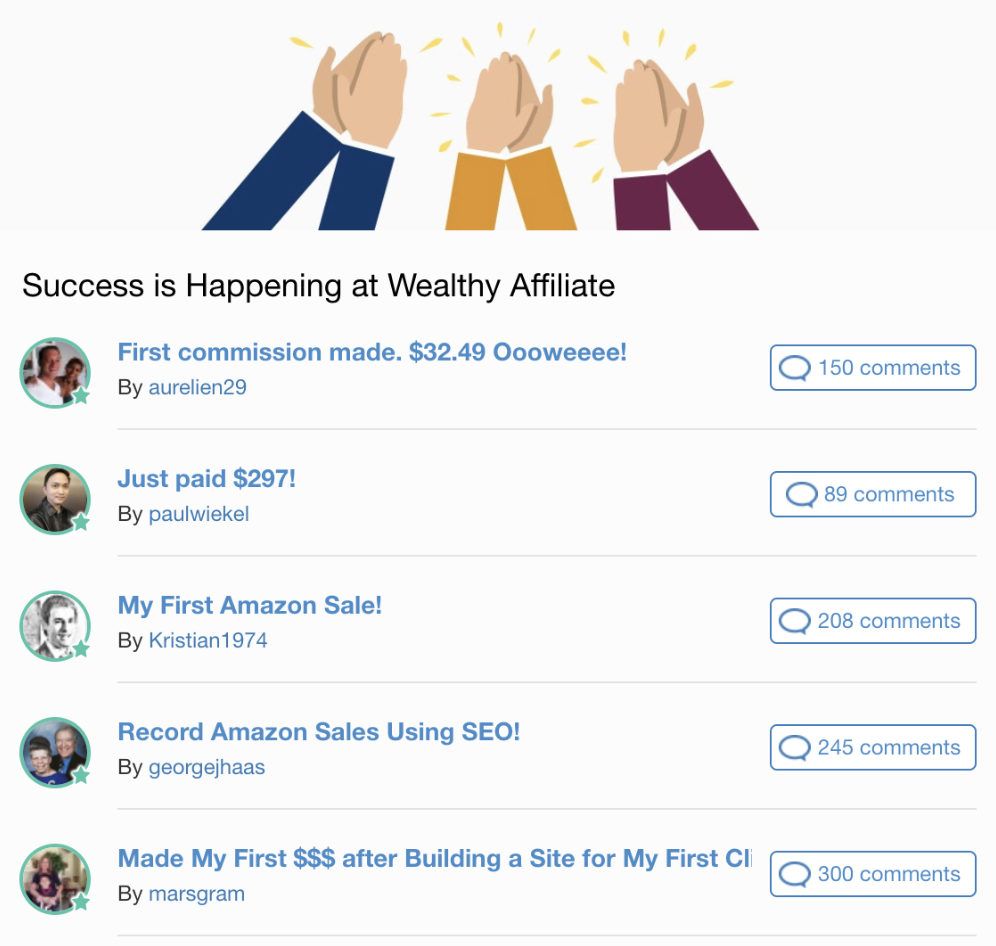 If you'd like to have the same success with Amazon as the students you see above, be sure to claim your complimentary 10-day getting started course using this link.
It will give you the foundation of what you need to make money with Amazon and I am sure that just like many others, you till will one day soon be yet-another Amazon Associates success story.
Thank you for reading, I will leave you to it.
WANT TO KNOW HOW I MAKE MONEY WITH
AFFILIATE MARKETING?
(YOU ALSO GET A 10-DAY COURSE FOR FREE WHEN YOU SIGN UP)
After signing up, you will be redirected to the course page where you need to sign up again - no credit card required, just an email will do.