What if I told you Twitter is not just about arguing about politics and how many genders are there?
I've seen brand new businesses launch from nothing and quickly turn into million dollar plus businesses and everyday people creating a full-time income online, just from using Twitter.
Of course, "just being on Twitter" and sharing links to your latest blog posts is not going to do much, but if you focus on building your engagement and slowly-but-surely growing your audience, you just might be able to make Twitter a full-time income for yourself as well.
Today, I'm doing my HypeFury review, a tool I've been using to grow some of my Twitter accounts I have for my brands and so far, the results have been phenomenal.
For this review, I will be creating a new account for a new brand I'm building and I'll be walking you through everything you need to know about this tool, but before we get to that;
Let's take a look at the TLDR summary…
Is HypeFury The Twitter Scheduler You Need?
$0 / $9 / $39
Price

Features

Customer Support
HypeFury Review: TLDR Summary
Schedule Twitter threads ✔️
Easy-to-use interface ✔️
Super support system ✔️
14-day free trial (no credit card required) ✔️
What is HypeFury?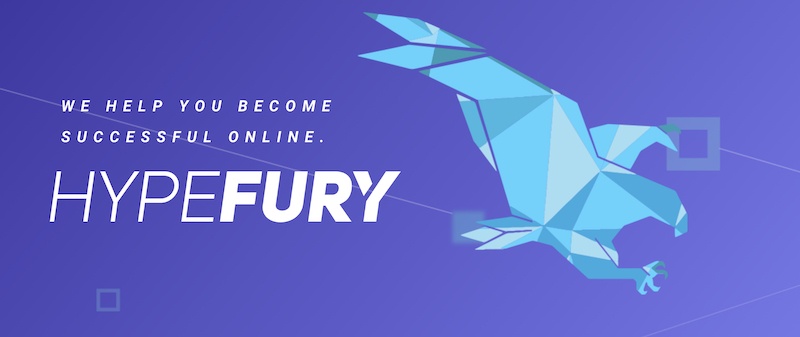 HypeFury is yet another Twitter scheduling tool, with the exception they allow you to schedule Twitter Threads (something I have never seen any other scheduler offer, although I may be wrong).
I came across this tool on my own Twitter account in the "Money Twitter" sphere and of course, seeing all my favorites accounts tweeting about it and using it, I've decided to give it a go.
Since then, I've been using this tool on two of my smaller brands and I'm very happy with the results and traction this tool has managed to create for me on Twitter.
I'm also a fan of the platform itself:
It has a clean and modern look.
It's super-easy to use – and;
They allow you a 14-day trial (more on this below)
For the sake of this review, I've decided to start fresh with a new 14-day trial on HypeFury so with that said, let me first walk you through…..
How To Get Started With HypeFury
https://www.youtube.com/watch?v=O2KgitqgOWU
If you'd like to create an account, you are obviously going to need a Twitter account. If you don't have one yet, go create one via Twitter and once your account is set up, here's what to do next…
Step 01: Visit The HypeFury Page
Whilst there, have a read through their homepage to see what it's all about.
Once you're ready, click on the "Start 14 Day Trial" which will take you to the next page.
Step 02: Sign In With Twitter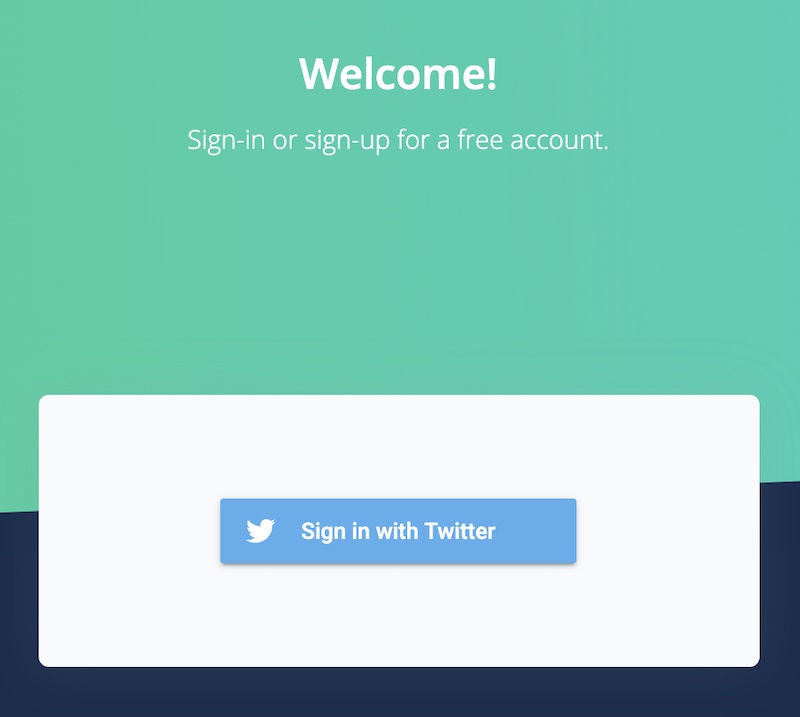 To my knowledge, this is the only way you can create an account on HypeFury. Be sure to connect the account you want to use on HypeFury.
Step 03: Authorize HypeFury To Use Your Account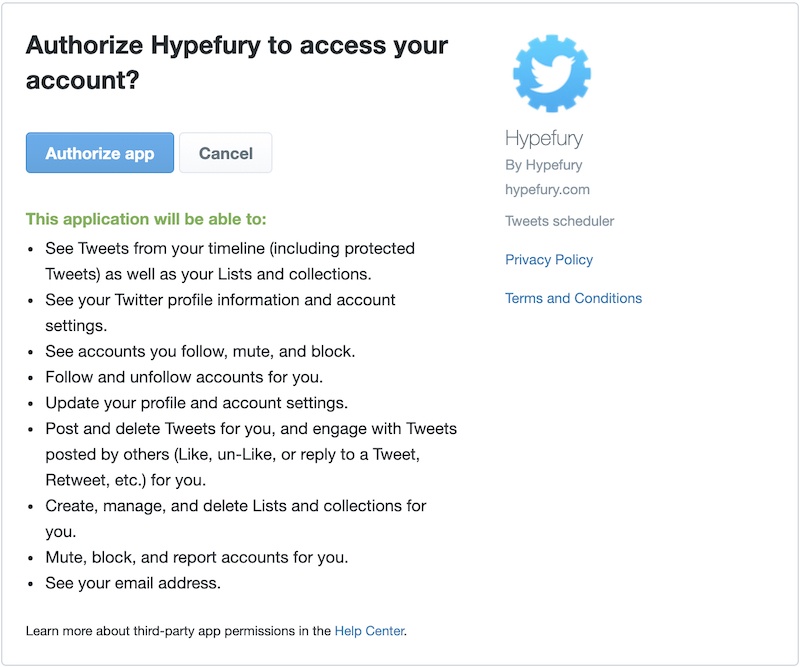 This is a must, and I'm sure you've probably done this before. Granting access to HypeFury will allow the software to post the scheduled tweets (more on this later).
Step 04: Fill Out Your Details

The next page you'll be met with is to simply confirm your timezone and also your email address. If you want to use the email address associated with your Twitter account, you can leave the default but you can also change it to some other email you want to use.
Step 05: That's it…
You're in! You've created your HypeFury account and your screen should load up with your timeline, which should be empty: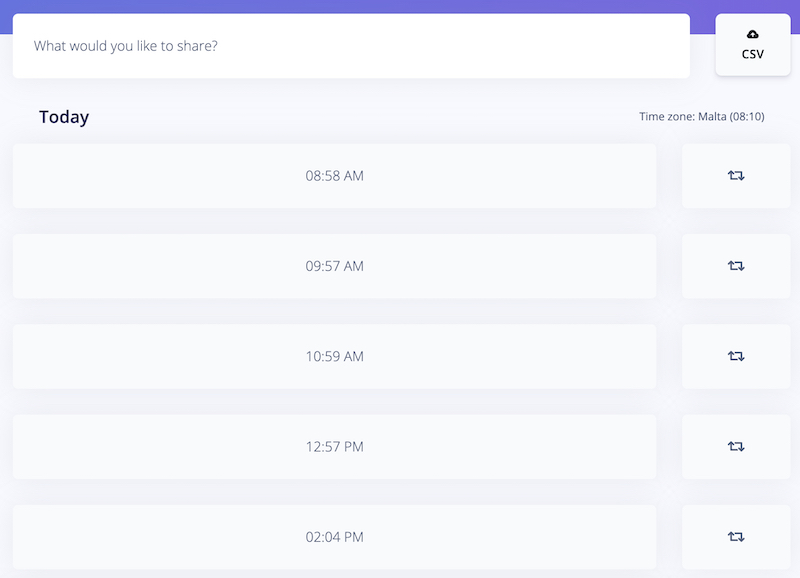 Exploring The HypeFury Dashboard (What You Need To Know)
Once you've set up your HypeFury account and you're in your dashboard, to your left you will see a sidebar with some information.
Here's what all of that means to you:
Followers/Following: This widget is self-explanatory, it shows your followers and your followers on Twitter.
Queue: The queue shows all the scheduled tweets and threads you have coming up, by date and time. We'll talk more about how to schedule tweets below (it's super easy).
Evergreen Posts: Once you start publishing, you may want to mark some of your tweets as "evergreen posts". What this does is it tells HypeFury to keep re-posting the tweet whenever you have an empty slot in the queue. This is extremely helpful if you want to have an offer or a CTA which keeps getting shared over and over again.
Composer: The composer allows you to create tweets, but not publish them yet. In other words, these are your "draft" tweets.
History: This shows you the tweets you've been publishing. If you had an active Twitter account, the tweets you already have will also show up in your "history" and you can also mark them as "evergreen posts".
HypeFury School: The HypeFury School is a collection of courses from Money Twitter heavy hitters such as Ed Latimore and Ryan Felman. These courses show you how you can grow a Twitter audience (and business) by creating an engaged following on Twitter. I have not yet tried any of these courses so I won't comment on whether they are worth the investment, or not.
Request A Feature: HypeFury is a brand new company (at the time of writing of this review, this tool is just a few months old) so there's a lot of work happening behind the scenes. This feature allows you to see you what updates are coming to HypeFury in the coming days/weeks.
How To Schedule Twitter Threads With HypeFury

Right, let's get into the fun part and what you will mostly be doing once you've set up your account, scheduling tweets!
To do this, you need to either go to the Queue dashboard, or you can use the Composer to draft up Tweets to work on later.
All you need to do when you have a tweet is to simply click on the "what would you like to share?" element and it will reveal a window where you type your tweet. That's all there is to it.
Once you're happy with your tweet, simply click "add to queue" or 'save as draft".
However, one of HypeFury's biggest selling point (and also partly why I've decided to check it out) is the fact you can schedule threads.
To do this, you simply grab a text and copy/paste it on the "what would you like to share?" text pop up. You can also type out the entire Twitter thread one tweet at a time.
It will divide the entire text into as many tweets as needed and you can then hit the "add to queue" button and that's it, your Twitter thread has been scheduled and it'll be published in due time.
That's all there is to using HypeFury.
It's a simple tool, with a clean, modern and intuitive interface and I am sure you will love using this tool once you get used to using it. Of course, if you're trying to use Twitter to grow an audience, this tool will help save you countless hours of scheduling and typing out threads.
One way I have been using the scheduled-thread feature is by grabbing blocks of tests from published blog posts and then creating a thread out of it, which so far has been working well.
How Much Does HypeFury Cost?
At the time of writing, HypeFury is offering any new user a 14-day trial, which you can claim from right here.
After your 14-day trial is up – and you're happy with your experience, you can switch over to one of HypeFury's premium plans which will allow you to keep using it and all the wonderful features it offers. These plans are:
The Standard Junior (for accounts with a small following) – $9 p/month
The Premium Plan – $39p/month
You can learn more about the differences between the price plans here, or you can also see the screenshot below: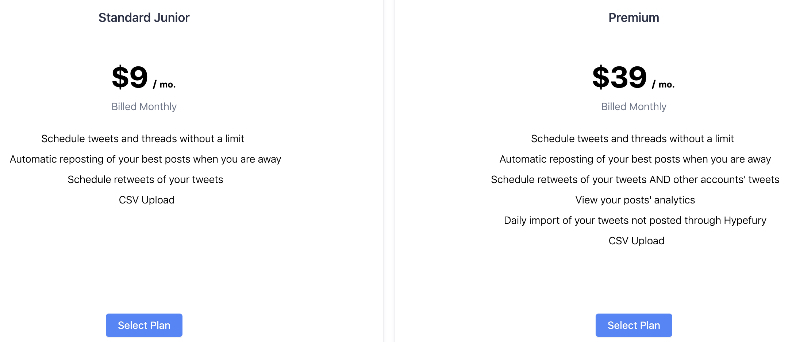 What's good to note here is that as a premium subscriber, you also get a shoutout on the HypeFury Supporters page, which will link to your Twitter account.
HypeFury Review: Final Verdict!
So that's it for my Hypefury review. Overall I've enjoyed using this tool, the support team is also super helpful and I'm glad to be one of the first users of it.
I look forward to seeing it become a "top dog" in the social media schedulers business and who knows, maybe one day they will expand to other platforms as well.
It's a great tool to use to grow your Twitter account and I'm sure you're going to love using it.