I don't know if you've heard, but "weed companies" with publicly traded stocks are soaring.
This tells me weed is now an industry with a force and there are plenty of people (companies) in the marijuana industry who are making some serious money.
Not that weed is semi-legal, we're also seeing a lot of online businesses show up online and of course; there are plenty of marijuana affiliate programs that are popping up as well.
I've already covered a list of CBD affiliate programs and after seeing how well that post is doing, I decided to dive a little bit deeper here and bring forth a list of high-paying marijuana affiliate programs you can use to make money online as a cannabis affiliate.
If you're brand new to affiliate marketing, but still want to take advantage of this opportunity, read all the way to the bottom as I will also show you how to get started as a cannabis/weed affiliate.
Let's get started…
WANT TO KNOW HOW I MAKE MONEY WITH
AFFILIATE MARKETING?
(YOU ALSO GET A 10-DAY COURSE FOR FREE WHEN YOU SIGN UP)
After signing up, you will be redirected to the course page where you need to sign up again - no credit card required, just an email will do.
Sol CBD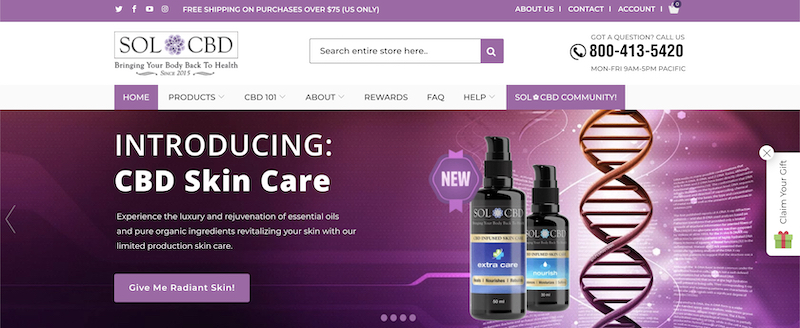 Sol Cbd is a small, family-run operation that sells hemp-derived wellness products and educates people about CBD and its health benefits.
On their website you can find hemp-derived food supplements, capsules, tinctures for both yourself and your pet, balms, and skincare.
They have testing documentation to support their products and their products are also legal in the US and most countries around the world.
They are partners with RevOffers that manage their affiliate program and offer a generous commission for their affiliates.
However, there is a catch. They seek ambassadors with an authority presence in health, wellness, diet and other niches from where their followers would benefit from their wellness products.
As an affiliate, you can earn up to 20% commission within their Ambassador program. Plus 15% on all auto-ship customers.
They offer a lifetime cookie window which allows you to make residual sales and will provide their affiliates with landing pages, email, and advertising creatives to help them sell more products.
So if you think you have the platform, Sol CBD is definitely worth checking out.
Commission: 20% plus 15% on all auto-ship customers.
Cookie: Lifetime
Vape Bright

Vape Bright is an organic CBD vape oil company that prides themselves with using high-quality oils with no chemical fillers.
They are against diluting CBD with propylene glycol or vegetable glycerin and they believe that these chemical fillers can raise health concerns while causing consumers to inhale extreme amount of puffs in order to get an effective dose.
Vape Bright uses MCT oil, which is a healthier and more potent alternative instead.
They have also created a potent delivery device that offers users great-tasting CBD per inhalation, without the unwanted carrier liquids.
Vape Bright have partnered with RevOffers to manage their affiliate program and their affiliates can promote their products via their websites, blogs, or social media accounts in order to earn commission.
Their affiliates can earn 25% revenue share on the order total and are given a 10% coupon in order to incentivize their traffic and double the conversion.
Commission: 20%
Affiliate Coupons: 10%
Cookie: 90 days
How To Grow Weed 420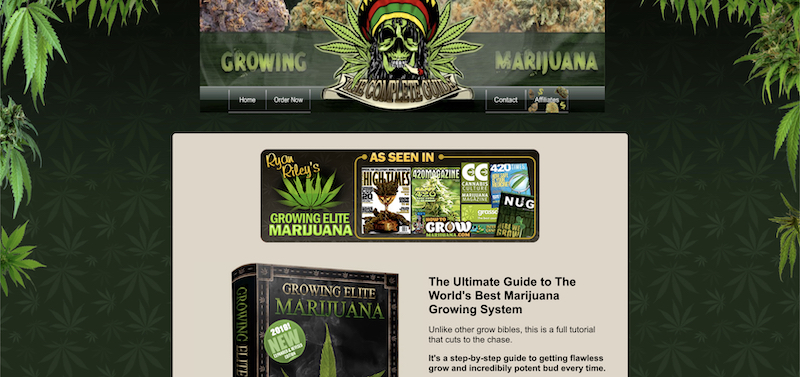 How To Grow Weed 420 is a website that sells eBooks, memberships, courses, and step-by-step guides on growing marijuana.
Their courses contain full tutorials that are packed with valuable information on how to get a flawless grow and incredibly potent bud each time.
They break down every process in order, explaining exactly what you need to do to successfully grow marijuana and cover everything from seeds, strains, lighting, soil, and harvesting.
Their books and courses are based on combining over 20 years of growing premium medicinal marijuana knowledge all neatly packed in their comprehensive guides.
How To Grow Weed 420 has an affiliate program that is managed through iDevAffiliateSoftware, one of the most trusted online affiliate management service providers.
iDevAffiliate Software offers their affiliates a secure, accurate, and live tracking, so you can see exactly where your traffic and sales are coming from.
As an affiliate, you will also be provided with lots of marketing materials that you can promote via your websites, blogs, or social made and achieve sales.
They offer a generous 57% commission for each sale you deliver which comes down to about $32 per sale.
Commission: 57% (About $32/sale)
Cookie: 365 days
Seedsman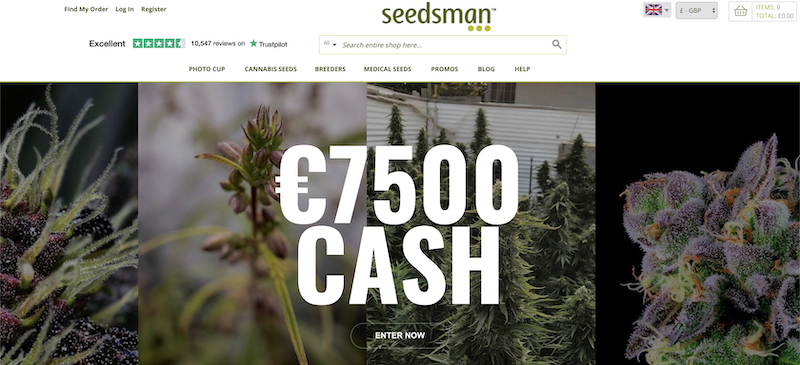 Seedsman is a Spanish website that sells high-quality medical grade cannabis seeds that help relieve anxiety, depression, chronic migraines, and many other medical conditions.
They have a vast range of seeds that are neatly sorted in different sections on their website where their customers can choose between variety, cultivation, strain and flowering type, as well as their range of award-winning seeds.
Seedsman offers a wide range of payment options including credit card, cash, Bitcoin, and bank transfer.
Their company aims to help preserve cannabis genetics for future generations whilst promoting the need to control and regulate cannabis under a legal framework.
They also believe that cannabis would be safer under legal regulation as it would be easier to impose age restricions, control potency and quality, and take earnings away from criminal gangs and illegal growth and selling of cannabis.
Seedsman donates a generous percentage of their company's profit on helping to promote the need for legal change within the UK and around the globe.
They do this by attending cannabis trade shows and conferences as well as supporting political lobbying organisations and charities.
If you want to be a part of the change and contribute to the legalization of high-quality, recreational, and medical grade cannabis, you can now become affiliated with Seedsman and promote their company and products on your websites, blogs, or social media accounts.
They have an in-house managed affiliate program and offer a number of banner ads and text links their affiliates can choose to advertise.
Affiliates earn 15% commission of any sale made through your referral and 5% of sales made through your subaffiliates.
Commission: 15% on any sale made through your referral
5% of sales made through your subaffiliates
Cookie: 60 days
Weed Seed Shop

Weed Seed Shop is an Amsterdam based shop with an extensive cannabis seed catalogue. They started back in 2004 only selling their seeds locally through their website.
However, they have since grown in a respected company that sells their seeds and CBD products to customers across Europe.
They have an affiliate program that allows you access to their "members only" area, where you can track your traffic reports and earning in real time.
Weed Seed Shop send their affiliates a monthly email containing their commission report as well as occasional emails that include merchandising tips, site news, special offers for their products, and updates on changing policies of their affiliate program.
Every package of seeds sold through your referral will earn you 30% commission as well as 5% commission on all other products.
You will get paid on a monthly basis by bank transfer with the minimum payout amount being €100.
Commission: 30% on each package of seeds
5% on all other products
Cookie: 14 days
Sensi Seeds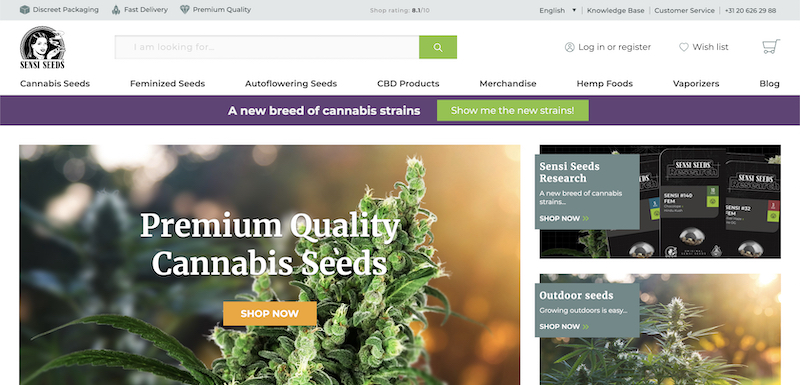 Sensi Seeds is a true pioneer in the cannabis seed industry and they have been around the block since 1985. Originally founded in Amsterdam, they now boast an admirable catalogue of over 500 strains.
They are also chosen by the Dutch government to be the main supplier of genetics for the medical cannabis industry in Holland.
Sensi Seeds is one of the major contributors to the awareness and acceptance of the benefits of cannabis and regularly host the Cannabis Culture Awards.
On their website, you can find everything from cannabis seeds, merchandise, hemp foods, and vaporizers. They also have a blog section where they educate their readers on the benefits of cannabis and different types of cannabis seeds.
Truly a worldwide company, Sensi Seeds has redesigned the hemp industry and created positive change in the world of cannabis. They also ship their goods in most countries in Europe.
Sensi Seed Bank uses state of the art affiliate software to manage their affiliate program. It is free to join and it allows you to accurately track reports of referral sales in real time.
As an affiliate, you will earn 20% commission in referral fees and can increase commissions up to 30%, depending on the volume of sales you generate.
Commission: 20%
Best performing affiliates can earn up to 30% commission
Cookie window: 14 days
Hemp Bombs

Hemp Bombs is a longtime leader in the online CBD game, with one of the largest selections of CBD and hemp-based products on the market.
Their potent CBD gummies not only taste delicious, they are also one of the most popular items in the online CBD game.
Besides that, they also sell CBD capsules, e-liquids, and oils.
They have an in-house managed affiliate program and they are welcoming affiliates to promote their website and products through their online platforms such as websites, blogs, or social media in order to earn commissions.
Once approved, you will be given your unique affiliate link and will gain access to their dashboard where you can track your statistics, referrals, visits, and commissions in real-time.
You will also have access to create banner ads and links to promote on your platform and drive more sales.
As an affiliate, you will earn 20% commission for direct sales via your link and additional 5% through sales from affiliates you referred.
Commission: 20% for direct sales
5% through sales through affiliates you referred
Payments are issued through PayPal accounts on a weekly basis
Cookie: 30 days
Not Pot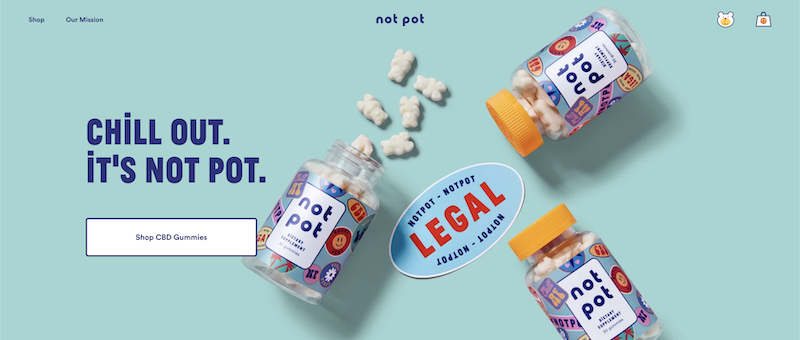 Not Pot is a website that sells clinical strength CBD gummies that are non-psychoactive and tested by scientists, medical doctors, and universities at the forefront of medical cannabis research.
Not only are their white polar bear gummies delicious and infused with natural strawberry flavour, they are also free of THC, so you don't have to worry about getting high or failing a drug test.
Aside from making CBD gummies, Not Pot proudly support The Bail Project, which is a non-profit organisation designed to combat mass incarceration with a revolving national bail fund.
Every month they work with this project to fight criminal injustice and pay the bail of people in need.
Not Pot has partnered with ShareASale to manage their affiliate program and their affiliates can promote their gummy bears via their online platforms and earn commissions.
Affiliates can earn 20% commission and in addition, they receive regular updates on new products as well as access to high-resolution images to use on their websites, blogs, or social media accounts.
Commission: 20%
Cookie: 30 days
Taiga CBD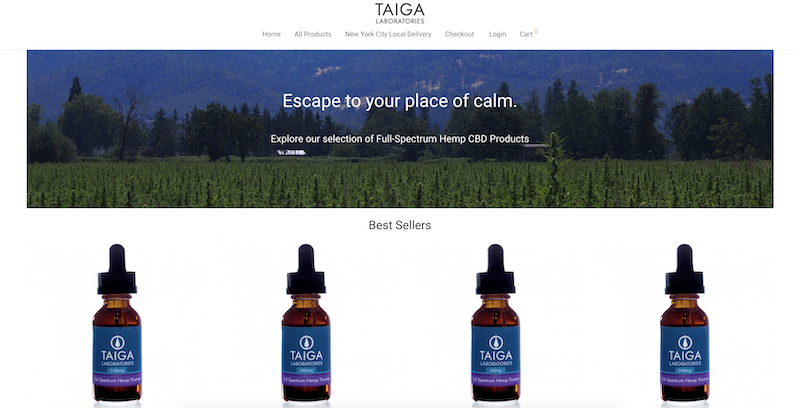 Taiga Laboratories is a team of scientists and cannabis experts passionate about creating high-quality products that are pure and effective.
Located in California and Oregon, they are currently on the front lines of oil production innovation.
Their oils are manufactured from industrial hemp strains bred in Oregon and extracted by using rigorous processes in order to deliver quality.
Their products contain a negligible amount of THC (less than 0.3%) which is compliant with US laws.
Taiga Laboratories have partnered with iDevAffiliate to manage their affiliate program and supply their affiliates with a range of banner ads and text links that can be promoted through their online platforms.
Affiliates can earn 20% commissions for each sale they deliver to their website.
Commission: 20%
Minimum payout: $100
Payments are made once per month
Cookie: 90 days
Green CulturED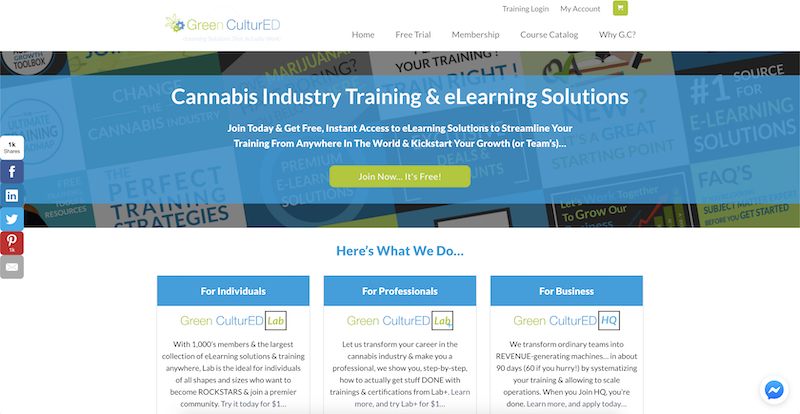 Whether you are a business owner or cannabis connoisseur looking for a job within the growing industry, Green CulturED is an online source that offers a variety of certifications and training strategies related to the cannabis industry.
They offer a number of different courses designed to inform, excite, and educate those who are looking to learn all about cannabis marketing and trends through.
They have their own affiliate program managed by their professional trainers who are cannabis experts that guarantee their participant receive the most accurate and up to date information on the market.
Green CulturED provides a generous 60% commission for all registered ambassadors who market and advertise their educational training programs.
Their affiliates are provided with creative marketing materials, banner ads, and text links that they can place and advertise on their online platforms and have real-time access to track their analytics and sales.
Commission: 60%
Cookie: 365 days
Can You Make Money In The Marijuana Niche?
As you can see, most of the above-mentioned marijuana affiliate programs offer a double-digit commission rate, which is fantastic considering most are in the "physical products" space.
If you have (or can build) an audience of marijuana enthusiasts and you present them with a suitable offer, I'm pretty sure you will be able to covert enough readers into customers and thus profit.
The best way to do it, in my opinion, is through a blog/website;
You need to build a website (this is a must)
Create, publish and rank content in the search engines
Get high-quality traffic to your website and then;
Analyze the conversion rate and see how much money you can make.
It's easier-said-than-done I know, but affiliate marketing is not easy. However, if you can do it, I have no doubt that the marijuana/cannabis niche online can only grow from here so if you have an interest in this niche, and you want to make money as a weed affiliate; it's time you start taking this seriously.
But how do you get started?
How To Get Started As Weed/Marijuana Affiliate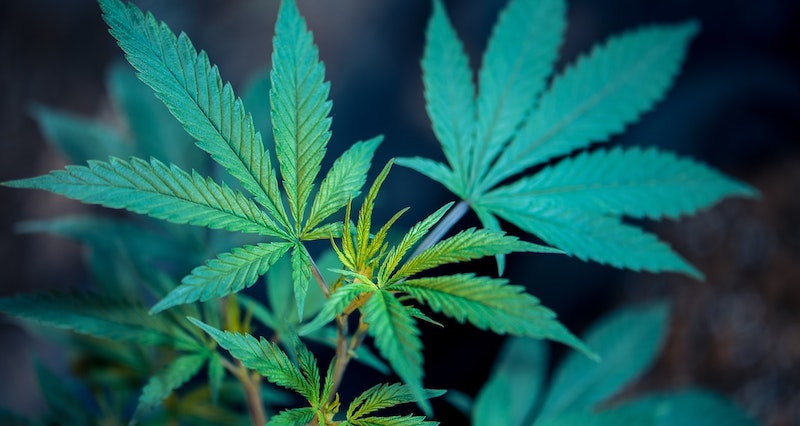 If you're brand new to affiliate marketing and you do not know how to set everything up, I'd like to present you with the Affiliate StarterPack course bundle.
It's a two-course bundle – which only costs $19, and with it you will get access to the Wealthy Affiliate training course + you will also get my $97 SEO course (The Affiliate SEO Mastery) for free!
If you'd like to know more about this deal, along with plenty of testimonials from current and past students, you can see the official Affiliate Starter Pack page.
In Closing
Thank you very much for reading.
I hope this post has given you a few ideas on where to get started as a weed affiliate along with enough marijuana affiliate programs to help you pick out the right offer for maximum commissions.
If you have any questions, be sure to let me know in the comment section below but again I'd urge you to check out the Affiliate Starter Pack bundle as it won't be available for long.
I'll leave you to it.
NB:
Want to see how I make money online?
Here's my latest guide
showing you everything I do to earn money with simple, easy-to-build websites.