I don't know if you've heard, but "weed companies" with publicly traded stocks are soaring.
This tells me weed is now an industry with a force and there are plenty of people (companies) in the marijuana industry who are making some serious money.
Not that weed is semi-legal, we're also seeing a lot of online businesses show up online and of course; there are plenty of marijuana affiliate programs that are popping up as well.
I've already covered a list of CBD affiliate programs and after seeing how well that post is doing, I decided to dive a little bit deeper here and bring forth a list of high-paying marijuana affiliate programs you can use to make money online as a cannabis affiliate.
If you're brand new to affiliate marketing, but still want to take advantage of this opportunity, read all the way to the bottom as I will also show you how to get started as a cannabis/weed affiliate.
Let's get started…
WANT TO LEARN HOW TO MAKE MONEY WITH AFFILIATE MARKETING?
Join the 3HUNDRD daily affiliate marketing newsletter and get access to my latest ebook and course - ALL FOR FREE! 
Sol CBD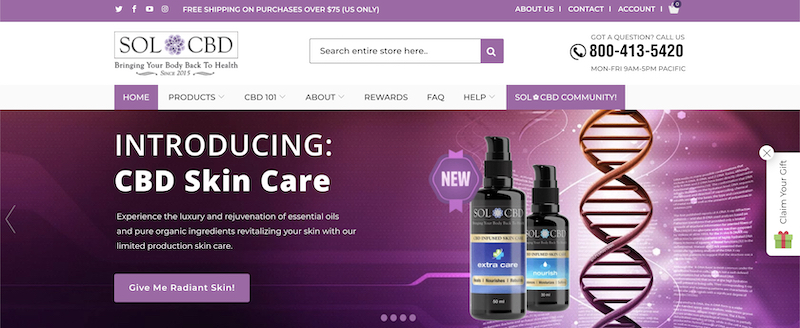 Sol Cbd is a small, family-run operation that sells hemp-derived wellness products and educates people about CBD and its health benefits.
On their website you can find hemp-derived food supplements, capsules, tinctures for both yourself and your pet, balms, and skincare.
They have testing documentation to support their products and their products are also legal in the US and most countries around the world.
They are partners with RevOffers that manage their affiliate program and offer a generous commission for their affiliates.
However, there is a catch. They seek ambassadors with an authority presence in health, wellness, diet and other niches from where their followers would benefit from their wellness products.
As an affiliate, you can earn up to 20% commission within their Ambassador program. Plus 15% on all auto-ship customers.
They offer a lifetime cookie window which allows you to make residual sales and will provide their affiliates with landing pages, email, and advertising creatives to help them sell more products.
So if you think you have the platform, Sol CBD is definitely worth checking out.
Commission: 20% plus 15% on all auto-ship customers.
Cookie: Lifetime
Vape Bright

Vape Bright is an organic CBD vape oil company that prides themselves with using high-quality oils with no chemical fillers.
They are against diluting CBD with propylene glycol or vegetable glycerin and they believe that these chemical fillers can raise health concerns while causing consumers to inhale extreme amount of puffs in order to get an effective dose.
Vape Bright uses MCT oil, which is a healthier and more potent alternative instead.
They have also created a potent delivery device that offers users great-tasting CBD per inhalation, without the unwanted carrier liquids.
Vape Bright have partnered with RevOffers to manage their affiliate program and their affiliates can promote their products via their websites, blogs, or social media accounts in order to earn commission.
Their affiliates can earn 25% revenue share on the order total and are given a 10% coupon in order to incentivize their traffic and double the conversion.
Commission: 20%
Affiliate Coupons: 10%
Cookie: 90 days
How To Grow Weed 420