Muhammad is the most popular name in the world, according to The Columbia Encyclopedia.
Islam is also popular, with almost 2 billion people, second only to Christianity.
This is why today, I saw it fitting to bring forth a list of Muslim affiliate programs.
Is affiliate marketing halal?
YES affiliate marketing, according to this, is halal, although this depends on the products you choose to promote (i.e the product you are promoting must also be Halal.
So, if you're in a Muslim affiliate or you're in the religion niche (which is a highly lucrative and underrated niche in my opinion), this list is for you.
So without further introductions, here are…
10 Muslim Affiliate Programs (Reviewed Below)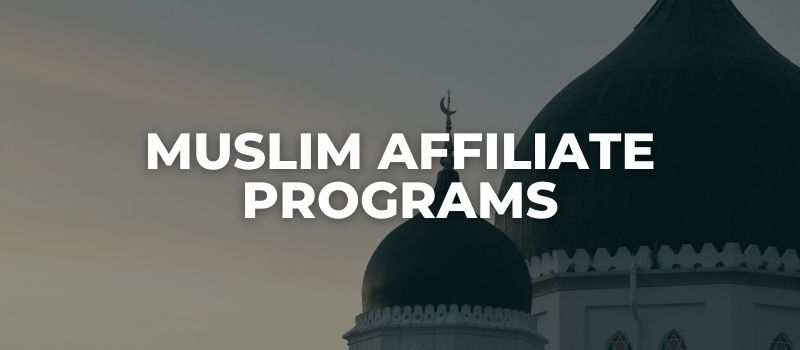 ---
---
East Essence
East Essence is a US-based company found in California with a goal to provide high-quality clothing at a reasonable price.
The company prides itself on being the largest online retailer of Islamic and traditional Indian clothing, ranking amongst the top three Islamic clothing brands.
On their online store, customers can shop from a huge variety of products, including Abayas, Hijabs, Jilbabs, Kurtis, Skirts, Jackets, Shawls, and so much more.
The company also ships in many countries around the world besides the US, including Europe, Middle East, Australia, Africa, and South America.
East Essence has an affiliate program managed by ShareASale.
Commission: 7%
Cookie length: 1 day
Haute Hijab
Haute Hijab is an online Modest Fashion brand that caters to women of faith who observe the hijab or the headscarf.
The company was found in 2010 and aims to help many Muslim women overcome the struggles of finding comfortable, quality hijabs that look amazing and make them feel confident.
On their website, customers can shop from a good variety of styles, materials, fabrics, colors, prints and patterns suitable for any occasion.
Besides hijabs, the store also carries a few accessories, such as scrunchies alongside merch with positive messages that help women feel empowered in their hijab.
Haute Hijab has an affiliate program managed by ShareASale where they offer a base 10% commission for each sale you drive to their website. Their average basket is $60 and they also have a very loyal customer base that enjoys their unique designs.
Commission: 10%
Cookie length: 15 days
Modanisa
Launched in 2011, Modanisa was started with the aim to fulfill a modest women's desire to get decked-up in clothes that best fall in line with the life and time they live in.
This Turkish fashion platform serves customers in over 140 countries and has over 70,000 premium quality fashion items to choose from, including hijabs, dresses, pants, jumpsuits, tops, leggings, Abaya, coats, and much more.
Besides clothing, Modanisa also has a well-curated collection of shoes, bags, and various accessories, such as watches, necklaces, bracelets, earrings, sunglasses, etc.
Modanisa has an in-house affiliate program that offers content creators the opportunity to earn between 4-8% commission on sales they drive to the website.
Commission: up to 8%
Cookie length: Not listed.
Islam Store
Islam Store is an online shop based in the Middle East that provides customers from all over the world with Islamic clothing and accessories.
The store has a partnership with leading Turkish and Arab companies that deal with the manufacture of Islamic clothing, accessories, mosque accessories, and decorative products such as Islamic wall paintings, clocks, etc.
And while the store is more focused on men's clothing and accessories, they've recently added a women's section that will be expanded in the near future.
Islam Store also has an in-house affiliate program that gives its affiliates a chance to earn a 10% commission for each sale they drive to the website.
Commission: 10%
Cookie length: Not listed.
Shukr Clothing
Shukr Clothing is a company dedicated to provide their loyal customer base with high standards, good quality items at reasonable prices.
Their store features both men and women items, including kufis, tops, pants, abayas, hijabs, shawls, and so much more.
Shukr Clothing has an affiliate program where once you join, you will be supplied with a range of banners and text links to place wherever you like on your website or social media.
That's how when a user buys something through your link, you will earn a 10% commission on each item featured in the store.
Commission: 10%
Cookie length: 30 days
Alsharifa
Alsharifa is a US-based clothing store found by Islamic convert Kelly Lynn Alsharif back in 2006 and has since been catering to ladies who love modesty and fashion.
The website offers a huge range of clothes for all occasions, including dresses, hijabs, trousers, long skirts, and even full-cover swimwear.
Besides that, the shop also has stylish jewelry and accessories such as scarfs, pins, lace, streamliners, and so much more.
Alsharifa has an in-house affiliate program that offers online creators a chance to earn commissions by referring sales to the website.
Commission: 10%
Cookie length: Not listed.
Dar-us-Salam Publications
Dar-us-Salam Publications is your one-stop shop for all educational things about Islam. The store offers a huge variety of items, including books, CDs, DVDs, children toys, Islamic clothing, prayer caps and rugs, clocks, gifts, decorations, and so much more.
It's something like Amazon just smaller and focused on Islam.
Dar-us-Salam has an affiliate program that offers Islam content creators a commission for each sale they drive to the website. As an affiliate, you will receive a 5% commission on every sale made through your affiliate link.
Additionally, you can get a second-tier commission by referring another affiliate to join their affiliate program. These affiliates will become your sub-affiliates and you will earn a 2% commission of their sales while they themselves earn 5%.
Besides that, to increase the chances of making a sale Dar-us-Salam will provide you with various creatives, including links and banners.
Commission: 5% on each sale + 2% on the sales of your sub-affiliates
Cookie length: Not listed.
IQRA Network
IQRA Network is an online learning platform that connects students who want to learn the Quran or Arabic with teachers from the most prestigious university in the Middle East.
IQRA Network offers their services to both children and adults and they utilize 1-on-1 video-based lessons and interactive tools to engage users in well-planned and structured exercises that help them progress and improve their learning.
In the beginning, each person interested to become a student will receive a free 30-minute session with one of their teachers so that they can perform a full assessment of their mastery of the Quran and Arabic.
The student will then receive an email with an evaluation report and a recommended study plan.
The network's pricing plans range from $8 to $10 an hour, and as an affiliate, you will be given a fixed $5 commission for every lead.
A valid lead is when a user signs up for the initial free evaluation session with one of their teachers.
Commission: $5
Cookie length: 90 days
Path to Arabic
Path to Arabic is a learning network that provides a simpler and easier way for people to learn Arabic. Founded back in 2011, the network aims to cut out the frustrations, difficulties, and challenges that come with learning one of the hardest languages on the planet.
Path to Arabic offers three different learning structures with three different prices that offer a variety of features depending on your learning abilities and individual needs.
Besides that, the network also has an affiliate program where anyone with a good social media following or a website can join in, start promoting their services, and earn 80% commission in the first month, followed by a 40% recurring commission for each sale they drive to the website.
Commission: 80% in the first month followed by 40% recurring commission.
Cookie length: 30 days
Understand Quran
Understand Quran is a company that was launched back in 1998 and they focus on making learning the Qur'an simple, easy and effective by developing courses and related learning materials.
Their level 1 course on understanding the Quran is one of their most popular products that's being taught in almost 25 countries and is translated in 20 international languages.
Their syllabus is of current date implemented in more than 2000 schools around the world.
The website has so many courses to offer, that as an affiliate, you would probably even get lost in them. Which is why it helps to have a website dedicated to a similar topic or social media platforms that you use to spread the message of Quran.
As an affiliate for Understand Quran, you will have the chance to earn up to 50% for each sale you drive to their website.
Commission: up to 50%
Cookie length: Not listed.
---
How To Start A Muslim Affiliate Website
Now that we know affiliate marketing is indeed halal, and there are plenty of halal offers to promote as is confirmed with the above Muslim affiliate program, it's time to start earning.
To make money with affiliate marketing, you are going to first need a website. Not a must, but highly recommended.
if you'd like to see how I make money with my own affiliate websites, feel free to take a look at my guide explaining exactly:
How I build simple affiliate websites that earn money.
There I cover everything I know and do to make affiliate marketing work for me.