Nike needs no introduction here.
It's one of the biggest brands ever, completely dominating the sporting industry with their line of clothing and fitness apparel.
However just recently I discovered something else about Nike, and that is they offer an affiliate program!
You can actually promote every single Nike product on their site and yes, in case you are wondering, the commissions are pretty good.
Now for typical physical goods, there's usually no one that can beat the Amazon Associates program (which also carries Nike products you can promote) – but;
Compared to what the Nike affiliate program offers in commissions, you'd be a fool to promote Amazon for Nike products.
In this Nike affiliate program review, I will go through all the things you need to know to start promoting Nike successfully.
Given the enormous brand value that they carry, if you play your cards right and get an audience interested in this, you are going to be making a killing selling Nike products with for an 11% commission rate.
Let's get started…
Nike Affiliate Program Review (TLDR)
Commission: 11%
Commissions

Features

Product Selection

Earning Potential
Nike Affiliate Program Summary
✔️ 11% Commission Rates
✔️ 30 Day-Cookie
✔️ High-Ticket Items (Average Order ~$100+)
✔️ Do I Recommend This? Yes (but read the entire review).
How To Join The Nike Affiliate Program
Joining is easy, and you can do so by visiting this link. Now you may be required to join an affiliate network as they do not power it internally.
From my location, I was retargeted to the UK merchant side, which uses Vigilink.
All you have to do to start promoting the Nike affiliate program is to visit their website and click the "link" to take you to the signup page – might be different than Vigilink, depending on where you are.
The Nike Affiliate Program Benefits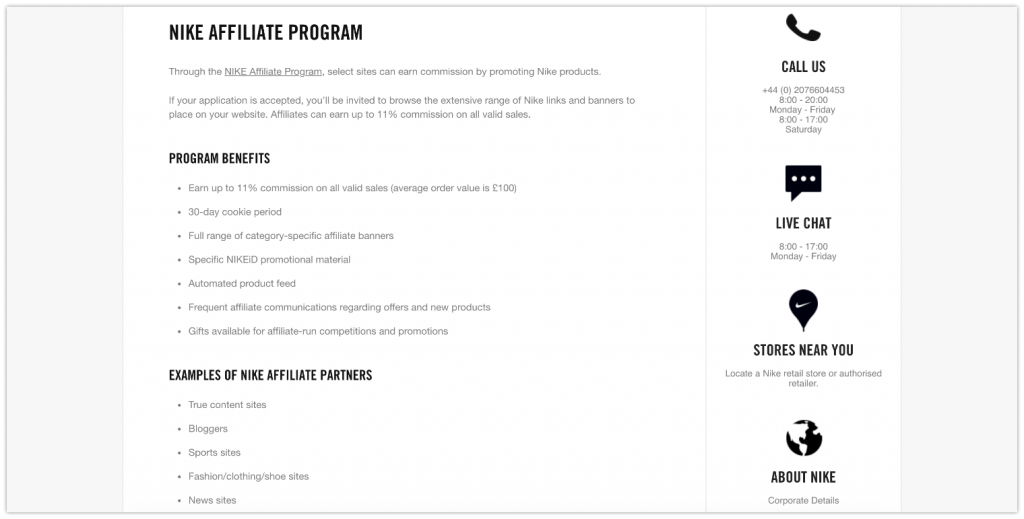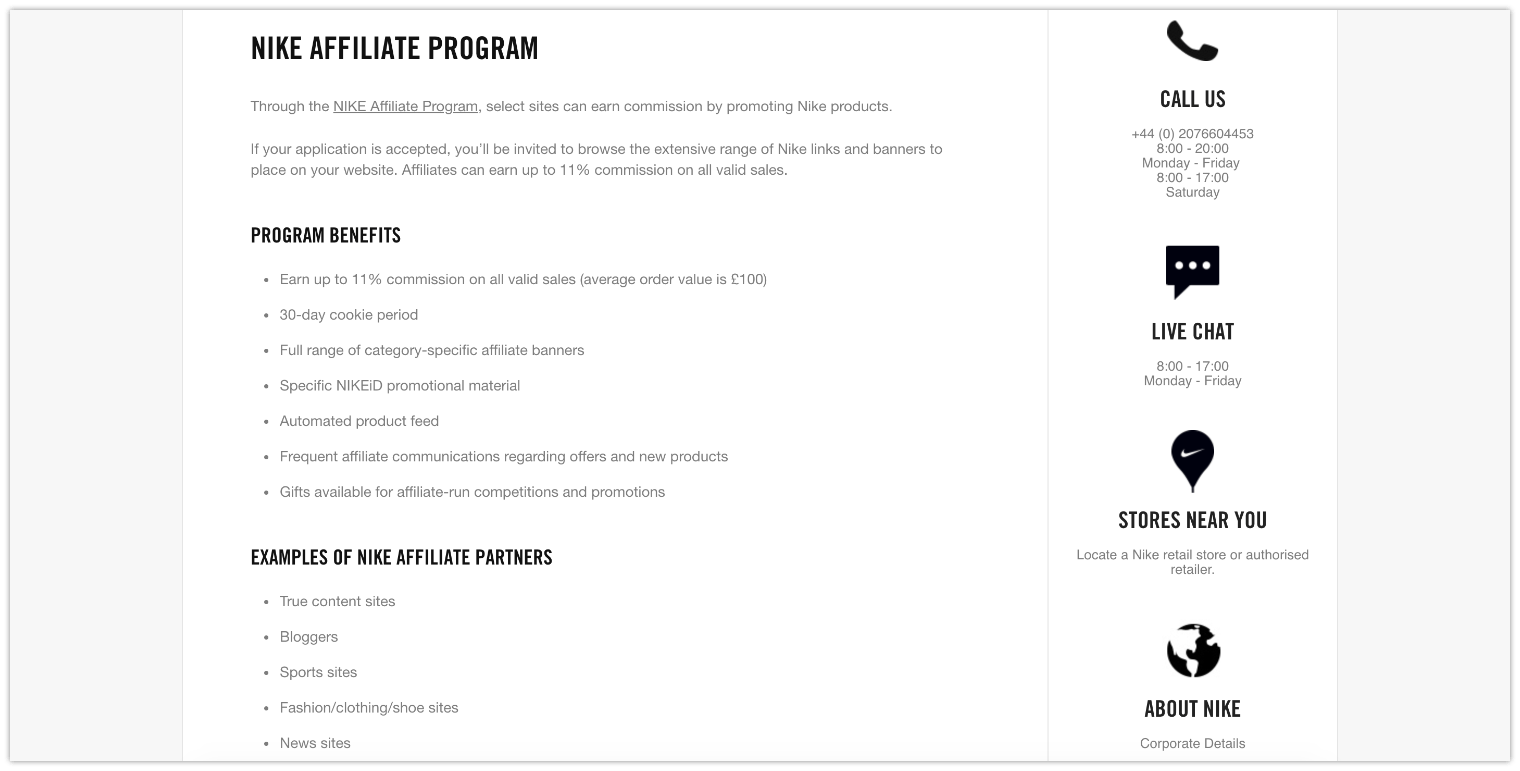 NB:
Want to see how I make money with affiliate marketing? My new book reveals my entire process, including my 4-step approach to building affiliate websites.
CLICK HERE to download my book for free
.
30-Day Cookie Period:
Not only is the 11% commision quite good and quite surprising for an affiliate program selling physical goods, but they also offer a 30-day cookie period.
What does this mean?
This means that if you send a customer to the Nike website, you have a window of 30 days for him or her to purchase anything. If they purchase 29 days later, then you still get the commission you so rightly earned.
What else is great about the Nike affiliate program?
High Ticket Items:
Nike products are not cheap. As stated on the affiliate program sign up page, the average order value is around £100, or about $135.
This means that at the very least if these averages are true, you are looking at around $20 per sale in commission with every sale.
Make 5 of those, that's $100 a day easy money, all by leveraging their brand, which basically sell