Nike needs no introduction here.
It's one of the biggest bands ever, completely dominating the sporting industry with its line of clothing and fitness apparel.
However just recently I discovered something else about Nike, and that is they offer an affiliate program!
You can actually promote every single Nike product on their site and yes, in case you are wondering, the commissions are pretty good.
Now for typical physical goods, there's usually no one that can beat the Amazon Associates program (which also carries Nike products you can promote) – but;
Compared to what the Nike affiliate program offers in commissions, you'd be a fool to promote Amazon for Nike products.
In this Nike affiliate program review, I will go through all the things you need to know to start promoting Nike successfully.
Given the enormous brand value that they carry, if you play your cards right and get an audience interested in this, you are going to be making a killing selling Nike products with for an 11% commission rate.
Let's get started…
Nike Affiliate Program Review (TLDR)
Commission: 11%
Commissions

Features

Product Selection

Earning Potential
Nike Affiliate Program Summary
✔️ 11% Commission Rates
✔️ 30 Day-Cookie
✔️ High-Ticket Items (Average Order ~$100+)
✔️ Do I Recommend This? Yes (but read the entire review).
How To Join The Nike Affiliate Program
Joining is easy, and you can do so by visiting this link. Now you may be required to join an affiliate network as they do not power it internally.
From my location, I was retargeted to the UK merchant side, which uses Vigilink.
All you have to do to start promoting the Nike affiliate program is to visit their website and click the "link" to take you to the signup page – might be different than Vigilink, depending on where you are.
The Nike Affiliate Program Benefits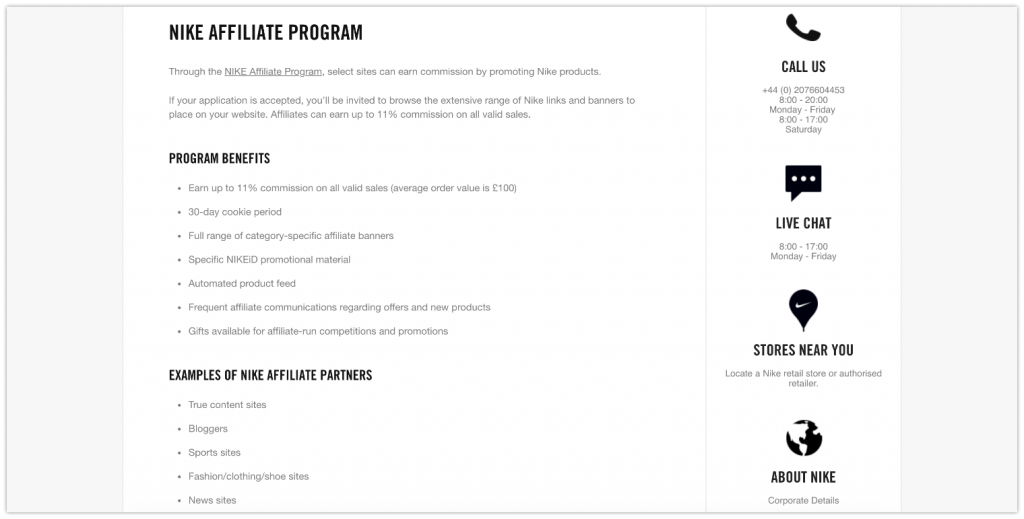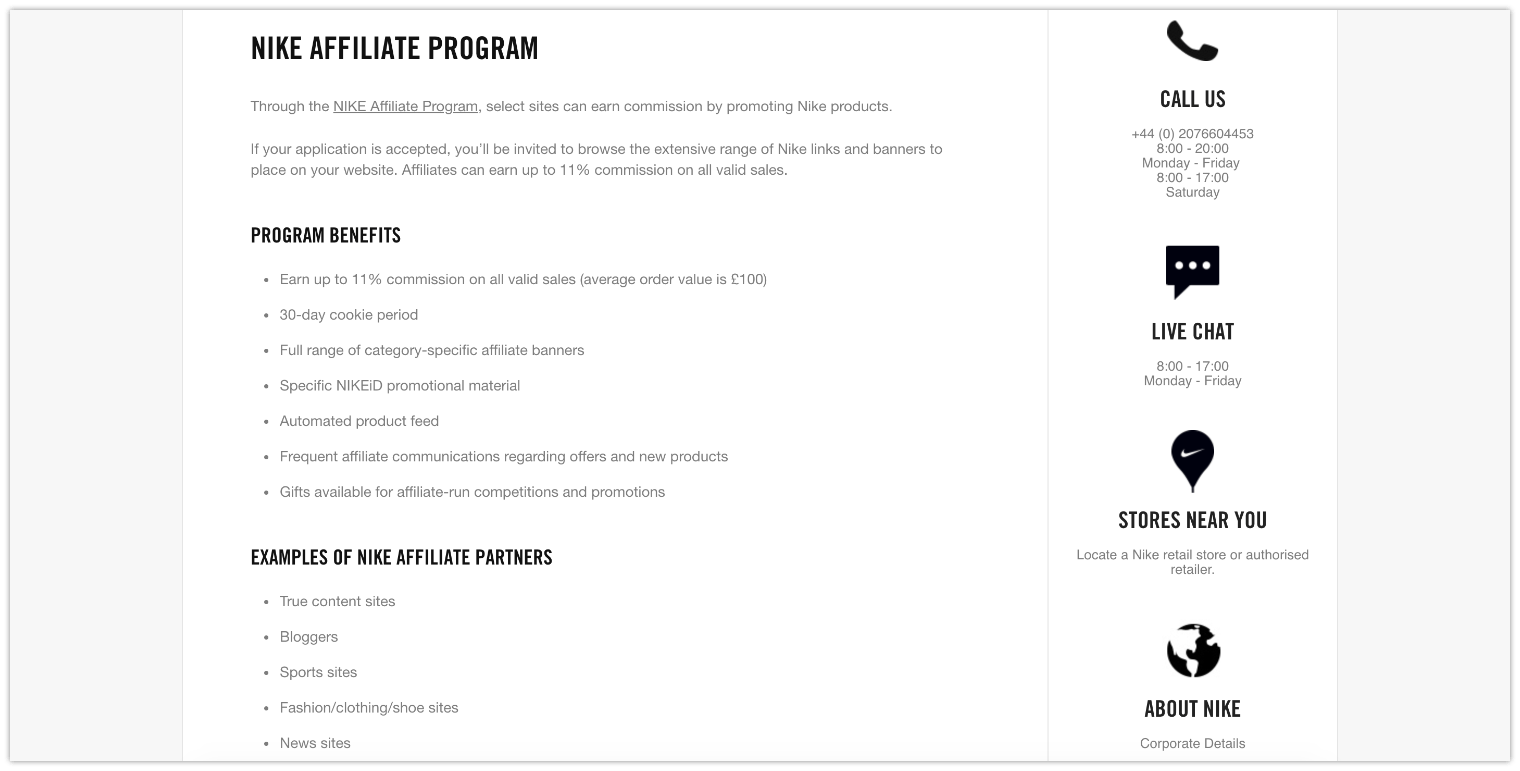 ---
---
30-Day Cookie Period:
Not only is the 11% commision quite good and quite surprising for an affiliate program selling physical goods, but they also offer a 30-day cookie period.
What does this mean?
This means that if you send a customer to the Nike website, you have a window of 30 days for him or her to purchase anything. If they purchase 29 days later, then you still get the commission you so rightly earned.
What else is great about the Nike affiliate program?
High Ticket Items:
Nike products are not cheap. As stated on the affiliate program sign up page, the average order value is around £100, or about $135.
This means that at the very least if these averages are true, you are looking at around $20 per sale in commission with every sale.
Make 5 of those, that's $100 a day easy money, all by leveraging their brand, which basically sells itself.
What Can You Sell From The Nike Affiliate Program?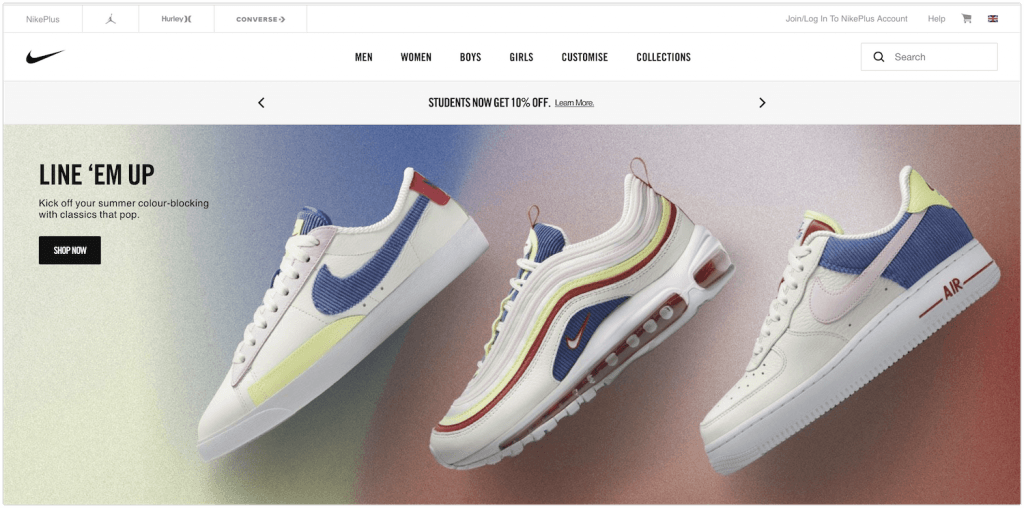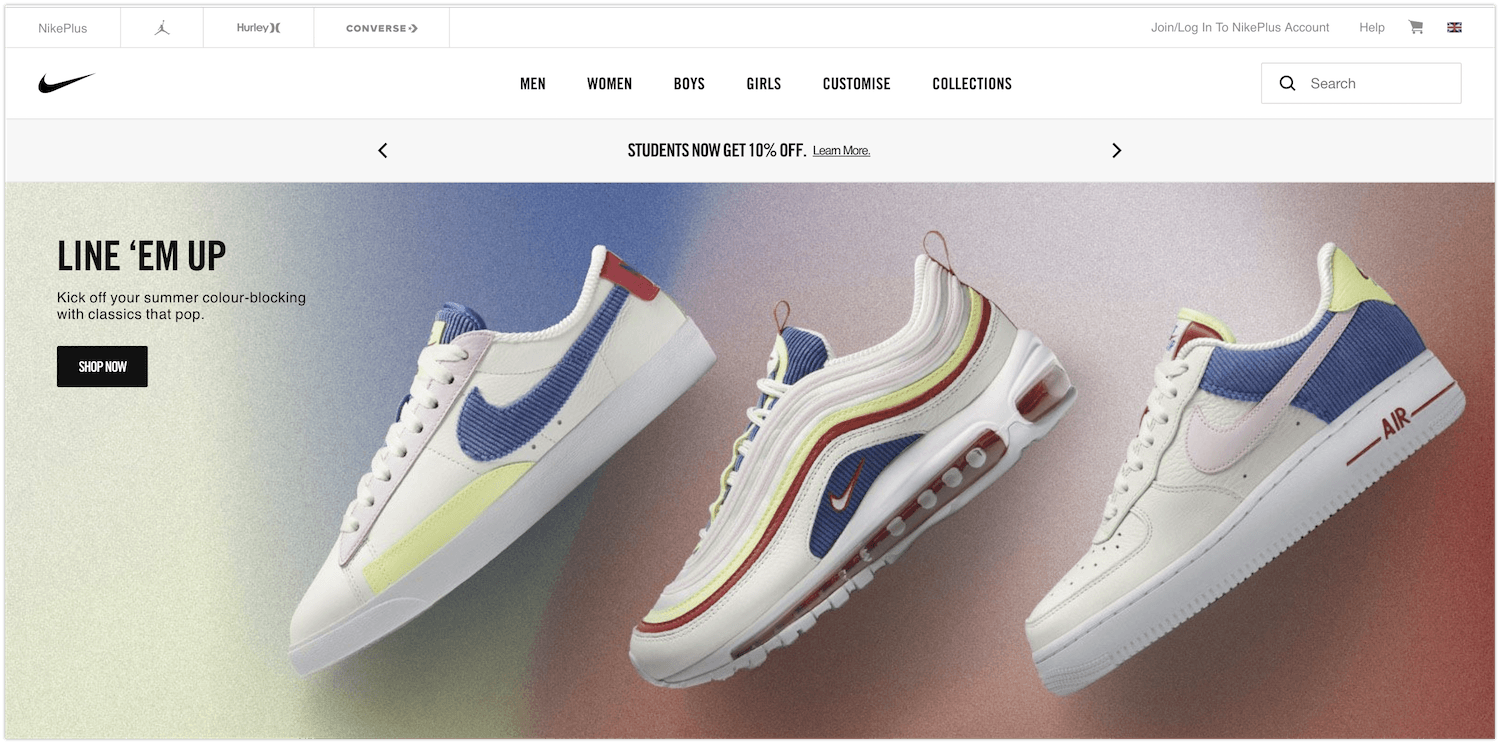 There's an immense list of items for just about everything on their online store – too many to mention here but here are the top umbrella categories that you can promote:
Men's fitness apparel
Women's fitness/ sports apparent
Boys & girls Nike merchandise and
Even Customisation on certain items.
Some top sellers from this site would also be their sports categories.
As you may know, Nike sponsors some of the biggest sporting teams in the world and every sports jersey that they sponsor can also be bought on the site.
We're talking about major hitters such as the UK's Manchester City kit and also carious teams from the American NBA.
If you have a sports blog or a sports team fan blog, this could easily become a huge revenue source for you as we all know, sports fan are some of the most passionate buyers out there.
Ok, what else makes the Nike Affiliate program worth joining?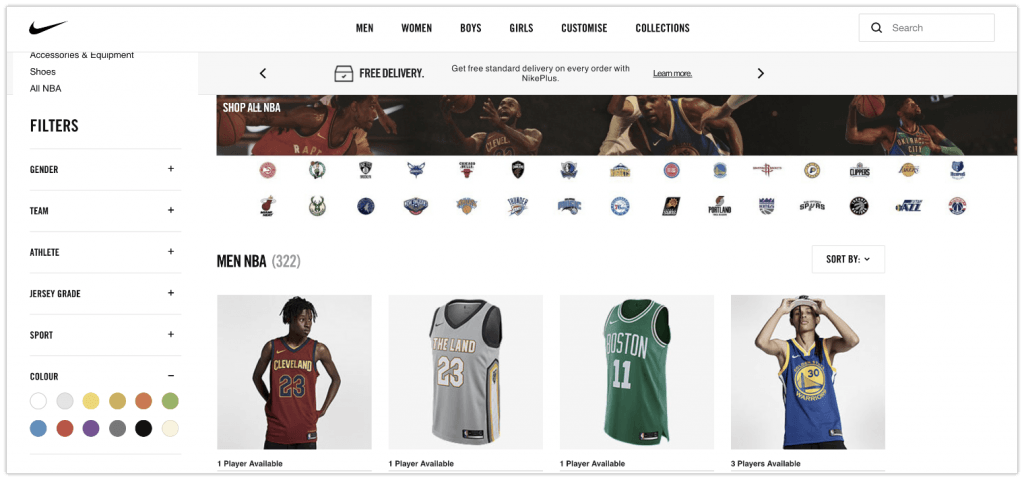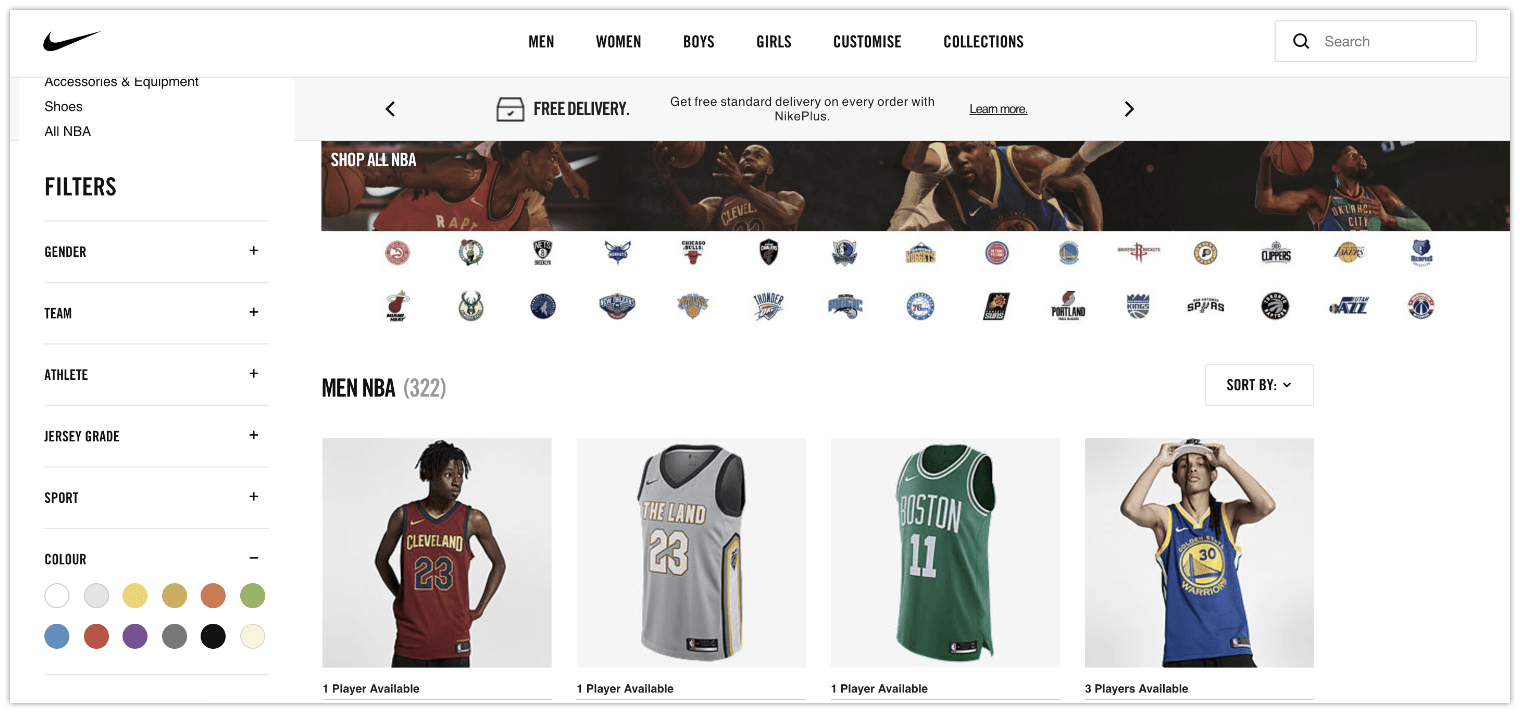 The Full Range Of Nike Advert Banners:
I always say that one sign I look for when joining a new affiliate program is how much resources they offer to their affiliates.
Nike holds nothing back from their department an as a Nike affiliate, you can leverage the amazing banners create by the Nike marketing team in your campaign to help you sell their products.
Again, if you have a sports blog, you can get custom banners for that specific soccer / NBA team – that practically means you have the entire Nike design department at your disposal.
They Offer Nike Gifts To Their Top Affiliates:
Not only is the commission great, but they also sponsor affiliate competitions that they run for their affiliates.
Some of the top affiliates even get prizes and giveaways as an incentive to review them (and of course, to keep).
How To Promote The Nike Affiliate Program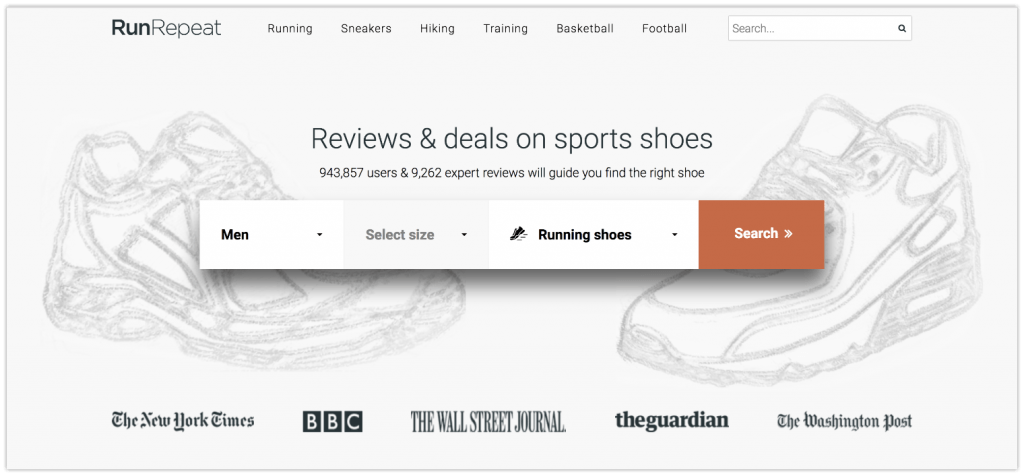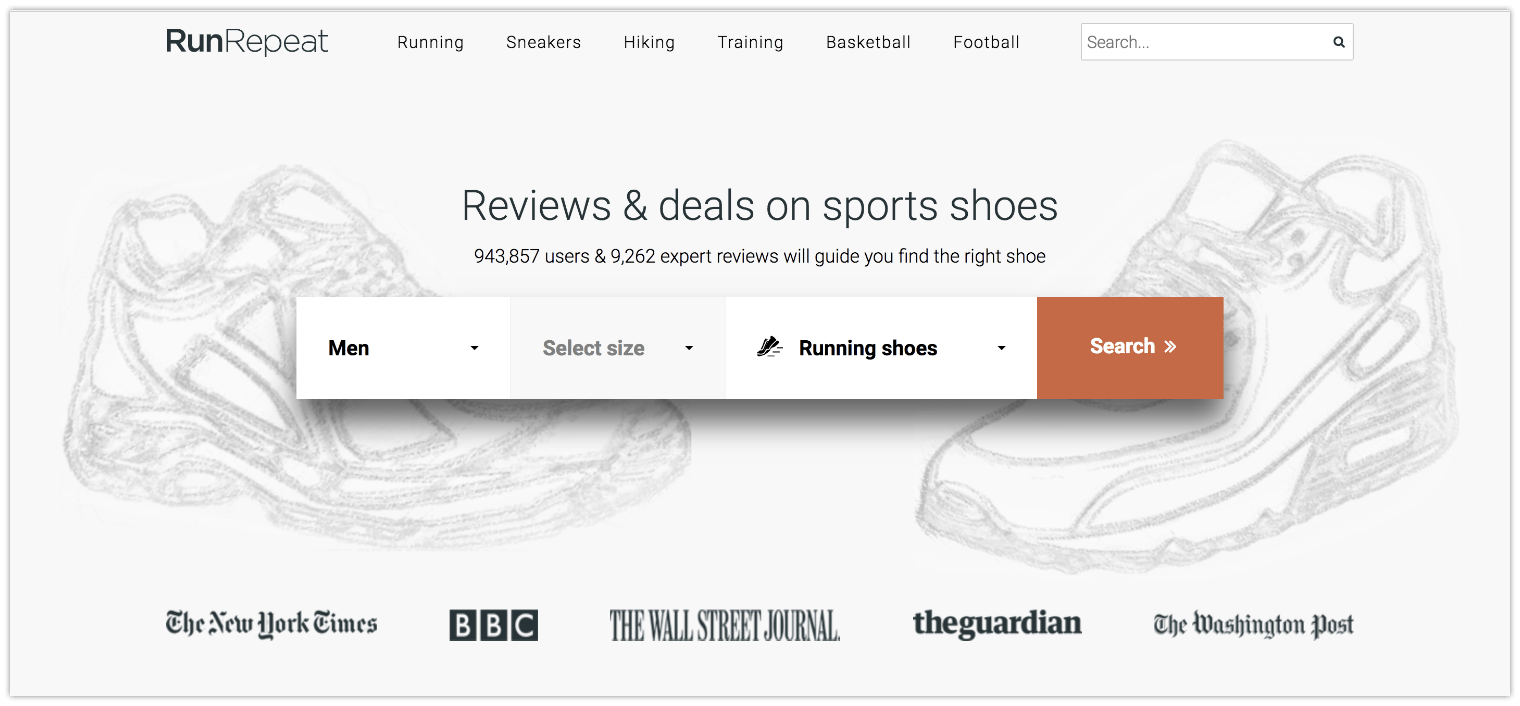 RunRepeat.com
The best way to promote affiliate programs is through your own website. If you do not have one yet, go create one using the free training provided here.
You are going to need a website, there are no 2 ways about this – not only for the Nike affiliate program but for every program or network you're going to want to join.
The second thing you want to do is to focus on a specific audience that you can promote specific products too.
I would advise you to stay away from going too broad and "general".
A great example of this would be to start a golfing shoe review website as Nike offers many such golfing shoes on their website, and they are not cheap.
Continuing on with the golf shoe example, you can easily make this your niche and fill your website with content reviewing these types of shoes.
Going a step further, there's also HUGE potential in launching a YouTube channel reviewing such products, if that is the case and you want to go down the YouTube route, then just MAYBE you can get away with not having a website, although I do not recommend it.
Another great way to promote this is the oh-so-obvious, fitness niche sites. Anything that has to do with "keeping fit", customers worldwide know and love the Nike brand.
If you can do this, again I ask you to go specifically with your content, then this can be great for you in the long run.
Any Nike Affiliate Program Alternatives?
While I would not look for any other program if I was you, one other great affiliate program that is similar to the Nike one and can be seen as an alternative is the Footlocker affiliate program.
You can find out more about Footlocker here >>
Making The Most Out Of Your Affiliate Offers
While I do think promoting the Nike affiliate program will be an "easy" task, it won't be easy at all if you do not know how affiliate marketing works and how the "online customer" behaves.
If you're just starting out, or you want to find out more about the whole affiliate marketing industry and WHY so many gigantic brands are launching their own programs, then take a look at the Wealthy Affiliate training course.
it provides you with 2 free websites and a 10-day video series to show you how to get started in the affiliate marketing game.
---
I am super glad to find out Nike has an affiliate program and I also hope this quick review has given you some good direction on how to get started with it.
If you have any questions about Nike, affiliate programs or affiliate marketing in general, do not hesitate to get in touch with me.
I look forward to hearing from you.