Another week, another pet-related affiliate program round-up post.
Today, we're taking a look at the pet insurance niche and I have for you below a list of 10 of the best – highest paying – pet-insurance affiliate programs you can find.
Down below I'm also going to show you how this business has been steadily increasing for the past 5 years (and what this means to you as an affiliate).
If you're brand new to affiliate marketing and you've just stumbled on this – don't worry. I also have a free training course down below that will show you all you need to know to get started in this niche.
Before we get to that, let's first take a quick overview at the…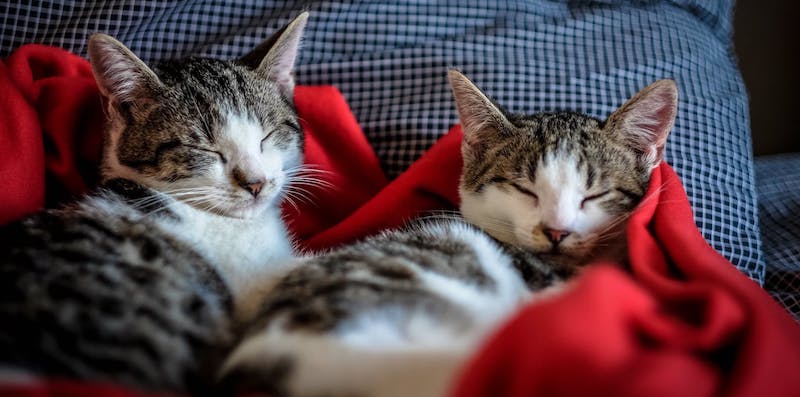 10 Best Pet Insurance Affiliate Programs:
Embrace Pet Insurance
Trupanion
Petplan
Pets Best
Pet Insurer
PetFirst
Healthy Paws
Protectapet
PetPremium
Agria Pet Insurance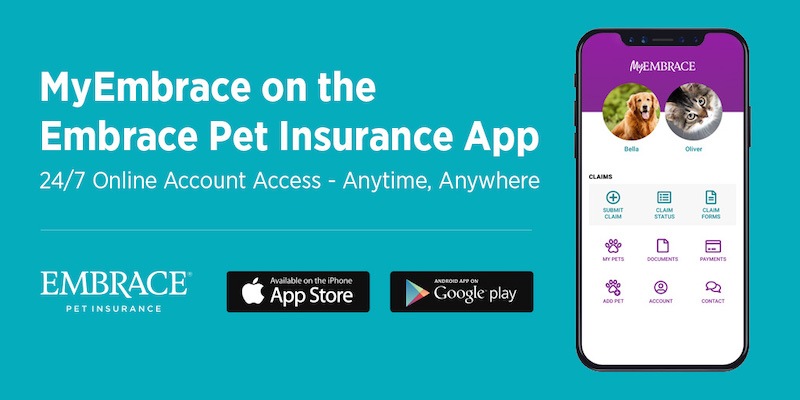 Embrace Pet Insurance is a pet insurance company based in Cleveland, Ohio. This pet online insurance company offers up to 90% back on veterinary bills for both cats and dogs. Clients can use a vet that they best prefer. Furthermore, the insurance company provides personalized plans along with dependable claims payments.
Embrace Pet insurance cover covers illness and accidents with some reward programs that aid in promoting routine care as well. For pre-existing condition, Embrace Pet Insurance assess whether the condition is curable or not.
When a pet is symptom-free as well as treatment free for 12 months, all curable conditions will be covered going forward. As an affiliate, you will be earning a flat commission rate of $36. Their cookie life duration is unknown.
Their flat-rate commission rate allows affiliate enthusiasts to know the amount they will receive in every successful referral.

Trupanion is pet insurance for cats and dogs. When it comes to deductible, this insurance company features a unique perspective. At Trupanion, deductibles are charged only once; this is when a condition is diagnosed first rather than yearly.
Once deductibles are met, Trupanion will pay 90% of vet bills that remain. This will continue throughout your pet's lifetime for treatment that is related to that condition.
Other than injury cover, Trupanion features congenital defect cover as well as unknown illness cover and genetic conditions such as hip dysplasia as well as diabetes. This consists of paying for surgeries, diagnostic tests, supplements, medication as well as herbal therapy, prosthetics, and hospital stays.
Their high payout rate, as well as their one time deductibles, is an ideal package for most individuals. Trupanion commission rates and cookie life durations are not listed; however, their programs are relatively easy to sell.

Petplan is a pet insurance company that accepts all pets for their insurance policies as long as they are six weeks old and above. Petplan allows pets that are as well nearing the end of their life. The Petplan insurance policy as well covers all conditions that are new for every breed.
There is some policy insurance that might change with Petplan, such as copay, annual coverage amount, premium amounts, and deductibles. However, Petplan insurance will not cancel insurance policies based on your pet's old age or their poor health status.
The company covers emergency vet visits as well for both injury and illness, which will cost between $50 and $250 each.
Furthermore, Petplan covers holistic care for pets. This comprehensive care has to be offered by a veterinarian who is licensed; however, it consists of treatment such as acupuncture, hydrotherapy, chiropractic care, and homeopathy as well as laser therapy. Petplan commission rate and cookie duration are unlisted.

Pets Best features an incredible website where clients with no knowledge of pet insurance can read and understand more about the pet insurance policies, what it costs, how it operates, as well as the difference between a cat and dog insurance.
Furthermore, clients can as well receive quotes, go through all the additional sources as well as go through reviews before they can fully decide on joining the program.
Pets Best provides wellness package for both cats and dogs that cover procedures such as micro-chipping, deworming as well as vaccinations. Some insurance coverage offered by Pets Best insurance company includes; cancer, illnesses, accidents, specialized coverage, and surgeries.
If you are looking for a pet insurance company that features an extended period of cookie, Pets Best is the best. The company features a cookie life duration of 90 days; however, their commission rate is unlisted.
Pet Insurer (Now PetPlan)
Pet Insurer is a pet insurance company that is a white-labeled, meaning that it works with various pet insurances in offering clients the best varieties when it comes to policies they can access.
With the white label program, Pet Insurer work hand in hand with several well-known pet insurance companies such as Nationwide, Petplan, Petfirst, Trupanion as well as ASPCA pet insurance.
Pet Insurer strives to provide low prices when it comes to ensuring cats and dogs; you are guaranteed the most economical quotes with Pet Insurer.
The company features an extended cookie duration of 90 days; however, their commission rate is unlisted. Since their insurance quotes are relatively affordable, selling them to clients becomes easy for affiliate enthusiasts.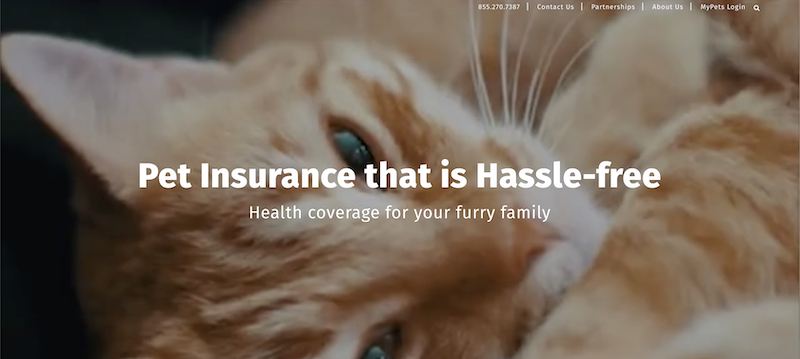 PetFirst is an insurance company that offers insurance covers for both cats and dogs. Clients are able to customize their deductibles as well as reimbursements rates to fit their budget and their pet's needs. This pet insurance company features short wait periods for accident and illness coverage, with their claims being processed within a period of two weeks.
Since routine care is not featured in the cost of their necessary policies, clients are able to add the plan at an additional cost. General coverage consists of hospitalization, exams, accidents, surgeries, illness, diagnostic test, X-rays as well as holistic care.
When it comes to PetFirst affiliate program, an affiliate will be able to earn a commission rate of 8%. Furthermore, their cookie life duration is 30 days. FlexOffers manage the PetFirst affiliate program; therefore, you will have to visit their website in order to join their affiliate program.
Usually, PetFirst sponsors yearly adoption events as well as partners with animal shelters throughout the United States of America.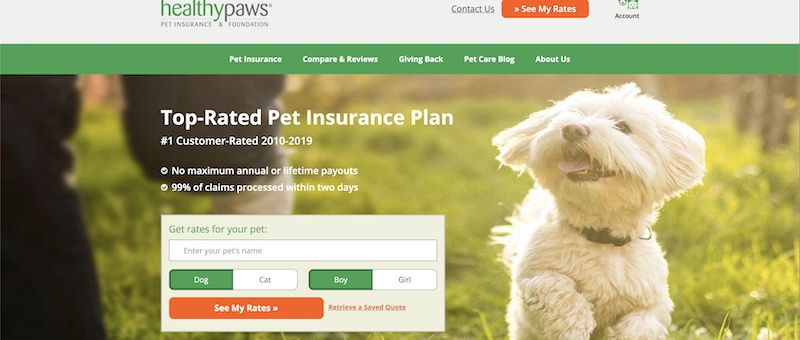 Apart from requiring a deductible for each incident in which your pet has to see a vet for, Healthy Paws is equipped with an annual deductible that you will have to purchase once. Healthy Paws pet insurance company covers expensive hereditary as well as congenital conditions, and it features no limits on a claim.
Moreover, this pet insurance company extended its insurance coverage carefully beyond the typical and customary reimbursements, which limits payouts for a pet that is in need.
As an affiliate for Healthy Paws, you will have access to incredible promotional materials such as banners that will aid with improving your marketing efforts. Furthermore, you will earn a commission rate of $35 per completed referral as an affiliate for Healthy Paws.
However, their cookie life duration is unknown. The best part about their affiliate program is that referrals from you as an affiliate will receive a lifetime discount on Healthy Paws insurance policies.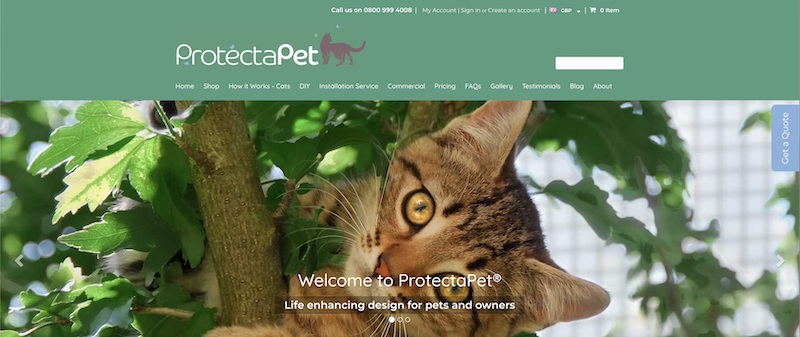 Protectapet is pet insurance that offers covers for horses, cats, and dogs. This pet insurance company is located in Spain, and they have specialized in pet insurances not only in Spain but also in Europe; therefore, it features a great choice for expatriates. However, they cover pets irrespective of your location.
Protectapet is a company with fixed premiums for life as well as secure payment plans and covers that allow their clients to take their pets to vets that they prefer the best.
As an affiliate for Protectapet, you will have access to optimized banners as well as other promotional materials that will aid you in drawing customers and improve your marketing skills.
Their commission rate, as well as cookie life duration, are not listed. However, Protectapet expands its insurance policies beyond Spain and Europe, which makes it ideal for affiliate enthusiasts.

PetPremium features two basic insurance plans for pets. These plans are; an accidents-only plan which does not cover hereditary conditions or illnesses and total-coverage policy that covers everything. Both of these insurance plans reimburse pet owners up to 90% of the vet bills.
Usually, their deductibles range between $100 and $500, with an annual limit of $2,500 to 20,000. You should note that PetPremium will not cover any pre-existing conditions.
Preventive care policy is available and can be added to the basic plan at around the cost of $10 or $25 per month; this will depend on your insurance plan. At PetPremium, whenever a client insures more than one pet, they will be able to save up to 10% on their insurance policies.
Their insurance plan begins at approximately $10 per month. PetPremium offers free pet health insurance quotes as well as 30 days of the money-back guarantee. When it comes to their affiliate program, the PetPremium commission rate is 7.5%; however, their cookie life duration is lost listed.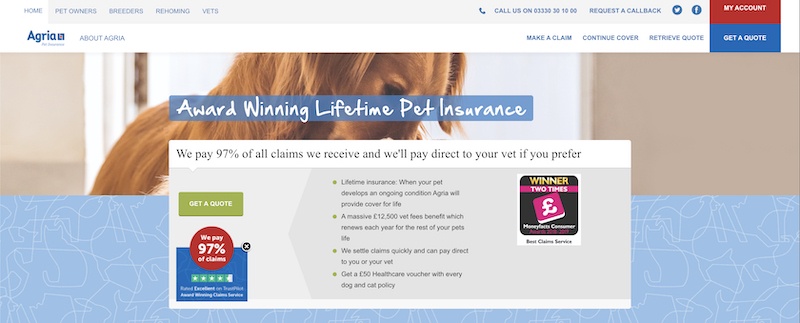 Agria Pet Insurance is a pet insurance company that is based in the United Kingdom, and it features a very active Twitter group and Facebook community. Agria Pet Insurance Company provides insurance cover for rabbits, cats, and dogs across the United Kingdom. Their coverage extended for a pet's lifetime.
If you are looking for pet insurance that is highly customizable, Agri Pet Insurance will be best for you. As a client, you will be able to customize your plan, meaning you will be able to pay for a plan that best suits your pet.
This insurance company works with vets as well as re-homing organizations in building one of the best, if not the best, pet insurance policies across the UK. Moreover, the company features in-house teams that are pet healthcare specialists to aid in answering clients' questions.
When it comes to their affiliate program, Agri Pet Insurance features a cookie duration of 30 days; however, their commission rates are unlisted.
Can You Make Money Selling Pet Insurance As An Affiliate?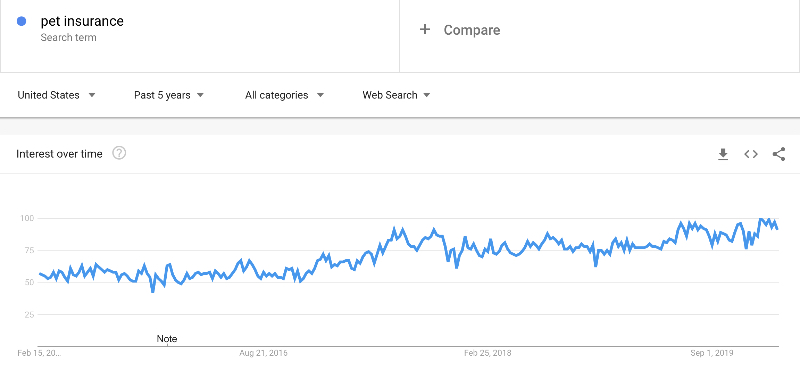 As you can see from the image above, interest in "pet insurance" has been seeing a slow (yet steady) climb over the past 5 years and as an affiliate, you can tap into these market by connecting people who are looking to any of the above-listed pet-insurance affiliate programs.
If you already have a website, and you're an experienced affiliate marketer, then you know what you need to do next.
However, if you're brand new to affiliate marketing, have no idea where to start but you see the potential in this niche and in this business;
Be sure to check out my #1 rated affiliate marketing training course here (link leads to my review).
It's where I learned how to make money with affiliate marketing so I can tell you without a shadow of a doubt that the training works.
I'll leave you to it.
NB:
Want to see how I make money online?
Here's my latest guide
showing you everything I do to earn money with simple, easy-to-build websites.