It can be incredibly frustrating knowing "making money from blogging" is possible, yet never quite figuring out how to do it.
I have experienced this many times before, and no, it's not fun.
You're also right in thinking, "it's not as easy as they make it out to be" – because it's not.
However, I want you to know it is possible and there are ways you can learn how to pull it off.
Today I am doing my ProBlogger Course Bundle review, a bundle of 4 make-money-blogging courses that yes, will teach you how to make money online.
If you've already heard of Create&Go's ProBlogger Bundle course and you're just looking for one last confirmation before you invest in it, then here it is: Yes, it's an excellent course for anyone looking to make money bogging (but be sure to read this review).
If you're interested in making money online but have no idea what the ProBlogger Bundle course is (or how it can literally change your life), keep reading as you're about to find out everything you need to know.
Here's the TLDR summary:
ProBlogger Course Bundle Review
$647 (Instead of $788)
Price

Features

Training

Value For Money
What You'll Get With This Bundle:
An all-encompassing education in blogging & affiliate marketing
Access to 3 different (private) support groups.
4 courses to teach you how to make money blogging.
Get $2000+ worth of bonuses when you purchase the bundle.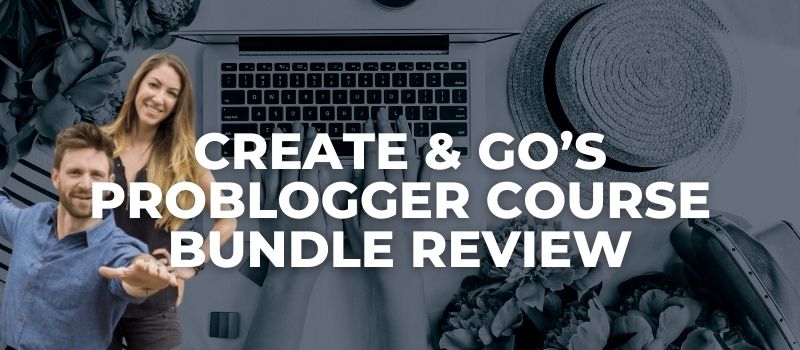 Who Are Create & Go?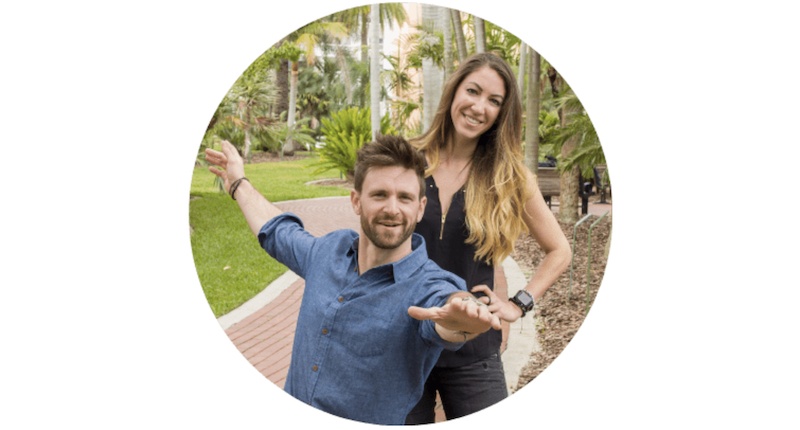 Before I get into what you'll be getting from this bundle, let me share a few things you need to know about the course creators, the duo Create & Go.
Create & Go are behind some of the most successful blogs in the world – the Create & Go blog and also Avocadu, a "healthy lifestyle" blog.
They have years of experience under their belt and the results to prove that they have learned the lessons required to be able to charge people on how to do the same thing.
Combined, they make an estimated $120,000+ a month from their blogging business – which is no easy feat to pull off (this probably makes them one of the highest-paid bloggers in the world).

To learn more about who Create and Go are and get a glimpse of their expertise in blogging, check out their YouTube channel.
I'll also share with you my favorite video from them down below:
What Is The ProBlogger Course Bundle?
The ProBlogger Course Bundle is a collection of 4 separate blogging courses Create & Go have released in the past, which you can now get as one swift package – at a discount.
With the course bundle, you'll also get access to all the bonus materials (worth over $2000) associated with each course, but before I tell you about that;
Let me give you a quick review (and what you can expect) from the 4 different courses inside this bundle.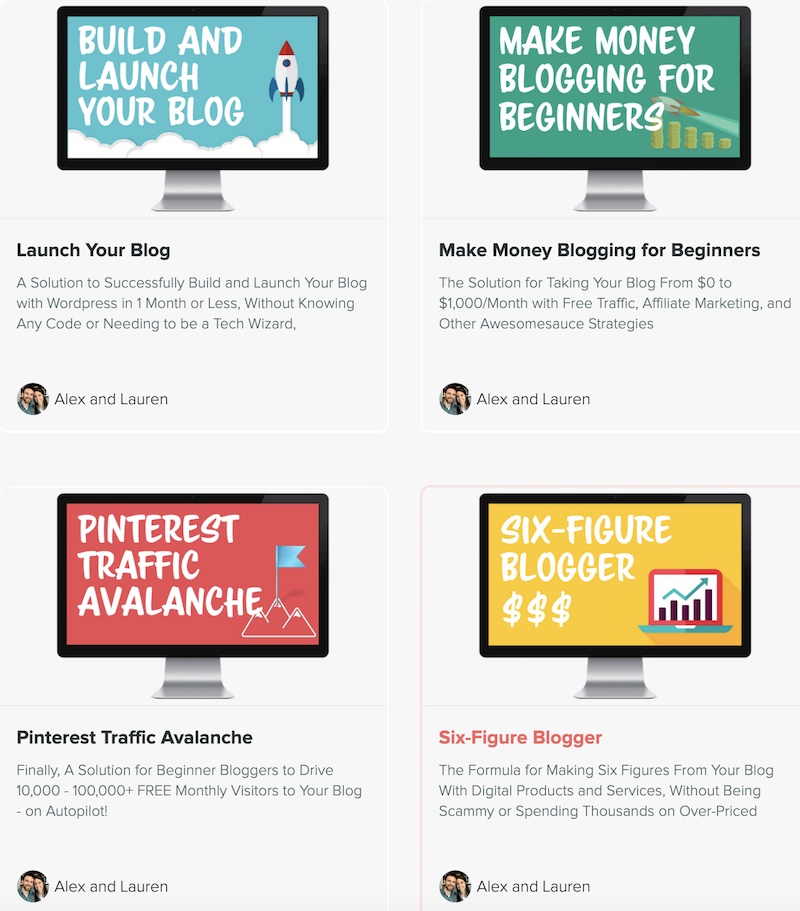 The Launch Your Blog Course – $97
This course is all about how to start your (WordPress) blog.
As a beginner, you may not know this, but WordPress is the best place for you to build a blogging business.
It's fast, reliable, loved by the internet and there's no other "tool" that can beat it – so don't get clever and look elsewhere.
Following the Launch Your Blog course, you will be getting:
8 modules & video training that will show you how to set up your WordPress blog
Over 4 hours of video content so you can follow along step-by-step
How to create "high-quality" content that millions of readers will love (& that will bring you money)
How to build your email list with your blog (a huge factor in making money online)
How to set up your social media profiles for your blog (with strategies on how to get followers)
A complete list of plugins, tools, themes & resources you need to have to get your blog up & running.
The Make Money Blogging For Beginners Course – $197
Next comes the "Make Money Blogging For Beginners" course.
Of course, you're going through all the steps to create the "perfect blog" so you can one day start making money from your blog.
Am I right?
Well – if that's what you're after, this course has everything you need to know about the "mythical" ways you can earn money blogging.
Here's what's included in the Make Money Blogging For Beginners course:
How to grow your blog to $10,000+ a month as a beginner (the same strategy Create & Go follows)
How to get free high-quality traffic from Goole and social media (that will convert into income)
How to get started (and master) affiliate marketing (big money-maker)
An introduction to how to make money from Banner Ads (and the platforms)
How to make money accepting sponsored posts on your website
How to build an email list and make it one of your

strongest

cash cows in your business.
The Pinterest Traffic Avalanche Course – $197
If you've been following my work, you'd know that I am a huge fan of Pinterest and have used Pinterest traffic in many ways to make money with my blogs.
If there's one social media platform I think any blogger should master, it's Pinterest.
If done right, it has huge potential for traffic, going viral and monetizing that traffic any way you'd like.
Interested in learning Pinterest marketing?
Here's what's included in the Pinterest Traffic Avalanche course:
How to get started with Pinterest
How to set up your Pinterest profile for

success

How to create a never-ending traffic source with Pinterest
How to create beautiful pins that get shared over and over on Pinterest
How to use, understand & profit from Pinterest Business accounts
How to build your long-term blog traffic with Pinterest
How to make money with Pinterest traffic (& it's surprisingly easy)
The 6-Figure Blogger Course – $297
Last but not least, we have the 6-figure blogger course which – as you may have guessed – will teach you how to become a six-figure blogger in your own right.
This is where all the other strategies and methods you've learned in the previous 3 courses come together to create an unshakable dominance with your blog and create for yourself a life-changing income.
Here's what's included in the 6-Figure Blogger course:
How to set up the foundations of your 6-figure blogging business
How to sell digital products with affiliate marketing (for high commissions)
How to create your own digital products & courses and sell them through your blog
How to create and sell your own ebook (the easiest way to start making money)
How to create high-converting sales pages with the use of copywriting
How to get high-converting traffic to your sales page and
How to build a relationship with your readers and customers to continuously grow your income.
There you have it folks – these are the 4 courses inside the ProBlogger Bundle that will teach you how to become a successful blogger.
Now the reason it's called the "ProBlogger Bundle" is because it's a "bundle" of all courses, and when you buy them all – you get to save money off the total combines value.
What's The Total Combined Value?
The combined cost of all the above four courses (if you had to get them individually) stands at $788.
If you get the ProBlogger Bundle pack, it will cost you "only" $647.
This means that if you take advantage of this bundle, you will be getting a decent discount of $141.
To be quite honest – I think they should've lowered the price a bit more considering you are making quite the sizable investment but -as I do know from creating my own courses;
These things take a whole lot of time (not to mention experience) to create, publish and promote.
However, they have included a few juicy high-ticket bonuses, which you'll also be getting with this bundle, and I will discuss that next but don't forget:
I also have my own special limited-time bonus for you worth $97 down blow.
Before we get to that, let's see what bonuses you're getting from Create & Go.
$2000+ Worth of Bonuses Included With The Course Bundle
Along with all the courses, you also get each and every bonus associated with each course.
This is a collection of bonus material, strategies, hacks, tips and guides with an additional combined value of ~$2,000+.
Without going into much detail about it, here's what it's included as bonuses with the ProBlogger Bundle (you can find out more about these here):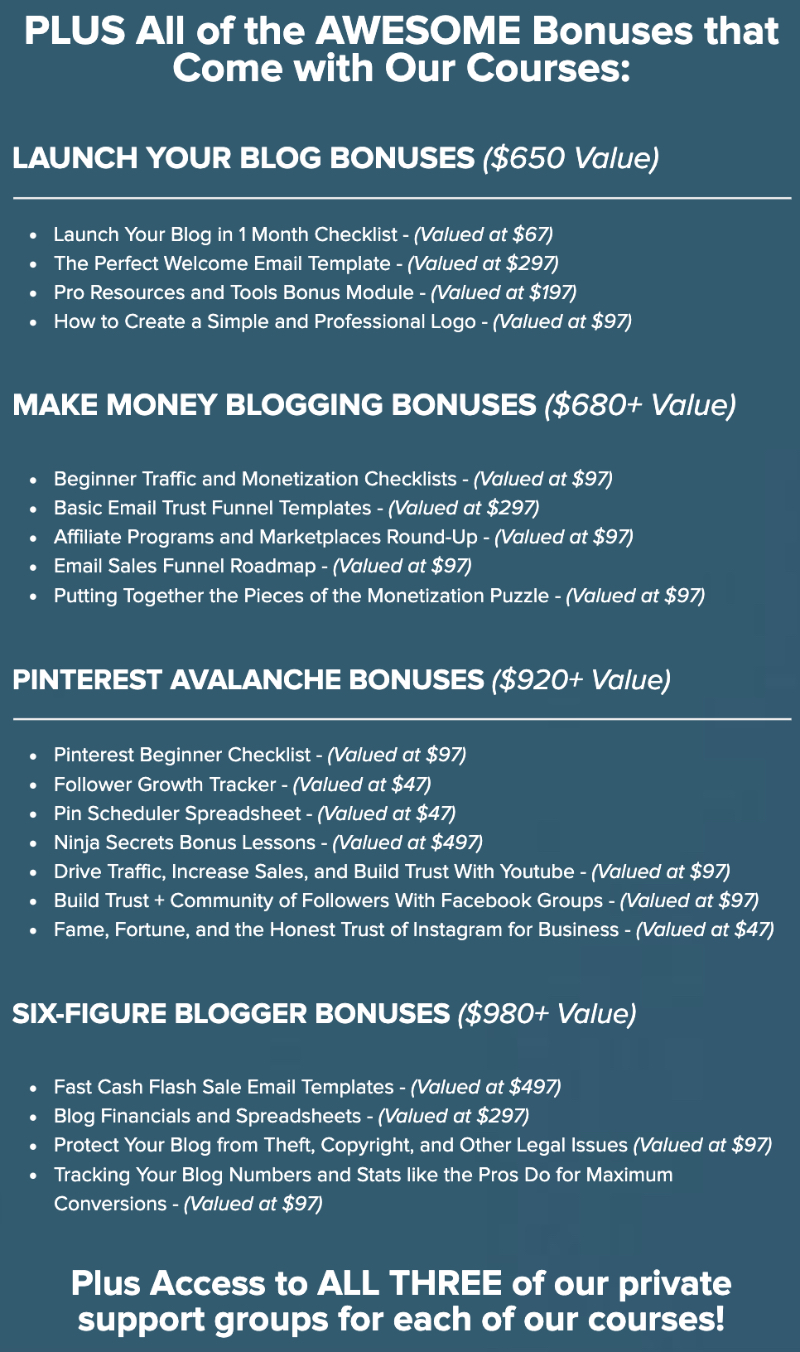 Who Will Benefit The Most From The ProBlogger Course Bundle (WHO is it For)?
To whom would I suggest this as a worthwhile investment to make?
Well, this course teaches you how to make money blogging – which is great – but honestly;
I would recommend this course more specifically to those who have tried to make money blogging but are just spinning around in circles never getting anywhere.
The key advantage of the ProBlogger Bundle is that you get access to ALL courses covering all angles of how to make money online. Everything is included and no stone is left unturned.
If you go through all this content and you still do not know how to make money with your blog, then do yourself a favor and go through them one more time to see if you've missed anything.
I'm not making any guarantees here because it all depends on how well you execute on the information provided, but it would be quite the challenge NOT to make money blogging after this.
With that said, here's who I think these courses are best suited for:
People who are brand-new to blogging and don't even have a blog yet.
People who already have blogs, but are not making money.
People who already have a semi-successful blog, but can't see how to get more out of it.
What you also need to realize is that while you are "learning how to make money blogging", you're also learning many other skills as well, such as copywriting, SEO, website building, outreach, guest blogging and many many others.
This ProBlogger bundle is for anyone looking to build up their skill-set in the digital marketing world.
My theory here is that eventually – when we all become robots – everyone needs to know how to make money online. This course is one of the best courses that can help you master every facet of "digital marketing".
Here are some success stories from current ProBlogger Bundle students to show you how they've put the information to the test, and built up their business (there's no reason why you can't either).
ProBlogger Bundle Student Testimonials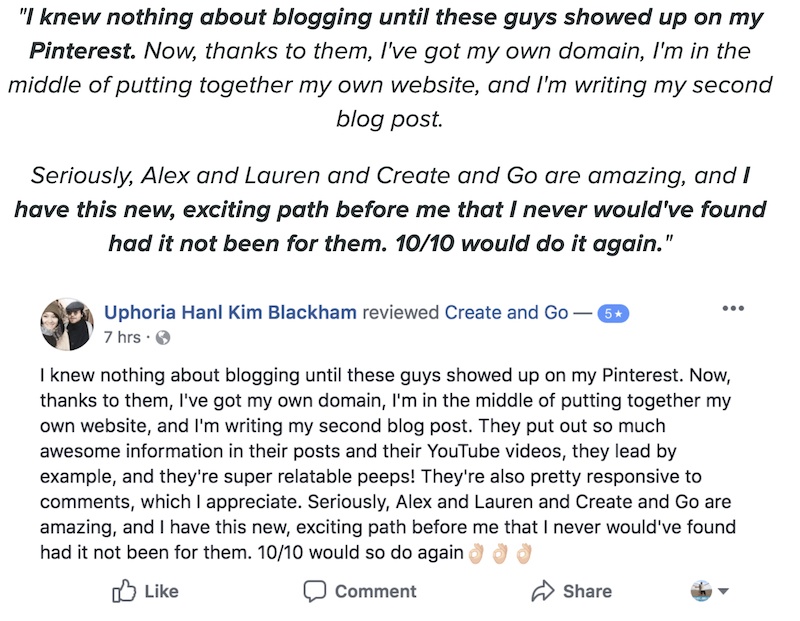 Is The ProBlogger Course Bundle Legit (or a Scam)?
If, after all you've read in this review (and the glowing testimonials above) don't prove to you that the ProBlogger Course bundle is a legitimate course you can trust, then I'm not sure what to tell you.
What you'll find inside these four courses does work, and yes;
You can start earning a life-changing, job-replacing type of income with your blog if you take the time to apply the strategies learned here.
Now – since you've made it all the way this far, then I'm going to assume you actually do see the value in this bundle, so with that said, allow me to now explain…
How To Purchase The ProBlogger Course Bundle (& Get All Bonuses)
So you've decided to make the right choice and invest in yourself to truly set yourself (and your family) up for success.
Great – I look to seeing you inside!
Here's what you need to do to become the next ProBlogger success story.
While there, be sure to read every word on the page.
I do not want you to go into this not knowing what you're getting yourself into and what you can look forward to.
Take your time, do your research, read the testimonials from people who just like you, went from not having an idea of what a "blog" is and are now making $10,000+ a month!
If you like what you see, then continue to the second step.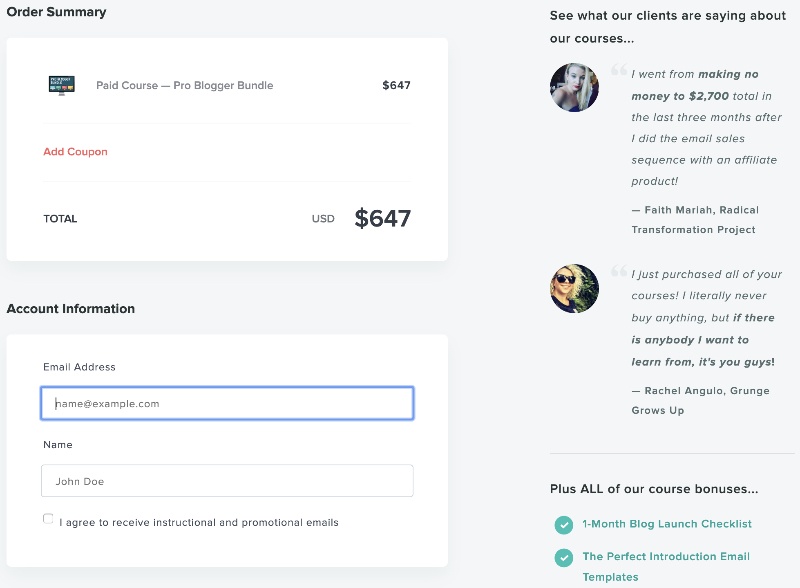 Step 02: Click "Enrol" At The Bottom Of The Page
At the bottom of the page, you will see an enroll button.
Click that button, and you will be moved to the second page, where you need to fill out your details.
Simply choose your payment method, and that's about it – you've done your part.
Step 03: Get To Work On Your Blogging Empire
Step four is where you need to come in and show us that you've got what it takes to go from zero to a mega-successful blogger online.
You now have the experience and combined knowledge of five tried, tested & proven courses that have helped thousands of people just like you online.
It's your turn now.
But don't worry – you will find help every step of the way.
Create & Go have set up four support group filled with other bloggers just like you where you can share your experiences and get advice from.
The ProBlogger Course: Final Rating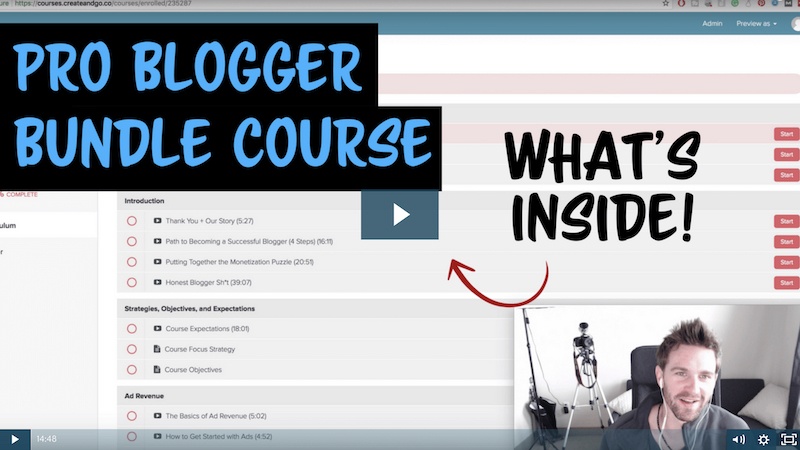 To close this off, I'm giving this course bundle a final rating of 4.7 out of 5 stars.
Yes, it's a bit pricey – but what you're getting here is a fully encompassing strategy for making money online, diving deep into many different monetization methods (such as affiliate marketing, sponsored ads, list building, etc.).
It will teach you all you need to know regarding:
How to start your blog (step by step guides included).
How to choose a niche (topic) for your blog.
How to make money with your blogging "hobby".
How to create stellar content Google and readers love.
How to use Pinterest (& other social networks) to explode your traffic.
How to create your own products (and sell them for big-bucks)
How to sell other people's products for big commissions
& a whole lot more.
If you like what's in this ProBlogger Bundle – I highly recommend giving this course a try because you will not be disappointed.