Are you spending way too much time on Pinterest?
I'm sure you are & I'm guilty of this too but I have a good reason for it; I actually make money on Pinterest!
Today, I want to show you 5 ways you can use Pinterest to start making money and (hopefully) will eventually lead to you having your own online business earning you a life-changing income.
I am sure you've already seen all the pretty pins on Pinterest showing you how you can make money, but this would likely be the last make-money-on-Pinterest guide you'll ever going to need because I will be showing you:
5 incredibly easy ways to make money using Pinterest
How to quickly grow your Pinterest following (and traffic)
How to create attention-grabbing pins that will continue to earn you money for years
All you need to know, have & do to make Pinterest a passive-income source for you.
Let's dive right into it…
Do You Need To Have A Website To Make Money On Pinterest?
While I do share a few ways you can make money on Pinterest without a blog, I highly recommend you spend the $3.95 to get yourself a simple WordPress website. Following this guide, I promise you will be making way more than $3.95 so if you don't have one already;
get a blog from BlueHost right now
.
Can You Really Make Money On Pinterest?

I know it may be hard to believe but yes; making money on Pinterest is not only possible but it's probably one of the easiest ways you can make money online.
Pinterest – unlike any other social network – is a social visual search engine.
It offers the benefits of the incredibly-valuable "search engine traffic" and also the social networking aspect of it all.
Plus; Pinterest is a very visual search engine which people seem to love using.
I don't often recommend people try to make money with social media but as I said; Pinterest is a different story and as you're about to find out: you can make a LOT of money on Pinterest (by doing things you probably are doing already).
Sounds crazy right?
Well, let's see…
5 Ways To Make Money On Pinterest

Make Money With Affiliate Marketing
The way I make money online is through affiliate marketing and even though I would consider SEO to be the best traffic source for that, Pinterest traffic is a close second when it comes to "high converting traffic" for affiliate marketing.
If you're not sure about what affiliate marketing is, then you can take a look at my getting started guide but, in a nutshell
It simply means making money by selling other people's products for a small commission.
How to make money on Pinterest with affiliate marketing?
Pinterest & affiliate marketing have not always been the best of friends;
There was a time when Pinterest out-right banned the use of affiliate links on the network due to the tremendous amount of spam that was coming through.
Today, Pinterest is much friendlier to affiliates and yes; thanks to their new spam filtering systems and algorithms, we can now post affiliate links once again.
Now; there are two ways to go about this. You can either post affiliate links directly on Pinterest (meaning people will click on a pin that has an affiliate link tied to it) or;
You can create product reviews on your website (that has affiliate links in the content), create pins for that review and then share it on Pinterest.
When your potential customer seems the pin, he/she will click through to read your review and then click the affiliate link to go and complete the purchase.
But back to the "posting affiliate links directly on Pinterest" business, the best affiliate program you can use on Pinterest is; Amazon.com
How to make money on Pinterest with the Amazon Associates program:
I have recently started testing a new system where I pin images directly from Amazon.com (related to my niche of course) with my Amazon affiliate link already embedded.
This means that when a customer sees the product image and clicks through, he/she will go straight to Amazon.com.
The reason I am trying this out is two-fold:
Amazon is the safest option to use on Pinterest because Amazon.com is a trusted company that people know and love (although you should not be spamming Pinterest either), and:
You can get a commission on everything you sell on Amazon: This means that if somebody clicks through on my 'dress" pin but buys a book, I get a commission on that book purchase.
If you'd like to learn more about the Amazon Associates program, see my guide about it here.
(That guide has had over 100,000+ repins on Pinterest and it has singlehandedly funded the creation of my online business).
Make Money With Adsense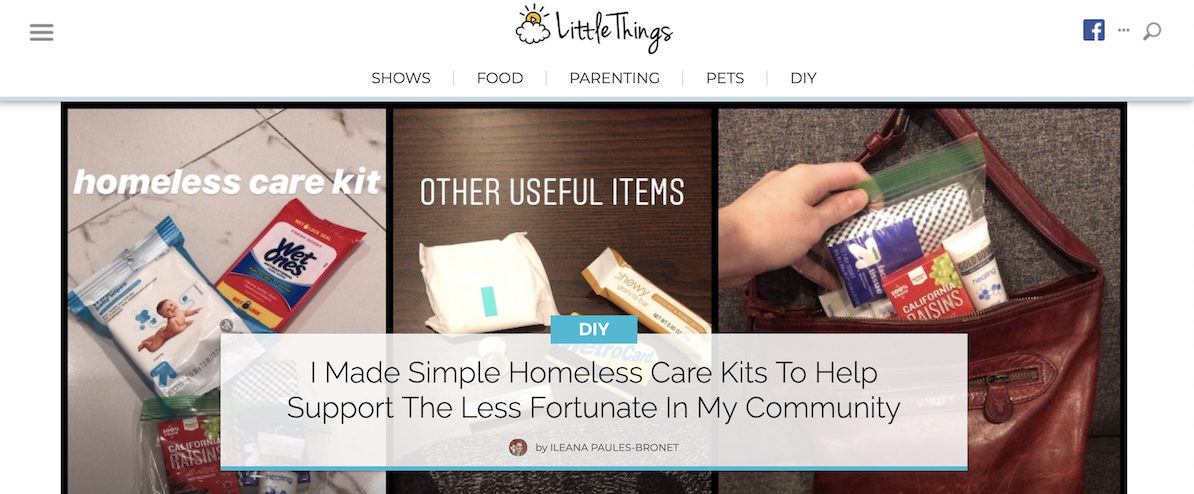 Another good way to make money on Pinterest would be to create viral-type websites where you just share information on a specific topic.
For example; an "avocado smoothie recipe" blog may not have many affiliate products to promote, but there are plenty of people who will be clicking through to your website to see your recipes.
If you have enough eyeballs on your website (i.e traffic) you can look into adding banner ads where companies simply pay you to show their products on your website.
Since Pinterest is undoubtedly one of the best traffic sources you can get; you can rest assured that advertisers will be willing to advertise on your website and yes: you can and will make money with this method.
Now it's good to point out that Adsense is the lowest paying platform. Although you can still make a decent amount, there are other (better) Adsense alternatives such as MediaVine and eZoic which offer much better rates.
All you need to do to start making money this way is a blog (again; get one from BlueHost if you don't have one) and start publishing content.
(I will show you how to get traffic with Pinterest using viral-images soon).
Make Money With Drop Shipping / E-Commerce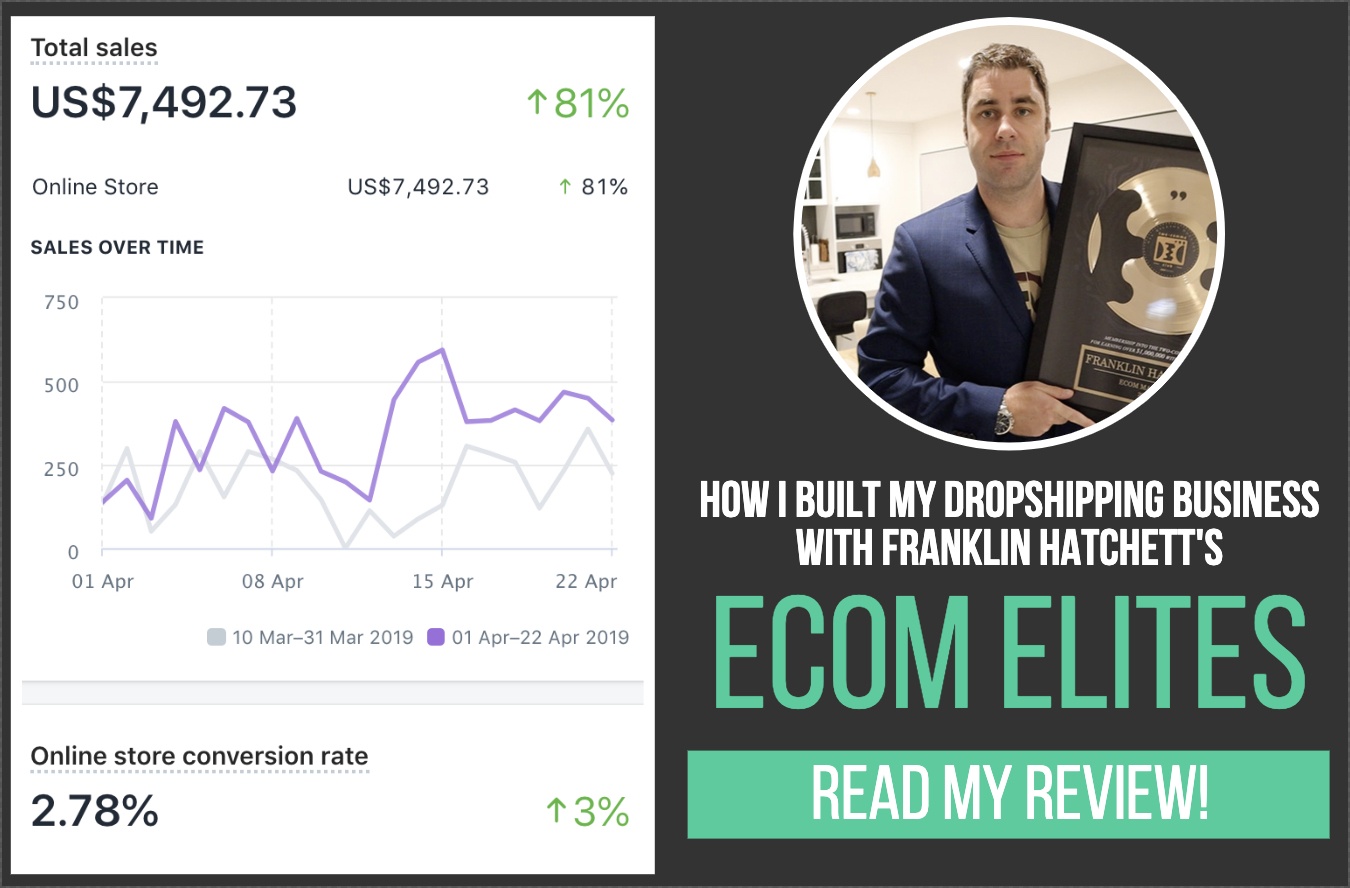 Another way you can make money on Pinterest is by driving traffic to your online e-commerce website and/or dropshipping store.
You can see what dropshipping is here but it simply means buying up products from China and selling them directly to customers in the USA.
Since Pinterest is a very visual platform, you can easily pin images of your products from the store to Pinterest and let the Pinterest-viral effect take hold.
You'll often find that products pins can easily go-viral when seen by the right audiences and of course; the click-through will lead people to your ecom store and thus you make sales.
Again; this is just a brief introduction so if you like the idea of dropshipping but have no clue what I am talking about; you can see my getting started guide here.
How To Make Money On Pinterest (Without A Blog)
While you'll just be making it hard on yourself trying to make money on Pinterest without a blog, it is possible.
You can use the Amazon Associates method I've shown you above, or; another great way to do this is by charging people to share their pins on your boards.
This would require you to first build up a huge following on Pinterest (which is easier said than done) but once you do that; you'll often find that many marketers (who are doing the methods I've just described above) will be more than happy to pay you to share their pins and their links.
To be honest; this would not be something that I myself would do as you can make much more money by having a blog where you can send people to but;
It's not impossible to do so if you are dead set on not having a blog; this could be an option for you to try out.
How To Quickly Grow Your Pinterest Account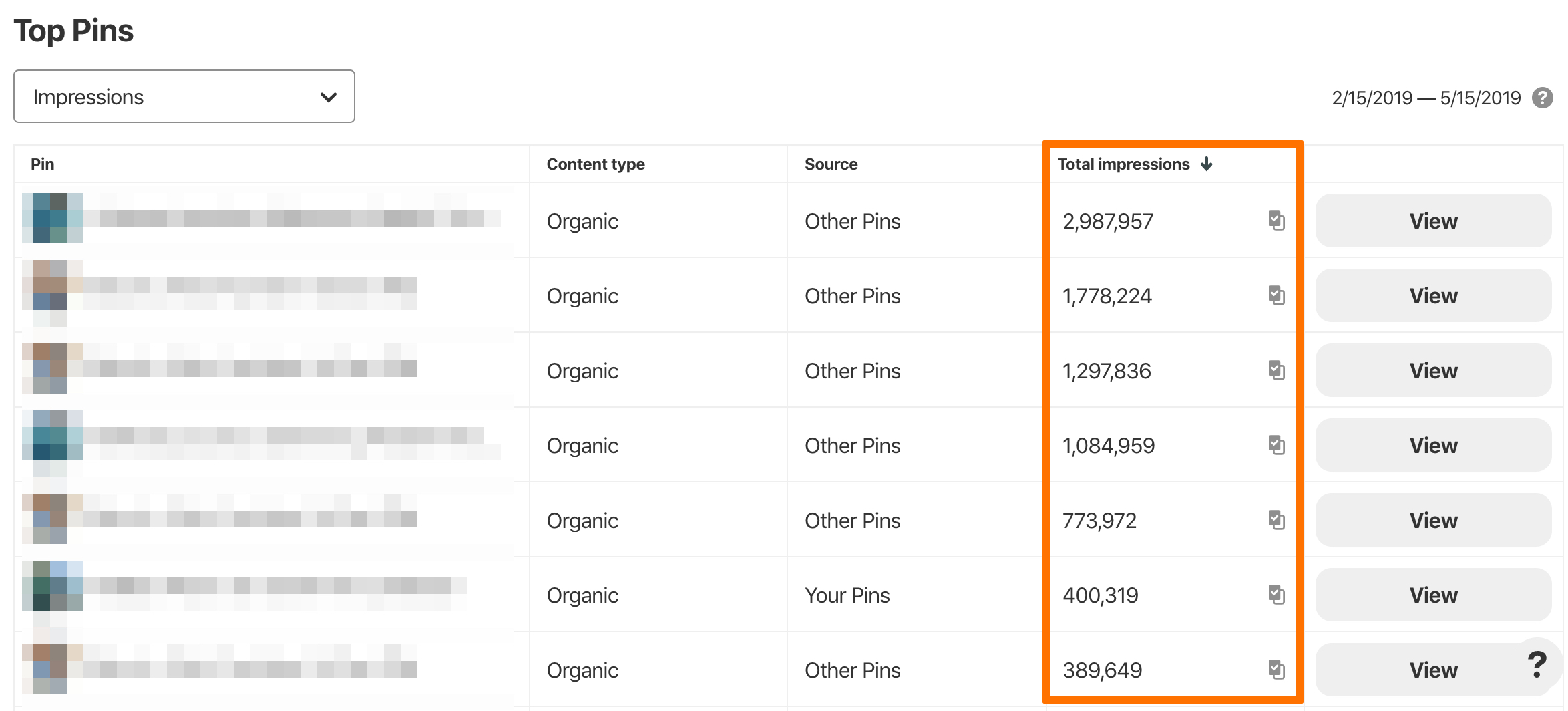 Now that you know my top 5 recommended ways to make money on Pinterest, let's see how you can quickly build up your profile so you can start making money as soon as possible.
Have A Business Account:
Having a business account is super beneficial when you want to make Pinterest a profitable source of traffic for your business.
If you have a "normal" profile, don't worry as you can easily turn it into a business account (see how here) but; to register a business account you must have a website/domain so again; get one if you don't.
Having Pinterest Analytics up and running will tell you how many impressions you are getting, how many clicks, what kind of content is performing well, who is sharing your content and a whole lot more.
Keep Your Boards Topic-Focused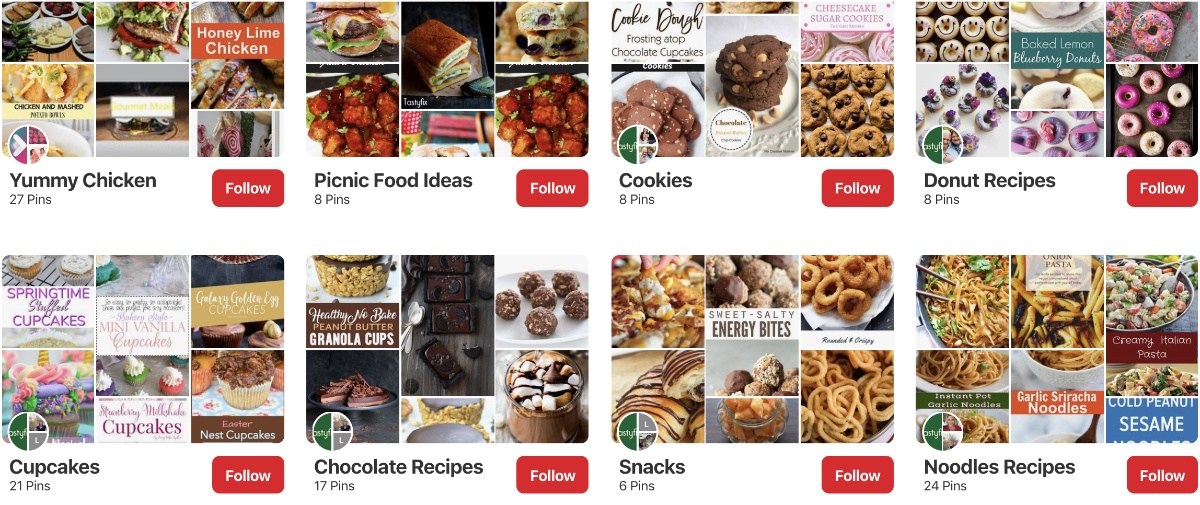 Another common mistake I see is people creating a lot of different Pinterest boards which have absolutely no relation to each other.
This is fine as a personal account, but as a business trying to make money, it's best to keep all your boards and pins themed around a specific niche/topic.
If your account is all about "avocado smoothie recipes" then do not have a board called "muscle cars" – it just doesn't make sense.
This will confuse both people and Pinterest and thus; your pins will fail to fully reach all the customers/readers you want to reach.
Pin A Lot Of Content
Want to grow fast on Pinterest?
Pin a lot of content (don't spam – just pin a lot, naturally). Some guides will tell you to pin 10 a day, I say pin at least 100 pins a day.
Pin content from other profiles, share the pins, spread the love and in between that flow of great content, throw in there a few pins from your business (either that have affiliate links or pins that lead to your website).
Just pin a lot – it's the only way to get traction on Pinterest without having to wait a few years to get noticed.
Use Tools Such As Buffer or Tailwind (Optional)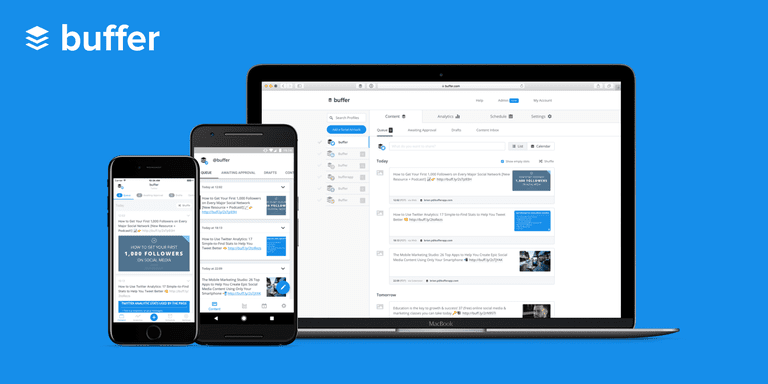 To help you with this, you may also want to use a tool that will schedule pins for you.
I personally use Buffer but many do seem to prefer Tailwind for some reason.
Whatever it is you decided to use (if any at all) it's good to keep that stream constantly updated and publishing content.
Be Patient With Your Progress
One last thing regarding growing your Pinterest is having patience.
It will take a few weeks – up to a month – for Pinterest to see you as a worthwhile resource that adds value to the platform.
Of course; if you are going to be creating a blog, you are going to have to create content on that blog so if you can do 30 posts a month, thus 30 pins; you will have 30 pins that will be driving traffic to your website.
Obviously; you can't share 30 pins from your website on day one because you do not have any content, this is why being patient and trusting the technique is a must.
How To Create Pins That Will Go Viral (& Bring In Money)
Want another reason why Pinterest is so damn great?
The ability for pins to go viral, and keep on bringing traffic for years.
On any other social network, what you publish is only visible for a few hours (maybe days) before it gets buried under new content.
With Pinterest – since it's a visual search engine – your pins can still be found as time goes on and people can keep pinning it and sharing it with their friends constantly bringing in new traffic and hopefully more sales/commissions.
What Makes a Pin Go Viral on Pinterest?
Long images with big bold text and pretty images seem to work the best on Pinterest.
If you want to know what I mean, head on over to Pinterest and type in a random keyword. What shows up are pretty much the top pins for that keyword and as you'll see, most are tall images, with big bold text and pretty images that grab attention: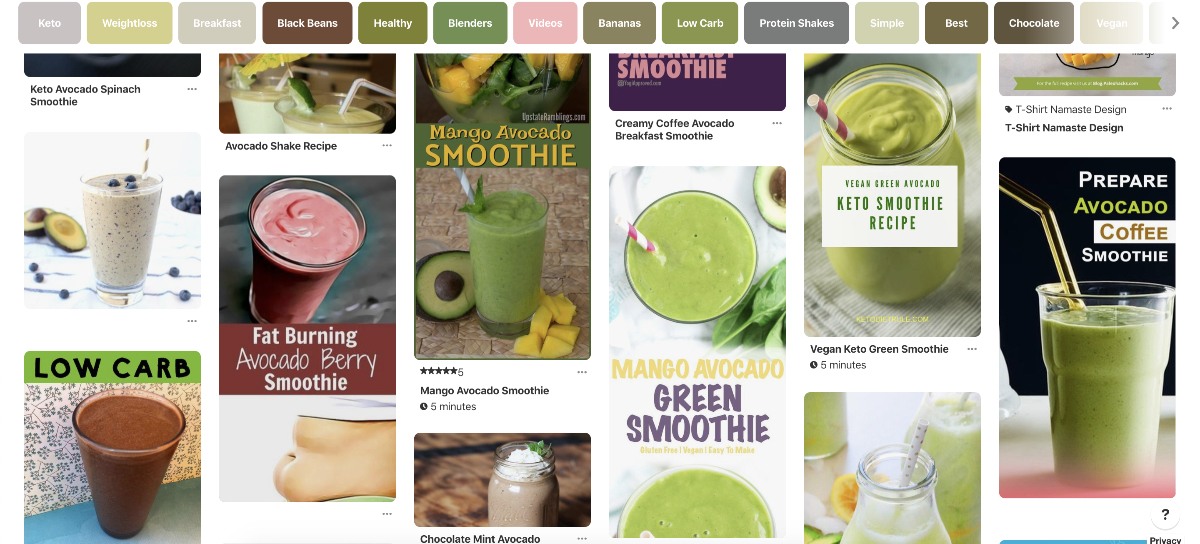 How To Create Pins That Grab Attention
The tool I use is Canva and with it, I create all the images that you see me sharing on all my accounts.
Check out my Canva review here to see how it works and what you can do with it. The best thing about it is that it is free.
Keep Sharing (But Don't Over-Share)
Now; once you have pins from your website, you need to share those but you do not want to appear spammy so do not keep sharing your pins over and over again.
What I started doing lately is I create one new pin for every post once a month for 3 months.
For example, this post will have an image that I share today, then I will create a new image in the second month and one on the third month as well.
This means I share 3 pins in 3 months all linking to the same post.
I have found this to be the best way to keep sharing my content without being spammy/ You may have a better way of doing things so just find the best option for you.
What You Need To Start Making Money On Pinterest
Last but not least; I want to share with you a few things you are going to need to really improve your chances of making money on Pinterest.
A website (optional but highly recommended)
A niche/topic (you do need to focus on a specific topic)
An offer (what are you going to sell to all the traffic Pinterest will send you?)
A way to create images (Again; I use Canva but if you have a better option, go with that).
That's all you pretty much need to make money with Pinterest.
If you have those (and again a website is optional but highly recommended) you have everything you need to start making money.
Only one question left to answer here…
How Much Money Can You Make With Pinterest?
Would you believe me if I said: a lot?
The amount of traffic you can get from Pinterest is absolutely insane.
Personally, I can count up to $2,000+  a month that come directly from Pinterest but you can also find bloggers who make $10,000 and even $30,000+ a month using Pinterest.
This may sound unbelievable but believe me; it's true.
Once you have found a way to make money on Pinterest (and you prove it works) all is left to do is to get more traffic, which Pinterest has a lot of!
Want To Start Your Own Online Business?
Last but not least, I also want to give you a bit of parting advice regarding starting your own business and making money online.
While I do love Pinterest (as I am sure you've realized by now) building a business that uses one platform is very much like putting all your eggs in one basket.
I personally use Pinterest and SEO and I also have multiple ways to make money online.
If Pinterest disappeared today, I would take a hit; but my business will continue thriving no matter what.
Now' if you want to make a few quick bucks with Pinterest, then go right ahead and use the methods described above but;
If you want to build a more sustainable, fail-proof online business, I highly recommend you get this free training course that will show you all you need to know to build a "proper" online business.
Closing Words
Thank you very much for reading.
I really hope this guide has shown you how to make money on Pinterest and put you on the right track to create your very own profitable online business.
If you have any questions, be sure to let me know in the comment section below and since you seem to be a Pinterest fan; please consider pinning the image below to one of your boards.
Talk soon.