I've always been a fan of the survival/preppers niche. It offers plenty of fantastic novelty products you can sell, along with a growing passionate audience worldwide to sell to.
As you will soon see, this niche also holds the potential for high commissions that can help you secure your affiliate profits.
So, if you're in the survival niche, here are…
The 10 Best Survival Affiliate Programs (Reviewed Below)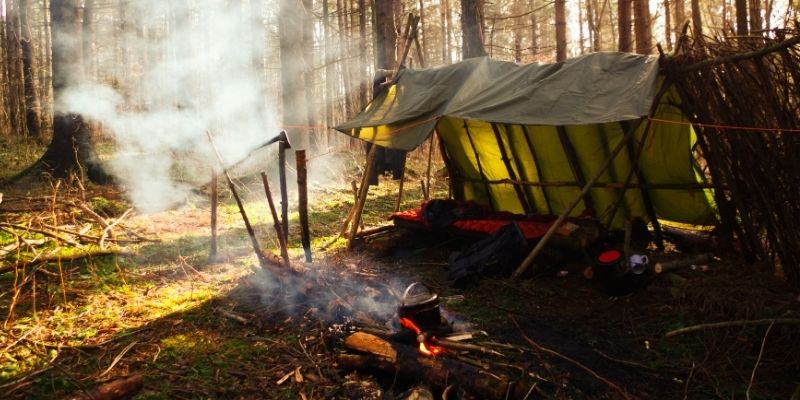 ---
---
Emergency Essentials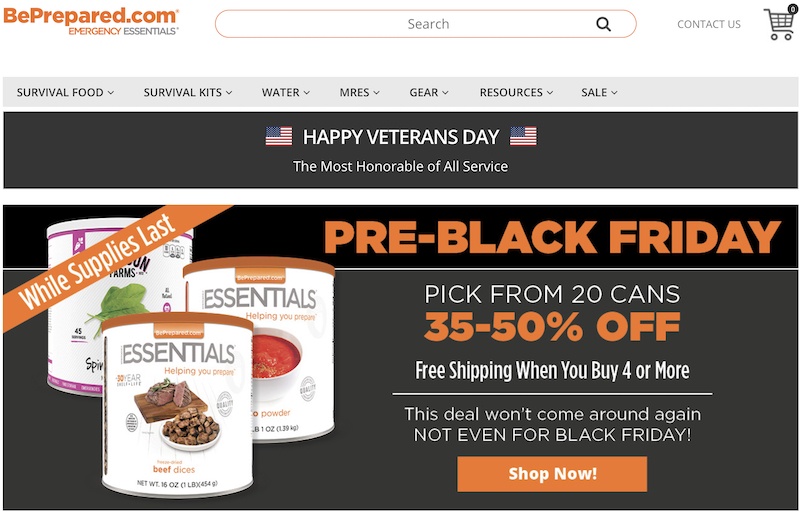 EmergencyEssentials is a company that has a goal to help prepare people for the unexpected.
The company has a special relationship with the Department of Homeland Security, experienced experts, and emergency response organizations that provide their customers with up to date information and best product recommendations.
As the name implies, EmergencyEssentials provide the very essentials people are reaching for during natural disasters, including hurricanes, earthquakes, tornadoes, floods, fires, and winter storms.
They also offer a low price guarantee that will help families, friends, and neighbors be ready for the unexpected and even save more money by splitting costs and buying in bulk.
EmergencyEssentials has an affiliate program managed by Rakuten Marketing. They provide access to all their creative tools, data feeds, reporting tools, and issue monthly payments to their affiliates.
Affiliates can share their affiliate code by adding products, banner ads, or text links to their websites, blogs, or social media platforms.
Commission: 10%
Cookie: 90 days
More Prepared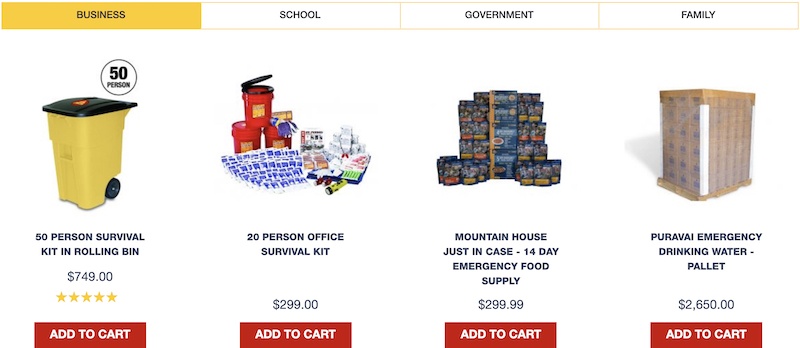 MorePrepared was established by two talented and resourceful women who saw a problem in their local schools' emergency preparation plans and developed a solution to fix it.
MorePrepared hails from southern California, where, unfortunately, earthquakes are a reality, and schools are required by the state to have adequate emergency supplies and a plan.
They are focused on meeting their customers' unique needs and committed to helping everyone prepare for any emergency situation and natural or man-made disaster.
They offer a line of survival kits and supplies for the home, car, school, and office and customized kits to meet different and more specific needs.
MorePrepared has an in-house managed affiliate program. They supply their affiliates with a range of marketing tools such as banner ads and text links that can be shared on their websites, blogs, or social media platforms.
Affiliates are also given access to their affiliate dashboard. They can keep track of all the data, such as the traffic generated by their banners and links and performance and commission balance.
Commission: 10%
Cookie: 30 days
Survival Frog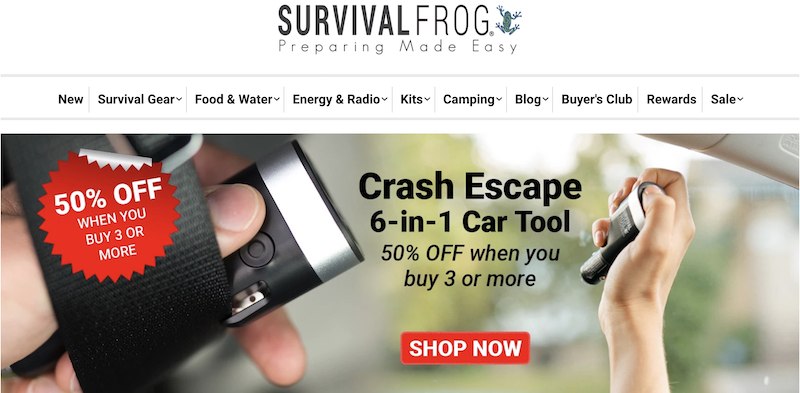 SurvivalFrog is the largest and one of the most trusted sources for survival and emergency preparation plans online. It was born back in 2009 after the founder Byron Walker started selling information-packed books, CDs and DVDs online.
Today, SurvivalFrog distributes physical survival and outdoor gear throughout the US and Canada, and the company has evolved into becoming the industry leader.
They cater to all types of people and organizations and their mission is to educate those ready to protect their loved ones and provide them with the most advanced survival options at affordable prices.
ShareASale manages the SurvivalFrog affiliate program, and they invite brand advocates, online influencers, and relevant content sites to promote their products and earn commissions for referring sales.
Their average cart values are $100+, and refunds are below 2%. They also have a no-questions-asked policy that allows customers to try out their products risk-free.
Affiliates are given access to their unique affiliate dashboard, where they can track their performance and earnings as well as promotional materials such as banner ads and text links that can be shared with their followers to boost sales.
Commission: 12%
Cookie: 30 days
Day One Gear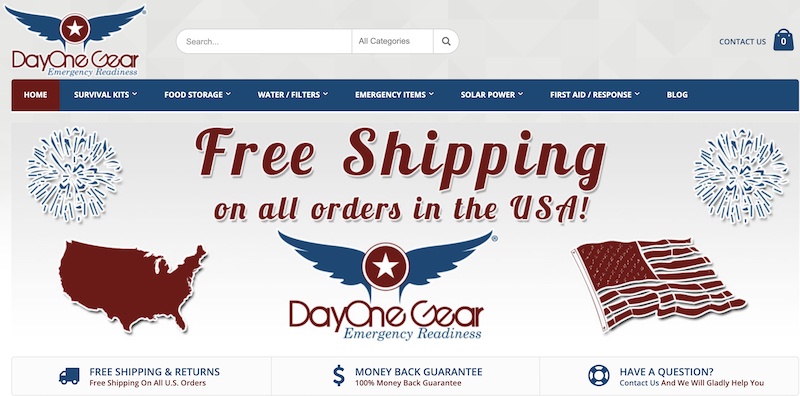 DayOneGear is a family-owned and operated company dedicated to supplying customers with quality survival, emergency, first aid, and preparation plans at the lowest cost possible.
Some of their products include survival kits, emergency gear, long-term food storage, solar power kits, individual survival items, and so much more.
Additionally, they offer special pricing for bulk buyers, such as schools, non-profit organizations, and government agencies.
They also have a blog section on their website where they focus on sharing relevant and informative articles that teach the reader how to prepare for emergencies of all sorts.
They have an affiliate program managed by ShareASale and offers a great selection of banners and text links for affiliates to choose from and data feeds and widgets.
Their affiliate manager is available to assist affiliates with any questions and keep them well-informed with a monthly newsletter that updates affiliates on contests, promotions, and sales opportunities.
Commission: 10%
Cookie: 365 days
Mira Safety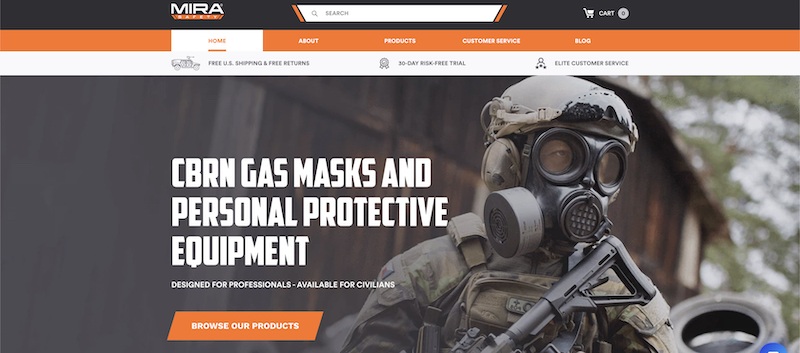 MiraSafety is a family-owned manufacturer, and they distribute high-quality respirators, safety equipment, and tactical gear.
They are located in Austin, Texas, from where they operate their company and strive to provide their customers with tools to protect themselves and advanced self-defense gear used by military professionals and law enforcement.
MiraSafety has built strong international partnerships with agencies across the globe thanks to the competitive prices they offer and the strong commitment to quality workmanship.
Each of their products comes with a standard 1-year manufacturer's warranty. However, select products come with a guarantee that lasts up to 5 years.
MiraSafety is partnered with AvantLink to manage their affiliate program, and they offer their affiliates a set of free marketing and promotional tools as well as the best affiliate support in the business.
Additionally, affiliates have access to their advanced tracking tools to help them maintain accurate campaign information and maximize their earnings.
Commission: 15%
Cookie: 30 days
The Survival Doctor

TheSurvivalDoctor is created and managed by Dr. James Hubbard, a family doctor with an experience of over 30 years of practicing medicine.
His blog contains medical information to use if that's not possible and when you are your last option. It teaches you survival medicine in the case of hurricanes, earthquakes, tornadoes, floods, terrorist attacks, or any time you are isolated.
Dr. Hubbert has a unique product for affiliate marketers, and it involves promoting and selling his online Emergencies Training Courses.
The video-based courses provide learners with in-depth information on helping people keep themselves and their loved ones alive during a medical emergency when they're the only help around.
The courses are a unique combination of first-aid, wilderness, and survival courses, with additional old-fashioned experience and know-how.
Additionally, it fills a void for hunters, campers, preppers, and adventurous travelers and prepares you for a time when expert help is delayed.
His affiliate program is managed by EJunkie, and affiliates are supplied with special graphics and product information to boost sales and earn you a 30% commission for every customer who purchases the course through your unique affiliate link.
Stat Gear Tools

StatGearTools is a company that was created by Avi Goldstein, a practicing New York City paramedic. Active since 2010, StatGearTools focuses on developing and manufacturing innovative tools for the rescue, survival, and everyday carry industries.
They offer a hassle-free return policy and a 30-day money-back guarantee on all of their products and have a decent catalog of products that can come in handy for everyday activities such as hunting and traveling as well as post-disastrous situations.
StarGearTools has an affiliate program that is managed by ShareASale, and they offer their affiliates a wide selection of banner ads, links, newsletters, and articles that can be used as promotional material to boost sales.
Additionally, affiliates are provided with a trusted third-party tracking where they receive real-time reporting on performance, traffic, and commission balance.
Commission: 15%
Cookie: 60 days
Survival Life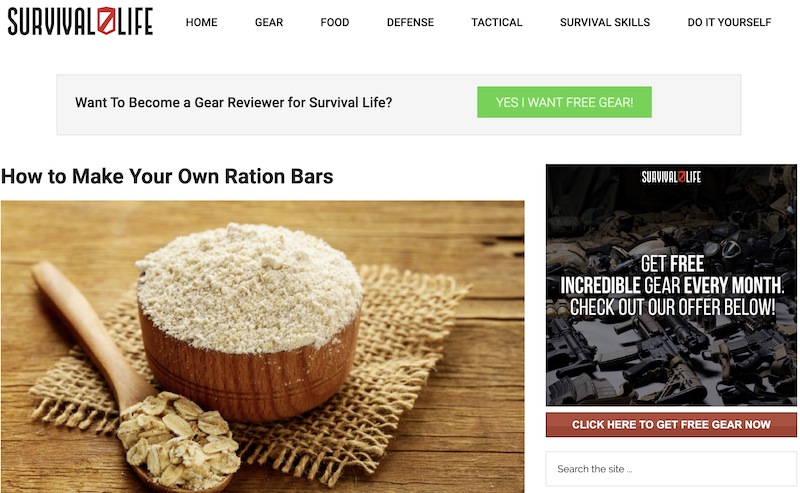 SurvivalLife is a company that prides itself on going beyond and above with providing an array of surviving gear, skills, and tips in the survival and preparations field for the practical prepper.
They aim to be the one-stop-shop for those interested in prepping, bushcraft, off the grid living, and self-defense by taking a logical and no-nonsense approach to survival.
SurvivalLife features survival gear essentials from a streaming stylus to urban survival gadgets.
They also have an affiliate program where affiliates are supplied with high-quality, content-rich offers, high commissions, promotional resources, and personalized support from their dedicated affiliate management team.
VSSL Gear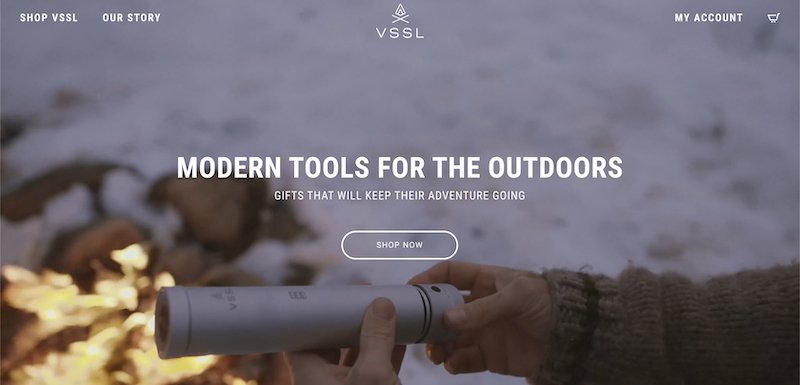 VSSL was invented by Todd Weimer, who had an idea to transform the traditional fleshlight into a versatile utility tool by creating extra space for emergency preparedness gear, first aid supplies, and outdoor survival gear.
This allows for light traveling as well as enough space to bring your essentials with you everywhere you go.
Every VSSL is weather resistant and made from military specification anodized aluminum. They are compact with only 9 inches by 2 inches and weigh about a pound, which is excellent for fitting in smaller backpacks or emergency kits without taking too much space.
VSSL is a unique product that has been featured on Field&Stream, Popular Science, Food&Wine, Time, and more.
They have an affiliate program that is managed by both ShareASale and AvantLink, and affiliates here are provided with superb marketing and promotional materials as well as tracking tools to monitor their performance and commission balance.
Commission: 10%
Cookie: 90 days
Wise Food Storage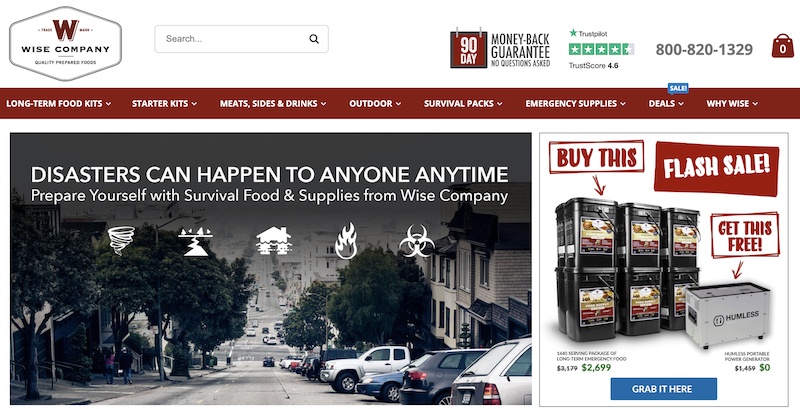 WiseFoodStorage is a company that takes an innovative approach in providing dependable and simple ready-made freeze dry and dehydrated food for emergency preparedness and outdoor use.
They are one of the top providers of high-quality, gourmet freeze dry food. Their products are affordable, convenient, and easy to prepare in just about any situation you find yourself.
Most of their meals have a shelf life of up to 25 years as they are made from high-quality, handpicked ingredients.
WiseFoodStorage has an affiliate program that is managed by both Commission Junction and AvantLink. Both networks track performance, sales, and commissions and provide their affiliates with great resources to boost sales.
Their dedicated affiliate managers are available to assist affiliates with any possible questions and provide recommendations on successful promotion methods.
Commission: 12%
Cookie: 120 days
---
Can You Make Money With The Survival Niche?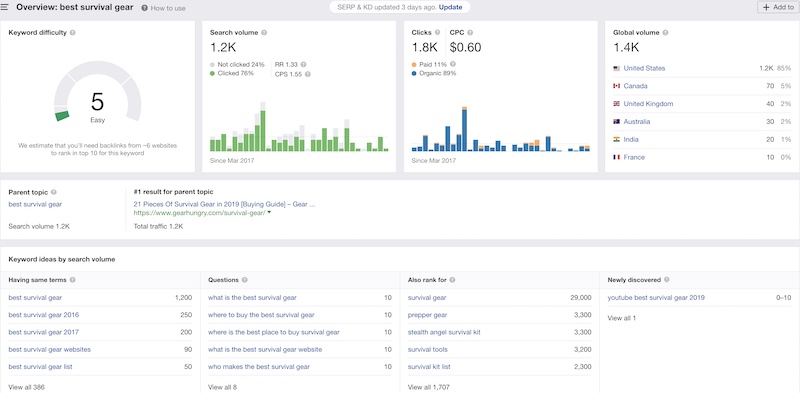 From the research I've been doing about the survival niche, I'm pretty surprised to see that there still is a lot of room in this niche for those who want to create a business around "survival guides and products".
As pictured above, I've used the strategies from my niche picking guide, and it's clear that the possibilities are there.
If you want to get into this niche, then there are plenty of ways you can make money here with the above-listed survival affiliate programs.
One thing you are going to need though is a website (yes – having a website is a must when doing affiliate marketing).
If you don't have a website yet, check out my tell-all guide showing you how I build my own affiliate websites for maximum profitability.