Welcome to part 2 of my round-up list covering 5 more) travel affiliate programs (you can see part 1 here).
Since part 1 was such a success, I figured it's only right I'll add some more travel affiliate programs and also give a bit of an update on some of the classic house-hold names in the Travel affiliate marketing business.
If you have a travel website – and you have traffic – then listen up as this is a roundup list of affiliate programs you can use to earn high-ticket commissions with your niche.
Let's start off with one of the biggest players in the Travel business…
Booking.com Affiliate Program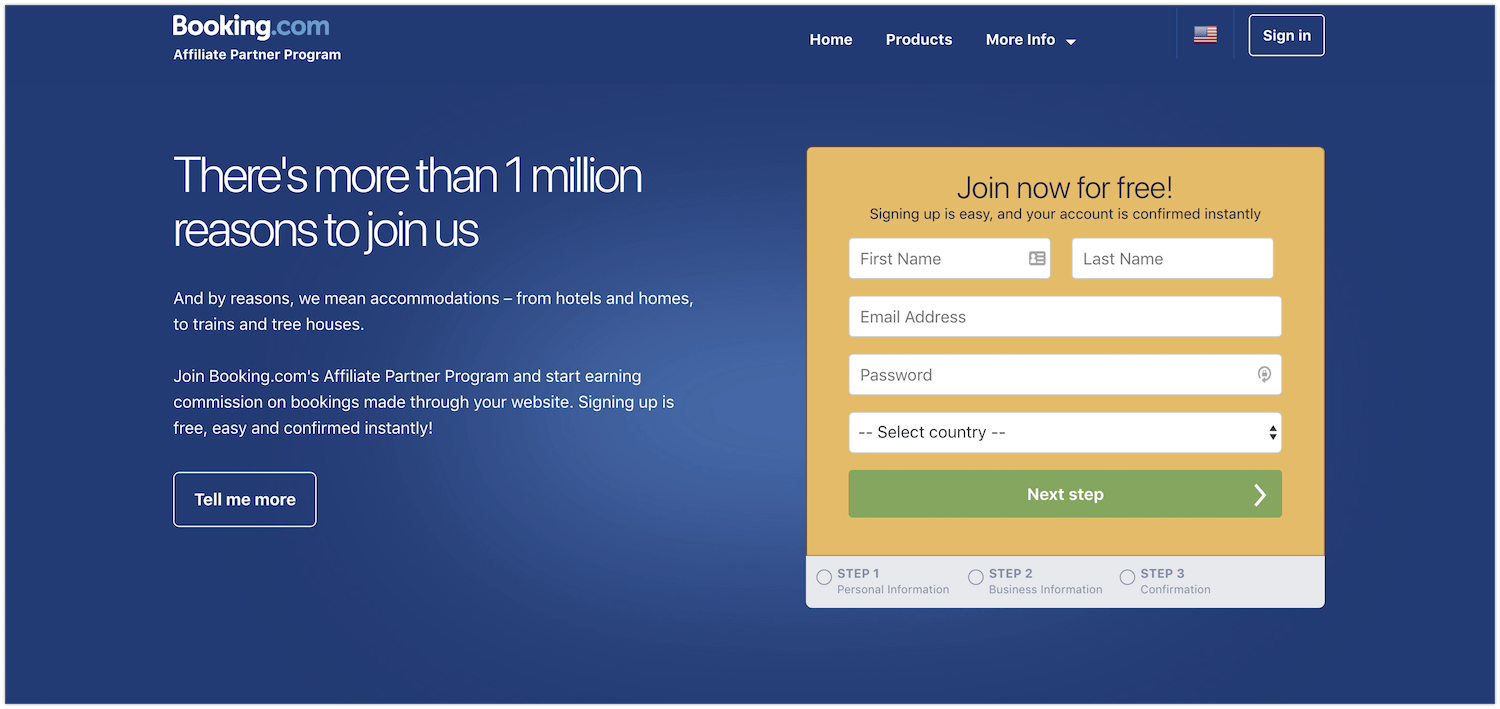 If you have tried several travel affiliate programs, but still unable to open the floodgates of abundance in your life, try Booking.com.
There are more than one million reasons to sign up for their affiliate program.
This website is one of the most trusted and most recognized online accommodations booking platforms. For that reason, there is a huge potential for earning. For each booking, its affiliate members earn a favorable commission.
Most people opt for this platform for accommodation but one can use it for flights, car rentals, and airport taxi as well. For any young entrepreneur, there is a very large variety of products and services which he can promote and make additional income.
Currently, the commission amount is 25%. However, it is pertinent for a visitor to book and complete the stay. Simple searches on the website won't hand you anything.
Before signing up for its affiliate program, please remember that your affiliate commission is linked with Booking.com affiliate commission. For example, if a client books a room for $100, Booking.com will receive 15% ($15) commission, and you will get 25 percent of $15, which would be $3.75 only.
Program Highlights
Your commission is 25% of Booking 15% commission.
This website offers links, banners, and widgets to its affiliate members.
You get paid once you reach minimum earnings of $100.
The method of payment is PayPal and Bank Wire Transfer.
Affiliate interface is relatively easy to comprehend.
Skyscanner Affiliate Program

It is a travel fare aggregator website.
Believe it or not, this website is used by 60 million people worldwide each month. Perhaps, that's why experts call it a global travel search site.
According to them, the comprehensive range of flights, hotels, and car hire options make it the best stage for travelers.
Before promoting this service, please ensure that you aren't connected to the free-to-use format (non-monetized) option, as it doesn't give the commission on flights.
If you wish to promote flight-related services in your blog, you must associate with either affiliate network (monetized) or direct partnership.
The interesting thing about this program is you earn by the traffic quality score. The higher quality the traffic is, the better.
Program Highlights
You can earn $0.15 to $0.25 per exit click.
It is imperative to have high quality, targeted traffic.
If the traffic quality is poor, your account can be blocked.
Marketers with a small website can use Commission Junction for its affiliate program.
It pays via PayPal and Bank Transfer.
Agoda Affiliate Program

If your website is strictly focused on hotels, join Agoda affiliate network.
It is a hotel booking service with 53 offices in 30 countries. It is especially famous for securing the lowest discount hotel prices, particularly in Asia. Therefore, it is a blessing for all those who wish to visit Asia, and countries like Singapore, China, India, and etc.
The only disadvantage of using this program is it doesn't allow its visitors to rent cars through its services.
But the key advantage which can compel your followers to opt for it is it informs them through notifications if the pricing of their favorite hotel changes. This is a special benefit which they can't relish through other hotel booking online services.
It is open for everyone to join. Unlike other websites, the approval process can take some time. You need to wait 48-72 hours to become an official affiliate member of Agoda.
Program Highlights
It gives up to 60% commission rates on margin.
It supports 38 different languages.
The minimum payout is $200.
It is rather easy to set up and track commissions.
You can use 'Hotel Power Adz' to increase revenue.
Amazon Associates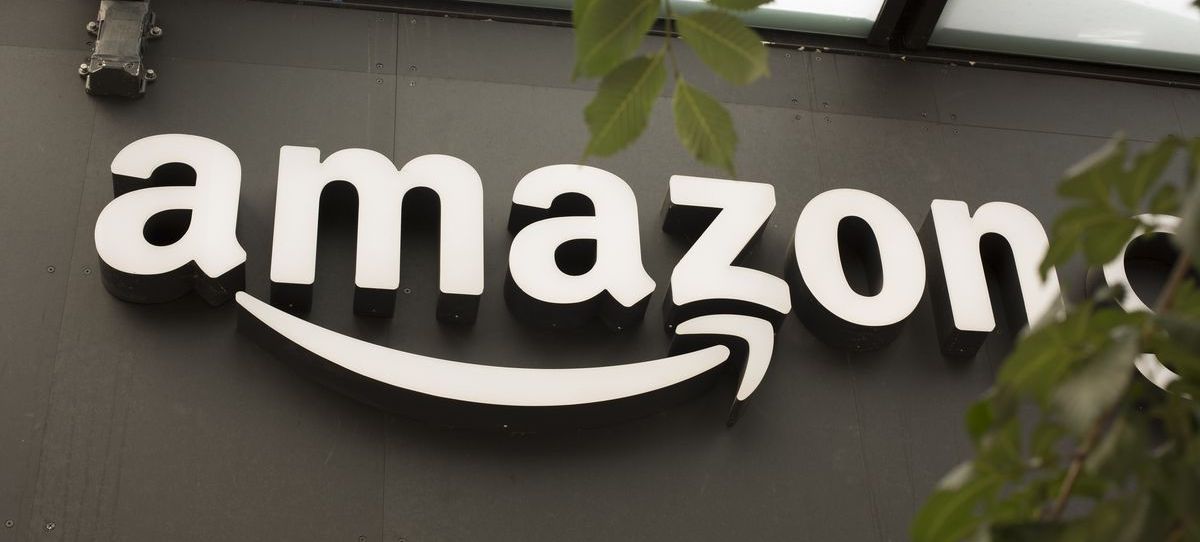 We all know about Amazon.
It is a multinational technology company, focused on e-commerce. People from all walks of life trust this brand and perceive very well that it is the world's largest online retailer.
Now, of course, you can't promote hotels or travel deals through this store. You need to be a tad more creative in order to earn its generous 7% commission.
For example, promote travel-related accessories.
There are plenty of opportunities for you. From apparel and luggage to handbags and accessories, you can promote everything. In fact, some affiliate marketers recommend camping and hiking products to their travel blog readers and earn healthy commissions.
The thing you must remember is, unlike before, the commission rate policies of Amazon have changed. It is calculated by category instead of volume.
If you are promoting something from the apparel category, you will receive 7% commission, however, products which are classed under outdoor category will only hand you 5.5 commission rates… So, opt for your products wisely.
Program Highlights
Different commission rates for different categories.
The standard commission is 7%.
It is extremely well-known platform and has high conversion rates.
There are lots of tools to help you get started.
This website is not for promoting hotels or travel deals.
TripAdvisor Affiliate Program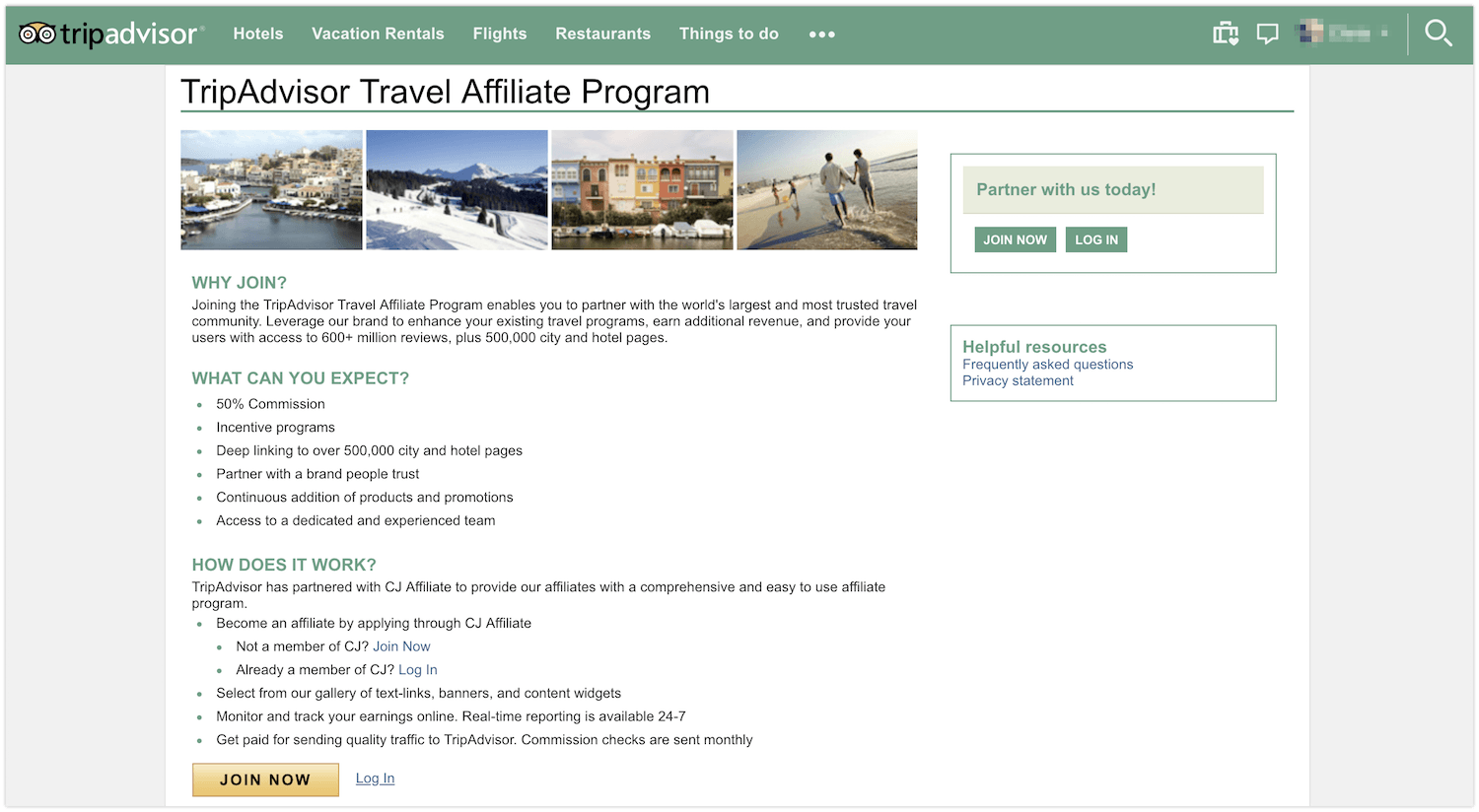 This American travel and restaurant website company, founded in February 2000, allows travelers to unleash the full potential of every trip.
Professional affiliate marketers love this website too. Since its products and services are reviewed by millions of potential customers. It becomes easy for them to earn the trust of their followers and compel them to use it for their travel adventures.
They can not only find a great hotel for their next trip but also look for a bite to eat. In reality, there are more restaurants listed on TripAdvisor than the hotels.
The exclusive thing is it offers tours and tickets to different activities, like a museum. You can book your stay, plus the activities, without leaving the website. The highs and lows of other's holiday experiences will also assist you in planning your journey on a grand scale.
Program Highlights
It gives 50% commission rates to its affiliate members.
It has partnered with Commission Junction.
You can use its gallery o text links, banners, and widgets.
There is a continuous addition of new products and promotions.
The commission's checks are sent monthly.
Closing Words
Thank you for reading my roundup list of travel affiliate programs.
If you haven't already, consider visiting part 1 of this list here for 5 more affiliate programs.
If you have any questions, be sure to let me know – I'd be more than happy to help you get started with affiliate marketing.
Talk soon.
Christian Lee.