A few weeks back, I published a roundup post covering the best fitness affiliate programs currently available.
Today, we're taking a closer look at one of them, and that is; the Under Armour Affiliate Program.
In my review below, I will attempt to share with you all you need to know before joining this affiliate program – and;
I will also share with you a few tips (+ a free training course you can join) to start learning how to make money with affiliate marketing.
If that's what you're here for, stay tuned but first;
Let's take a look at the TLDR summary:
Can You Make Money With The Under Armour Affiliate Program?
💲💲
Affiliate Commissions

Affiliate Cookie

Brand Power

Product Range
Under Armour Review TLDR Summary
A popular brand in a popular niche ✔️
Plenty of products to promote ✔️
Decent affiliate commissions (not great) ✔️
Available on multiple affiliate networks ✔️
What Is The Under Armour Affiliate Program?

NB:
Want to see how I make money with affiliate marketing? My new book reveals my entire process, including my 4-step approach to building affiliate websites.
CLICK HERE to download my book for free
.
Under Armour is an American manufacturer of exclusive sports gear, footwear and casual apparel using the latest, greatest fabrics to offer up the highest level of comfort and functionality.
What Can Your Promote As An Affiliate?
Any of the commissionable garments on Under Armour's websites as well as promotions. (Under Armour Gift Cards are no longer commissionable). 
Under Armour states that their mission is to make you better.
What they mean by this is that every item of clothing, shoes or accessories made by Under Armour has a function beyond its normal function.  
The utmost care is taken and every conceivable plan is made to ensure your comfort, whatever activity you're participating in – whether it be ski-ing or dancing or sports (and everything in between).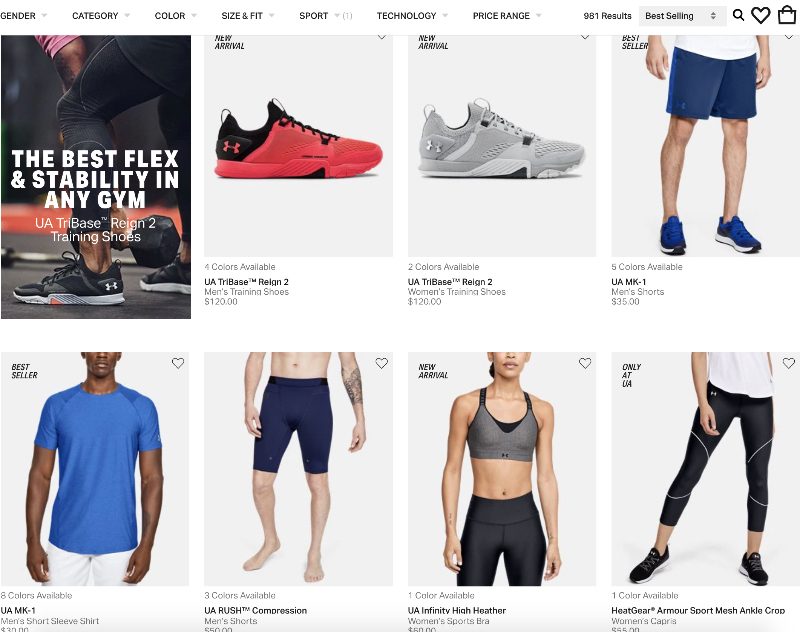 If the best fabric doesn't exist to do the job, it's invented.
Take for example their fleece jackets for women. Under Armour fleece is designed to give you lightweight warmth that breathes, so it won't make you overheat.
Or their bestselling men's Tech Half Zip Shirts which are comfortably loose, light, quick-drying, ultra-soft and keep you cool. Oh, and let's forget that it has anti-odor technology to prevent the growth of microbes.
Or their Charged Pursuit kids athletic shoes with a lightweight mesh upper to make them breathable, foam padding around the ankle and under the tongue for ultra comfort and Charged Cushioning® midsole, with firm heel and soft forefoot for support and flexible outer soles with tire patterns for superior grip and traction.
Nothing is left to chance.
What Commission Do You Get With The Under Armour Affiliate Program?
Both Awin and Commission Junction offers a 5% commission with a 30-day cookie window.  The average order size is $90 to $100 (USD).
On Viglink Commission rates vary based on what merchants are paying out at the time. 
When we first started researching this article, the average commission for the week was 6,08% for Under Armour, this week it's showing up as 5,16%.
If you join Under Armour via Flex Offers, you'll earn a 6.4% commission and they are one of Flex Offers Featured Advertisers.
Featured Advertisers have increased their commissions by 40% or more and there are currently 585 Featured Advertisers in the Flex Offers network.
Commission Factory seems to be