A few weeks back, I published a roundup post covering the best fitness affiliate programs currently available.
Today, we're taking a closer look at one of them, and that is; the Under Armour Affiliate Program.
In my review below, I will attempt to share with you all you need to know before joining this affiliate program – and;
I will also share with you a few tips (+ a free training course you can join) to start learning how to make money with affiliate marketing.
If that's what you're here for, stay tuned but first;
Let's take a look at the TLDR summary:
Can You Make Money With The Under Armour Affiliate Program?
??
Affiliate Commissions

Affiliate Cookie

Brand Power

Product Range
Under Armour Review TLDR Summary
A popular brand in a popular niche ✔️
Plenty of products to promote ✔️
Decent affiliate commissions (not great) ✔️
Available on multiple affiliate networks ✔️
What Is The Under Armour Affiliate Program?

---
---
Under Armour is an American manufacturer of exclusive sports gear, footwear and casual apparel using the latest, greatest fabrics to offer up the highest level of comfort and functionality.
What Can Your Promote As An Affiliate?
Any of the commissionable garments on Under Armour's websites as well as promotions. (Under Armour Gift Cards are no longer commissionable). 
Under Armour states that their mission is to make you better.
What they mean by this is that every item of clothing, shoes or accessories made by Under Armour has a function beyond its normal function.  
The utmost care is taken and every conceivable plan is made to ensure your comfort, whatever activity you're participating in – whether it be ski-ing or dancing or sports (and everything in between).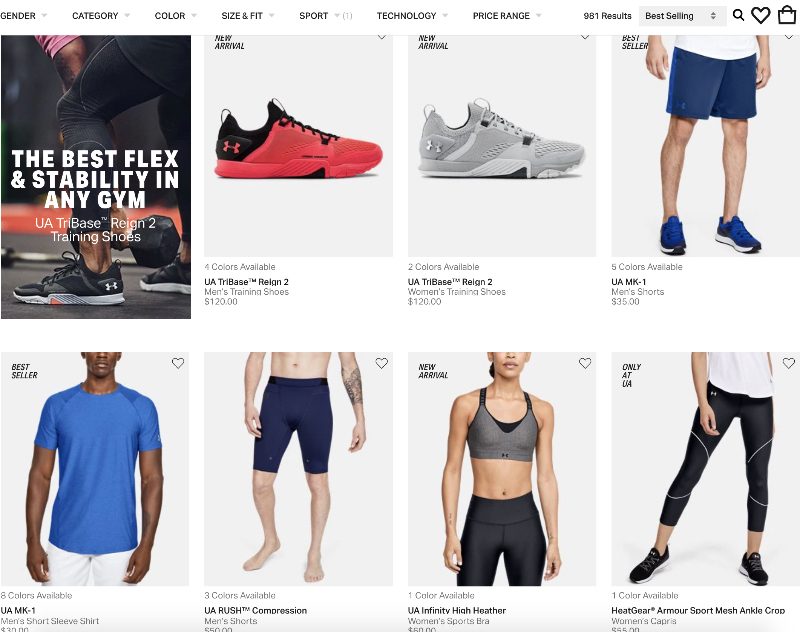 If the best fabric doesn't exist to do the job, it's invented.
Take for example their fleece jackets for women. Under Armour fleece is designed to give you lightweight warmth that breathes, so it won't make you overheat.
Or their bestselling men's Tech Half Zip Shirts which are comfortably loose, light, quick-drying, ultra-soft and keep you cool. Oh, and let's forget that it has anti-odor technology to prevent the growth of microbes.
Or their Charged Pursuit kids athletic shoes with a lightweight mesh upper to make them breathable, foam padding around the ankle and under the tongue for ultra comfort and Charged Cushioning® midsole, with firm heel and soft forefoot for support and flexible outer soles with tire patterns for superior grip and traction.
Nothing is left to chance.
What Commission Do You Get With The Under Armour Affiliate Program?
Both Awin and Commission Junction offers a 5% commission with a 30-day cookie window.  The average order size is $90 to $100 (USD).
On Viglink Commission rates vary based on what merchants are paying out at the time. 
When we first started researching this article, the average commission for the week was 6,08% for Under Armour, this week it's showing up as 5,16%.
If you join Under Armour via Flex Offers, you'll earn a 6.4% commission and they are one of Flex Offers Featured Advertisers.
Featured Advertisers have increased their commissions by 40% or more and there are currently 585 Featured Advertisers in the Flex Offers network.
Commission Factory seems to be paying the highest commission, 8% as seen on the Under Armour Australia Affiliate Program page.
They also have a 30-day cookie window and their average order size of $100 (AUD).
Can You Make Money With This Affiliate Program?
We would say yes – if you're in any of the niches mentioned below.
And Authority Hacker agrees – they list Under Armour as one of the best Sports Affiliate Programs in this article.
Who Is This Affiliate Program Best For?
You could do really well promoting Under Armour if you're in love with the brand and you're an influencer or blogger in any of the following niches:
Sports

Athletics

Fashion

Fitness

Health and Wellness

Sportswear

Sports Shoes

Sports Equipment

Specific Sports Teams or Sports Stars they sponsor
How To Join Under Armour As An Affiliate Via…

… Commission Junction
Under Armour lists Affiliate Networks, AWIN and Commission Junction on their Affiliate page, so let's call these the official Uner Armour Affiliate Programs.  
If you're already signed up for CJ or AWIN, it would be easiest to apply through one of these platforms. 
However, we've uncovered three other options for you as well, via Viglinks, Flex Offers or Commission Factory.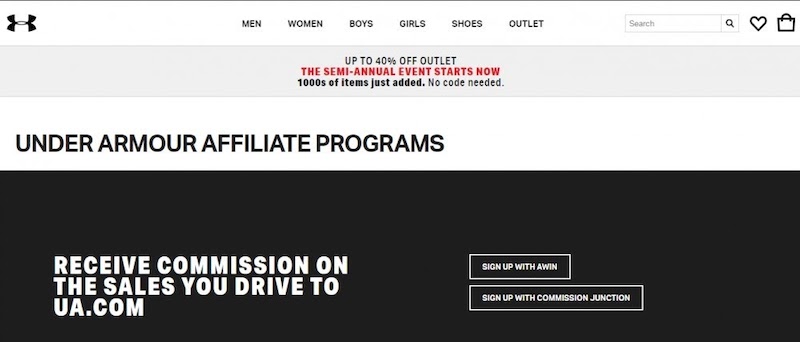 Although Under Armour's products are available worldwide, their official affiliate programs only appear to be available to citizens of the USA and Canada. 
To join through AWIN: Go to this link to create an account or to log in if you're already an AWIN Publisher. 
… Viglink
Good news for Under Armour fans elsewhere in the world is that you get in on the affiliate action via Viglink.   
Viglink gives you access to over 70,000 affiliate merchants and Under Armour is one of them. 

Viglink (recently bought over by sovrn//Commerce), works differently to other Affiliate Networks.
It's a way to monetize any of the products you mention in your posts simply by pasting a bit of code to the pages of your website, adding their Chrome extension or by sharing an affiliate link on Twitter, Facebook or via email.   
Although their Under Armour Affiliate Program specifies Canada, USA, and UK.
Our guess is that if you live elsewhere but serve a US, Canadian and/or UK audience, you can still participate in the Program, simply because of the way Viglinks works – you're eligible to promote a merchant's products if you mention their products on your website.
… Flex Offers
Under Armour is also listed as one of Flex Offers 12,000+ Advertisers. 
When we did a search for Under Armour in Flex Offers we discovered that it's open in two more countries than the ones we've mentioned before.
You can join the program via Flex Offers if you're in the USA, Canada, France or Australia.

… Commission Factory
Australians can also join the Under Armour Affiliate Program via Commission Factory.
Commission Factory is an Affiliate Network serving the Asia Pacific. They operate in Australia, New Zealand, Malaysia and Singapore.
Once on the Commission Factory page, click on Join Affiliate Program or Sign Up for a new account.
Once you've completed your registration, you'll be able to access all Advertisers and do a search for Under Armour.  Or you can click on the link in Step 1 again and sign in to your Commission Factory account.
Learn How To Promote The Under Armour Affiliate Program
So that's all from my end regarding the Under Armour affiliate program.
If you're interested in getting started with it, you can use any of the links provided above to join the affiliate networks.
However, if you're brand new to affiliate marketing, my suggestion would be to make your next step cautiously.
Affiliate marketing is not as easy as they make it out to be, but it does not have to be impossible either.
I have a free training course you can join right now and it will show you everything you need to get started making money with Under Armour (or any other affiliate program for that matter).
If you're interested in learning more about this training, you can see my official in-depth review here – or;
You can go ahead and sign up right now (no credit card required).
Alternatively, you can also sign up for my email newsletter above, I'm always sending out little golden nuggets of information on how to best succeed with affiliate marketing.
Thanks for stopping by, talk soon!
PS: If you'd like to see what other affiliate programs are great for you, you can check all my affiliate program reviews here.