The wedding industry is a lucrative market, worth billions of dollars worldwide, and as an affiliate marketer, it presents a great opportunity to tap into this market.
With the never-ending rise of online shopping, couples are increasingly turning to the internet to plan their weddings and purchase everything they need for their big day.
From wedding dresses and accessories to wedding favors and decorations, there are countless products and services that couples need to make their wedding perfect.
As an affiliate marketer, you can partner with wedding affiliate programs and earn a commission by promoting their products and services on your website or social media channels.
With a little bit of research and marketing know-how, the wedding niche can be a great way to generate a steady stream of passive income.
In this roundup list, we examine the best wedding-related affiliate programs I could find, as well as explore the many different ways you can make money promoting wedding-themed offers to your online audience.
• Best commissions rates: For Her & For Him & Blush Fashion
• Longest cookie length: Blue Fashion & Dessy
• Most clicked affiliate program: My Wedding Favors
Wayfair Registry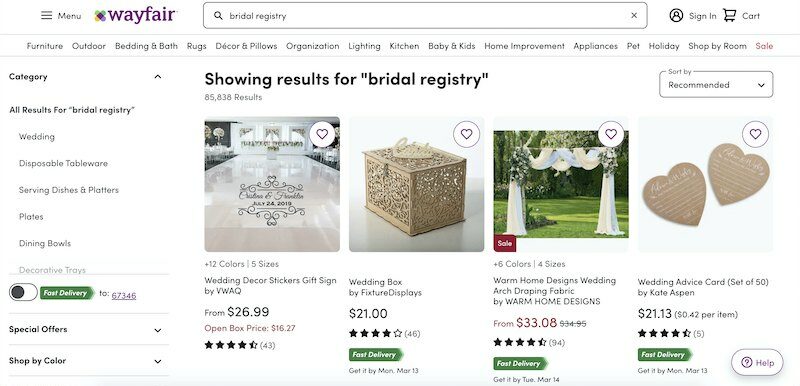 ---
---
Wayfair is an online retail website that offers stylish and affordable home furnishings, décor items, and appliances for any wedding occasion.
They have a large selection of products including furniture, rugs, lighting, outdoor items, bedding, kitchenware and more.
Wayfair also offers helpful tools such as product reviews from customers and a 3D room planner to help shoppers visualize how the products will look in their space.
With their wide variety of options and reasonable prices, Wayfair is the perfect place for newlyweds to create their dream wedding home.
Why Promote Wayfair as an Affiliate?
| | |
| --- | --- |
| Affiliate Commission: | 7% |
| Cookie Length: | 7-days |
| Average Order Value: | $300 |
| Available Products: | 10 million + |
| Affiliate Network: | CJ.com |
My Wedding Favors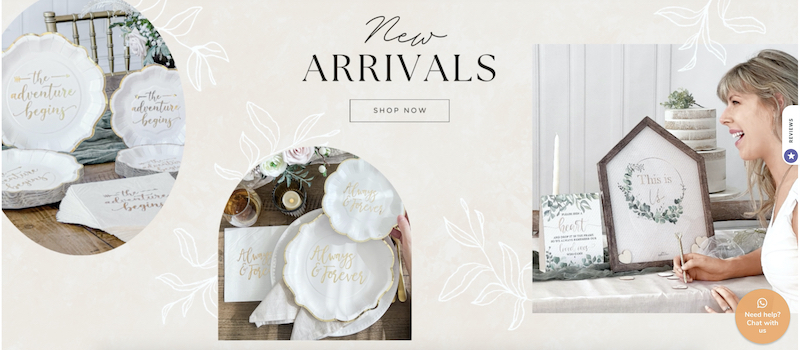 NB: According to our Analytics, this is the most clicked affiliate program on this list.
My Wedding Favors is an online destination where couples can find the perfect favors for their special day.
They offer an extensive selection of unique, customized gifts at affordable prices so couples can express their authentic style while remaining within budget.
From personalized candles to engraved champagne flutes to monogrammed sunglasses, My Wedding Favors has something to suit everyone's taste and budget.
With easy ordering and quick shipping options available, couples can be sure they'll receive their order in time for the big day.
Why Promote My Wedding Favors as an Affiliate?
| | |
| --- | --- |
| Affiliate Commission: | 7-12% |
| Cookie Length: | 90-days |
| Average Order Value: | $120 |
| Affiliate Network: | Impact |
AppyCouple

Appy Couple is a fun website where couples can create a unique wedding website and app for guests to stay up-to-date on wedding details and interact with each other before or after the celebration.
The site includes customizable design templates and features such as RSVP tracking, maps & directions to the venue & reception hall, guest messaging boards and more.
Appy Couple also provides helpful tips from experienced wedding planners so couples are sure to make the most out of their special day.
Why Promote AppyCouple as an Affiliate?
| | |
| --- | --- |
| Affiliate Commission: | $2.5 |
| Cookie Length: | 30-days |
| Affiliate Network: | Share A Sale |
Blush Fashion

Blush Fashion Boutique is an online bridal boutique that specializes in high-end designer gowns at competitive prices. Their vast collection includes designers like Maggie Sottero, Pronovias, Stella York & more!
Blush Fashion Boutique also carries plus-size bridal dresses & funky accessories like colorful veils & headpieces to complete the bridal look.
With free shipping on orders over $99 & a range of payment options available, it's easy for brides-to-be to find the perfect dress without breaking the bank.
Why Promote Blush Fashion as an Affiliate?
| | |
| --- | --- |
| Affiliate Commission: | 12% |
| Cookie Length: | Lifetime |
| Affiliate Network: | Share A Sale |
House of Brides

House of Brides is an online retailer offering thousands of beautiful bridal gowns at unbeatable prices. From traditional ballgowns to modern sheaths there's something for every bride here!
House of Brides also offers tuxedos & mother-of-the-bride dresses at discounted prices making it easy for families on a budget to get dressed up without spending too much money.
Shopping with House of Brides is simple – browse through thousands of dresses using various search filters or use their virtual studio tool which allows you to try on different dresses without leaving your home!
Why Promote House of Brides as an Affiliate?
| | |
| --- | --- |
| Affiliate Commission: | 4% |
| Cookie Length: | 120-days |
| Affiliate Network: | Share A Sale |
Dessy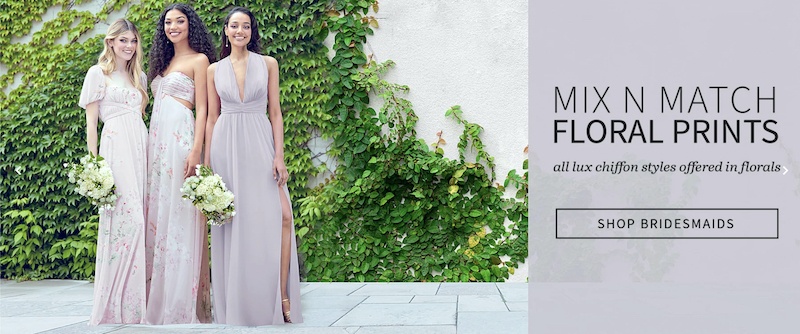 Dessy is a go-to for brides around the world wanting timeless, classic styles. It has been around since 1939, so it's easy to trust that you're getting high-quality pieces.
Dessy offers everything for wedding parties: from bridal gowns and bridesmaid dresses, to accessories like jewelry, bags and shoes. It even has a wide selection of tuxedos and suits for groomsmen.
Why Promote Dessy as an Affiliate?
| | |
| --- | --- |
| Affiliate Commission: | 5% |
| Cookie Length: | 365-days |
| Affiliate Network: | Share A Sale |
For Her and For Him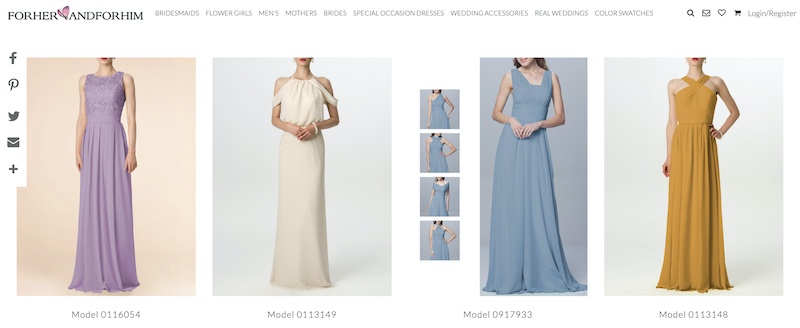 For Her and For Him is another popular destination for wedding shoppers. This website specializes in creating custom looks with its large selection of designer brands from all over the world.
Whether you need something modern or more traditional, you can find it in this store's extensive range of styles and sizes. Plus, every dress comes with free standard shipping!
Why Promote For Her and For Him as an Affiliate?
| | |
| --- | --- |
| Affiliate Commission: | 15% |
| Cookie Length: | 30-days |
| Affiliate Network: | Share A Sale & Sovr (Viglink) |
Zales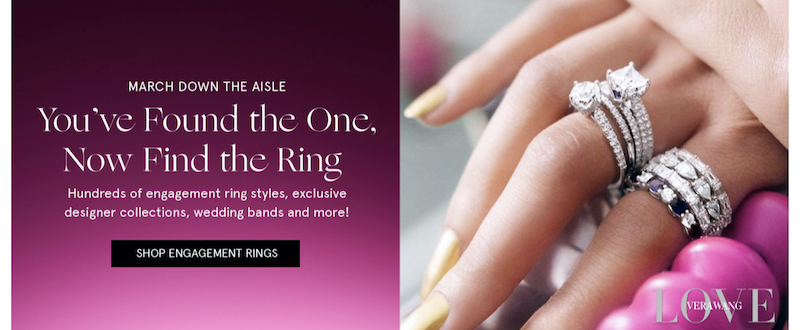 Zales is one of the most well-known jewelry stores in America today. With over 100 years of experience, Zales offers beautiful bridal rings along with stunning coordinating jewelry sets – perfect for weddings and anniversaries alike.
You'll find diamonds, pearls and other precious stones in timeless pieces as well as bold, unique collections made just for special occasions like weddings.
Why Promote Zales as an Affiliate?
| | |
| --- | --- |
| Affiliate Commission: | 5.4% |
| Cookie Length: | 7-days |
| Affiliate Network: | Cuelinks & Sovrn (Viglinks) |
Revolve Bridal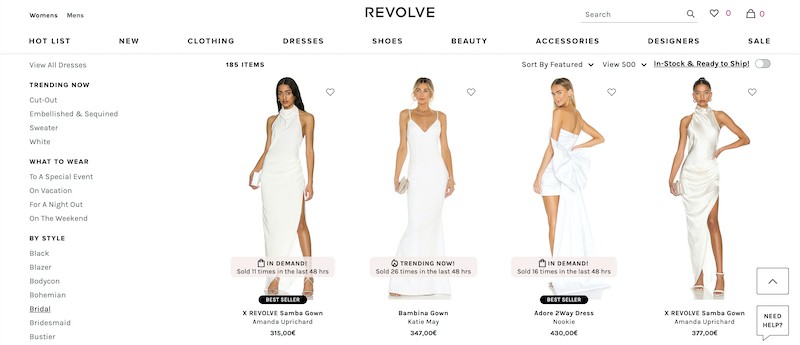 Revolve is an international fashion powerhouse that offers a wide variety of apparel including dresses perfect for bridal parties.
Its stylish collection includes both long and short dresses to suit any taste while also keeping up with ever-changing trends in the industry.
Revolve provides customers with exclusive access to limited edition collections from top designers all over the world – not just bridalwear but also everyday clothing too!
Why Promote Revolve Bridal as an Affiliate?
| | |
| --- | --- |
| Affiliate Commission: | 5% |
| Cookie Length: | 7-days |
| Affiliate Network: | CJ.com |
Babaroni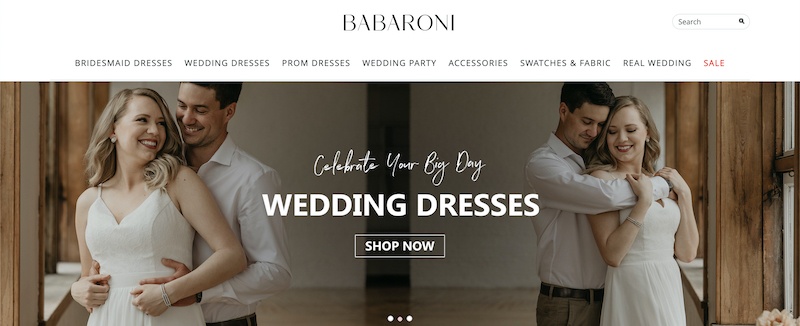 Last but not least is Babaroni, an online boutique dedicated exclusively to helping women look their best on their big day!
The store stocks various styles of wedding gowns ranging from traditional ballgowns to bohemian chic designs, all at incredibly affordable prices.
They offer personal styling services too so that every bride can walk down the aisle feeling confident in her own unique look!
Why Promote Babaroni as an Affiliate?
| | |
| --- | --- |
| Affiliate Commission: | 10% |
| Cookie Length: | n/a |
| Affiliate Network: | Independent |
---
6 Things to Look for in a Wedding Affiliate Program
When searching for a wedding affiliate program, there are a few key factors to consider to ensure that you partner with the right vendors and maximize your earnings potential:
Commission rates:
Look for programs that offer competitive commission rates but also keep in mind wedding offers can be pretty high-ticket. This means that even if the commission is not that great you can still make some good income every month. It all depends on how well you can match a product to a buyer, which is what affiliate marketing is all about.
Product selection:
Ensure that the program has a wide selection of products and services that cater to different aspects of the wedding, from dresses and jewelry to venue and catering.
Quality of products:
It's essential to partner with vendors that offer high-quality products and services that will meet the expectations of your audience and reduce the risk of returns or negative feedback.
Cookie duration:
A longer cookie duration means that you'll earn a commission even if the customer makes a purchase later, rather than immediately after clicking your affiliate link.
Affiliate support:
Look for programs that provide affiliate support, including resources, training, and dedicated affiliate managers, to help you succeed.
Their reputation in the wedding industry:
Partner with vendors that have a good reputation in the industry and a proven track record of success. This will help to build trust with your audience and increase your credibility as an affiliate marketer. Look for customer reviews and see if other affiliates are also promoting them (with success).
Does Affiliate Marketing Make Sense for a Wedding-themed Content Website?
Yes, monetizing with affiliate marketing can make a lot of sense for a wedding-themed content website.
As a wedding-related content website, you likely have a targeted audience of engaged BUYERS, couples, and their families who are actively seeking information, inspiration, and resources to plan their wedding.
By partnering with relevant wedding vendors through various wedding affiliate programs, you can offer your audience a curated selection of products and services that meet their needs and preferences.
For example, you could promote wedding dresses, accessories, favors, decorations, or even wedding planning services, and earn a commission on each sale made through your affiliate links.
And remember, with affiliate marketing, you don't need to handle any inventory, shipping, or customer service, as that's all handled by the vendors you promote.
Instead, you just focus on creating high-quality content that engages your audience, builds your brand, and drives traffic to your affiliate offers.
Of course, as with any monetization strategy, the success of your affiliate marketing efforts will depend on the quality of your content, the relevance of your affiliate offers, and the trust you build with your audience.
However, if you can strike the right balance between these factors, affiliate marketing can be an effective way to generate revenue from your wedding-themed content website.
What are the Pros & Cons of the Wedding Niche for Affiliate Marketers?
Like any other, the wedding niche has its own set of pros and cons for affiliate marketers. Here are some to consider:
The Pros of the Wedding Niche:
High demand: Weddings are a significant event in people's lives and are celebrated worldwide, making the wedding niche a potentially lucrative market with high demand for products and services.
Wide range of products: The wedding industry is vast and encompasses everything from bridal dresses and accessories to catering and venue services, providing ample opportunities for affiliate marketers to promote a diverse range of products.
High engagement: Another pro of the wedding niche for affiliate marketers is that it can provide a high level of engagement with the audience. Weddings are a significant life event that many people plan and dream about for months or even years in advance. As an affiliate marketer in the wedding niche, you have the opportunity to connect with your audience on a personal level, share in their excitement, and offer them valuable resources and recommendations to help them plan their special day
Emotional connection: Weddings are often highly emotional events, and couples are willing to spend more on their special day to make it perfect. This emotional connection can lead to a higher conversion rate for affiliates promoting wedding-related products and services.
The Cons of the Wedding Niche:
Seasonal market: The wedding niche can be seasonal, with a higher demand for products and services during peak wedding seasons, such as the summer months. This can result in fluctuations in income for affiliate marketers.
High competition: The wedding niche is a highly competitive market, with many established players and affiliates vying for the same audience. This can make it challenging for new affiliate marketers to gain traction and earn a significant income.
Expensive products: Some wedding-related products, such as wedding dresses or catering services, can be quite expensive, resulting in lower conversion rates and a higher barrier to entry for customers.
Niche-specific content: Creating high-quality, niche-specific content for a wedding-themed website or social media channels can be time-consuming and require specialized knowledge, such as wedding planning or bridal fashion.
5 More Ways you can Monetize a Wedding-themed Niche Website
If you think affiliate marketing is not for you, fret not. There are several other ways to monetize a wedding-related content website besides using the affiliate method.
Here are some additional monetization strategies to consider:
Display advertising: Display advertising involves placing banner ads or other types of ads on your website in exchange for payment. This can be a simple way to generate passive income from your website traffic, and I can tell you the RPMS for the wedding niche are insanely high! Once you have enough traffic, you can join platforms such as Ezoic and Mediavine, which require your site to have at least 10,000+ or 50,000+ sessions per month respectively.
Sponsored content: Sponsored content involves partnering with wedding brands to create content that promotes their products or services. This can take the form of sponsored blog posts, social media posts, or videos. Sponsored content can be an effective way to earn income (and get free products sent your way) while also providing valuable information to your audience.
Online courses: If you have expertise in a particular area of the whole wedding planning and ceremony, creating and selling online courses can be a great way to monetize your website. This can include courses on topics such as booking entertainment, arranging venues, or perhaps even creating templated wedding invitations. I would recommend you go with Teachable or a similar alternative if you want to create an actual course, but Gumroad is also a good idea here.
Selling your own physical products: You can sell physical products related to weddings, such as wedding invitations, decor, or wedding favors, either through your own e-commerce store or by partnering with vendors to dropship their products. This can be a more hands-on way to monetize your website, but it can also be more profitable if you can find the right niche products and market them effectively. My recommendation would be to use Shopify, but if you're a WordPress fanboy/girl like myself, you can also use WooCommerce.
Selling services: If you have wedding planning or other related skills, you can offer your services directly to your audience or partner with other vendors to offer a comprehensive package of services. This can be a lucrative way to monetize your website, but it may require more time and resources to manage the services and deliver a high-quality experience to your clients.
Additional Guides, Tools & Resources to Help You Make Money With Wedding Affiliate Programs