Weddings are great. I don't really like attending one unless I have to, but I can confirm they're great because I know there's a lot of money to be made in the wedding/bridal industry.
If you're a wedding blogger, then you know that there are plenty of affiliate programs out there for you to participate in.
In this article, I've done the hard work for you and compiled a list of the best wedding affiliate programs around.
These programs will help you earn some extra income with your blog, and who doesn't love that?
The 10 Best Wedding Affiliate Programs (Reviewed Below)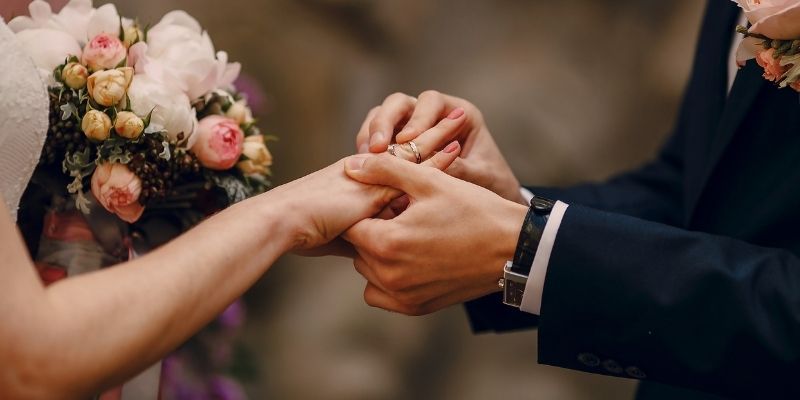 ---
---
WayFair Registry
WayFair Registry was founded in 2002 by Steve Conine and Niraj Shah. Today, the platform allows couples to say 'I Do' in style. It allows nearly weds to create an online wedding registry and a list of gifts they would like to receive. With millions of products from reputable companies, you are guaranteed to find something you like.
WayFair Registry's in-house affiliate program offers a 7% commission rate. Additionally, they have a 7-day referral day policy. All affiliates have access to branded advertising materials for optimum sales.
Commission: 7%
Cookies: 7 days
My Wedding Favors
My Wedding Favors specializes in providing necessities to help a bride and groom prepare for their memorable day. They offer personalized favors, decorations, and giveaways for pre and post-wedding occasions, such as bridal shower games, groomsmen gifts, etc.
My Wedding Favors runs an affiliate program through ShareASale, Commission Junction, and Avantlink. The company welcomes affiliates to join and earn a 7-12% commission per each generated sale.
In addition, they have a 90 days cookie policy. This means that for the next 90 days, any purchase made by the same customer still earns an affiliate commission.
Commission: 7-12%
Cookies: 90 Days
Appy Couple
Appy Couple is a modern platform suitable for couples who want to plan their wedding digitally. The company runs a website and an app designed for managing various details. From the site, couples can create digital invites, RSVPs, photo sharing, save the dates, thank you notes, and so much more.
They encompass a drag and drop interface making it ten times easier for couples to build and customize everything to their preference.
Appy Couple operates an affiliate program through ShareASale. Affiliates earn a $10- $30 commission on sales. They also have access to marketing tools, i.e., banners and text links.
Commission: $10- $30
Cookies: 120 days
Blush Fashion
Blush Fashion designs stunning wedding gowns for comfortable fitting. The custom-made gowns are tailored to give a bride a beautiful and stylish appearance on her big day. They also make affordable bridesmaids' dresses, engagement attires, and outfits suitable for evening wear.
Blush Fashion affiliate program calls upon fashionistas, social media influencers, and any fashion addicts to join their team. ShareASale manages the program.
Affiliates earn an 18% flat rate commission on sales. They are also provided by advertising tools, i.e., text links, banners.
Commission: 18%
Cookies: Lifetime
House of Brides
The House of Brides online shop was launched in 2001. However, the company has been in business since 1929. Their global website is known for creating an ultimate online wedding shopping experience. Their products encompass different wedding attires. From brides' gowns, bridesmaids' couture, flower girl dresses, accessories, and so much more.
House of Brides runs an affiliate program through ShareASale. Affiliates are offered a 4% commission per any completed sale. Affiliates are provided with textual links, coupon deals, and a variety of marketing tools to boost sales.
Commission: 4%
Cookies: 120 days
Dessy
Dessy deals with affordable formal attire. They have quality bridesmaids and flower girl dresses. Their target market is centered around brides looking for modern and stylish outfits for their wedding party.
The dresses are from commendable designers such as Alfred Sung, After Six, Jenny Packham, and others. Dessy products are not limited to dresses only. They also have grooms attires, accessories, shoes, jewelry, etc.
You can join Dessy's affiliate program through ShareASale and earn a 5% commission per sale. The marketing materials provided include text links, banners, and affiliate newsletters. All payments are strictly made on a monthly basis.
Commission: 5%
Cookies: 365 days
For Her and For Him
For Her and For Him is dedicated to designing wedding attire for over 10 years. The site sells outfits for the entire wedding team, inclusive of groomsmen, mothers, and children. The clothes cater to different body shapes from petite to plus sizes. They have a variety of wedding accessories such as robes, jackets, veils, matching bow ties, etc.
ShareASale manages the site's affiliate program. Affiliates earn a clean 15% commission on sales. They are also granted exclusive access to adversarial material, i.e., banners, text links, strictly for affiliate promotion only.
Commission: 15%
Cookies: 30 days
Zales
Zales jewelry store was founded in 1924 by a trio from Wichita Falls, Texas. The diamond store provides exquisite engagement rings, necklaces, bracelets, rings, and other accessories suitable for weddings at reasonable prices. All their products are made from pure legitimate stones. Note that their commodities are not solely centered around weddings.
Zales offers affiliates a 2% commission rate. They use a 7-day referral policy to track down extra sales.
Commission: 2%
Cookies: 7 days
Elegant Gowns
Elegant Gowns has an extensive bridal gown and bridesmaids collection. Their outfits are designed for all sizes, from small to plus size. The store provides an online platform for the nearly wedded to shop for everything they need. Their products include numerous accessories, i.e., veils, headpieces, shoes, and flower girl dresses.
ShareASale manages Elegant Gowns' wedding dress affiliate program. Affiliates earn a 10% commission per sale. The site has a non-expiring cookie policy. This means that an affiliate can earn from one customer for a lifetime.
All payouts are paid on a monthly basis. Affiliates are provided with banners, text links, and other marketing tools for their sites.
Commission: 10%
Cookies: Lifetime
Babaroni
Babaroni focuses on bridesmaids' custom-made affordable dresses. The store upholds the belief that bridesmaids bring color to a wedding. Their designs encompass different fabrics, colors, styles for trendy fashion according to personal preferences.
They recently added bridal gowns and several wedding accessories to their collection.
Babaroni affiliate program offers affiliates a 10% commission per sale. The minimum payout amount required is $50. Affiliates are supplied with banners and text links to help in marketing.
The program employs real-time logistics and reports to track user movement across different sites. Therefore all sales made through an affiliate's website will be tracked and paid to the rightful owner.
---
---
How To Successfully Promote Wedding Affiliate Offers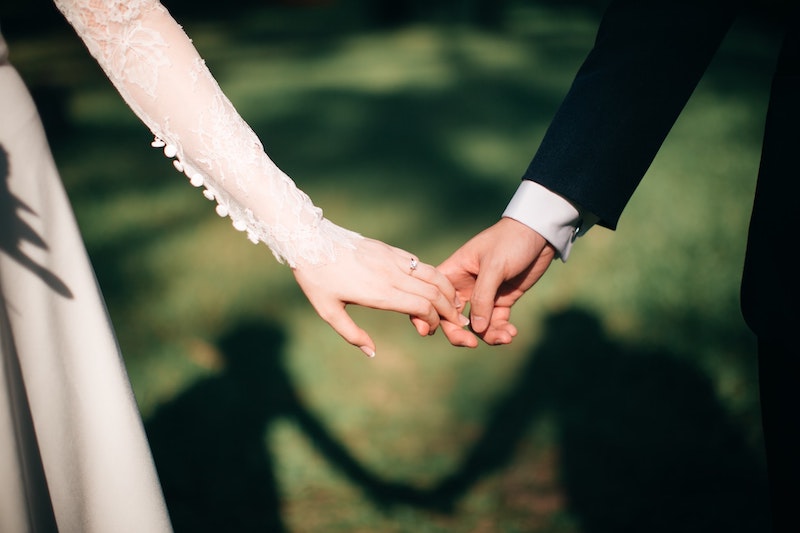 So you've decided to promote some of the above wedding affiliate offers?
That's a great decision! The wedding industry is a multi-billion dollar market, and there is plenty of money to be made by promoting products and services related to weddings.
To close off this article, I will provide you with some additional tips for getting started with the wedding affiliate business.
I'll also discuss the best ways to target potential customers and generate traffic to your website. Let's get started!
Think About What Your Audience Wants
When it comes to targeting potential customers, you'll want to think about your audience's needs and wants.
As a wedding affiliate, you likely have a lot of knowledge about the planning process and what goes into making a wedding special.
Speak To Your Audience's Interests
You can use this information to create targeted content that speaks to your audience's interests.
For example, if you know that many couples are looking for unique wedding ideas, you can create a blog post or article about creative wedding themes.
Use Paid Ads
In addition to content marketing, you'll also want to focus on generating traffic through paid advertising and social media outreach. Facebook Ads, Google AdWords, and Twitter Advertising are all great platforms for reaching potential customers.
When creating your ads, be sure to target couples who are in the early stages of planning their wedding. This is when they're most likely to be searching for information and products related to weddings.
Provide Value
When it comes to promoting wedding affiliate offers, you'll want to provide value to your audience. This means providing them with information and resources that will help them plan their wedding successfully.
Again, you can do this by creating helpful blog posts, articles, and resources on your website.
You can also create video tutorials and podcasts that cover various aspects of wedding planning.
If you provide value to your audience, they will be more likely to trust you and purchase products that you recommend.
Be Patient
Finally, remember that Rome wasn't built in a day. It takes time to build a successful wedding affiliate business.
Be patient and continue creating valuable content that speaks to your audience's needs.
The rewards will come in time!
---
If you'd like to learn more about how to start an affiliate business…
Be sure to see my free guide here where I explain everything I know about building simple affiliate websites.