How would you like to start selling your creative work online?
As I am sure you've realised by now, there are many, many people who sell just about everything online these days and thanks to the internet (and the tool I am reviewing for you today) you too can make money selling anything you want to your audience.
Today, I am doing my long-overdue Gumroad review.
It's a great (new) website that will allow you to host your creative projects on their platform and then sell them to anyone anywhere in the world.
In this guide/review, I will be covering:
What Gumroad is
How to make money with it
How to start selling your products on Gumroad
What can you sell on the platform
How to promote your Gumroad products (to make sales)
+ a few more things which I think you should know about.
So, if you're a course creator (like I am), or if you are an independent musician, painter, self-publishing author, or whatever else you may be…
Keep reading this as I am sure you can put Gumroad to good use and leverage your talents to make great money online.
Let's get started.
What is Gumroad?

"Gumroad helps creators do more of what they love".
That is the main tagline on their website and they are trying to achieve this mission by creating a platform which is easily accessible by anyone allowing people from all walks of life to easily launch their own products and sell them online.
Over 40,000 creators have joined into this incredible platform (myself included) and since launch,
They have paid out an astonishing "$205,000,000 to independent artists, designers, educators, writers, influencers and more".
As I am sure you can tell by now, I am a big fan of the Gumroad platform.
I too have my own product on there which I've launched a few months ago and have earned good money doing it.

After seeing how easy it is to make money on Gumroad, I just had to create a quick guide for you today to help you get started with it.
How Does Gumroad Work?
You can join and use Gumroad either as a buyer or as a seller.
Since this guide is about "how to make money with Gumroad", I will be talking only about becoming a seller on the platform but don't worry, with one account you can do both.
This means that if you create an account, you can switch between the two options and you can do this easily by clicking on your Profile tab in the top right corner, and then "Switch to buying".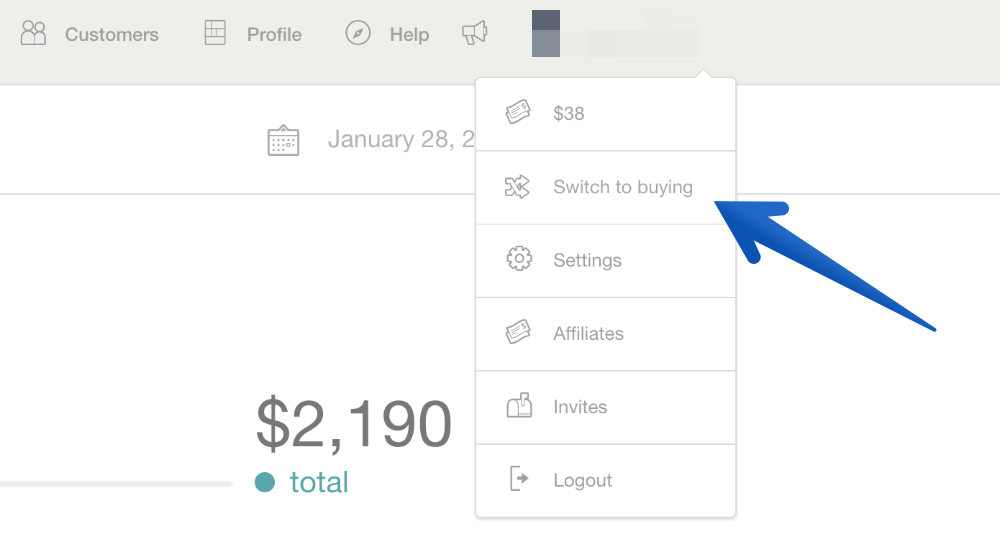 How To Start Selling On Gumroad
The first step is to get an account with Gumroad, which is free to do (but there are some fees involved to be able to sell products which I will explain further down below).
You can create an account by visiting Gumroad.com and clicking the green "Start Selling" tab on the top-right corner.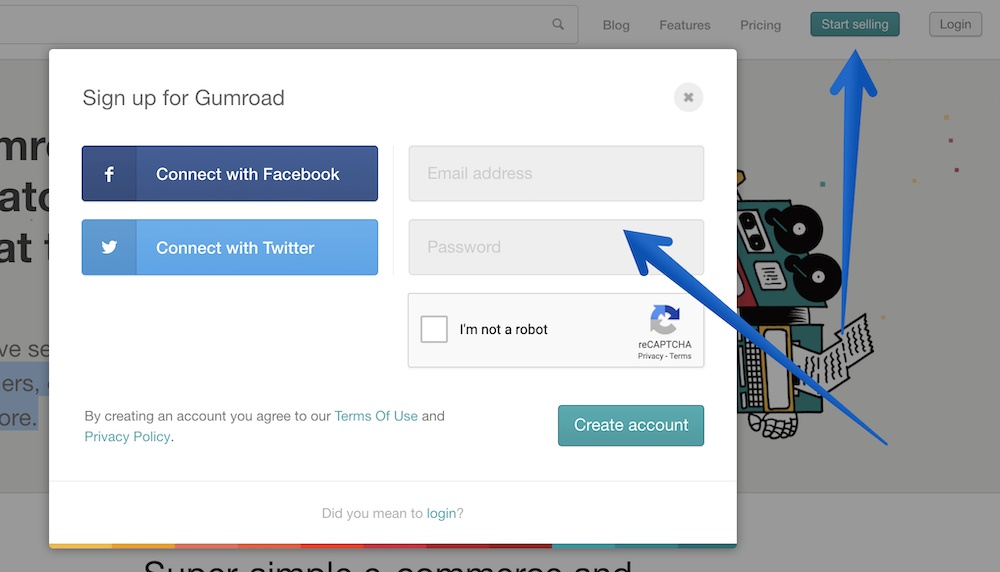 Simply fill out your details, and join.
Congratulations… you're now officially a seller on Gumroad, but…
What Can You Sell On Gumroad?
Gumroad provides you with the infrastructure you need to sell just about anything you want.
There are independent artists who self-launch their own album/record label.
There are course creators who sell their course/webinar/pdf through Gumroad.
There are people who sell their art (both physical and digital).
There are those who self-publish books and then sell them to their audience through Gumroad.
Whatever it is you can create (and can sell) you can do it all through Gumroad.
Let me show you how…
How To Add A "Product" On Gumroad
Let me now walk you through the entire process of launching a product (whatever that may be) on Gumroad.
Step 01: Visit The Product Page:
To do this, simply go to Products > Add a Product.
Step 02: Pick What You're Going To Sell:

Is it a digital product (such as a webinar, pdf, song)? or
Is it a physical product (such as a clothing item, physical book, etc)?
You also have the option to divert people to "anything else" which means you have a product hosted on another platform (for example an ebook on Dropbox) and when someone buys it, they will be given the direct link to the product.
Step 03: Pick How You're Going To Sell The Product:

For this example, I am using the "sell physical products" option as that is what I myself have been selling.
Basically, once you pick that option, you then have 3 more ways you can sell the product, these are:
One-time purchase (self-explanatory)
A monthly subscription fee (for a digital course for example) or
Pre-order a product (you can start collecting payments now for a product to come later).
Super easy stuff right?
Step 04: Create Your Product (& Launch)


Next, you need to give your product a name, set the price and also upload the file your customer will get when they purchase.
If you're selling an ebook, upload the pdf
If you're selling a song, upload the mp3
If you're selling a course, upload all the content in a zip file.
& that is all.
You have officially created a product, and you're now ready to start making money with Gumroad.
The entire above process takes just 10 minutes to do.
This means that within 10 minutes, you can become an independent artist with no middlemen, you can build a thriving online business, you can sell your own creative art, you can do whatever you want.
That is the power of Gumroad (and the world of making money online in general).
But how do you actually sell products?
How do you find customers that are willing to pay you for what you have to offer?
That's what I will be sharing with you next…
How To Promote Your Products On Gumroad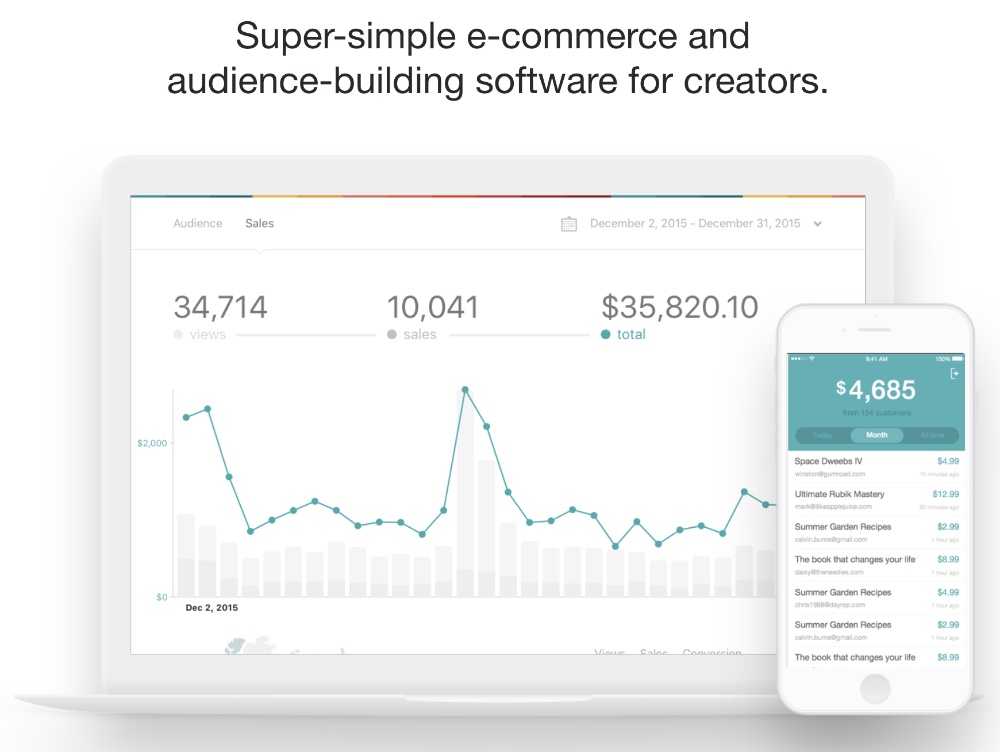 Create a Blog
The way I have been selling on Gumroad is through my blog.
I have a small niche website and I have created a collection of books which users can buy from me (through Gumroad).
Now, of course, this is easier said than done.
For starters, you are going to need a website (you can get one for free from here).
You also need to get traffic to that website, which will take some time to master and achieve.
I won't go into how to get traffic right now as this is not what this post is all about, but;
I do have a great guide for that here and I also have a free video course which you can take here.
Create Your Tribe With Social Media
I first learned about Gumroad through Twitter.
Many of the people I follow on there have used Gumroad to create and sell products of their own and it's working incredibly well for them.
Again, I won't go through how to create a social tribe here, but you can see this guide on how to build an audience with social media.
Get Affiliates To Sell Your Products
Another amazing and well-welcomed feature on Gumroad is the ability to use affiliates to promote your products.
Affiliates can hop onto your business and promote the products you sell to their own audience online. In return, they get a percentage of the sale.
You can learn more on affiliate marketing here and you can also see this guide from Gumroad showing you how to find & add affiliates to your products.
Create Coupons (& Offers)
Coupons and sales work great in the world of online marketing, and with Gumroad you can leverage the power of discounts by offering coupons and one-time deals to your customers.
You can do this easily with Gumroad's built-in discount features, which you can read all about here.
Use Email Marketing
Last but not least, I have to also mention email marketing as it is one of the best (and easiest ways) to sell Gumroad products.
Of course, you are going to need an audience first so you need to either build a social tribe or your very own traffic-generating blog but once you do; consider making email marketing a top priority.
You can see a great guide on how to get started with email marketing here.
How Much Does It Cost To Sell On Gumroad?

Now you may be thinking that all of this is going to cost you an arm and a liver, but you'd be wrong – very wrong.
Running your own business on Gumroad is only going to cost you… wait for it…
$10 per month!
Yes – that is all it takes to become a Gumroad seller and I personally know people who make millions with Gumroad running their entire business on just $10 a month.
I highly recommend you join Gumroad (and no place else) if you want to create and sell your products online.
PS: There's also a few charges on every transaction that gets deducted from your payouts, which brings me to my next point…
How Will You Get Paid From Gumroad?
In case you are wondering how and when will you be getting paid for your efforts, Gumroad pays out once a week (typically on a Friday) and it pays out via PayPal, which is just perfect for me.
NB: You do need to have a PayPal account (ideally a business account) so if you don't have one, get one before joining Gumroad.
Is Gumroad Safe?
Yes – Gumroad is 100% legit and everything I mentioned above is tried and tested to be true.
You don't have to worry about funds going missing or not getting paid.
I've been using Gumroad for 6 months now and every week – without fail – I have received timely payment.
Rest assured your money is in good hands with Gumroad.
Gumroad Review: Final Words
Thank you very much for reading my review and guide on how to make money with Gumroad.
I really hope this has helped open your eyes to all the amazing opportunities available to you and for $10 a month, I am sure we can agree that Gumroad is an amazing platform that gives you everything you need to build your own online business.
You can join Gumroad right now by clicking this link.
I'll leave you to it.