Welcome back to another affiliate program round-up post, this time bringing you the 10 best yoga affiliate programs which you can join to stretch your affiliate income with your yoga blog.
The last round-up I did was the list of the 10 best meditation affiliate programs so feel free to check that out as well.
Down below you will find what I consider to be the best ways to monetize your yoga website/audience and I'm also going to include a few additional guides you can check out to help you get started with affiliate marketing, but first, here are…
The 10 Best Yoga Affiliate Programs (w/Commissions)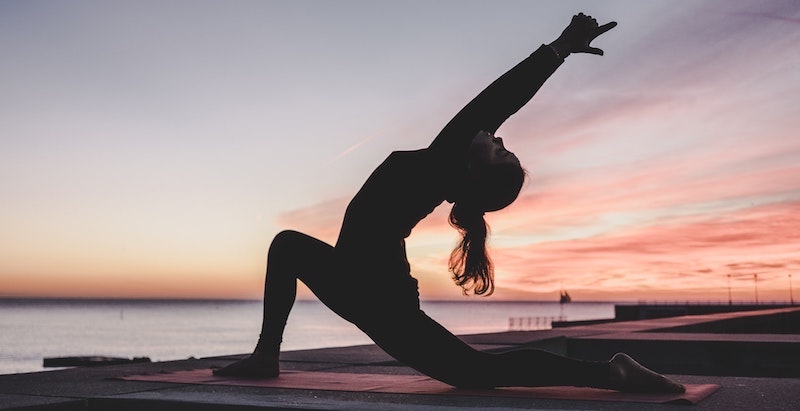 ---
---
Manduka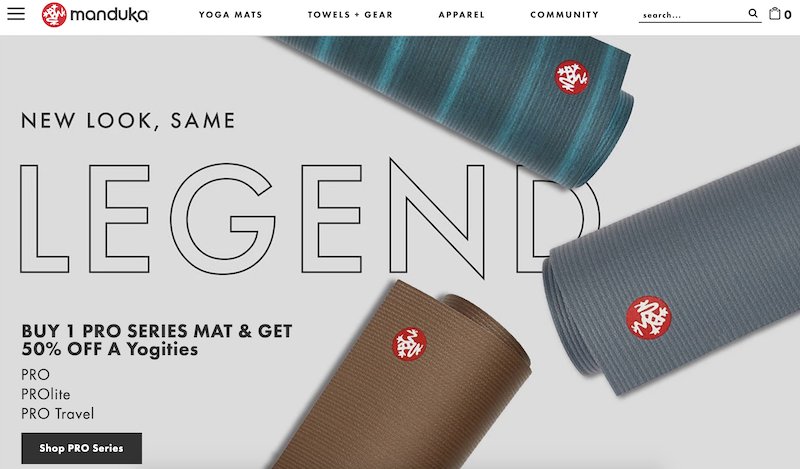 Manduka was built back in 1997 by a yoga teacher who designed the first yoga mat whose combination of firm grip and complete support revolutionized yoga practice.
This comfortable and stable black yoga mat changed how both teachers and students practiced yoga, therefore their quality and performance are unmatched in the marketplace.
Manduka grew from then and they have since expanded their product range to include a large selection of branded clothing, towels, mat cleaning products, yoga blocks, straps, and even bags.
They pride themselves for only using natural and renewable materials in the majority of their products and that definitely appeals to the growing market of environmentally-conscious consumers as Manduka has sold over 2 million yoga mats to students and studios in over 100 different countries.
If you are passionate about yoga and have a platform where you can promote their products, you can sign up to become affiliated with Manduka and earn up to 15% commissions for your efforts.
This trusted brand in the yoga industry will provide you with a responsive team to help you maximize your sales as well as monthly affiliate newsletters featuring their latest promotions, collections, and banners.
Commission: 15%
Cookie: 30 days
Jade Yoga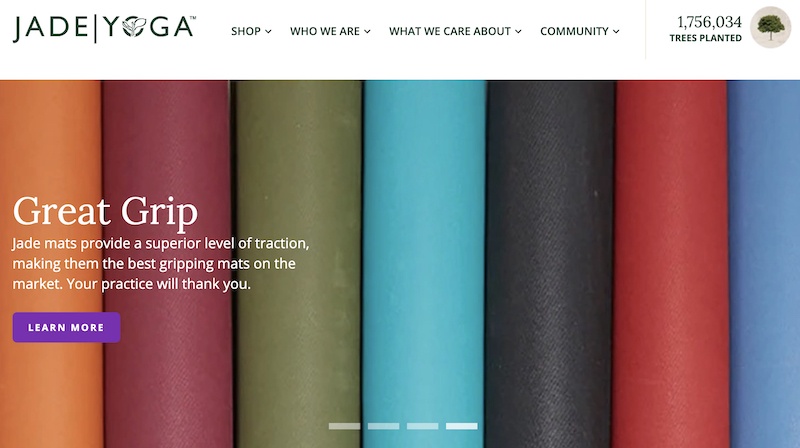 JadeYoga is a site that focuses on producing high-quality yoga mats made out of natural rubber.
Starting back in the 2000s, the founders learned about the problem with slippery yoga mats on the market at that time and very well decided to change this inconvenience.
JadeYoga uses natural rubber to develop their products as this alternative happens to have better cushion and resilience that make the mat more comfortable.
Their eco-friendly yoga mats contain no PVC, phthalates, heavy metals, or other toxic materials and all components are approved by the FDA and are safe for continuous contact with food.
If you have a website, blog, or a social media platform where you could promote JadeYoga mats to your audience, you can sign up for their affiliate program and earn up to 20% commissions from sales.
JadeYoga uses Refersion to manage their affiliate program and they supply their affiliates with a variety of banner ads that can be used to boost sales.
Commission: 20%
Cookie: 30 days
Bean Products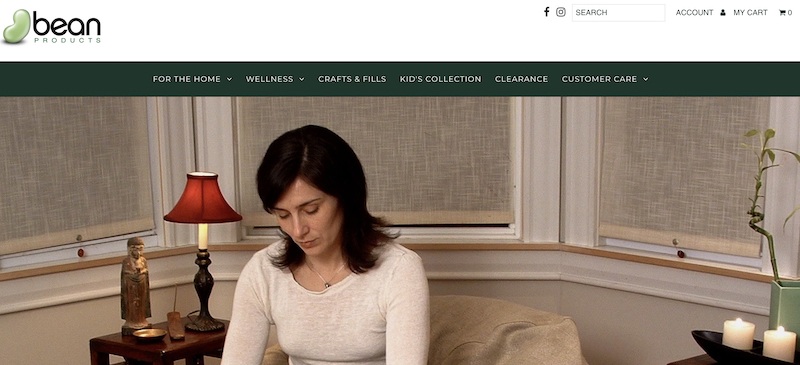 BeanProducts is an environmentally friendly manufacturer and distributor of healthy, natural, and useful products for the home, yoga, meditation, health and wellness, and fitness.
They use sustainable, eco-friendly resources such as organic cotton, hemp, recycled fiber from soda bottles, recycled plastic, flaxseed, and kapok to produce their products.
Some of their most popular products are apparel, yoga mats, bags, meditation cushions, benches, pillows, and more.
BeanProducts have an affiliate program that is hosted by ShareASale. They are looking to partner with affiliates who share their mission to provide consumers with non-toxic and eco-friendly products.
In return, they provide their affiliates with all the marketing materials and resources needed to get started and their generous commission rates begin at 15%, however, affiliates can grow based on performance and can earn up to 30% commissions.
Commission: 15 – 30%
Cookie: 30 days
Her Yoga Secrets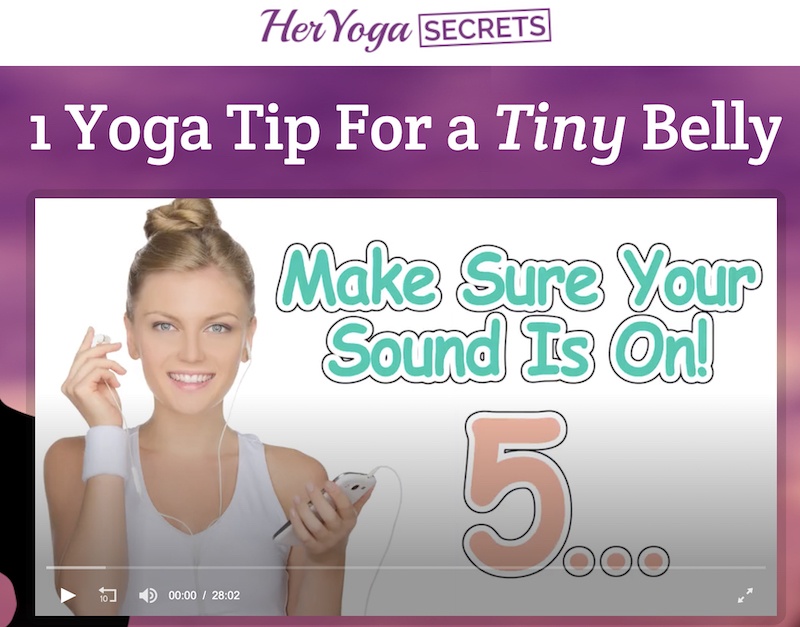 With women fearing the lethal side effects of weight loss pills, many are switching to a more natural and beneficial way of losing weight and staying fit.
HerYogaSecrets is an exercise program in the form of an eBook that has been dedicated to the ladies and made by a lady who also happens to be a leading health and fitness instructor.
The eBook contains videos and guidelines on how to perform effective yoga positions for the best results and the program operates through a dynamic sequence that helps the user execute each activity effectively.
As you progress with the program, the challenge will be raised accordingly to how your body is accustomed to it.
HerYogaSecrets has an affiliate program that is managed by Clickbank, therefore, in order to become an affiliate, you will have to create an affiliate account on their platform.
After doing this, you will be given an affiliate link that can be used to send traffic their way and earn up to 30% commissions for all the sales you make of Yoga Burn and non-free trial upsells.
Brilliant Yoga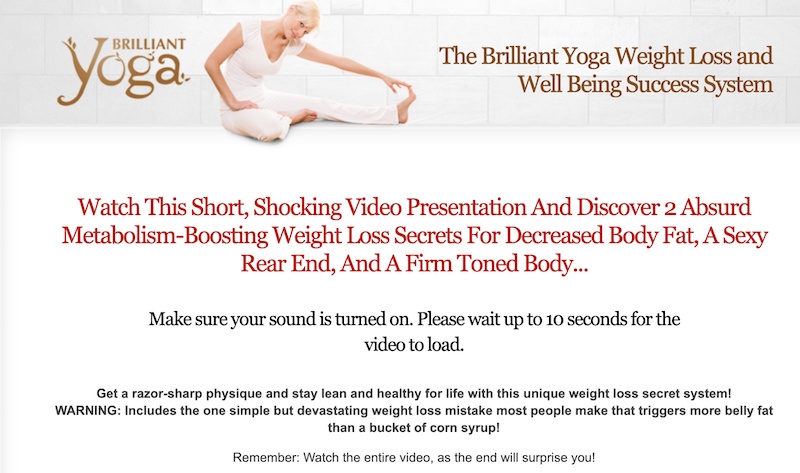 BrilliantYoga is a program in the form of an eBook that shows you how to use yoga to jumpstart your weight loss and wellness journey.
It was created by Sarah Sanders who is a well known professional yoga teacher and life coach. In her book, Sarah takes the time to explain that we don't have to starve ourselves or take other extreme measures in order to achieve and maintain a healthy weight.
According to her, we can achieve this as well as obtain many other health benefits through the practice of yoga.
The book costs $47, which is a reasonable price given that you will receive so much material to go through and a great deal of information on how to successfully transform your body and your life through yoga.
The information it covers ranges from yoga philosophy to step-by-step yoga session plans and instructional photographs.
BrilliantYoga has an affiliate program that is managed by Clickbank, therefore, in order to become an affiliate, you will have to create an affiliate account on their platform.
Affiliates can promote the BrilliantYoga eBook through their websites, blogs, or social media account and earn up to 70% commissions on each sale.
Additionally, affiliates are provided with a range of unique banner ads, product images, and text links that can be shared with their followers in order to boost sales.
Yoga Download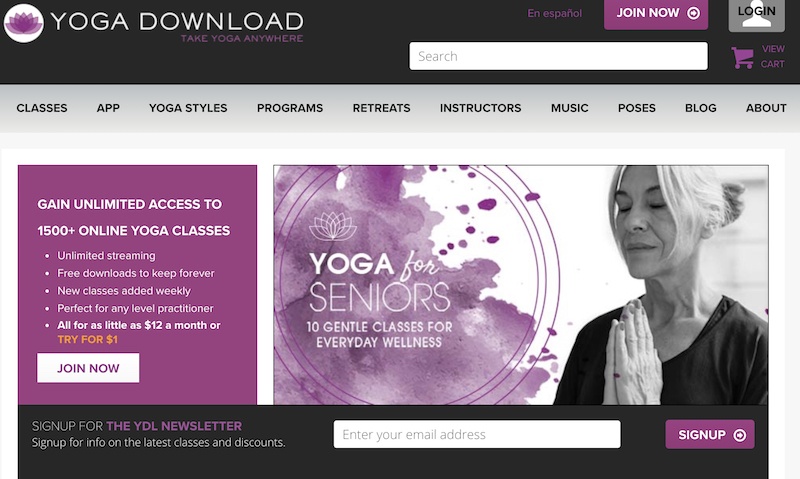 YogaDownload is a site that offers courses on different yoga styles. As the name suggests. once you have paid for the course, you can download the lessons and take them wherever you go.
You can even have access to online yoga, pilates, fitness classes, and even music on your mobile device by using their app.
YogaDownload has an affiliate program that is managed by ShareASale. They offer 12% commissions for their affiliates and provide them with an array of eye-catching banner ads as well as text links that can be posted on their websites or blogs and shared with their followers.
Affiliates are also provided with free tracking tools, data feeds, notifications of specials and sales, free coupons, and other tools that will help them boost sales.
Commission: 12%
Cookie: 30 days
Healthy Moving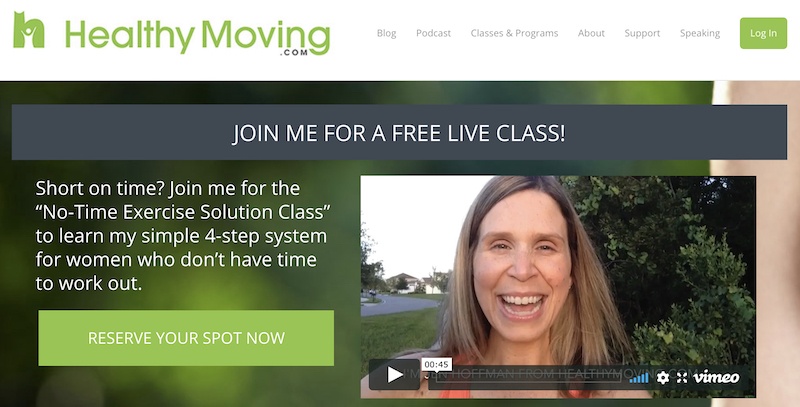 HealthyMoving is run by Jen Hoffman, a certified personal trainer, restorative exercise specialist, and registered yoga teacher.
Jen teaches you how to improve your health and wellness, focus on how you move and position your body, and learn how to improve it. She believes that our bodies are not shaped by what we do at the gym, but by how we move all the time.
She offers a free "No-Time Exercise Solution" class that allows you to get insight into why exercise doesn't always work and what you can do to improve your health.
All of her courses come with a money-back guarantee.
HealthyMoving has an in-house managed affiliate program and affiliates receive a generous commission of up to 30% on all sales. The cookie life is 6 months long so you have half a year to earn commissions from your referrals.
Each affiliate receives a unique affiliate ID and in-depth instructions on how to build your affiliate links. Moreover, affiliates have access to buttons and badges which can be used however you like.
Commission: 30%
Cookie: 6 months
Gaiam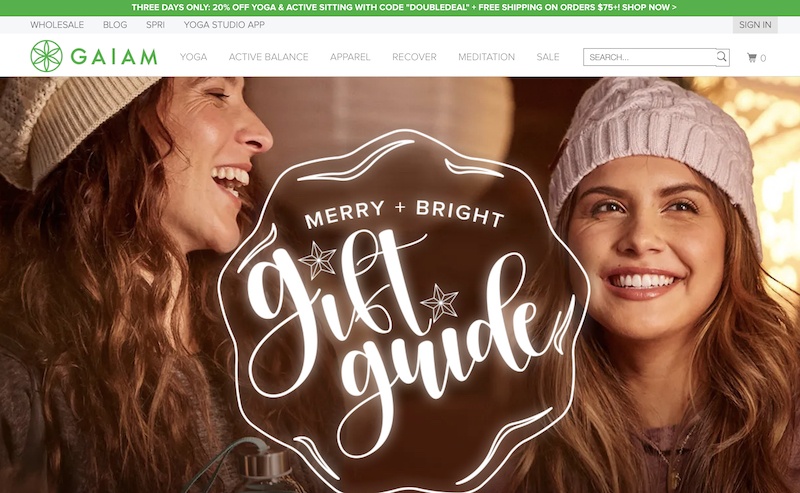 Gaiam is a leading yoga and wellness lifestyle brand. They create products that will help people become more active. Their products range from yoga and fitness apparel to a great selection of meditation seating, cushions, balance discs, and accessories.
They have a distribution network that consists of 38,000 retail doors, 18,000 stores, category management locations, and e-commerce.
Gaiam has an affiliate program that is managed by Rakuten Marketing. Their program uses best-in-class affiliate network tracking, reporting, and commissioning tools.
Once you are approved as an affiliate, you will immediately have access to a wealth of creative tools for your promotional use, and access to an affiliate team that will help you get up to speed.
They offer 10% commissions for each sale generated through your referrals as well as frequent newsletters with product information and ideas to increase your sales and earn higher commissions.
Commission: 10%
Cookie: 10 days
Build Your Yoga Biz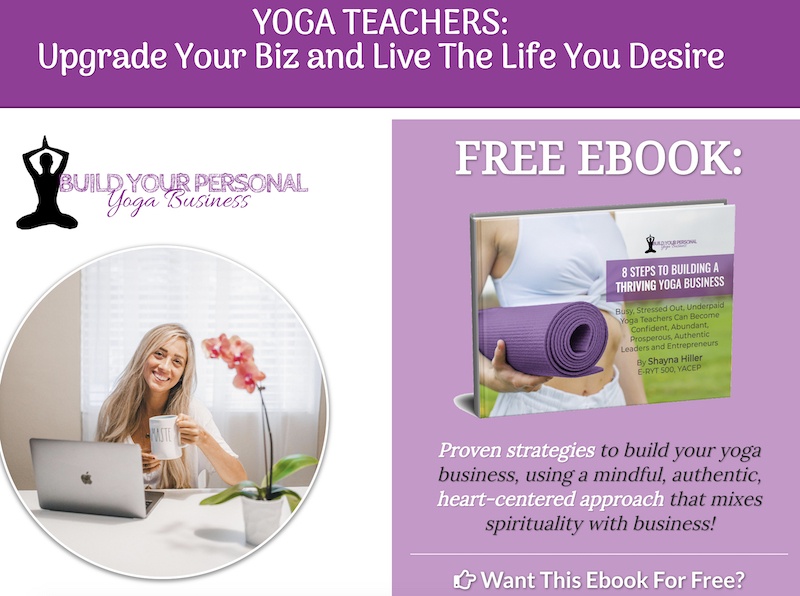 BuildYourYogaBiz is a website that offers eBooks that will teach you how to successfully grow your yoga business. Besides this, they also offer courses where you will learn everything you need to get you started in your own business.
It was created by Shayna Hiller who is a certified health coach, yoga teacher, and yoga business coach in Venice, California.
They have an in-house managed affiliate program that offers affiliates up to 30% commissions for promoting their brand and sending students their way.
Signing up is free of charge, and affiliates get paid on a monthly basis with no minimum commissions required.
Beyond Yoga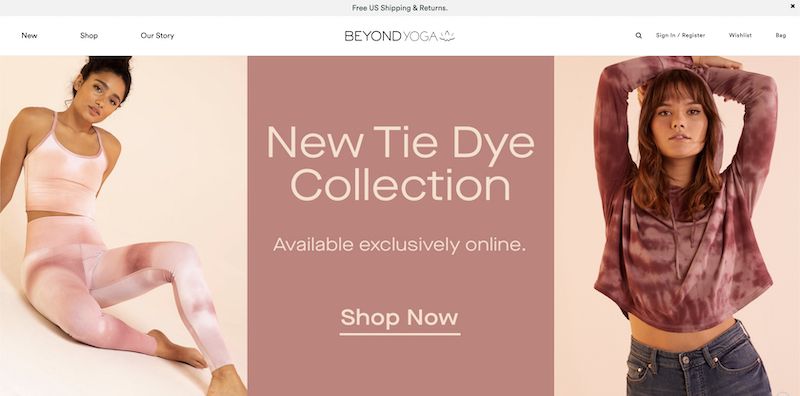 BeyondYoga is a female-found and run company that sells high standard apparel for fitness, yoga, or comfortable lounging around your house.
Their clothes are soft and supportive and their size ranges are quite impressive starting from XXS to 3X.
BeyondYoga was born from the idea and commitment to supporting and inspiring women to live authentic and active lifestyles and love who they are inside and out.
Their yoga-inspired collection of workout clothes is ideal for the modern woman offering comfort, support, and style.
They have an affiliate program that is hosted by ShareASale and they offer 10-12% commission rates for each sale generated by referrals.
Affiliates are provided with tracking links, custom links, and banners that can be promoted on their websites, blogs, or shared with their followers to help them boost sales and earn higher commissions.
Affiliates get paid on a monthly basis via check or direct bank deposit with a minimum credit of $50.
Commissions: 10-12%
Cookie: 45 days
---
Can You Really Make Money With The Yoga Niche?
Yes, you can. As an affiliate, you can capitalize on this yoga boom by building a great resource for those looking to learn yoga, which you can then monetize with any of the above-listed yoga affiliate programs.
If you're brand new to affiliate marketing, but you do not want to let this opportunity slip you by, don't worry as I have a great training course prepared.
It's my guide explaining exactly how I make money building simple affiliate websites.
If you're still direction-less with your affiliate marketing, I suggest you check it out.