Welcome to yet another "affiliate program review". My list of reviews is growing, so if you ever need to research some affiliate programs, you can see all my previous ones here.
Today, I am sharing my Adidas affiliate program review as there was a lot of interest in another review I published of their competitor, the Nike affiliate program.
If you're in the sports niche, and you want to make money with it, take a look at the below guide I've put together for you, but first;
Here's the TLDR version of this review:
Can You Make Money With The Adidas Affiliate Program?
??
Affiliate Commissions

Cookie Lenght

Brand Name

Niche Potential
Adidas Affiliate Program TLDR Summary
7 to 10% commission rates
30-day referral window (affiliate cookie)
Get paid for the first 3 purchases of a customer
A great affiliate program for sports/fitness bloggers
What is the Adidas Affiliate Program?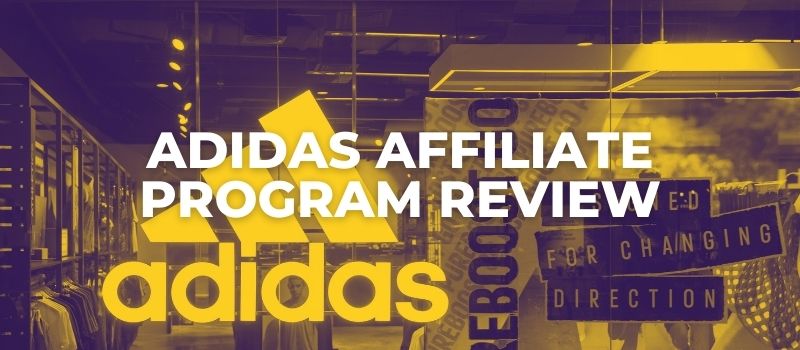 ---
---
Adidas is one of the best-known brand names in sporting apparel and with good reason.
Adidas is the biggest sportswear manufacturer in Europe and second-largest globally, after Nike.
Adidas bought Reebok in August 2005 and owns TaylorMade Golf company (including Ashworth), 8.33% of the Bayern Munich Football Club and Runtastic (running and training apps).
Adidas believes in their power to change lives through sport. They have been designing and manufacturing athletic footwear and sporty fashion and accessories since 1949. Their headquarters are in Germany.
The affiliate program is run by Impact Radius and you can join directly through Impact Radius or you can join the Program via Acceleration Partners or Viglink (recently bought over by Sovrn//Commerce).
If you join via Acceleration Partners, you still work through Impact Radius. However, you have access to additional bonuses and incentives that they offer their affiliates (as discussed in the commission section below).
Viglink works completely differently. It is an in-text affiliate/advertising network which gives you access to over 30,000 merchants. 
Viglink uses a software called Convert, which works in the background of your website (or app or social media platform) to transform ordinary product links into monetized links automatically.
Every time you mention a commercial product in a post, Viglink automatically converts the product into the highest paying affiliate link for that product and you can earn a commission.
This way you can monetize your site without having to join multiple affiliate programs.
What Can Your Promote As An Affiliate?
It appears that you can promote most of the products available on the Adidas website – we were not able to verify which products are eligible and which are exempt. 
The Adidas website is neatly organized into Men, Women, Kids, Sports, Brands, and Outlets.
In the Men and Women sections, you can choose from categories Shoes, Clothing, Accessories, and Sports.
The Kids section is split up by age, Youth (age 7-14), Toddler (age 2-6), Baby (0-2). 
The Sports section is split up into Football, Running, Training, Rugby and Specialist Sports (Tennis, Hockey, Cricket and Outdoor).
What Commission Do You Get with the Adidas Affiliate Program? 
The commission varies from program to program.
Impact Radius Commission Structure:
The commission payout through Impact Radius is 7% of the Net Sales Amount on commissionable items and 0% on non-commissionable items.
There's a 30-day referral window ("Referrals are only considered for credit if they occur within 30 days of the action")
There's a recurring payout structure that pays you for the next 3 purchases from the same customer at Adidas. ("For return consumers, payouts apply to 3 recurrences").
Acceleration Partners Commission Structure:
Up to 10% commission via Acceleration Partners.  
It appears that if you join via Acceleration Partners, you can earn an extra 3% Commission through their partner bonus incentives. The Affiliate Program is still run through Impact Radius but Acceleration Partners offers bonus campaigns and exclusive promotions.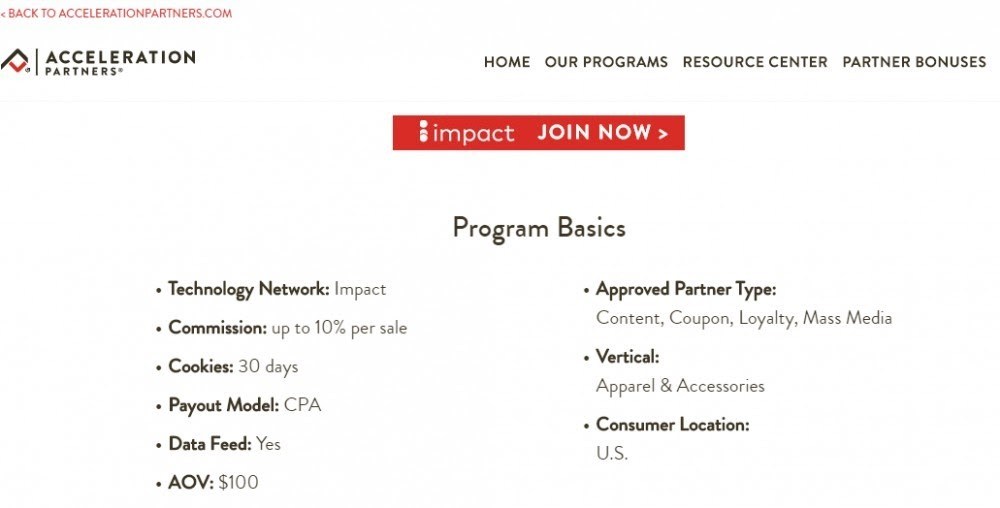 Sovrn//Commerce (Viglink) Commission Structure:
The Adidas commission on Viglink varies from week to week.
When we first started reviewing the Adidas Affiliate Program, the average commission Adidas had paid out for the week was 4.7%, this week it was 3.14%. 
Can You Make Money With This Affiliate Program?
Although commission per Adidas sale is lower through Viglinks, Convert could lead to more sales overall (as it gives you the option to earn a commission from all your product links) and therefore be more lucrative. Test it out and see.
If you're in a very targeted sporting niche and are accepted onto the program by Adidas (see the section below), you're also sure to earn money from the Adidas Affiliate Program – we recommend you join via the Acceleration Partners link to maximize your earning potential.
Who is this Affiliate Program Best For?
Publishers don't get automatic acceptance into this program. 
Adidas is looking to partner with online brands who are as passionate about changing lives through Sport.
You're likely to be accepted if you serve an audience of young adults aged 18-24 who love all things sport and fashion.
You also need to be publishing high-quality, engaging content and be a thought leader in your niche.
How to Join Adidas As An Affiliate
Option 01: Joining via Impact Radius
Step 01: 
On the first page, choose your language, account display name, website, country, bank location country, currency, time zone, physical address and phone number.
You can download the program terms on this page.
Step 02:
Now provide information about your business or marketing capability so that Adidas can evaluate your application.
Click the dropdown menu to choose your primary promotional method and then choose secondary methods from the list below.

Next, add the countries you will promote Adidas products in.
Choose whether you'll be promoting via website or mobile and add your property names and website URL('s). 
Step 03:
We did not complete Step 02 as we were not applying to the program, so we were not able to open up the rest of the steps, but as you can see from the screenshot above, steps 3, 4 and 5 were to add Personal Details (we would think these would be email and banking details), Tax details and then you have a chance to review everything.
Option 02:
Join via Acceleration Partners.
When you click on the big red button, "Impact – Join Now", it takes you to the Impact Radius page (above).
There is also a place on the Acceleration Partners page where you can indicate that you have already joined Impact Radius.
Option 03:
Join via Viglink / sovrn commerce.
Step 01: 
First, join Viglink.

Step 02:
We chose "Blog" so the next step was to enter a blog URL.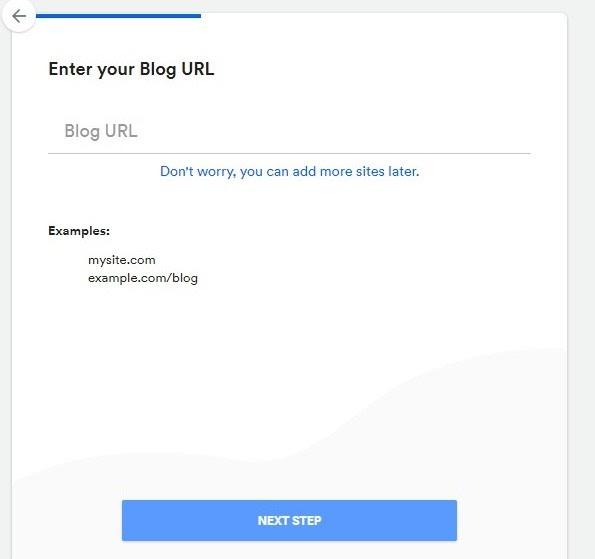 Step 03: 
Now select all that apply from their dropdown menu.  
Choose from: Charity Site, Content Network, Coupon/Deal Site, Email/Newsletter, Forum, Loyalty/Rewards, Mobile Application, Order Fulfillment, Publishing Platform, Search Engine, Search Marketing/PPC, Social Media, Software/Extension/Toolbar and Utility.
Step 04:
Now add your Primary type of Content on your website.
Step 05:
Now paste the Viglink Code on your website page to start earning from over 30,000 merchants.
---
Learn How To Make Money With Affiliate Marketing
If you'd like to start promoting the Adidas affiliate program, but you're still not sure of how this whole affiliate marketing business works, I have a page where I explain everything I know about building simple affiliate websites.
It's the simple no-fluff process I follow every time I create a new website and so far, it has not failed me.