Last year, I decided to finally get my body in shape.
At 30 years old, I set out to become the fittest I've ever been, and I'm glad to report I've been religiously sticking to my workout/diet schedules.
One thing I've noticed while on this fitness-trip is how big the fitness industry really and how much money people are willing to spend on their fitness, which is absolutely a good thing IMO.
With that said, today I want to share with you a few affiliate programs which you – as a fitness blogger or else – can make money promoting.
Before we dig deep into each affiliate program, let's first take a quick overview and see how brands we'll be covering today.
10 Fitness Affiliate Programs (w/Commissions)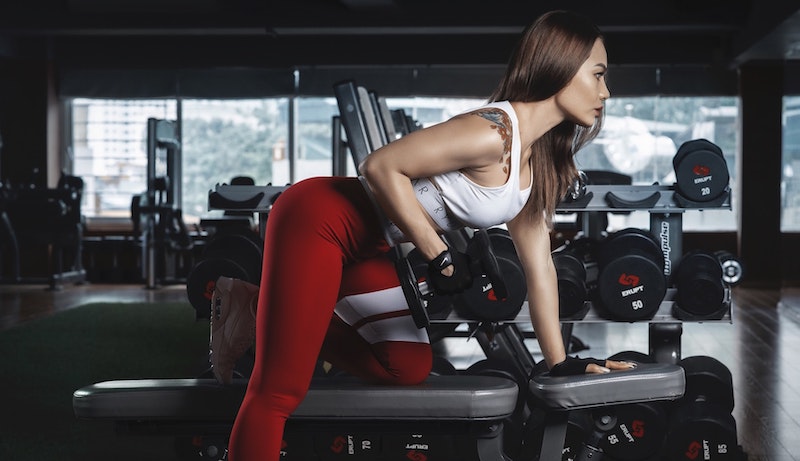 ---
---
All Volleyball

All Volleyball is an online eCommerce store that has specialized in volleyball equipment, accessories as well as clothing.
Despite that volleyball might not be a sport that can run into your mind when you hear about the fitness program, you will be able to burn approximately 300 calories within an hour of playing this game.
Furthermore, you need to understand that volleyball is among the most popular sport globally, with approximately 800 million players taking part in the game. Volleyball features a ready market, meaning selling accessories and volleyball equipment is relatively easy.
As an affiliate for All Volleyball, you receive a commission rate of 5% on sales above $250. Furthermore, they feature a flat rate of $30 per successful transaction you make.
They feature a conversion rate of 10%, and they have approximately 22,000 products with a cookie duration of 30 days, which is enough for you to create traffic.
Titan Fitness

Titan Fitness is a fitness program that has specialized in selling an array of products, which is ideal for individuals who lift heavy equipment, hit heavy things as well as swing heavy objects as well.
Basically, Titan Fitness has specialized in selling kettlebells, free weights, weight racks, and boxing equipment.
Their equipment is ideal for individuals who would like to get ripped or become physically fit.
The best part is that Titan Fitness equipment is pocket-friendly, meaning you will be able to save as you reduce your waistline and building up muscle.
As an affiliate, you will be able to make a commission rate of 5% on their branded products as well as a 4% commission rate on everything products that feature.
You might be put off by the low commission they offer; however, this is the average rate at which you will be receiving within the fitness niche. You will be able to get unlimited referrals within 30 days cookie duration.
Driftsun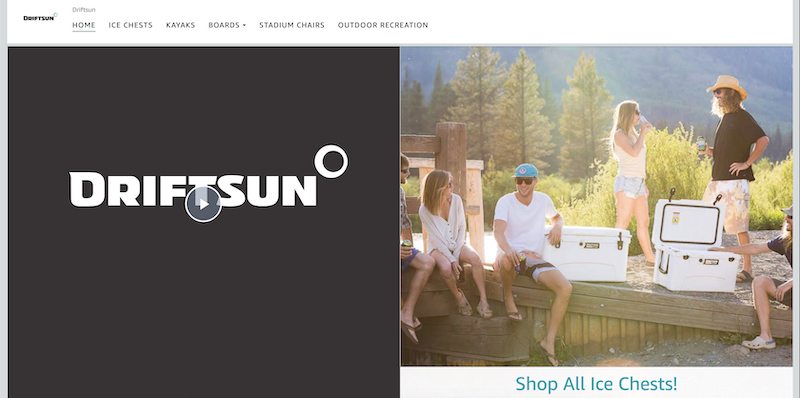 If you're looking for the world's best surfing affiliate programs, then look no further because Driftsun got your back. Usually, surfers feature exercise with their whole body burning approximately 720 calories within an hour.
This is because they often work their entire body while operating on an unstable surface.
Driftsun has specialized in selling new suppliers of paddleboards, kayaks, skimboards, and wake surf since 2014. However, this will provide you with a unique advantage as an affiliate who promotes new products.
Furthermore, you will become more enthusiastic and energetic since you will be developing an impact in the Driftsun affiliate program.
Often, water sports devices are not that affordable; this is why the average selling value at Driftsun is $350.
As an affiliate, you will be earning a commission rate of 10%, meaning you will be making at least $35 for every successful sale you make. Their cookie life duration is 15 days.
Horizon Fitness

Johnson Health Tech is the company that came up with Horizon Fitness, and they are well known for manufacturing tremendous and robust exercise devices for over 35 years.
Since they are among the most popular fitness brands across the world, you probably must have used their rowers, treadmills, exercise bikes as well as elliptical striders at some point in a local gym.
However, not everyone would like or can use a local gym in exercising; it is due to this that home exercise machines have become lucrative nowadays. Nowadays, most individuals pay for almost anything to exercise from their homes with maximum comfort.
When it comes to their affiliate programs, Horizon allows its affiliates to connect with fitness enthusiasts who love training from the comfort of their homes. They feature an average sale order of $800, and their commission rate is 8% per sale. Furthermore, they feature a cookie duration of 30 days.
National Academy of Sports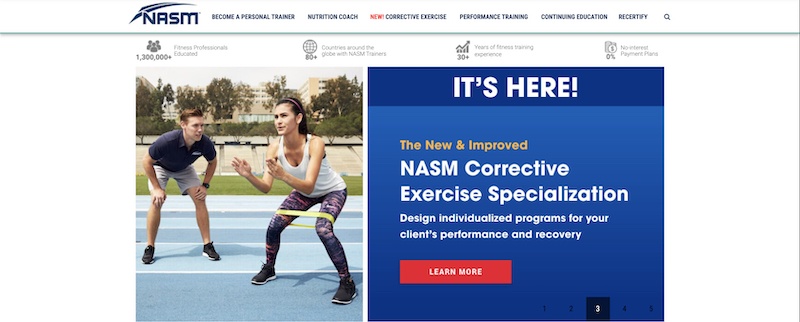 National Academy of Sports is a very-unique affiliate program. This program aims at individuals who are physically fit and would like to teach others how they will attain their maximum physical ability.
As most individuals understand, that the term coaching has been bandied a lot; however, on this occasion, the National Academy of Sport provides well-recognized qualifications when it comes to fitness training.
They don't offer a membership that is credited by nobody, which is something most fitness programs practice.
Certificates offered by the National Academy of Sports include; Corrective exercise, certified personal trainer specialist, performance enhancement specialist, and fitness nutrition specialist.
With the National Academy of Sports, you will be able to earn $25 per sale as an affiliate. They also offer a cookie life duration of 30 days.
Jump Sport

Jumps Sport is a fitness program that has been in operation for an extended period.
They first started operating in the year 1995, and they specialized in creating an array of safety enclosures used in trampolines.
In 2008, Jump Sport diversified into the niche of fitness and the trampoline market.
They are well-known for having an array of quality products. For individuals who doubt trampoline as an effective fitness program, it will be best for them to give a 30 minutes workout and check the number of calories they managed to burn.
Jump Sport trampolines have received plenty of positive reviews; this means you will be affiliating with high-quality products.
As an affiliate, you will be receiving a commission rate of 4%, and they feature a minimum order sale of $491. This means you will be earning approximately $20 per every successful sale you make. They feature a cookie life duration of 30 days.
Monkii Portable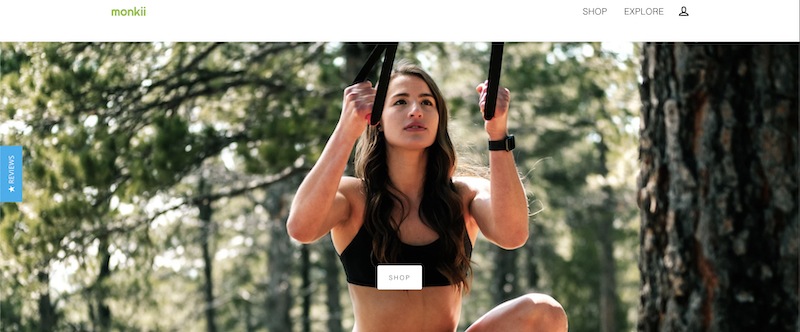 Monkii Portable is a fitness device that spins on a TRX system, and they are often found in gyms, with the primary difference being they are miniaturized as well as portable.
What you will have is a set of fitness gadgets which you will be able to move with it from one place to the other.
If you are a traveler with work, you probably understand the struggle of fitting in a workout, especially if your hotel gym is not in the best condition.
With Monkii, you will be able to get rid of this hurdle by letting you move around with your portable gym. This means that you will be able to carry out a full workout from your hotel without the need to access their gym.
Their product is ideal for individuals who work from home or those who are constant on the road.
As an affiliate, you will earn a commission rate of 15% per successful referral, with an average payout of $21.10 per sale. Their cookie life duration is 90 days.
Reebok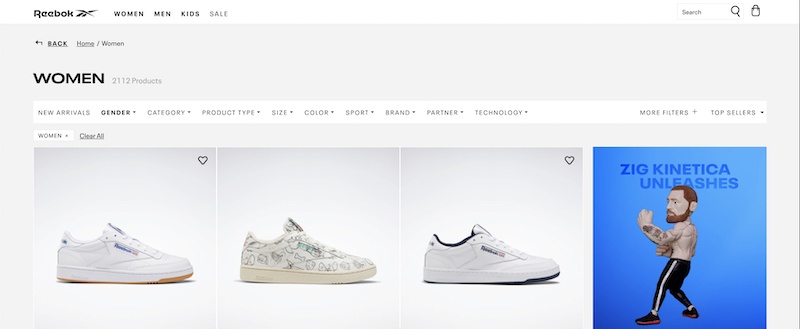 Reebok is one of the few fitness programs that do not require any introduction. Found in 1895 in the United Kingdom, Reebok has grown to become the world's most popular fitness program in existence.
Reebok's first product was spiked shoes meant for running during the Olympics, and Olympic champions often wore it. It was from here that they managed to build their business.
The word Reebok was derived from Afrikaans, which means Grey Antelope. The company has grown and become synonymous with sports footwear as well as clothing that is of high-quality.
You will not have a difficult time explaining what Reebok is to your clients. This makes it pretty much easy to sell.
As an affiliate, you will be receiving a commission rate of 7% on every successful sale you make with Reebok products. Their average selling order value is $80. Furthermore, they feature a cookie duration of 7 days.
Hickies Lace System

Hickies offer sneakers that most individuals love and often refer to as Back to the Future. Hickies features the next biggest thing; a new design of a lacing system.
These laces are designed from a material known as a durable thermoplastic elastomer.
The brand new Hickies lacing system has come to replace the old laces; by using simpler methods in which you will be able to keep your shoes on your feet. This system is designed to work incredibly perfect on any shoe that features eyelets.
With the Hickies lacing system, you will be able to adjust your sneakers as well as shoes to every single part of your feet, which is something impossible with the traditional laces.
Hickies Lace System features a commission rate of 20%, with their minimum sale value order being $50. Additionally, their cookie life duration is 30 days.
Gene Food

Gene Food is a unique fitness program that we have covered in this article. It might seem to be a genetically modified organism; however, Gene Food offers foods that match your genetic makeup accordingly.
Nowadays, most individuals tend to switch diets as well as taking advice from individuals that are not well trained to get physically fit. However, this often fails due to incorrect advice.
If you are looking for a program that will help you become physically fit through dieting, Gene Food will be best for you. This program has identified 20 different diet types that will not only aid you to be physically fit but also match up with your genetic profile.
The program is said to work effectively and has been growing in popularity over the years.
As an affiliate, you will be receiving a commission rate of $15 per successful sale you make. Their cookie duration is 90 days.
---
How To Get Started As A Fitness Blogger
It may seem like the fitness/health niche is impossible competitive, and you're right, it is!
But one of the beautiful things about affiliate marketing is that even in a densely competitive niche, you can still carve out a piece of profitable pie for yourself.
If you have a fitness blog up and running already (hopefully with traffic coming in), then I don't need to tell you what to do next.
Simply pick one – or all – of the fitness affiliate programs mentioned above and get to work signing up and adding/replacing your affiliate links.
If, on the other hand, you are brand new to affiliate marketing and you like the sound of what it can provide, but have no idea where to start, fret not!
I have the perfect beginner-friendly training course for you here explaining how I build my own affiliate websites. You'd do well in check it out.
PS: Looking for more fitness-related affiliate programs?