Are Udemy courses worth it, or are they just glorified blog posts turned into "courses" and sold for a premium fee?
I've recently spent some time browsing through Udemy seeing what type of courses are available in the "digital marketing" sphere and even though they offer plenty of great courses on the topic;
I am pretty sure that many of these Udemy courses are actually not worth the price.
In this guide, I will first try to answer the question at hand by first analyzing a few Udemy courses and see what they're all about, second;
I will also tell you what to look out for to be sure that the Udemy courses you are buying are actually worth the price and whether to not they can teach you what you need to know.
This won't be too long of a guide so don't worry, you'll soon find out whether you should be investing in Udemy courses or not.
(Be sure to read to the very bottom to see how you can always get a $100+ discount on all Udemy courses)
Let me first jump into one of the most commonly asked questions about Udemy…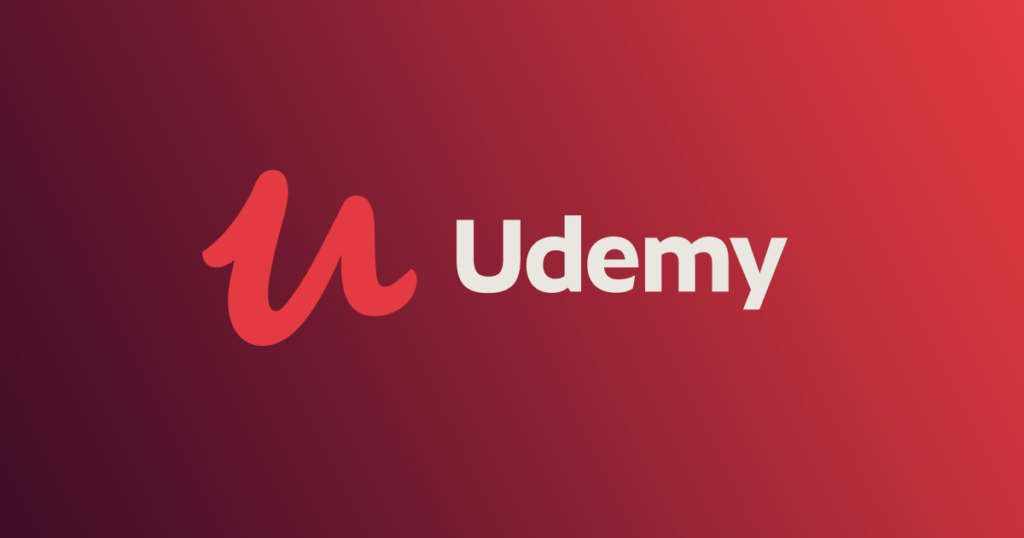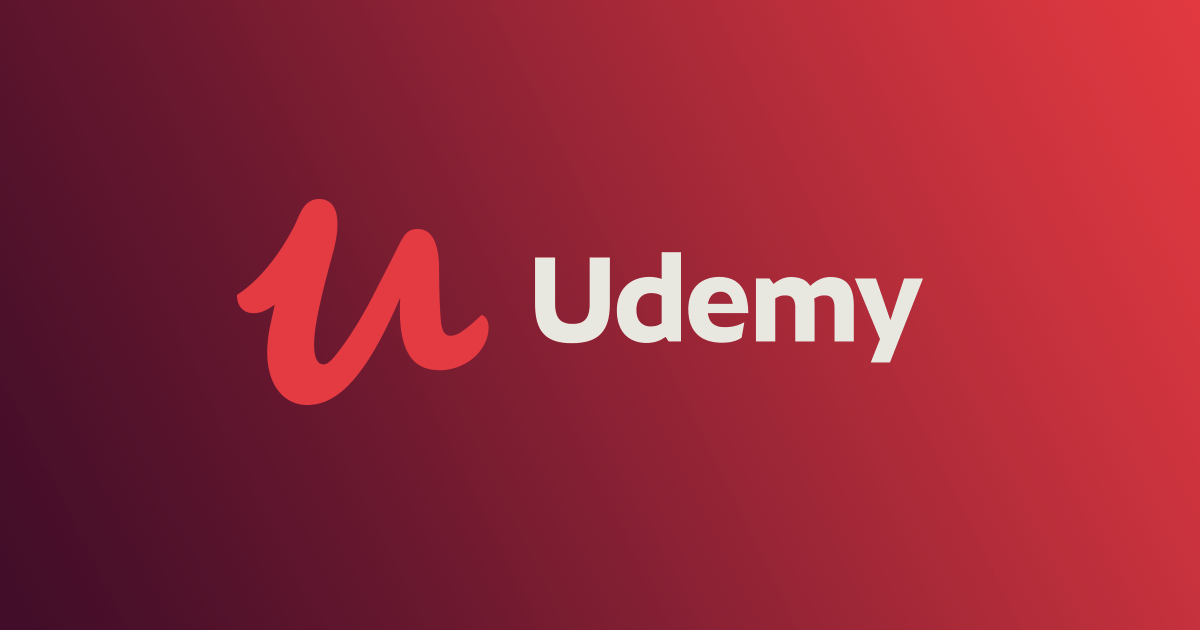 Are Udemy Courses Accredited?
One thing you should know about Udemy courses is that most employers would likely not take it that seriously.
Some Udemy courses do come with a "certification of completion", but since there's no "examination" on your proficiency in the course, it rarely ever means much.
However, this does not mean that you should not include Udemy courses on your CV either.
I see no reason why you can not share the fact that you have gone through a course (or two) in a specific topic.
As time will pass, I believe online courses will become more recognized and truth be told; if I had to hire someone that learned "marketing" from an online course;
I'd probably prefer him/her over someone that learned in a "traditional" school or University.
Are Udemy Courses Worth The Price of Entry?
Even though I am a course creator myself and I have built my business selling and promoting various online courses;
I will tell you that most of the information that can be found in these courses can all be found for free.
However, this does not make Udemy courses (or any other online course for that matter) not worth the price.
Yes – there are plenty of garbage courses out there (especially in the make money online industry which I find myself in) but you likely won't find any of the sorts inside Udemy's walls.
Now, are online courses worth it?
When you consider that for a small fee, you will get a structured course showing you all you need to know;
Yes, Udemy courses are worth the price.
Yes you can find that information for free, but when you go for the "free method", you are opening yourself up to a lot of bad and outdated information, not to mention you will have to spend a lot of time (hours, days and even months) to find something worth learning from in the sea of "free" content out there.
Just with that reasoning alone + the fact that you can do these courses at your own time, from the comfort of your own home using a laptop or even a Smartphone;
I'd say Udemy courses are pretty much worth the cost.
Now yes – just like some of the courses I found while researching courses in the "digital marketing" space, there will be some courses which are just meh.
However; you will find high-quality courses, form high-quality instructors that can teach you what you need to know in a timely and cost-effective manner.
Now that we've covered that, let me just share with you a few things you need to keep an eye out for to separate the useless courses from the great ones on Udemy.
How To Find The Best Udemy Courses To Learn From
Student Feedback Reviews


The first tell-tale sign whether a course is legit or not is of course; student reviews and feedback.
One thing you should keep an eye out for (apart from the negative/positive) feedback is also the volume of reviews present.
The more the better obviously as this shows a lot of people went through this course (and a lot of people liked it).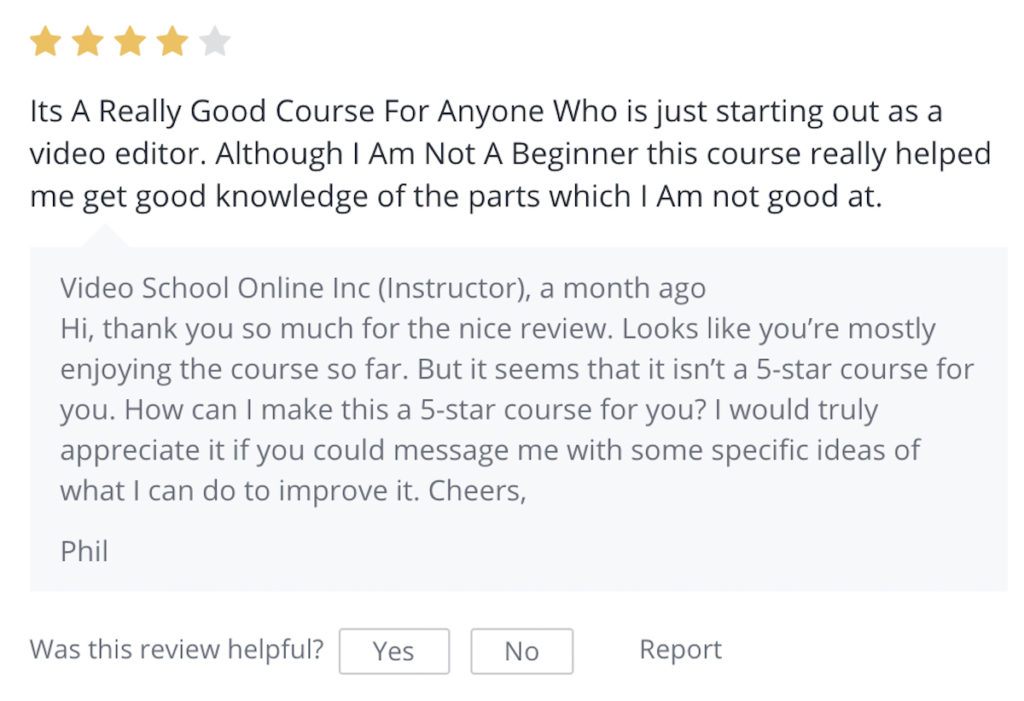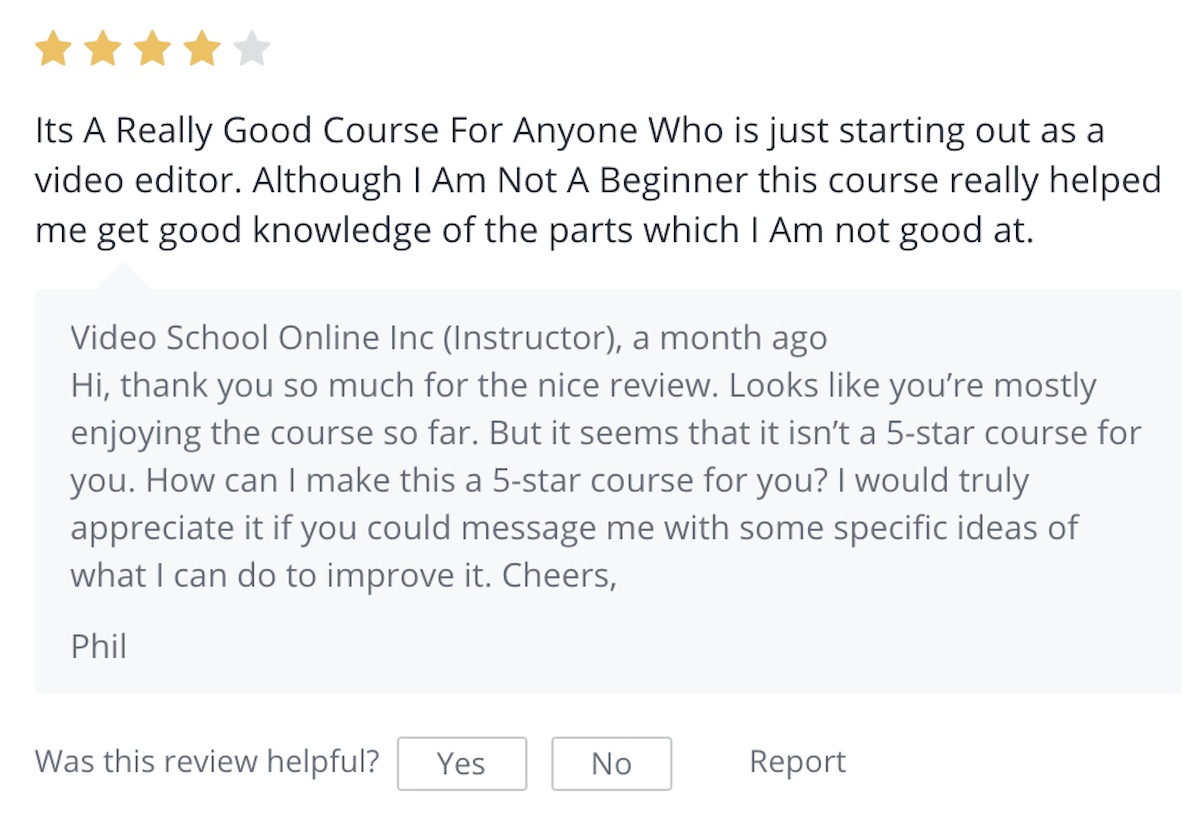 You will clearly see the reviews tab with every course page you look at.
Best Seller Badge:
For any given topic you will search, you will also find a "Best Seller" badge given (of course) to the best selling courses in the given topic.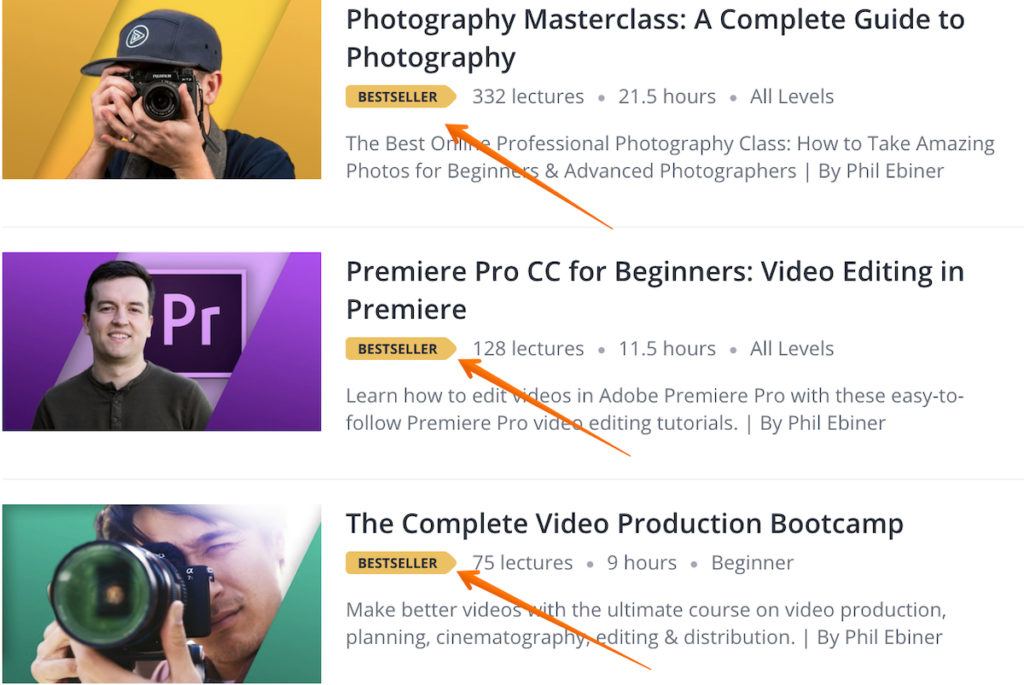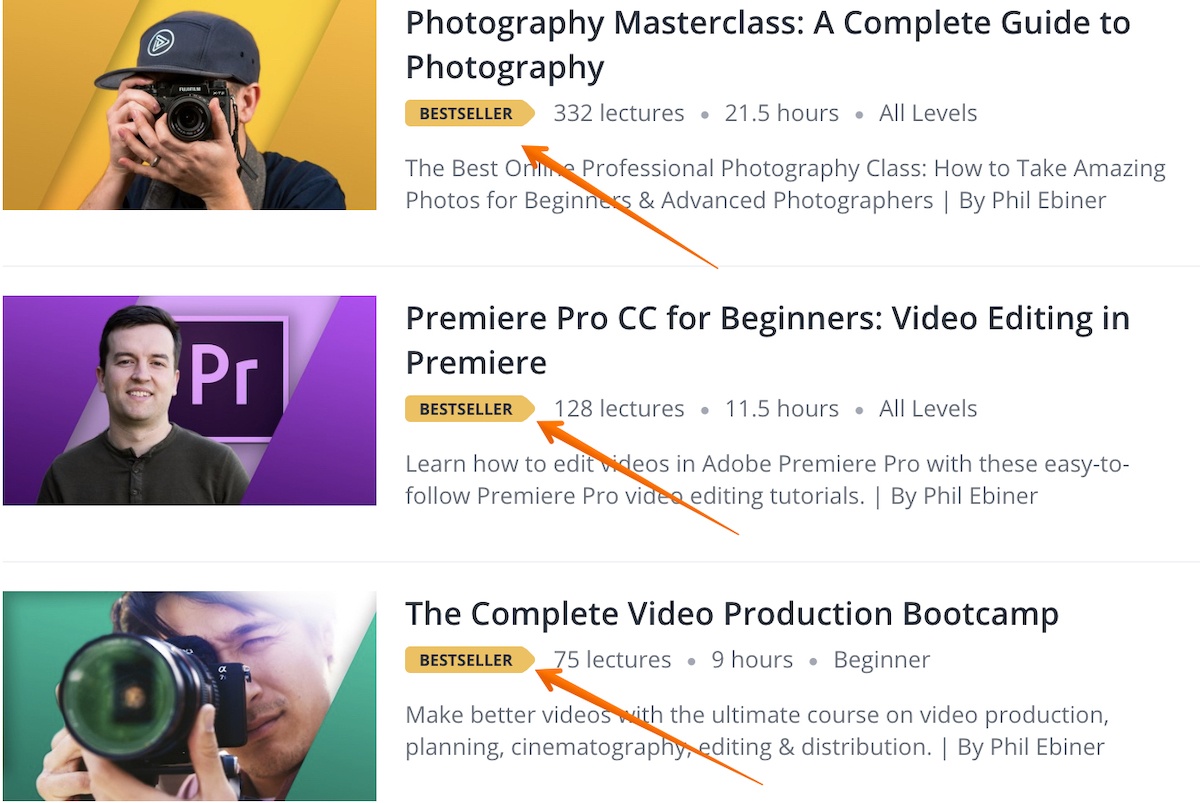 While this may be a sign of a great course, you should also make note of the course description…
Description:


This may not be a tell-sign of quality, but it will show you what the course is all about and whether it can teach you what you want to learn or not.
Of course; I would suggest you take a look at more than just one course if you're interested in a subject to see which course offers the most lessons and covers the most topics.
"Last Updated":


Udemy also provides a handy "Last Updated" tab with every course page.
This is great because you always want to find a course that is constantly being updated.
For certain topics, this may not make much of a difference but for others (such as digital marketing, cryptocurrencies, etc) it's always best to get the best and latest information.
About The Instructor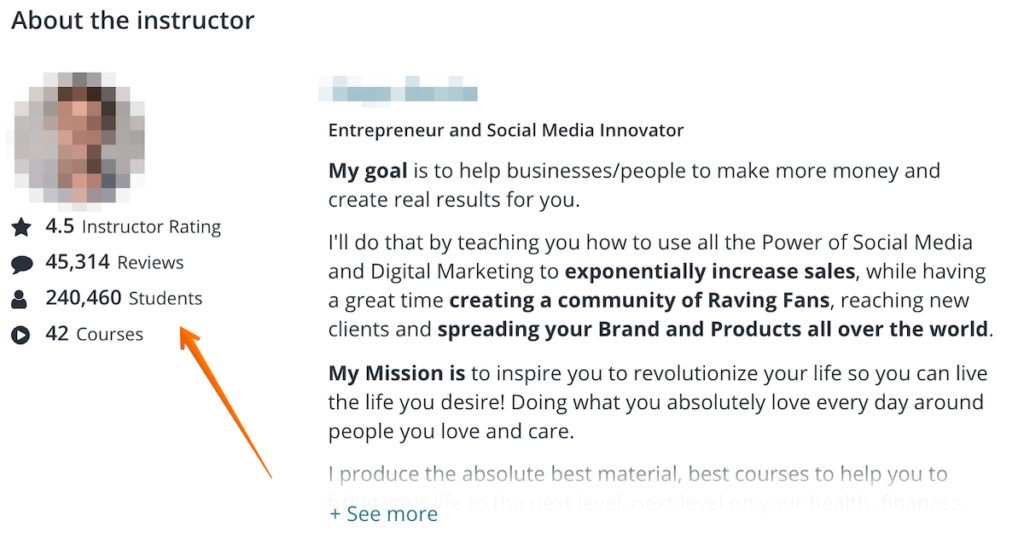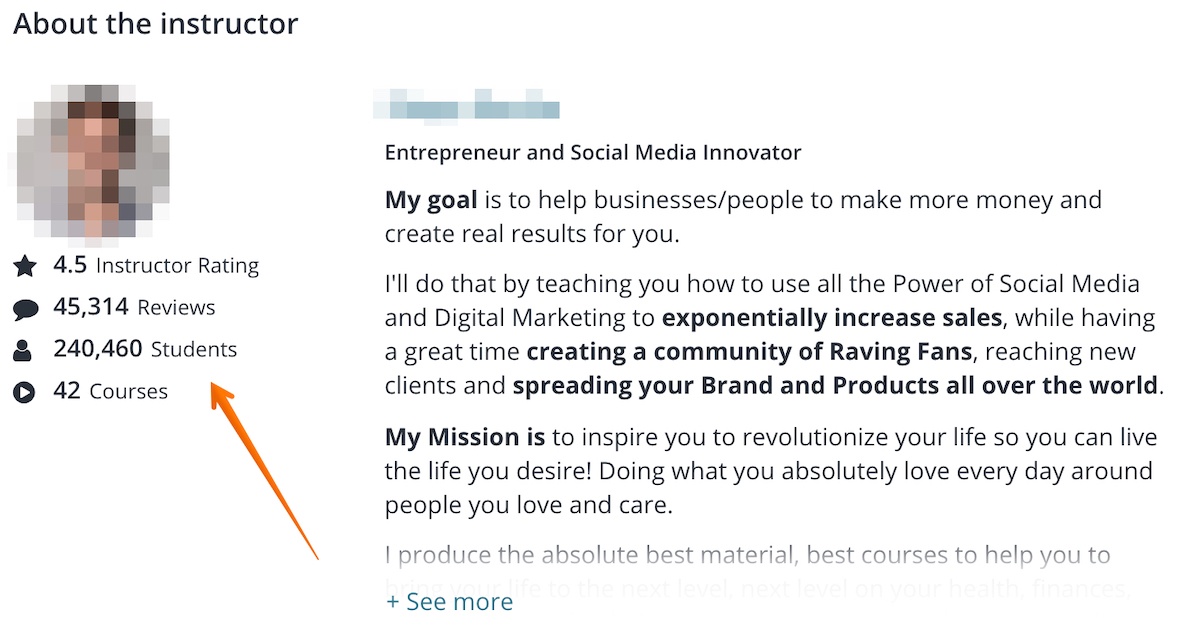 Last but not least, you also want to take a look at who will be teaching you the course.
Is it someone you recognise in the industry? Is he/she an expert? Has he a proven track record in the space?
You don't want to be learning from just anyone. You want to learn from the people who have the results you're after.
If you stick with the above guidelines, I am sure you will find a course that is just right for you.
Now that we've covered that, let's take a look at how much – on average – Udemy courses cost.
How Much Are Udemy Courses?


This is not as straight forward to answer as different courses carry different price tags depending on the effort put in by the course creator.
On average though, most courses you will come across are somewhere in the $10 to $50 range (when on discount) which is perfectly reasonable for an online course.
Sidenote: Are Udemy Courses Always On Sale?
You may notice that most (or all) courses seem to offer irresistible discounts such as the ones shown below.
Are the Udemy discounts legit?
Personally, I can't tell – I have seen offers that show they're on sale "for the next 10 hours" and once the discount period is over, it either remains the same or the price increases just a little bit (but not anywhere near the actual price of the course).
I strongly suspect there is some cookie tracking your time on the page so if you find that a course discount has expired, you can try clearing your cookies or access the Udemy website through a different browser.
IMPORTANT UPDATE: If a Udemy discount has expired, go through Google Incognito.
I just put my theory to the test and yes; if you "miss out" on a Udemy discount, simply access the website through a different browser (or use Incognito) and you will get the discount once again.
Check out the below screenshot of two different tabs (one in Incognito and one not) and as you can clearly see; the Incognito tab is offering me a discount on all courses and the other isn't.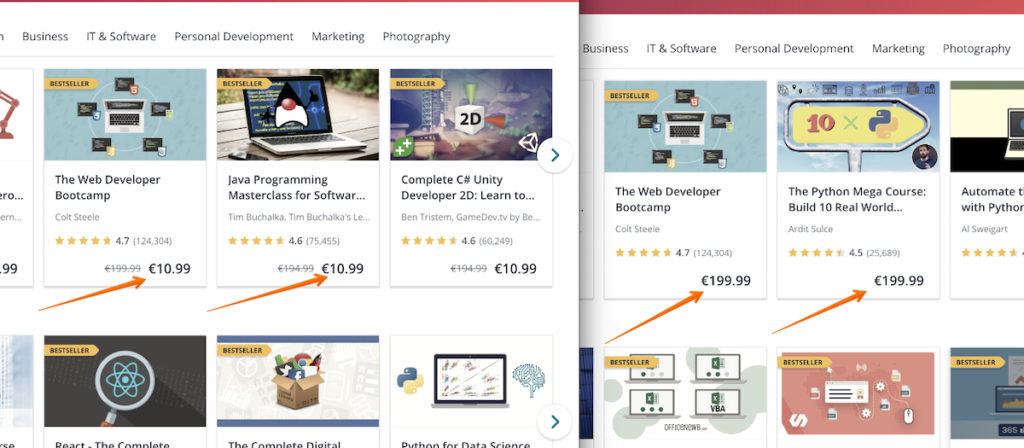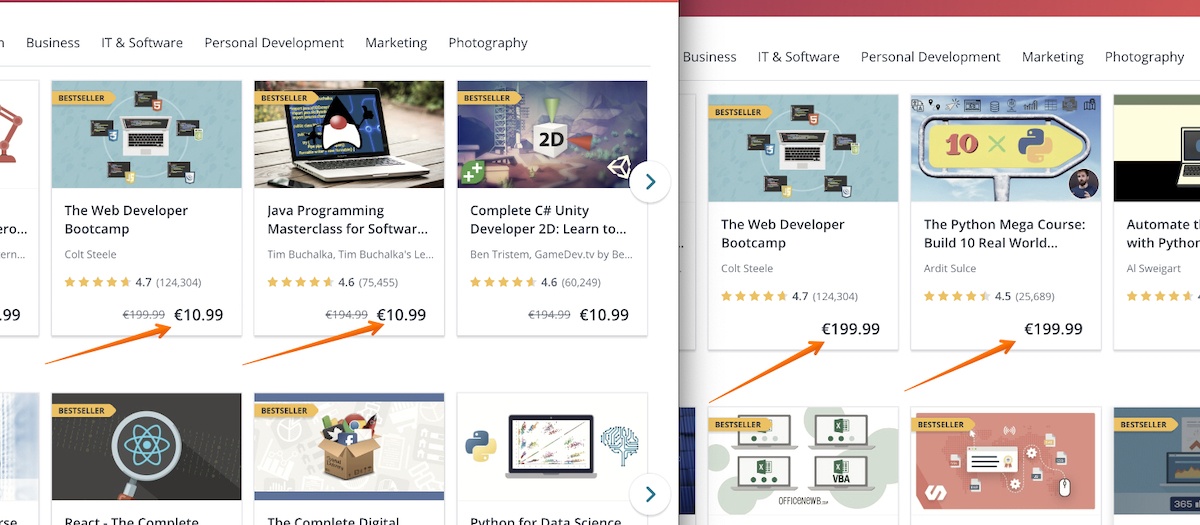 Where, How & When Can You Use Udemy Courses?
With every Udemy course you buy, you also get lifetime access to it and you can go through the course many times over.
You can also access the course through your Udemy Smartphone app which I think is a pretty good feature since most of us are on mobile most of the time and this gives you the chance to spend otherwise dead time (such as commuting) learning something interesting.


Are There Any Money Back Guarantees?
Yes, Udemy offers you a 30-day money back guarantee on all courses you decide to take.
If you do not like a course you bought, for some reason or the other, you can follow the steps outlined here to get a refund.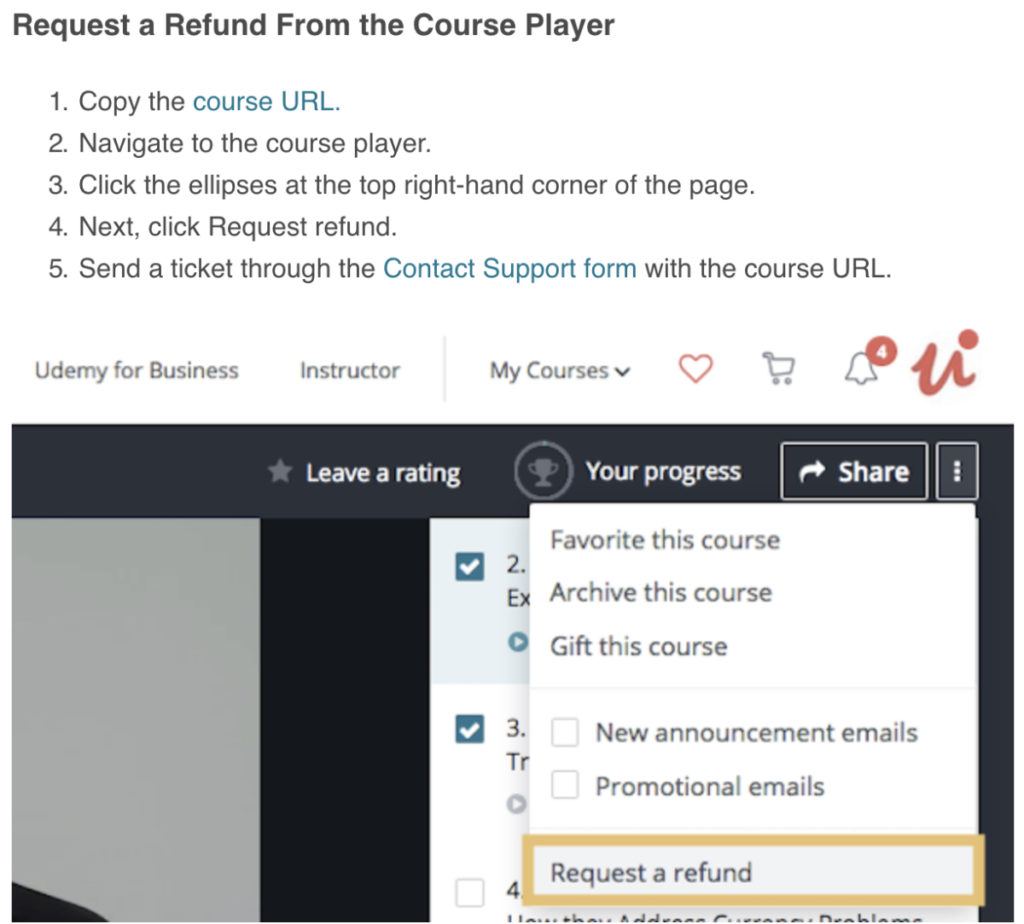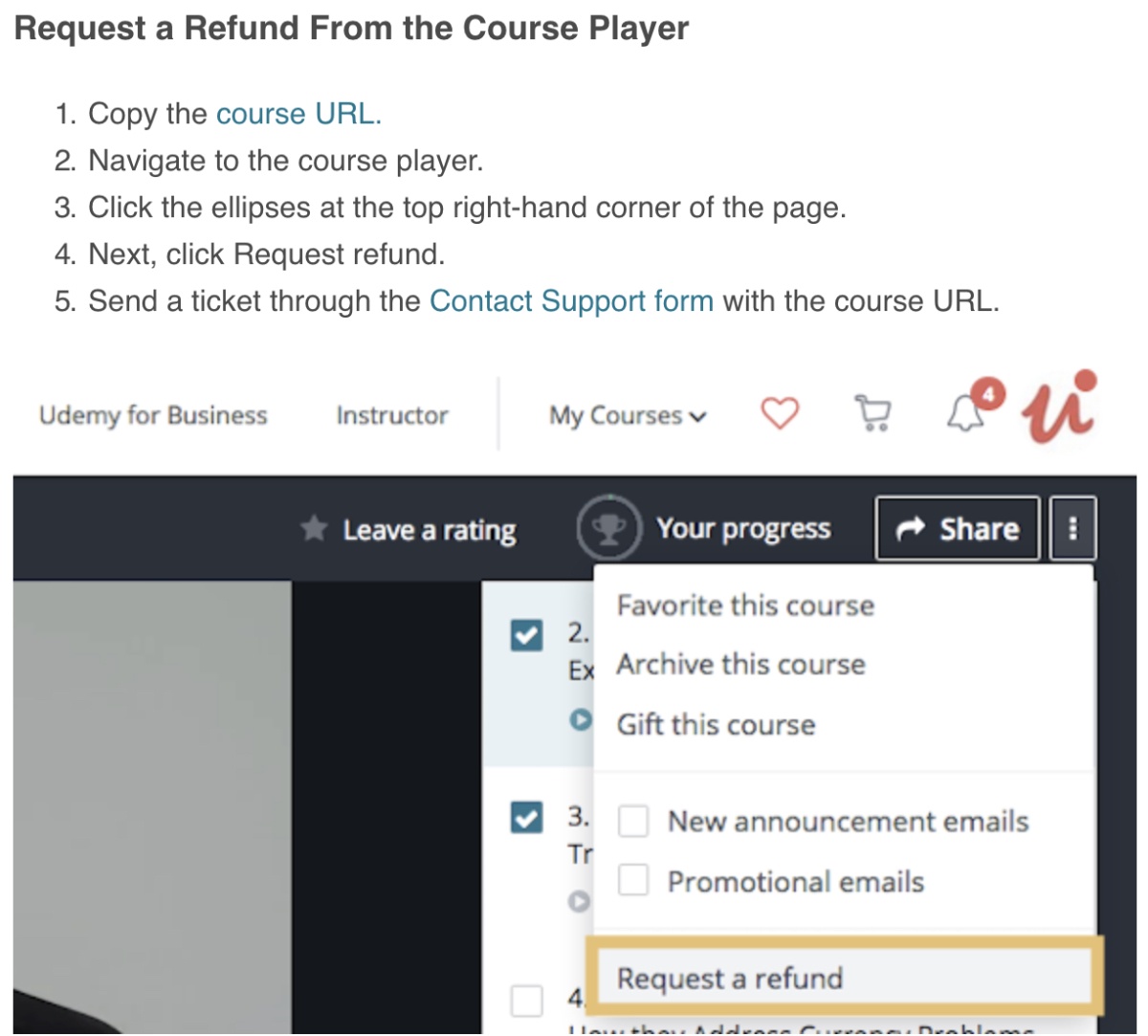 PSA: Please don't be a dick about this either. Do not go through the course, like it and then request a refund. As course creator myself, I know how much effort is put into creating a valuable resource and doing this is just theft in my opinion (which is why I don't offer refunds on any courses I create – in case you were wondering).
Any Notable Udemy Alternatives You Can Learn From?
In this post, you will find a list of Udemy alternatives which you can look into.
However, what I can tell you is that Udemy (from what I can see from my research so far) offers the widest range of topics and also the lowest prices.
While I would first advise you to browse Udemy, if you don't find something you like, then, by all means, look at alternatives to see if there's something that better suits your needs.
How To Become A Udemy Student (Exclusive Discount Code)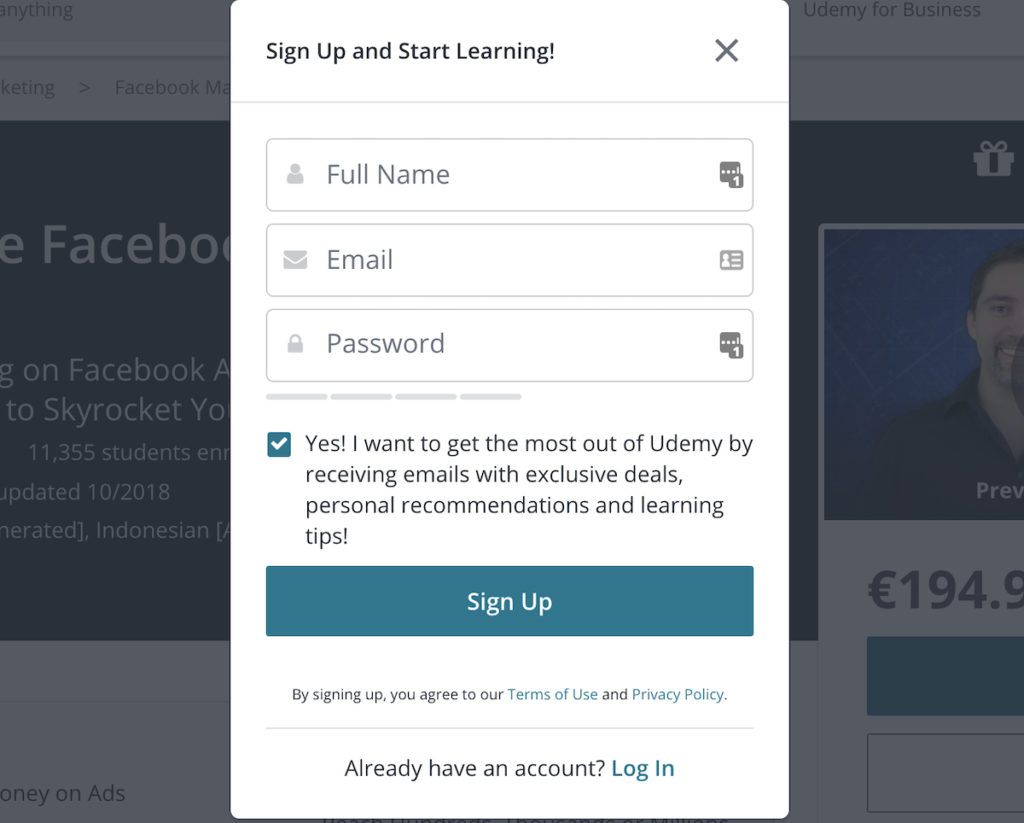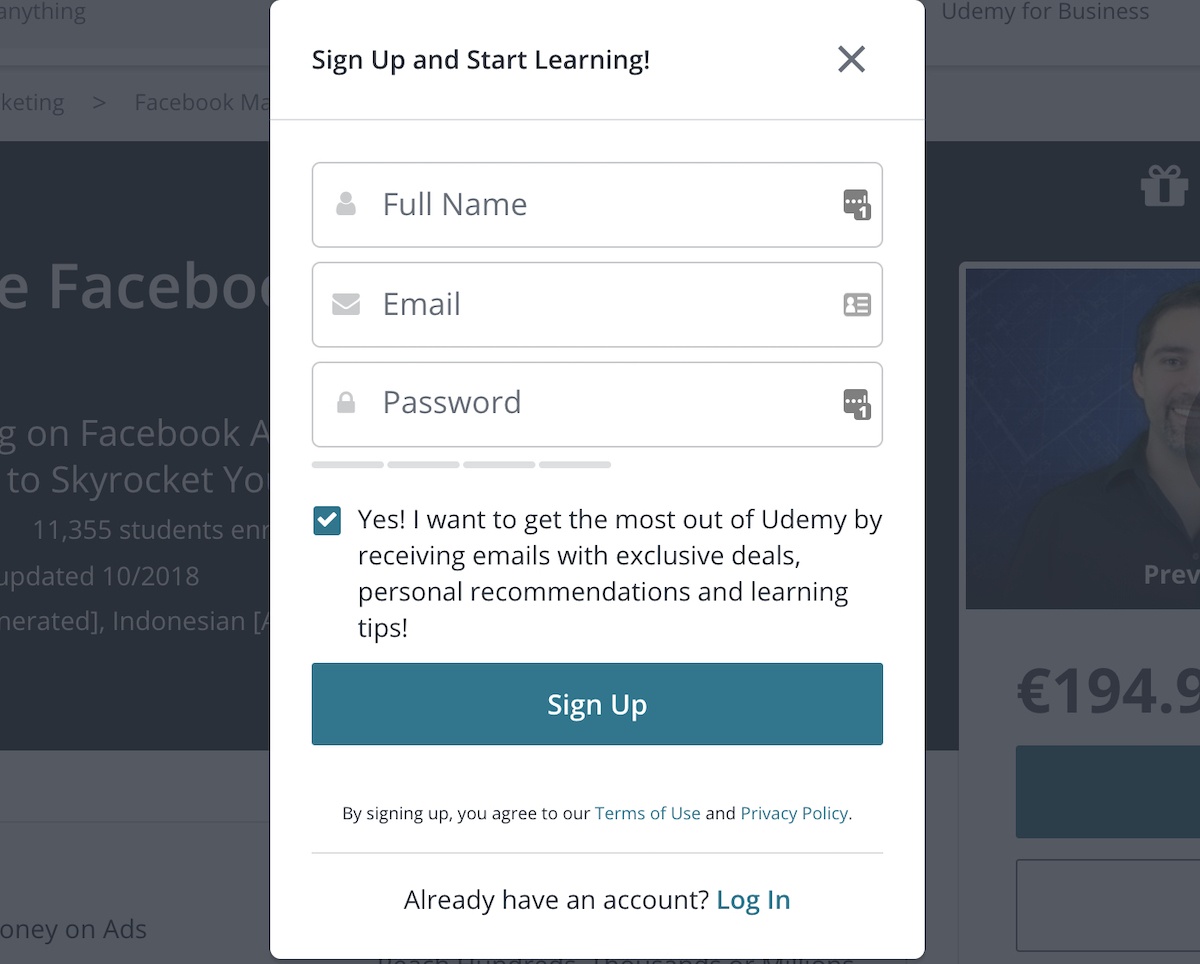 If you'd like to become a Udemy student and have found this guide helpful, be sure to go ahead and become a Udemy student today.
using the link provided, you will get a guaranteed discount on any course you choose and also locks you in for more discounts in the future (through Udemy's own internal offers they send out to their students via email).
You can become a Udemy student here.
Final Words
Is Udemy worth it?
Are Udemy courses worth the price?
That would be a YES from me on both fronts.
Just make sure you catch yourself a discount while you can and if you miss it, don't forget to browse through Udemy through a different browser or through Incognito mode.
I'll leave you to it…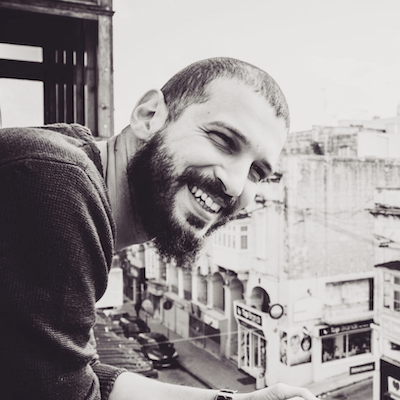 Since 2011, I've been learning how to make money online with affiliate marketing. This website is where I share everything I know and all I will learn along until I reach my next income goal of $30,000 p/month.