One of the oldest tricks in the book for affiliate marketers is to find a course (or any other type of digital product in their niche) and writing a review about it.
This is done for two main reasons;
Course review keywords are usually easy-ish to rank for – and
You can make money by linking to the course page via your affiliate links.
Some might say this "method" is outdated and it doesn't work. They're wrong.
I have been using this strategy for years now – in a variety of different niches – and it's still a good way to get some rankings and hopefully some income.
Today, I want to share with you all I know about how to write a course review for your blog/website.
I've also just published a guide showing you how to make money with product reviews so that a look at that while you're at it.
Let's get started…
A Template For Your Course Review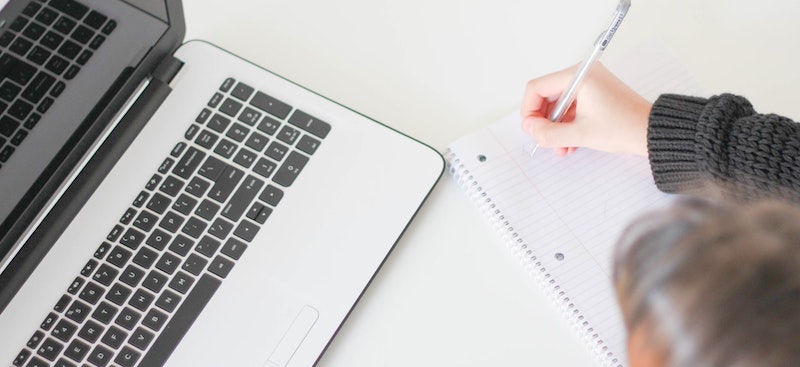 Introduction (Why You Decided To Buy It):
You should start your review by first explaining why you decided to buy this specific course.
This will communicate to the readers who is this course for, and what does it do.
For example, let's say you bought a speed-reading course and you've decided to review it on your website.
Here's how I would start such a review:
I've been looking to get back into reading books as I've missed over the year life has been getting in the way of my reading. The problem is I don't have much time for books these days. After doing a bit of research, I came across the idea of speed-reading and thought it was interesting, hence I decided to try out this speed-reading course to learn more about it.
See what I did there?
In just one paragraph, I've managed to communicate exactly what my issue is/was, who this course is for, and how it helps solve our problems.
You do this so you can put the reader in the right mind-frame by first realizing the issue at hand.
The truth is, people do not want the course – they just want the solution the course provides so make sure you incorporate that into your writing and yes;
It's best to do this at the beginning of your review thus saving those who are uninterested.
Quick TLDR Bullet Points (Widget):
Next up, you want to add some sort of "TLDR version of this review".
You can see how I what I mean by this on my Wealthy Affiliate review where I provide – in bullet form – all the main benefits and features the course provides.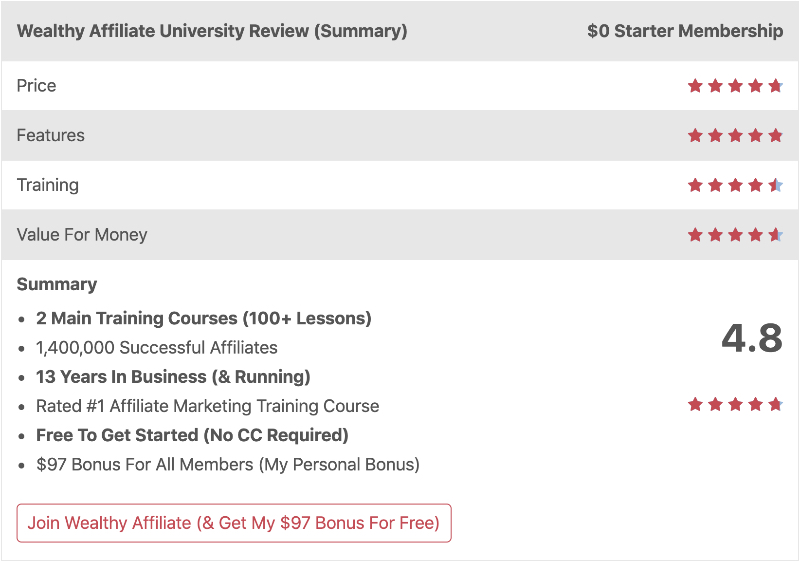 You want to do this if you plan on doing a super-long review.
Once you have set the stage for what the course is and how it helps, provide those who are already sold on it a quick way to confirm their bias and a button to take them to the course to buy.
The plugin I use to create the "TLDR summary" shown above is a free plugin called WP Review.
Simply install it and you will have the settings to create the same form on the WordPress Editor page.
Your Experience:
Next up, you want to talk about your experience with the course.
Was it easy to buy?
Did you receive it via email?
Was it easy to get started?
Was it difficult/easy to understand?
There's no right or wrong thing you can include here.
I would say put in as much detail as possible giving your readers an almost insider-look into the course.
Of course, do not reveal any of the lessons learned in the course as that could violate the "terms of use" of the course – and;
If you reveal everything there is to know, there will be no reason for the reader to sign up for the course (and for you to earn a commission).
What Features // Lessons It Offers:
Next up you want to talk about the features and the lessons here.
Was the course in video format, or text?
Were the lessons any good or just generic advice?
Is it easy to follow the lessons?
Are they laid out in a step by step manner?
is it good for beginners or is it more for "advanced" people?
Again, there's no right or wrong here. Just add as much information as you can.
If you can think back to all the questions you had before buying the course, those will be good to address.
Even though this is the "features" section, still you should mention the benefits of each feature.
Always, always focus on the benefits!
What You Learned After Going Through The Course:
Next up you want to talk about what you have learned in the course without revealing too many secrets.
Using the speed-reading course mentioned above as an example, you can say that you can now:
Read a page in 10 seconds
Your level of comprehension has increased
You can read a book a day
You can finally read a book and still keep up with life.
Again, note I'm talking about the benefits here not the features or actual lessons provided.
I know I'm harping on about this "features vs benefits" a bit too much, but it's very important you understand what people who are looking for reviews are looking for.
Anyone who wants to buy a drill doesn't actually want a drill, they want a hole in the wall!
Course Alternatives & Recommendations:
Once you have explained all about what the course is, how it works, what you will learn and everything else, you'd do well in providing a few alternatives.
From the recent Google search algorithm update that happened in January 2020, we know Google wants content to rank content that provides as much helpful information as possible.
If you can recommend a few alternatives and compare the two courses on how they compare to each other, you will be giving your readers more information than they expected and most will appreciate that.
Of course, if you have another review of another course that is similar, you can link to your other review so people can learn more about the alternatives.
Final Thoughts // Closing Pitch
Towards the end, you want to do two things;
Recap what you've just said – and;
Provide them with a call to action – a CTA!
Go through what your main reasons were for joining this course and how it has helped you (if it did).
Once that's through, you need to give the reader something else to do and in most cases, that would be a link to the course page.
If you're an affiliate for the course (as you should be), make sure you use your affiliate links so if (or when) the reader goes and buys the course, you will get credit for that sale.
You can learn more about how to use affiliate links here.
How To Find Courses To Review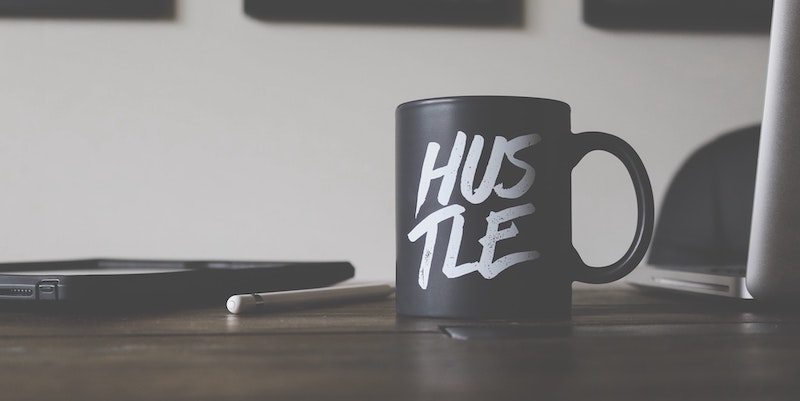 So. You now know how you can create a course review on your website, but where do you find a course to review in the first place?
I've told you already about my guide on how to make money with reviews so check that out as it will show you how easy it is to make money by reviewing courses, ranking them in Google and then making money with your affiliate links.
If you plan on creating a website focused just on reviews, you are going to need a list of courses to review. Here's how to find them…
Google:
Go to Google and type "your niche course + affiliate program".
This will quickly reveal plenty of courses you can try and review, and we know for a fact they have an affiliate program you can join to monetize your reviews.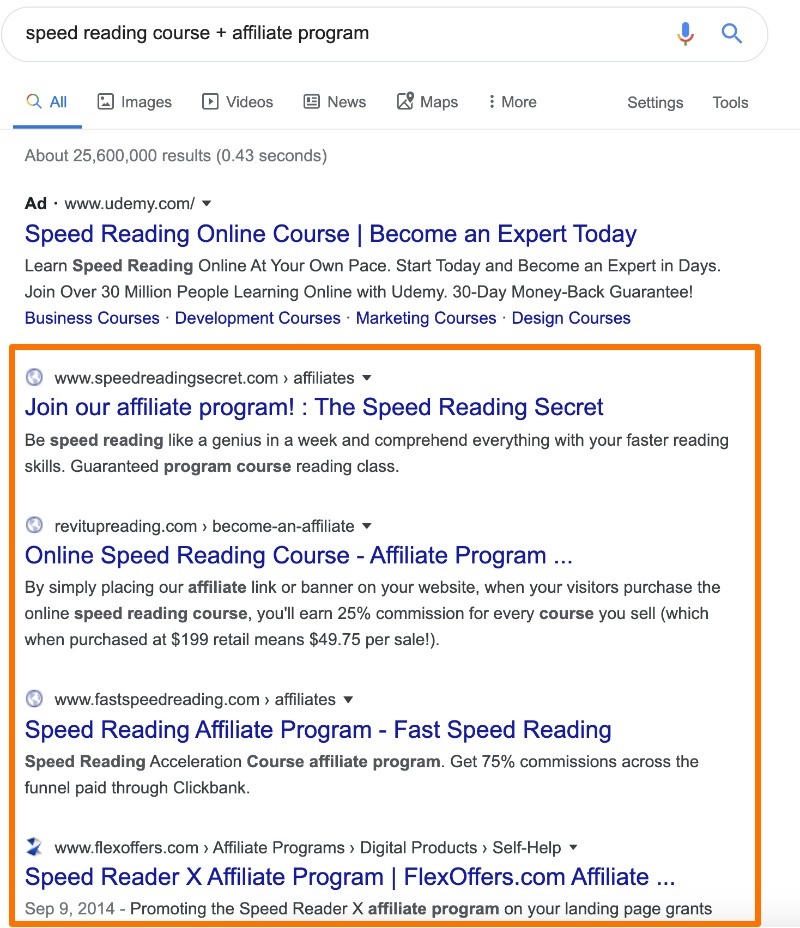 NB: At this point, you might be wondering if you need to buy every course before you review it. I will answer this question below in the FAQs section.
YouTube:
We're now seeing the rise of YouTubers creating and launching their own course reviews.
Skincare vloggers are creating skincare course
Vegan vloggers are creating vegan cooking guides
Make money online vloggers are creating make money online courses.
Everyone is selling an online course these days!
If you go through each "big" YouTuber in your niche (topic) I am sure you will find many who are offering some sort of product.
It may not be as easy as using the Google method mentioned above, but you will find some and rest