Looking to buy a ready-made affiliate website?
As you've probably figured out already, it's much easier to buy a (profitable) website than it is to build it – but where do you start?
In this guide, I will be sharing with you:
Hang in there, we're about to cover all the above – and more – right now…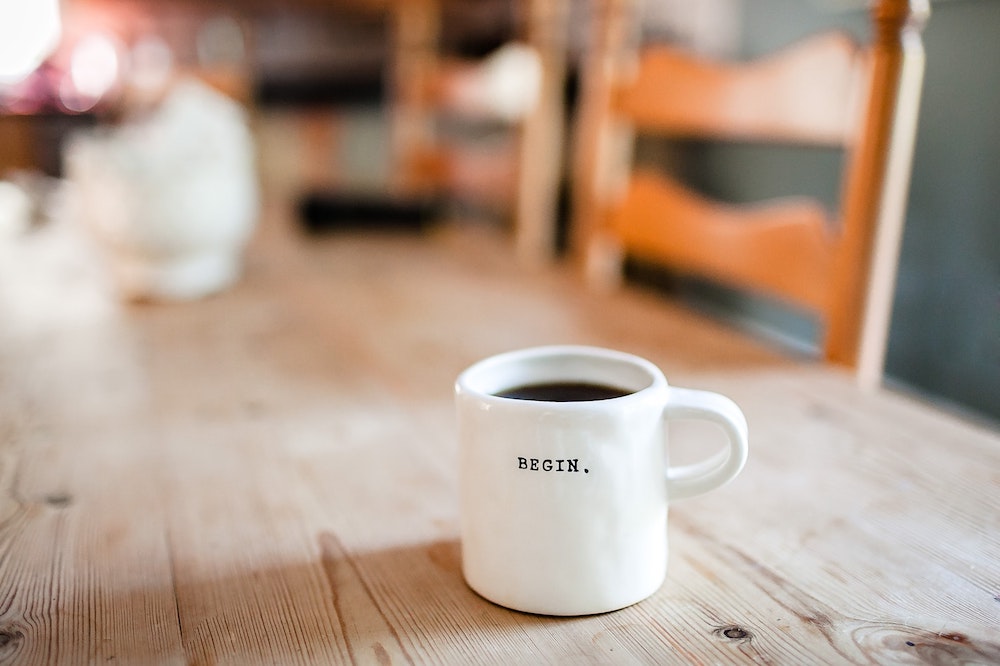 ---
---
What Is An "Affiliate Website"?
Just in case this needs to be explained, let me first give you a quick rundown of what affiliate websites actually are.
Affiliate websites use the affiliate marketing business model & it allows you to earn "affiliate commissions" on products you sell – from other companies – to the people you have visiting your website.
One of my previous websites (which I've sold) was a website reviewing portable AC units, and I used to make money with that site by reviewing (& selling) the many AC units on Amazon.
I'm not going to get into explaining how affiliate marketing works as I am sure you're well aware of it if you're looking to buy an affiliate website, but if you'd like to know more – you can see my "getting started with affiliate marketing" page.
Is It Worth Buying A Website (Instead of Building It?)
As I've mentioned above, buying a read-made website is much easier than building one from scratch. However;
For this to be true, I do think you should have some experience in affiliate marketing before you attempt to buy one.
The reason for this is simple;
To buy a decent website with decent earnings, you are looking at around a $5,000 investment – minimum.
That is not a small investment by any means (considering starting a brand new website from scratch will cost just $100 a year).
Since you're buying up a ready-made website, you are going to need to know what you are doing (or at least have some previous experience in running it).
While yes, ready-made websites do provide you with an instant income from your investment, there are a few things you need to know how to do so you can keep it making money.
With that said, let's now look at at the few pros and cons of buying a website before I share with you the 6 places where you can buy one.
The Pros & Cons of Buying A Ready-Made Website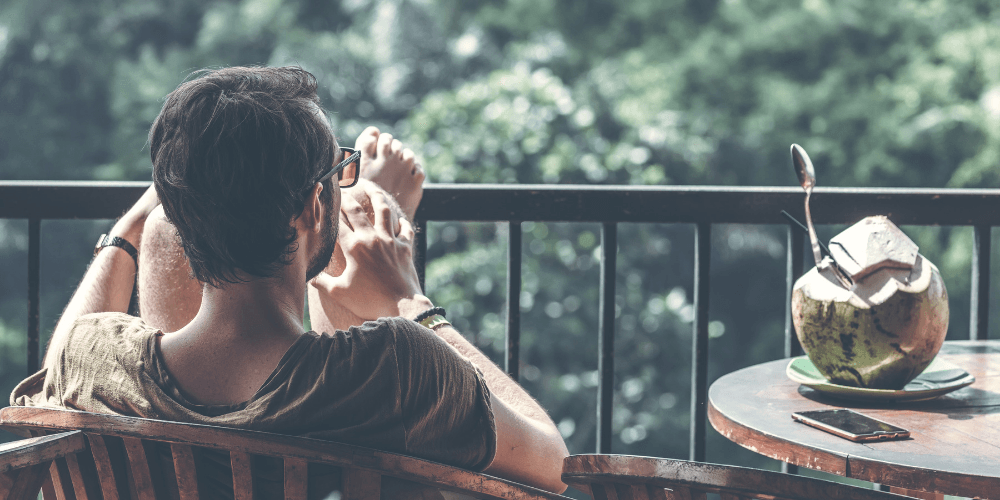 Pro: You're Buying Into A Money-Making Niche
One issue many beginners struggle with (& I know because I've been helping beginners overcome this for the past 6 years) is that sometimes, you do not know if a website will eventually end up making you money.
I've covered how to best avoid this in my most recent "how to pick profitable niches" guide but yeah – sometimes it just doesn't work out.
However, when you are buying a website, you are buying a website that you already know is making money (you can buy sites that are not making money too, but I don't really see the point in that).
Pro: You Do No Need To "Wait" For Anything
One other thing you may or may not know is that you do need to be patient with affiliate websites.
Traffic does take time to build (especially if you are doing SEO) and it does take 6-12 months before you start making some noteworthy income.
That, of course, is not the case with ready-made affiliate websites.
They most likely already have traffic and they also have income coming in (if it doesn't have either, I really do not see the point of buying one)
Pro: Affiliate Websites Are a GREAT Investment
As I explained in my previous post about why I pick the niches I do, I can go out and buy a $150,000 apartment which I can maybe rent out for $500 a month.
Some would say that's a worthwhile investment and I might agree, but I can also buy an affiliate website for $15,000 and also be making $500 a month.
(I used the 30X multiple to get to that valuation – I will explain this further below)
Con: Not For Complete Beginners
As I said above, if you are a complete beginner – this is not for you.
Spend a few months learning about affiliate marketing first, then make a decision whether to buy a site or not – it will become more apparent why you should avoid this method as a beginner while you go through this guide.
With all that said, let's now look at 6 websites where you can buy a website…
6 Websites To Buy Ready-Made Affiliate Websites
Down below I share with you 6 places where you can buy a ready-made affiliate website.
These are not ranked in any way, but I do suggest you take your time to see what each platform offers as depending on your needs, goals and budget, some will be better suited for you.
Flippa.com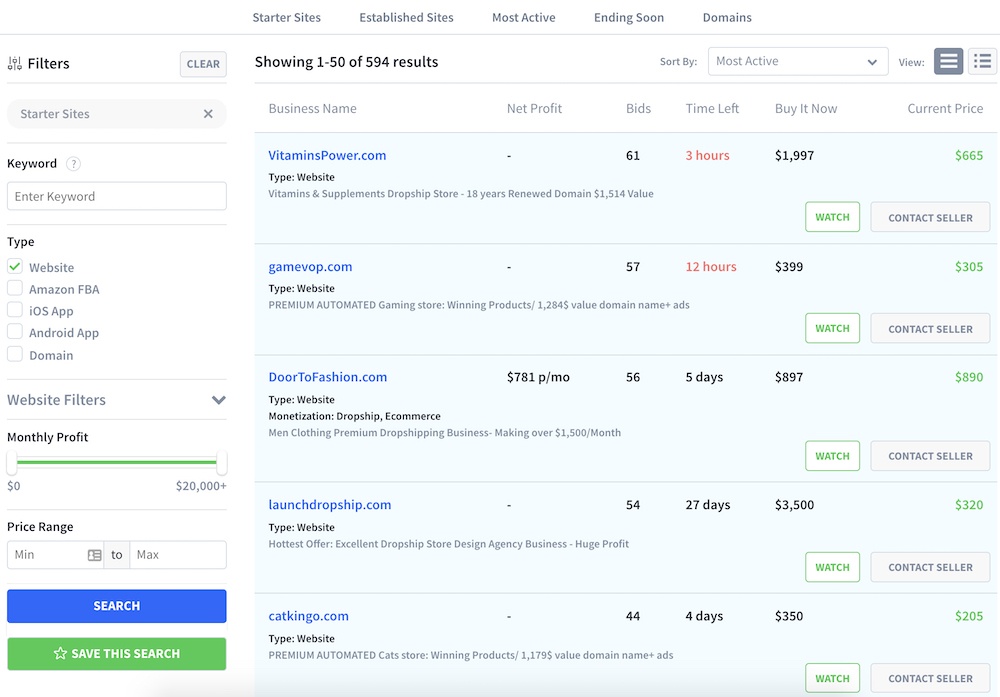 Fippa is probably the most popular marketplace to buy and sell websites online.
They've been around for more than a decade and to date, have facilitated the exchange between seller and buyer an unbelievable 250,000 times.
If you want to buy a ready-made website, Flippa.com would be the place to start looking.
How To Buy A Ready-Made Website From Flippa
FE International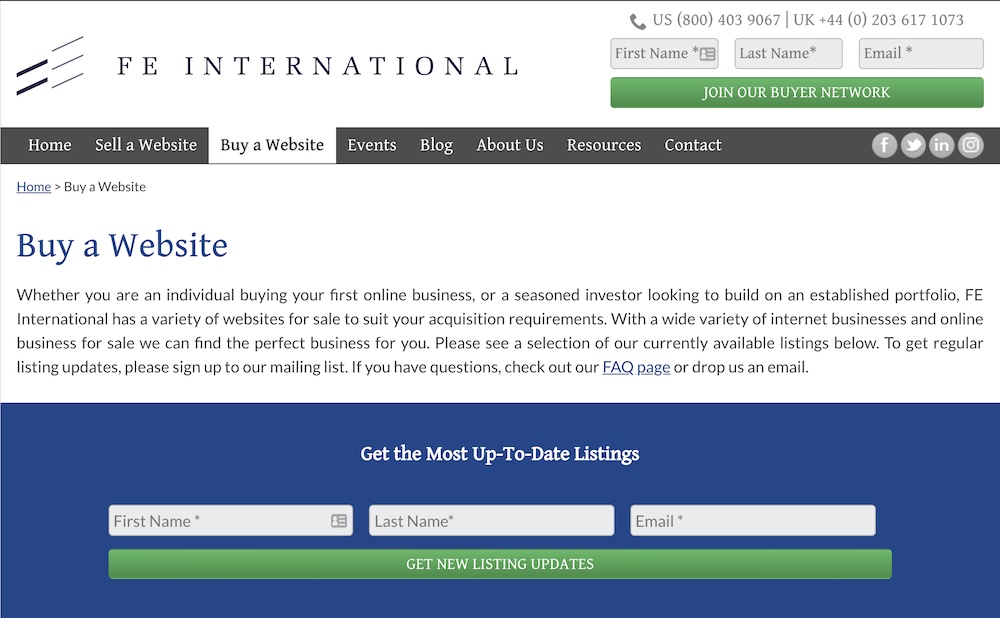 Another one of my favourites is FE International.
Unlike Flippa (which also offers starter-websites), FE caters more to the bigger, more established websites and online businesses.
If you're a big-budget buyer, then I'd say FE is more for you than Flippa but nonetheless, you should also browse through their marketplace and see what they currently offer (although you can not see the website name / URL).
How To Buy A Ready-Made Website From FE International
HumanProofDesigns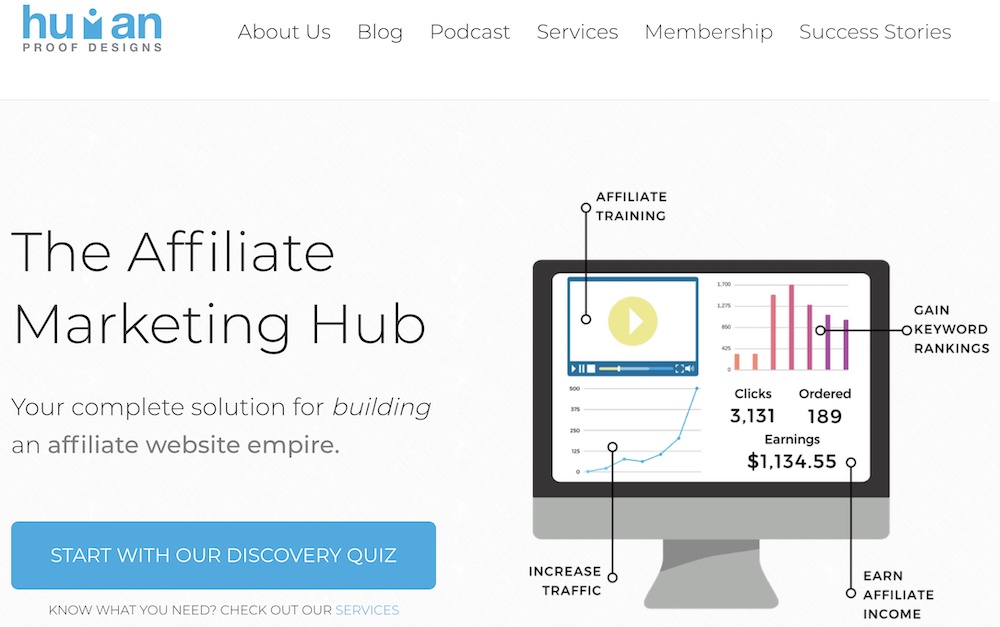 Another great one, which is more tailored for starter affiliate websites is the much-talked-about HumanProofDesigns.com service.
It was founded by a fellow-student at Wealthy Affiliate and I have seen this company rise from nothing to the top of the pile in just a few years.
I've also used their services before and I can 100% recommend their services and the websites they have for sale.
You can buy ready-made websites, custom-built niche websites, aged websites and even an "authority" sites – all reasonably priced.
How To Buy A Ready-Made Website From HumanProofDesigns
EmpireFlippers.com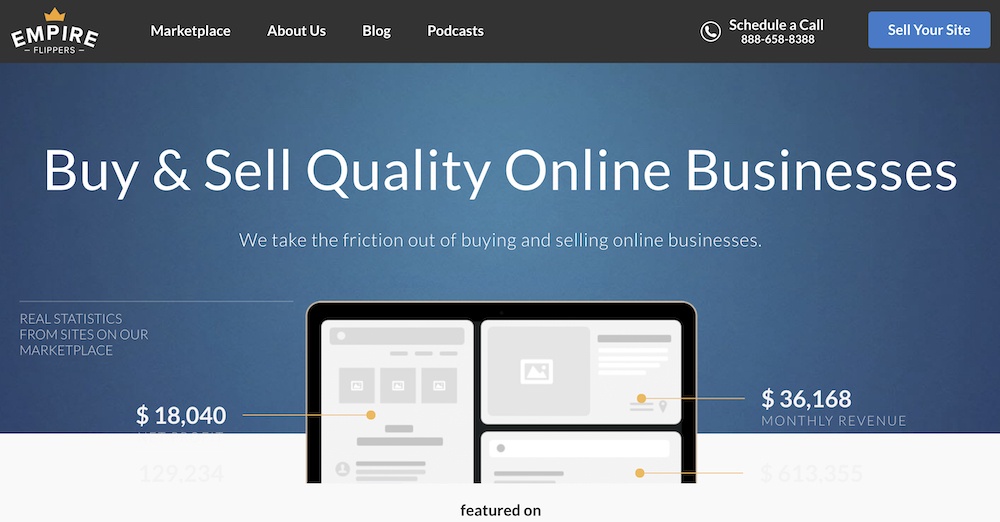 Next on the list is EmpireFlippers.com, a "vetted marketplace" created to facilitate the buying and selling of online businesses.
Offering ready-made Amazon sites, Adsense sites, e-commerce stores and pretty much anything you can think of – you'd be a fool not to check out their marketplace before you make a decision.
They have some incredible deals and they have a fantastic Customer Support system (I know because I've worked with them before).
How To Buy A Ready-Made Website From EmpireFlippers.com
Affiliorama (AffiloJetPack)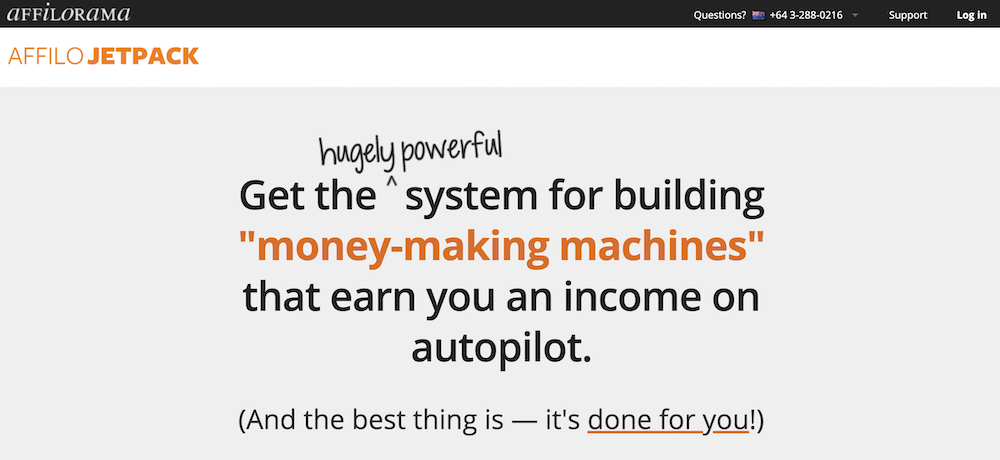 I admit I have not yet used Affiliorama myself, but while I was doing research for this guide, I came across plenty of reviews saying this service offers one of the best "ready-made" website packages (with great prices too).
For just $997, you will get a custom-built website complete with a premium WP theme, content, lead magnets, and more.
How To Buy A Ready-Made Website From Affiliorama
3HUNDRD.com (Testing Phase)
This is not yet publicly available – but it is for you.
Over the past few months, I have been sharing a lot of information on how to build niches and buy ready-made websites and many readers and followers have reached out to me for help.
I'm currently working on a pilot project where I will build a niche website for you – using the principles laid out here and here and then sell it to you for a very fair price.
All you would need to do is buy the website, give me some time to build it and then you can sit back and enjoy the traffic and sales that come through.
Interested? Here's how you get one…
How To Buy A Ready-Made Website From Me
As I said, this is still in the "testing/beta" phase so right now, I can offer you the best price (cheaper than anything you will ever see me have in the future).
If you're interested in buying a starter-site from me, be sure to get in touch with me via email with the subject line "I want to buy a ready-made website".
I will be in touch soon after to give you the details and discuss the project.
Now that we've covered the 6 best places (in my opinion) where to buy ready-made websites, let's see how affiliate websites are prices (and how much you can expect to pay for one).
How Affiliate Websites Are Priced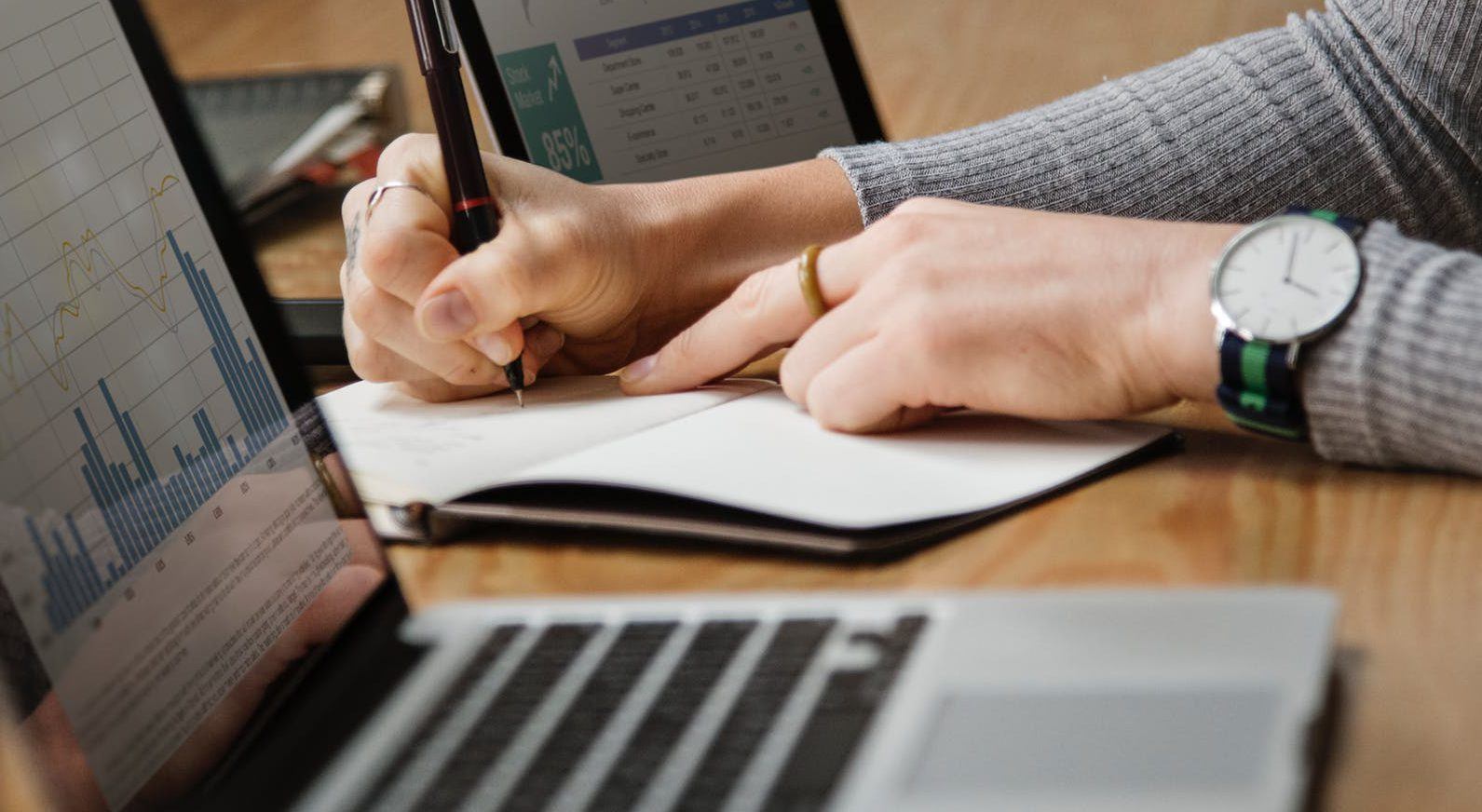 Before you go and scout the marketplace for some deals, why don't we talk a little bit about how ready-made affiliate websites are priced?
I'm sure you're going to want to know this.
On average, affiliate sites are priced 20X to 50X their monthly profit.
Meaning; if a website is earning $1000 a month, it's fair value would be let's say 30X, so $30,000.
How do you determine the value of a website?
There are a few things will determine what multiplier you put on the monthly profit, these are:
Where is the traffic coming from?
If the traffic is coming mostly from SEO, this is usually seen as a better source of traffic than let's say Facebook since SEO traffic takes much longer to build and it's usually a sign that a website has stability and authority going for it.
Who can run the website?
Does the website have a "face" behind it?
If so, then it's usually valued less than a "faceless" website.
The reason for this is that most probably, people have come to enjoy the person behind it more than the actual content (although they most often go hand in hand).
For example, this website has my face tied to it, so this means that if I were to sell this website, the buyer is going to eventually face the issue of not being me.
On the other hand, I do have other websites which are "nameless", which means anyone can run them – thus, they can fetch a higher valuation when it's time for me to sell them.
Is it a competitive niche?
One thing you also have to take account when calculating the value is the competition.
Is it in a niche that is super hard to compete with or is there very to little competition?
A perfect example would – again – be this website.
"How to make money online" is a super competitive niche, on the other hand, for the "portable AC reviews" websites I sold, I was the only game in town.
This less competition there is, the higher the value.
How long has it been running?
Is this website 6 months old or 6 years old?
Aged websites and domains typically fetch a higher multiplier because they have been established for much longer.
It also means that over time, the aged website has acquired valuable backlinks and also a steady presence in search engines, all of which will have an effect on the final price.
Is there a huge upside potential?
Is the site selling fidget spinners or cryptocurrency wallets?
As I'm sure you can tell, one of these niches has much more potential going into the future and yes – this too has an effect on the X you decide to pay for.
Does it have an email list (or at least a social following)?
One last thing you should take account (even though it's not always necessary) is to see if the site has an email list or (at least) a social media presence.
Some sites (such as my portable AC site) do not need an email list, but others (such as this one) do have a use for an email list.
Now if the list has 100 subscribers or it has 10,000 subscribers, this too plays a part in determining the final price of the website.
How To Estimate A Fair Price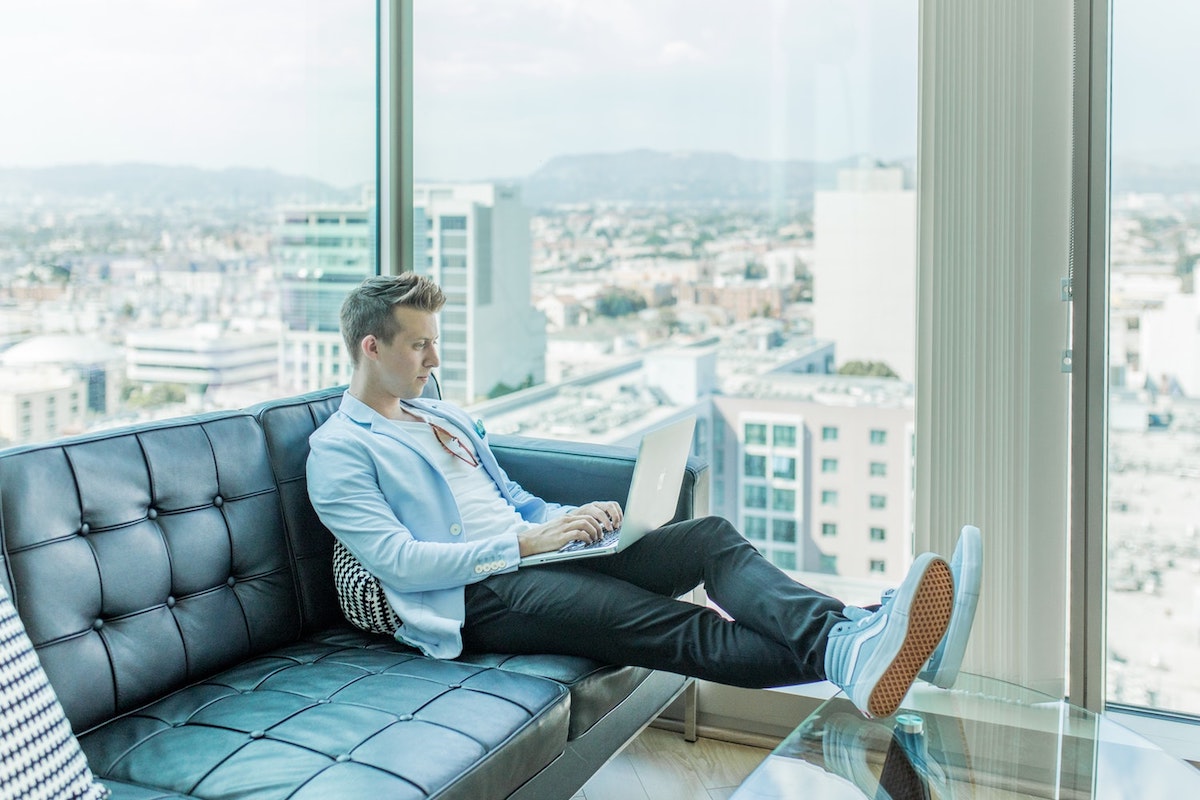 All the websites listed for sale would have the multiplier they are using clearly stated on the listing.
While there's always room to negotiate a better deal for yourself, these price points are typically on point since the website mentioned above do offer "fair valuations" advice to sellers.
At the end of the day, you're going to need to make a decision on whether the asking price is fair or not (this is why having some experience before jumping into buying ready-made websites is ideal).
What You Need To Ask The Seller (Before You Buy)
All the information I'm suggesting you keep an eye out for is typically mentioned with the listing, however;
You may want to get in touch with the seller to ask him/her to give you read-only access to Google Analytics (or Google Search Console).
While yes the traffic will be shown on the listing, it's always best to take a look at yourself and see what quality of traffic there is.
I've seen cases where 90% of traffic was coming to one post (this is not good).
I've also seen cases where traffic was coming from India/Pakistan (which is often seen as low-quality traffic).
This are all things you need to be wary of so always ask to see inside Google Analytics (if they refuse, then it's a clear sign there's something wrong with the traffic).
The last buyer I had also jumped on Skype with me to discuss the website (which I've happily obliged) so you may want to do that as well – especially if it's a big investment you are making.
What Happens After You Buy A Website?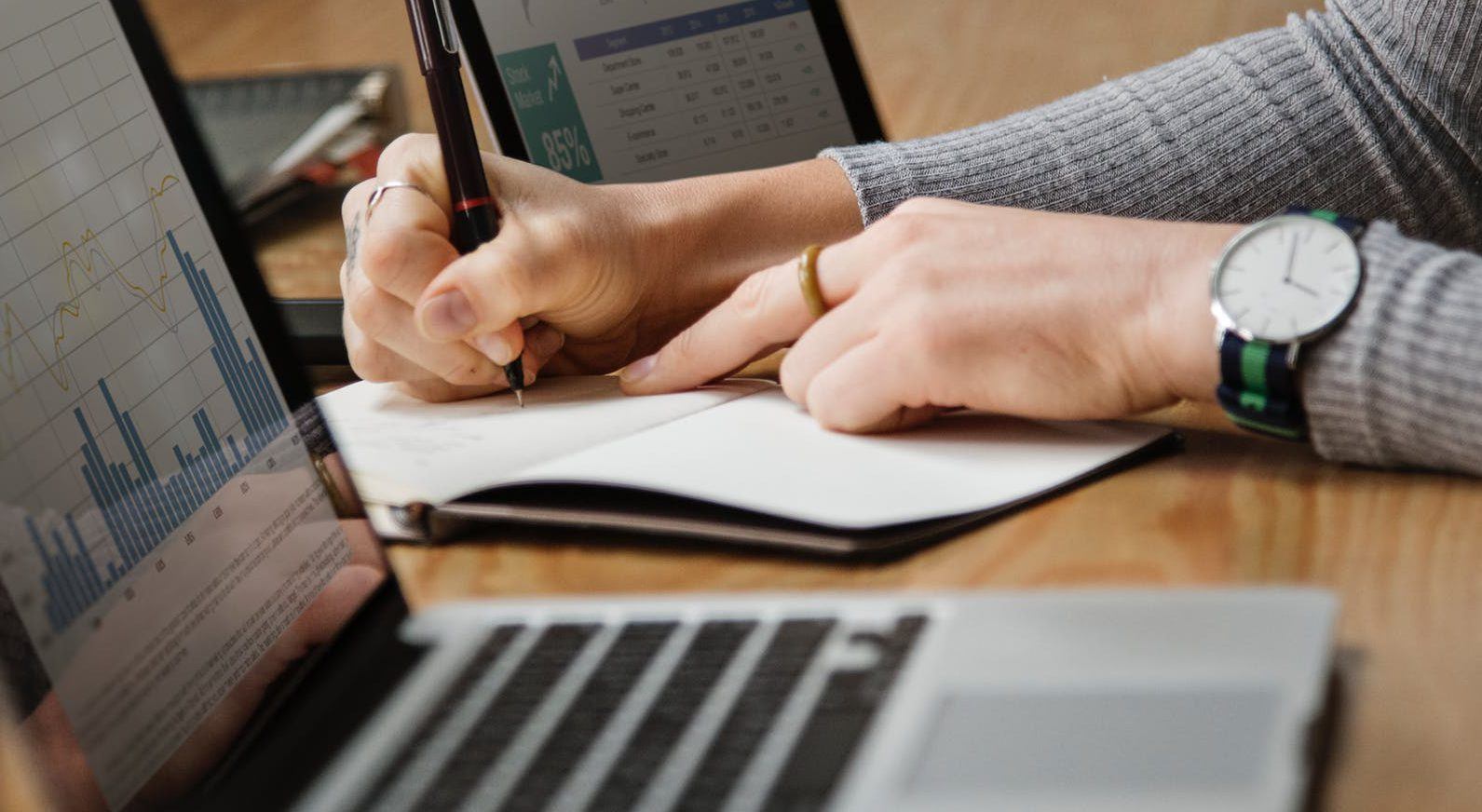 This is where it gets tricky.
The transfer of a website is usually a bit technical but fret not (all marketplaces and even the seller will assist you & provide instructions on how to initiate the transfer).
You are going to need to transfer the domain, the content and then the funds.
The domain and transfer will be handled by the seller since it's his job to do so and when he does, you need to transfer the funds.
Funds are typically transferred from Escrow.com to keep every party safe.
To initiate the transfer, you would need to upload the agreed price to Escrow, and once the seller transfers the website, the funds will be released to him.
Of course, if he fails to do so, the funds will be returned to you.
One Thing You Should Not Forget To Do!
Don't forget to change the affiliates links to your own affiliate links.
Failure to do so will result in you owning the website, but the previous owner still earning income from it.
To do this, you either need to go through the entire website post by post (which is a slow and painful ordeal) or you can use this nifty plugin that will replace all links with your affiliate links.
Don't hesitate in doing this – change them asap and make sure they are all changed.
You don't want to be missing out on commissions.
Should You Buy A Ready-Made Website?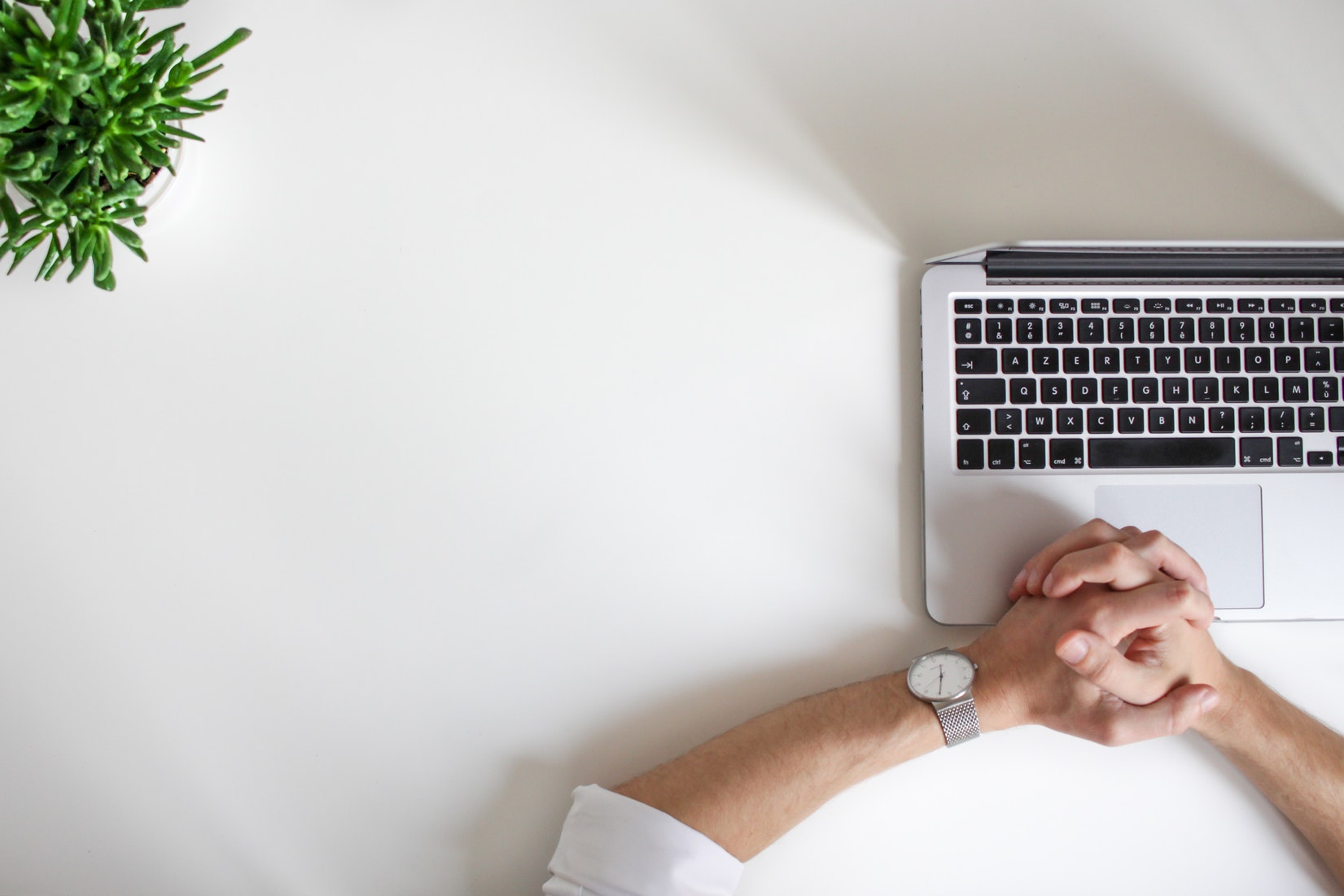 Now that you know all I've shared with you above, do you still think buying a ready-made website is a good idea?
The reason I am bringing this up – again – is because as you can see; there are many things that go into buying, transferring a website to a new owner.
If this is for you, then by all means – go ahead and start browsing the marketplaces mentioned above and scope out your next big investment.
If this is not for you, then take some time to learn more about how affiliate marketing works.
I have a free training course that you can go through to help you get a foot in and start learning the ropes.
Bonus: How To Make Money Flipping Affiliate Websites
One incredible business opportunity – for those who know what they are doing – is buying and selling websites for profit.
As a bonus for making it this far, I will share with you how to do it here:
Buy up a website:
You are going to have to buy a website of course so take a look at the guide above for how to find the perfect one.
Improve traffic and sales:
If you know what you are doing and have experience growing a website, then what you need to do next is "simple".
You just need to improve the traffic and the conversion rate.
You can increase traffic by learning more about SEO (which is what any new website buyer cares about).
I have a great course on how to do SEO for affiliate websites here.
Then, you need to learn some copywriting basics.
Very few affiliate sites actually use the proven centuries-old methods of copywriting (i.e selling with words).
Sell the website for profit:
Let's say when you bought the website, it had 1000 sessions a month, and a 1% conversion rate on a $50 product (in other words, it was making $500).
You then manage to increase the traffic to 2000 sessions a month and increased the conversion rate by half a per cent (1.5%) you now make $1500.
If you bought the site at a 30X multiple, you bought it for $15000 & you can now sell it for $45,000.
Not bad right?
Rinse & repeat & keep earning those commissions.
Welcome to the exciting world of affiliate marketing!
Closing Words: What Guide Should I Publish Next?
Thank you for reading, I hope this post has not only shown you where and how to buy ready-made affiliate website but also given you a few key golden nuggets to make this a successful venture for you.
Which guide should I publish next?
I'm thinking either a guide on buying AdSense sites or buying dropshipping stores.
Let me know what you think below.