The pet niche is (and probably forever will be) one of the best industries for affiliate marketers.
For as long as we humans continue enjoying domesticated animals in our homes, we will still be spending big money on our favorite non-human entity.
Today, I am sharing with you my Chewy Affiliate program review and it's by far one of the best, most popular pet affiliate programs out there.
The Chewy affiliate program offers a super attractive 30% commission rate on a new customer's first order (with a maximum of $20) along with a modest 15-day cookie.
If you're in the pet niche, you'd do well in checking out Chewy, and I will explain everything you need to know to get started with the Chewy affiliate program below.
But first, let's take a look at the TLDR summary of this review:
Chewy Affiliate Program TLDR Summary
???
Affiliate Commissions

Affiliate Cookie

Niche Potential

Products Available
Can You Make Money With The Chewy Affiliate Program?
Get paid per new customer referral ✔️
Huge brand (with a

great

affiliate program) ✔️
Plenty of products for the pet niche ✔️
Multiple ways to join ✔️
Multiple ways to earn revenue ✔️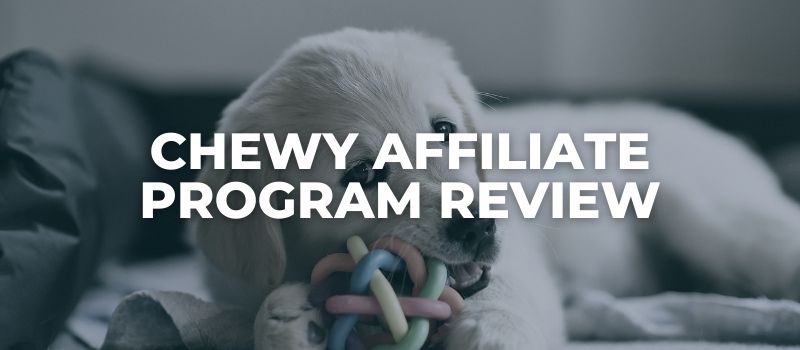 ---
---
What Is The Chewy Affiliate Program?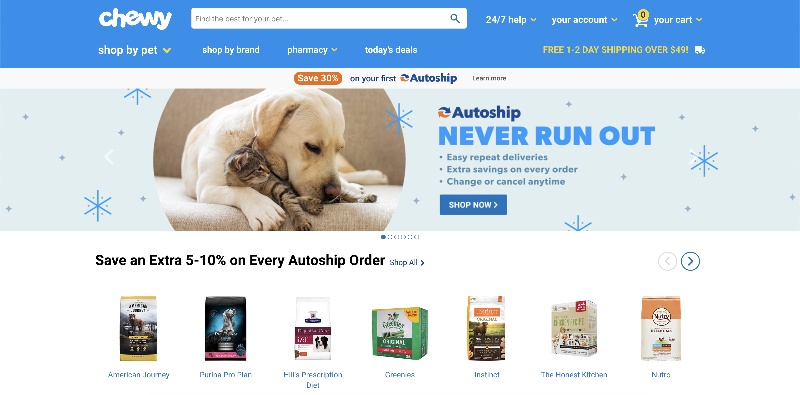 Chewy is an online retailer selling pet products. Petsmart bought them out in May 2017 for $3.35  billion.
Chewy promotes Autoship orders on its website. They offer a 30% discount (up to a maximum of $20) on a customer's first auto-ship order. 
This makes it easier for affiliates to earn a commission when a new customer signs up.
You can apply to join their Affiliate program directly on a page of their website (via Partnerize) or join FlexOffers as a Publisher and then apply to join the Affiliate program.  
We tested out joining directly and discovered that you can join Chewy anywhere in the world and be paid directly into your local bank account in your own currency. 
The cookie window is 15 days.
What Can You Promote As An Affiliate?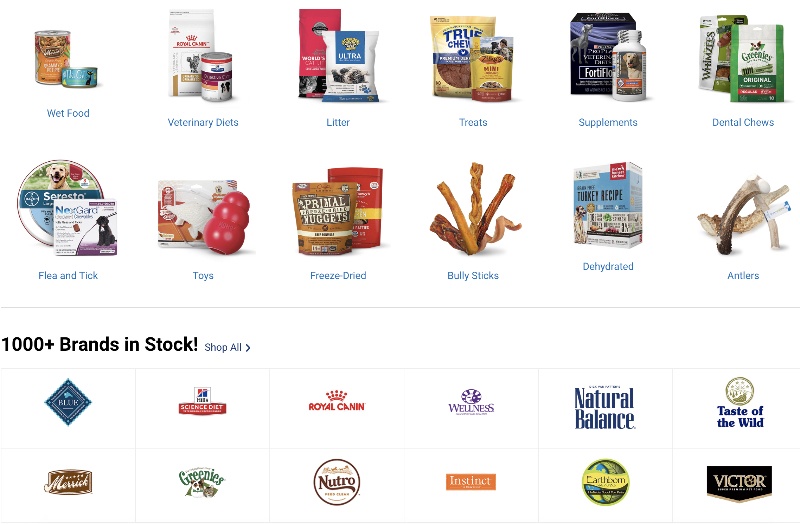 Food, treats, supplies (e.g. toys, dental care, beds, etc) and pharmacy (tick and flea products, allergy or pain relief etc). for all kinds of pets:
dogs, cats, fish, birds, small pets (rabbits, guinea pigs, hamsters, etc), reptiles, and even horses. 
Chewy has over 1,000 brands in stock, including all the top pet care brands you know and love (if you're a dog or cat person), such as Hills Science Diet, Eukanuba, Royal Canin, and Purina.
Their pricing is generally lower than the stores and they also run amazing specials and discounts.
What Commission Do You Get With The Chewy Affiliate Program
Once accepted on the Affiliate Program, via Partnerize, you earn $15 per new customer sale.   A new customer is anyone who has not purchased from Chewy since 2012.
If you join via FlexOffers, you earn $12 per new customer sale.
The same terms and conditions apply to each program. FlexOffers also have their own additional terms and conditions.
The cookie window is 15 days, meaning that if a potential new customer has clicked on your link today or anytime between today and 15 days ago, you earn the commission for their purchase.
We tested out joining directly via Partnerize and discovered that you can join Chewy almost anywhere in the world and be paid directly into your local bank account in your own currency. 
Can You Make Money With This Affiliate Program?
Absolutely.  Here's how we can say this with such conviction.
One, your potential customer base is huge – anyone with a pet, anywhere in the world.
Two, the pet niche is an evergreen niche. People will always have pets and buy food and supplies for them continually, on a regular basis. Essentially, you have a captive market.
Three, as this program promotes auto-ship purchases, it means your customers can order every month. We have emailed affiliate support to confirm whether this means that affiliates earn monthly from their customers who are on auto-ship.
Four, we discovered a very interesting article about No Hat Digital, who bought a niche website in the pet niche called herepup! for $200,000 and doubled their monthly revenue by focusing on the Pareto Principle, the 20% that drives 80% of the results.
They changed a few things (like creating more content and securing quality backlinks).
But here's the kicker.  
They stated in this article that the biggest reason for the increased revenue was switching from Amazon to Chewy, or at least adding a higher paying affiliate program, the Chewy Affiliate Program. 
Amazon Associates vs. Chewy Affiliate?
It's difficult to compare the two programs (without the benefit of this article) because Amazon pays a percentage of sales whereas Chewy pays a flat rate per new customer sale. Still, this case study seems to prove Chewy pays out more.
Will this work for your pet website? 
No Hat Digital says yes, although they also said in the article that they managed to negotiate a higher commission rate with Chewy, so perhaps it depends on how much authority and traffic your website has in the first place.  
You can read the full case study here.
Who Is This Affiliate Program Best For?
Anyone with a pet niche website or anyone marketing to pet owners, pet store owners, or serving the pet niche.
Having said that, I was accepted into their program even though I'm not strictly in the pet niche.
On their website, it states that "Chewy is open to partnering with almost all partner models and mediums. We do reserve the right to refuse any site that does not meet our quality and content standards."
There are some rules, however, you are not allowed to use the Chewy name or trademarks in any of your marketing or advertising and there are several other prohibited keywords.
How To Join Chewy As An Affiliate (via Partnerize)
It's really quick and easy to join Chewy's Affiliate Program when you do it directly on their website. 
The application process is simple and most affiliates get accepted onto the program.
Step 01:
Step 02:
Once you're in, you are asked to provide your bank details.  Different options open up according to which country you're in.
In most countries, it appears you can receive money directly into your local bank account. Alternatively, you can opt to receive cheques in the mail.
Step 03:
Once you have gained access to the Partnerize Program, you can apply to join the Chewy Affiliate Program by clicking on Campaigns – Join Campaigns.  As you can see, our application is still pending approval.

[Optional extra piece to add below – this section contains my refer-a-friend link for FlexOffers]
How to Join Chewy as an Affiliate (via FlexOffers)
Signing up as a Publisher to FlexOffers (an affiliate network), is a lot more complicated than the Partnerize process because we had to fill in a lot more details regarding how we would market their Programs.
However, acceptance was quicker than via Partnerize and FlexOffers has over 12,000 Affiliate Programs (Advertisers) to choose from, including the likes of Macy's, Bloomingdales, Nike, Best Western Hotels, and many others more.
There's another huge benefit of joining via FlexOffers: FlexRev Share Bonuses.
FlexRev
Once you are accepted onto the FlexOffers Program, you can refer friends via their Tracking Link and earn 5% to 50% in FlexRev Share Bonuses as your Publishers earn commissions through the program.  This could explain why their commission is lower than through the Partnerize program.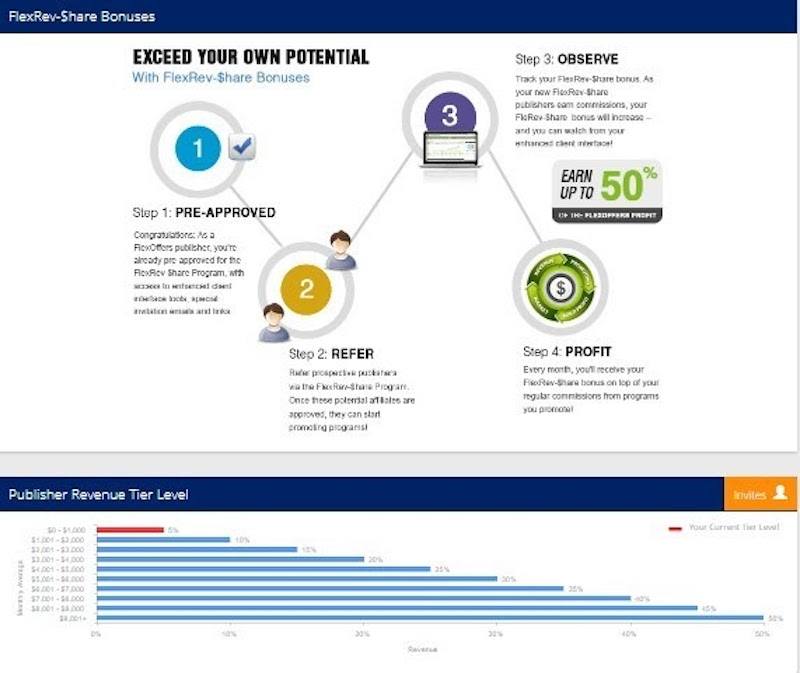 To register as a Publisher on FlexOffers, you would click on the tracking link like the one above, and follow their 4-step process.
Step 01:
Fill in your name, email and password and accept FlexOffer's Terms and Conditions.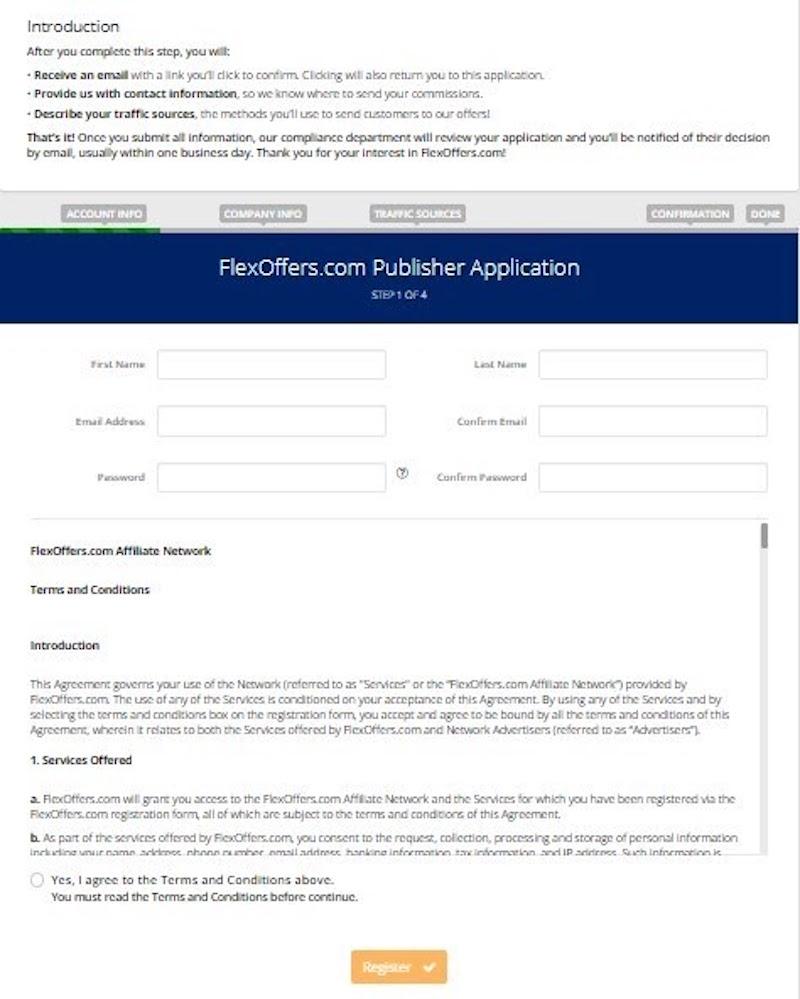 Step 02: 
On the next screen, add your company name, address and business phone number. 
As a sole proprietor, working from home, I simply added my own details and mobile number – and was still accepted onto the program.
Step 03:
This step was the one that took the longest – adding Traffic Sources. 
This is where you choose how you will be driving traffic to your links and banner ads.
You can choose between the following options: Website, Email list, Software Applications, Social Media, Ads you buy, Your Own Network and Other Methods.
We chose the website, email list and social media options and then had to fill in a questionnaire regarding each. 
Have your stats handy.
Step 04:
Now verify your email (by clicking the link in the email from Flexoffers), phone number (via SMS) and website (by uploading an HTML file to your website's server).
As you can see, the process of joining FlexOffers is a lot more complicated than the process to join Partnerize. However, bear in mind that you are joining an Affiliate Network, and once you're accepted, it makes the process much easier to join individual Affiliate Programs. 
---
How To Make Money Promoting Chewy Products (Free Course)
While there are plenty of pet affiliate programs you can use to make money online; you are going to need a "plan of action" to get you started.
Until you make your first $$, there are a few things that you need to learn, understand, and put into action.
I know affiliate marketing can seem like a landmine full of scams at every corner, but the good news is;
There are legitimate ways to learn affiliate marketing.
The link above leads you to my review of the same – free – course I have used to learn how to make money with affiliate marketing.
If you're brand new to the business (or you want to brush up on your skills), you'd do well in checking it out.