Here's a question I know many who are trying to rank their content would likely be asking;
How many backlinks do you need to rank your website or (or blog post) on Google?
In this post, I am going to try and explain the unexplainable because this idea of backlinks, whether they work or not and how many backlinks you need is all just one big complicated mystery,
However, there are tools that should give you a clear idea on this (and I will tell you how to find out soon) but first let me share something controversial with you:
You do not need any backlinks to rank in Google!
!!
Yes – shocking I know, but it's true.
That's my theory and gladly I am not the only one who thinks so either. There are way smarter people than me saying the same thing.
Now does that mean are backlinks not useful and should be avoided?
Of course not; backlinks are still an integral part of SEO-ranking, but my theory is that they won't be for long and you'd be far better off applying all the energy of worrying about backlinks to methods that do matter.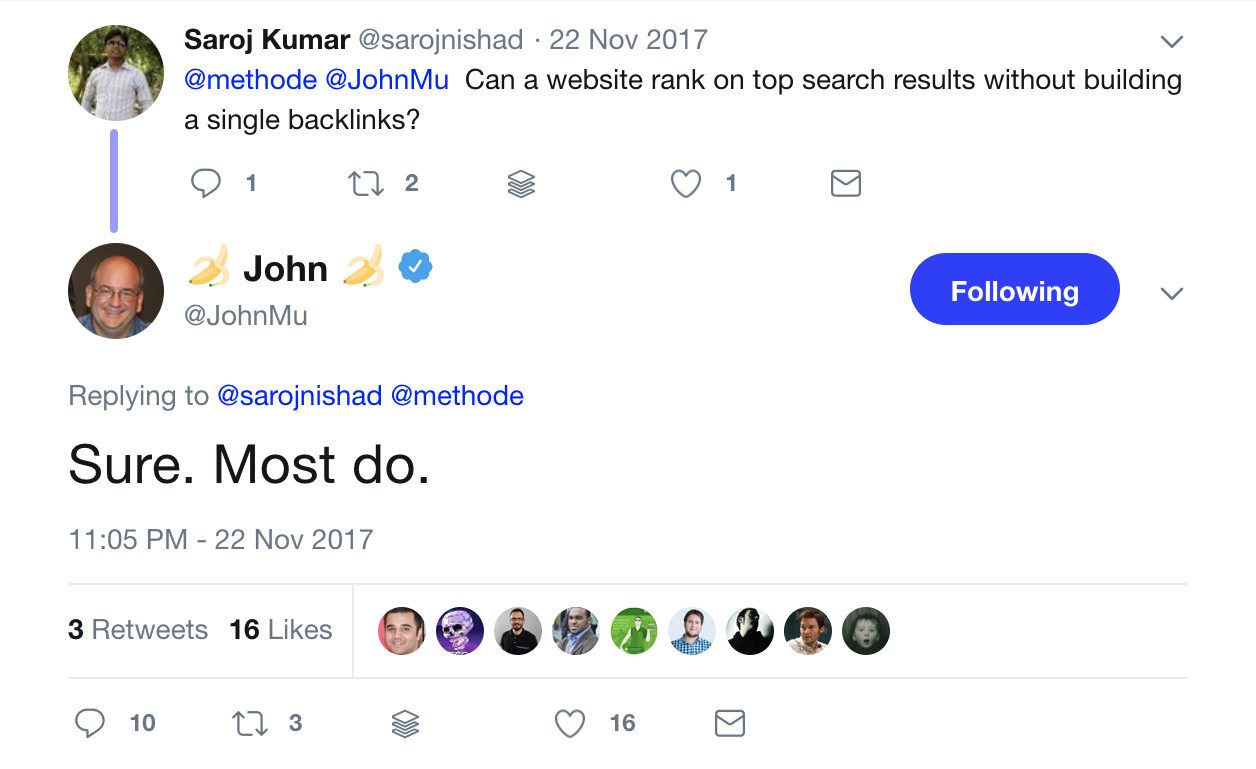 Why am I saying backlinks don't matter anymore?
I'm not – I'm just saying backlinks are not the tell-all metric that everyone claims they are and truth be told; going out of your way to building backlinks is a waste of time and as was confirmed by Google; it can also be against their terms of use.

But before I get into my contrarian SEO ideas, let me first share with you how to find out how many backlinks do you need to rank for a particular keyword – since that's what you are here for,
The only SEO tool that I know can provide this information is Ahrefs.
(There might be others but I would not know – Ahrefs has served me well for all my SEO purposes and it's the only method I know that will give you an "exact" number of how many backlinks you need to rank).
How To Find How Many Backlinks You Need (With Ahrefs)
The first you are going to need is an Ahrefs membership plan – and it's not free.
You can get a 7-day trial for $7 but after that, it's a hefty $99 per month for the Lite (basic) membership plan.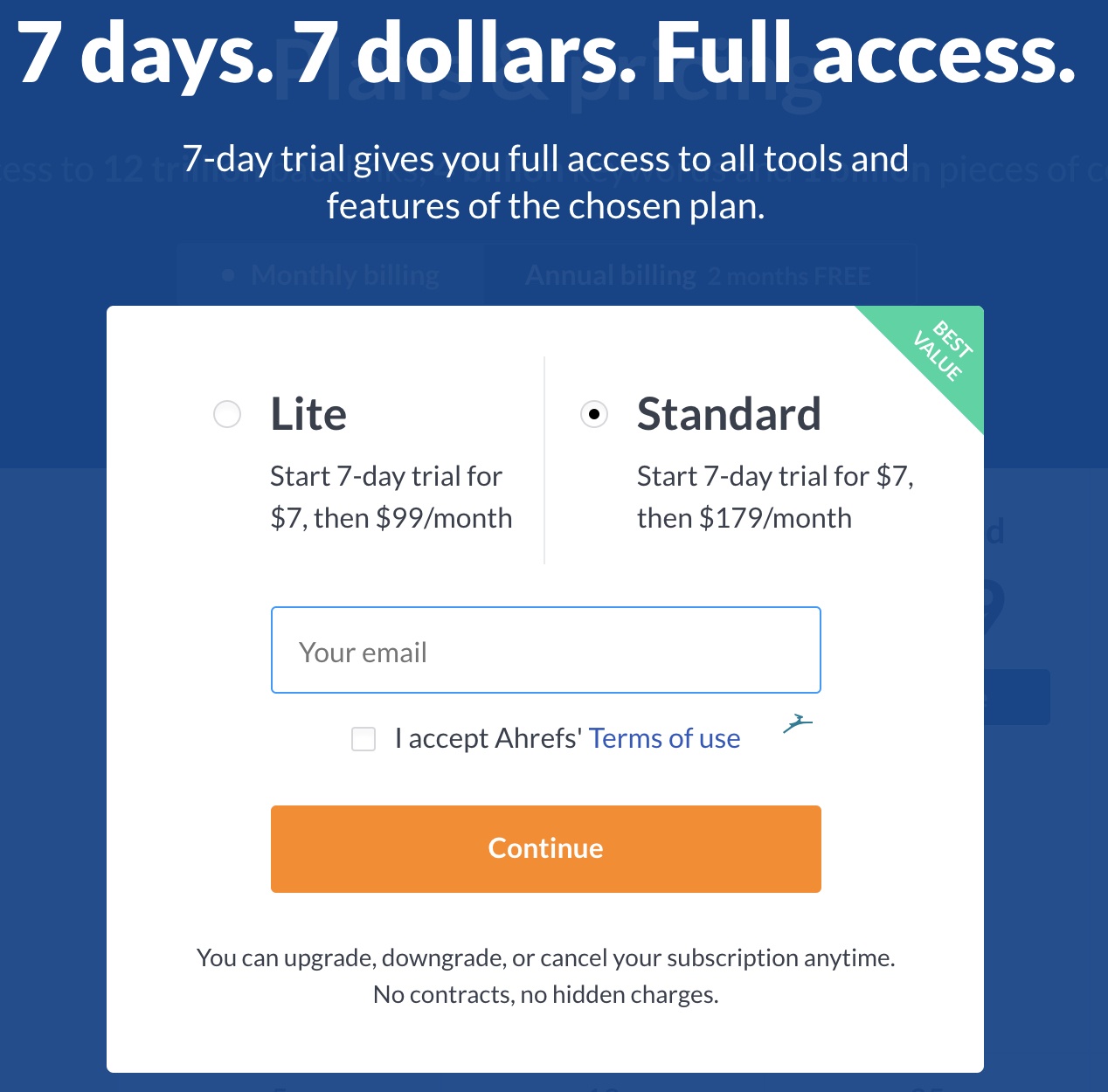 Note: if you're just going to get on Ahrefs for the sole purpose of finding out how much backlinks you need to rank, then take the 7-day offer, milk it as much as possible and then move on.
Ahrefs is an in-depth tool for advanced and technical SEOs so if you're just starting out or simply wondering about the backlinks thing, you are not going to need such an in-depth analysis.
Anyways, back to it;
How do you find the numbers of backlinks you need to rank?
Step #1: Go to Ahrefs's keyword explorer tool
Step #2: Plug in your keyword
To show you an example of this, I used the keyword "backlinks" for the UK version of Google and here is how that currently looks: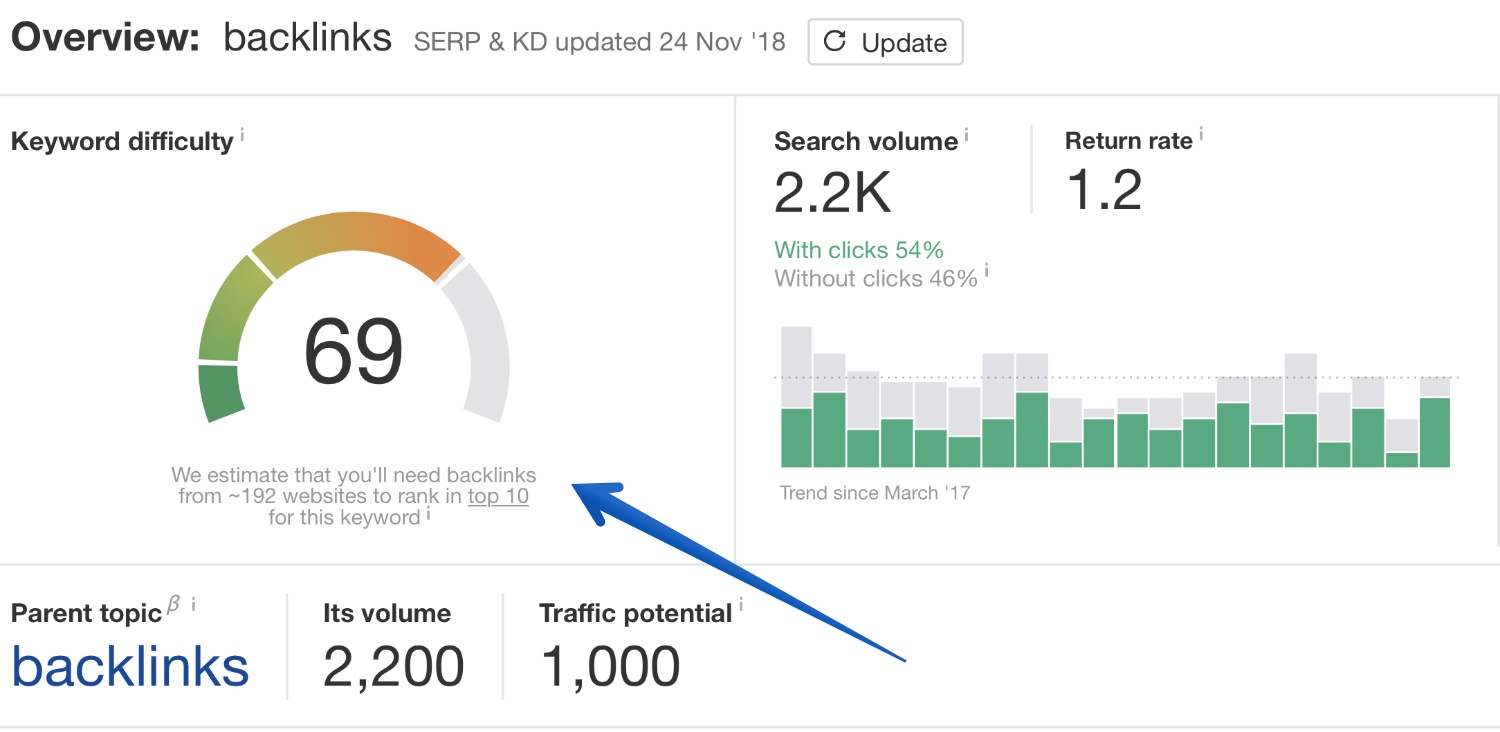 That's how you find out how many backlinks you need to rank for a specific keyword.
In our case, it says we need ~69 backlinks to have a fighting chance at ranking on page 1.
But, here's the kicker.
Scroll down to the very bottom of that page and you will see the top 10 search results for that keyword: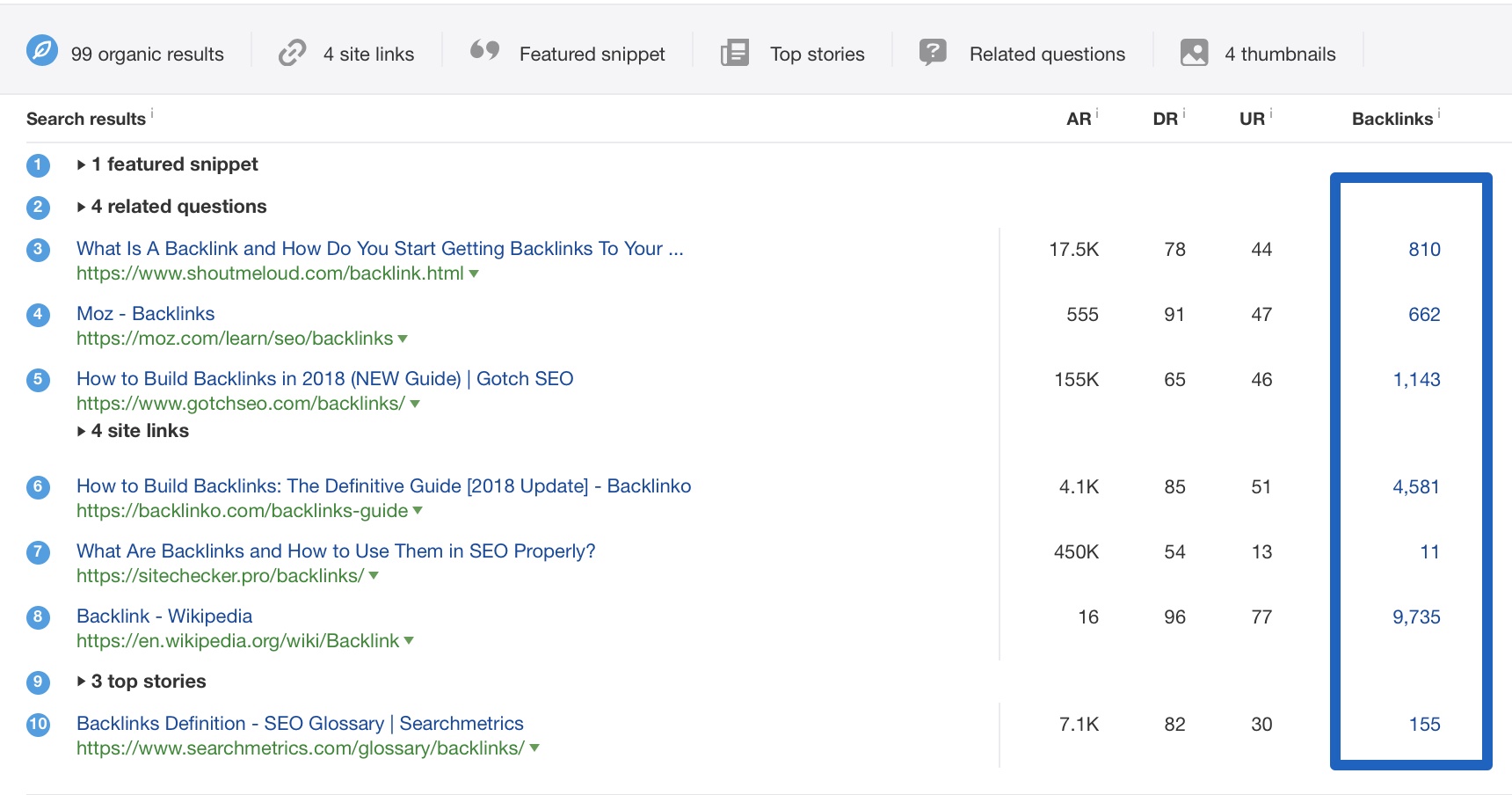 As you can see, the number of backlinks these pages vary wildly.
This is because…
Backlinks Are Not The Only Metric!
Look closely at the above example again.
As you can see, the 10 search results that show up have a very different backlink count.
In fact – crazy as it is – a site with only 11 backlinks pointing to their page is outranking Wikipedia with 9,000+ backlinks.
How could this be?
Well because backlinks are not the only metric that matter – I've told you this already!
It's insane to think that such an outdated and easily-manipulated ranking-metric can keep on holding the pull it has had in the past.
More backlinks do not equal higher ranking.
This is why you should not be worried about how many backlinks you are going to need.
When Can Backlinks Help In Rank?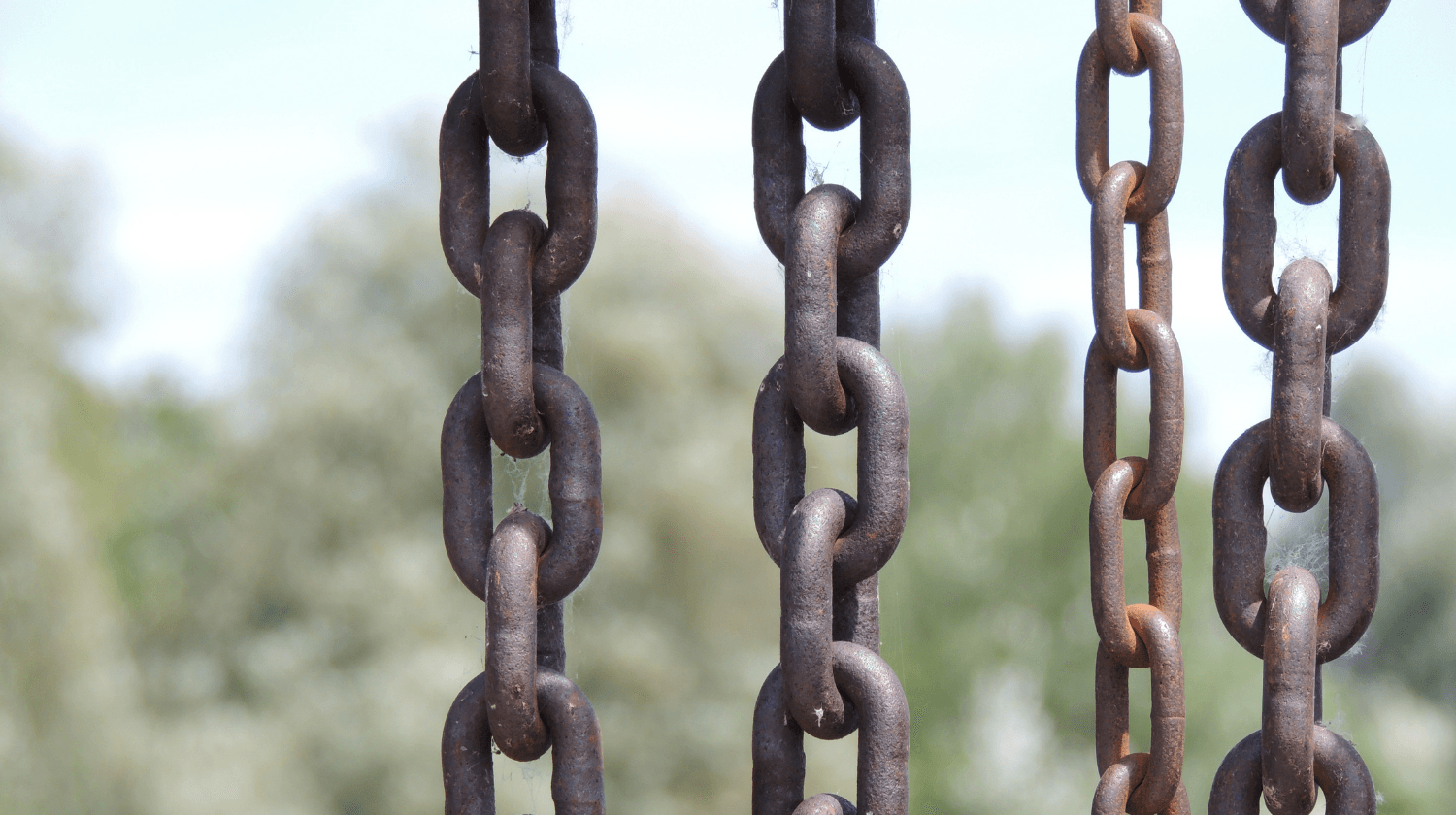 Backlinks will help you when you need that bit of an extra oomph to get you above the rest for highly competitive keywords.
The way I do SEO – and the way SEO should be done – especially for affiliate marketing – is by targetting low-competition keywords, which tend not to need much oomph either.
Another way backlinks can help you is by counting the total amount of backlinks your site has and not individually.
Trying to measure page per page is just a waste of time, you need to see the overall health of your website's domain in Google, otherwise known as Domain Authority.
You can see how to best increase your domain authority here – and yes it does include building backlinks but it's not the only way either.
What Other SEO Ranking Metrics Matter?
Come 2019 and beyond, I am betting all my chips on the fact that Google would look at a user's search-intent as the best metric overall.
If you are the page that can best match a user's intent, then you will rank even if you have no backlinks (although they would help).
Of course, I am not saying that user intent would be the only metric – that would be insane, but it definitely will be far more important than backlinks moving forward.
There's a great guide by Backlinko that will show you the best way forward with SEO in 2019 and beyond, if you are really interested in ranking your website as best as you can, you should check that out.
It's also good to note that I have an SEO course as well that will show you how to quickly rank in Google without all the fluff and buzzwordy methods that are just outdated and regurgitated BS.
That course sells for $97 but I am willing to make you a deal on it.
If you are an affiliate marketer and you are looking for ways to boost traffic to your website (via Google) then I suggest you try out the Wealthy Affiliate training course.
You do not need just SEO – you need a complete roadmap and a direct action plan that will get you ranked and earning money – quickly.
For this month only, I am giving away my $97 SEO course if you decide to join Wealthy Affiliate on a premium membership.
Wealthy Affiliate offers a free membership plan as well (which you can read about it here) but if you decide to go premium, then that will cost you $19 for your first month and by going premium, I'll also throw in my SEO course – completely for free – as a special bonus.
You can read my review of Affiliate SEO Mastery – along with the testimonials of success from my students in my very biased review.
In Closing
So; I really hope this post has shed some light on this whole backlinks phenomenon.
I have more posts regarding backlinks and my views on them here if you'd like to take a look:
As for how many backlinks you need to rank – I say don't worry about it.
Just learn a few SEO basics and always try to match user-intent as best as possible.
If you can do that, you're going to have great success with your SEO.
Good luck.
Christian Lee.