Does Microsoft have an affiliate program and if so; can you earn a decent income with it?
The answer to both questions is a yes, and today;
I want to share with my Microsoft affiliate program review with the hopes of answering any and all questions you may have about it.
As I'm sure you know, Microsoft is a huge brand with plenty of products under its wing (all of which you can promote) and it's a trustworthy brand, with a worldwide reach and plenty of trust with its customers;
All that makes up for a great affiliate program, but is the Microsoft affiliate program worth they hype?
Let's find out…
Can You Make Money With The Microsoft Affiliate Program?
*2-10%
Affiliate Commissions

Product Selection

Payout Structure

Brand Recognition
Microsoft Affiliate Program (Review Summary)
World-recognized brand. ✔️
Multiple product categories to promote. ✔️
Household products and services "everyone" needs. ✔️
A small confusion with the actual commission rate offered. ✖️
What Is The Microsoft Affiliate Program?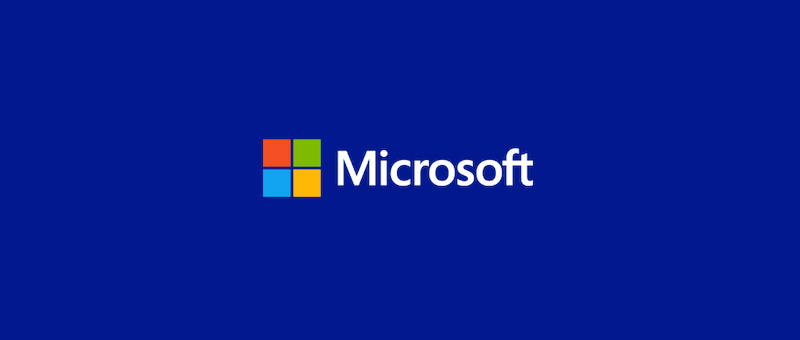 ---
---
Not to be confused with Microsoft's Azure affiliate program (which is more of a partner-program suited for developers looking to utilize Microsoft's products to help clients);
The Microsoft affiliate program is the one and only *official* program of the tech-giant know to many as Microsoft.
As a Microsoft affiliate, you will be given the opportunity to drive traffic to Microsoft's many online storefronts and you'll be earning *up to 10% in commission for any and all product sales from customers you manage to send their way.
We'll talk about more Microsoft's affiliate commission rates further down below, but first;
Let's take a look and see what products you can promote via Microsoft's affiliate program.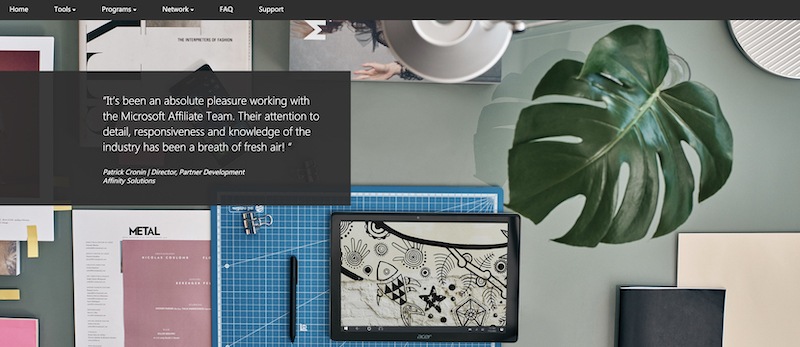 What Can You Promote As A Microsoft Affiliate?
Here are the categories of products you can promote as a Microsoft affiliate (the affiliate commissions for each category will be revealed below):
Surface and accessories
Xbox consoles and accessories
Xbox gaming subscriptions
Xbox games
Microsoft Office 365 (subscriptions)
Microsoft Office 365 (one-time-purchases)
Microsoft PCs and accessories
Movies & TV shows (purchased from the Microsoft Store)
Apps, Apps games & in-apps purchases for mobile and PC users
As you can see, there are many products you can advertise to earn commissions while leveraging the many (high-ticket) offers, sales, games that fall under Microsoft's offers.
But what about the commissions?
Is Microsoft worth promoting?
Well… something is not quite right here.
What Commissions Do You Get With The Microsoft Affiliate Program?
This is where things got a little bit confusing for me.
On the official home page of the affiliate program, it states that Microsoft offers "up to 10% commission rates:

But, while viewing the full list of affiliate commissions for each category, there does not seem to be any 10% mentioned.
In fact, according to this graph below, it's clear the most you can earn with this is 7%.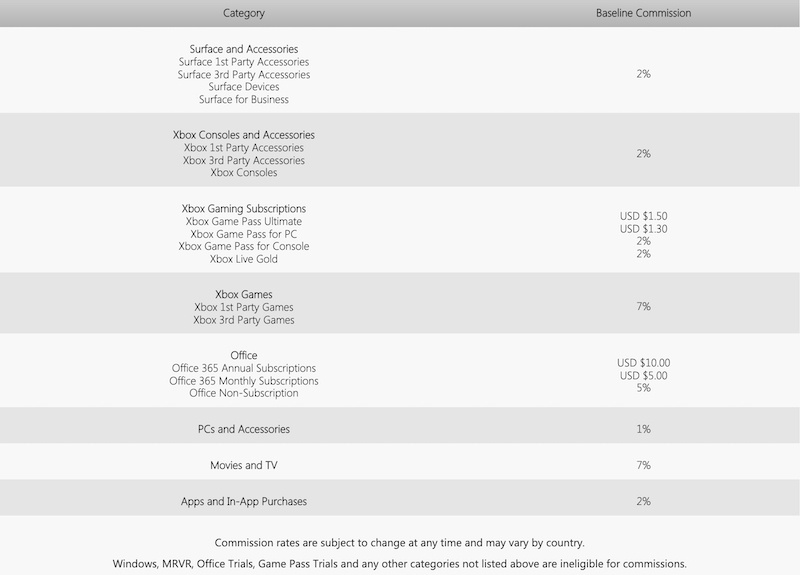 I'm not sure what to make of this just yet, but I have reached out to the affiliate support team and so far; there has been no reply (I will be sure to update this review once I have confirmation on how much they are actually offering)
Can You Earn Money With This Affiliate Program?
Yes, you most definitely can earn money as a Microsoft affiliate.
With decent commission rates being offered and plenty of high-ticket available to promote, you can most definitely earn money by advertising Microsoft products using affiliate links on your blog / social media channels and sending people to Microsoft's online store(s).
Who Is This Affiliate Program Best Suited For?
This affiliate program is currently open to anyone, anywhere in the world.
Given the wide range of products being offered here, it would make sense for pretty much anyone to partner up with Microsoft but of course, it's more suited towards bloggers/affiliate marketers who have an audience in the following three niches:
Tech (such as tech-review blogs)
Microsoft Gaming consoles & products (the Xbox is a dominant force in the gaming circuit)
Office tools & software (for Office 365 and its selection of tools)
NB: While doing research for this review, I have come across plenty of searches asking about the ability to become an affiliate for Skype. Unfortunately, even though Skype is a Microsoft product, it does not seem to be available to promote using this affiliate program and there's no sign of a stand-alone Skype affiliate program that can be found.
How To Join Microsoft As An Affiliate?
To become an affiliate for Microsoft, there are a few steps you need to go through and I will explain them for you next:
Step 01: Visit The Affiliate Home Page
You can find the affiliate homepage here.
Step 02: Choose Your Primary Campaign Region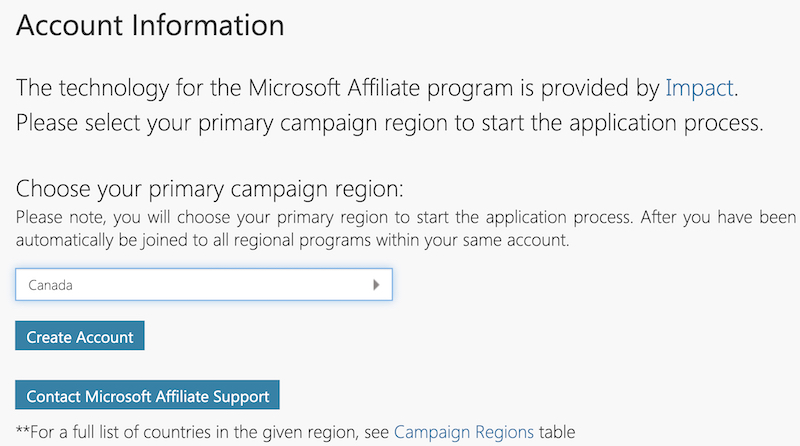 Next up is to pick the "primary campaign region" for your account.
I am not sure why this step is here as on the page itself, it says that *once approved* you will be given access and the ability to earn commissions for any region so yeah, seems a bit pointless to me but it's a step that must be done.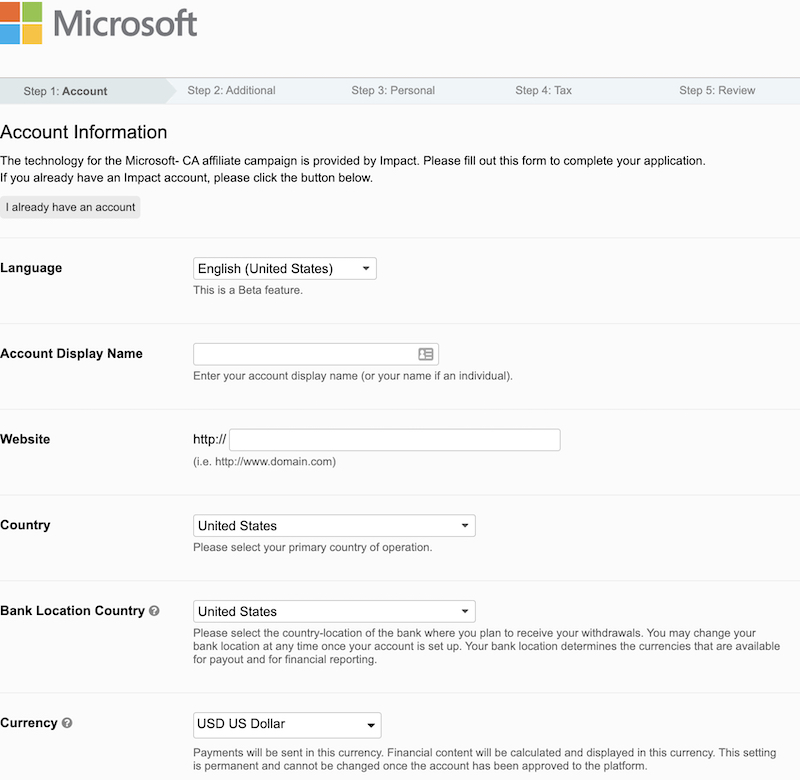 Step 03: Await Approval
You then have to wait for approval to be included in the Microsoft affiliate program.
This usually takes about 3-5 days and you'd be improving your chances of being approved by;
Submitting your URL (so yes; you must have a website) and
Ideally, your website has decent traffic coming in
Step 04: Start Advertising (& earn Commissions)
Once you've been approved as an affiliate, all is left to do now is to find your affiliate link and start using it appropriately while advertising any and/or all product categories mentioned above to your customers.
NB: Please note that Microsoft uses the Impact.com affiliate network so if you are already a member of Impact, you can skip this step and simply apply to the affiliate program from inside your Impact account.
How To Use Your Microsoft Affiliate Links For Maximum Impact
If you already have experience as an affiliate marketer, then you know what to do next.
Go and register as an affiliate, get your affiliate link and start promoting your desired products.
If you're still brand new to affiliate marketing, check out my simple, easy-to-follow guide on how to build simple affiliate websites here.
Any Other Alternatives To The Microsoft Affiliate Program?
Not really no.
Microsoft is a brand with not many competitors for the products they offer to their customers, however;
You can also check out the Amazon affiliate program as they do offer some of Microsoft products on their platform which you can promote with your Amazon affiliate link and;
There's also the Apple affiliate program if you're interested, even though I was not a huge fan of it.
---
With a worldwide tech giant at your disposal, plenty of house-hold products to promote and decent commission rates, I would say the Microsoft affiliate program is definitely fair, legit and well worth promoting.
If you'd like to get started as a Microsoft Affiliate, you can visit this page to get started with your registration.