After having talked about Shopify many many times before on this website and I have finally managed to write a detailed and in-depth Shopify review.
Before I get into this review, I'd like to explain with a few quick words of how I got started with Shopify and what I did to close over $2,500 in sales (which Shopify contributed to).
For the most part of the last 5 to 6 years, (since I started doing online business), my main efforts were mostly focused around affiliate marketing, which, if you don't know what that is, you can see my "getting started with affiliate marketing" guide here.
However, sometime November (2016), I came across (luckily) a free downloadable eBook provided by Oberlo.
Oberlo is a tool that helps you set up, launch and run a whole hands off business using Shopify to build an e-commerce business with AliExpress.
Needless to say, I was intrigued about this topic and immediately after I read this book, I found myself as the owner of a brand new Shopify Store.
The rest is history, and at the day of writing this, seven months after being introduced to Shopify, I can say that Shopify makes me a solid amount of money each and every month.
So, back to my Shopify review:
I explained to you this little back-story of how I got introduced to Shopify because I wanted you to see that even if you think your capabilities lie way beyond building and running a profitable online store, there is information that will help you get started if you just put in a little effort and time.
It only took me a few minutes (and a lucky break coming across that ebook) to now have a store that makes up about 40 to 50% of my overall online income.
So, are you interested in learning how to do this yourself Would you like to have weekends such as this with the help of a passive income online business
I hope so, as that is what I will be talking about today mostly in this Shopify review I have for you here.

My Shopify Review: What You Need To Know
Name: Shopify
Website: Shopify.com
Price: Free, $29, $79 or $299 (see below for a more detailed pricing structure)
Rating: 4.5/5
What Is Shopify?
If you are familiar with WordPress, and I am hoping you are, you know how great it is to be able to build a website that requires very little expertise to get up and running.
Well, Shopify is kind of like that, but instead of creating blogs and websites, Shopify helps you build your own online store.
What Is Shopify Used For?
Shopify, as I explained above and I will also how you how to do below in this review, is an online store builder. This means that with the help of Shopify, you can create an online store, drive traffic to it and make sales completely "hands off" online.
How To Make Money With Shopify?
This is a terrific question and one that may be a bit complicated to answer but seeing as how I want this Shopify review to be completely transparent; I am going to show you some of the ways you can use Shopify to make a little (or a lot) of extra monthly income.
Have a look at this video below and you will discover  a few simple methods you can adopt to make (more) money with your Shopify store:
The Pros & Cons Of Using Shopify Store Builder
Below I am going to tell you about some of the pros and cons too of using and operating with Shopify. This should give you an idea of what to expect once you become a member of the platform and start building your online store.
The Easy Of Use To Set Up
I have been building websites for several years before I ever found out about Shopify but even then, I imagined building my own online store is something that was way beyond my scope of understanding.
Well, I was wrong as building a Shopify store turned out much easier than first imagined.
I will be writing a post on how to set up your own Shopify store very soon but in the meantime, I am sure that the Shopify team can do a much better job it.
See here for to see how to set up your Shopify store.
The Stores Look Great
There's a lot of talk in the digital world that you would need a dedicated developer and a designer for you to have a store (or a site) that looks appealing to readers.
But, with the many themes there are available for you on Shopify, you'd be surprised to see how easy it is to create some awesome-looking stores with just a click of a button.
Although there are both free and premium themes for your Shopify store, the free ones are just as good.
I have yet to purchase a premium theme for my two stores and I have been working (rather successfully) with a free theme installation that yes; still looks pretty damn good.
Below are some of the screenshots and examples of the types of stores you can build, these will all be available to you once you join Shopify: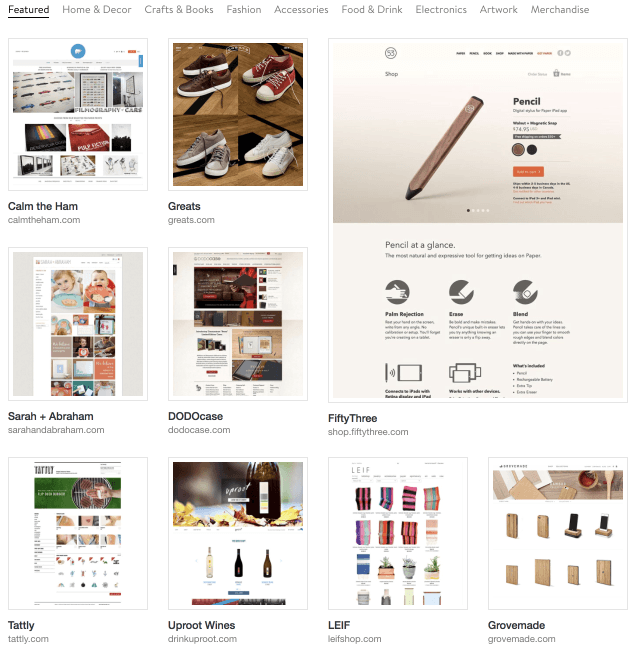 Support Is Available 24/7
Shopify also has a great support system, and one thing I love about this is the easy way to reach them via Twitter.
A lot of companies are using Twitter as their customer support channel, and this is great to see, I am a huge fan of this idea. I have not needed Shopify's help much, but the few times I needed them, they delivered quickly and solved my issues.
Their Blog Is GREAT!
This is a big one, and I had to mention this in the review because Shopify's blog is absolutely fantastic at sharing the best tips anybody can find on how to create an e-commerce business.
I read a lot of blogs on a daily basis, and I have to say that the Shopify Blog is a huge source of inspiration, information and amazing tips on how to get started and grow your business.
It's worth checking out and have a read through, I use Feedly to stay up to date with all my blogs or else you can join the Shopify email newsletter and you get all the new posts sent to your inbox.
Fast Checkout System
An other thing that I love about Shopify is that the whole process from when a visitors comes to my store to when he or she checks out is super easy and streamlined.
Why is this important?
Because a complicated process of "checking out" will put readers off and may cause you to lose valuable sales.
I am not a fan of losing sales, especially if I am putting a lot of effort in getting traffic and potential sales in the first place so this was something I really paid a lot of attention to and Shopify did not disappoint.
PayPal Integration
As a Shopify store owner, you are free to add as many payout methods that you feel like but the fact that they offer PayPal was for me a great feature.
Why? Because once a sale comes in, it instantly goes straight to my PayPal account and this is important because I used drop shipping to build my store.
I write a post about drop shipping with AliExpress and Shopify but just to give you a bit of context, drop shipping allows me to pay for the product AFTER I have received payment from my customer.
This means that I do not need to hold inventory, I do not need to shell out money on stock and I make money before I even shipped the product. How cool is this? Would you like to start drop shipping?
Lots Of Apps & Plugins To Use
WordPress made this feature popular and for that, we are welcome, but Shopify is now catching up on the "plugins market" and they are doing a great job at it too.
This means that you have thousands of tools and features now available on the Shopify App market that you can use to make your store run much better, and make more sales.
Again; there are hundreds of these plugins, and although I do suggest you try some of them out, you do not need to install them all.
Easy Domain Installations
Anybody reading that has read some of my previous articles might know that I am a fan of buying up domains from Wealthy Affiliate where I also get free hosting and a free security.
While I still suggest you go this route if you want a domain for your WordPress site, if you want a domain for your Shopify store, do it through Shopify's own internal system.
Why?
Because if you buy it from any other place, it will just complicate issues and would require you to edit settings and change the DNSs of your domain.
Yes, this is a complicated process and although doable; getting your domain from Shopify will automatically register to your site and you can start using it without touching or adding anything.
I love features and tools that simplify my life, and I couldn't have been happier with the service provided by Shopify Domains.
Speaking of domains, if you are struggling to find a domain for your new store, I suggest you use this handy Shopify Domain generator.
All you need to do is type in some keywords (or the niche) you are wanting to start in and let Shopify find you hundreds of .com domains which are available.
Find one you like, click the buy button and get started.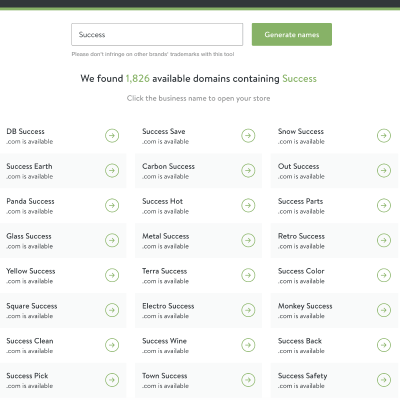 The 14-day trial is great
One last thing I would like to say that I really like about Shopify is the fact that you are given a 14-day free unrestricted access to your store.
No, you won't be able to receive visitors in those 14 days as the store is not yet "live", but in those two weeks you can build your site to maximum perfection.
Optimize your products and test every single element so once you are ready to go live (and purchase a Shopify license) your store is ready to start making sales immediately.
I always take advantage of this 14-day trial period to fully fill out my portfolio, install my plugins, do my SEO and maybe even publish a few blog posts for that extra reach.
Once my store is officially launched, this will allow me to step away from the technical things of the store and instead focus my efforts on promoting the store.
Once you start getting visitors, you can expect to make your first sale and once that equation loop is closed, you now have traffic and money coming in; and all you have to do is continue promoting and make money.
My 1 Little Issue With Shopify (Con)
Blogging With Shopify
I love Shopify, as I am sure you may have guessed by reading his Shopify review so far, but I can't even begin to tell you how much I dislike their blogging platform.
Yes, you can blog on your Shopify store, which naturally can lead to more search engine rankings, more visitors and more customers but compared to WordPress, the Shopify blogging platform is YEARS behind the standard.
I do not mean to diss this feature a lot, but it does need some work.
Obviously, WordPress will remain the KING of content creation and publishing, but I am sure the geniuses behind Shopify can come up with a more decent blogging platform for their customers.
In fact, I dislike it (hate it) so much that whenever I start an online store with Shopify, I also start the blog on WordPress.
This is not ideal, as I would like the blog on the store website directly, but it's just too frustrating so doing it via WordPress then linking to and from the store is the more sane option.
If somebody is reading this from inside Shopify, please try updating the blogging feature as it is lacking.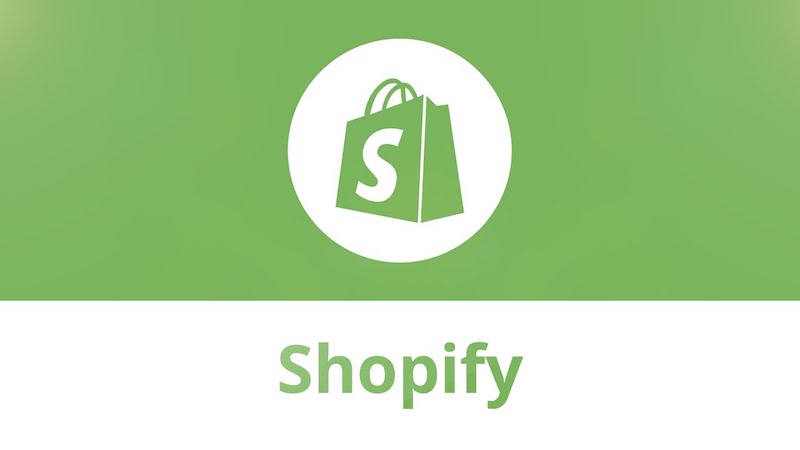 Who Can Benefit The Most From Using Shopify?
Anybody who is looking to make money online can benefit off of Shopify's products and many features.
If you want to sell your creations online, you can use Shopify.
If you want to start a drop shipping business, then you definitely need Shopify.
If you want to have an easy payment option for your offline store, then even Shopify comes in handy here with their Shopify Pay feature.
All you need to run a store is provided by Shopify, and I see no way I can fault them on this. They are just that great.
How Much Does A Shopify Subscription Cost?
Below are the pricing models for Shopify. Just remember to take advantage of the 14day free period to fully understand the platform before buying into it.
You can join Shopify for free here.
Are There Any Alternatives For Shopify?
As with everything online when it comes to online tools, you are spoilt for choice.
While I have not yet (and don't intend to) try the following Shopify alternatives, I suggest you also take some time to research some of these platforms.
Yes, I am super-biased here; but out of all these, I would say Shopify sits at the top of the pile. As I am sure you have seen from this Shopify review I have for you here, there is of much things that make Shopify that much better.
Anyways, here are a few Shopify alternatives available for you:
BigCommerce
Magento
WooCommerce
WixStores
In Closing

Thank you for reading this Shopify review, I hope this has answered some of your questions about the whole Shopify business model and the many things you can do with it.
May I ask a favor of you?
If you have any questions about the platform or you have used Shopify in the past, be sure to leave me a comment down below with your 2c on it all.
I would love some more reader feedback on Shopify to see how the world is using it.
If you liked Shopify as a platform and would like to know more, then I invite you to join Shopify as a free member and start your 14 day free trial period. Again, if you have any questions, be sure to let me know.
Talk soon
3HUNDRD
Shopify Final Rating
Price

Features

Training

Value For Money