I've covered the DIY and home improvement niche extensively already.
However, seeing how everyone is stuck at home right now with not much to do, I figured it'd be a good time to cover a more focused vertical, this time focusing on woodworking affiliate programs.
If you're in the home niche, or you have an engaged audience (YouTube, Instagram, Twitter, email list, etc) who are interested in woodworking, this round up is for you. Here are the
10 Best Woodworking Affiliate Programs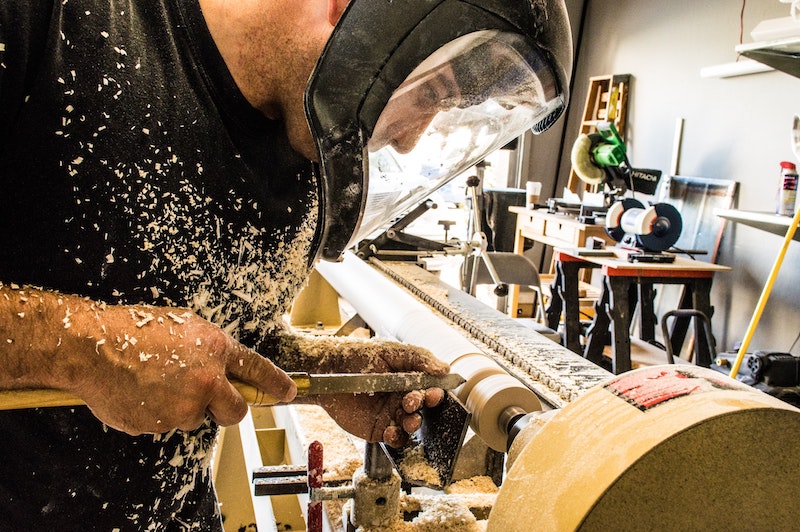 ---
---
Woodworkers Guild of America
Woodworkers Guild of America offers instructional videos on several lifestyle hobbies and passions such as woodworking and knitting. Their resources are downloadable, streamable, and even available in physical copies.
The affiliate program benefits include double commissions for the first 30 days of joining, access to creative tools such as banners and text links, and exclusive promotional deals and sales.
Commissions vary and can go as high as 25%, making it an extremely lucrative partnership. The program is an excellent source of income for bloggers keen on woodworking and Do It Yourself projects. Members can sign up on ShareASale; the process is fast and 100% free.
Commission rate: 6 – 25%
Affiliate cookie: 60 days.
Popular Woodworking
Popular Woodworking affiliate program equips members with marketing tools such as banners, buttons, and textual links to market products. Whenever a customer makes a purchase using those referral links, affiliates earn a substantial commission.
This partnership is an excellent source of passive income and helps grow bloggers and website owners' visibility. By partnering with Popular Woodworking, members get access to a comprehensive data feed, seasonal promotion, special deals, and even special referral bonuses.
Registration is easy and free; simply fill out an online application and wait for approval. A program director is available in case of any queries or difficulties.
Commission rate: 12%
Affiliate cookie: 30 days.
Tool Barn
Tool Barn is an online retail store specializing in a wide variety of woodworking tools, power tools, and even safety equipment and clothing. The site has an average order value of $75 and runs an affiliate program where members earn commissions from sales made through referral links.
You can tell it's a lucrative partnership just from the size of their average orders. Orders over$199 get free shipping, and affiliates get to work with notable brands such as Hitachi and DeWalt.
Commission rate: 3%
Affiliate cookie: 45 days.
Rockler Woodworking
Rockler Woodworking has been around since 1954 and continues to supply woodworking enthusiasts with the necessary tools to better their craft. Affiliates get to promote a massive inventory of over 15000 products, including lumber and power tools.
The program is available on ShareASale and LinkShare; registration is entirely free and involves filling in an online application. Members can put up multiple links on their platforms to increase visibility, and commissions are paid via check within 30 days.
The minimum amount payable is $25 and is carried over to the next month if one fails to reach the threshold.
Commission rate: 3 – 8%
Affiliate cookie: 24 hours
Toolstoday
Toolstoday is a global leader in industrial-quality tools for woodworking professionals and hobbyists.
The site runs an affiliate program managed by ShareASale. The partnership offers members perks such as access to a regularly updated product data feed, a chance to work with an internationally recognized and trusted retailer, and dedicated affiliate support.
Moreover, the program has an average order value of $100, making its conversion rates high. Customers get a money-back guarantee on all purchases – the company is dedicated to quality. Orders are processed very fast and come with same-day shipping.
Commission rate: 5%
Affiliate cookie: 15 days.
JMBoxwood Woodworking
JMBoxwood is a woodworking company that builds and sells handcrafted furniture. ShareASale manages the store's affiliate program, which is relatively successful, with an average order value of $328.
There are numerous payment methods; Visa, MasterCard, PayPal, Discover, and even Apple Pay. Orders and shipments take about two weeks, and customers are updated along the way and even get a photo of the completed item before being shipped.
Commission rate: 10%
Affiliate cookie: 90 days.
Armani Fine Woodworking
Armani Fine Woodworking is your number one destination for premium wood countertops. The company uses sustainably sourced wood to make their famous high-quality wood countertops, kitchen islands, and tabletops.
Clients can even customize their orders; their highly skilled craftsmen are sure to deliver. Its affiliate program is operated by Yazing and provides a great source of income for bloggers and content creators in the woodworking and DIY niche.
Shipping usually takes around 48 days and uses FedEx service delivery. For unsatisfied customers or faulty products, there is a 30-day return policy in place.
Commission rate: 7%
Affiliate cookie: 365 days.
Highland Woodwork
Highland Woodwork is a retail store that specializes in woodworking tools and supplies. The retailer has been in business since 1996 and has grown to become a trusted source for woodworking tools and even resource material such as seminars, helpful tips, and educational material.
Becoming a member of the store's affiliate program is easy and free; simply fill out an online application. It also means increased traffic to partners' sites and recognition from working with an established and successful brand. The program features tracking software that helps affiliates track their commissions.
Commission rate: 5%
Affiliate cookie: 60 days.
WoodSnap
WoodSnap is the global leader in premium wood printing. By choosing to join the site's affiliate program, members get access to perks such as monthly newsletters and promotions, reliable tracking, and other incentives for even higher earnings.
A dedicated in-house management team is available to guide members through any challenges and optimize sales and profits. To register, fill out an online form at ShareASale and wait for your site to be reviewed. You can begin promoting products as soon as you get approved.
Commission rate: 11 – 51%
Affiliate cookie: 30 days.
Vanon
Vanon is a replacement battery online store for power and woodworking tools and even vacuum cleaners. The batteries have increased life and battery applications for extra longevity. ShareASale manages the site's affiliate program and oversees administrative duties.
The program's features include frequently updated promotional banners and coupons, influencer reviews on products, and a dedicated affiliate team available to address any concerns. The average order value stands at $45, making it a reasonably lucrative investment.
Commission rate: 5%
Affiliate cookie: 90 days.
---
---
Can You Make Money With Woodworking Affiliate Marketing?
Yes, you can, and I doubt there's ever been a better time to get into this niche.
What you're going to need (if you're brand new to the business) is your own website and a tried and proven strategy to get traffic and make money.
This course here teaches you all you need to know and I've also documented my entire process of how I build simple affiliate websites that make money here.
I suggest you check out both these resources as they will help you get your new woodworking affiliate business up and running (& earning money).