If you treat affiliate marketing as a hobby, it will pay you like a hobby, but if you treat it like a business, it will pay you like a business!
Many beginners jump into affiliate marketing thinking it's something that can make you rich in just a few days, and while (if you are lucky) that is possible, affiliate marketers tend to fail way before they even make their first cent online.
Today I am sharing with you a master affiliate marketing business plan that should see you start earning in just a few months.
This "template" will explain what you can expect from your affiliate business in:
Your first month
Your first 3 months
Your first 6 months
Your first 12 months (one year)
Your first 2 years – and
Your first 5 years!
I will also provide you a checklist (and checkpoints) of where you should be after a certain amount of time with your affiliate marketing business (and how much money you should expect to make with it).
As you can see, the "business plan" goes as far as 5 years, but rest assured you will be making money WAY sooner.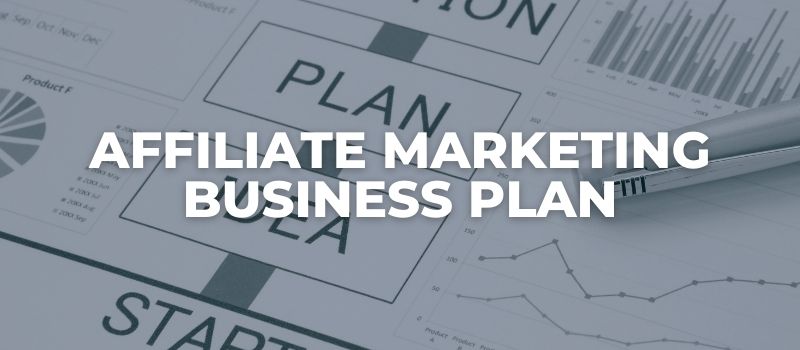 ---
---
Your First Month
Your first month should only be focused on getting the foundations of your affiliate business (your website/blog) set up and ready to go.
At this point, I would recommend you do not fixate on your visitors and earnings, but instead focus on creating a solid foundation for your business that you can build comfortably on for many years to come.
What am I talking about?
Here is what you should aim to achieve in your first one month with your affiliate marketing business.
Your Website Set-Up
Affiliate marketing requires you to have a website build on a specific topic and niche. In your first 30 days, you must make sure you have all you need to build a successful website and that includes:
Choosing your domain
Getting hosting
Filling out your pages (contact, privacy policy, about)
You may also want to experiment with some WordPress themes (ideally a premium WordPress theme) to make sure your website is looking the best it could be.
You also need to think about SEO, but we'll discuss this next.
On-Page SEO
Optimized
You won't see much happening in your first 30-days with regards to your SEO.
There is not much you can do about how quickly Google sees your site's authority, but you can make sure that whenever they do decide to start taking your site seriously, it's built using the best SEO practices.
This means you have to install an SEO plugin, ideally the All In One SEO.
This simply means filling out your site's meta-data, titles and making sure it is indexable. It's easier than it sounds so don't worry too much about it.
A Content Strategy
You also need to have a bit of a content plan ready to go before you even publish your first blog post.
Will you post one a day, once a month or once a week?
Are you going to write in-depth articles or medium-sized articles?
What keywords are you going to be targeting?
This is all part of your kick-off strategy, and it's best to have a content plan ready to go, so you have a clear roadmap to follow.
You don't have to stick to it to the T, but it helps to know what you will be talking about (and how often) as it will help you give some direction and also a timeframe of when you want to achieve certain metrics.
Getting Indexed
In your first 30 days, and if you set up your site's SEO properly, you can also expect to start ranking some way or the other.
Chances are you won't rank on the first page, but you should expect to be indexed at the very least.
You Have Some Posts on Your Website
With your content plan and SEO set up, you should also aim to have a few posts published (apart from your pages) in your first 30 days.
A good way to get started is at least once a week. With this plan, you should have at least 4 to 5 posts published on your website by the time you are about to go into your second month with your affiliate marketing business plan.
Earning Potential In Your First 30 Days
You just may earn something in your first 30 days, that is a possibility, but if you do, it is probably due to luck.
I am not trying to knock your hard work, but this rarely happens and it's best if you do not anticipate it will happen and be pleasantly surprised rather than entirely disappointed.
Your First 3 Months
These are exciting times as you should see some traction right around this point. This is where you will start seeing results from the publishing consistency of your first 30 days.
Content Is Ranking Well
By this time you should have at least 2o to 50 posts on your website published and ranking. You can also expect to have some Google positions for keywords that get you traffic.
Some Good Keyword Positions
Ok so you probably won't be holding the #1 position for your main keyword just yet, but around this time you can expect to start seeing your rankings getting closer and closer to the #1 page – maybe even #1 spot.
Again, this all depends on the keyword research you are doing, but if you choose low competition keywords, I have no doubt some traffic would be coming in!
Traffic Starting to Grow
For your first few months, traffic will be low, but it should be steadily increasing. If you are getting just a bit more traffic than the previous week, then you are the right track.
I can't give you an exact figure as a lot of things come into play here, but I see no reason as to why you can't be getting at least 50 clicks a day to your website if you have 30 to 50 posts up on your site.
First Sale!
Could it be? Yes, chances are very high you will start seeing your first sales around this time.
Earning Potential With Your First Three Months:
I don't know what product you will be promoting, but if its the average price, you can expect to be making anywhere between $0 and $500 after your first 90 days.
$500 is not life-changing just yet, but you have come a long way and it's proof what you are doing is working. It's just a matter of doing more of it now.
6 Months In: What To Expect
Getting To 100 a Day
Around the six month line, you should be getting over 100 clicks a day from your SEO efforts, which may not seem big, but trust me its a lot, and it will only snowball from here.
The first six month period is your Google Sandbox period, which means Google purposely holds your site back to see if this is something worth pushing to the top.
If it is, and I am sure you have taken every measure guaranteeing it is, then after around the six-month line, you will be experiencing a sudden increase in SEO traffic.
This, of course, will lead to more shares, more engagement, more sales and much more authority for you.
A rough estimate would be that you will be using 500 clicks a day soon! Which is a huge money-making opportunity!
Sales Become More Frequent
Whatever you are selling or promoting, having hundreds of people coming in consistently will lead to consistency sales. Still maybe not life-changing income just yet, but surely an exciting amount that fills you up with hope and energy.
Good things come to those who work hard and have patience, and so far you have been doing so so elegantly.
You Have People Reaching Out To You
You might also be noticing people emailing you or leaving you comments on your website.
This is a clear indicator that whatever you are doing, people are connecting to it and want to know more about you and your business.
Engagement is key as this business requires real humans to work so the more people you have interactivity with you, the more clear is the signal that you are well on your way to fulfill your affiliate marketing business and become successful.
Earning Potential In your Fist 6 Months
Again, it's hard to tell not knowing which product you will be promoting but a conservative figure would be somewhere around the $500 to $3000 mark.
Again, this depends on how much you make per product sold and how much visitors you are getting to your website.
---
---
NB: You may want to check out Income School's Project24 course (link leads to my review) which will give you a 2-year roadmap on how to make money with a website (using both affiliate marketing and premium ad networks).
Your One Year Anniversary
Traffic Is BOOMING!
At this point, and if you have stayed consistent with your content from day one, traffic is coming in high numbers and consistently.
You are now experiencing the fruits of your labor from those many late nights writing posts you were sure nobody will ever read.
Now is their time to work for you rather than vice versa. Your content now is working, allowing you to grow a business and make a lot of sales (even while you are away from your computer).
Serious Rankings Happening
At this point, Google is loving you, and you should expect top have some serious page #1 ranking for some great keywords.
The more content you publish, the wider the net gets and the more traffic you will reel in. It's just a matter of producing more and more now.
You Are Becoming An Influencer
Other websites and bloggers are reaching out to collaborate with you; you may even see a lot of companies reaching out to pay you to talk about their product.
This is called being an influencer, and if you follow this plan, you should start seeing more and more of such opportunities.
Well done on your hard work.
Earning Potential After 12 Months:
At this point, you should be earning a comfortable income, maybe even enough to replace for your job and focus on your business plan.
One such guy who followed my training is now making $10,000 a month after just 12 months in. It is possible and yes it is well within your reach to achieve such numbers yourself.
2 Years Deep In The Game
Thriving
You are now thriving! There's not much else to say. You are just killing it online making sales every day.
You are Earning a Full-Time Income
Obviously, this will allow you to quit your job and focus on your affiliate business full time (if you so desire).
200-ish Posts In
Two years, 200 posts in? Super possible and all these posts are now earning you a shit load of money! Well done. The hard part is over!
$10,000 a month?
Yes, this depends on different factors of course but making $10,000+ a month after two years is more than possible – it's been done before.
Your 5 Year Goals Manifested
You Have a Brand
Five years in and you now have a money-making brand online that is unshakable.  Your authority, traffic, and sales just keep soaring!
You Have a Full-time Business
You now have a fully-fledged online business that can sustain you, your family and your goals. This is a tremendous achievement, and you have built this from the ground up.
Well done once again.
You May Have Started Another Business
Another project?
It's not uncommon for affiliate markets to diversify their portfolio from time to time.
By year 5, you may also be exploring different ideas and niches starting this affiliate marketing business plan from scratch all over again, but this time. You have skills, experience, and an audience ready to support you!
You Have a Team?
YES! A 5-figure income per month will allow you to hire people for your business and use them to buy more time for you.
It's no point making a lot of money if you can't enjoy it so feel free to outsource work whether it may be to freelancers online or hiring your very own team.
Whatever you do, make sure you give yourself the time to enjoy yourself.
Earning Potential in 5 Years?
The sky is the limit. You can be still at $10,000 a month or $100,000 a month!
Whatever you want, you can get in this business i.e if you are willing to take the steps necessary to achieve them!
---
Related Questions:
Is Affiliate Marketing Still Profitable Today?
YES! As long as there are people online and as long as businesses keep wanting more customers, affiliate marketing will remain profitable.
Is Affiliate Marketing Worth The Effort?
It may not seem like it in the beginning, but as we've just seen, affiliate marketing takes time to build. After enough time has passed, affiliate will be worth the effort and you'd be glad you went through the effort of building up your business